본문
The heaven of volcanic cones

Gogeunsan Mountain (Oreum): A Solid Course to Hike

Jeju Island is home to some natural World Heritage Sites, including: Jeju Volcanic Island and Lava Tubes. This island was formed through volcanic activities a long time ago, which created countless parasitic cones- called 'Oreum' (in the Jeju language). This can be understood as a hill or a mountain. It is a great joy to hike Oreum. You should experience the amazing scenery of Oreum for yourself. If you follow a hiking course, which we will next introduce, you will visit the Oreum Volcanic Cone named Gogeunsan Mountain. In addition, you can also explore nearby tourist attractions, while enjoying a variety of different restaurants.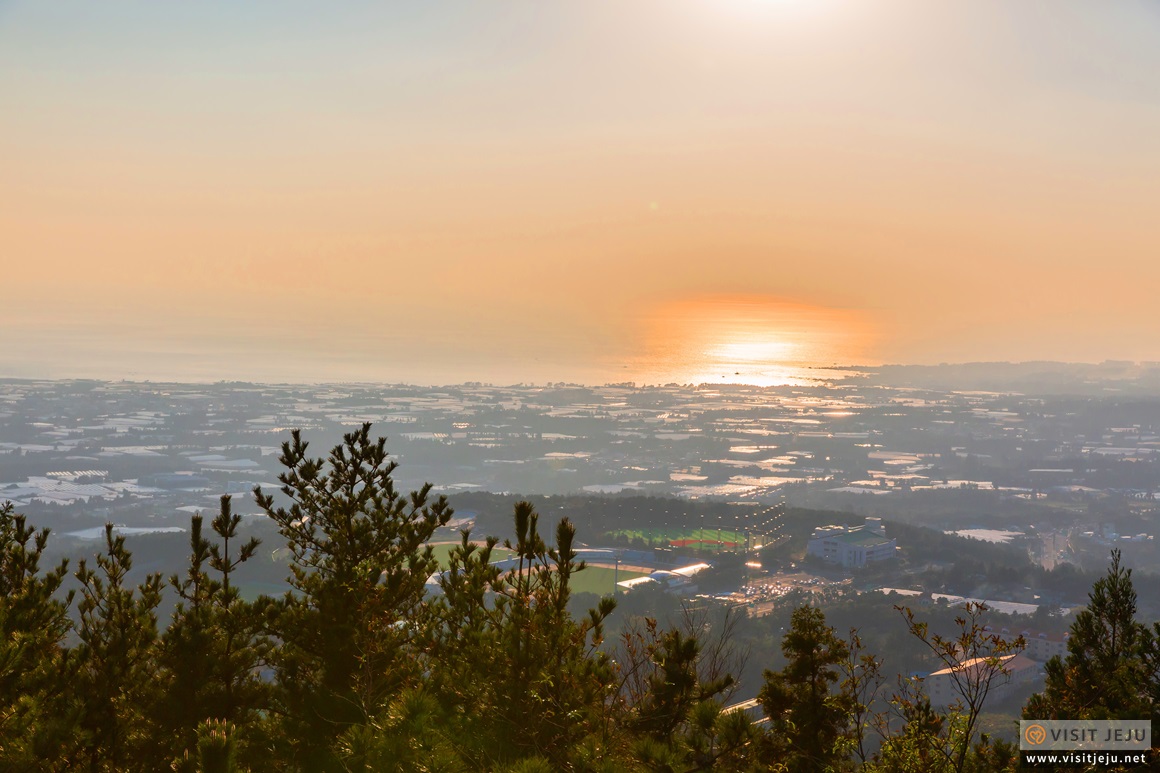 Oreum hiking course facilitates looking at Seogwipo-si city
Treasured nature is inspiring and healing. It tells you how lucky you are to be alive. For this reason, many travelers visit Jeju. Jeju's beautiful nature motivates people to hike. Here is a solid hiking course below, giving you four sorts of joys; going to Eongtto falls, walking along the Ollegil trail (number 7-1), hiking Gogeunsan Mountain (Oreum) and enjoying tasty local food. When you arrive at the top of Oreum, you can have an unobstructed panorama of Seogwipo-si city. This course will probably take about 4km and about an hour and a half, from the entrance of the waterfall, to the entrance of the mountain (after hiking). There will also be several forked roads. Whichever one you choose, they will show you different and unique sceneries. However, we recommend that you follow this course, so you do not lose your way.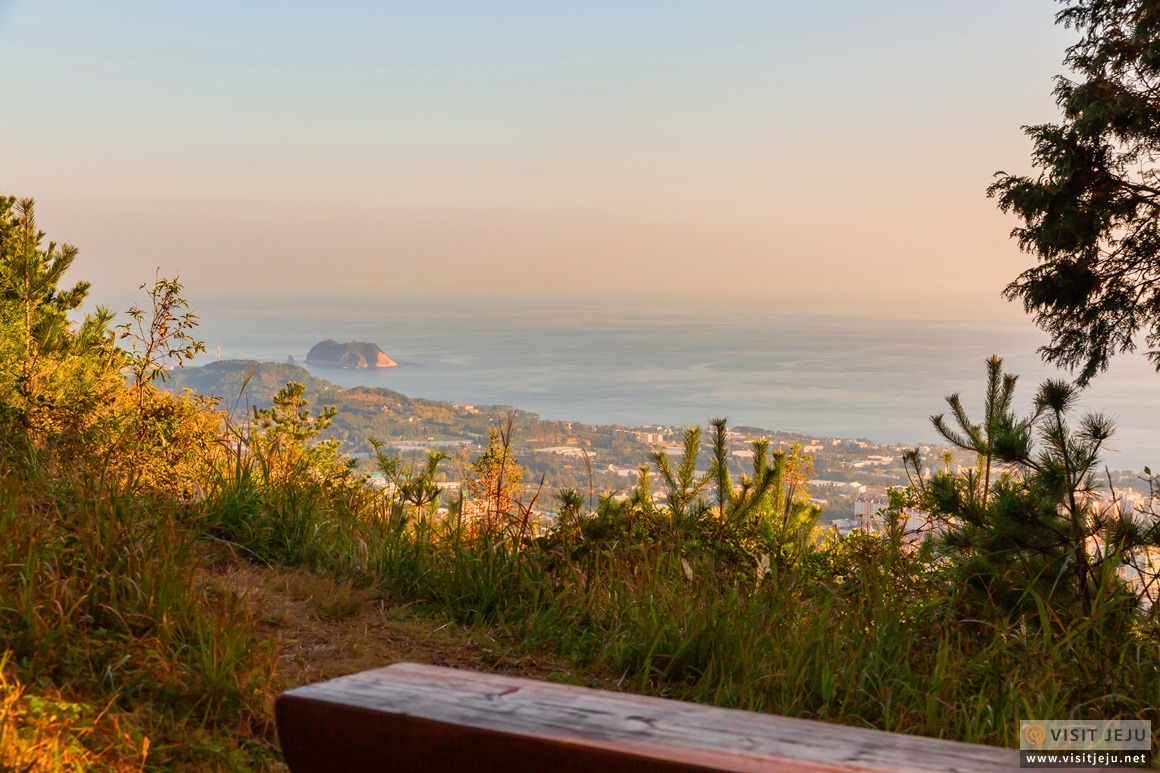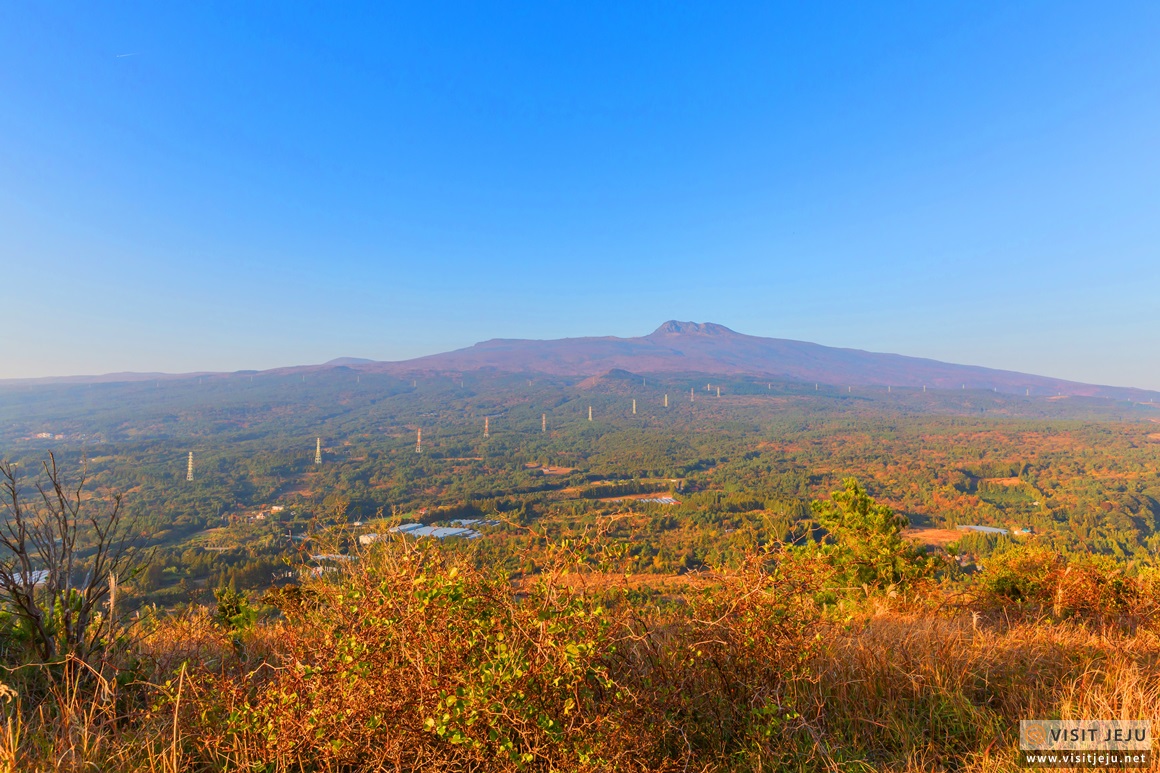 This course starts from the entrance of Eongtto falls. It is located next to Eongtto Bridge. From there, you can see tall trees which seem to reach the blue sky. The fresh air and mandarin orange farms, will let you cleanse complex thoughts in your mind. In Jeju dialect, Eong means 'a small cave' and tto means 'an entrance'. Eongtto falls is around 50 meters high. It looks more magnificent after heavy rain. If you really want to experience the most beautiful moment of the waterfall, you should go there after it rains at least over 70mm (in the hilly regions in Jeju). If you go there on a foggy day, you may not be able to see the waterfall. There is also an unmanned self-service café, with a red roof nearby, where you can stop to have a cup of coffee. You will find a wooden bridge towards the waterfall. The sublime scene is a precipice, which is formed by the beautiful rocks, aided by the powerful and stunning waterfall. From Eongtto falls, walk down for a while, before discovering a church beside the road. There is a path (which is a part of Ollegil trail number 7-1), spread out towards Gogeunsan Mountain. From the starting point to here, it takes around 20 minutes (1km) to complete the hike (excluding any rests that you may take).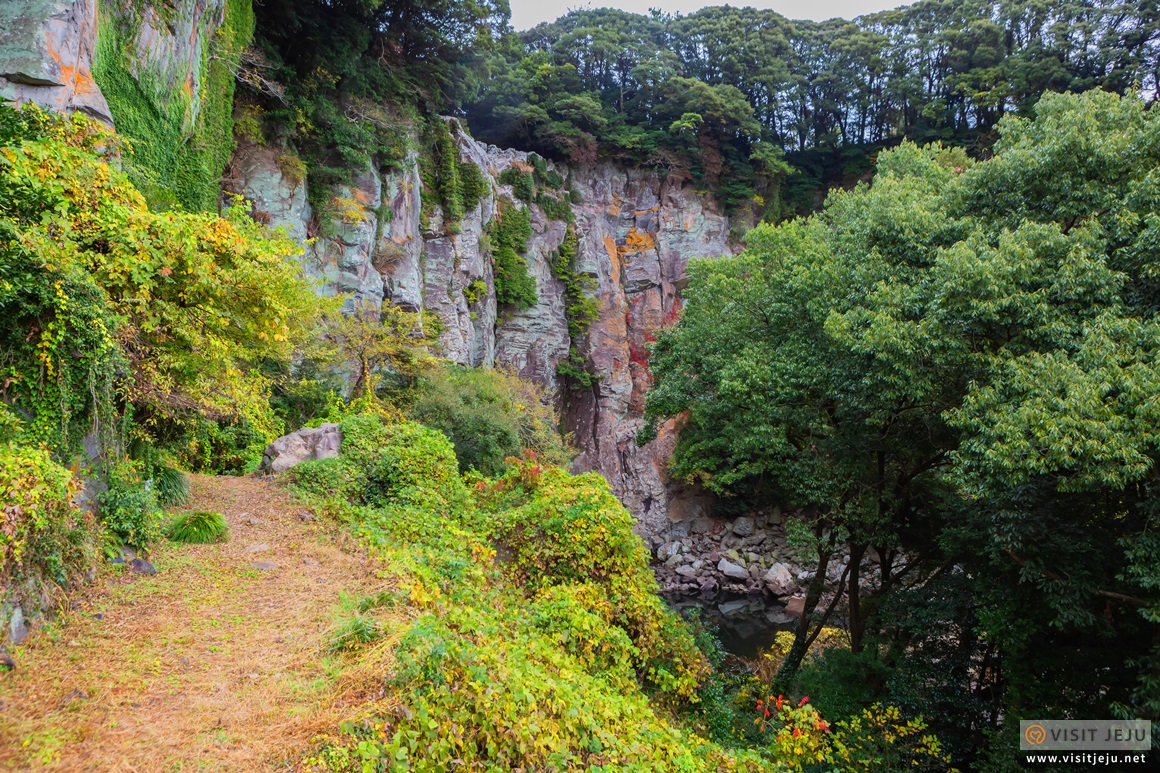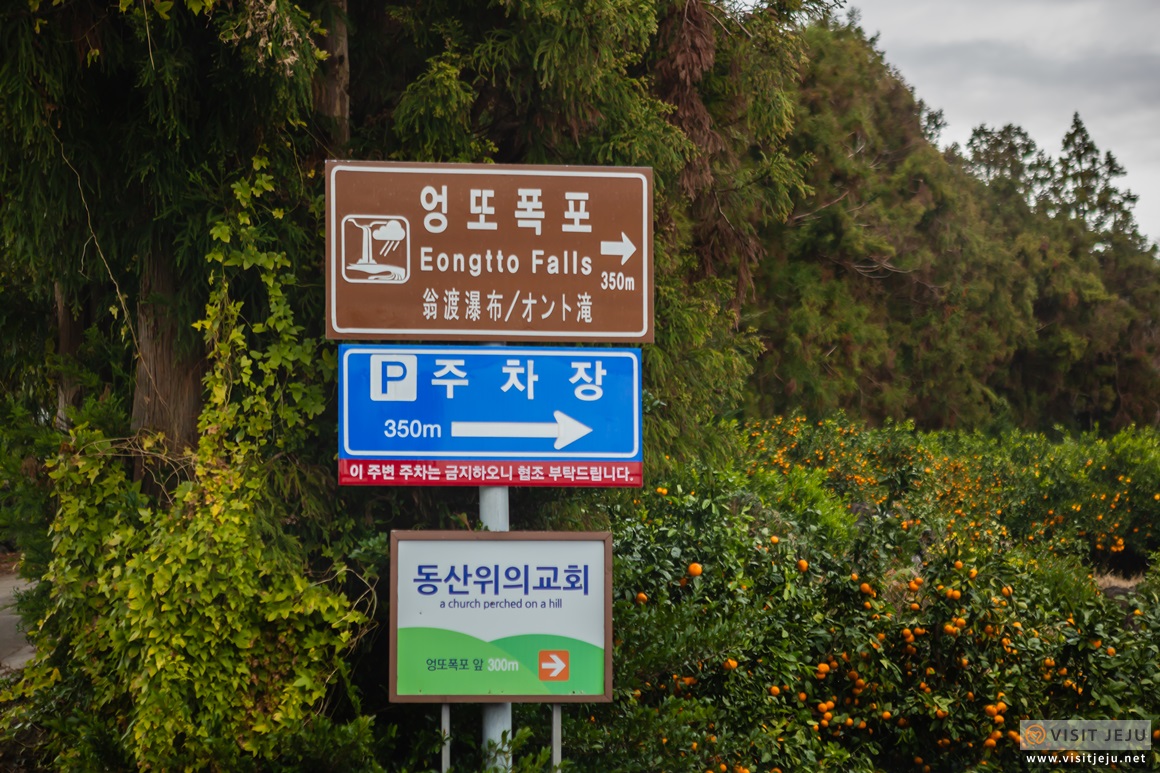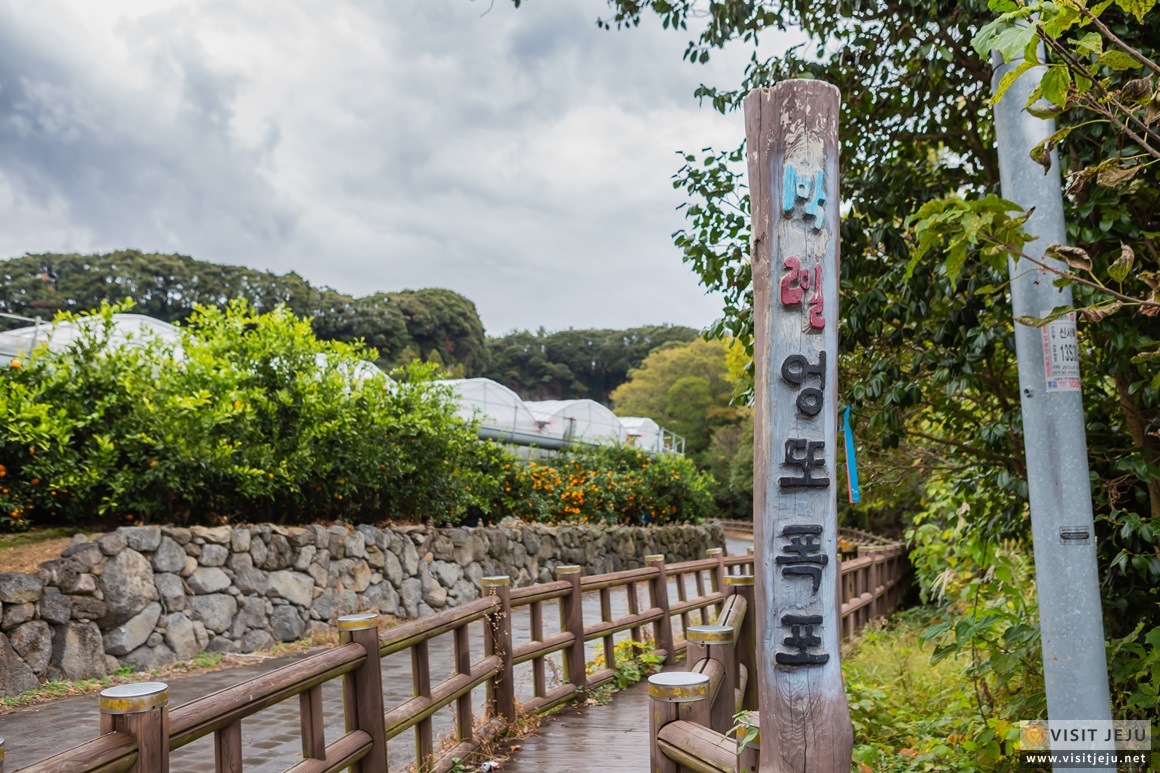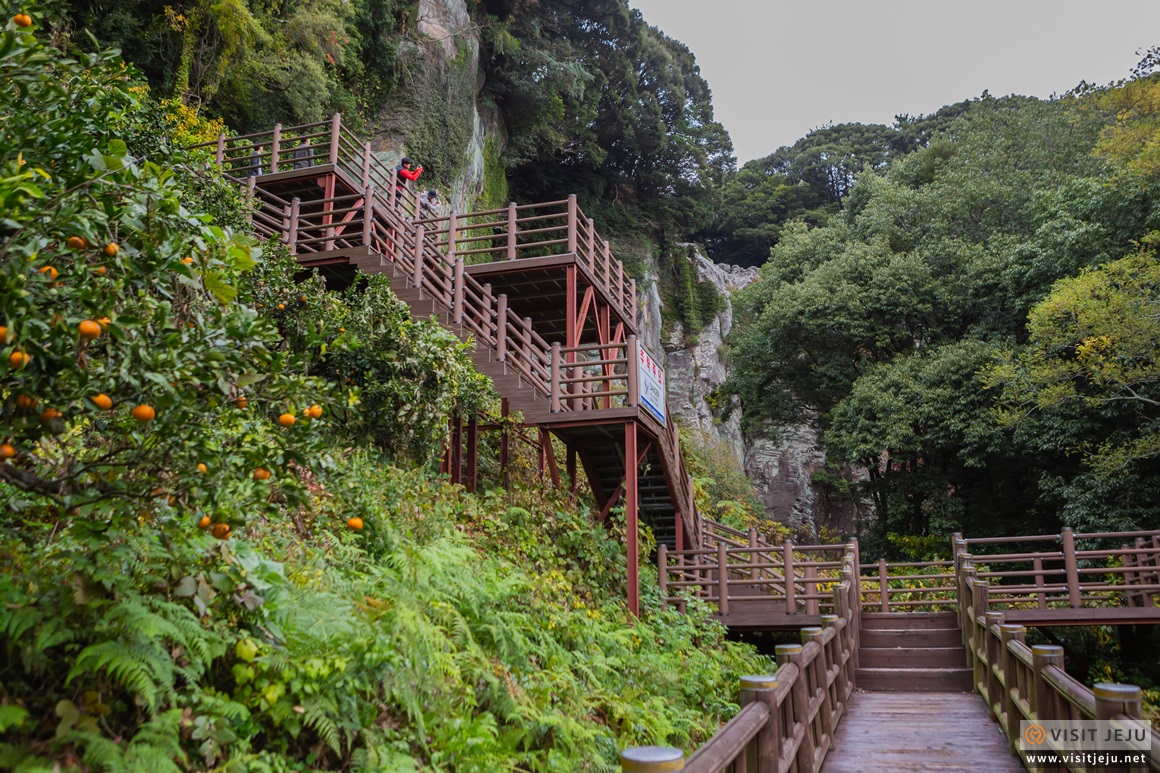 Ollegil trail number 7-1 (올레길7-1)
There are Ollegil trails full of beautiful paths and places throughout Jeju island. In the Jeju language, Olle means 'a narrow alley' and gil means 'a road'. Along the sea shore, most of Ollegil trails are seen. Jeju gave each Ollegil trail a number- from one to twenty. Today, some hiking-lovers completely explore all of the Ollegil trails. You will pass a part of Ollegil trail number 7-1 on the way to Gogeunsan Mountain, from the church (which was previously mentioned above). Ribbons are marks of the Ollegil trail. Ribbons will show you the direction, in which you should go. Follow the ribbons, which appear haphazardly throughout the trail. In addition, small leaves easily tremble in the breeze. If you walk slowly enough, you can hear a whispering sound, made by the forest. It will give you the refreshing smell of plants and trees, as well as release you, from daily stress. It takes around 30 minutes (more than 2km) to walk this entire trail. If you enter a road near Gogeunsan Mountain, you will find the stairs.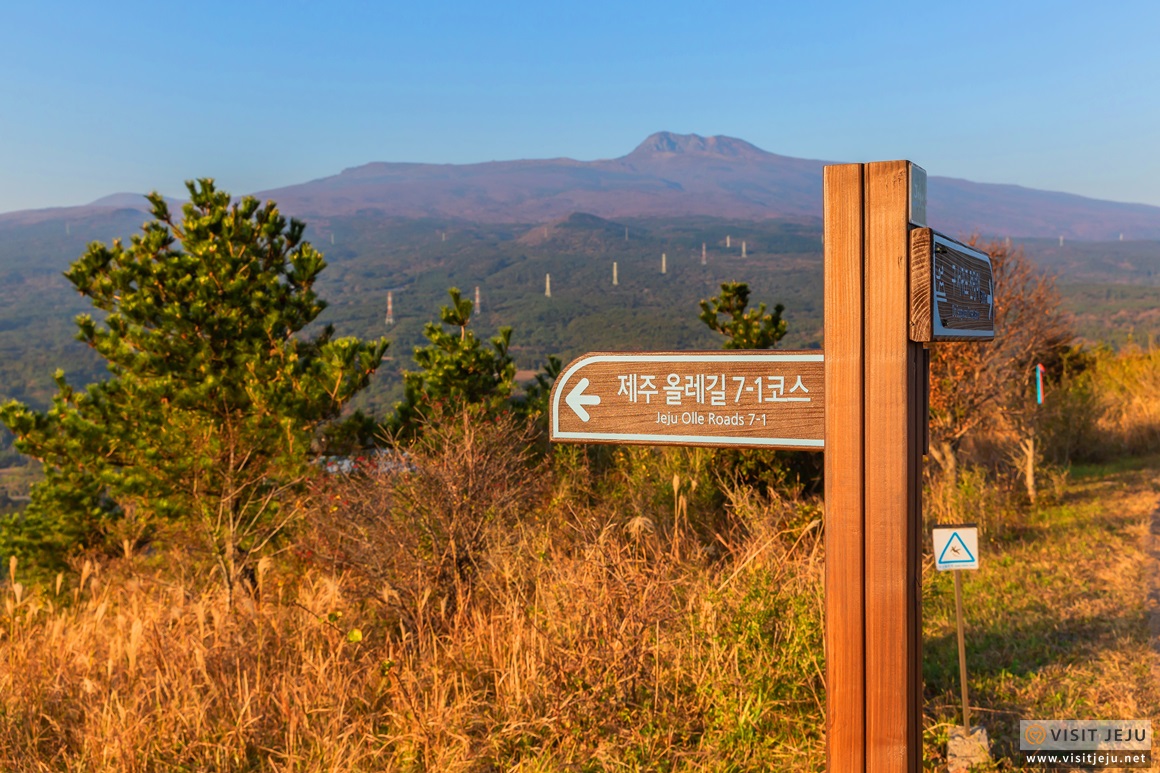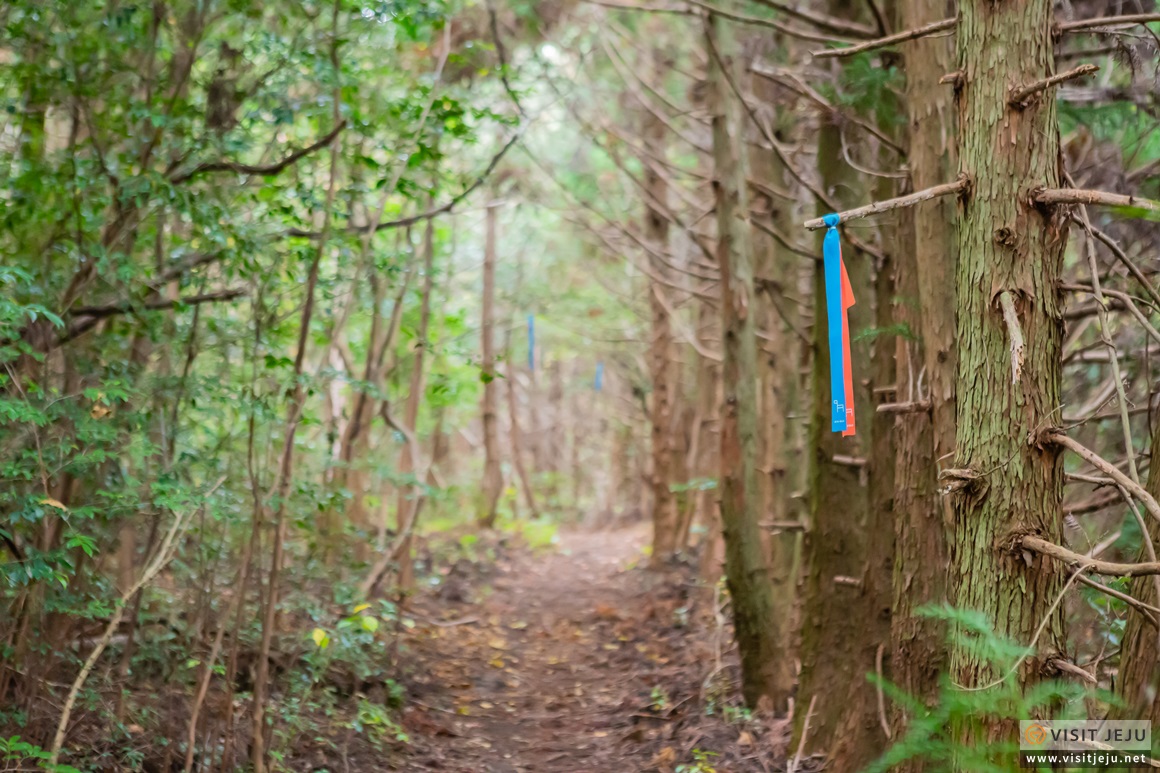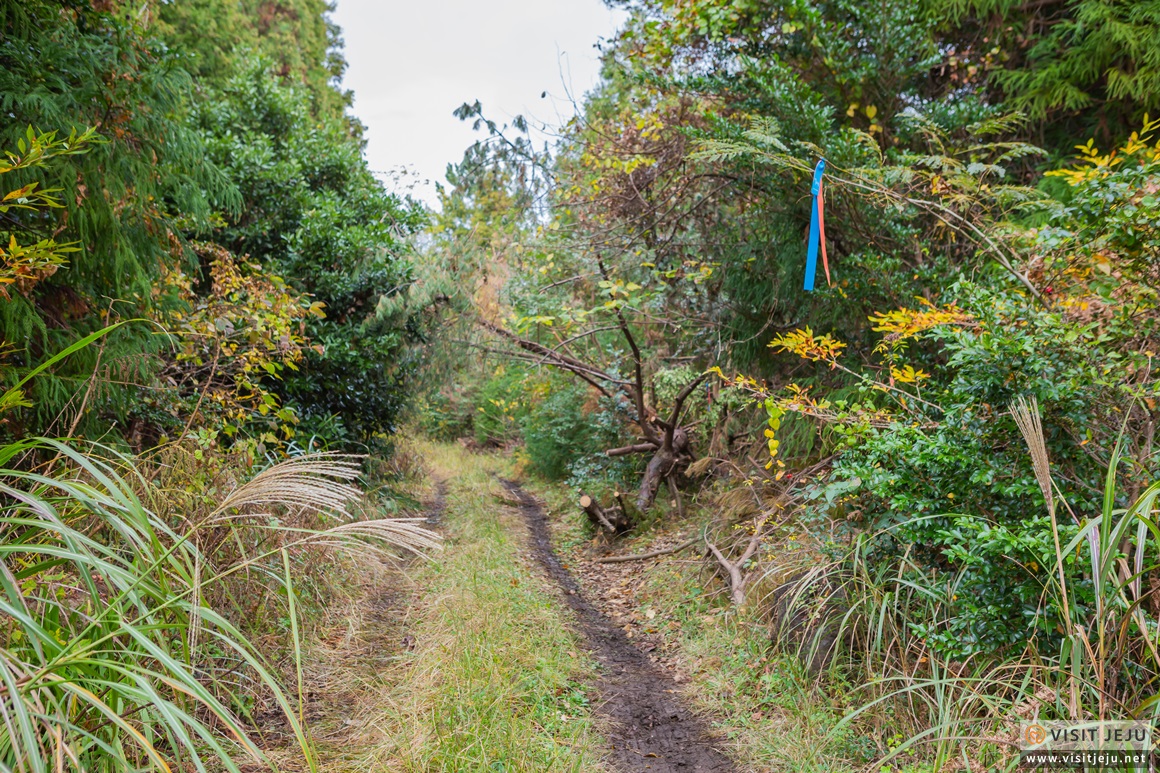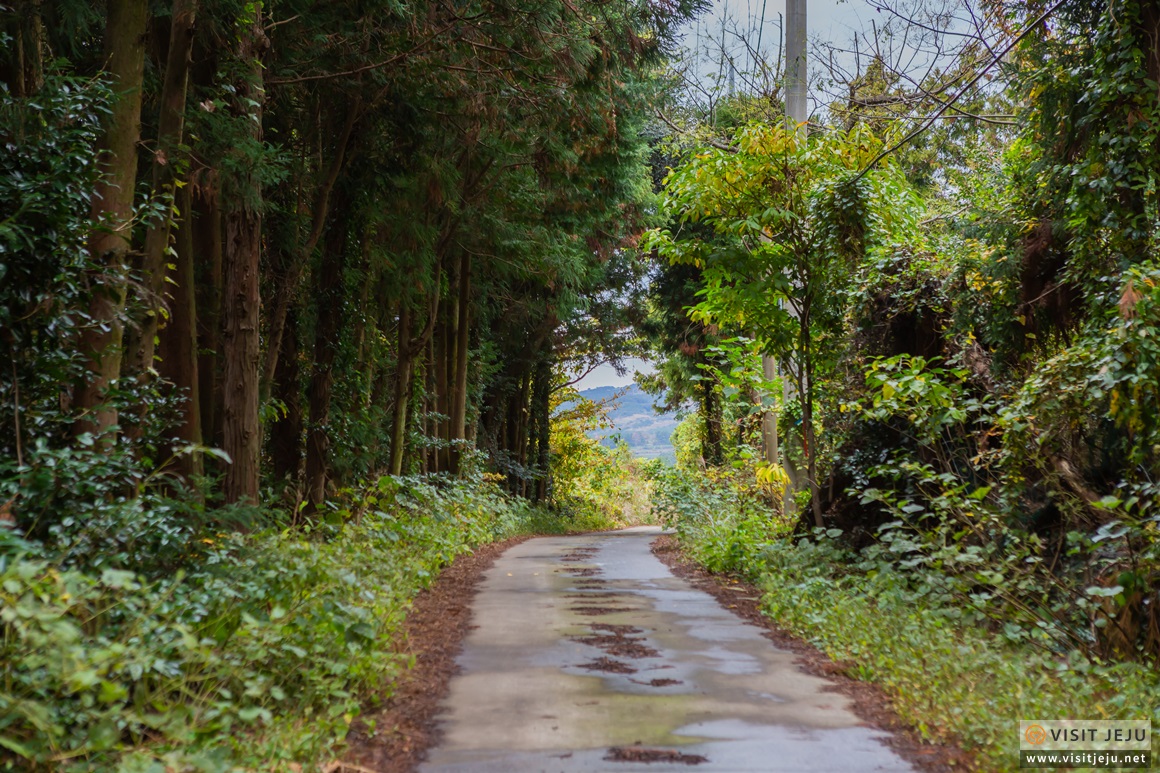 Gogeunsan mountain is about 400m high, and it has a crater at the top. It hugs Seogwipo-si city. Gogeunsan mountain is a type of Oreum, but the reason why people have called it Gogeunsan Mountain (instead of Gogeunsan Oreum), is because there is no other Oreum nearby. Here 'Go' means 'lonely.' 'While hiking Gogeunsan Mountain, you can see many different types of trees; cedars, reinispora, pines, oaks, chestnut trees, Eurya japonica and East Asian mallotus, as well as pampas grass, covering the field. This volcanic cone is loved by the locals, and they visit here quite often. You will meet some local people on this mountain, even on weekdays. At the top of it, you can see the whole view of Seogwipo. It will liberate you from all of your negative thoughts. Urban and rural landscapes, coexist- as you look down from the top of Gogeunsan Mountain. Here, you can experience both familiarity and outlandishness. Some other small islands can be seen as well, from far away, creating beautiful scenery. From the end of the trail, to the entrance of Gogeunsan Mountain, it takes over 30 minutes (more than 2km), to completely hike this mountain. If you turn left at the entrance of Gogeunsan Mountain, you will go to the city along the road named 'Gogeunsanro' (고근산로).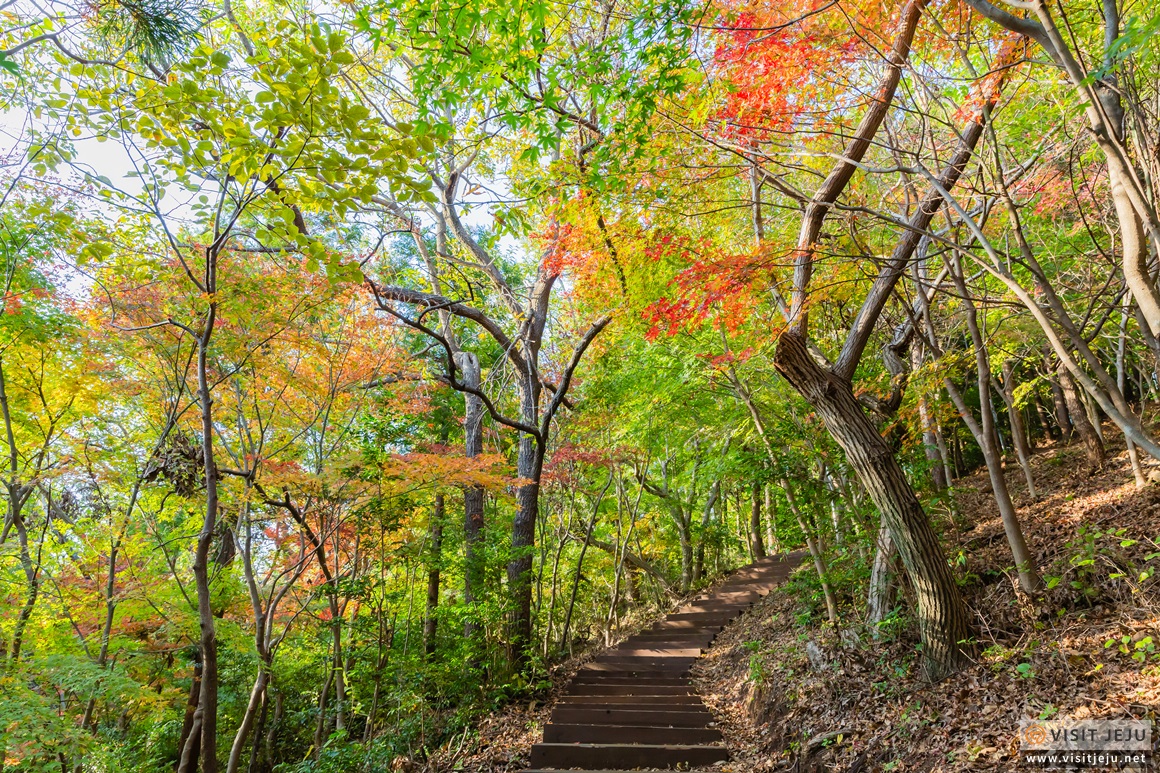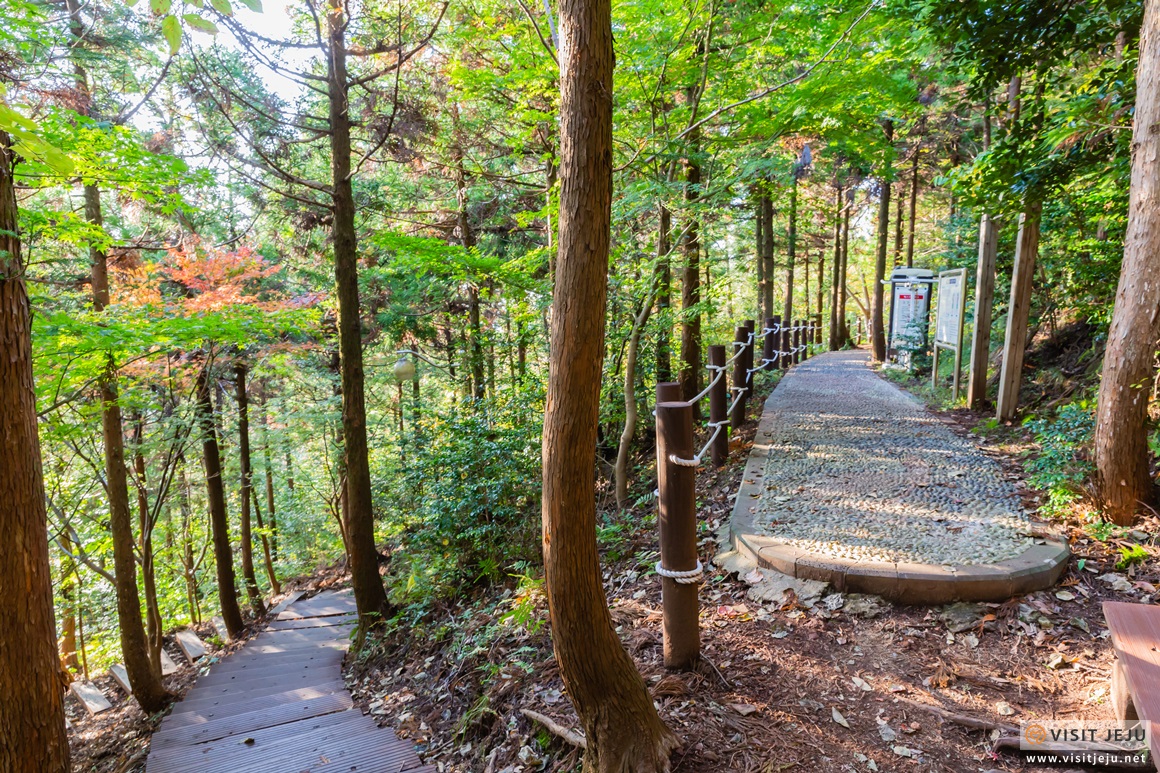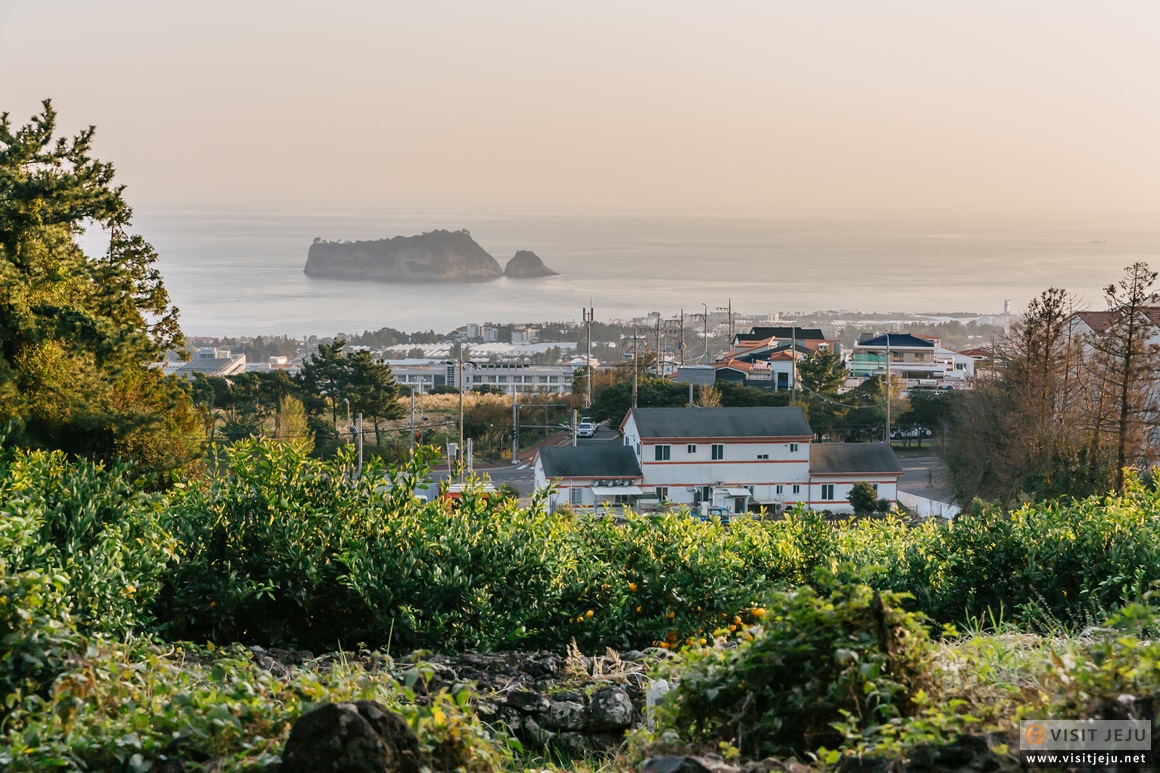 The finishing stroke
Recommended Restaurants
Eongtto Falls and Gogeunsan Mountain are very close to the city. Thus, it is very easy and convenient to find a restaurant to satisfy your hunger, either before or after hiking. Here are some recommended restaurants, which proudly sell black pork- a specialty of Jeju. These are very popular among local people.
Angkkeure means 'the main building,' in the Jeju language, and 'Guksu' means 'noodles' in Korean. Angkkerue Guksu boasts its pork noodle soup. It has a deep flavor of pork stock. Jeju Island has an old tradition of serving noodle soup with black pork to guests, when there is a funeral service or a wedding ceremony, in the village. Pork noodle soup was developed based on this tradition. It was a good source of protein for many people, when food was not so plentiful, and when eating meat was not very common. Angkkeure Guksu, also sells spicy noodles without soup(비빔국수), as well as; noodles in a dried anchovy broth(멸치국수), boiled pork slices(수육), boiled dumplings(물만두), noodles with top shells(수두리 보말국수), noodles with sea urchin(성게국수) and sea urchin soup(성게국). Noodles sold here are very unique. They look yellowish, due to containing gardenia seeds, inside of them. It is also important to learn how to best enjoy boiled pork slices. Here are some useful tips. It is recommended that you try various combinations of side dishes and sauce. For example: a pork slice with salted shrimp, or with seasoned chives, garlic, kimchi, or soybean paste sauce. Also note that side dishes are not served by staff. So bring your own side dishes, and then you can order as many refills, as you want.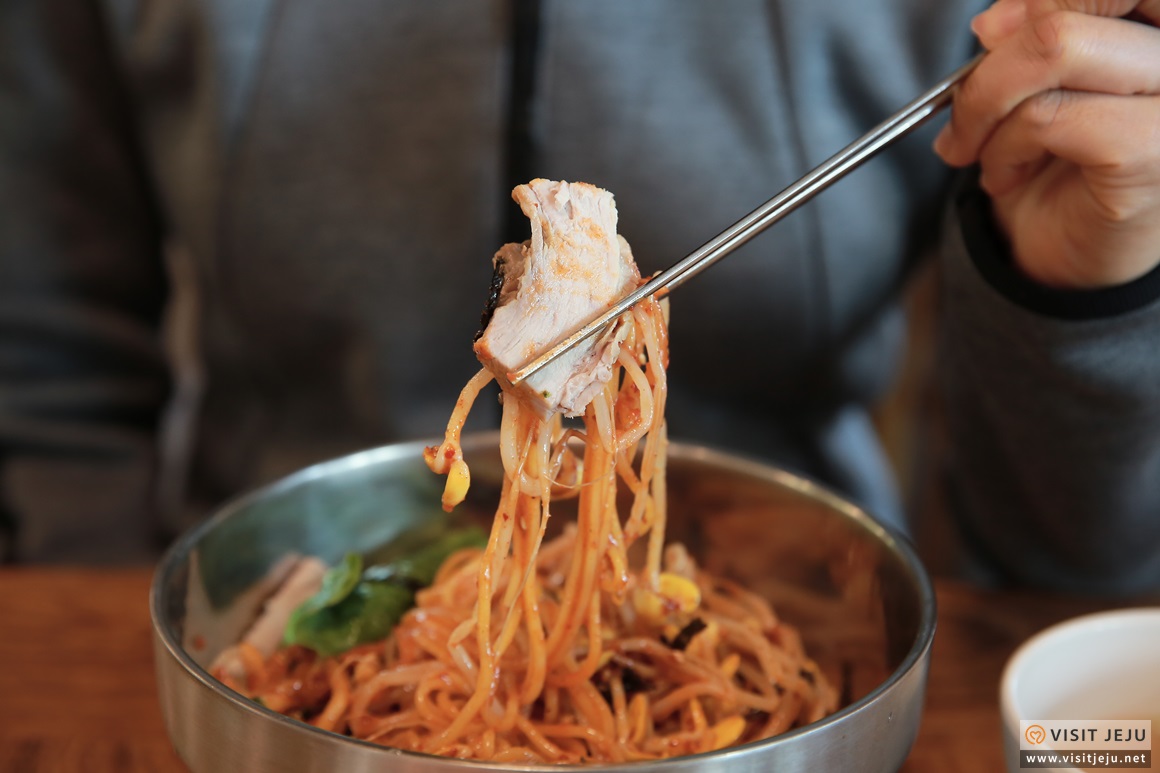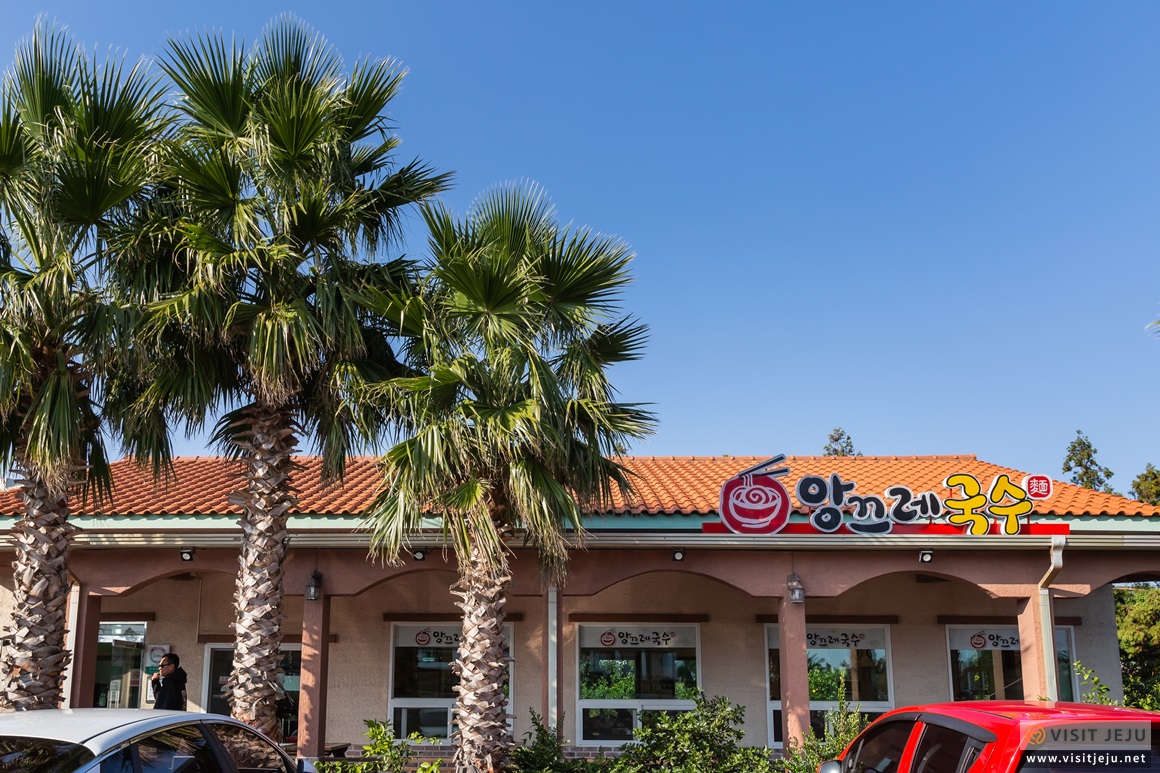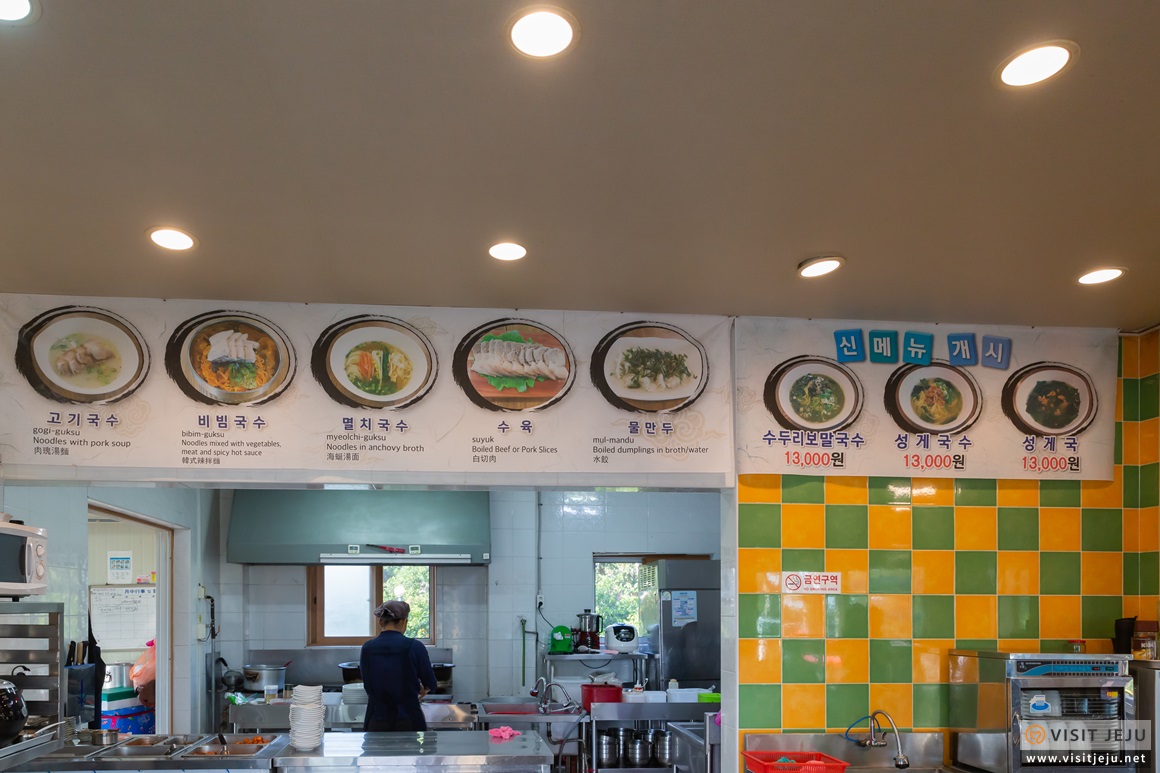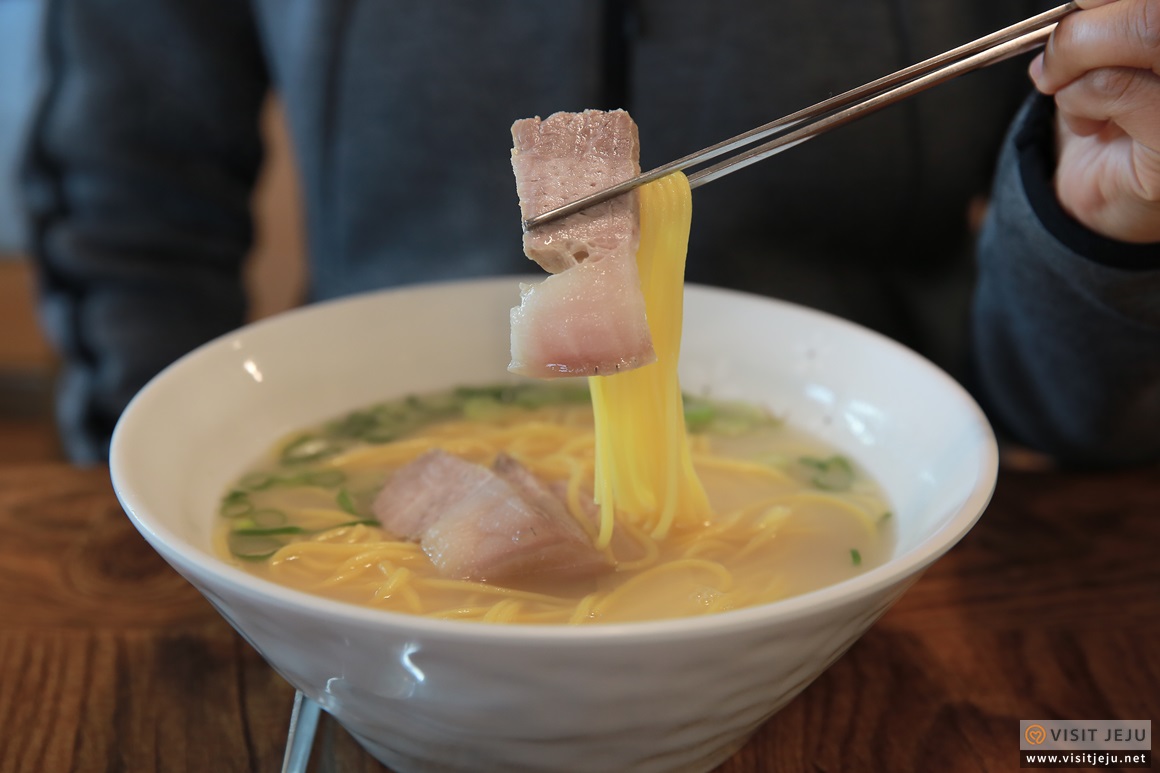 Address : 97-18, Beophwansang-ro 2beon-gil, Seogwipo-si, Jeju-do
Phone : 064-739-2999
Hours : Daily 09:00~19:30, Closed on the first and the third Wednesday of every month.
Gui Gui Doldamjip (구이구이돌담집)
Gui Gui Doldamjip sounds quite cute. Gui means 'grilled food,' and doldamjip means 'a house with a stone wall.' A house with a stone wall is a symbol, and a traditional housing construction in Jeju. At this restaurant, you can grill fresh black pork by yourself. The fire power (used to cook the cuisines offered here), is much stronger than general coal (used in other restaurants). So you can better taste the juicy black pork. Side dishes, fresh mushrooms and soybean paste soup- with seafood, are provided free of charge. Mushrooms can be enjoyed with juicy black pork, when grilled. You can also have grilled pork with salted and fermented anchovies, or with spring onions, salts, garlic or lettuce.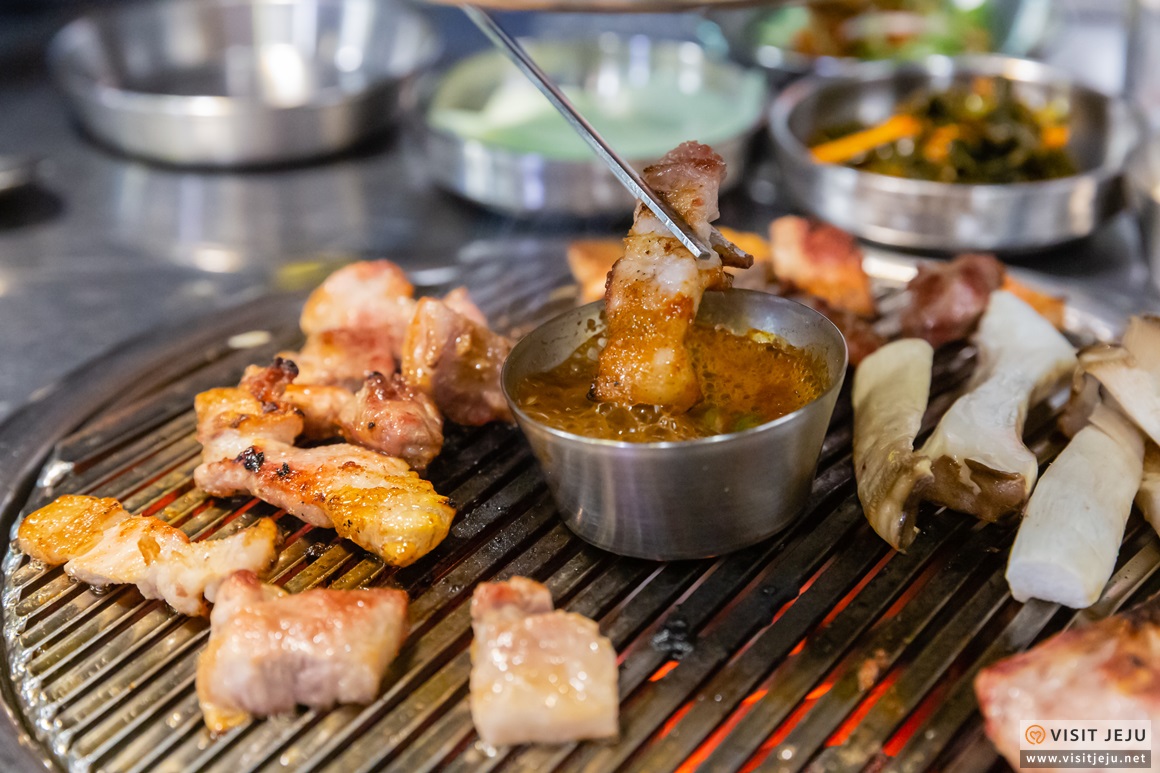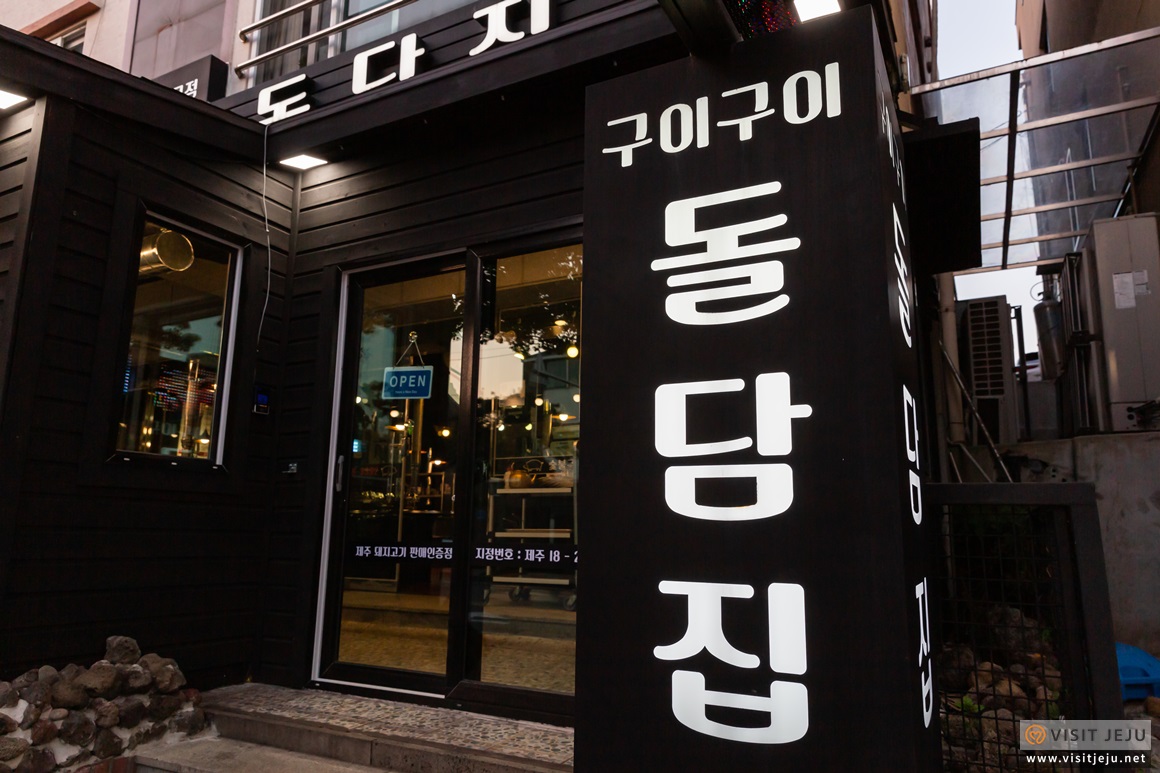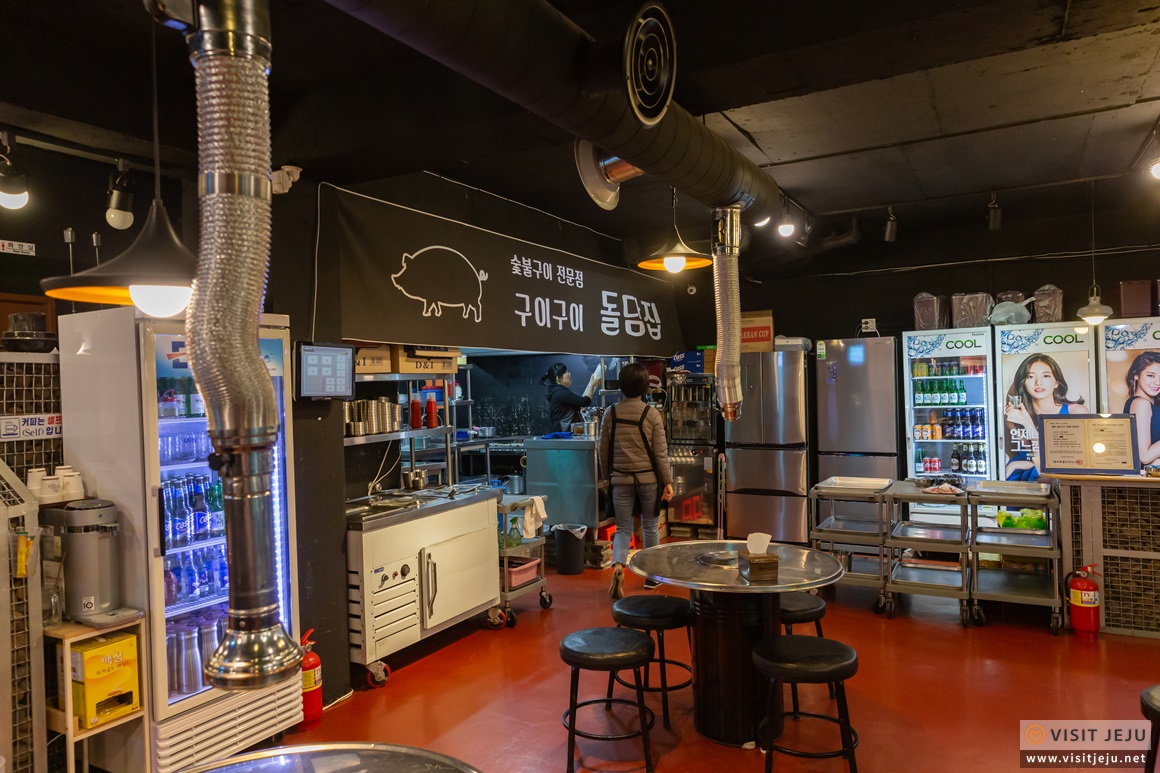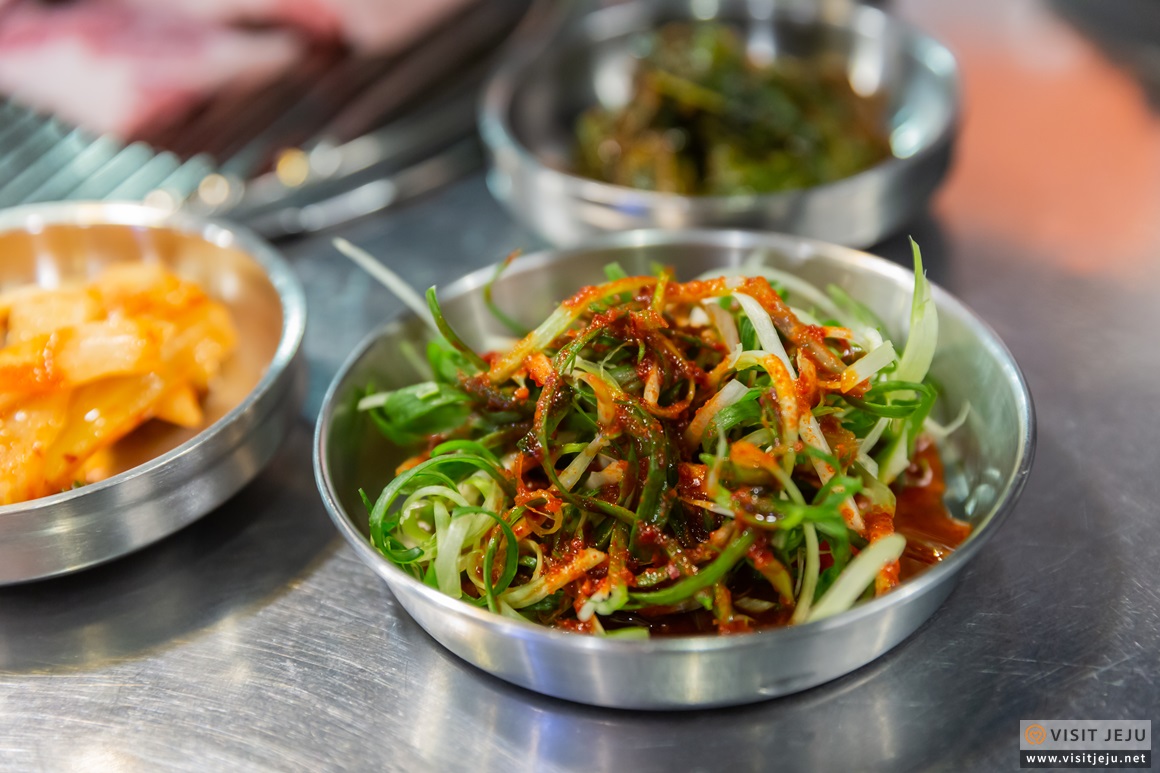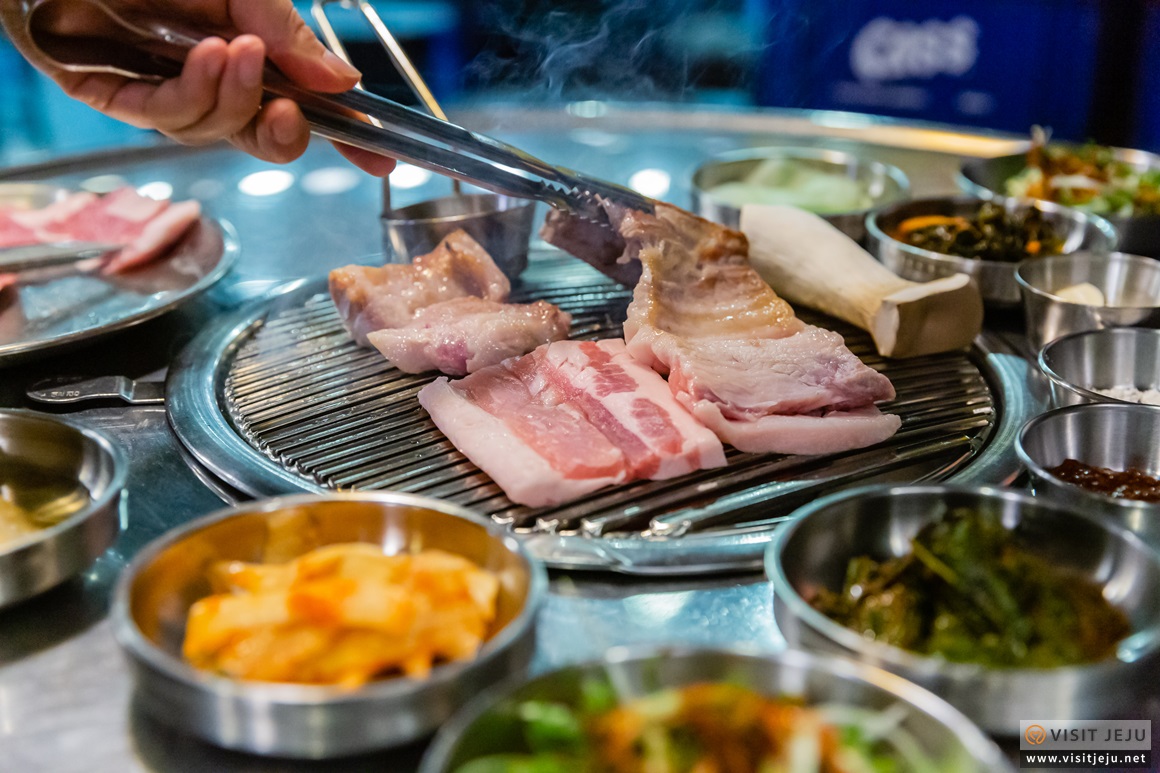 Address : 8, Sinseo-ro 32beon-gil, Seogwipo-si, Jeju-do
Phone : 064-738-3392
Hours : Daily 17:00~24:00, Closed on the first and the third Wednesday of every month.
Notice

※ The above information was written on 2018-12-06. Please confirm the information prior to your trip.
※ Unauthorized use of the content above (text, photos and videos) is prohibited and subject to copyright by the Jeju Tourism Organization.