본문
Taxis and Taxi Tours
Review

0

Lookup

4,854

Share SNS

0
Taxis and Taxi Tours in Jeju

Taxis are frequently used by tourists and locals alike, and you will find that grabbing a cab in Jeju is relatively easy if you are planning on visiting major tourist attractions or staying within Jeju City.




On the other hand, if you're looking to explore Jeju Island by visiting lesser-known sites or going to smaller villages, renting a Global Taxi may be the right option for you. Global Taxis offer you a chauffeured experience so you can travel without the hassle of trying to find a cab.




*Please be aware that because taxis are considered public spaces, the current Covid-19 regulations mandate all riders to wear masks. You will also need to check in via Jeju Safety Code, a QR code application that uses blockchain technology for contact tracing.
There is a well-organized taxi stand at Jeju International Airport right outside of Gate 3 of the Arrivals Hall (1st floor). You have the option of taking a regular taxi (seats up to 4 patrons), or a jumbo taxi (seats up to 8 patrons).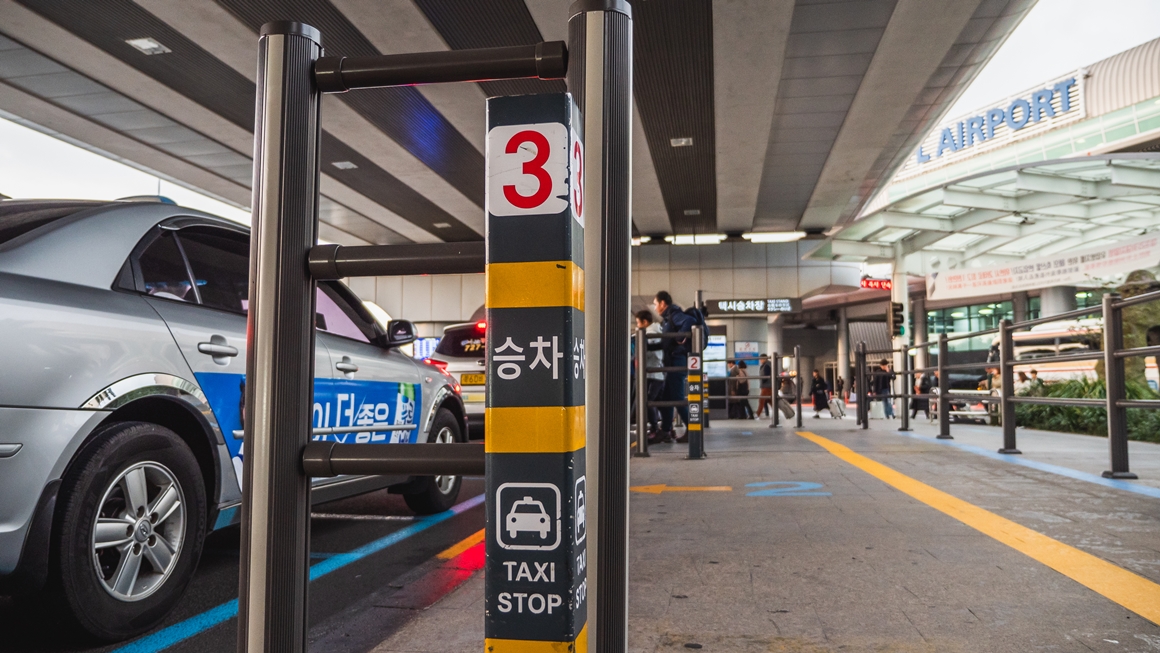 For reference, the estimated driving time from the airport to a location within Jeju City is between 10 and 20 minutes, and your cab fare will come out to under ₩10,000 ($8.40 USD). A cab ride from the airport to Jungmun in Seogwipo (south side of the island) can take up to one hour and cost you about ₩35,000 ($30 USD). If you're headed to the eastern or western tips of the island, expect a driving time of 70 to 80 minutes and a fare of approximately ₩40,000 ($34 USD). Driving time and taxi rates may differ according to traffic conditions.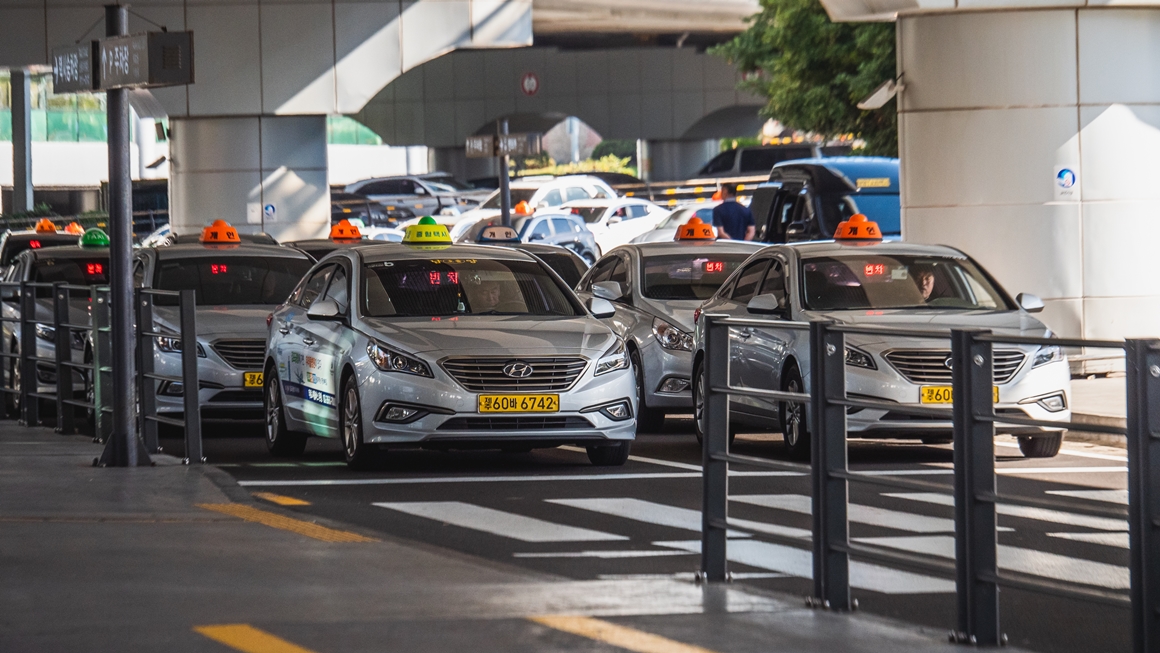 Taxis on Jeju are very common, and you will be able to find one with relative ease anywhere in the city or around any major tourist attraction. Just locate a taxi stand nearby or wait by a major road to flag one down. If the light on the windshield is turned off, that means the cab is in use. If you see red writing in Hangul, it will either mean that it is available (빈차) or reserved (예약).
It may be difficult to find one on smaller roads or in villages outside of the city, so if you need help hailing a cab after patronizing a restaurant or other business establishment, simply ask the shop owner or employee for assistance. If they phone for a cab, it's called a 'call taxi', and the taxi typically charges an extra ₩1,000 ($0.80 USD) for the service.
Pro Tip: Taxi drivers retire for the day earlier than in Seoul, so if you're planning on staying out into the night, finding another way to get back to your accommodations is highly recommended.
You won't find ridesharing apps like Uber or Lyft in Jeju, but you can easily use an app to call a cab. Kakao T is widely used in Korea, and it may be the easiest way to grab a cab. You must first create a Kakao account, then download the Kakao T app (English option available).

Good to Know: If connectivity is a concern, no worries! The province provides over 2,600 free public WiFi hotspots around the island! Most business establishments also provide WiFi, so Internet connection will be the least of your worries.
GIVING DIRECTIONS TO THE TAXI DRIVER
Most cab drivers in Jeju do not speak English. If you must communicate with the driver, or if for any reason during your trip you need translation services, you can call the Jeju Tourism Organization's travel hotline at 064) 740-6000. The hotline is open daily from 9 a.m. to 6 p.m. and offers services in English, Chinese and Japanese.
You can also call the travel helpline operated by Korea Tourism Organization by calling 1330. The lines are open 24/7 and the languages offered are English, Chinese, Japanese, Russian, Vietnamese, Thai, and Malay.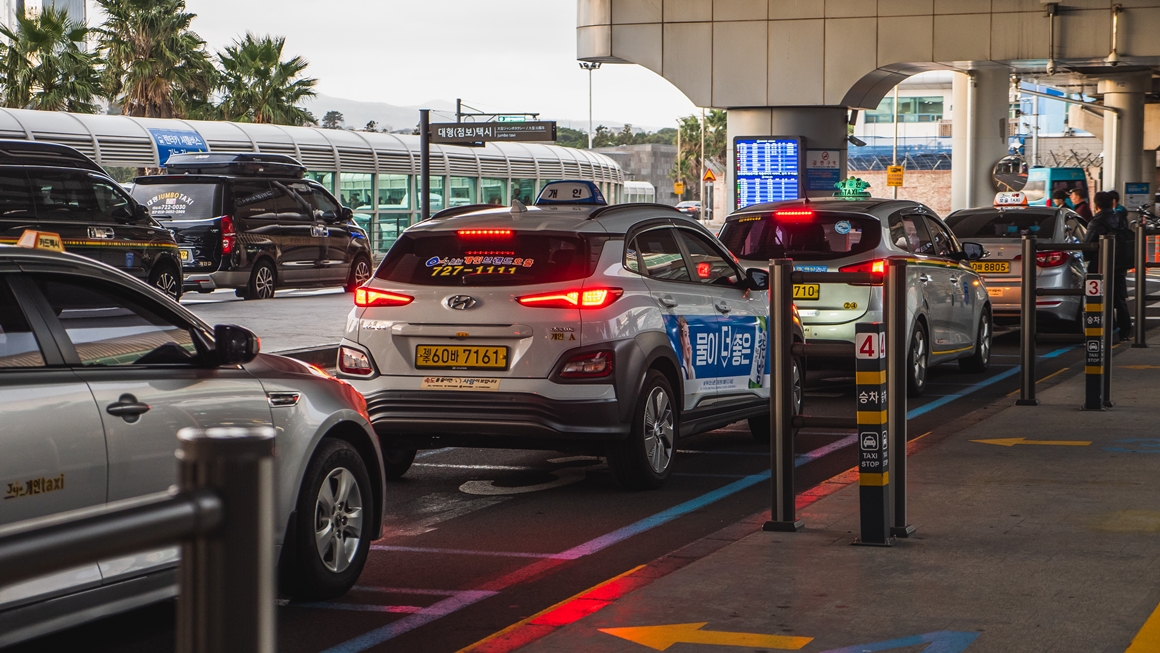 The base fare for taxis in Jeju is very affordable at ₩3,300 ($2.80 USD) for the first 2 kilometers (1.2 miles), after which it will increase incrementally by ₩100 ($0.08 USD). Jumbo Taxis have a base fare of ₩4,500 ($3.80 USD) and increases incrementally by ₩200 ($0.17 USD). Taxi fares increase by 20% between midnight and 4 a.m.
You can pay by cash, credit card, or T-money card*. In very rare cases, a taxi cab may not accept credit cards, so to be safe, you may want to ask the driver before taking off.

Pro Tip: If you are making a quick stop, it is totally fine to ask the driver to wait for you with the meter running.
*A T-money card is a prepaid transportation card that you can use for buses, subways, or taxis anywhere in Korea. You can purchase and fill one up easily at most convenience stores.
GLOBAL TAXI TOUR: WHAT IT IS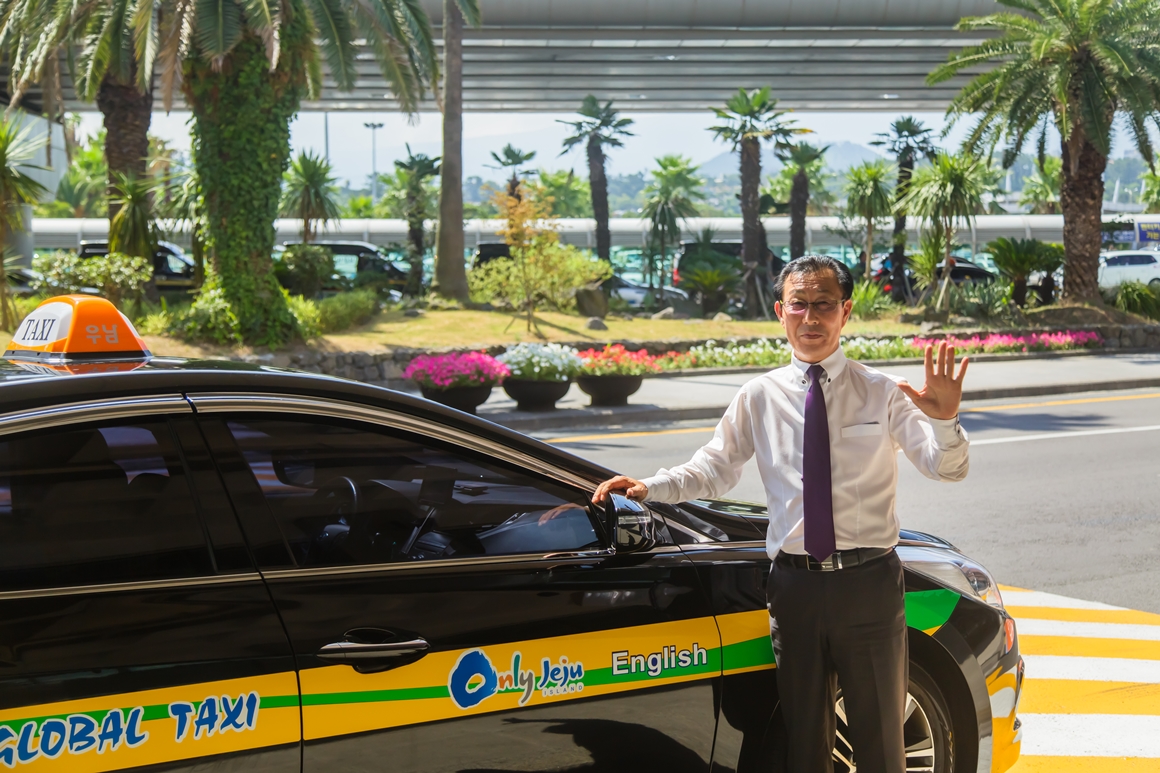 A Global Taxi Tour is a chauffeur service operated by the Jeju provincial government that may be a great option if you are planning on sightseeing outside of Jeju City and want personalized service. When you make an online reservation at their website (https://www.jeju.go.kr/globaltaxi), you can choose a driver who speaks English, Chinese or Japanese.
GLOBAL TAXI TOUR: WHAT TO EXPECT
Upon making your reservation, you will be given a brief profile and the contact information of the driver who is assigned to you. You will be speaking to your driver directly to discuss logistics and itinerary, and you can even ask him/her for advice on places to visit. You'll be able to fit in 4 to 5 locations in a single day.
GLOBAL TAXI TOUR: PICK UP & DROP OFF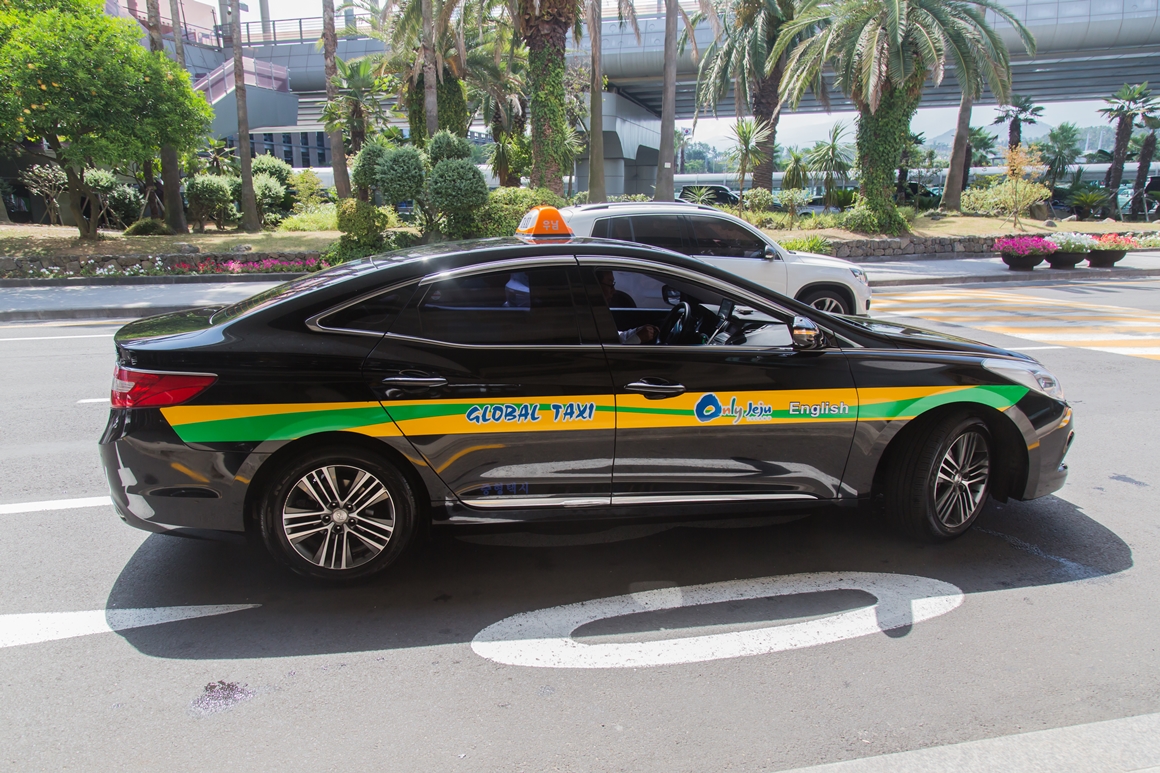 You can discuss pick-up and drop-off locations with your driver. You are not required to drop off your luggage first, but if you want to make a quick stop at your accommodations to check in or freshen up, you are more than welcome to do so - this is a fully customizable service! At the end of the day, your driver will drop you off at your preferred location.
GLOBAL TAXI TOUR: NARRATED GUIDE
If you would like a narrated guide of the island, or you have any questions about Jeju, your driver can give you a talking tour as you drive. Drivers cannot enter tourist attractions to give you a fully guided tour, but you'll find Global Taxi drivers to be very friendly and willing to assist you within the scope of their abilities.
GLOBAL TAXI TOUR: SAFETY MEASURES
Global Taxi Tours are generally very safe, but it is always recommended that you carry your valuables with you at all times. Bigger pieces of luggage can safely be kept inside the vehicle. Seat belts for all passengers are required by Korean law, and according to the current Covid-19 regulations, wearing a mask in taxi cabs is mandatory.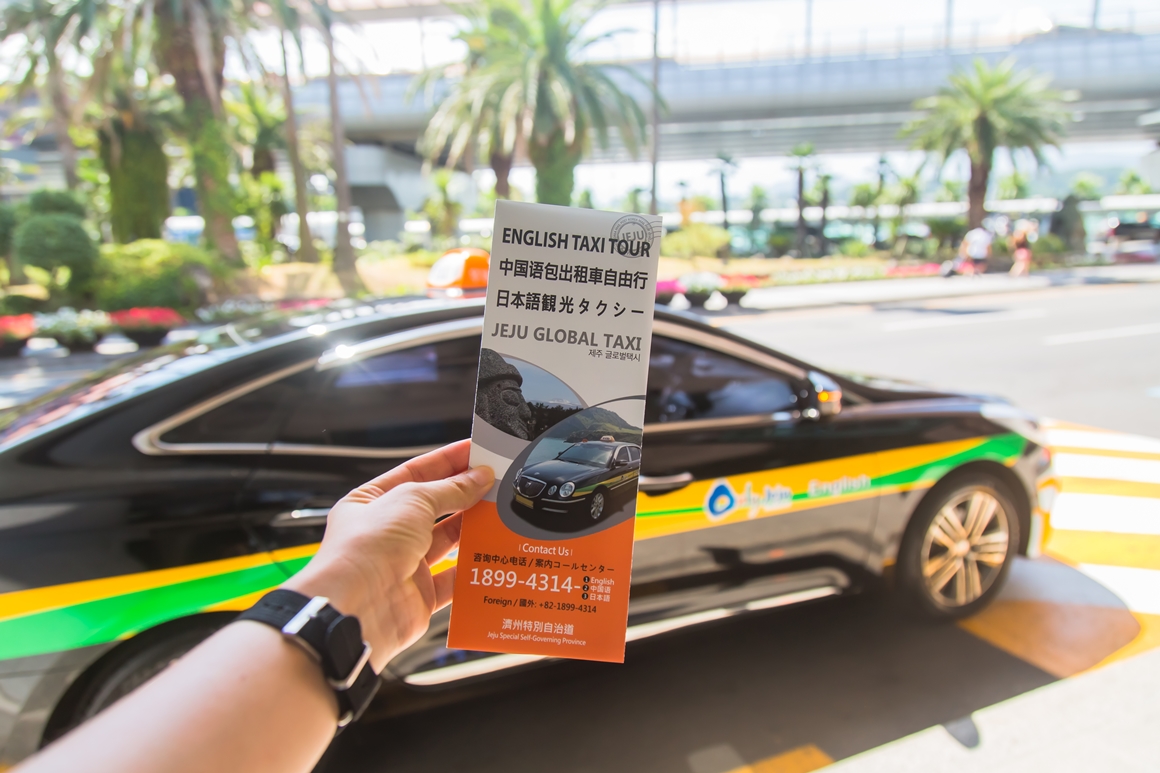 GLOBAL TAXI TOUR: WHAT IT WILL COST
Reservations are based on 8-hour days, with the option to choose from two time frames: 9 a.m. to 5 p.m. or 10 a.m. to 6 p.m. You can add additional hours at an extra charge.

General taxis are 5-passenger sedans and cost ₩180,000 ($151 USD) for an 8-hour day and ₩20,000 ($17 USD) for every added hour.

Jumbo taxis are 7 or 8-passenger vans (Kia Carnival or Hyundai Starex) and cost ₩250,000 ($210 USD) for an 8-hour day and ₩30,000 ($25 USD) for every added hour.

Luxury jumbo taxis are Kia Carnival Hi Limousines. These luxury minivans are 7-passenger vehicles, and you can rent one for an 8-hour day for ₩330,000 ($278 USD). Every additional hour will cost you ₩40,000 ($34 USD).

These prices include the cost of fuel, parking, and insurance. It does not include your entrance fees or meals. Paying extra for the driver's meal is not required. Tipping is also not required but always appreciated!
Notice

※ The above information was written on 2022-01-08. Please confirm the information prior to your trip.
※ Unauthorized use of the content above (text, photos and videos) is prohibited and subject to copyright by the Jeju Tourism Organization.