본문
Five Delicious Restaurants and Cafés on Aewol Handam Coastal Road
The hottest new place for foodies in Jeju is Handam Coastal Trail. This small stretch of the seafront is packed full of delicious venues. Here are some highlights.
Perfect for Foodies

Five Delicious Restaurants and Cafés on Aewol Handam Coastal Trail

Handam Coastal Trail is a short walking path along the west coast of Jeju. It starts at Handam Village and ends at Gwakji Beach. It's a scenic route that takes you along the rocky coastline and provides great views out over the sea. It's long been a popular spot for walkers, but more recently, the coffee shops and restaurants that line the route have attracted the island's foodies. This article will introduce five of the most popular spots. You can check out our video guide to the area below.
Spicy Seafood Ramen in Rustic Surroundings
Nolman
Nolman is a tiny restaurant tucked away in a refurbished old Jeju house by the sea. It has a single item on the menu: seafood ramen stuffed to the brim with crab, shrimp, and mussels. The soup is spicy and salty, while the fresh seafood lends the broth an extra richness. The restaurant's location in an old stone house means there is limited seating and visitors are advised to share their tables with other customers. As the seating is in a covered area outside, the restaurant may close at short notice due to heavy wind or rain so be sure to check before heading out. If you want a unique experience and some delicious seafood by the sea, then Nolman is a great option.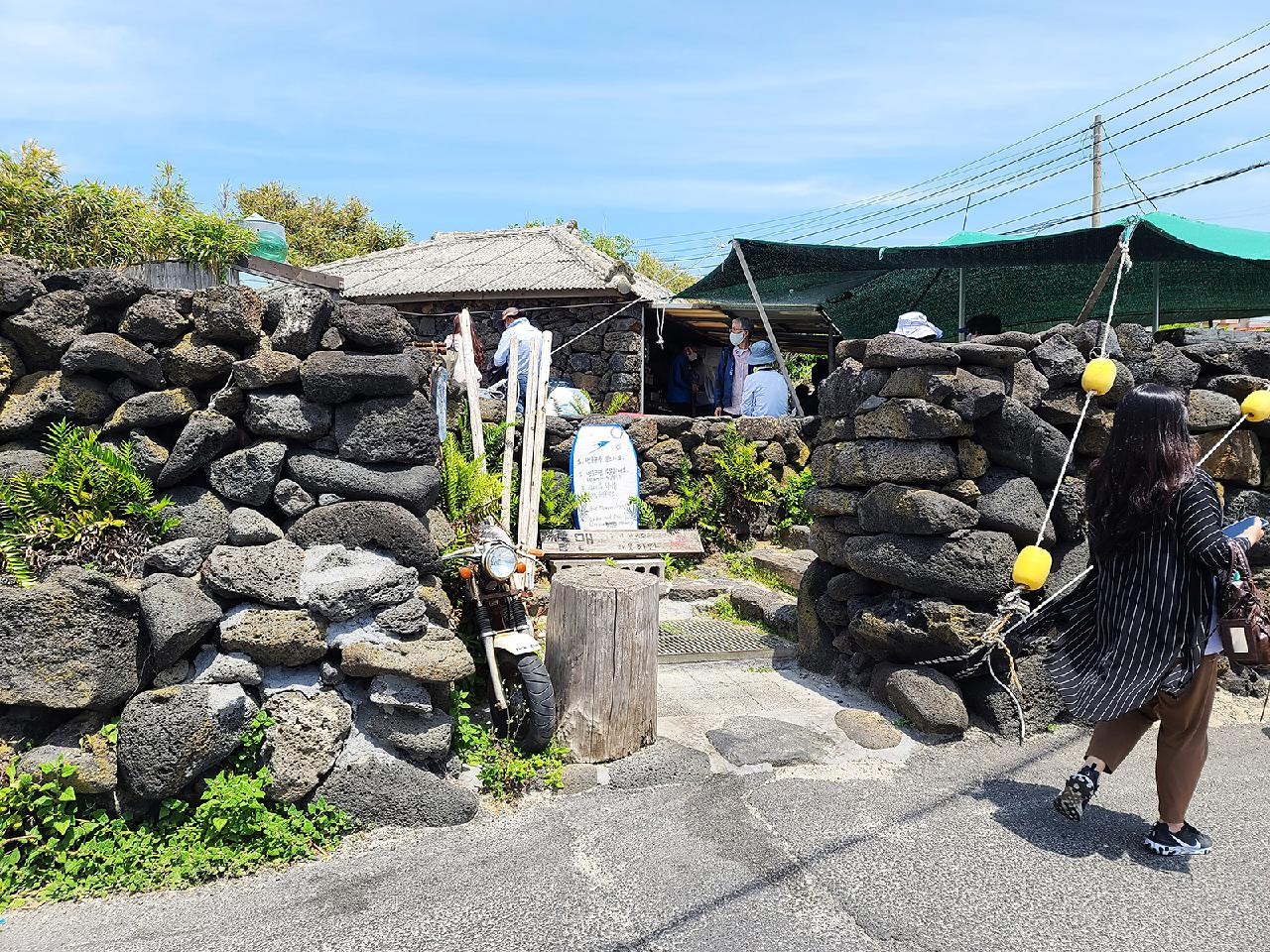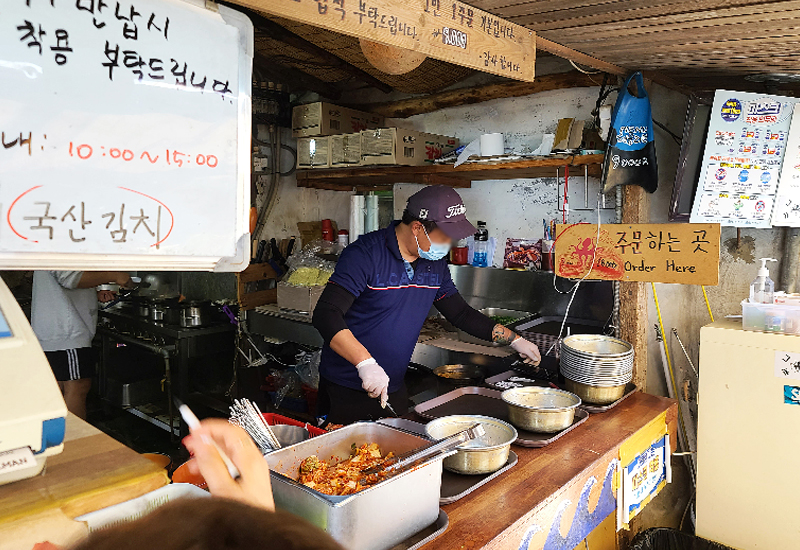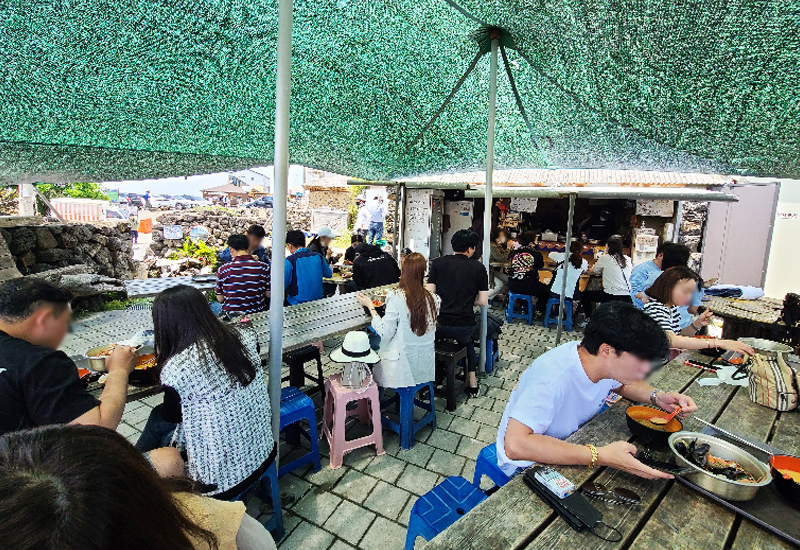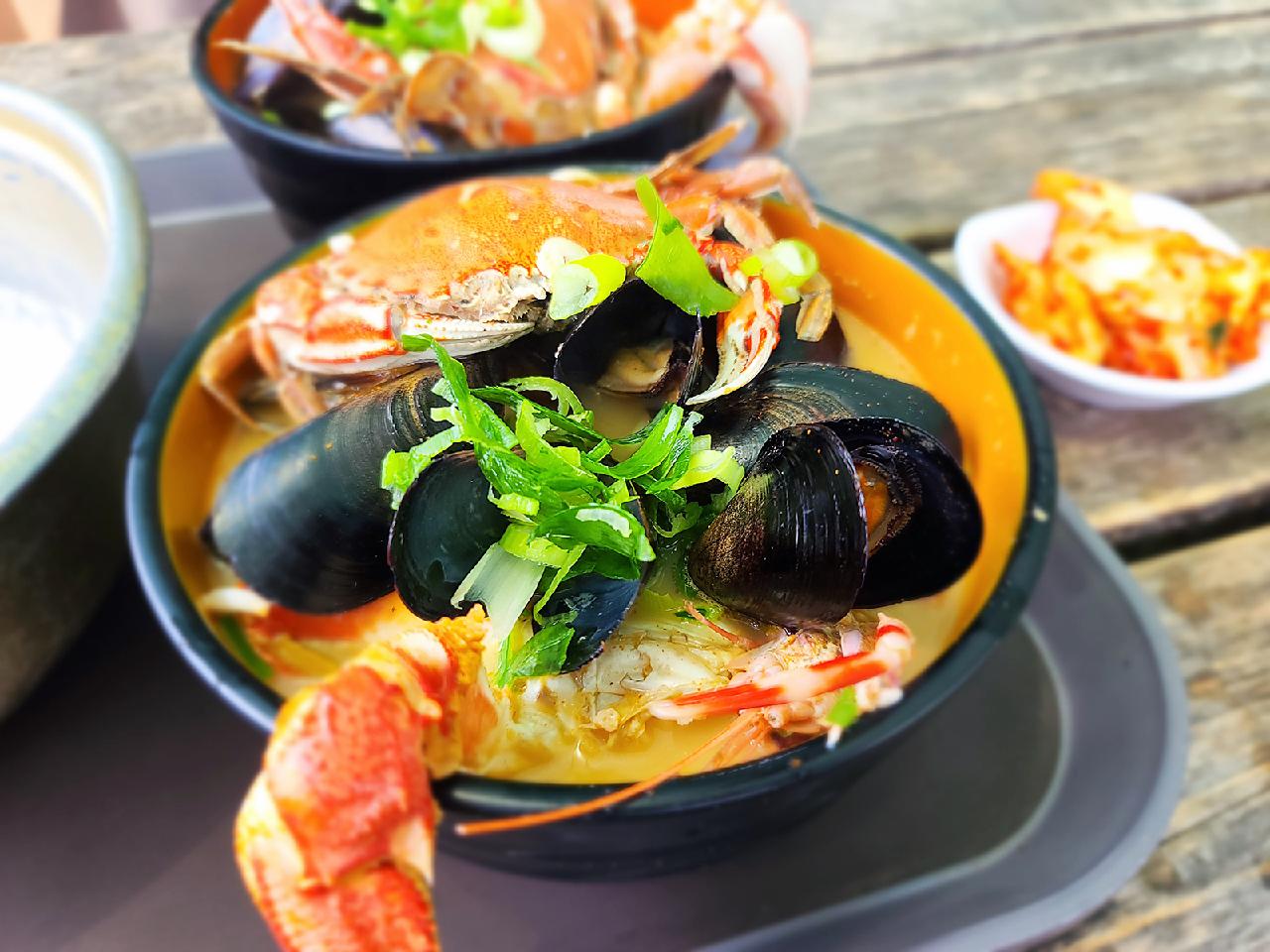 Address: 24 Aewol-ro-1-gil, Aewol-eup, Jeju-si, Jeju-do
Contact: 064-799-3332
Business Hours: 10 a.m. until 3 p.m. (Closed on Tuesday)
Price: Seafood ramen costs KRW 8,000
Website: www.instagram.com/nolman_jeju/
Trendy Hamburgers Straight from Seoul
Downtowner
Downtowner is the second location of a hugely popular Seoul-based restaurant that sells fast-casual-style hamburgers. The venue is perhaps most well-known for its avocado burger, which sees sliced avocado spread out alongside tomato and bacon. The effect is a colorful (and delicious) sandwich. You can also choose burgers with classic fillings like cheese, bacon, and egg. The menu has a selection of fries topped with garlic butter, guacamole, or bacon cheese. The location is in a fun spot called Illwol Sunset Beach—a palm tree-filled area shared with several other restaurants, cafés, and bars. Downtowner's popularity means there can be queues, so be prepared to wait if you plan to eat at a busy time.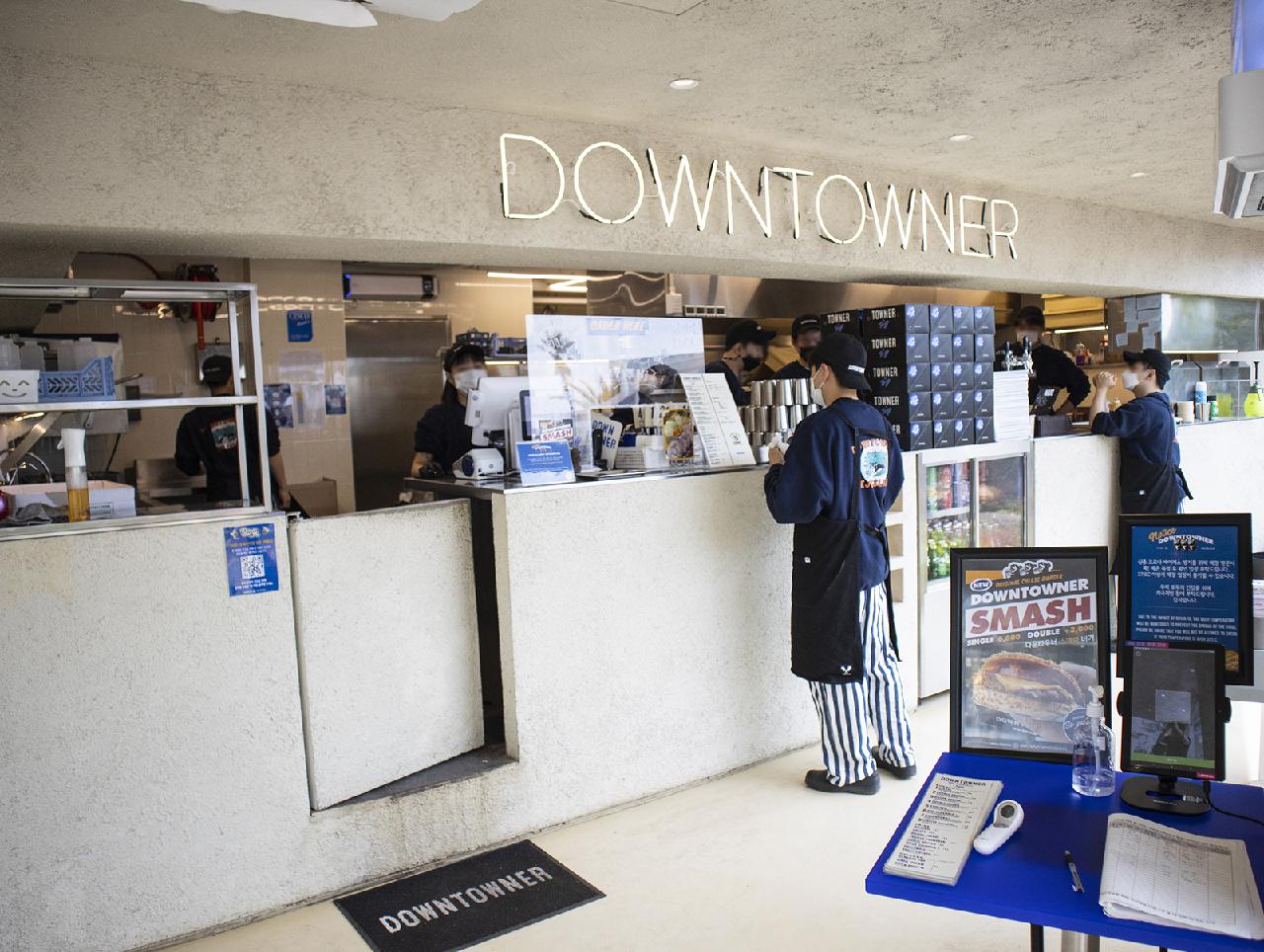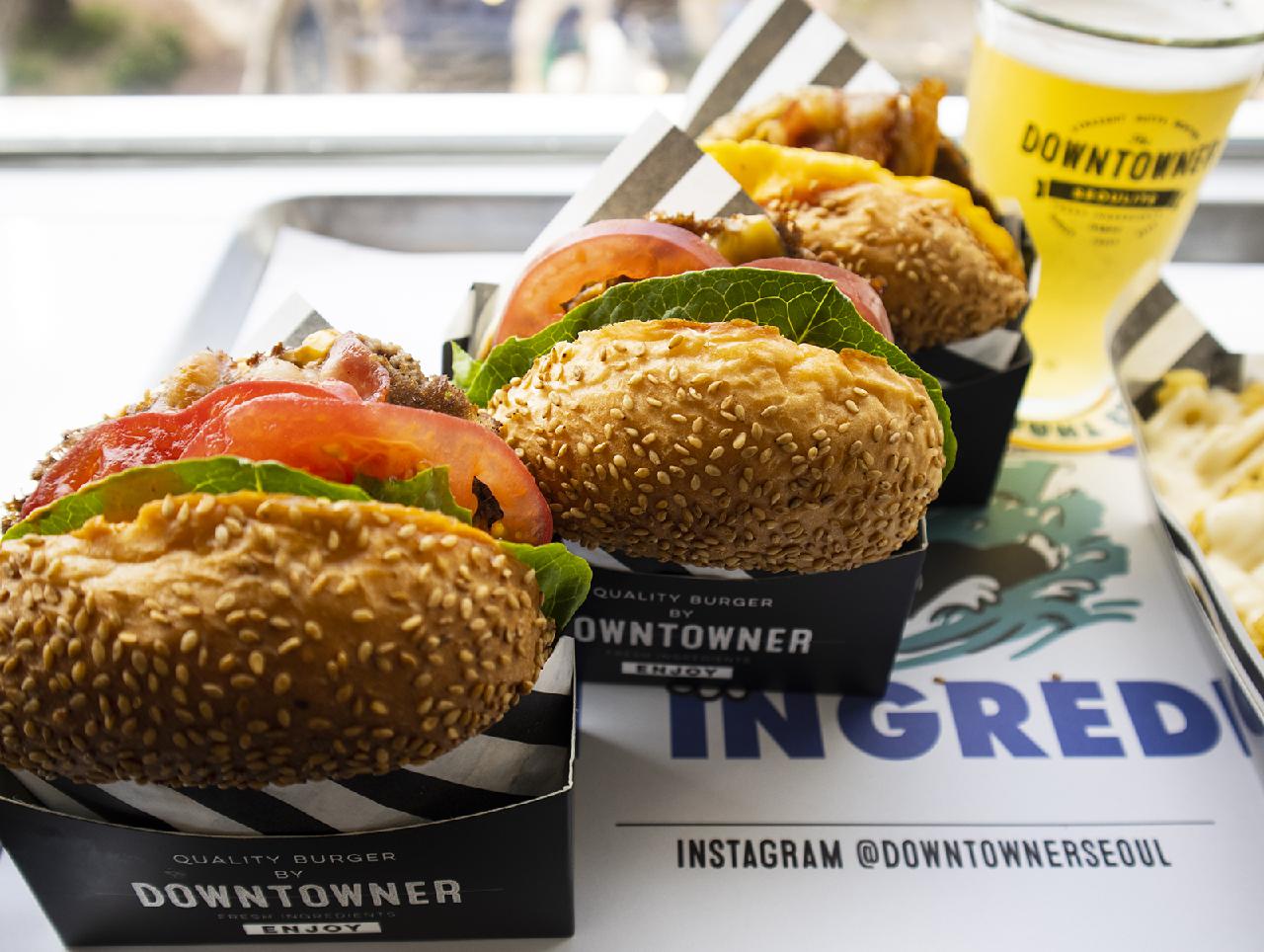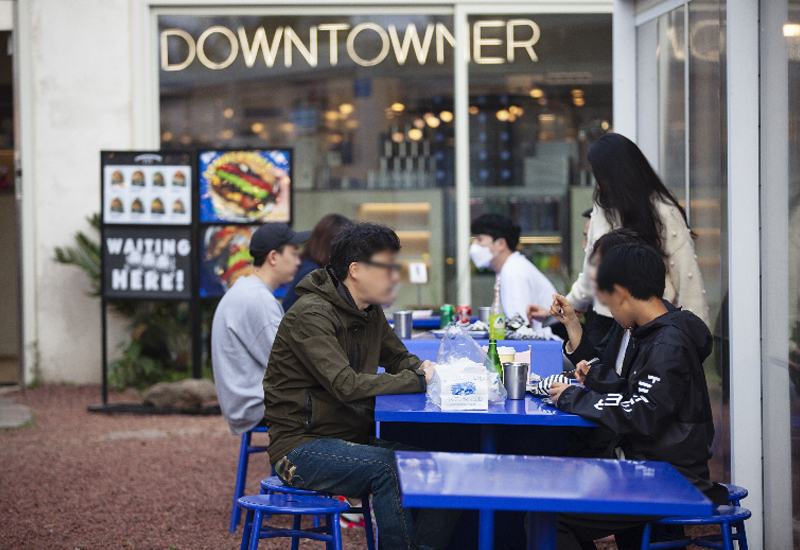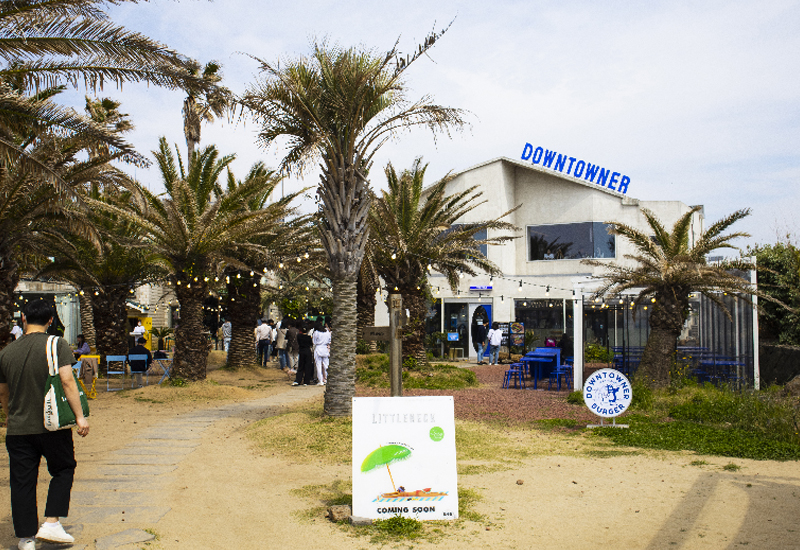 Address: 24-9 Aewol-1-gil, Aewol-eup, Jeju-si, Jeju-do
Contact: 0507-1315-0160
Business hours: 11 a.m. until 9 p.m. (Last order at 8 p.m.)
Prices: Burgers start at KRW 6,800 / Fries start at KRW 4,300
Website: www.instagram.com/downtownerseoul/
Cute and Delicious Donuts
Cafe Knotted Jeju Aewol
Cafe Knotted sells a variety of filled donuts that are notable for their unique toppings and cute presentation. You can try flavors like Jeju green tea, kaya butter, earl grey, and espresso. It's possible to buy a single snack or grab a box to take away. As well as donuts you can buy other sweet baked goods such as filled croissants, waffles, and cookies. The venue also has a good selection of espresso-based coffee drinks. The café spreads out over two floors so there is plenty of seating. It's located near to Downtowner in Illwol Sunset Beach and you can grab a table outside when the weather is nice.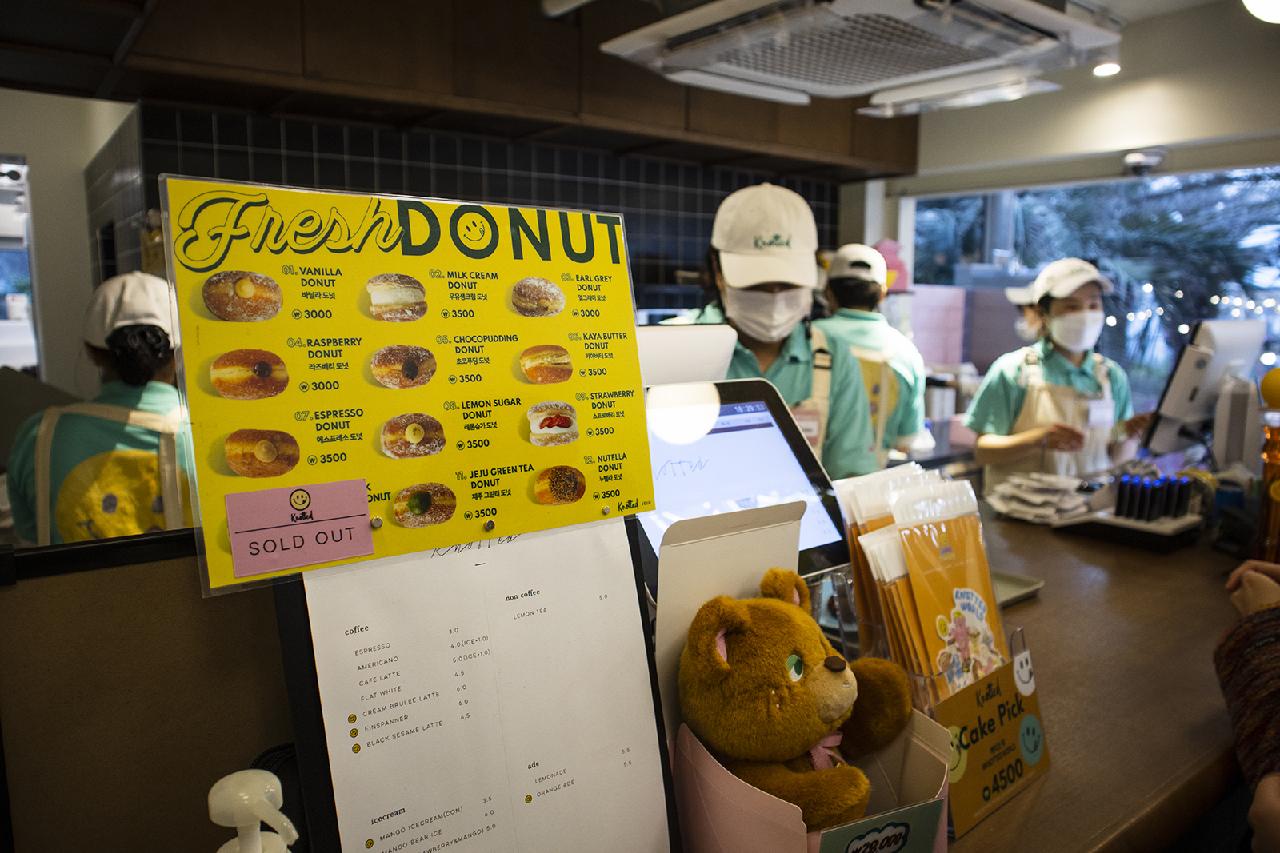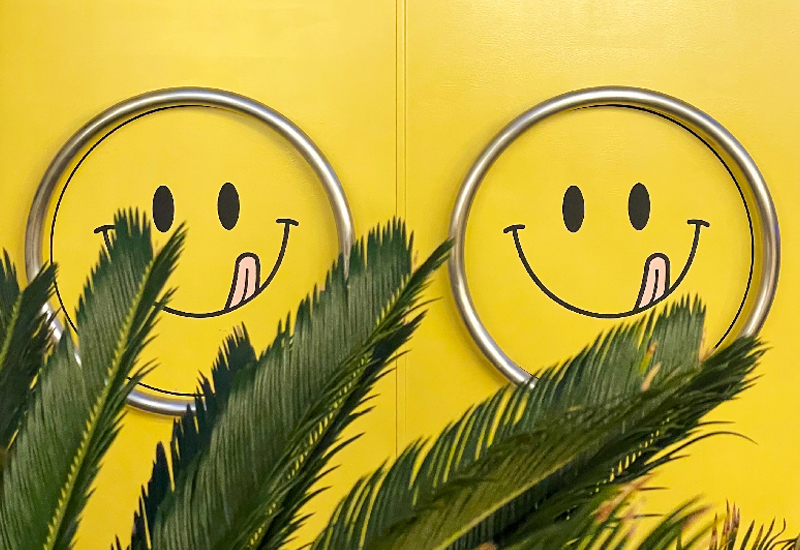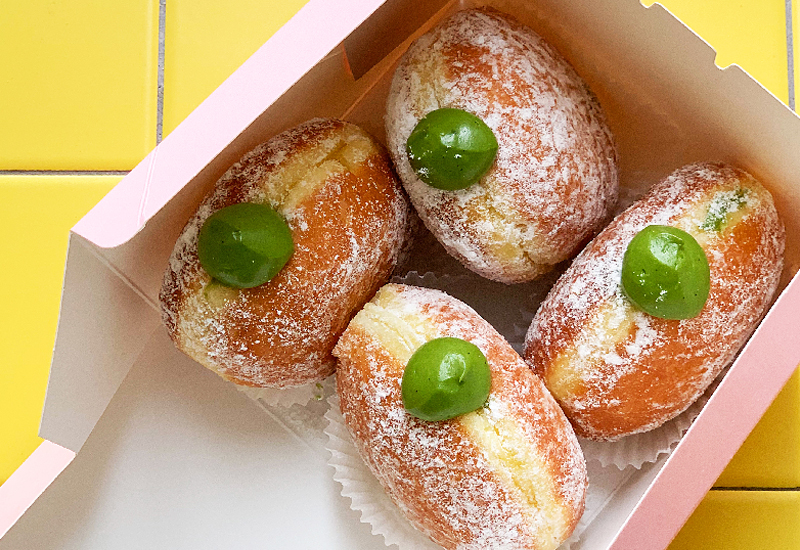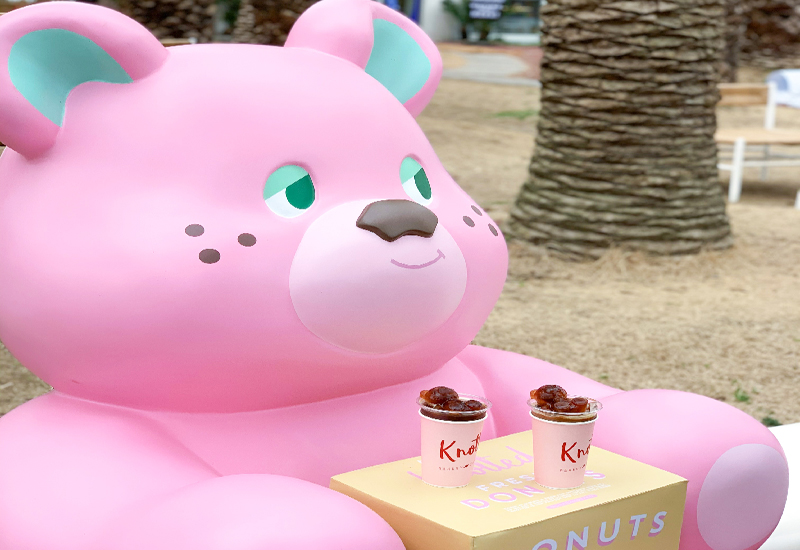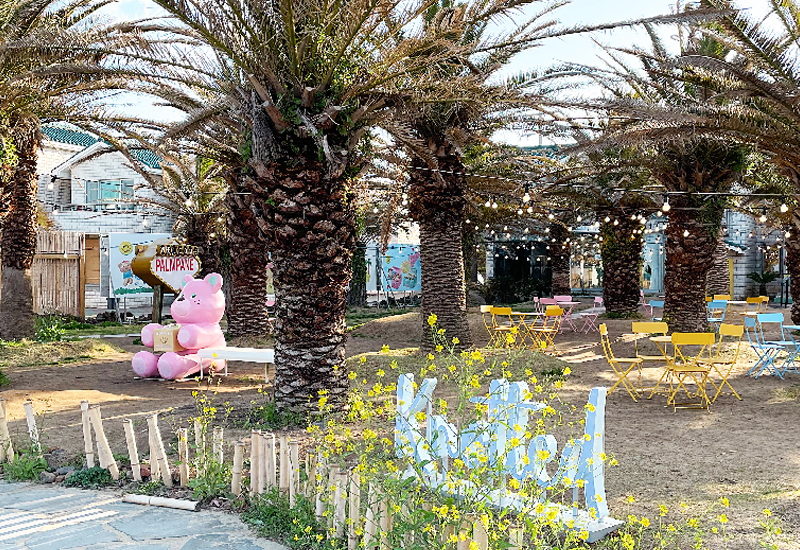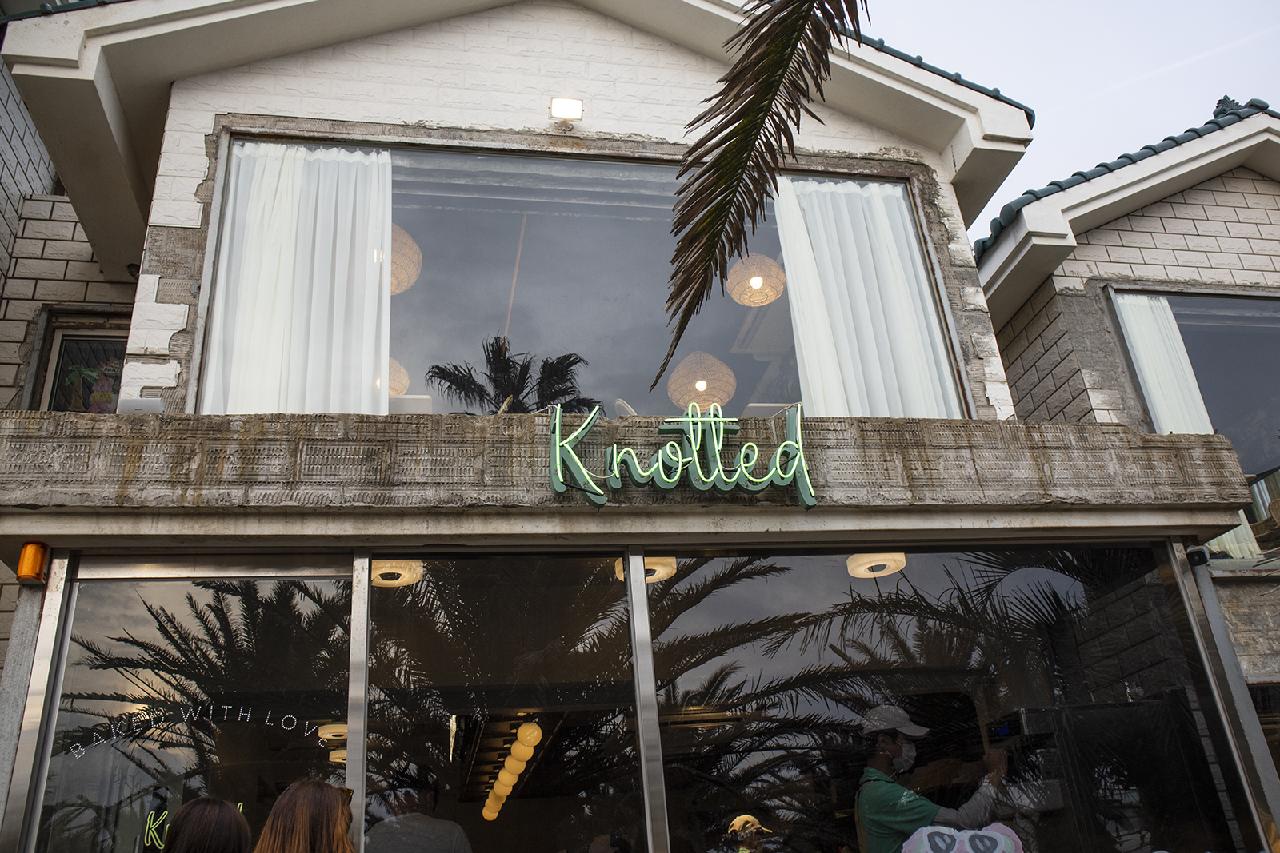 Address: 24-9 Aewol-1-gil, Aewol-eup, Jeju-si, Jeju-do
Contact: 010-2420-0970
Business Hours: 10 a.m. until 8 p.m.
Prices: Donuts start at KRW 2,500
Website: www.instagram.com/cafeknotted/
Lobster Roll Food Truck
Queen's Blue
Queen's Blue is a food truck that sells tasty lobster rolls. The chef leaves the lobster shell on when they serve the dish which makes for fun pictures. When you take the shell off you'll see the delicious meat underneath, which has been drizzled with sauce. You can upgrade your sandwich to a set that adds fries and a drink to your meal. The venue is located in Illwol Sunset Beach and has a small, covered seating area. It's open from 11 a.m. until 7 p.m. Be aware that the food frequently sells out before the official close time. As the seating is outside the venue also shuts when it rains. You can check the restaurant's Instagram account for updates.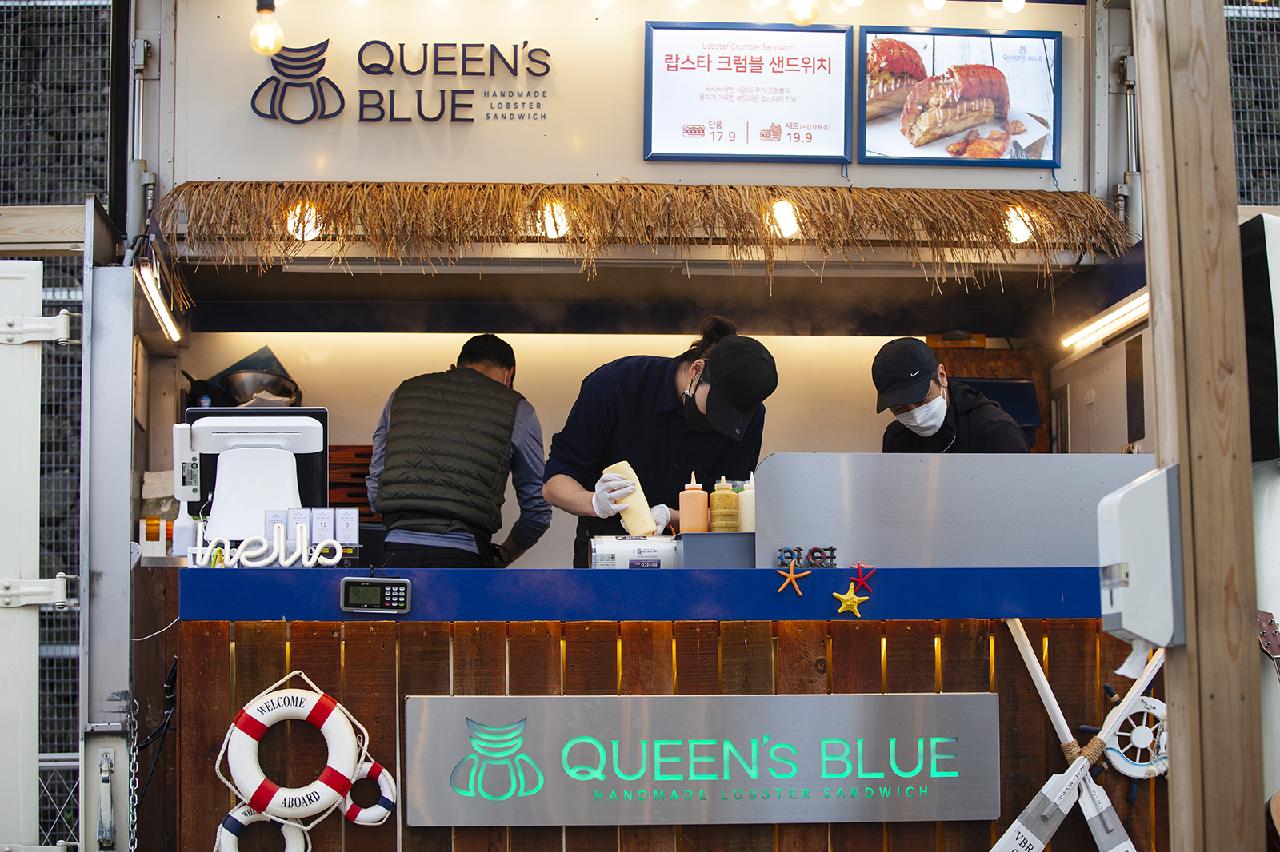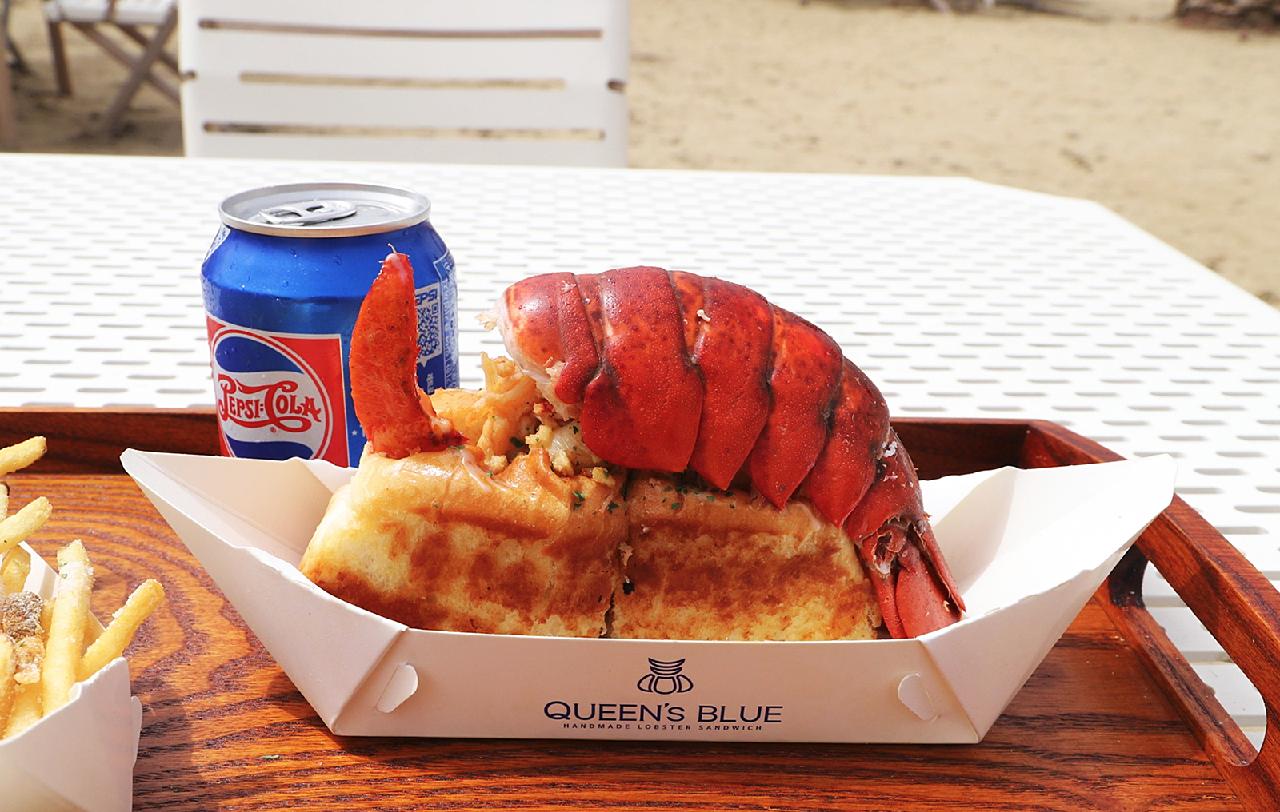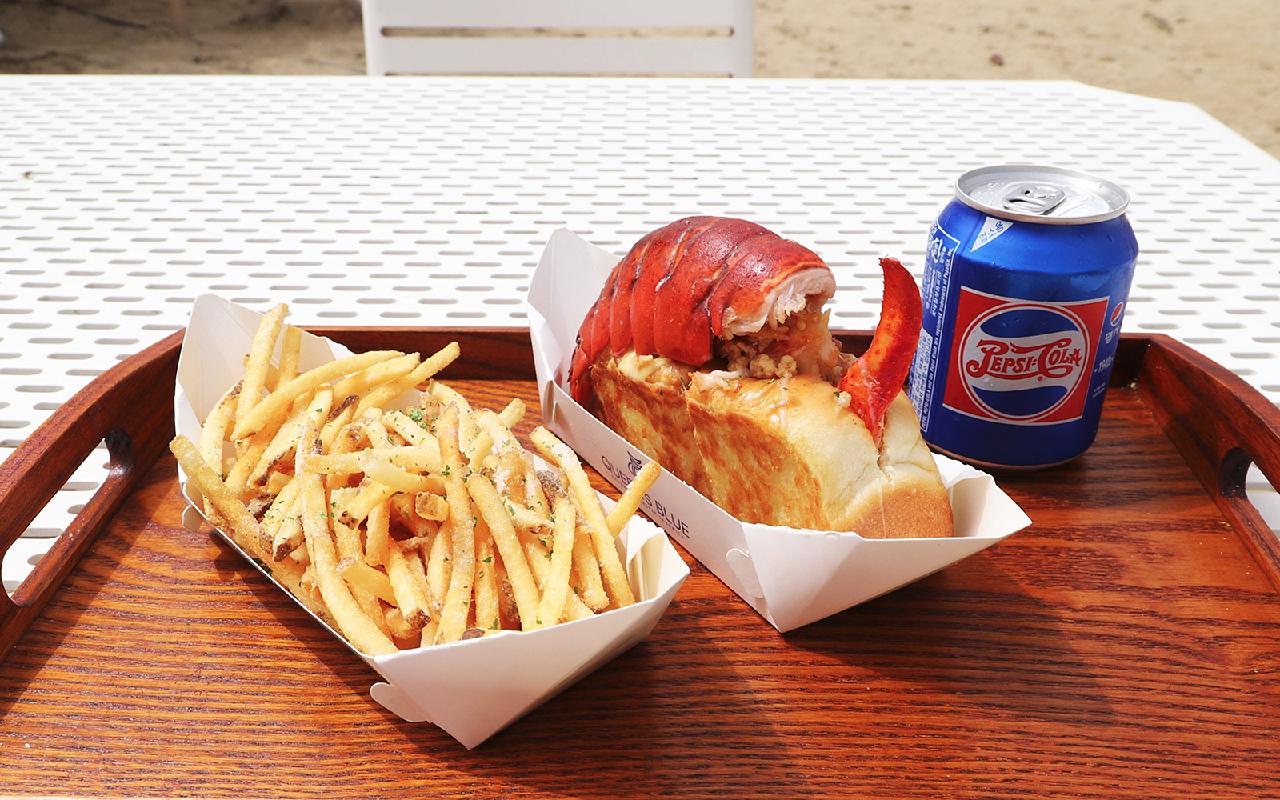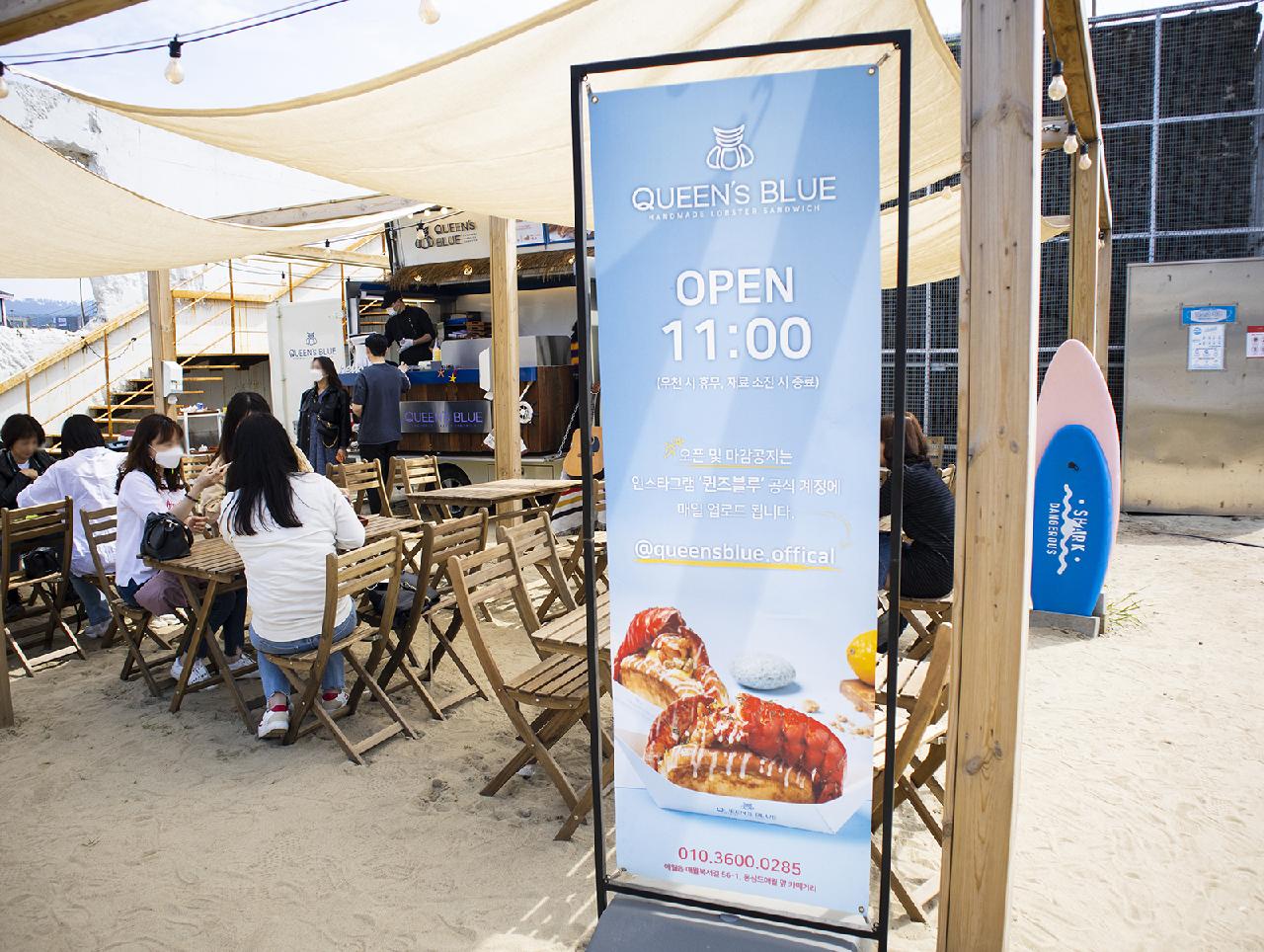 Address: 24-16 Aewol-ro-1-gil, Aewol-eup, Jeju-si, Jeju-do
Contact: 064-3600-0285
Business Hours: 11 a.m. until 7 p.m.
Prices: Lobster sandwich KRW 17,900 / Lobster sandwich with fries KRW 19,900
Website: www.instagram.com/queensblue.offical/
Seafood With a Sea View
Aewol Hami
Aewol Hami is a seafood restaurant with fantastic views out over the water. It has a large menu containing everything from sliced raw fish sets to various types of seafood stew. One of the restaurant's highlights is its Seafood Galchi Jorim. Galchi Jorim is a type of braised cutlassfish dish common on Jeju, but Aewol Hami takes things one step further by serving it in a long metal pot and stuffing it with other types of seafood including shrimp and shellfish. The restaurant has a large outdoor seating area as well as indoor options. If you want a sweet treat to wash down the food, then Hiend Jeju is a café located next door that sells various cakes and ice cream.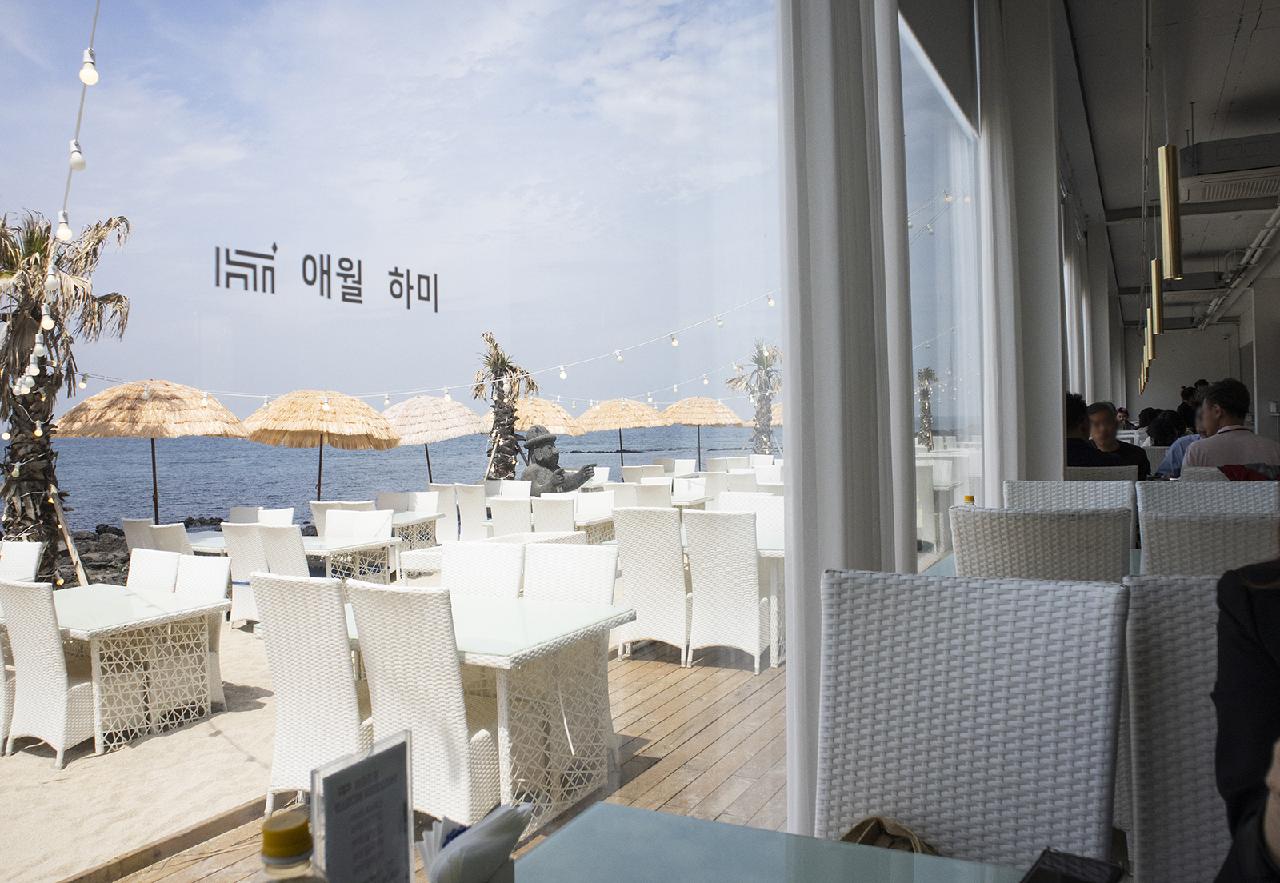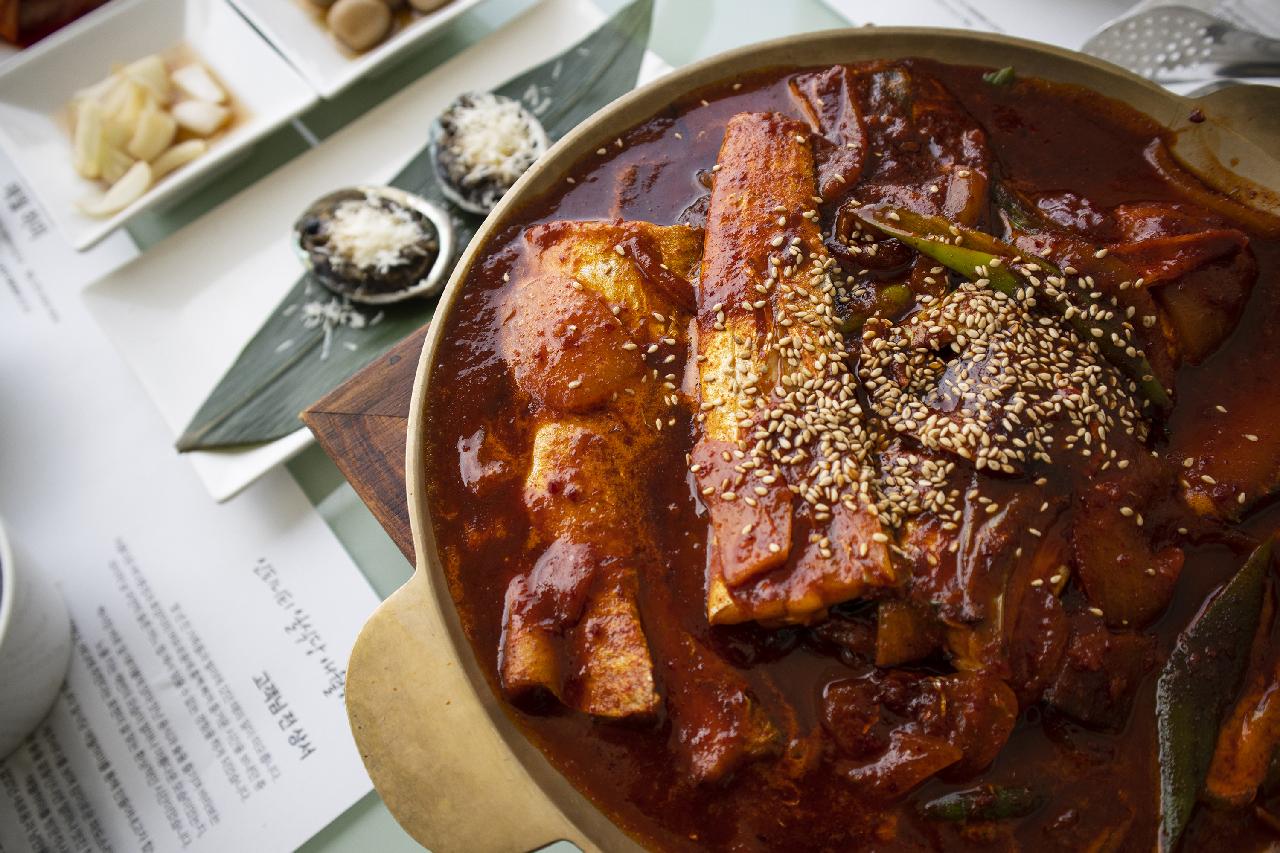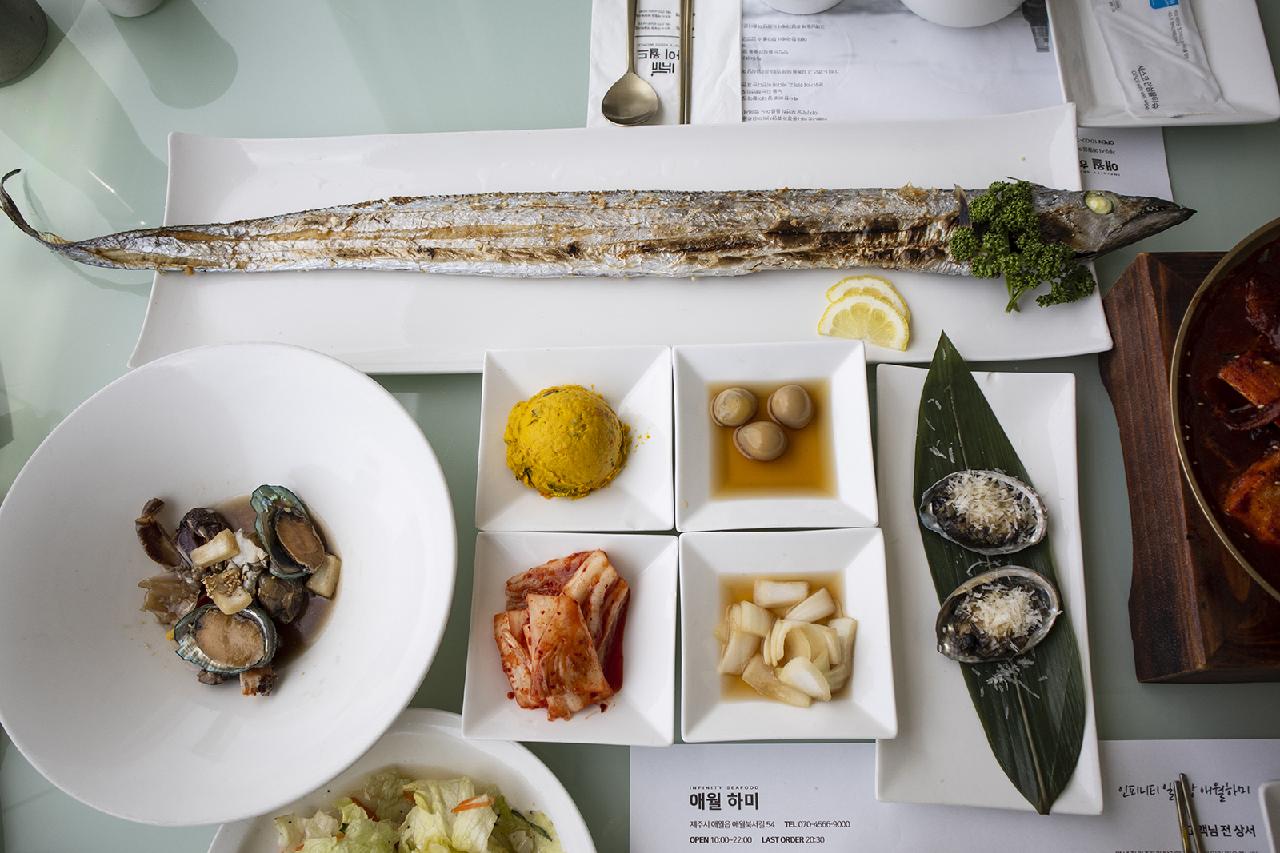 Contact: 070-4566-9000
Business Hours: 10:30 a.m. until 10 p.m.
Prices: Braised cutlassfish with seafood KRW 100,000 / Sliced raw fish sets from KRW 40,000
Website: www.instagram.com/jeju_aewolhami/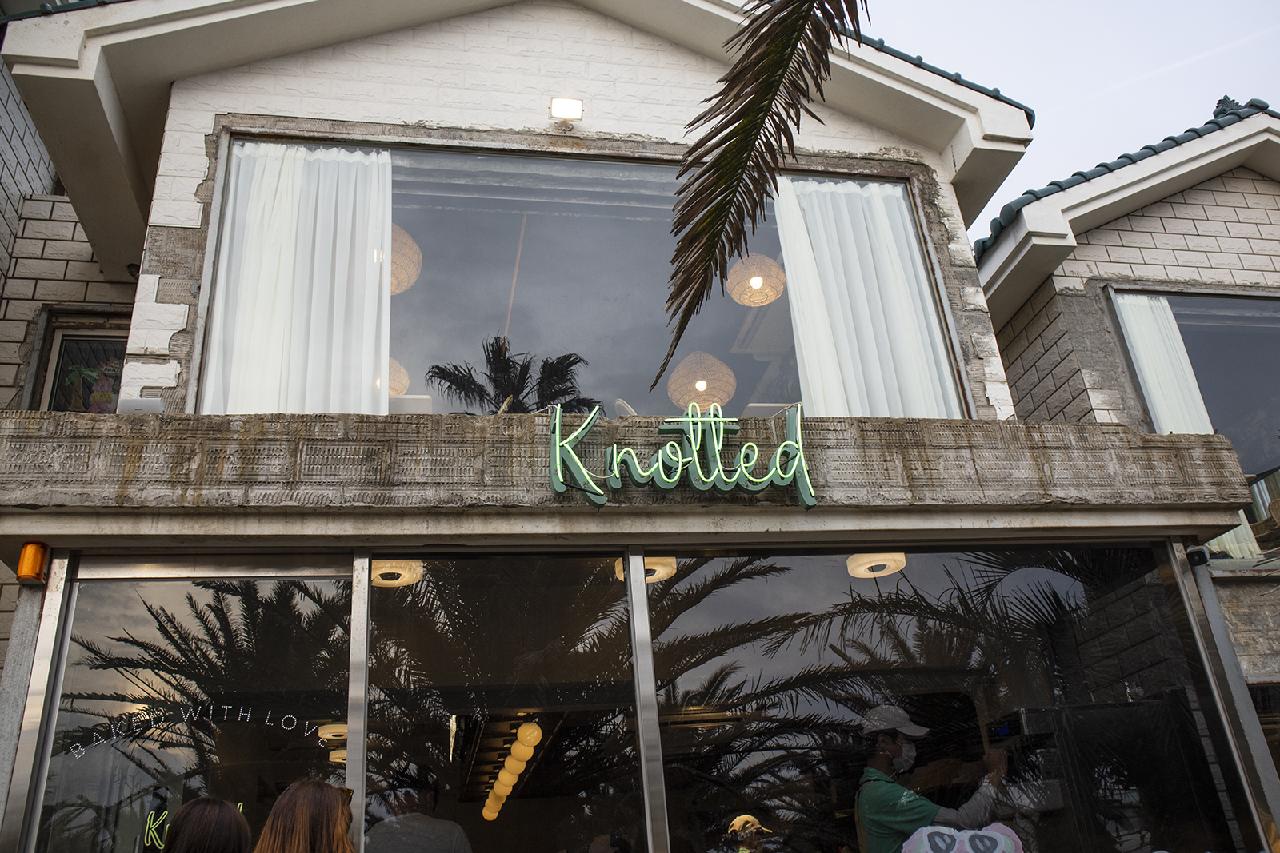 Notice

※ The above information was written on 2021-05-07. Please confirm the information prior to your trip.
※ Unauthorized use of the content above (text, photos and videos) is prohibited and subject to copyright by the Jeju Tourism Organization.