본문
Three Day Itinerary to Tropical Jeju Island; South Korea's Version of Hawaii

Creating your itinerary

The volcanic island of Jeju has many tourist spots and beautiful hidden sights you need to work a little extra to see, but that's the fun of traveling to a new destination, or discovering gems. While Jeju isn't a large island because you can actually drive the perimeter in one day, to make sure you visit "must see" spots, creating a day-by-day itinerary will help prevent unnecessary time on the road.
ㆍHyeopjae Beach
I couldn't wait to see the beaches Jeju had to offer, so I headed over to Hyeopjae Beach which is about a minutedrive from Jeju City. The beautiful teal waters make for a great first impression to the island. Lined with cafes, white sandy beaches and black rocks perfect for picture taking!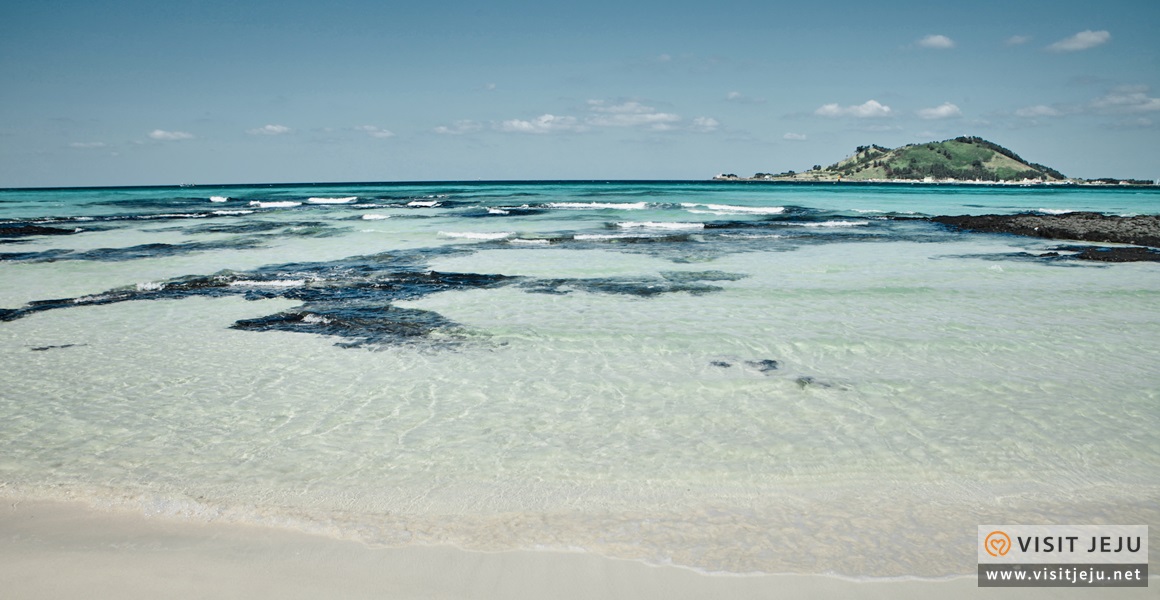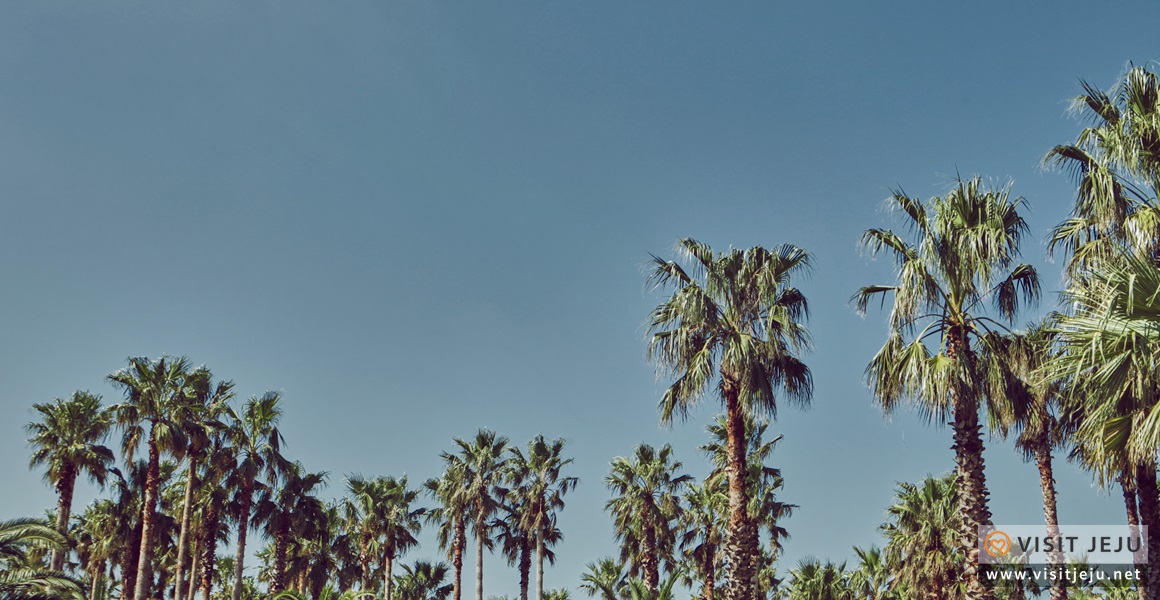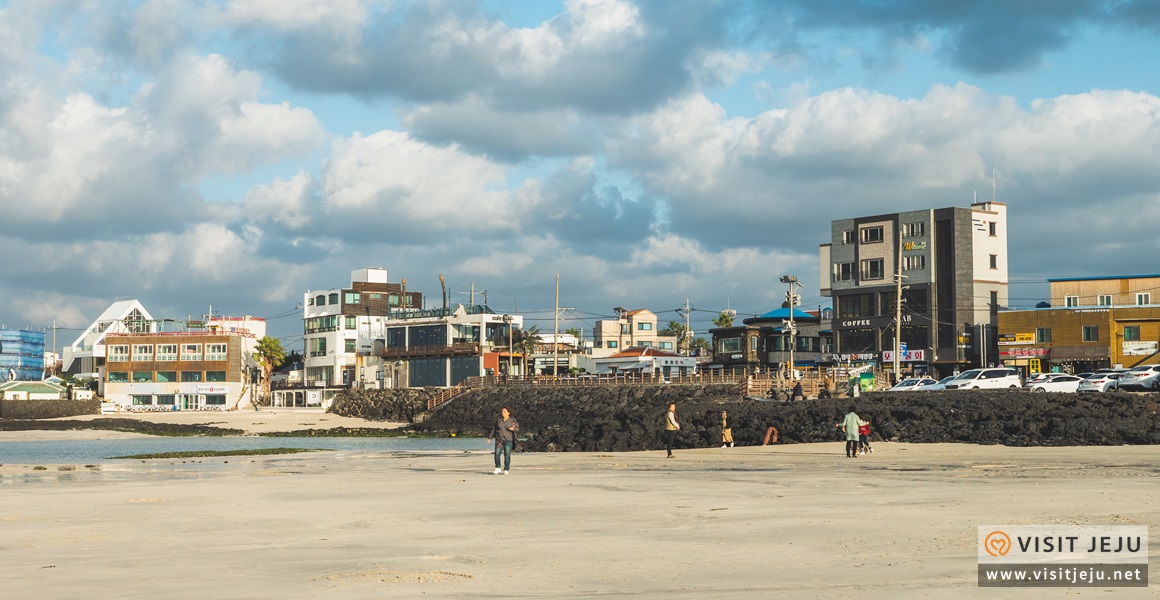 Address: 329-10 Hallim-ro, Hallim-euJeju-si, Jeju-do
Hours: Sun - Sat: 24 Hours
Admission: Free
ㆍMônsantCafé Aewol
This cafe was stunning in person. Going close to sunset time will make for the best reflections against the café walls since the building looks like one giant mirror. Plenty of places to take selfies with the beach as background with pink and blue sunsets Jeju had every night I was in town. I felt like I had transformed back to Hawaii even with the views and feels.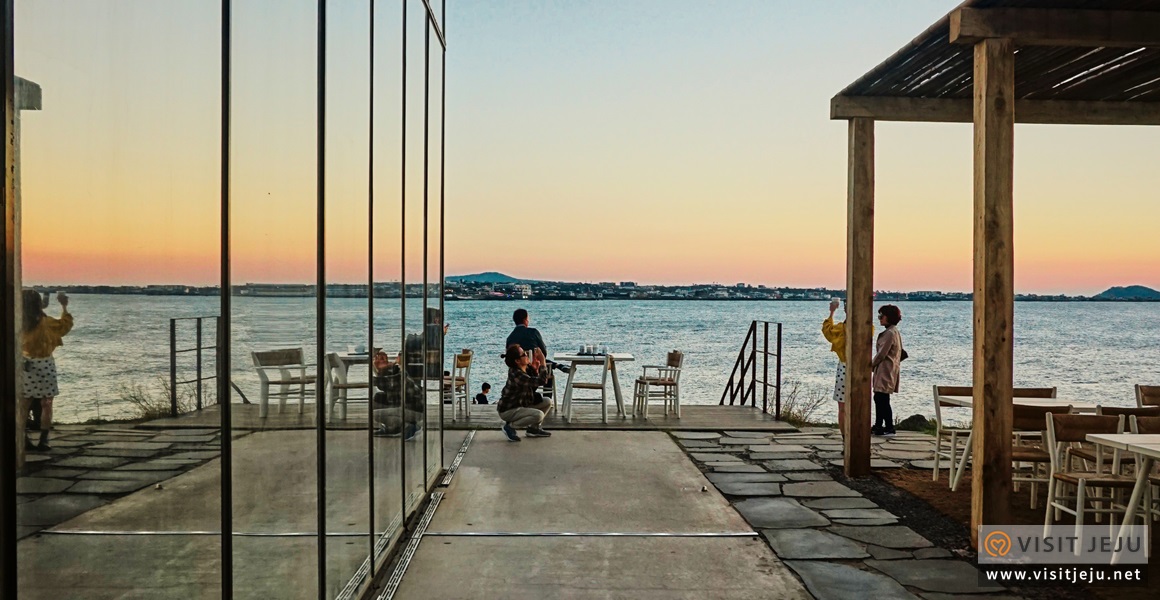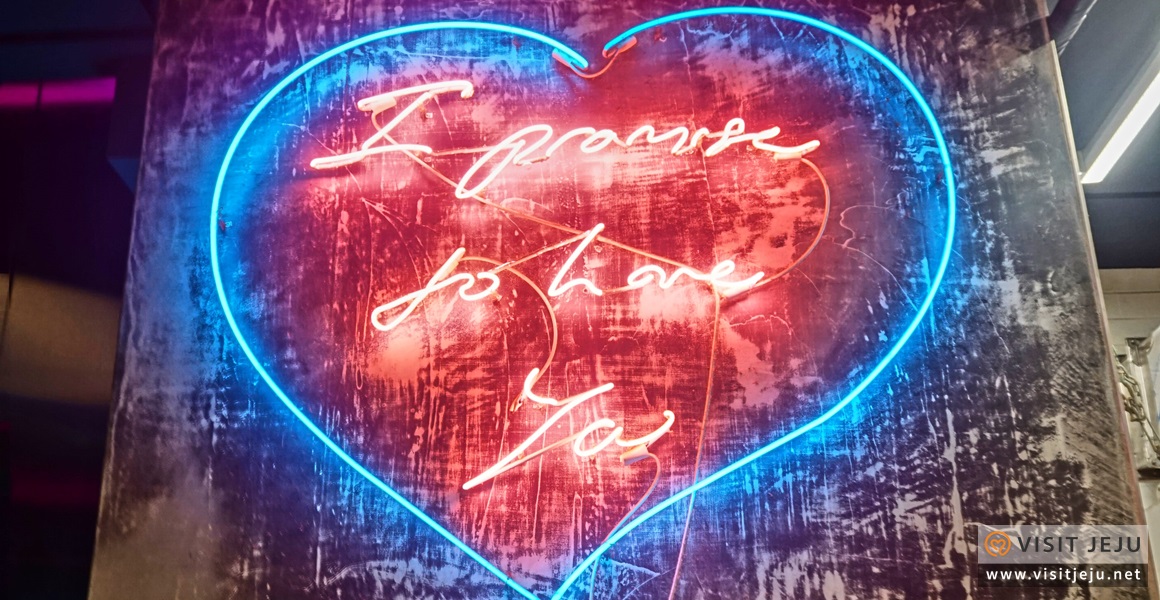 ㆍKorean Abalone Restaurant
If you're interested in local Korean food, an abalone restaurant in the same Aewol area is easily reached by foot once you're parked. The rice porridge with abalone was quite savory, but all the entrees were delicious. This restaurant is especially good if you want a traditional set up because you sit on the floor (don't forget to remove your shoes!).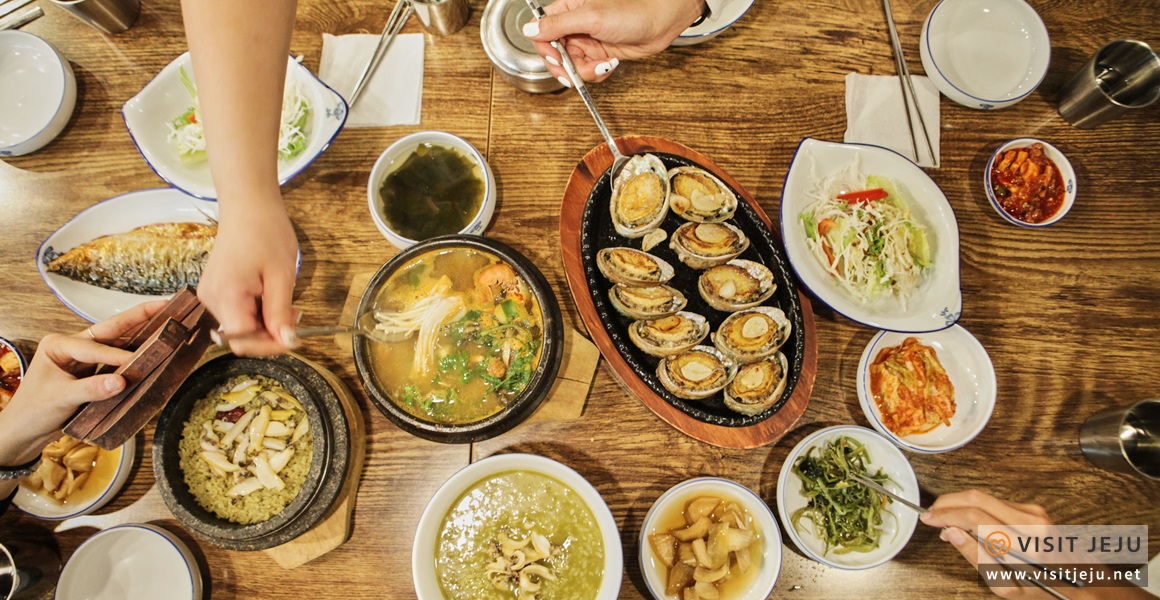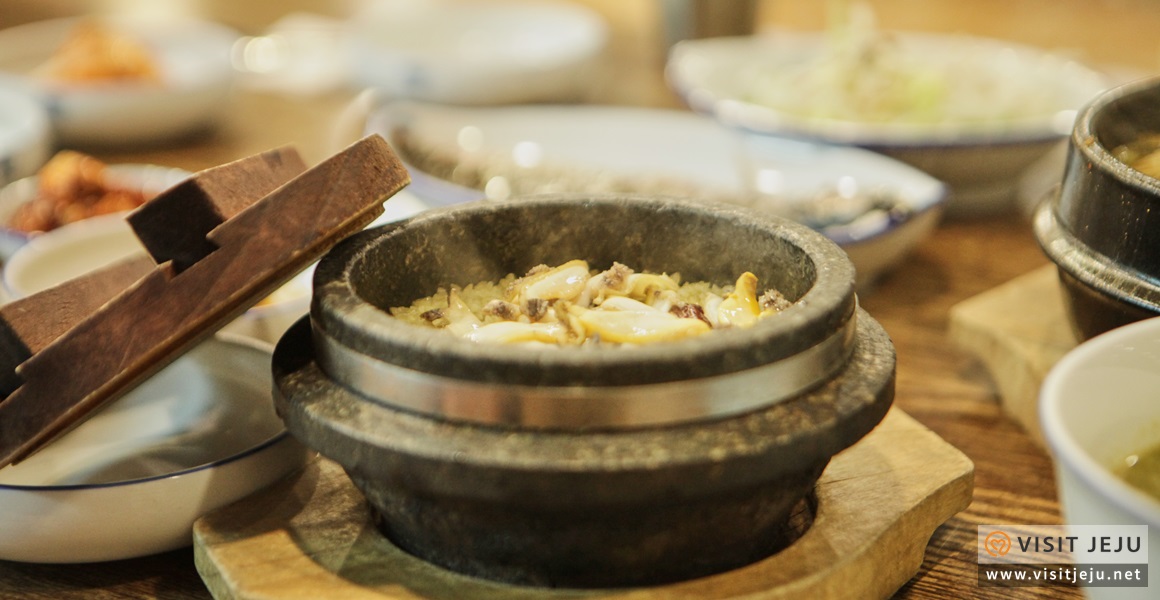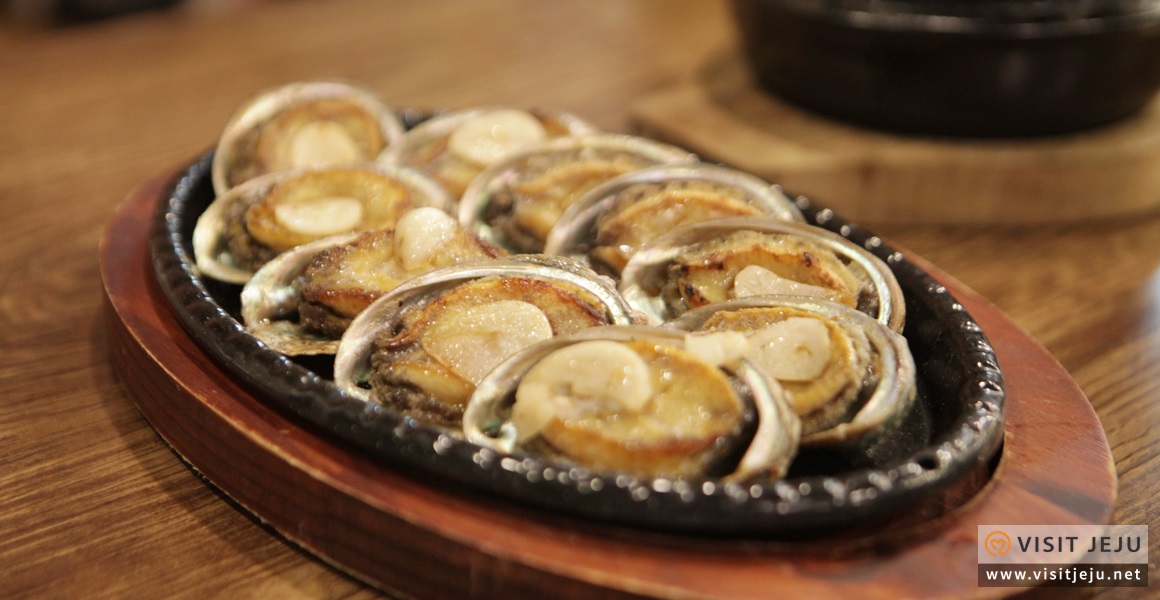 Address: 56-1 Aewolbukseo-gil, Aewol-eup, Jeju-si, Jeju-do
Phone: 064-799-8900
Hours: Sun - Sat: 0900 - 1900
ㆍJungle Book by Alice
I wasn't sure what the nightlife would be like in Jeju since it's a pretty sleepy family oriented island. Connected to the Glad Maison Hotel, we stepped into what felt like a speakeasy called Jungle Book by Alice. The bar opens up into what feels like a rainforest and Tarzan is about to jump out. With drink names like Snakebite, you could take in the greenery, yet sophisticated décor.
Address:80, Noyeon-ro, Jeju-si, Jeju-do
Phone: +82 64-710-8246
Hours: Sun - Sat: 1700 - 0300
Day 2
Middle of Island/South
ㆍHiking Mount Hallasan National Park (Yeongsil Trail)
This particular trail has waterfalls.During our hike, there weren't any waterfalls due to the lack of rain. However, the views were really pretty and you could see the ocean during your ascent. It's the ultimate stairmaster for those wanting to build in a workout during vacation.Before the hike, I stumbled upon an area in the first parking lot area that takes you to a gorgeous temple with a giant tradition bell. To get to the starting point for the trail, keep driving till you hit the second parking lot. The trail takes about 2.5 – 3 hours depending on your fitness level. This is one of the shorter trails if you are pressed for time.Afterwards, grab a banana latte (so delicious!), it'll fill you up for a post workout lunch at the convenient store located at the base of the hike.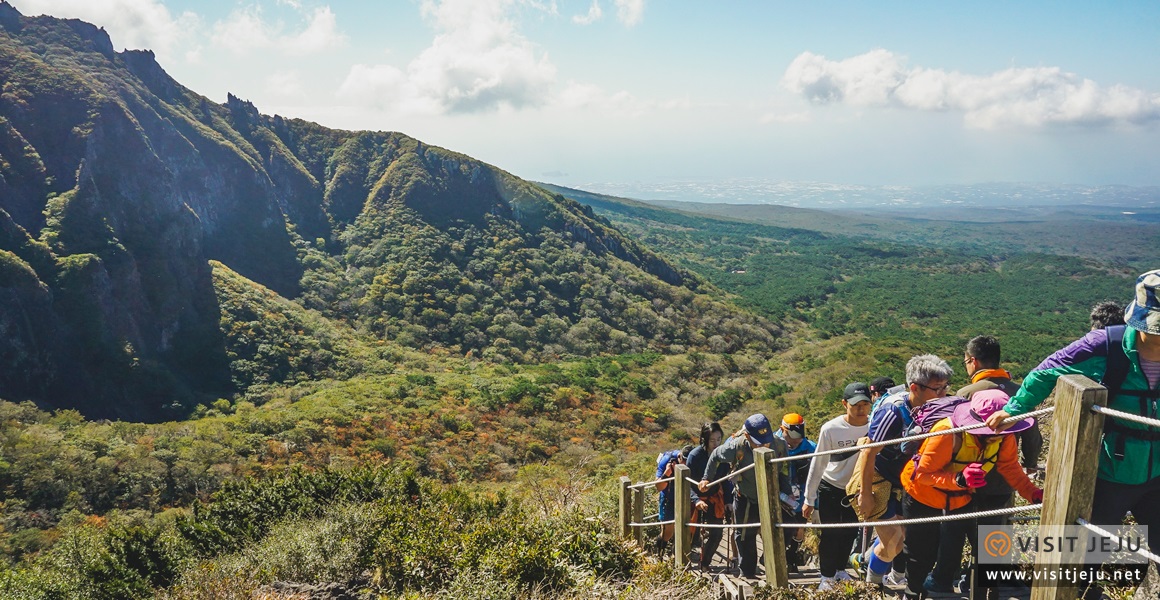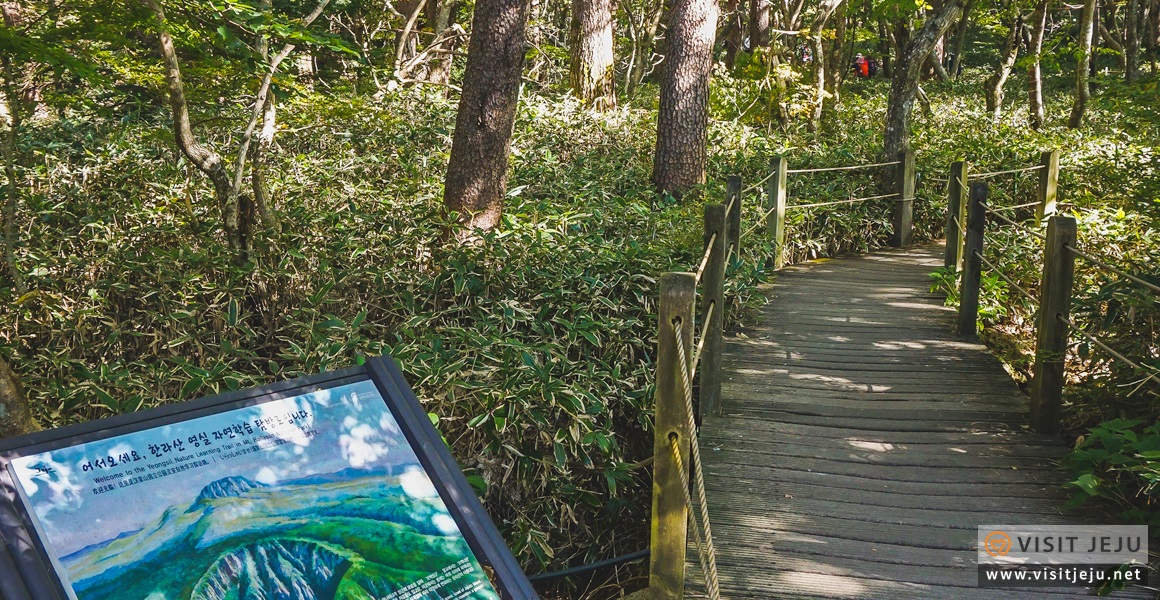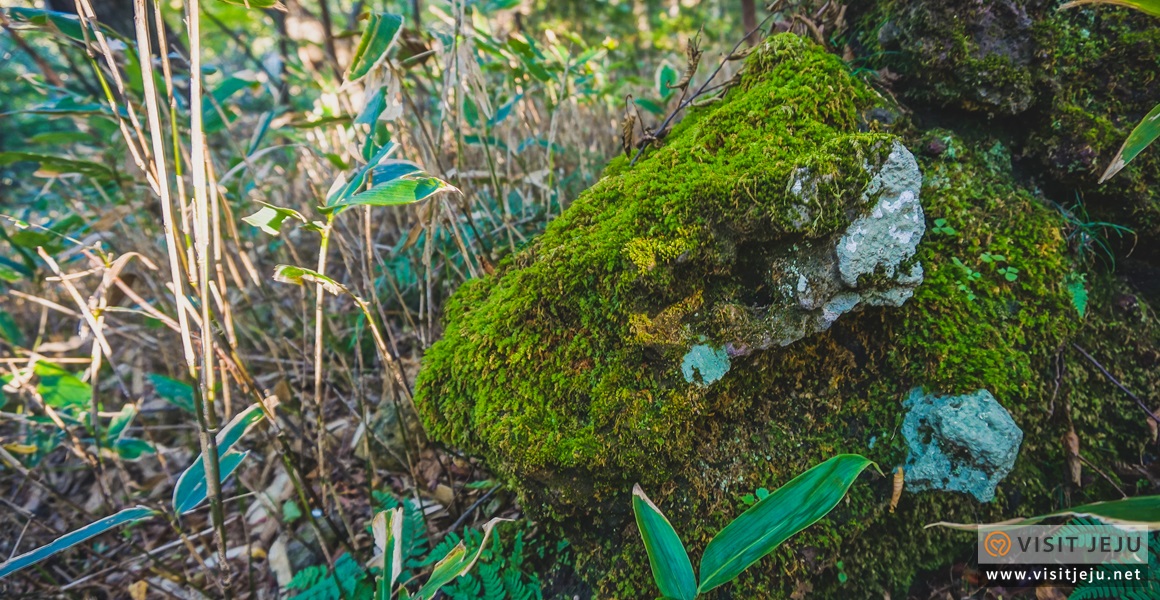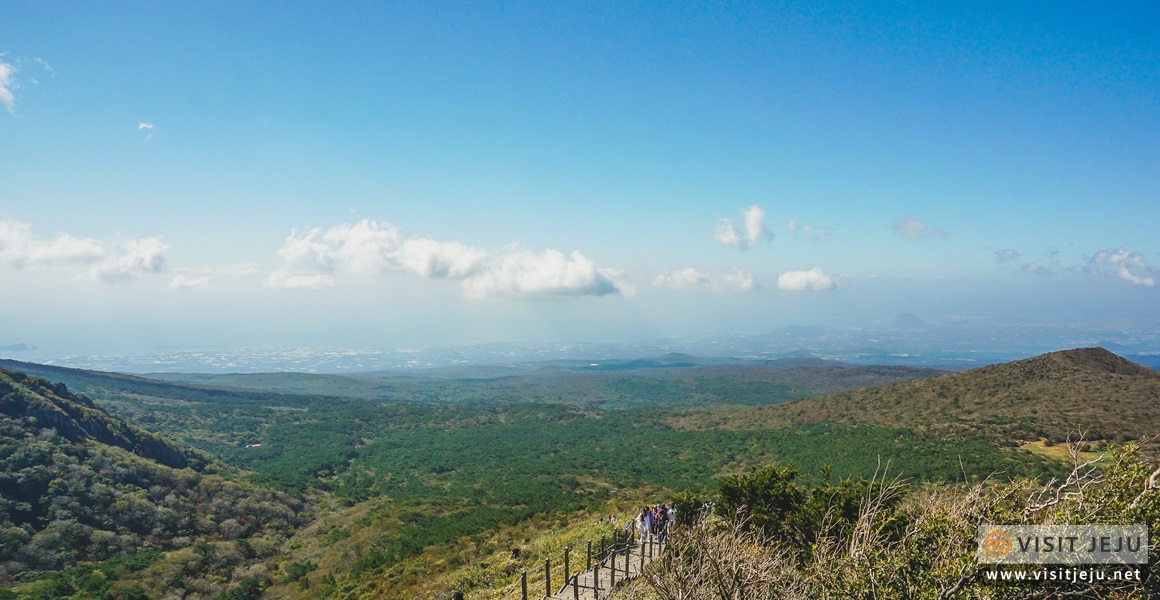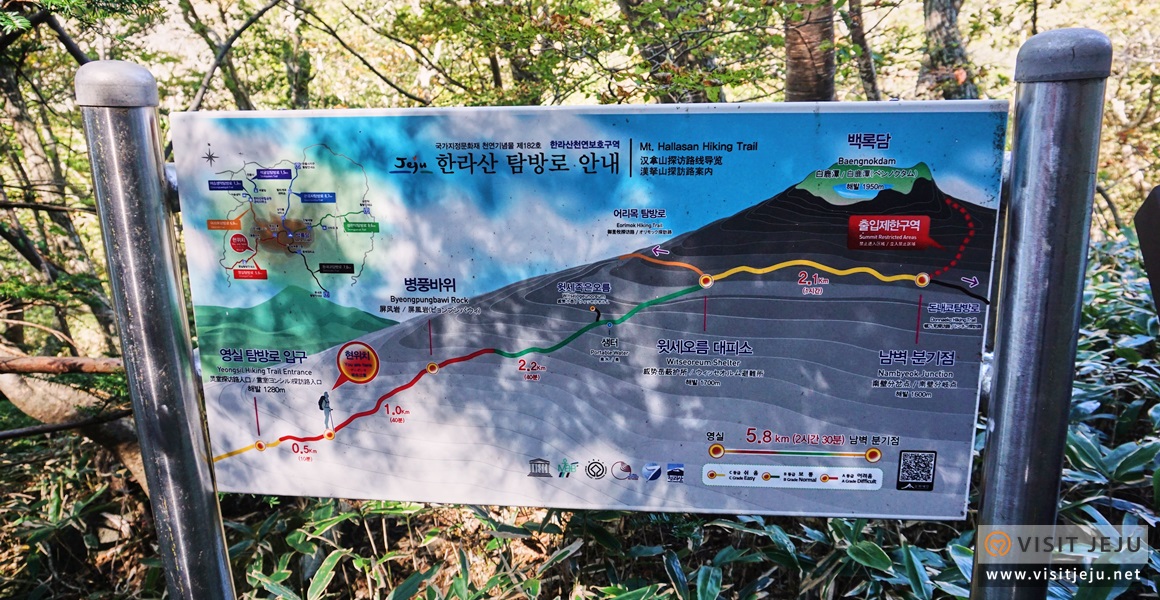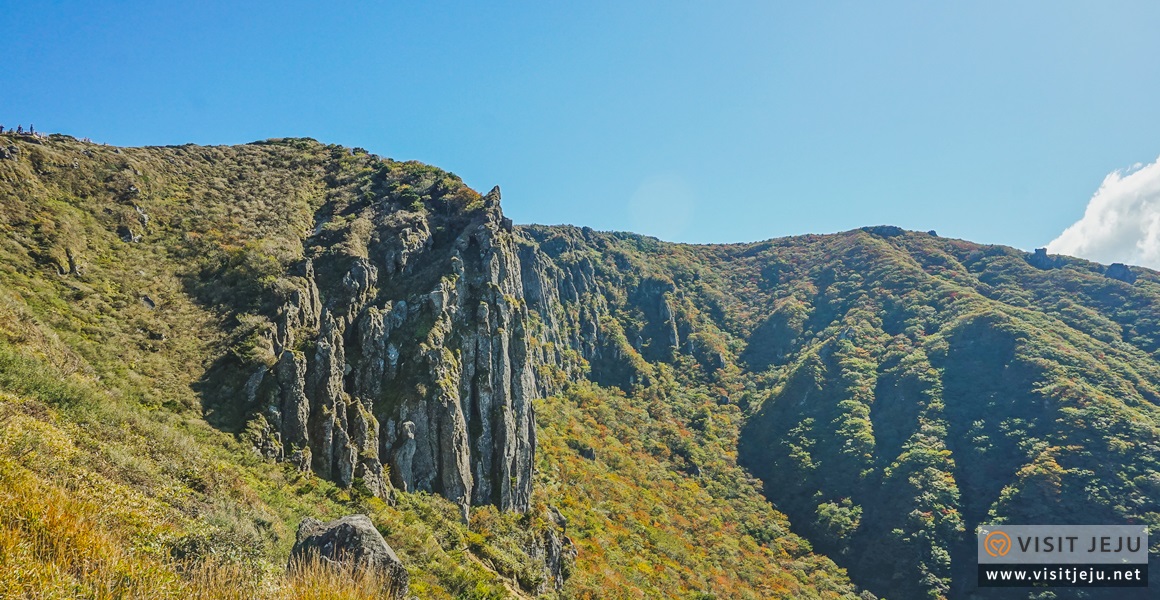 Address: 246, Yeongsil-ro, Seogwipo-si, Jeju-do
Hours: November-February: 12:00 - 14:00
March-April & September-October: 14:00 - 14:30
May-August: 15:00 - 15:00 ­
Admission: 1,800 KRW for parking; about $1.54 USD
Website: www.hallasan.go.kr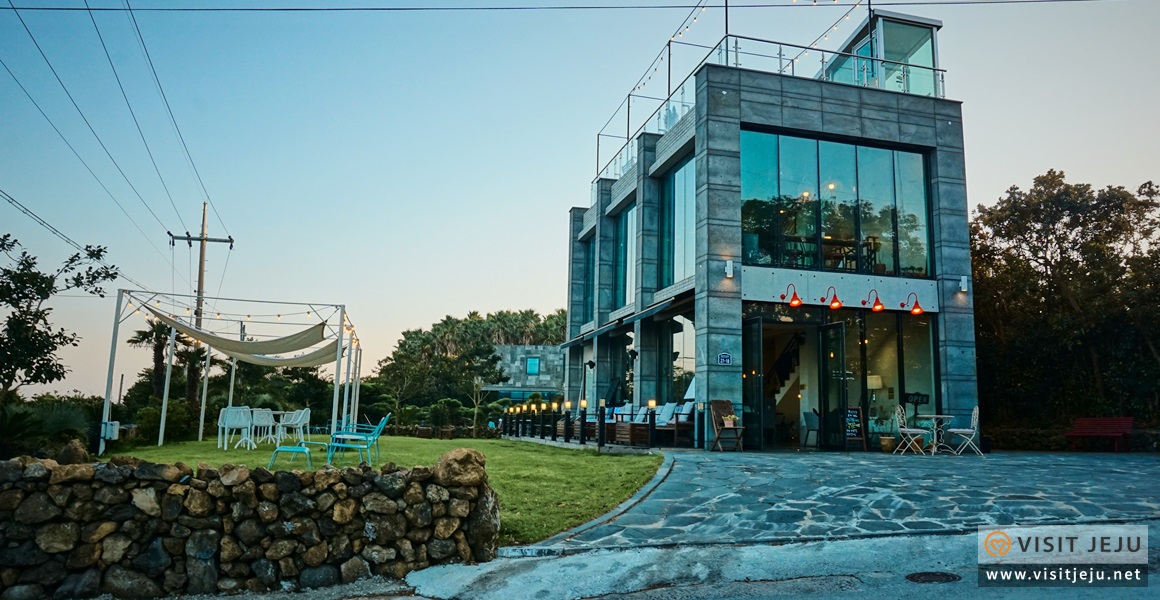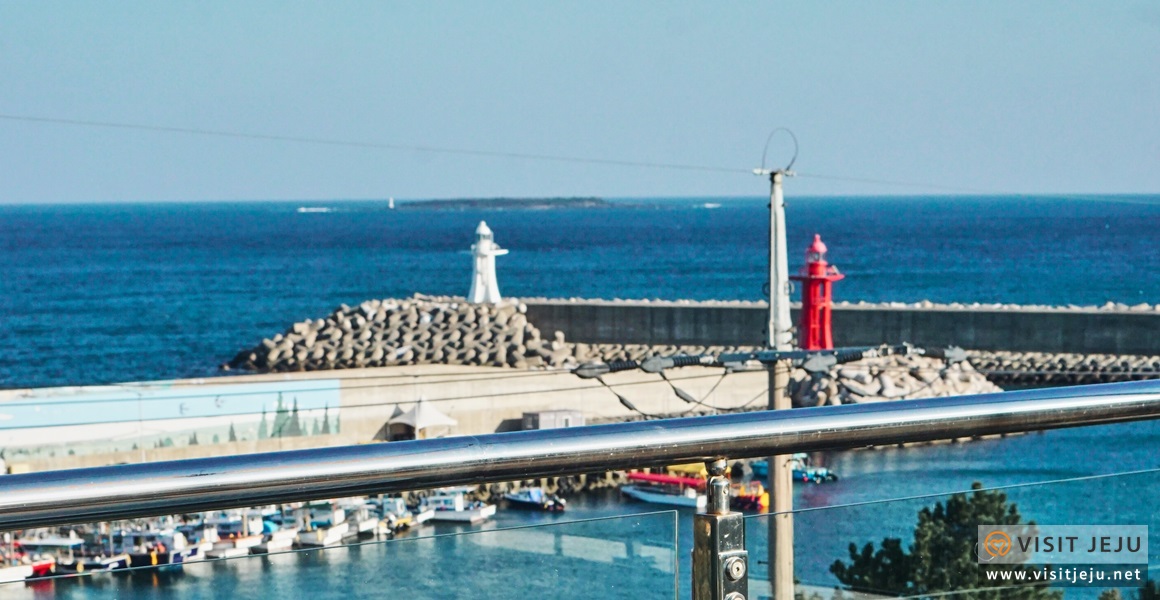 If you want to relax with some coffee and a beach view, head South to Seogwipo. Querencia has a fantastic view!The rooftop patio had trendy music coming through the speakers. With clear blue skies overhead,ocean view, and some tunes, makes for a great afternoon.The same area had other cafes and places to grab food if you wanted to eat a full meal.
Address: 1305, Hyodon-dong,Seogwipo-si,Jeju-do
Hours: 0900 - 21:50 ­
Phone: 064-732-1305
ㆍHahyoSoesokkakBeach
Jeju has some spectacular sunsets. I wanted to catch it at the beach, so by foot, after Querencia, I headed to Soesokkak Beach. It's not as well known as some of the other black beaches in Jeju, but I had the prettiest sunset with pastel colors that danced in the sky. I walked along the coast for a bit and stumbled upon mermaid and women diving statues placed perfectly in front of the beach. Overall a magnificent way to end an evening.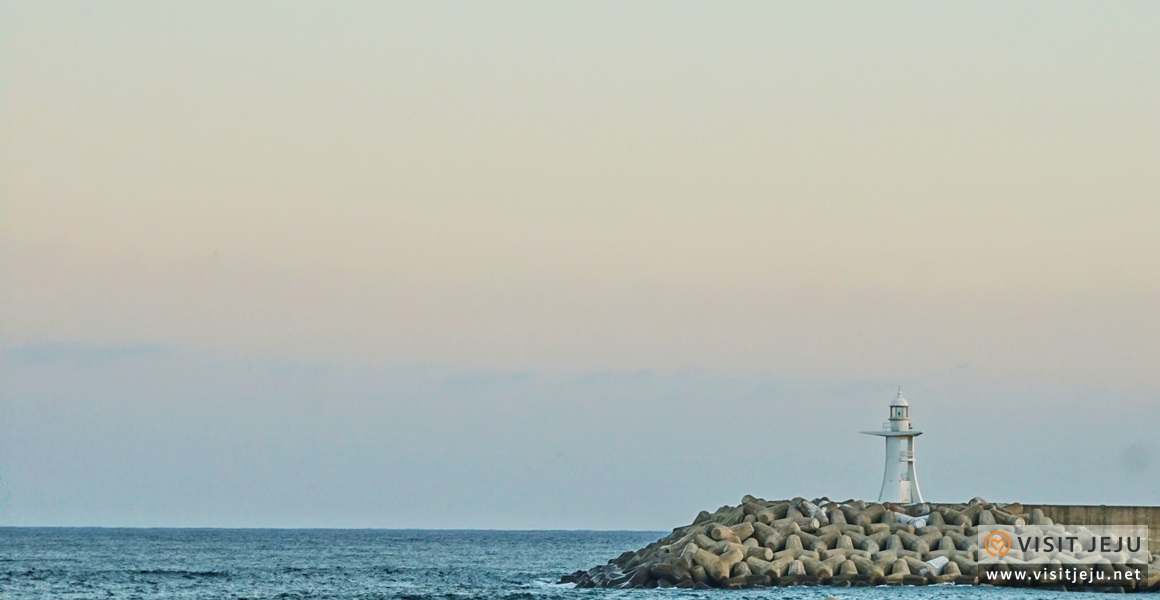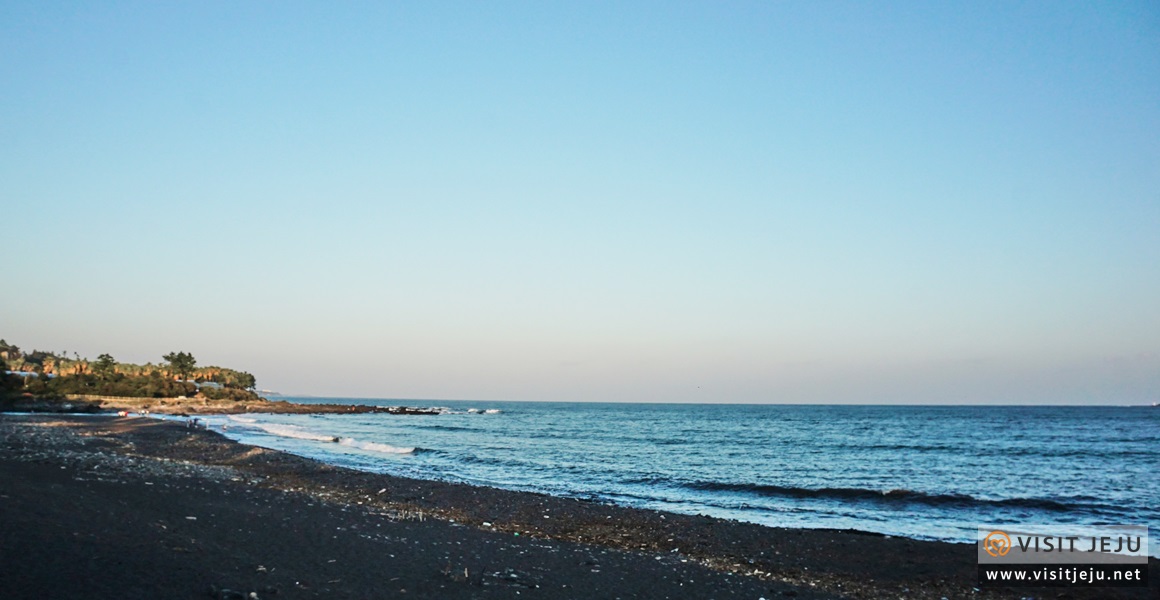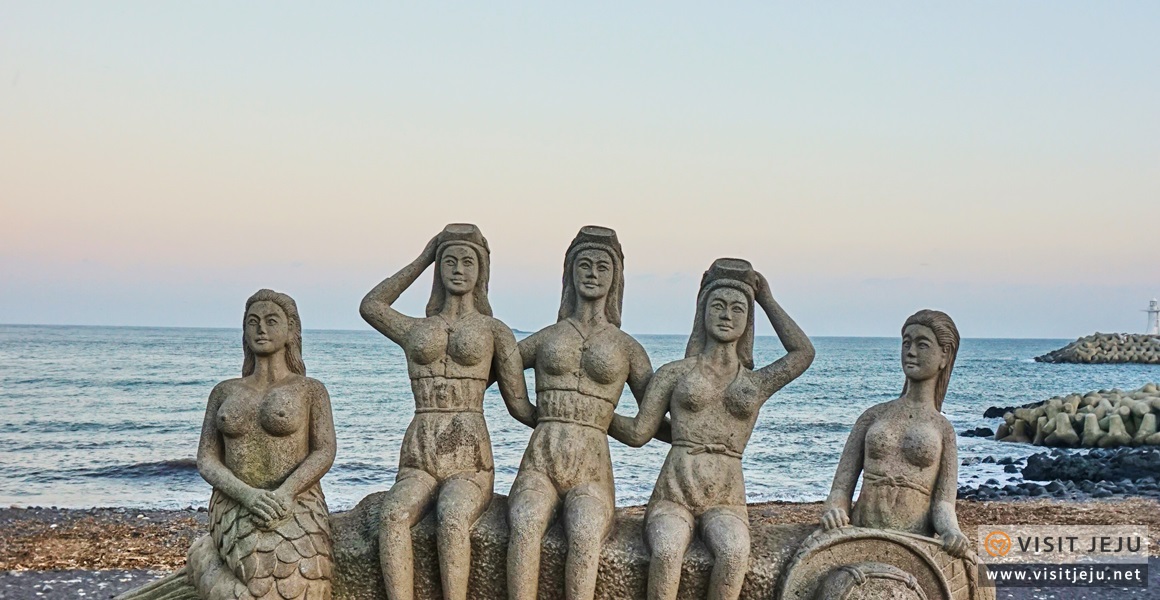 Address: 990-4, Hahyo-dong, Seogwipo-si, Jeju-do
Hours: 24 Hours ­
Admission: Free
ㆍJeju Bear House (제주곰집) – Black Pork
Jeju is known for their black pork. Korean BBQ is a must if you eat meat. The menu had not only the pork, but also shrimp, sausages, and moksal (neck meat) – tastes better than it sounds and is more lean than black pork). The staff helped cook the meat which is always helpful if you are unsure what to do. Highly recommend as they also help to accommodate large groups.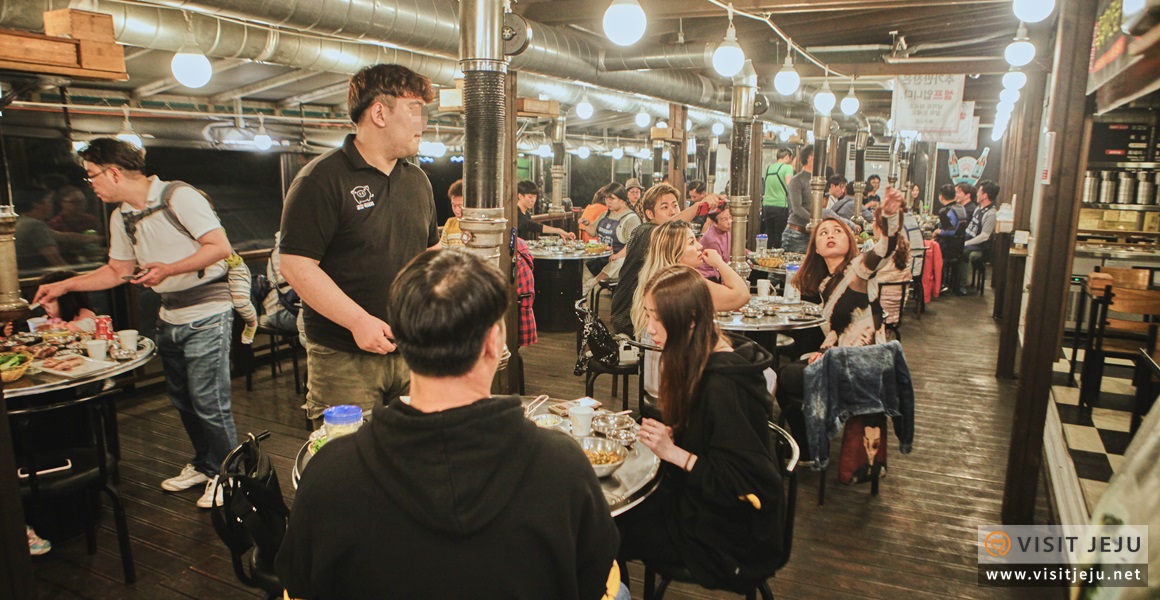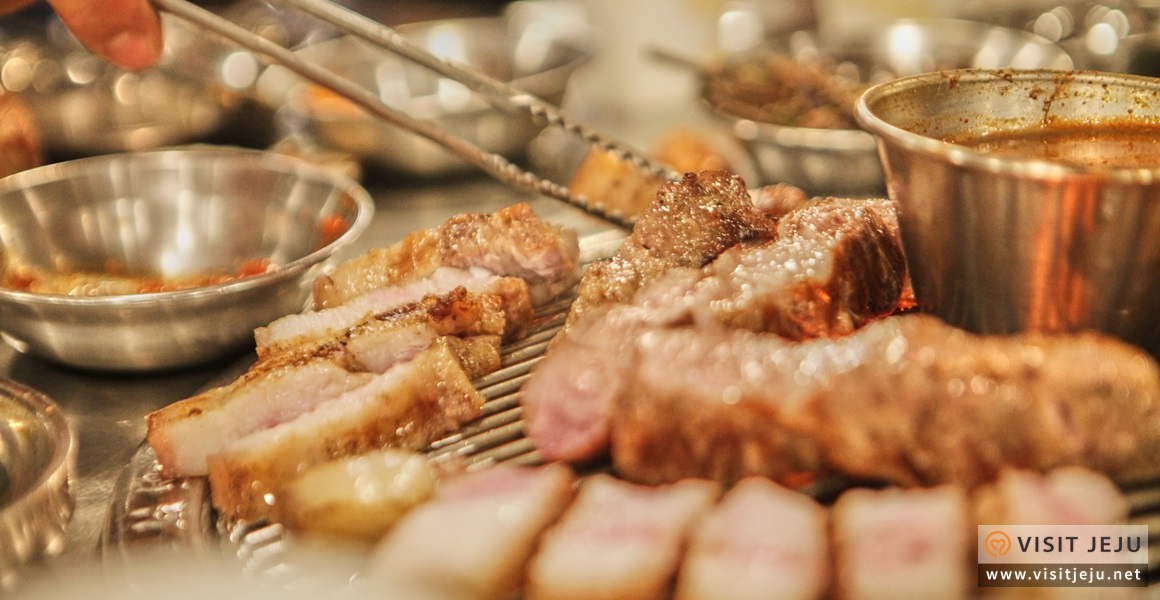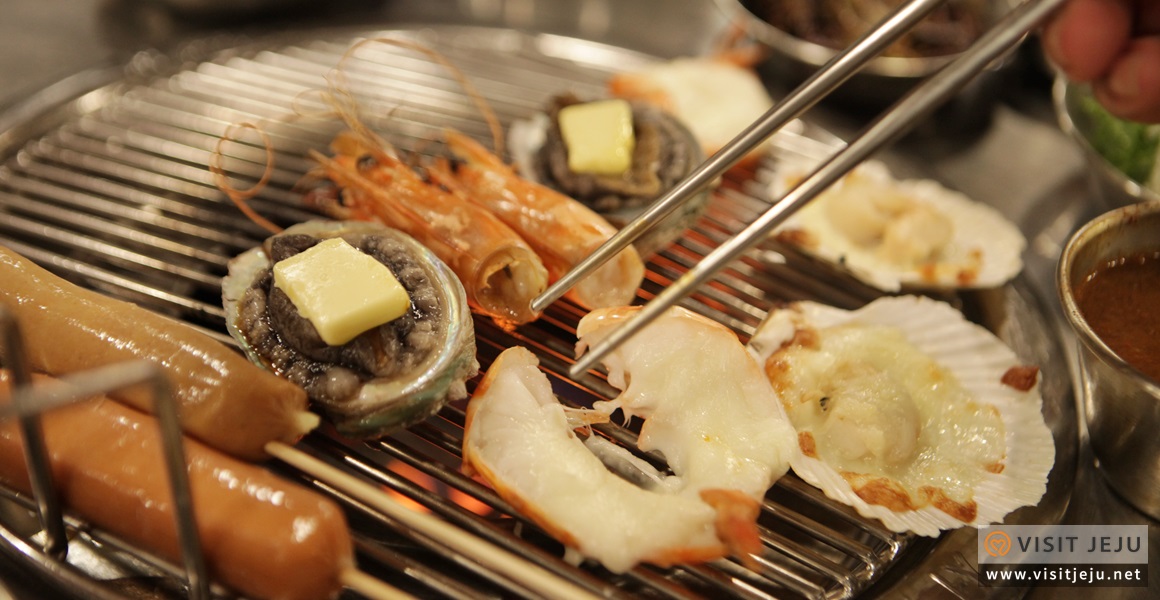 Address: 2623-1 Gangjeong-dong, Seogwipo-si, Jeju-do
Hours: Monday – Thursday 1000 – 2200; Friday – Sunday 1100 - 2300­
Phone: 064-739-6002
ㆍCheonjeyeon Waterfalls
The waterfalls are actually three for the price of one and appropriately called the "sky connected with land".The first waterfall has stunning rock formations are incredible to see in person. They're made of black volcanic rock that look vertical. The waterfall is the perfect addition to the sight. The second waterfall is about a 5 minute walk and is much more grand. The platform to stand to view it, gets some of the fresh water sprayed, but it feels refreshing on a warm day. The third waterfall is another 7-10 minute walk with rolling rocks and water splashing around. A really pretty sight and worth every step to visit. There are rest areas if you want to relax for a bit in nature. Plan to spend about an hour here as the grounds are nice to stroll around. Don't forget to grab some fresh squeezed juice too!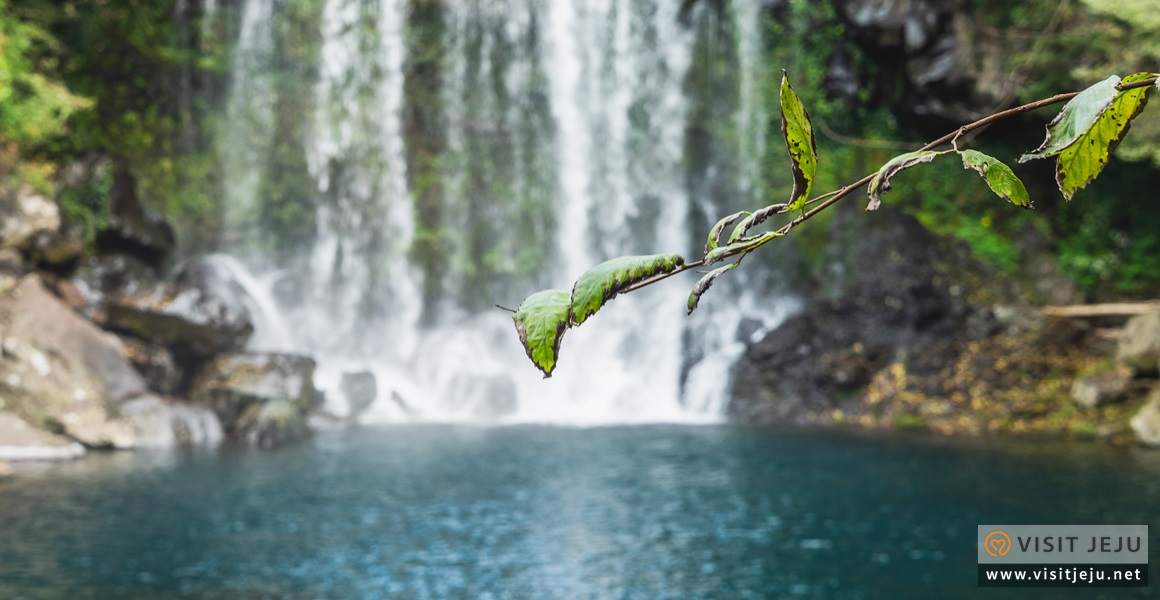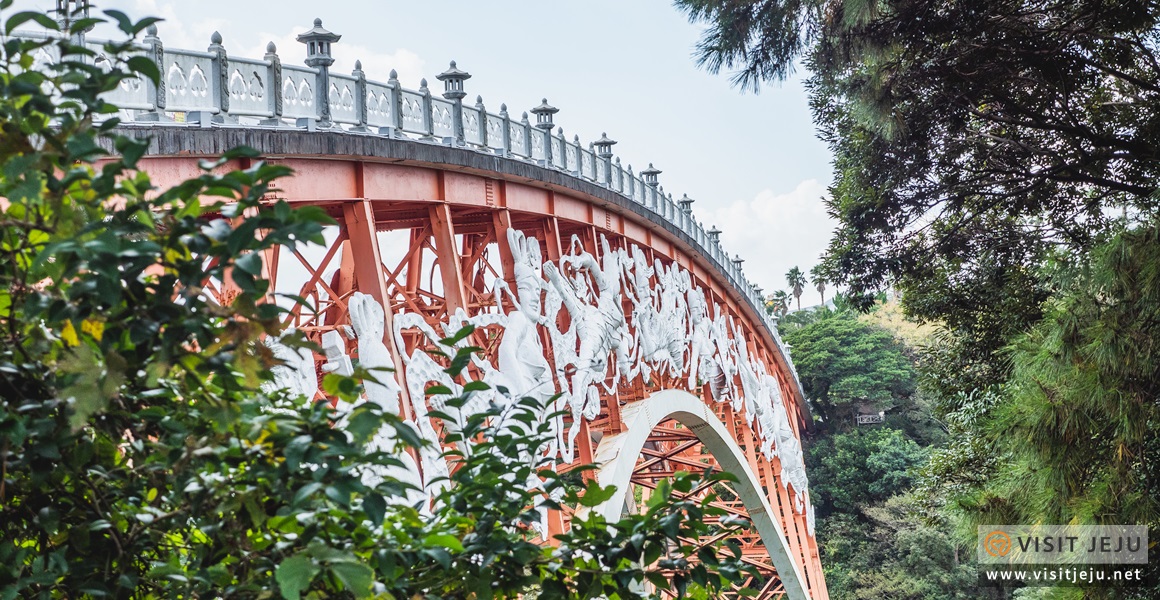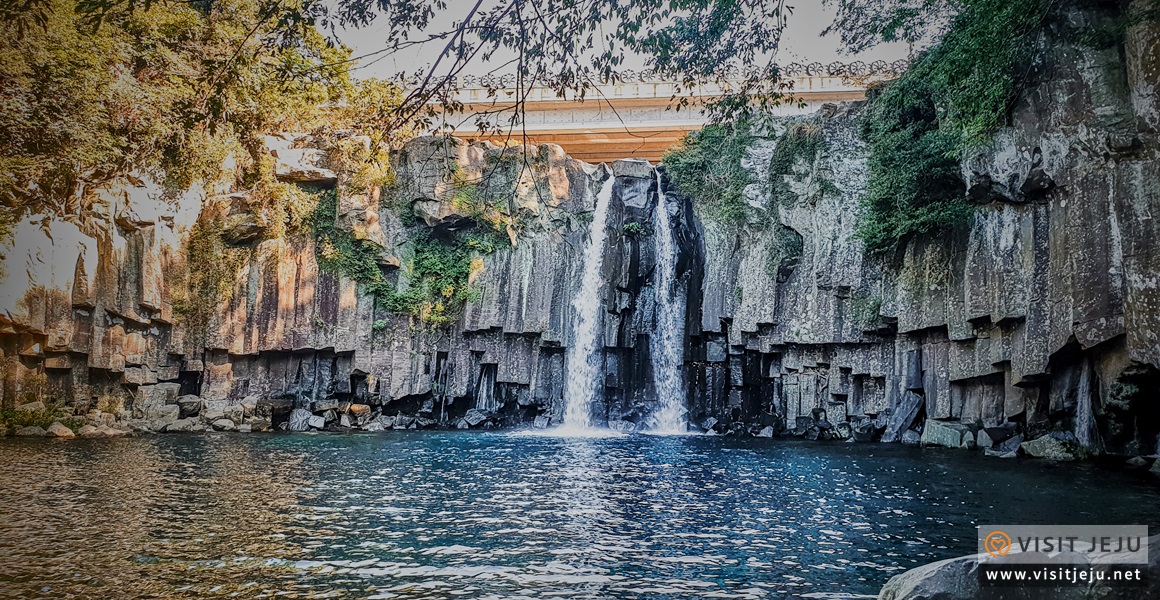 These cliffs look like something off a movie set! The black volcanic hexagon creations and blue ocean create one of the most epic views on Jeju. A quick stopover as it doesn't take a lot of time from the entrance to get to the lookout point to see the cliffs. You can't go to the beach itself due to crashing waves, but you can enjoy it from the viewpoint.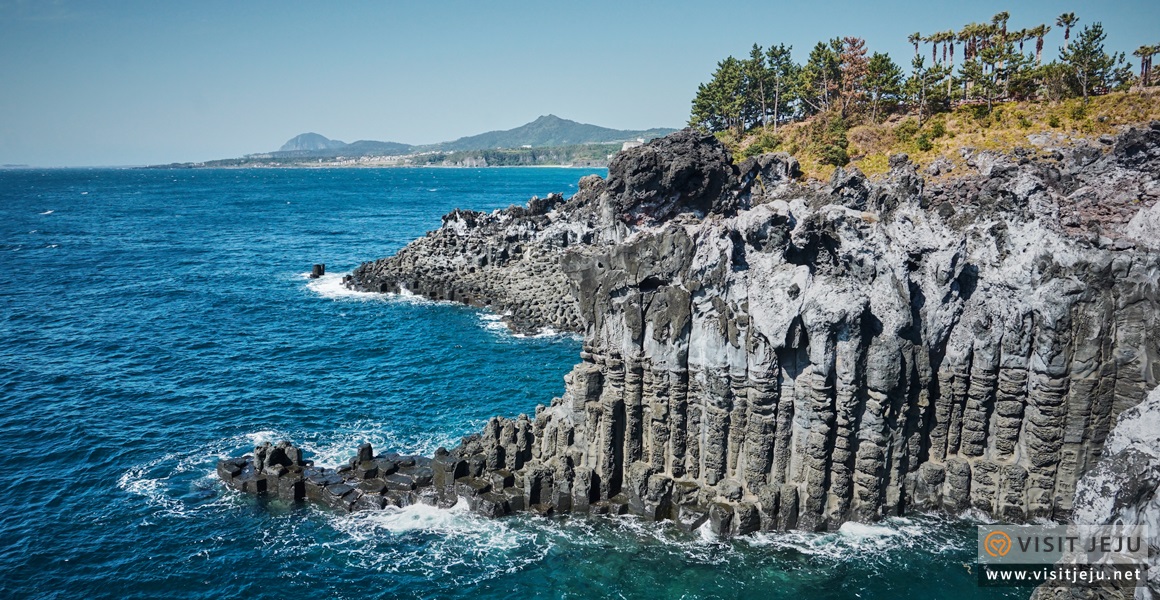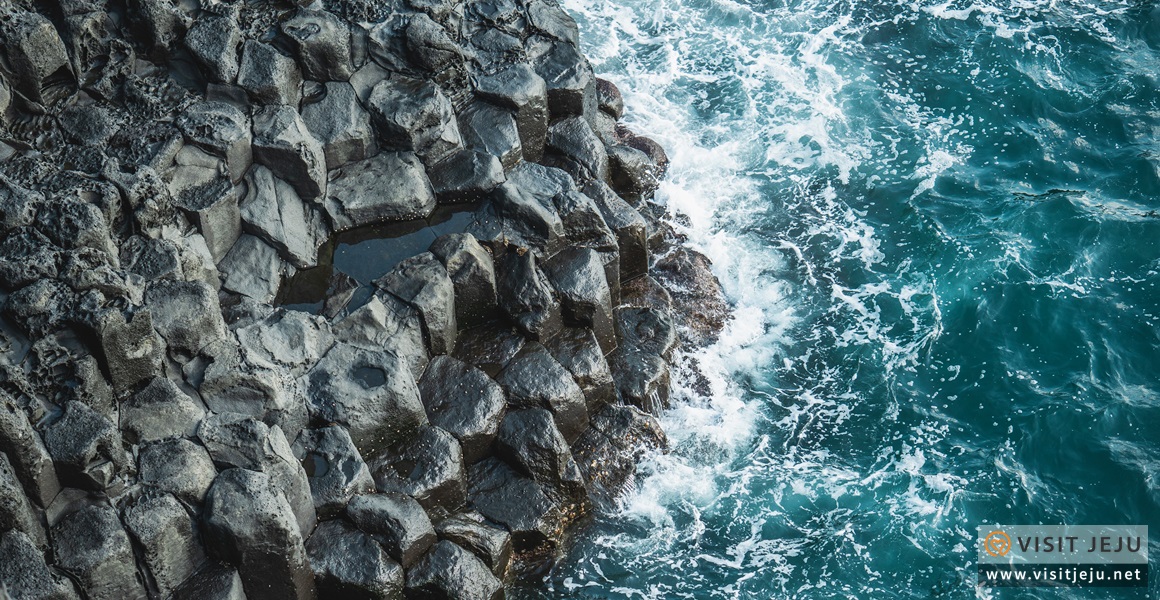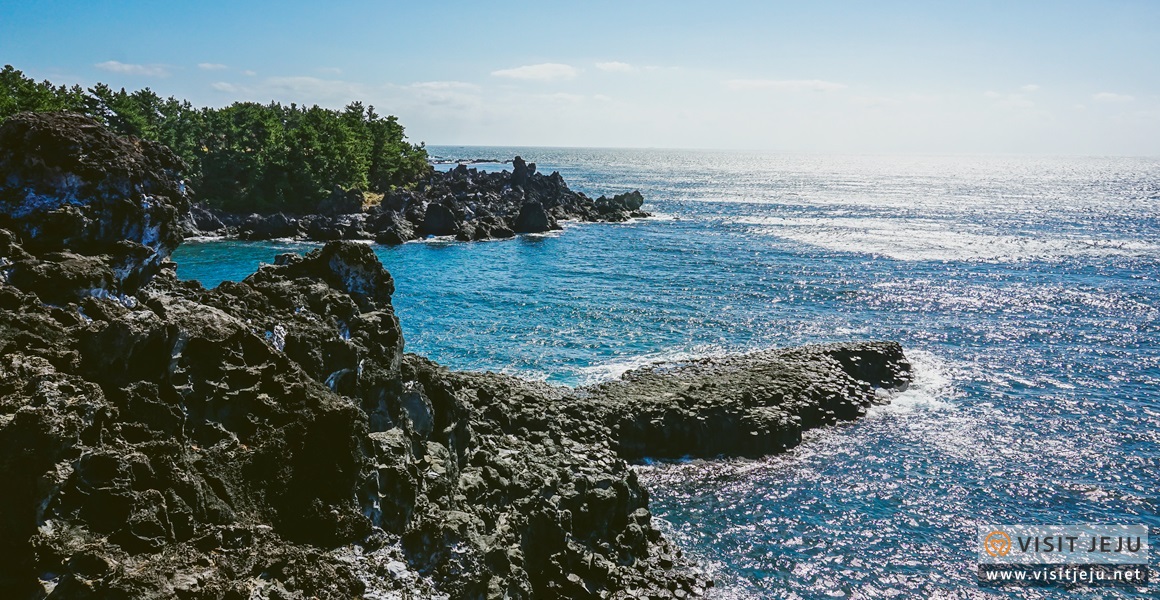 Address: 36-30, Ieodo-ro, Seogwipo-si, Jeju-do
Hours: 09:00-18:00 ­
Admission: Adults 2,000 KRW, Teenagers & Children 1,000 won; about $1.70/$0.85 USD
Parking: Free
Phone: (+82) 064-738-1521
ㆍLunch - Innisfree Jeju House
The best midday pit stop to fuel up on some caffeine and a healthy dose of goodness.The grounds are incredibly green and look like out of a futuristic playground. My personal choice was the Dolkorom Cream Latte and Green Bean Hummus with Avocado Salad. Both were delicious and gave me the mid-day fuel I needed!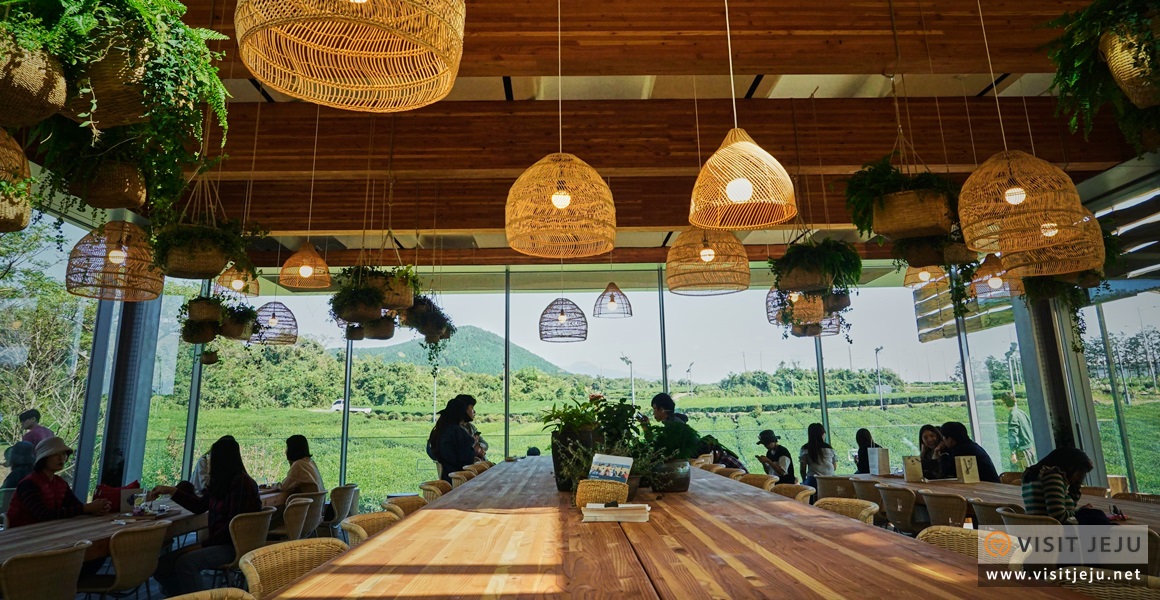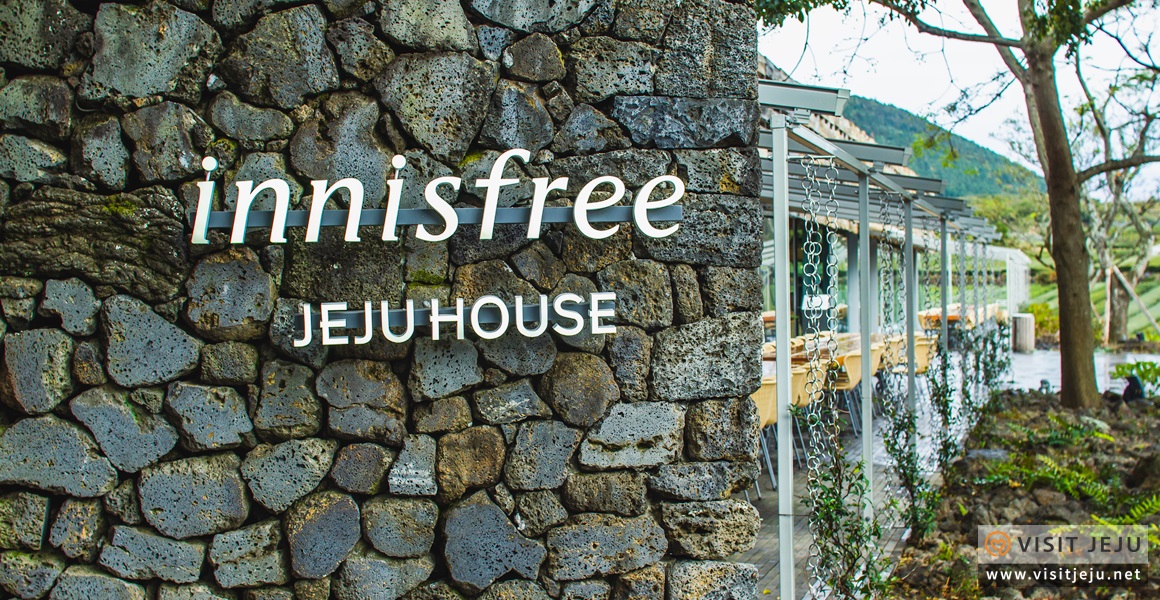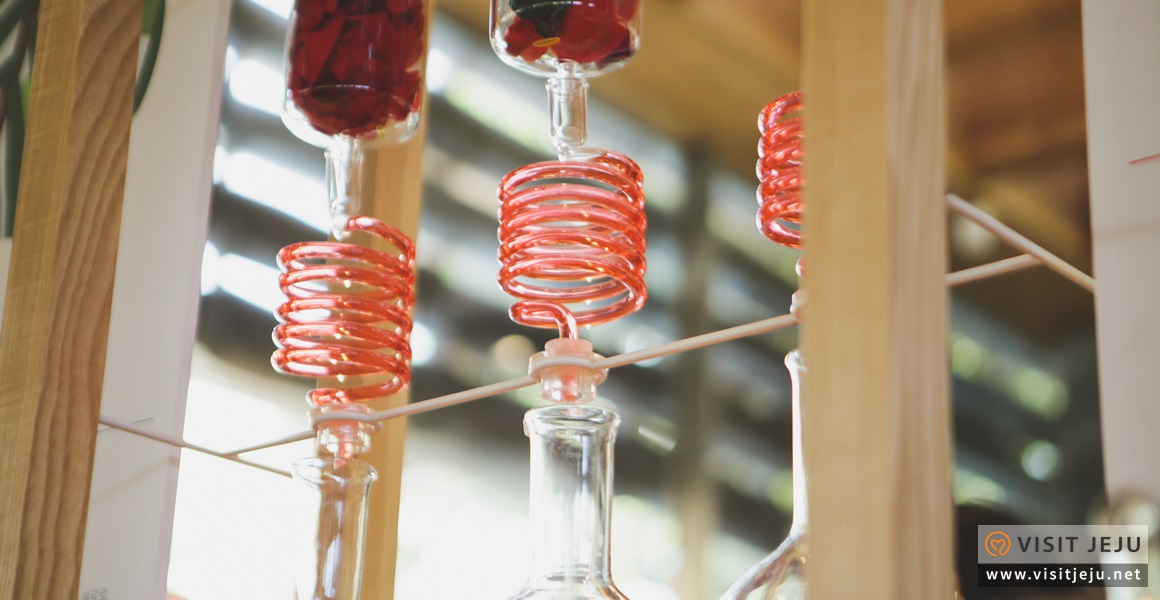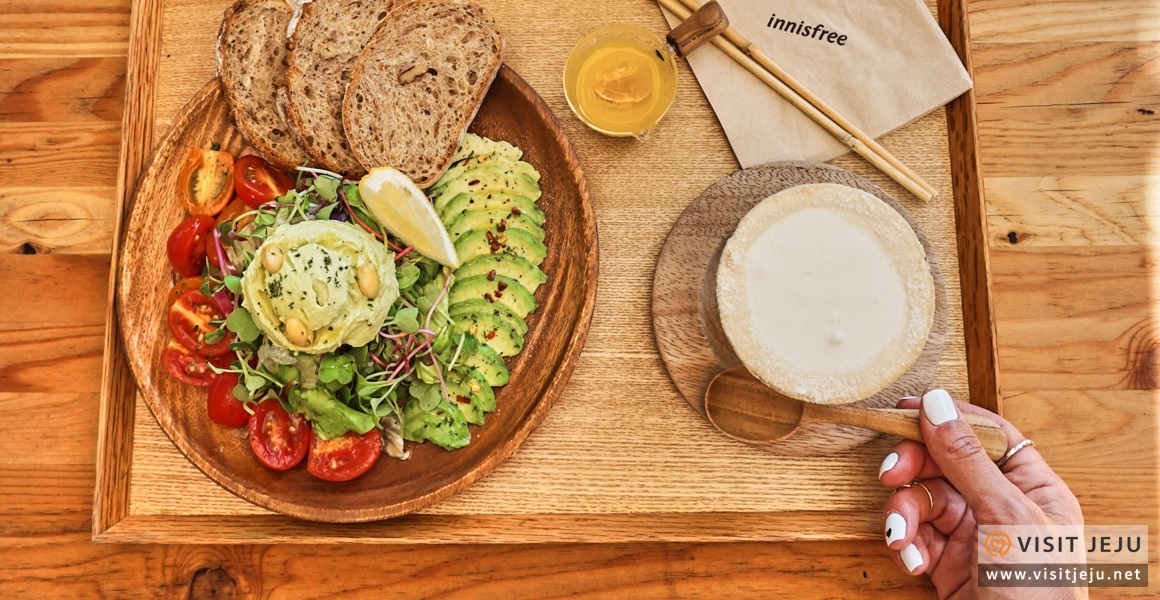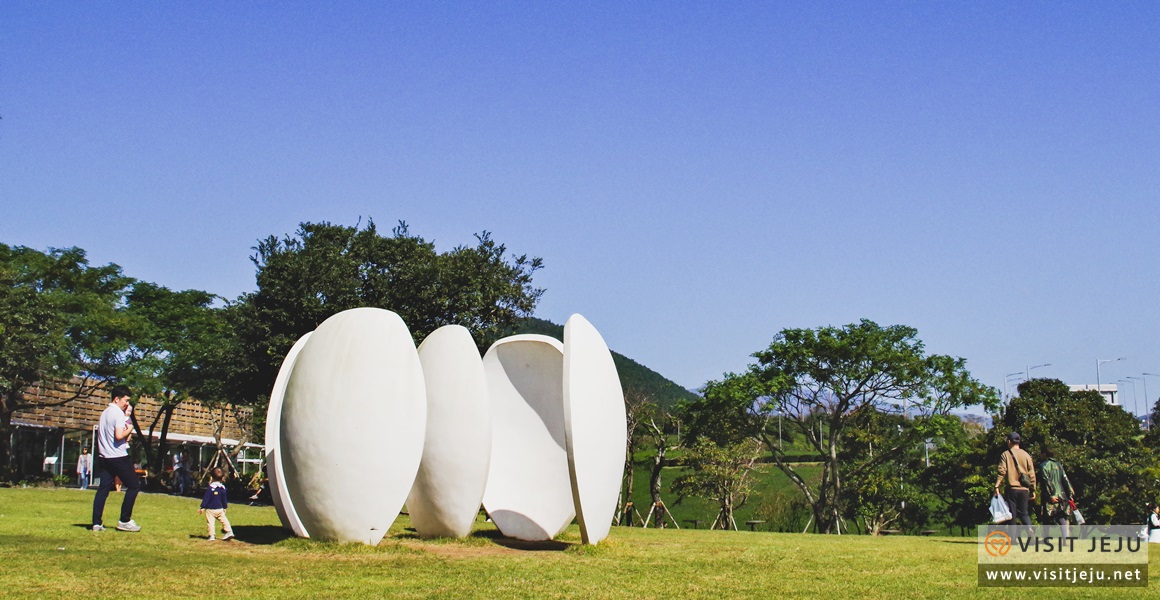 Address: 1235-1 Seogwang-ri, Andeok-myeon, Seogwipo-si, Jeju-do
Hours: 09:00-18:00
Phone: 064-794-5351
Website: https://www.innisfree.com/
ㆍOsullocJeju Tea Garden
Right next door to Innisfree Jeju House is Osulloc Tea Museum. The museum is small but the main attraction here are the tea fields.The rows and rows of tea leaves were impressive! You can peruse the teas sold inside the store and enjoy a latte or dessert item. I chose the Jeju Mandarin Milk Tea and a matcha cookie that resembled a macaron. The cookie was moist and milk tea incredibly flavorful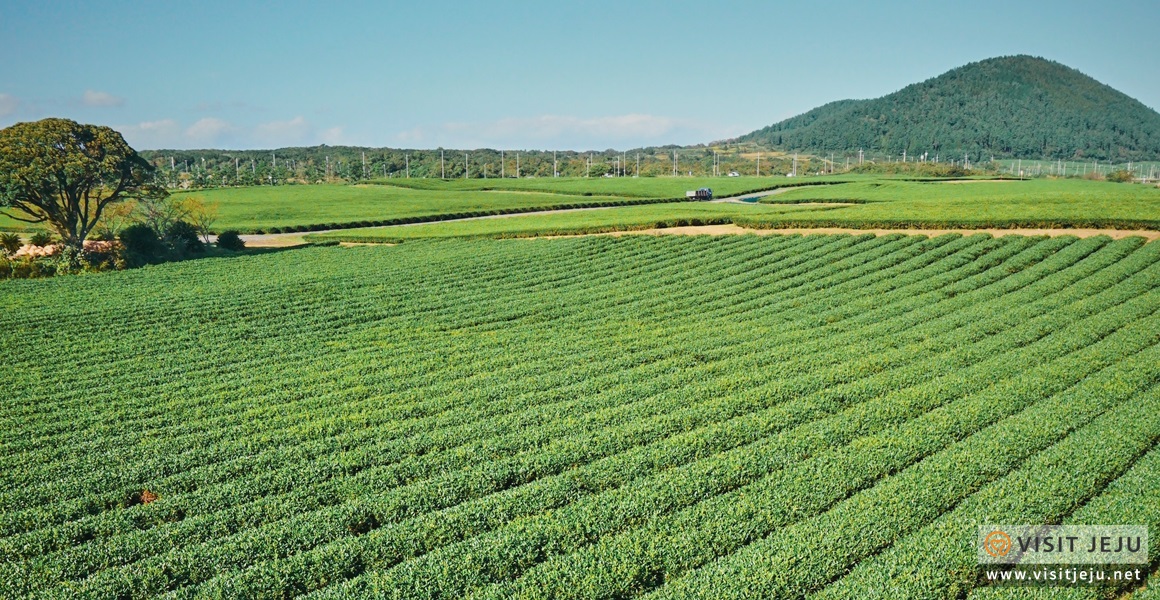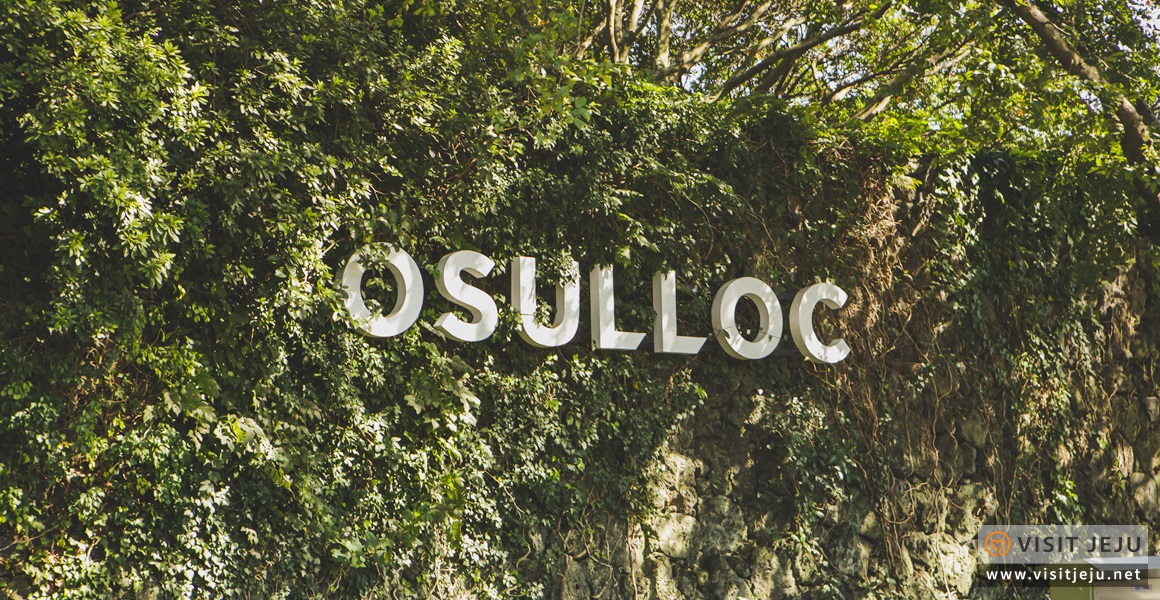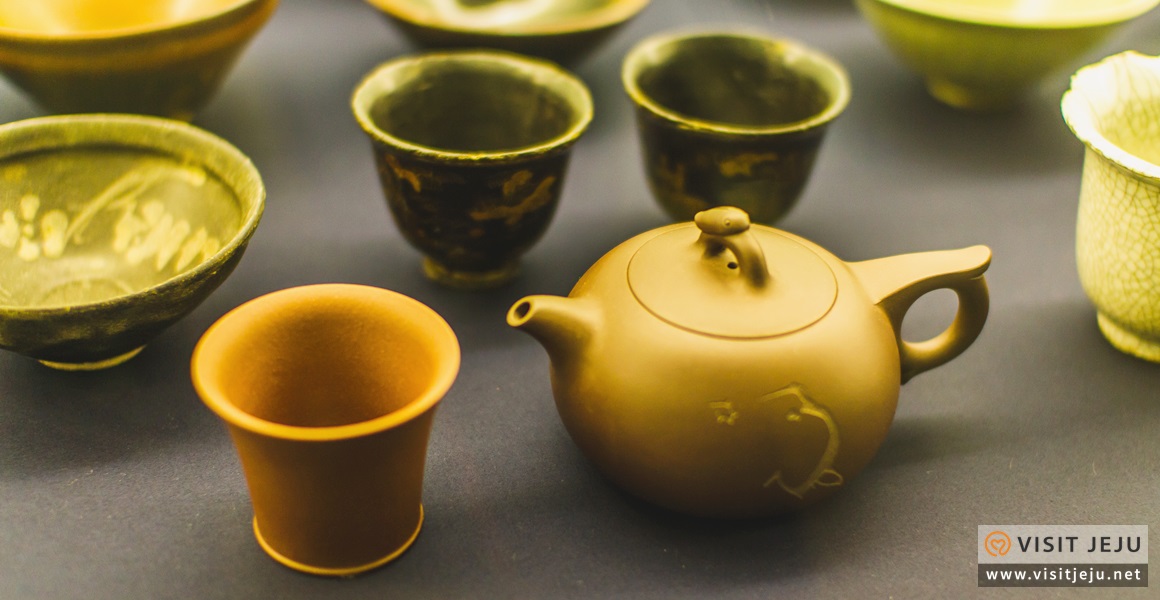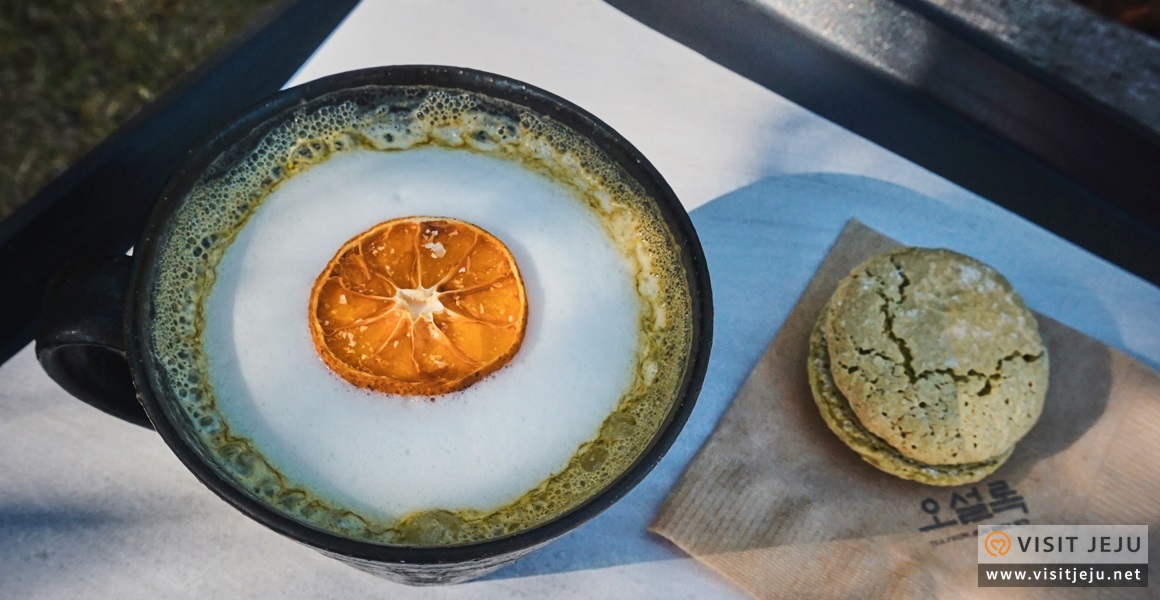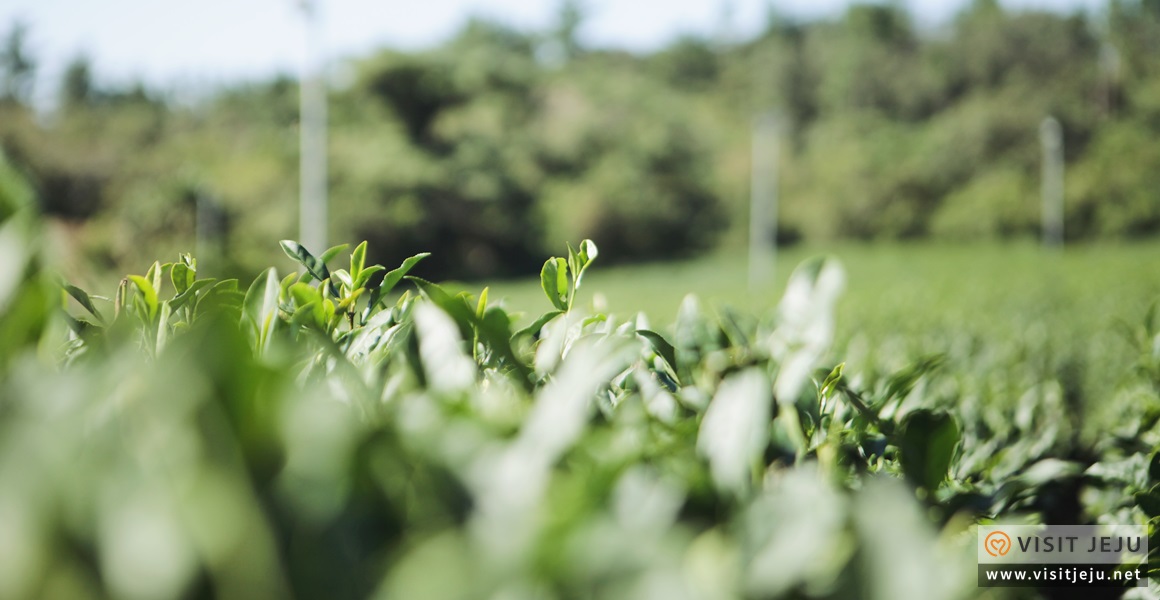 Address: san24-15, Seokwang-ri, Andeok-myeon, Seogwipo-si, Jeju-do
Hours: Mon - Sun: 09:00 - 18:00
Phone: +82-64-794-5312
Website: https://www.osulloc.com/kr/en
ㆍJeju Duty Free Shinhwa World
To score some tax-free shopping, stop by the Duty Free at Shinhwa Landing Resort.It's located on the ground floor of the Marriott Resort. When you make your purchases, along with your passport to prove you are a foreigner, they will send your items to the airport for you to retrieve. So simple! There are also a ton of restaurants to choose from, both Korean and Western menus.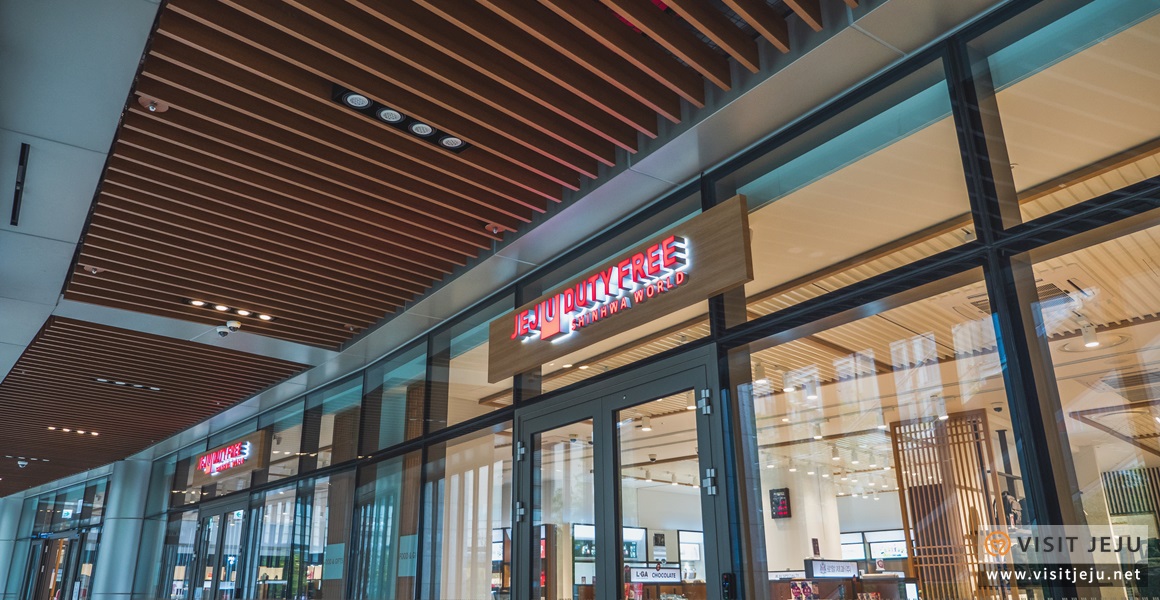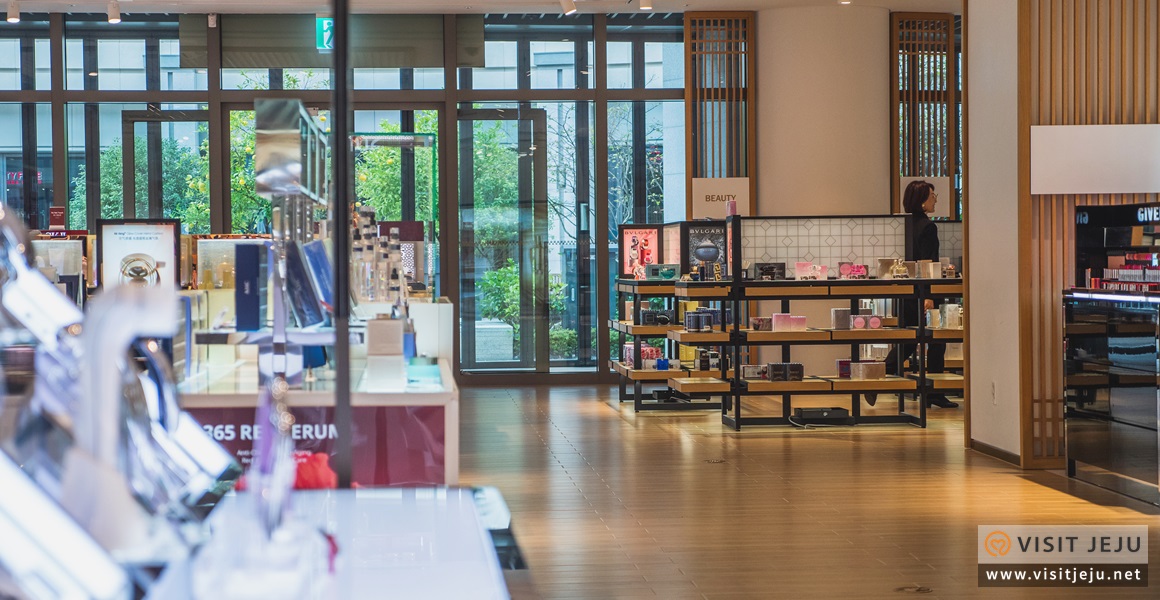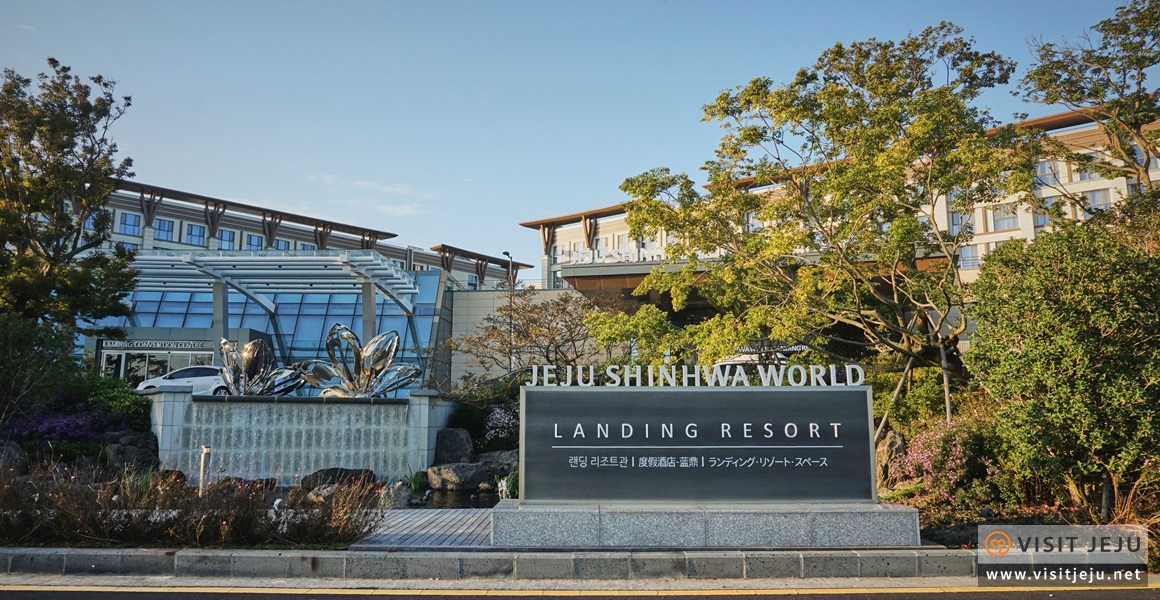 Address: 38 Sinhwayeoksa-ro 304 beon-gil, Andeok-myeonSeogwipo-si, Jeju-do
Hours: Mon - Sun: 10:00 -18:30
Phone: +82-64-908-8888
Website: https://www.shinhwaworld.com/shoppes.php?subid=192&url_lang=en_US
To Maximize the Best of Jeju-do
Itinerary Tips
This article focused on the North, South, and Eastern (including the middle area) side of the island to ensure beach time and hiking trails. For the best Jeju experience, a good mix of EVERYTHING is important to appreciate all the beauty. Following this itinerary will give you a good taste of what to see, eat and down some caffeine.
Notice

※ The above information was written on 2019-11-21. Please confirm the information prior to your trip.
※ Unauthorized use of the content above (text, photos and videos) is prohibited and subject to copyright by the Jeju Tourism Organization.