본문
Samsaseok Rock
Site of the Stone Hit by the Arrows of the Three Legendary Three Founders of the Tamna Kingdom
Address
1380-1, Hwabuk-dong, Jeju-si, Jeju-do, Korea
Add to wishlist

1

Like

1

Review

0

Reg itinerary

0
I visited.

0

Lookup

3,355

Share SNS

0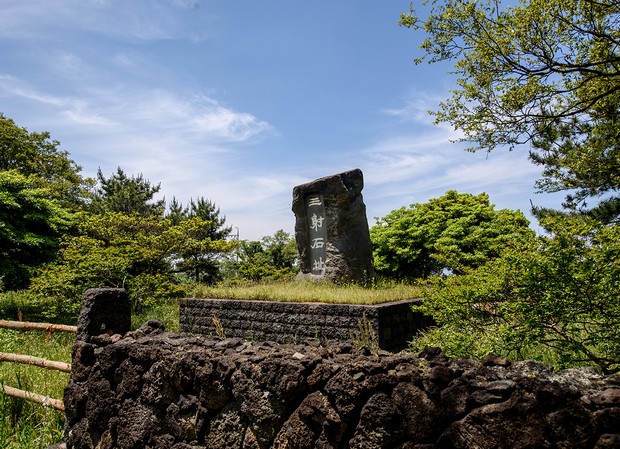 Samsaseok Rock was designated as Jeju Monument No. 4 on August 26th, 1971. It is owned by the Samseong Foundation and cared after by Jeju-si.

According to a folktale, the legendary three hermits of Tamna Kingdom, Go (高), Yang (良), Bu (夫), chose three princesses of Byeokrangguk as their future wives. In order to determine their future homes, they shot arrows at Ssalsonjangori Volcanic Cone, located at the foot of Hallasan Mountain. The rocks that have been stored were the ones hit by those arrows. That is why Samsaseok Rock is sometimes called Sisaseok Rock (矢射石), while residents of Hwabuk-dong call it Salssondiwat.

The rocks contain two basalt rocks with diameter of 55cm and the stone-made container that protects the rocks is 149cm in height, 101cm in width, and 67cm in breadth. The container was built by the Yang Jong-chang (梁宗昌), a resident of Jejudo Island during the Joseon Dynasty, in 1735 (the 11th year of King Yeongjo's reign).

Samsaseok Monument, erected by Moksa Kim Jeong, is 113cm tall, 43cm wide, and 18cm thick. On the front and the left side of the monument are words that read Moheunghyeolgo (毛興穴古), Sisaseokryu(矢射石留), Sininijeok(神人異蹟), and Gyotancheonchu(交嘆千秋). On the back side of the monument is a record that states "Gyeongo March 7th Adjustment" (庚午三月七日改修), which means Go Han-ryong, Go Dae-gil, and Go Yeong-gyeong rebuilt the monument together in 1930. It is said that the fence was also fixed at that time.