본문
Gripping activity tours experienced in Jeju

Electrifying Jeju: Enjoy it with your heart and mind

Are you tired of your daily routine? Visiting Jeju itself can be a great solution to allow your mind and body to relax from daily stress. However, do not miss its electrifying activities as well. They will boost your energy and relieve your stress. When you depart Jeju, this incredible experience will remain indelibly in your memory.
A thrill at your fingertips
Shooting
Whether or not you come from a country that allows you to possess firearms, it is not often that you get the chance to shoot a gun in your life. Shooting is the act of firing or discharging, a bullet from a ranged weapon (I.e. a gun or crossbow), and aiming this either at wildlife, or at another target (such as at a shooting range). Jeju Island has its own unique indoor shooting range. Jeju's indoor gun range includes additional facilities, such as simulations and the Bibitan Range, which provides young children with a safe and appropriate shooting space. Don't forget to bring your identification card. If you have poor eyesight, bring your glasses or contact lenses, to help improve your aim and ability to hit targets. Jeju facilitates heart-pounding experiences of shooting which create excitement, adrenaline and exhilaration.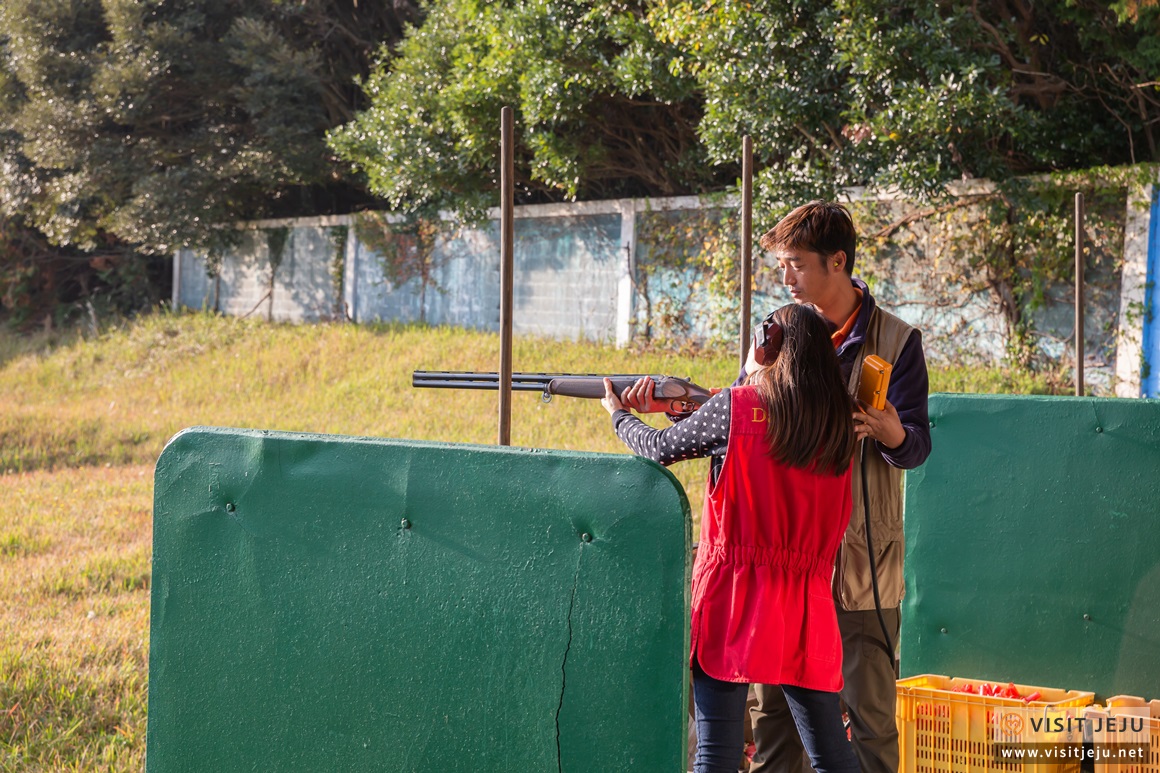 Established in 1978, Daeyoo Land runs a shooting range and a hunting reserve, in the forest. Daeyoo Land is well gardened and operates all year round. It offers three kinds of shooting: pistol shooting, rifle shooting, and clay shooting. Pistol shooting is quite easy to learn and best suited to short-distances. Rifle shooting however, has a longer body, and is a heavier weight than a pistol. Thus it is more appropriate for long-distance shooting. But do not take away your face from the rifle when you are holding it as this can be quite dangerous. Clay shooting is shooting at a flying clay plate. It requires high concentration. People over fourteen years old can fire with live ammunition, but when it comes to clay shooting, only people over 17 years of age can attempt it. This is because the recoil of clay shooting is much greater and stronger than other types of shootings. You will wear a vest offered by the provider and fill the pockets with ammunition. If you do clay shooting in the afternoon, you should bring your sunglasses to avoid being exposed to very strong sunlight. Some people occasionally give up clay shooting because of major recoil, which may give you pain in your body. Listen carefully to your instructor and learn how to handle your pistols or other guns. Depending on what kind of shooting you are going to experience, you will enter a special area to enjoy it. It is recommended that you wear earplugs (offered by the providers) during while shooting to protect your hearing from the vast array of loud noises (emitted by the guns). After shooting, you can immediately check how well you shot because you will get a piece of paper illustrating your results at the conclusion of your shooting session. You will get a thrill plus an incredible sense of achievement.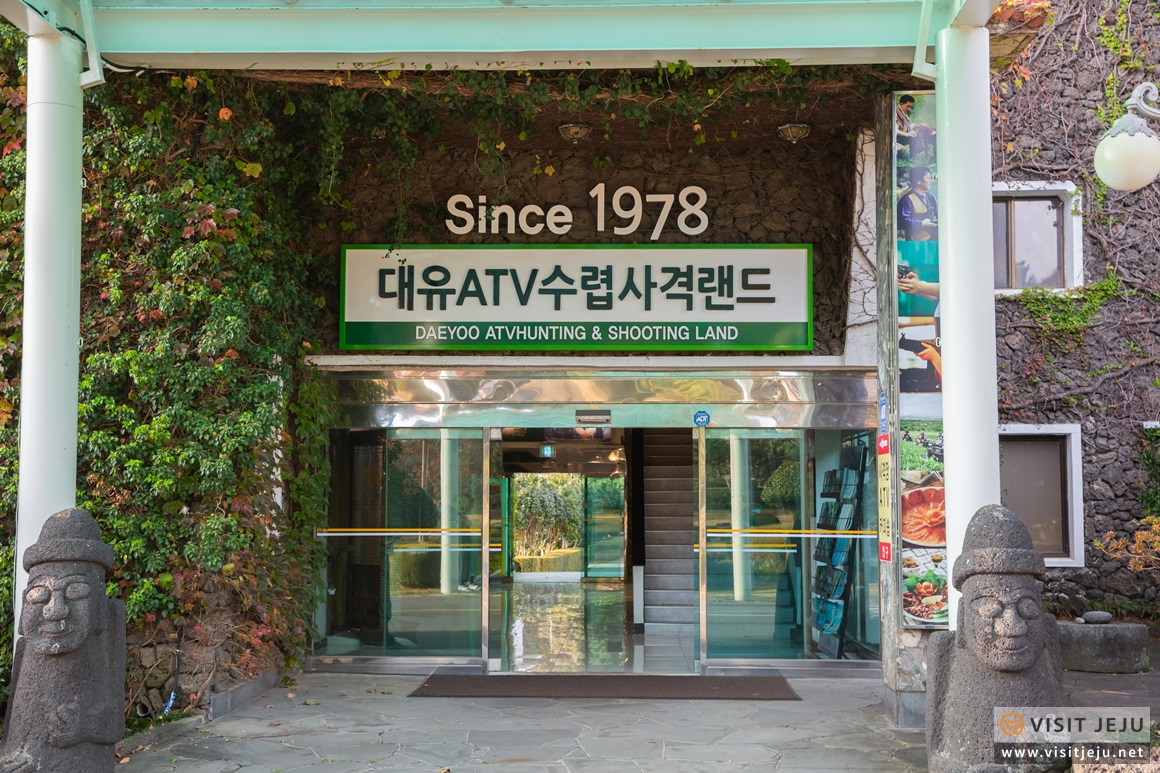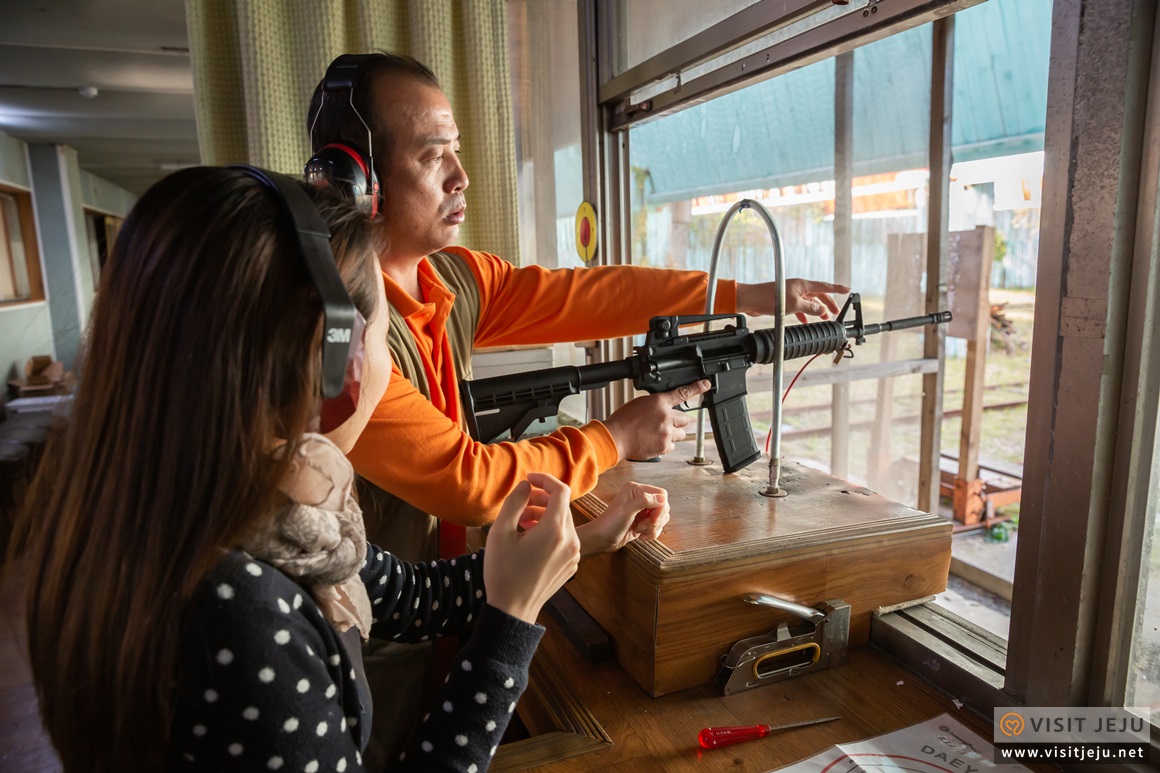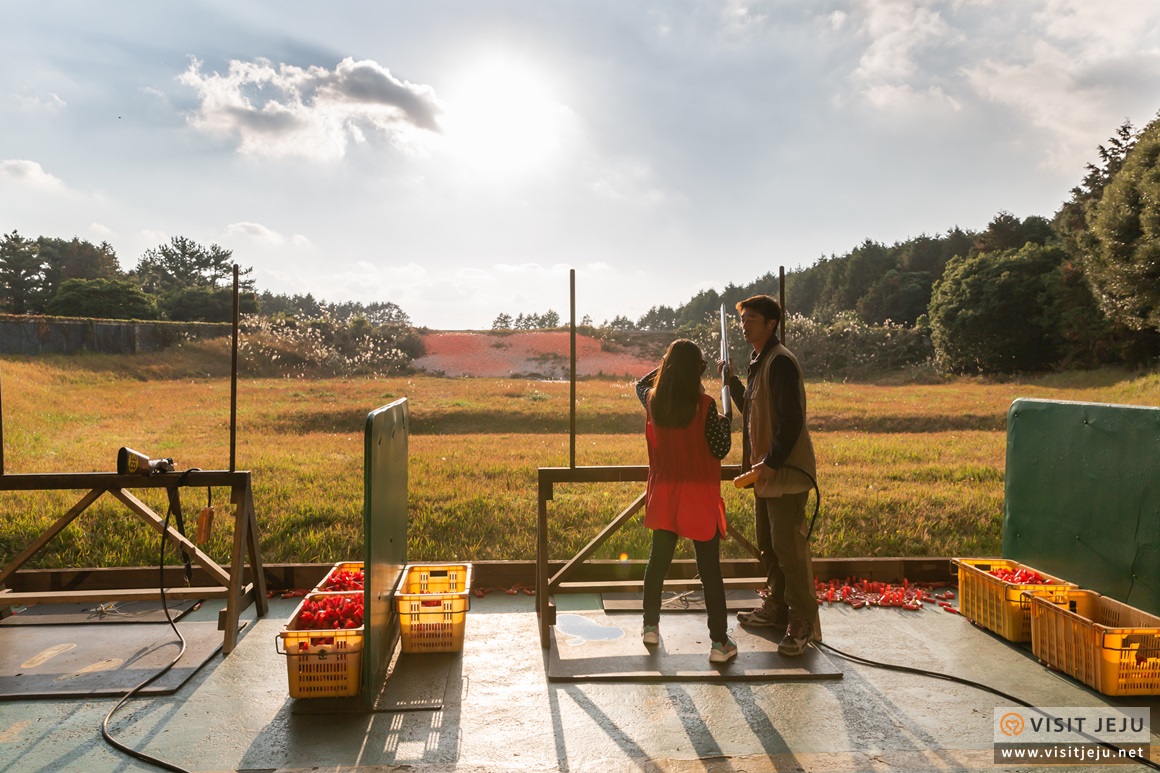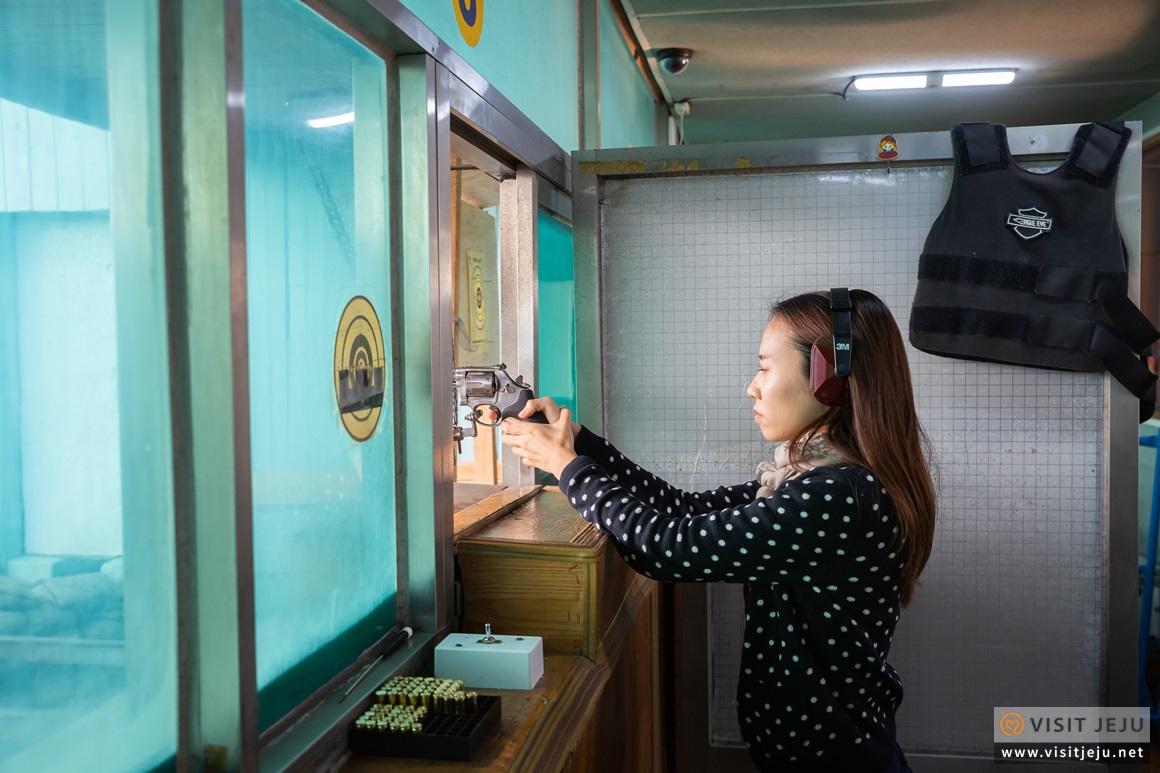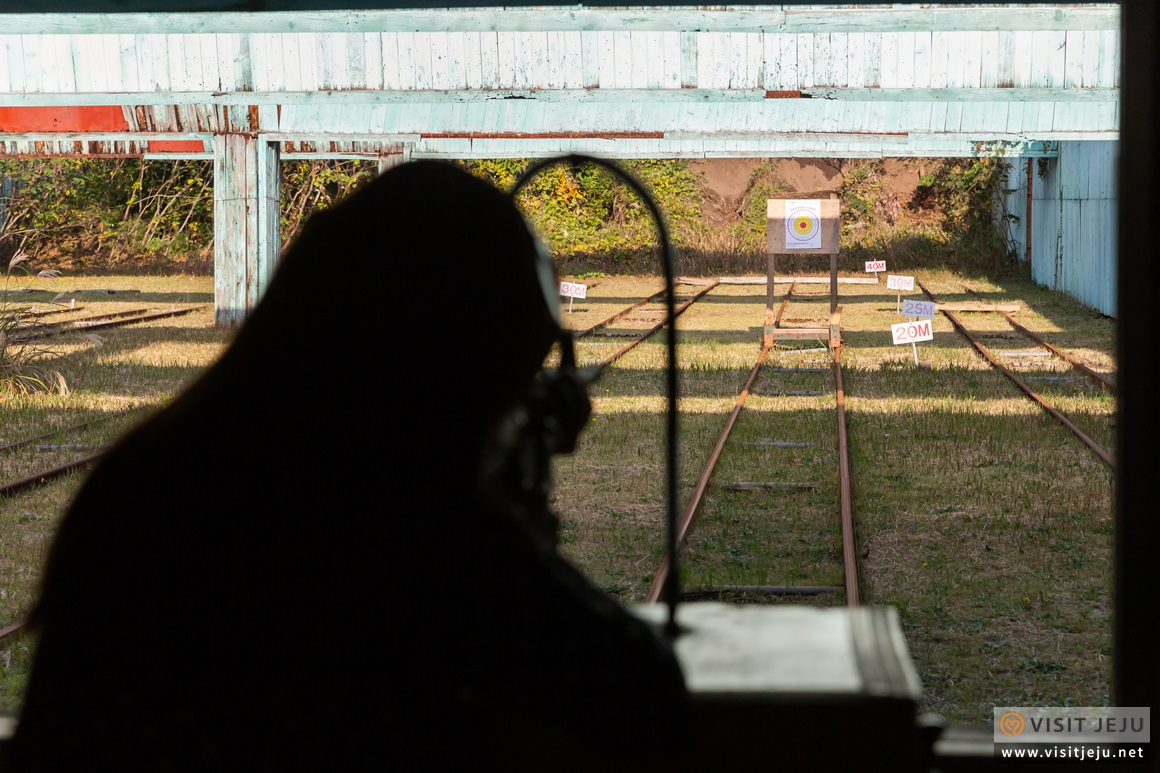 Address : 381, Sangye-ro, Seogwipo-si, Jeju-do
Phone : 064-738-0500
Hours :
November~February : 09:00~17:30, December 8th~December 31st : 09:00~17:00, March~April : 09:00~18:00, May~August : 09:00~18:30, July 23rd~August 15th : 09:00~19:00, September~October : 09:00~18:00, You should arrive 30 minutes prior to closing time.
Website : daeyooland.com
Jeju Shooting Range offers three ranges for firing with live ammunition, shooting with BB guns and simulation shooting. Over thirty kinds of pistols are produced by Walther (a German company), along with; Smith & Wesson (an American company), Beretta (an Italian company) and Glock (an Austrian company). Thus, you have a great deal of amusing options to choose from. Additionally, an instructor is always ready to teach you how to use a gun, and give you some advice. You will wear a special vest and earplugs. All these procedures are guided by a knowledgeable, approachable and patient instructor. You can also record a video of yourself while shooting because there is a cradle for your mobile phone. You have twelve chances to fire with live ammunition. However, this is only available to people, aged fourteen years old and above. But if you want to experience shooting with your children, do not worry, as they are still able to shoot with a BB gun. Pistols and rifles are prepared as BB guns to accommodate shooting for patrons of all ages and skill levels. Moreover, there are some tips you need to remember while enjoying and handling a BB gun. These include; Wear safety goggles, always make sure that the gun is pointed towards the target (or the air), and remember to fix your eyes on this target and pause for several moments after firing your weapon. Everyone can enjoy simulation shooting as well. Here you can shoot at moving targets, which gives you another enjoyable challenge. This in an activity where the whole family can spend time bonding with one another.
Address : 62, Soboridang-ro 164beon-gil, Seogwipo-si, Jeju-do
Phone : 064-739-7007
Hours : Daily 09:00~21:00 (March 1st~November 30th), Daily 10:00~20:00 (December 1st~February 28th)
Website : www.jungmunland.com
Give your feet wings
Riding Segway & Electric bicycle
When you roller-skate or ride a bicycle, you should move your legs continuously to supply energy to yourself (in order to make them work). It tires you out fast, and prevents you from appreciating the gentle breeze (as you are too focused on moving your legs). However, there is now an exciting and convenient alternative to satisfy you, known as- the Segway. This gives your legs freedom and does not require excessive pedalling. Do not forget that you also need to bring your driver's licence for a Segway. However, a license is not require for an electric bicycle, which also allows you to enjoy nature while conserving your energy.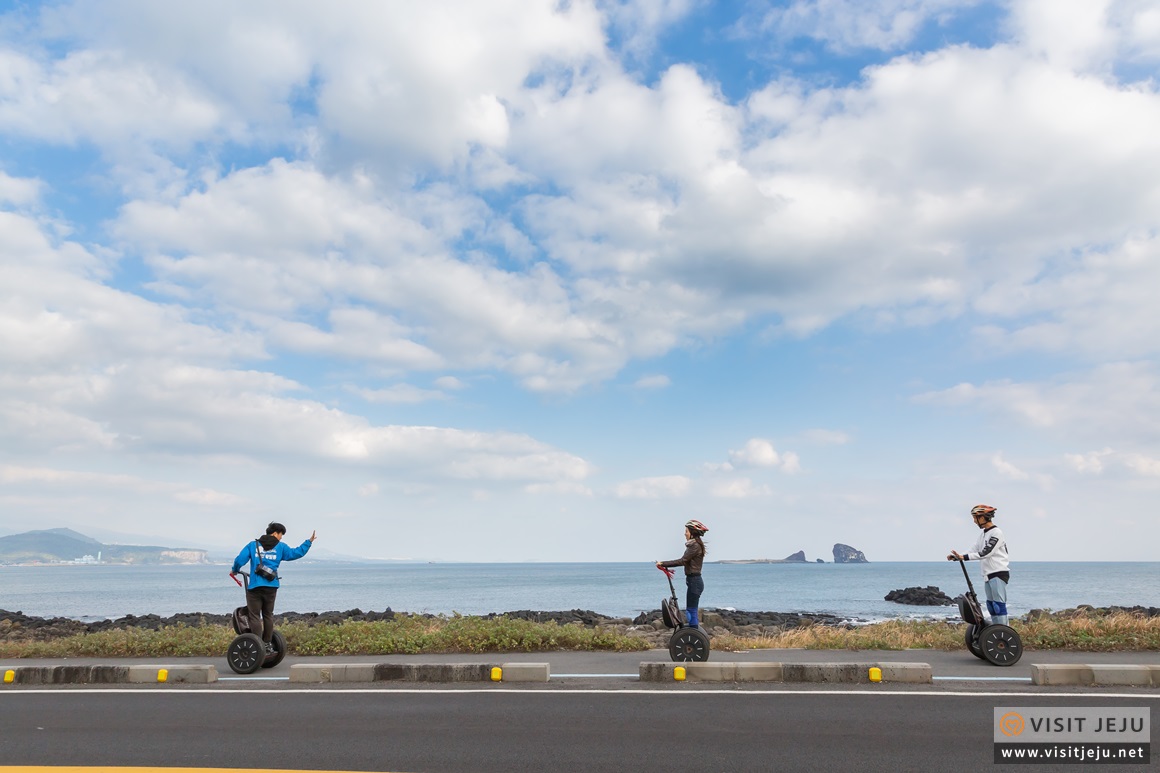 Songaksan Wangbaltong & Jeongi Jajeongeo
Songaksan is the name of a mountain, which is in the located South Western part of Jeju Island. At the peak of this mountain you can see Gapado Island, Marado Island and Hyeongjeseom Island. The southern part of this mountain consists of the seashore cliff. Under this beautiful mountain, there exists a provider, which offers a riding Segway and an electric bicycle named; 'Songaksan Wangbaltong&Jeongi Jajeongeo.' Wangbaltong is another name in Korean meaning Segway, and 'Jeongi Jajeongeo' is the term for 'electric bicycle' in Korean. Here, you'll learn how to handle a Segway or an electric bicycle first. To handle a Segway is quite hard. It is essential to maintain a straight posture, and lean your body forward or backward very slightly to change direction. After a short lesson, you will then drive along the coastal road capturing the blue and twinkling Sea in your eyes. There is also a mountain named Sanbangsan, which is famous as a tourist destination, and is close to the Songaksan Mountains. You can also see this mountain while driving. A Segway and an electric bicycle do not have any frame outside of them like a car. So you can directly feel the coolness of Jeju's wind. Your cheerful and witty instructor will lead you and offer stimulating music with their portable loudspeaker (while driving). They will also take a picture for you of this extraordinary view while you enjoy your driving. So get swept up in the enchantment of all the amazing activities.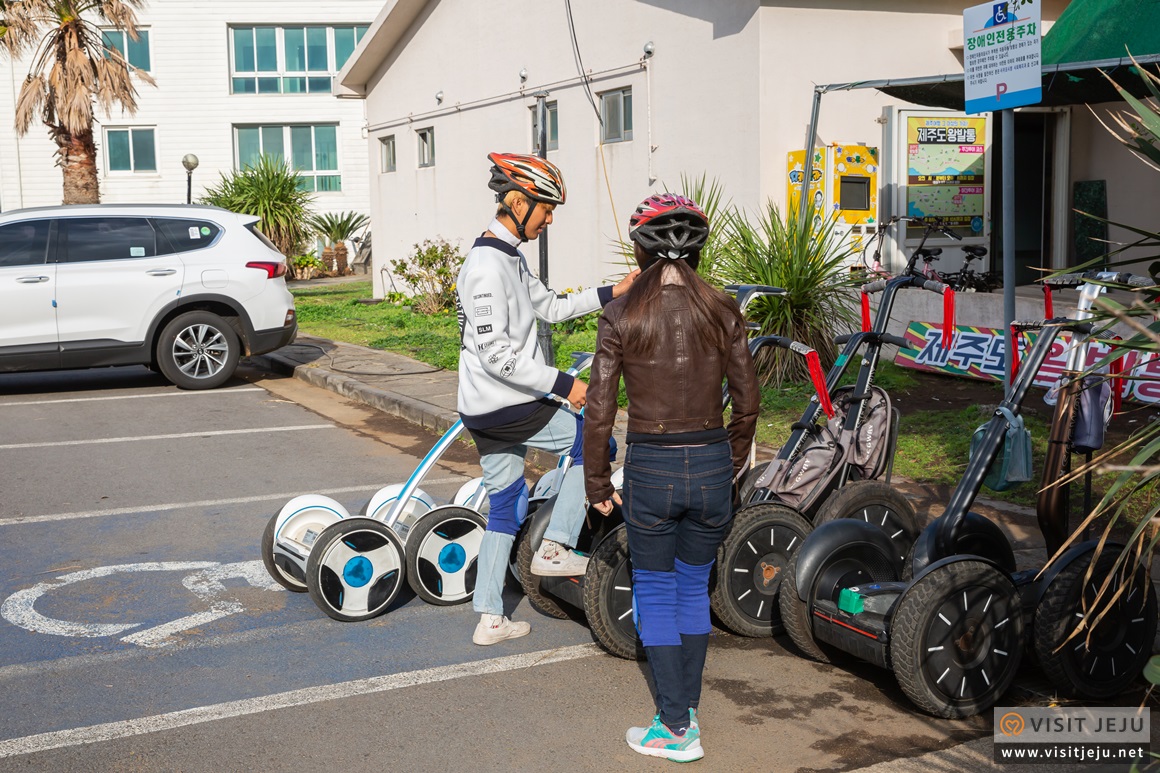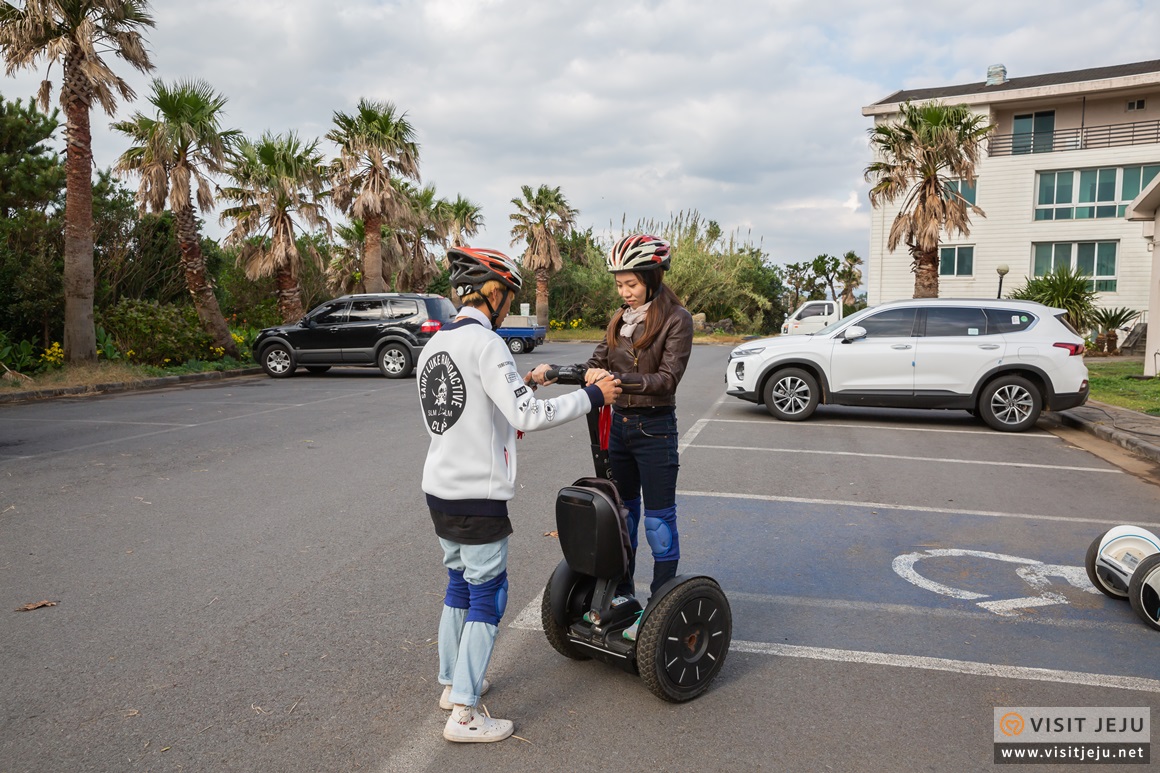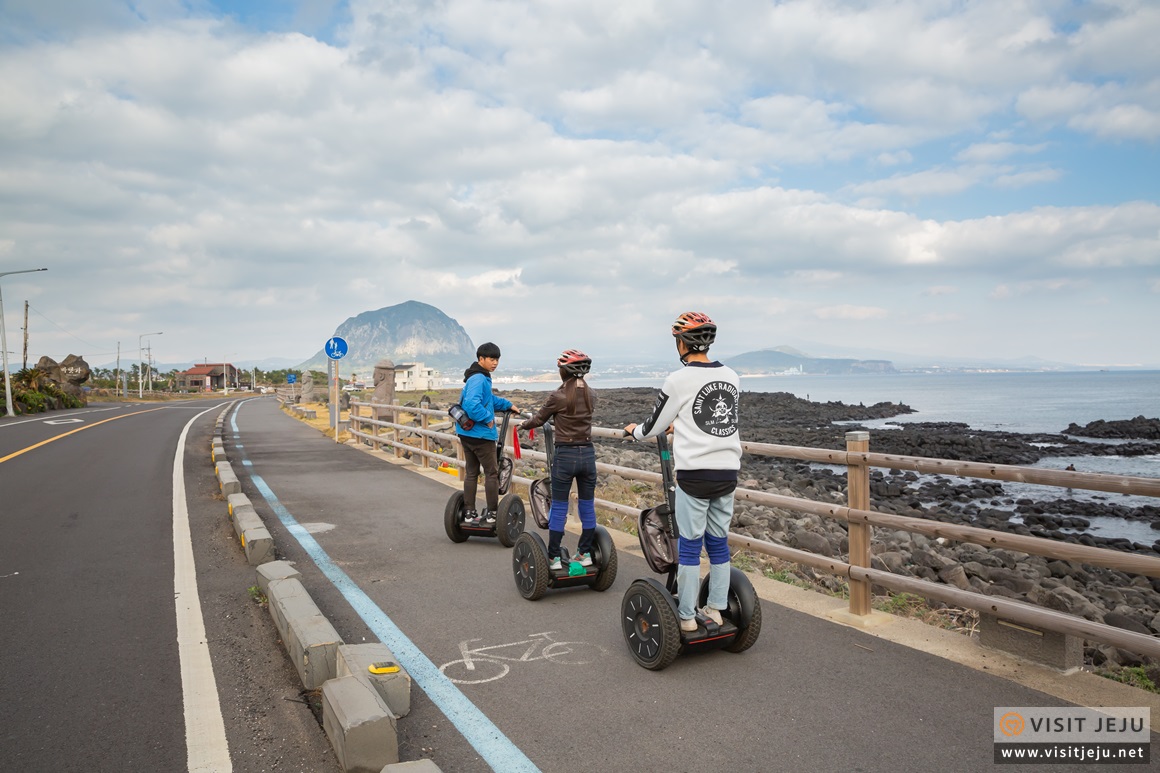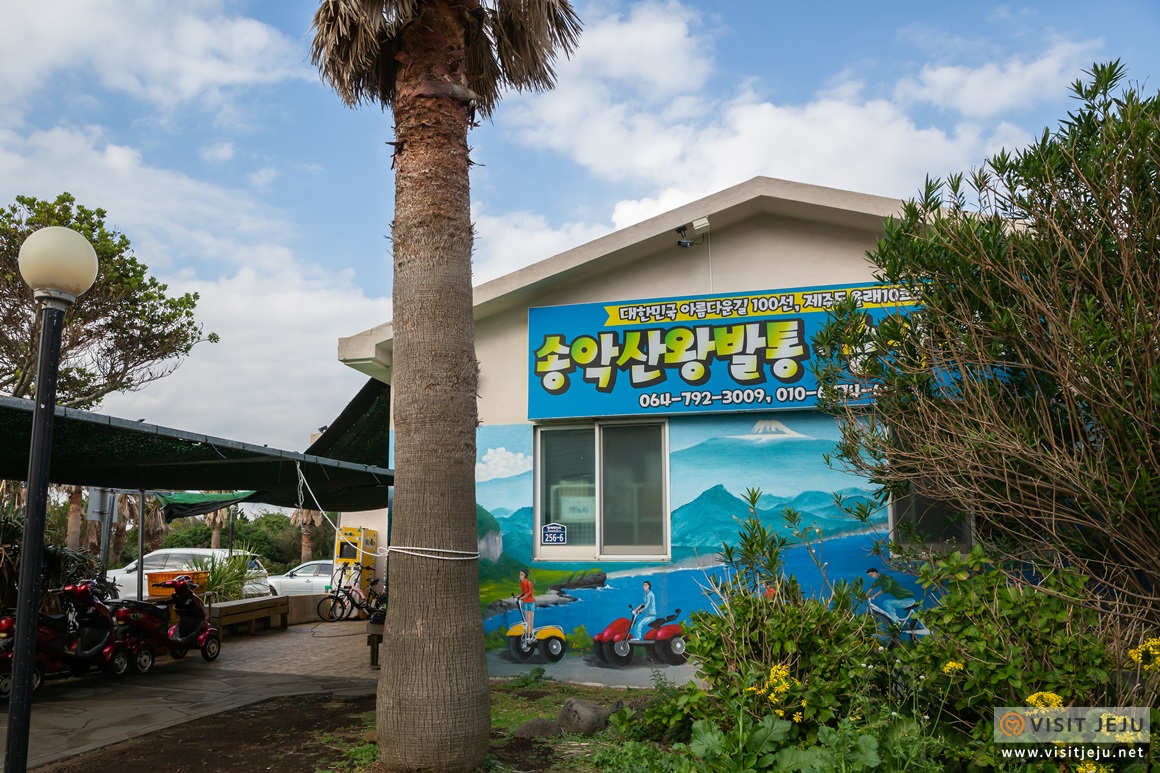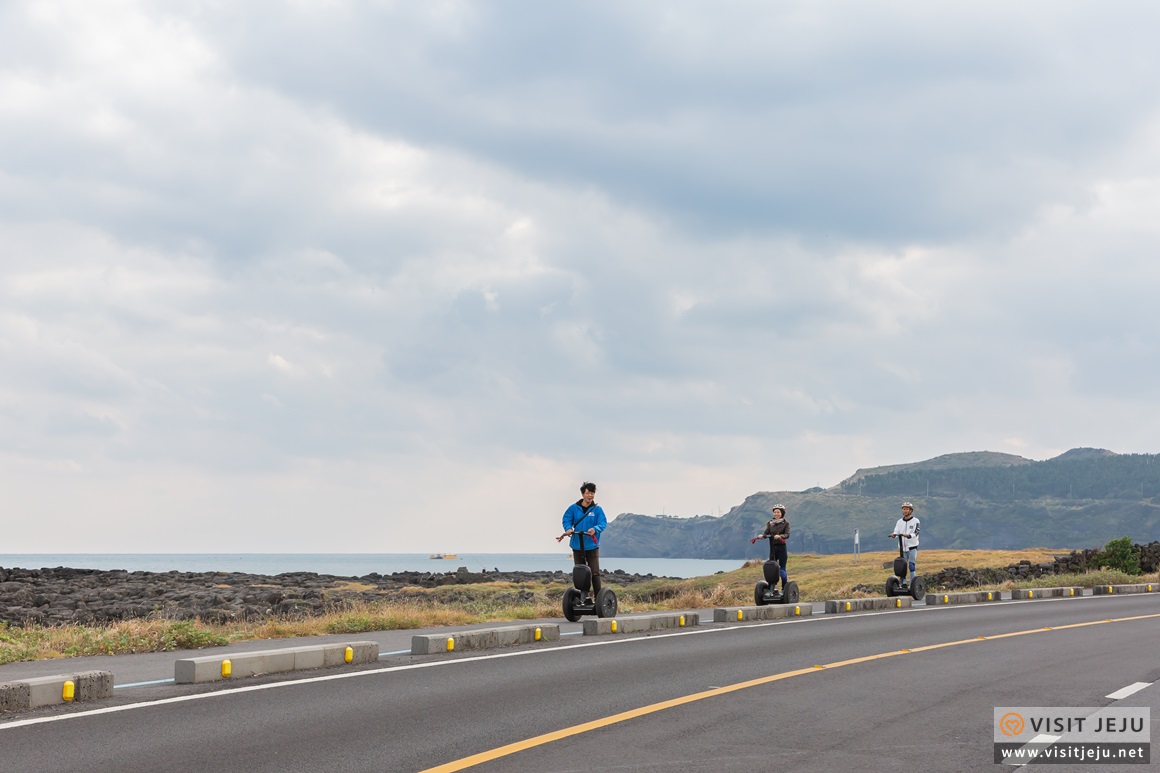 Address : 256-6, Hyeongjehaean-ro, Daejeong-eup, Seogwipo-si, Jeju-do
Phone : 064-792-3009 (Reservations are essential.)
Hours : Daily 10:00~18:00, during the winter season 10:00~17:00
Website : blog.naver.com/sheong1
Have you ever experienced rolling in a ball? With zorbing, this is possible. Zorbing was created in New Zealand and spread to other countries like Australia, England and South Korea. Zorbing is the extreme sport of rolling down a hill in a giant ball. Basically zorbing is performed on a hill, but plain fields and playgrounds are also okay. They are easy to ride and do not require a lesson before riding them like some other activities. It is a brilliant idea to bring an action camera to record and capture these enthralling moments while experiencing them.
Jeju Bigball Land has two courses called; 'zorb' and 'bigball'. The 'zorb' course will make you rotate literally 360 degrees. Before this rotation, you will not feel very afraid, after fastening the safety belts onto your ankles, shoulders and abdomen. But once it starts, you will undergo extreme thrills that continue throughout the duration of the activity. It is like you are wandering through outer space while experiencing utter chaos. It is much more thrilling than a roller coaster. It is recommended that you do not ride it just right after finishing a meal. Additionally in the 'bigball' course, water fills inside a ball. It is kind of like a water slide. As a result it gives you a different kind of excitement in comparison to 'zorb'. You should bring swimming suits or extra clothes to change into because you are going to get very wet from this tumultuous water activity. Bring your own towel if you do not want to pay an extra charge for borrowing one. Also, keep in mind that these are not available to single riders. Thus, make sure to bring your partner or a friend, so you can enjoy the zorbing. Before riding it, keep your belongings (including glasses) in a basket. If your ball deviates from a course, the kind staff will immediately rescue you. Immerse yourself in the world of zorbing and soak up the zorb magic at Jeju Bigball Land.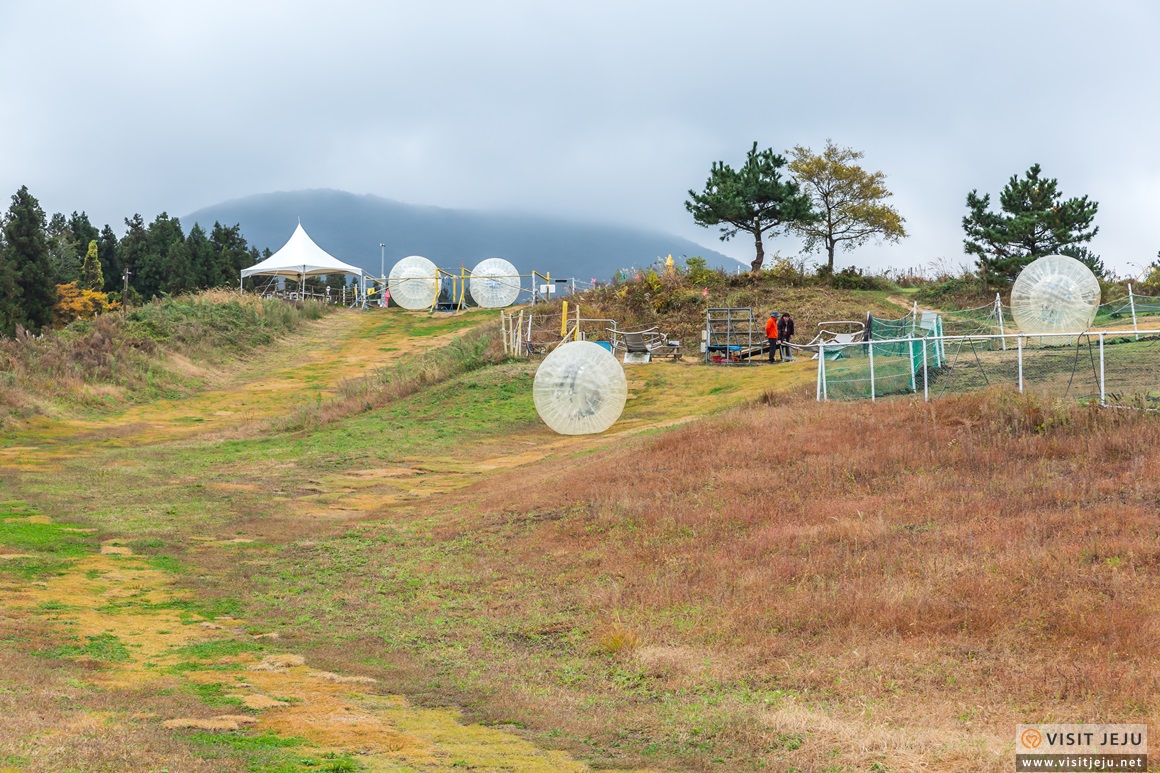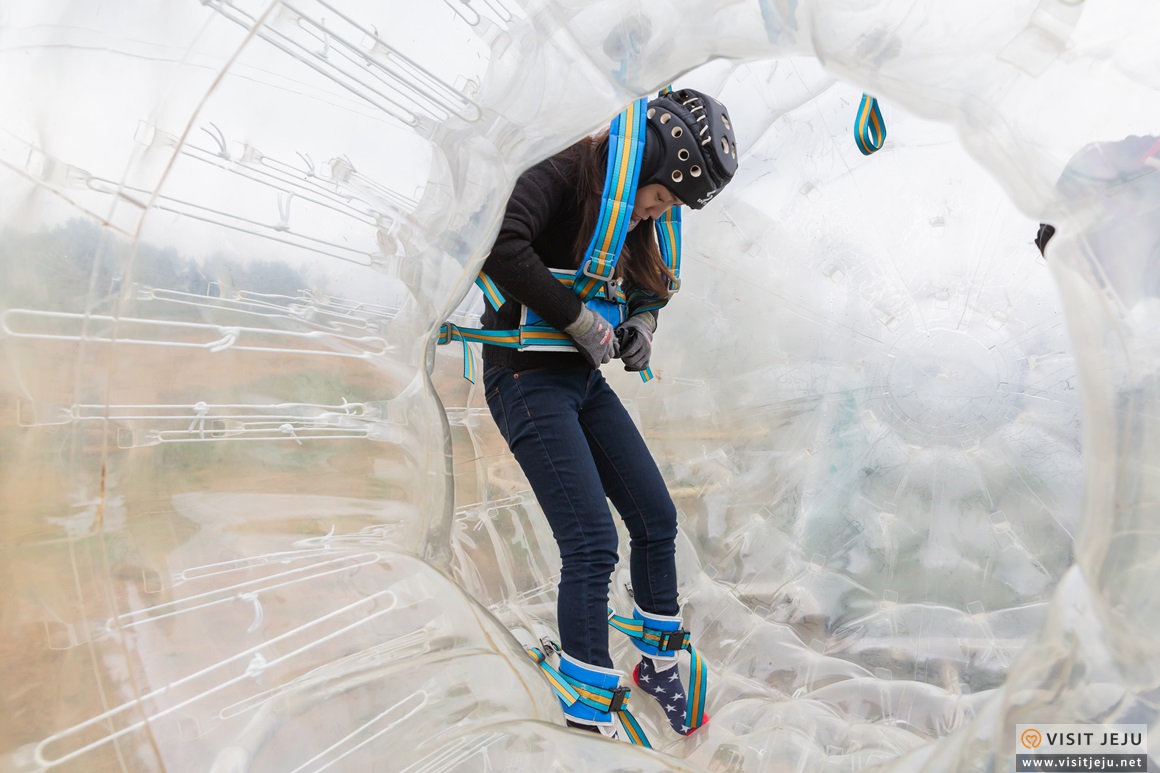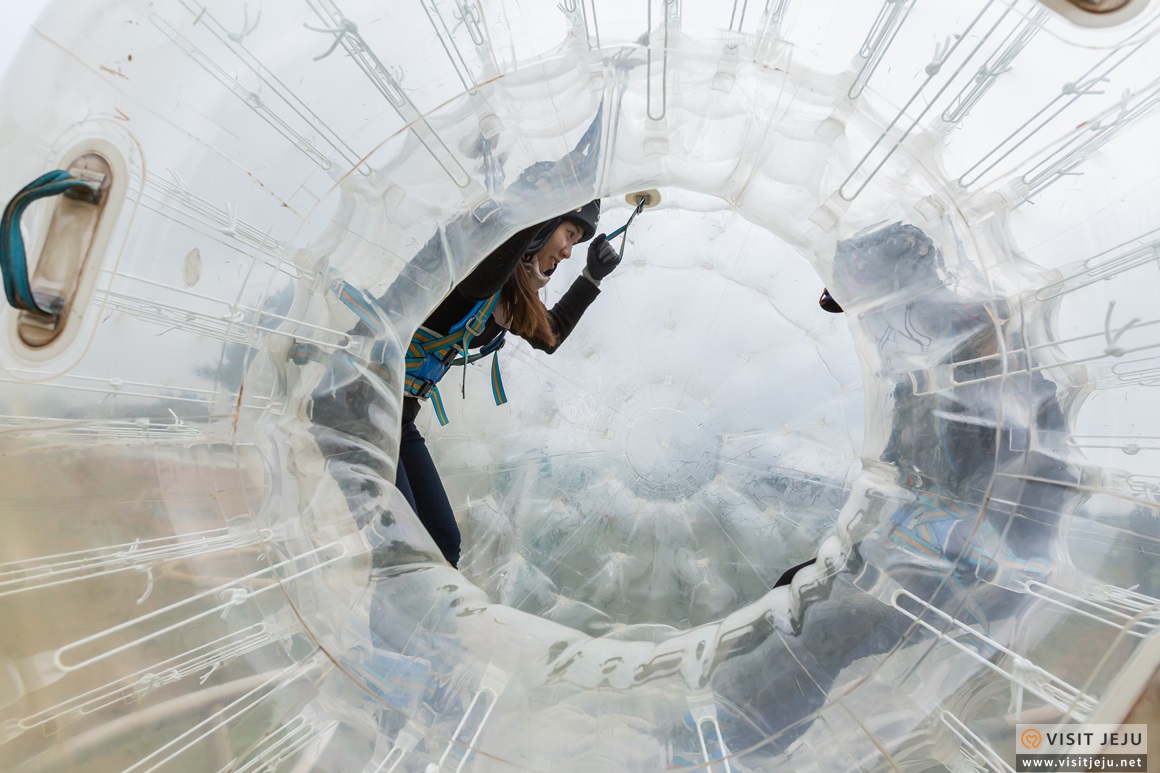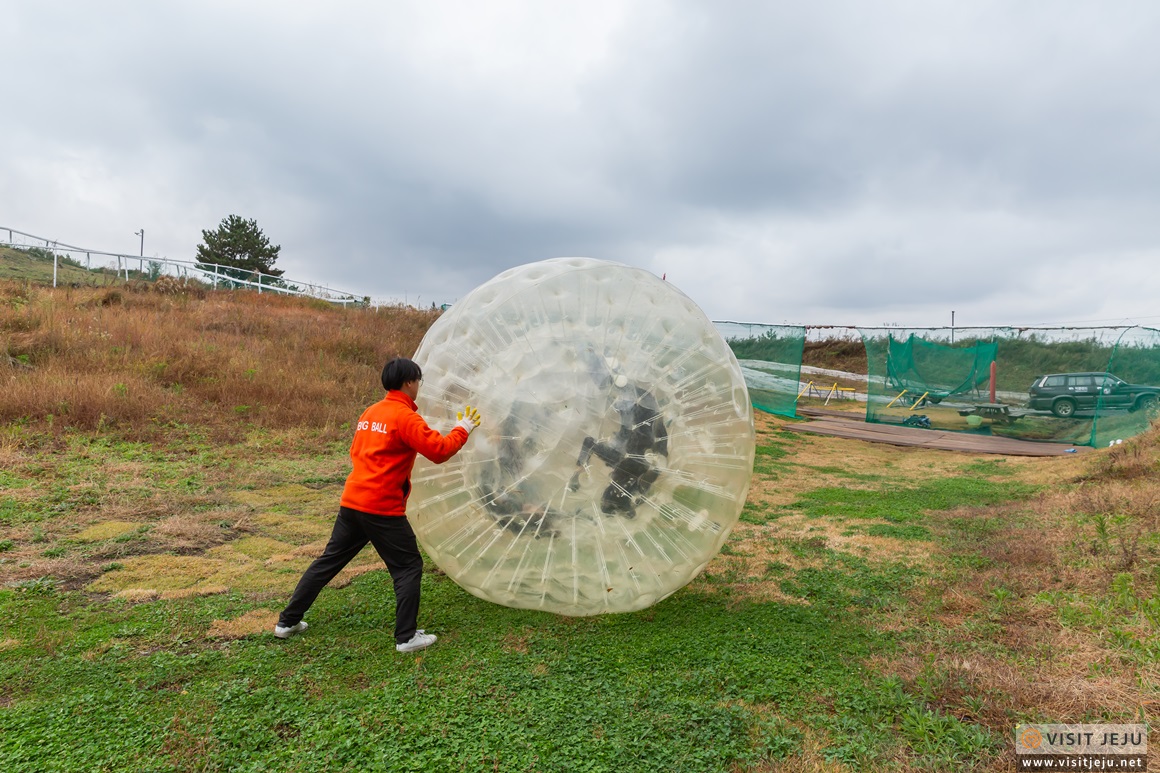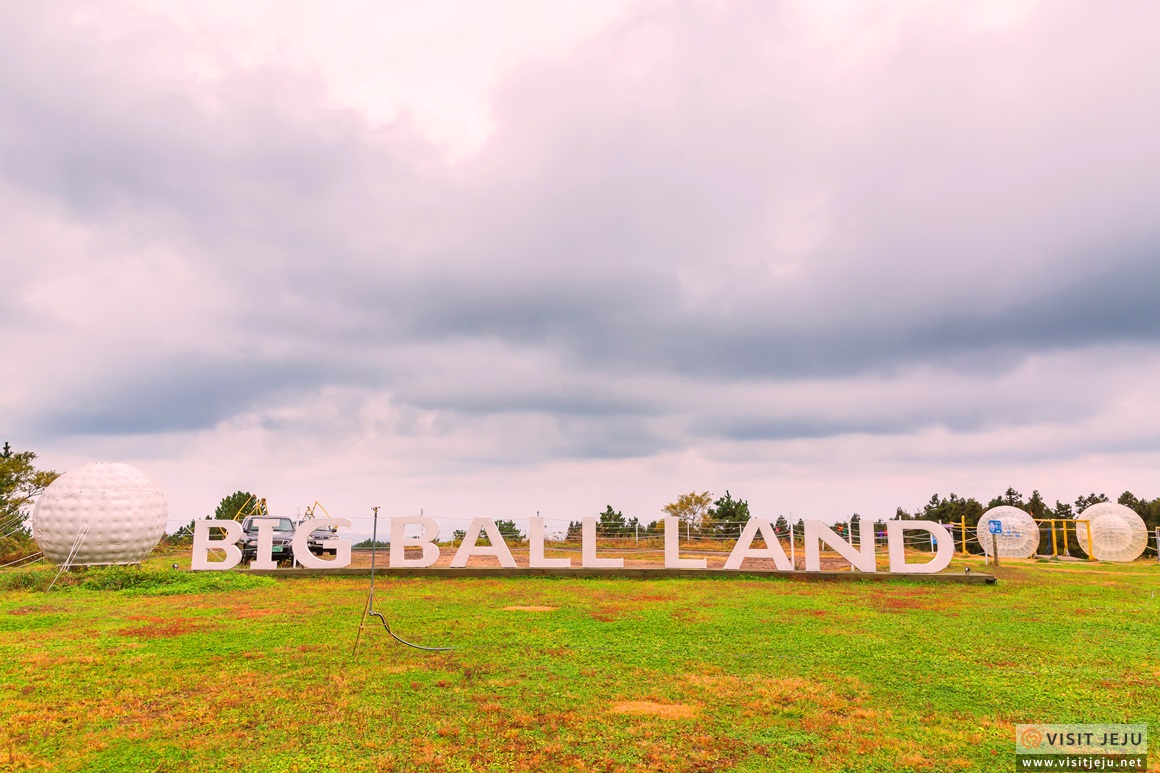 Divide wind, shout out and Touch the sky
Zip-lining
Zip-lining is an activity that consists of a pulley suspended on a cable, usually composed of stainless steel, mounted on a slope. It is manufactured to enable a user (propelled by gravity), to travel all the way from the top to the bottom of the inclined cable, by holding onto, the freely moving pulley. Zip-lines come in many forms and are most often used as a means of entertainment. They may be short and low- intended for children and found on some playgrounds. Alternatively, longer and higher rides are often used as a means of accessing remote areas and may be much more adventurous for older children (and adults). Jeju is open to tourists who wish to be like Tarzan.
Zipline Jeju provides four successive sections. The first involves stepping up stairs, which could make you feel more tense. When zip-lining, make sure your posture is flat by lifting your legs up. During the first section, you'll pass the cedar forest. Thus, the Scent of cedar trees will give you freshness. During the second section, you're going to pass the green tea farm. Exquisite green tea farms will clear your vision. During the third section, you'll pass the pond under your feet. It gives you a kick sensation. You will most likely feel quite boring because you are used to it by experiencing three sections already. However, the thrills become even more intense at the final section. The fourth section is advanced, exhilarating and breathtaking. Shouting out loud in fear will help you realize that this has been completed. Zipline Jeju starts from Daheeyeon, a theme park which boasts a beautiful green tea farm. The mountains surrounding Zipline Jeju are a splendid sight while zip-lining. After zip-lining, you can go for a walk and look around the green tea farm while sipping a cup of tea.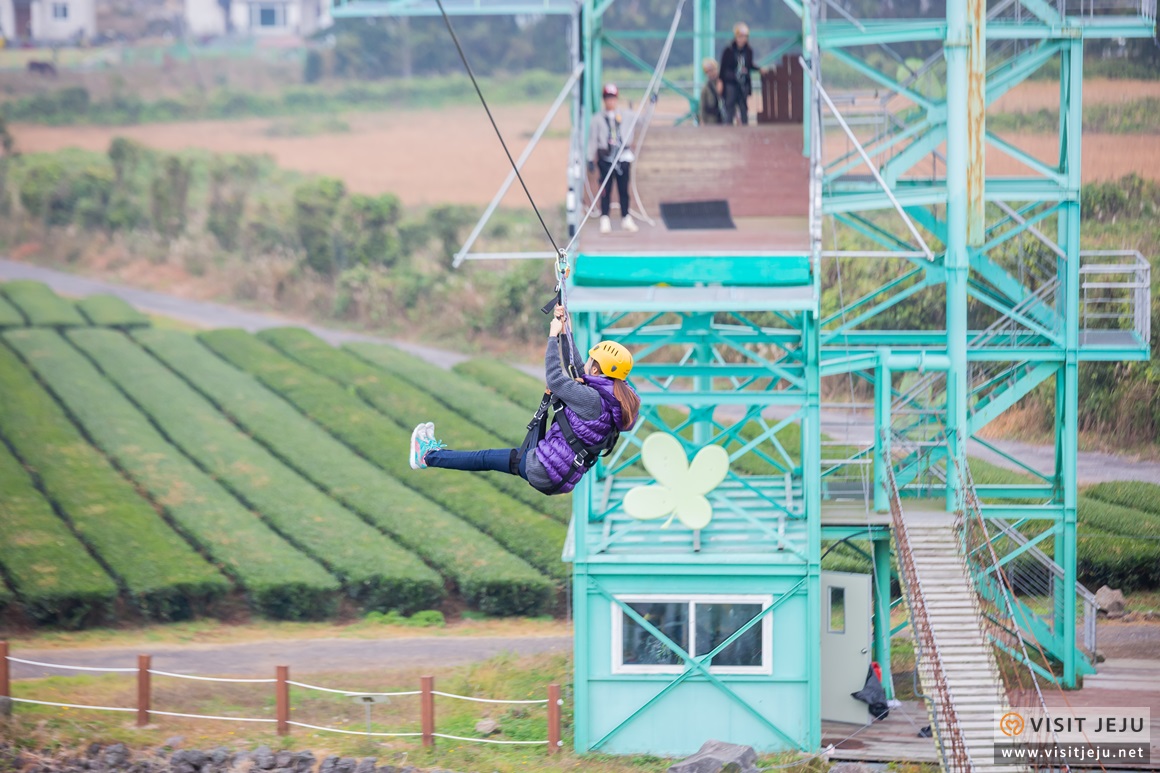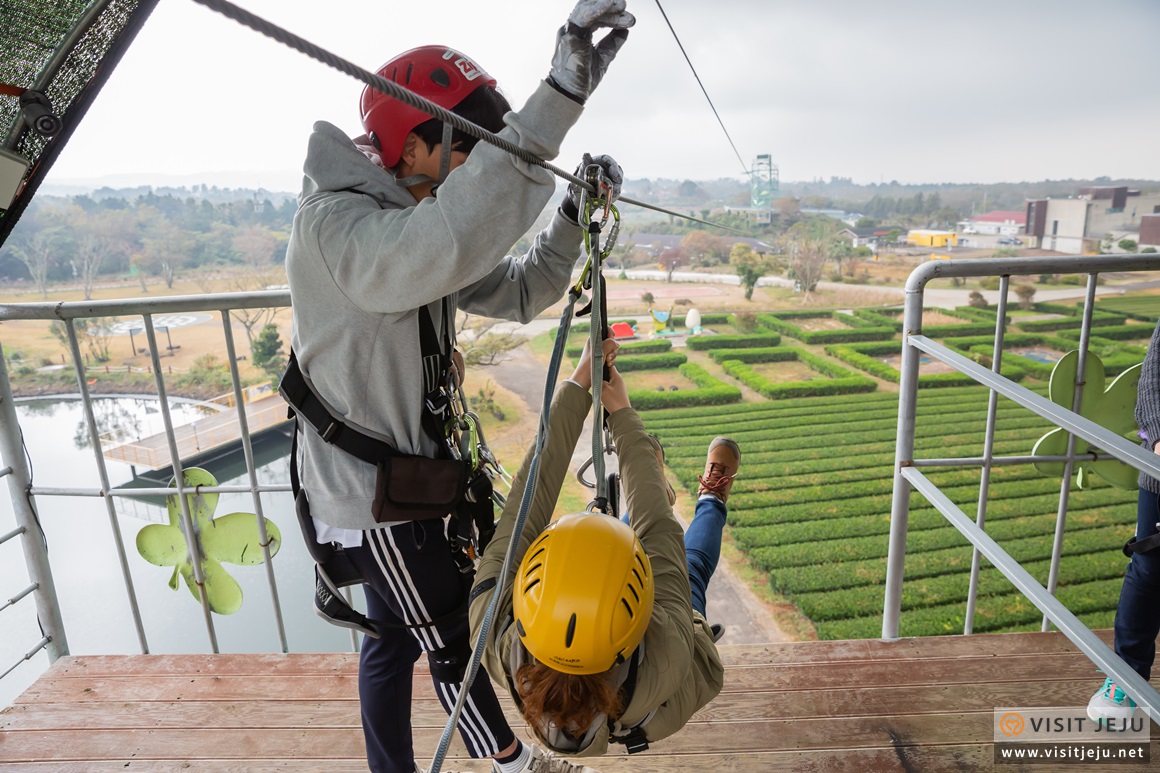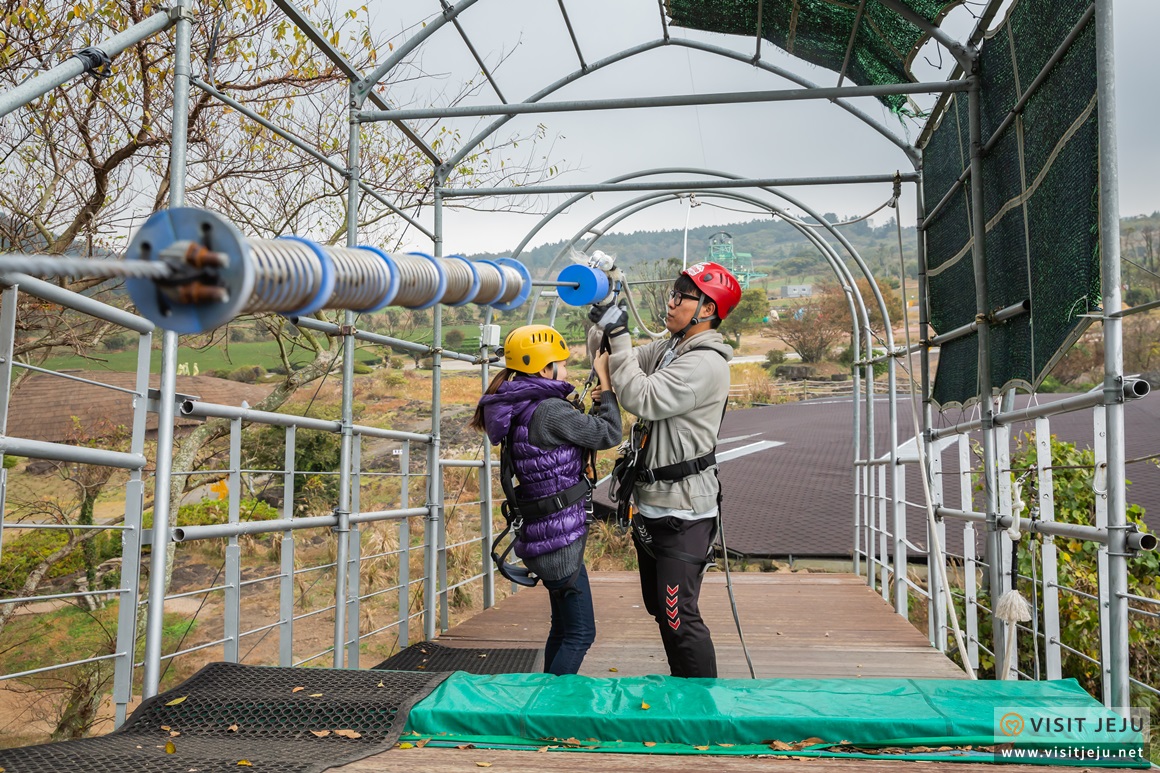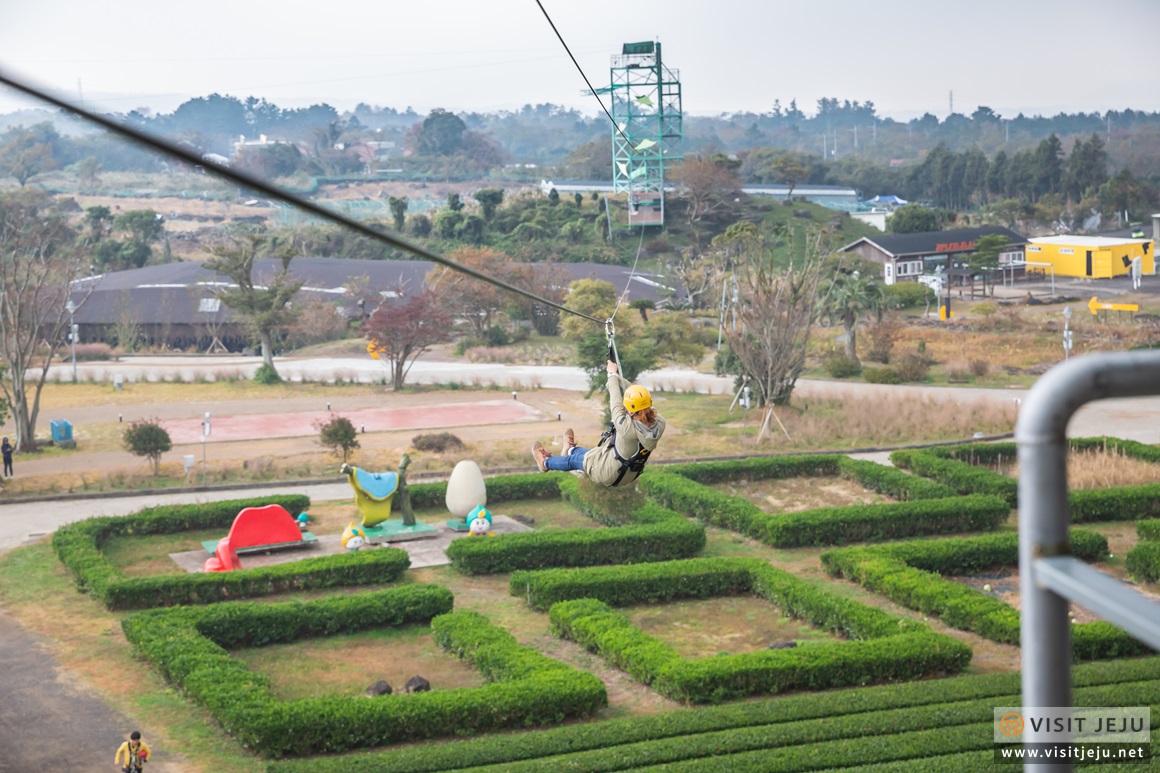 Located at Jocheon, Jeju Leports Land is a complex adventure park where you can enjoy; zip-lines, a four-season sled, a mountain buggy car, shooting, trampolining and a racing cart. When zip-lining, you will see the beautiful landscape around Jeju Leports Land, and a wide cart driving ground.
Find relaxation and inner peace that you've lost
Yoga
Yoga is quickly becoming one of the most popular, if not the most popular workout regime, among those who are looking to gain flexibility, strength or even aiming to lose weight. It can be done from the privacy of your home or in a classroom. Yoga is great for reducing stress and allowing for greater relaxation. Once you get into Yoga though, you learn that it is so much more than just a way to workout, and keep in shape. It is a philosophy, a passion and a way of life, for many people. While you may be getting into yoga for the exercise, you may soon find yourself wrapped in the philosophy and spirituality that Yoga brings along with it. Jeju Island is a perfect place to practice yoga in nature. Here are two yoga providers you can choose from, according to your appetite.
An instructor of Upabhasha first met and quickly learned yoga, when she was weak and needed recovery. After fasting and practicing yoga, she decided to focus on teaching this activity. Upabhasha provides several programs: Yoga, Ayurveda therapy, meditation with pu'er tea, foot-bathing and making a necklace in upcycling. Yoga sessions would be held for an individual or in a small group, ranging from beginners to experts. The instructor can lead a lesson according to the requirements and aptitudes of each person. Ayurveda has its root in ancient India. It has over 5,000 years worth of history and is respected as excellent alternative medicine in India. It's a holistic healing system. A balance of mind, body and spirit is important in Ayurveda. Ayurveda helps us keep a balance and develop our strengths. In Upabhasha, you can experience genuine and natural healing through Ayurveda therapy, by using many kinds of non-chemical, Indian therapeutic oil- according to your desires. It's different from massages that press your body strongly. Conversely, it enhances your body circulation through soft techniques. Here, Indian oil releases toxins. When you apply Ayurveda therapy, meditation programs with pu'er tea, are offered for free. The house of Upabhasha has a well-managed garden, and is located in a quiet town. The instructor and her husband live here with their adorable dogs. It is an absolute joy to listen to their life stories and have a conversation with them.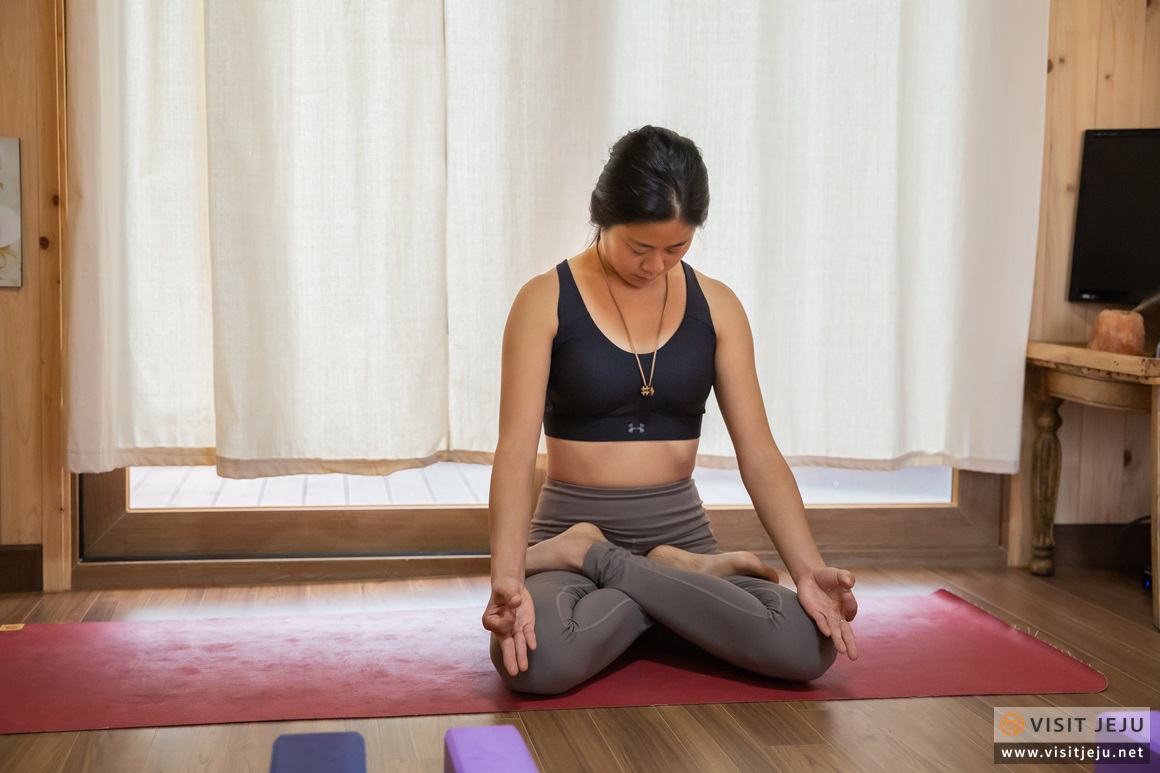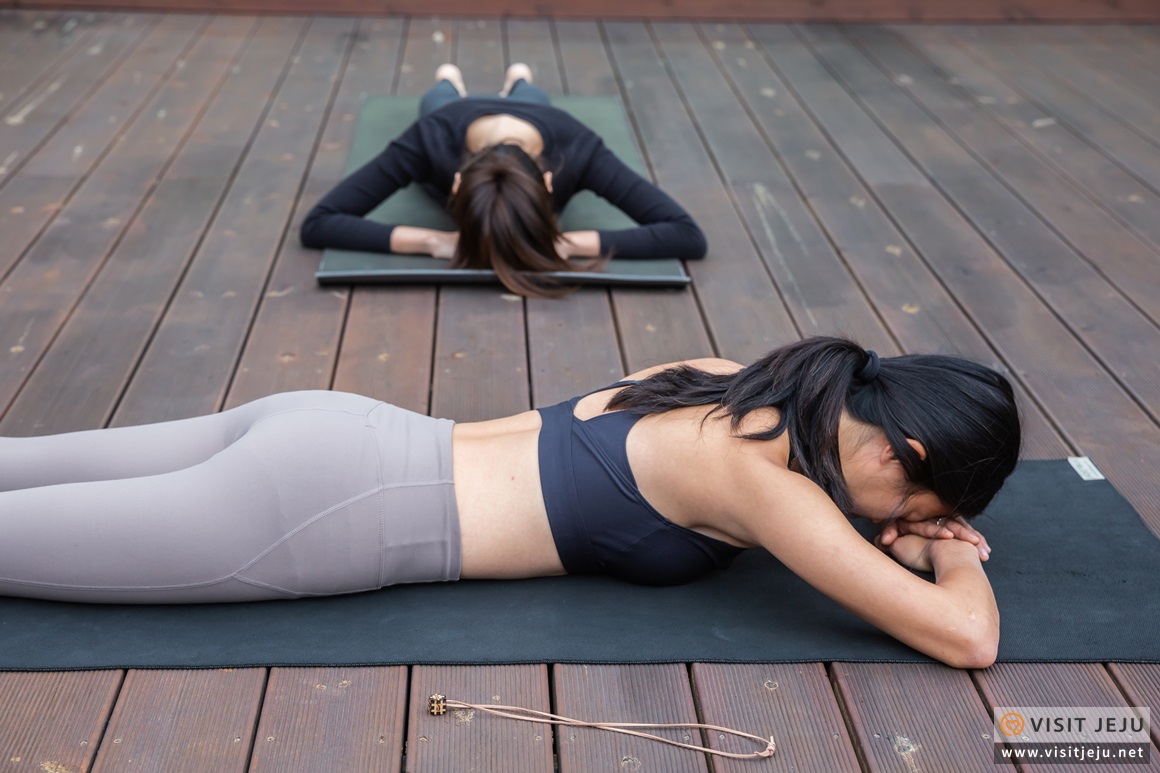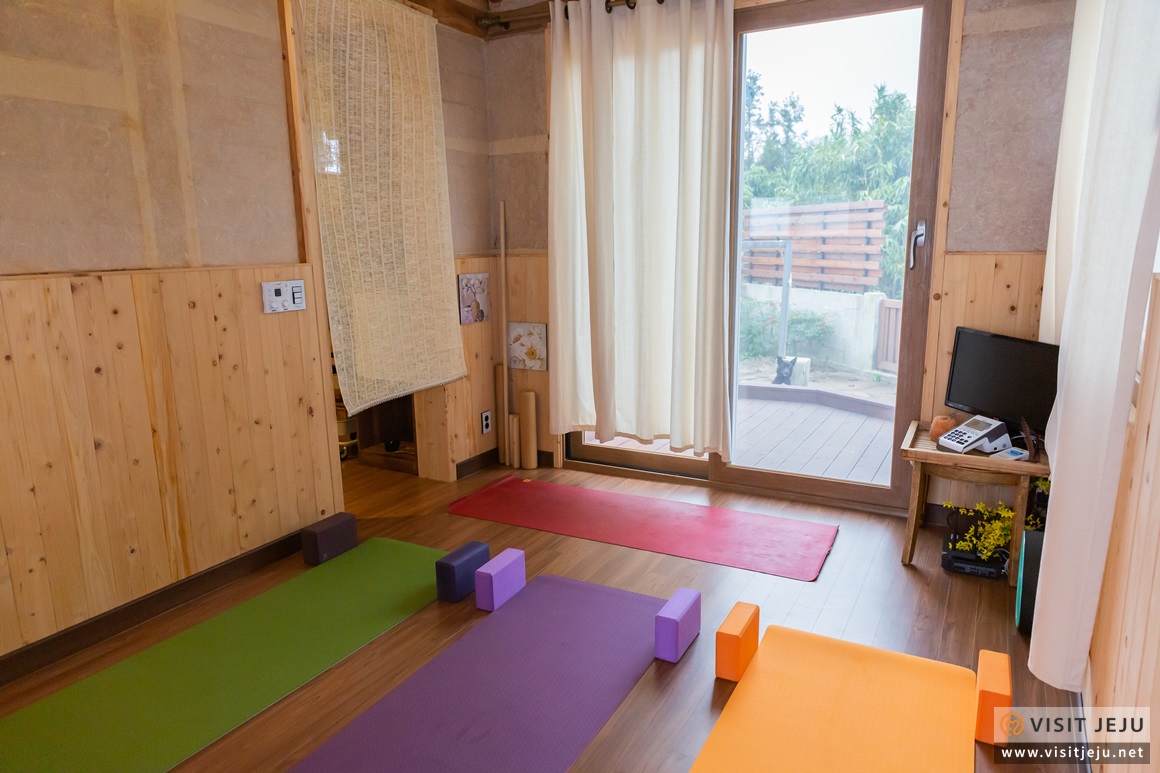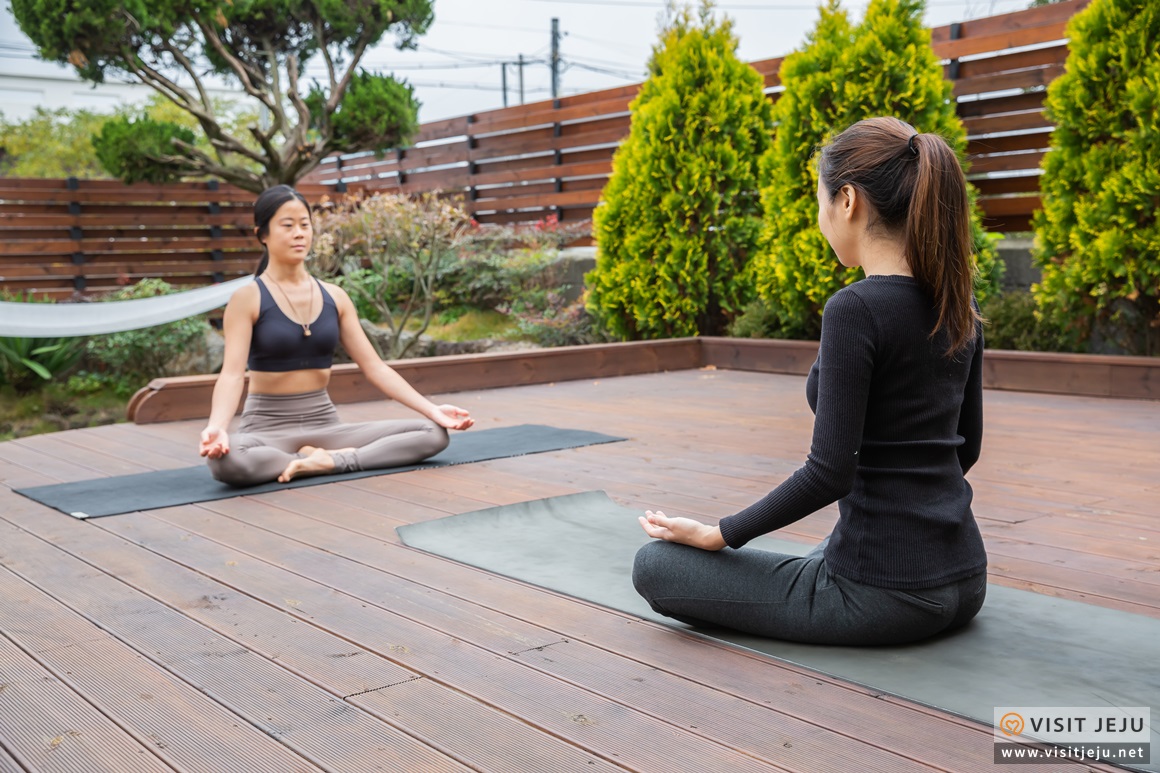 Address : 45-8, Seonjin-gil, Jocheon-eup, Jeju-si, Jeju-do
Phone : 010-2972-9185
E-mail : short_simple@naver.com (Early reservations are essential before you visit.)
Hours : Weekdays 08:30~18:30, Weekends 09:30~16:00
Website : upabhasha.imweb.me
Sum (seom) is the term for island in Korean. The name 'Sum Yoga' shows its identity. This provider is unique, because yoga is practiced in nature, in Jeju (like at the Oreum Volcanic Cone, in an arboretum or at the beach). The Yoga sessions at the Oreum Volcanic Cone are mostly held early Saturday morning. The morning session is also followed by a hike exploring the Oreum together. Make sure to check the location of each Yoga session through an official website or by emailing the provider. You can find how much passion the instructor of Sum Yoga has for yoga and Jeju Island through interacting with her. Here, you can meet nice people, practice yoga, and experience the stunning nature of Jeju, through sight, hearing and emotion.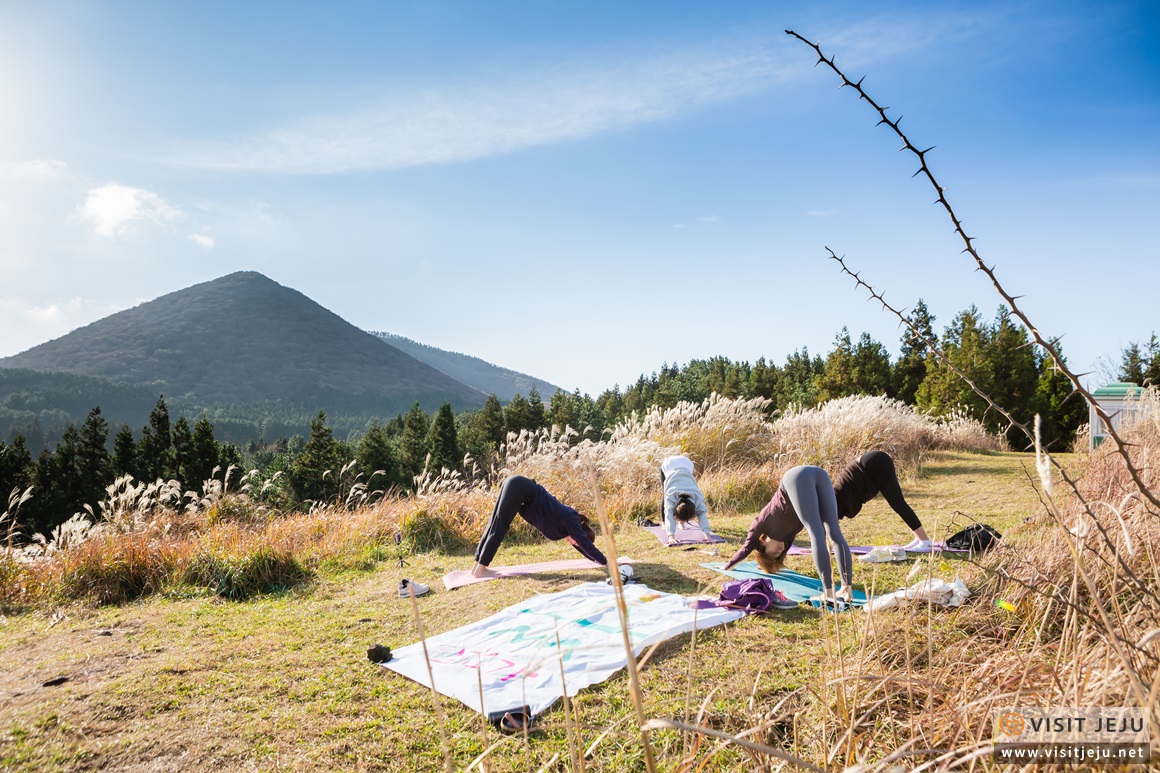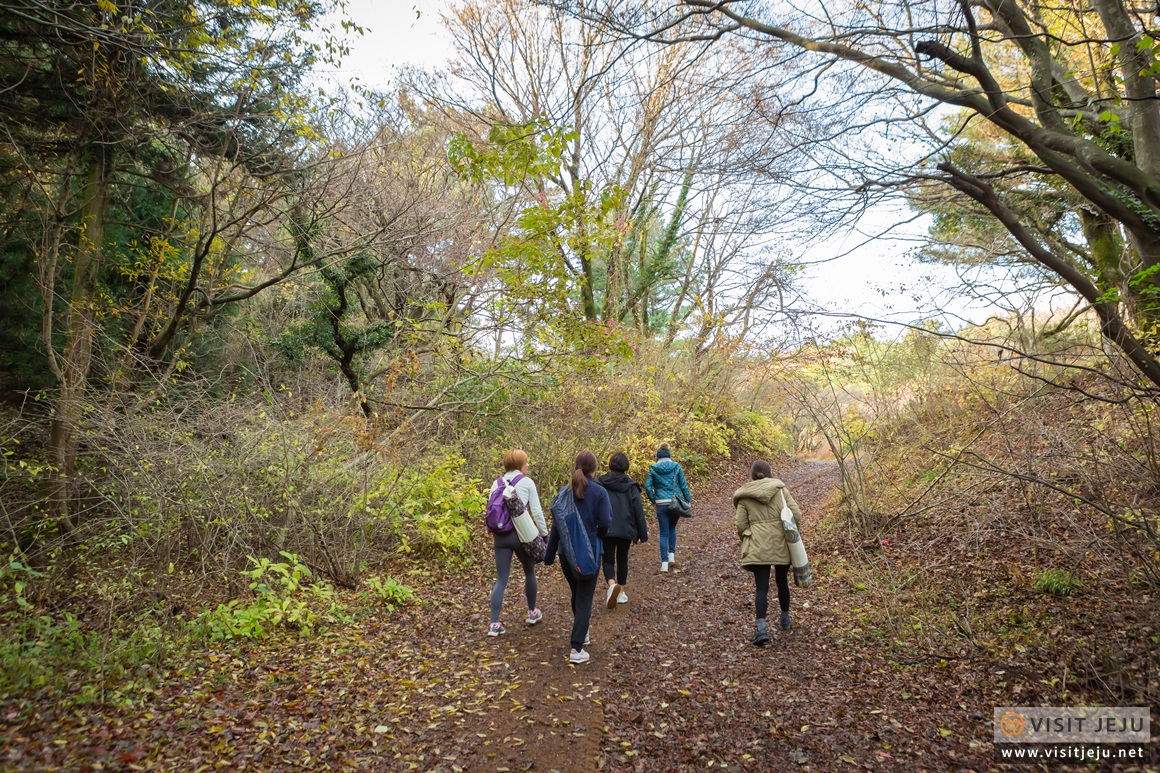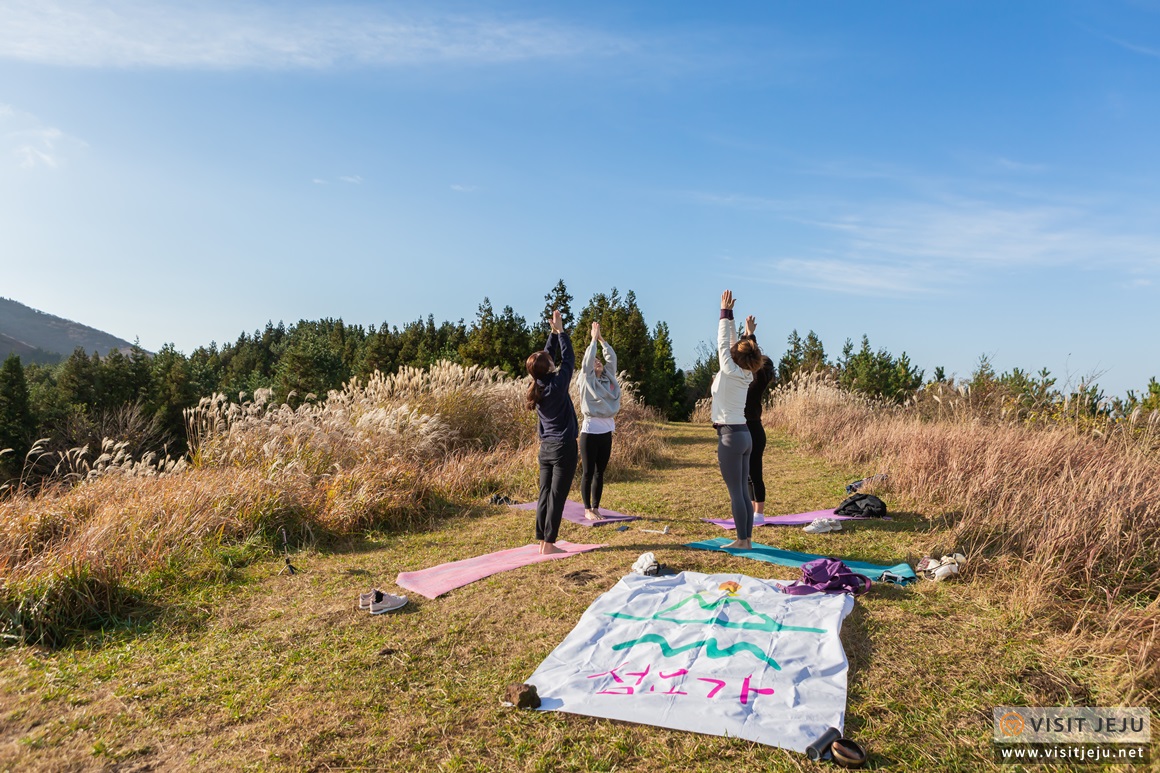 Address: 8-5, Naedo 9-gil, Jeju-si, Jeju-do
Phone: 010-2422-7771
E-mail: etjinny@gmail.com (Please email prior to joining.)
Hours: Most sessions are on Saturday morning, according to the current schedule but it can vary, which is why it's best to check with your provider beforehand.
Website: blog.naver.com/vmffmt82
Notice

※ The above information was written on 2018-12-11. Please confirm the information prior to your trip.
※ Unauthorized use of the content above (text, photos and videos) is prohibited and subject to copyright by the Jeju Tourism Organization.