본문
Make the Most Out of Your Time <Top Recommendations Near Jeju Airport>
Review

0

Lookup

2,302

Share SNS

4
Make the Most Out of Your Time

<Top Recommendations Near Jeju Airport>

Airports often give us mixed feelings–the excitement of embarking on a journey and sadness when it is over. Located close to Jeju Airport, these recommendations will make sure every moment, from the onset to the finale of your trip, is memorable. Here are some handpicked attractions near the airport, perfect for the kickstart or wrap-up of your Jeju adventure.
Where Both Adults and Children Can Enjoy
<Brick Campus>
"Brick Campus Jeju" is an art museum that stands as a unique fusion of art and playing. Celebrating the world of interlocking brick toys such as Lego, Oxford, Mega Bloks, and Nanoblocks, this museum invites you to dive into a universe built brick by brick. With over 300 crafted masterpieces on display, there's no shortage of creativity here as they are built without specific instruction manuals.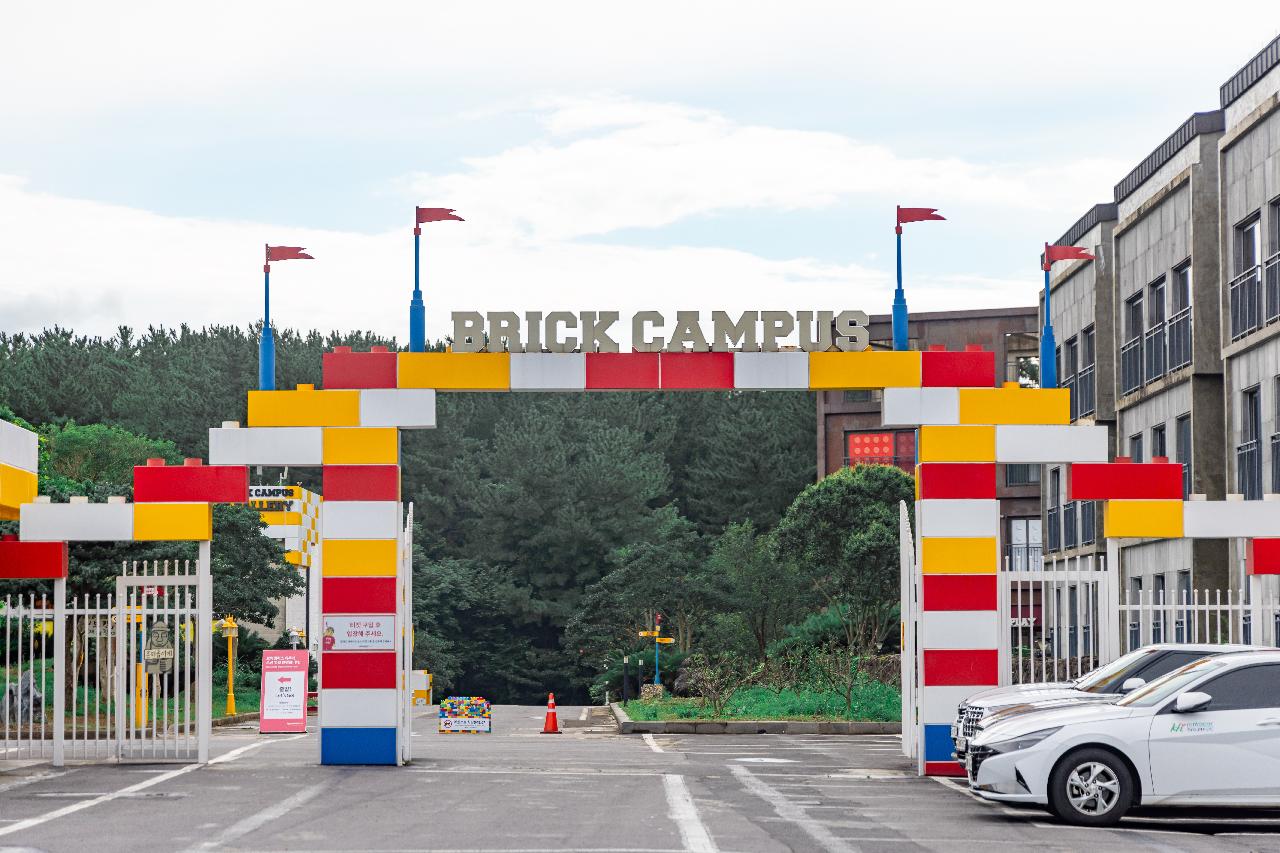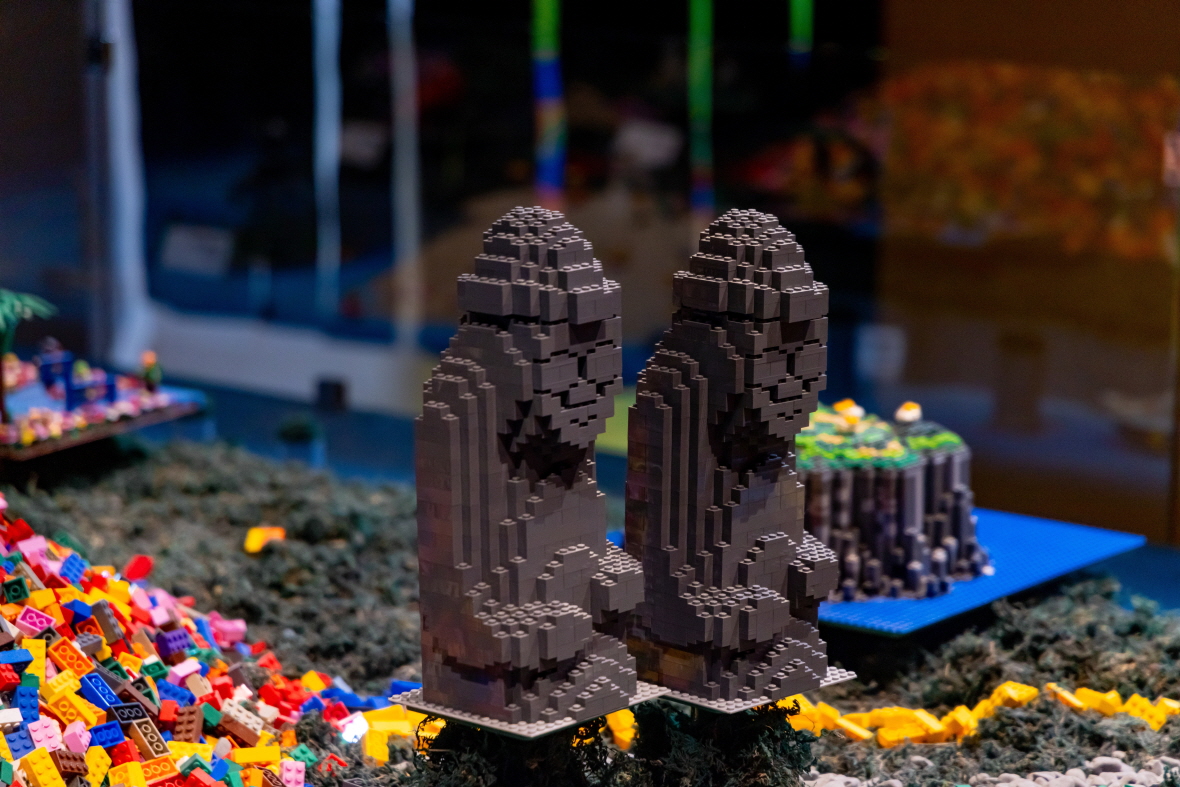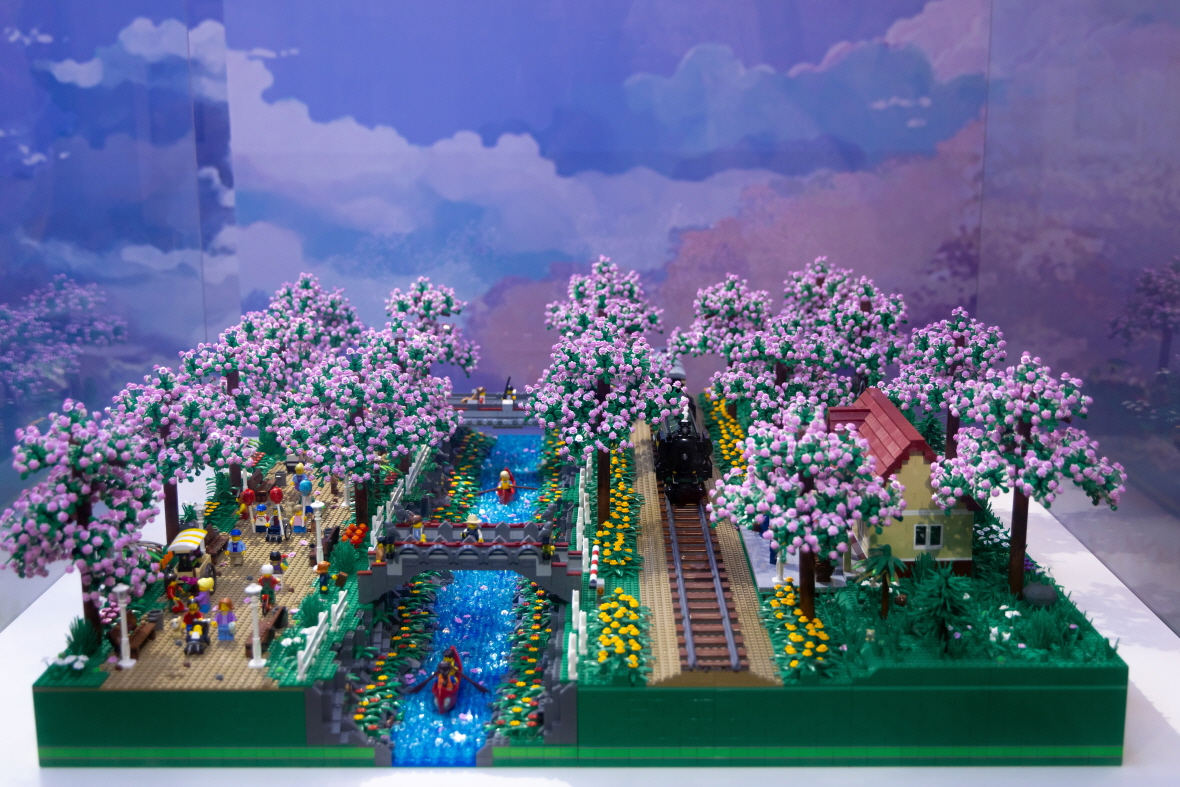 What instantly captivates everyone's eyes are the art pieces that represent Jeju's iconic landmarks, offering miniature yet intricate renditions of wonders like Hallasan Mountain, Jusangjeolli, and dolhareubangs. But there's more – from replicas of renowned global architectures to dioramas from movie scenes and custom figurines, every creation tells a unique story. You can also learn about the explanations and the number of bricks used for each work, allowing you to have an even more interesting journey.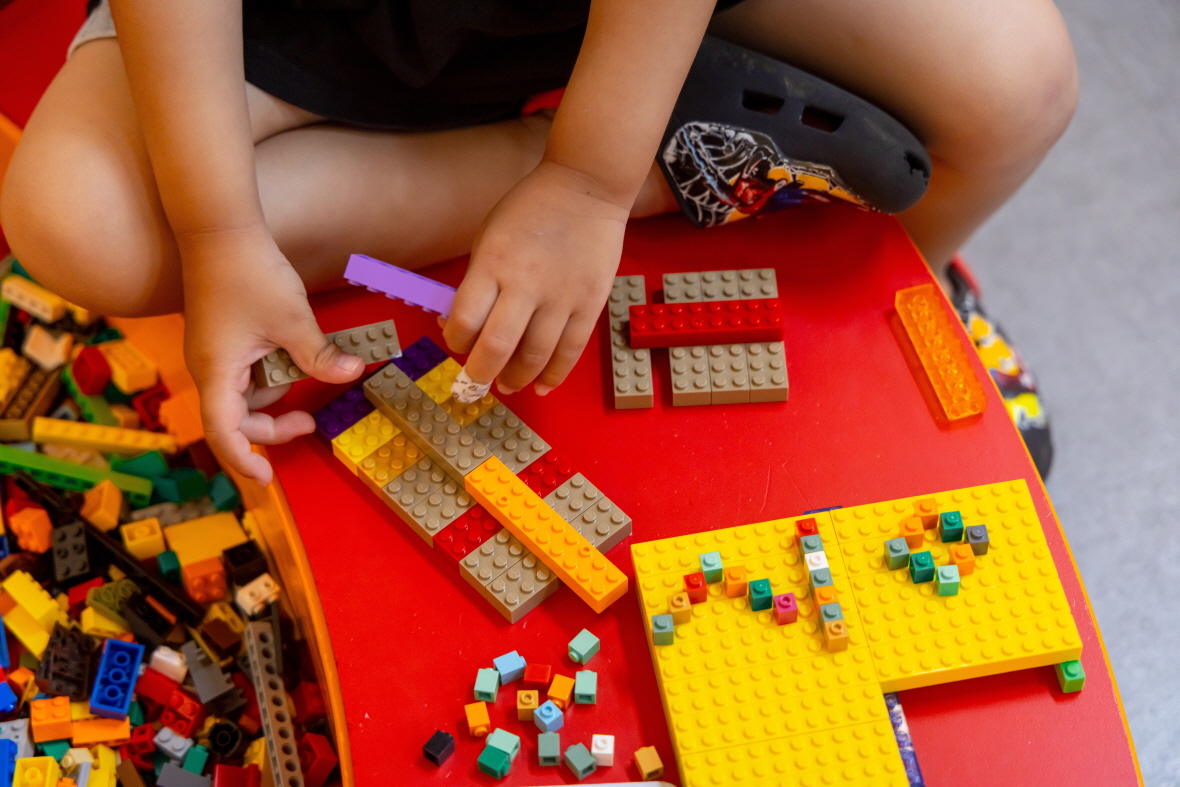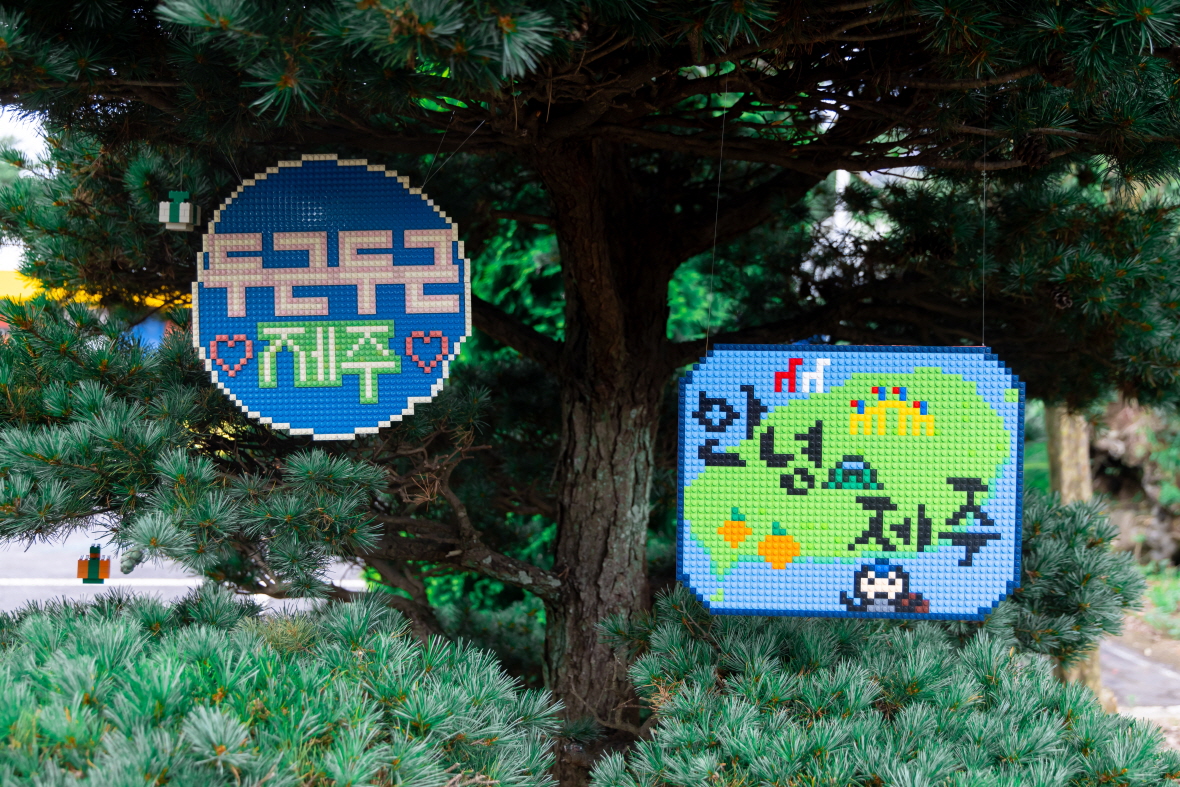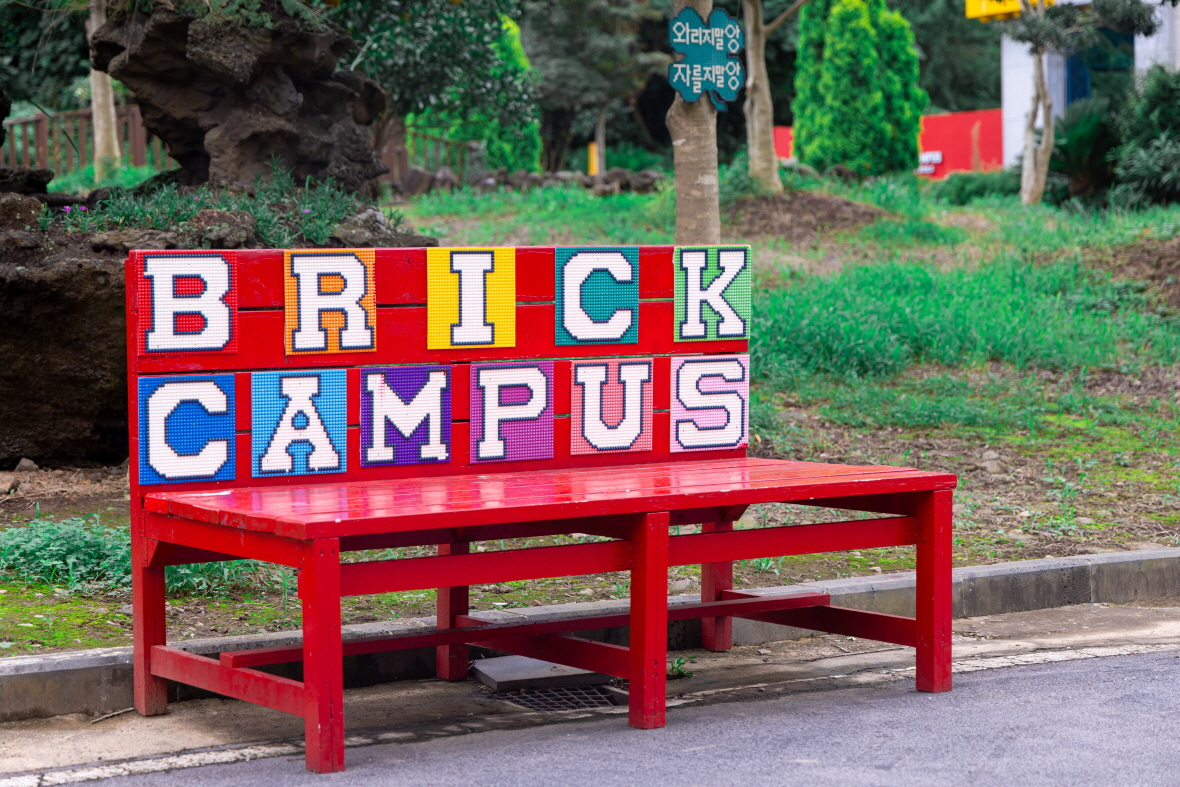 For those who want hands-on experience, the play zone lets you dive right into brick-building. The racing zone, which is everyone's favorite, challenges you to craft and race your very own brick vehicle. As you wander outdoors, quirky brick speech balloons and countless photo zones are available. So don't forget to take pictures!
▶Address: 3047, 1100-ro, Jeju City, Brick Campus
▶Hours: 10:00 AM to 6:00 PM (Mon-Sun)
Escape the Summer Heat at
<Botanical Garden Theme Park(수목원테마파크)>
The Botanical Garden Theme Park is a treasure trove of attractions, from the Ice Museum and 3D Illusion Art to a 5D theater and an immersive VR zone, where visitors of all ages can enjoy to the fullest.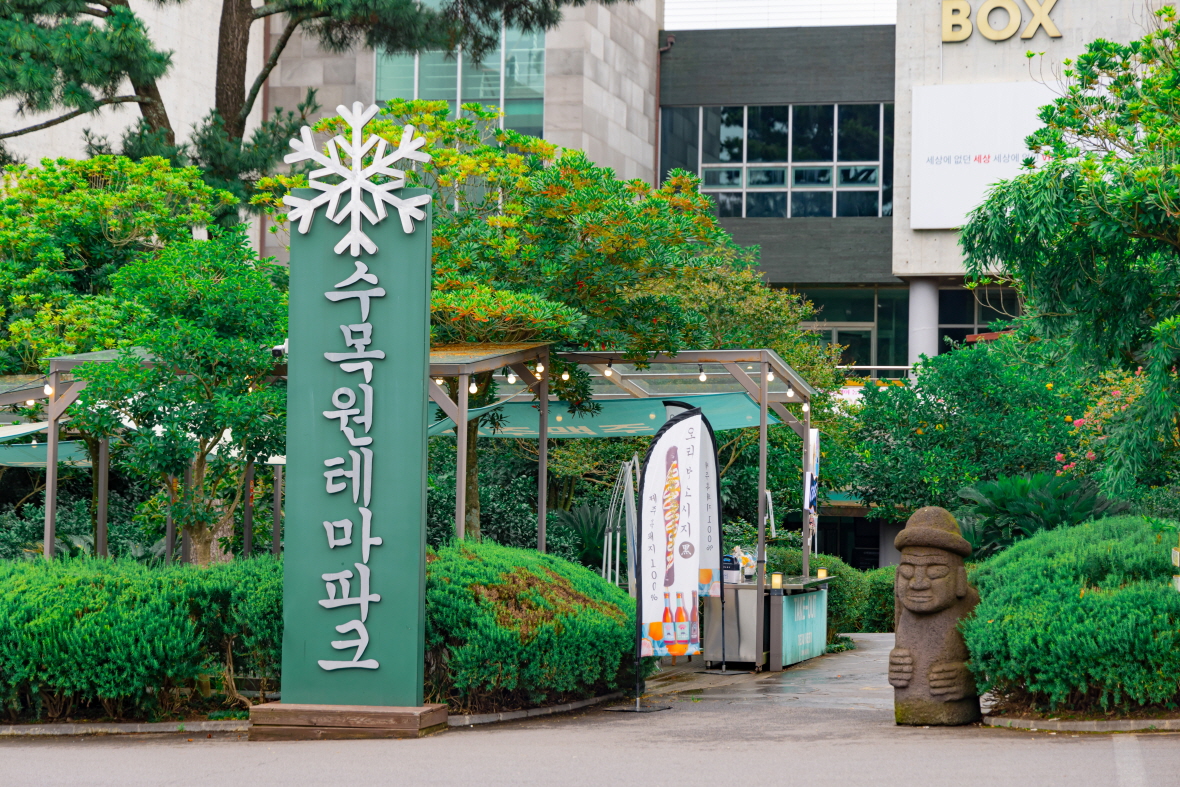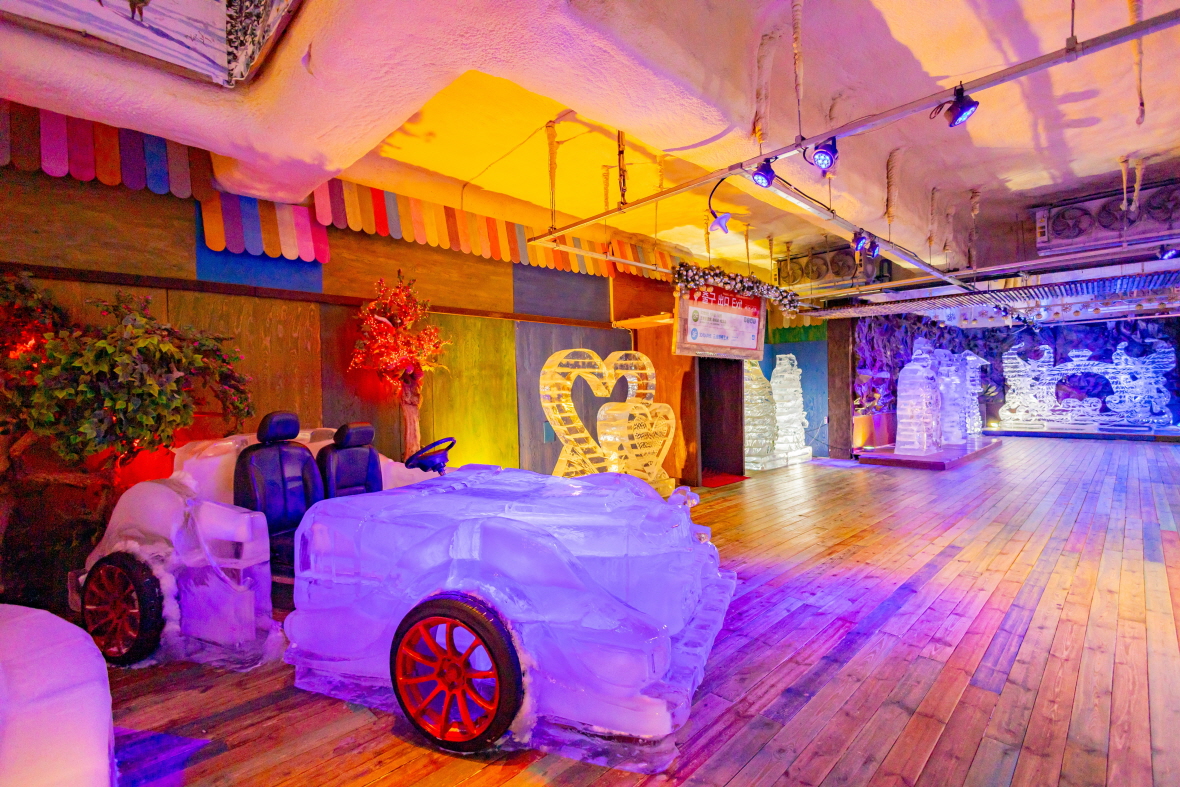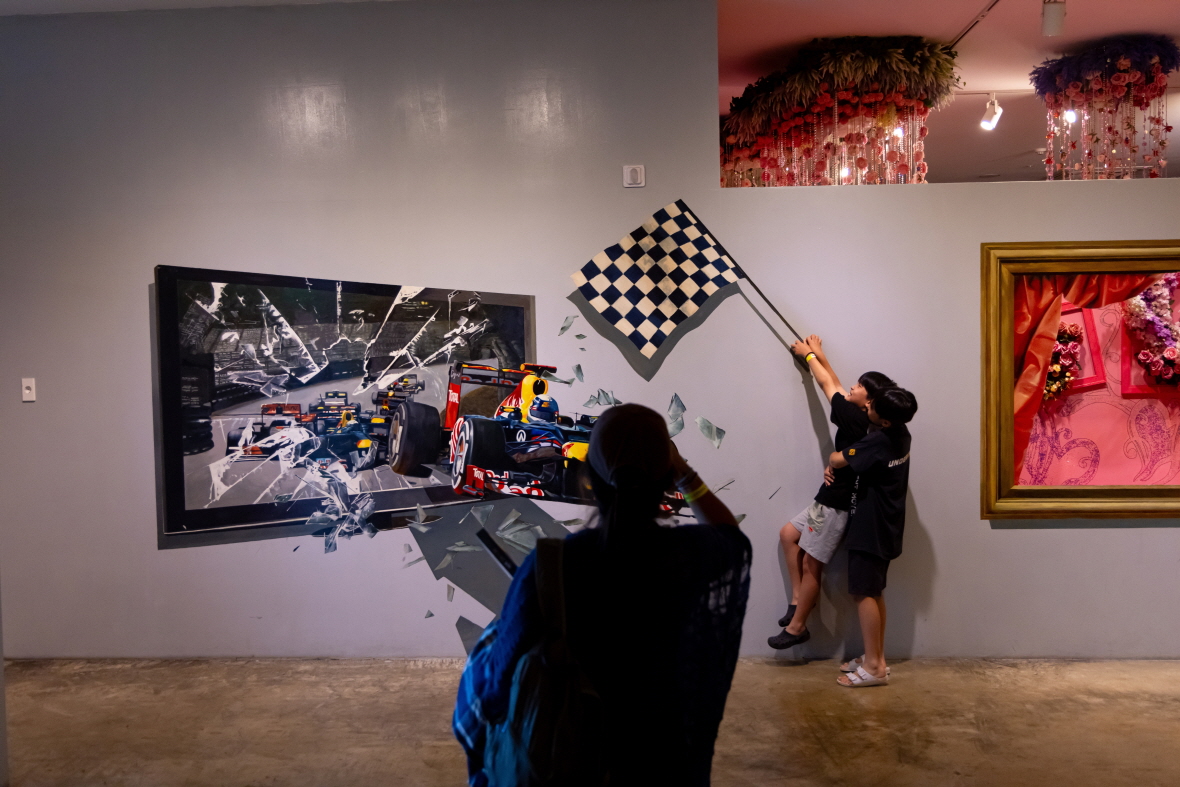 The Ice Museum, open throughout the year, provides a cool escape from the summer's scorch. Beyond ice sculptures of slides and cars, the museum artfully blends illumination with ice, creating a magical atmosphere. Don't forget to bundle up, even in the summertime, as the inside of the museum is quite chilly.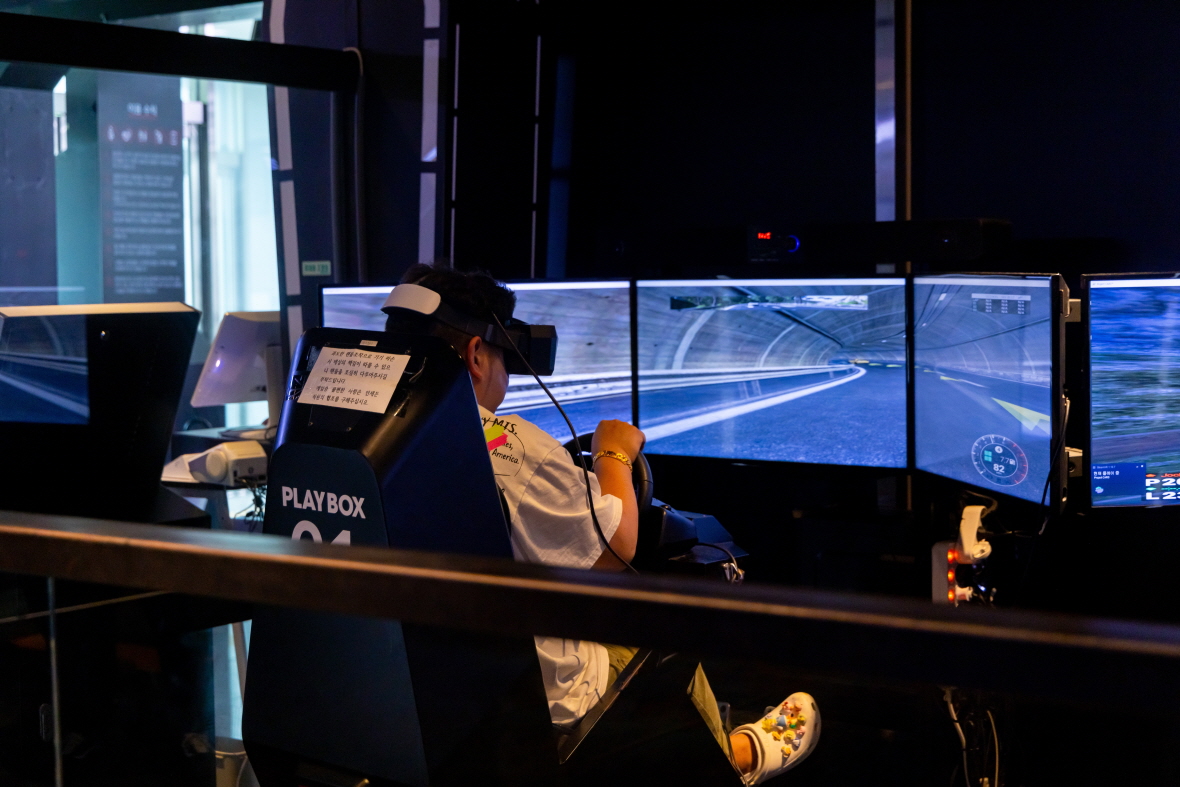 If you're in the mood for some interesting photos, don't miss the 3D Illusion Art theater and the 360-degree 5D theater. The VR zone offers 11 thrilling experiences, including the "Jeju Wind Coaster," "Walking in Jeju Sky," and "Hado Kart/Stone Wall Rider." Keep in mind that certain VR experiences might be height-restricted.
▶Address: 69 Eunsu-gil, Jeju City
▶Hours: 09:00 AM to 7:00 PM (Mon-Sun)
A Peaceful Retreat Amidst the City Bustle
<Hallasan Botanical Garden(한라수목원)>
Located just a 15-minute drive from Jeju Airport, the "Hallasan Botanical Garden" is a green sanctuary in the middle of urban surroundings. It's a living display of Jeju's unique ecosystem and a collection of rare plants, housing over 1,100 species, with 790 indigenous to Jeju and 310 from other regions.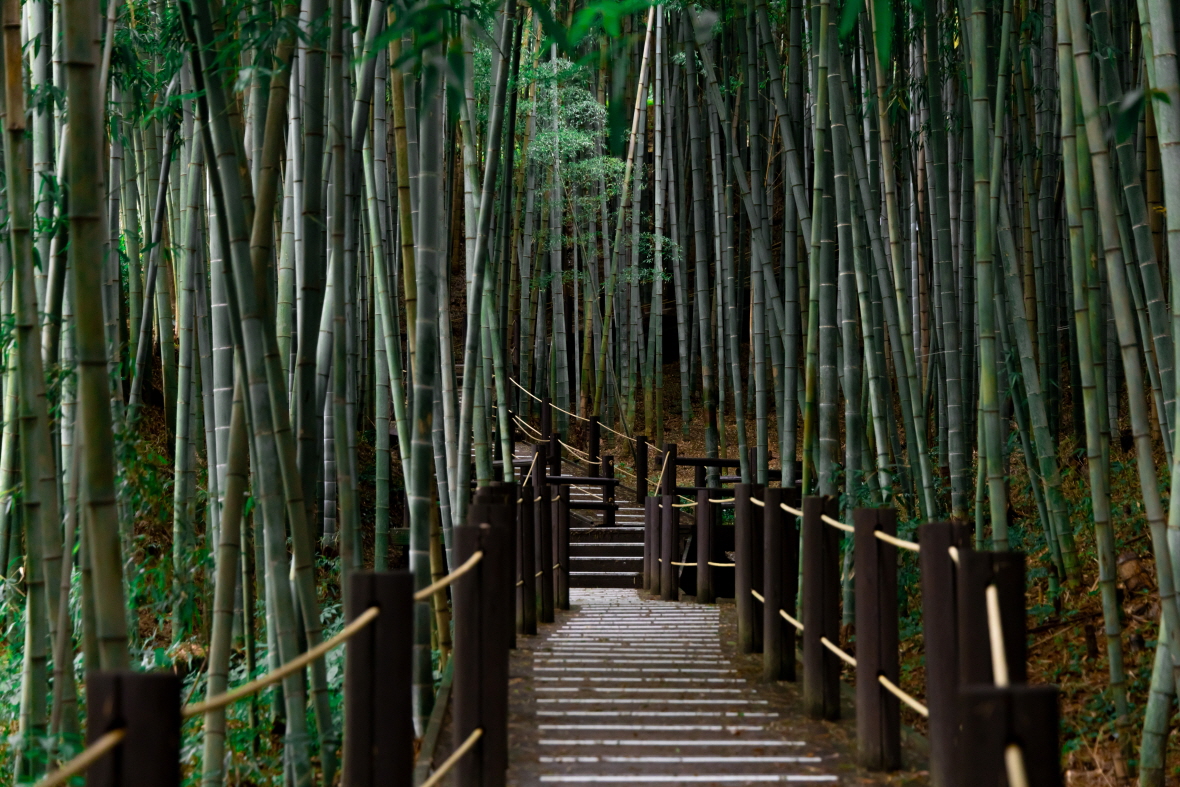 The garden is segmented into various zones, including an ever-blooming flower garden and a serene bamboo grove. There are also the learning center and wellness facilities, making the garden perfect for both casual strolls and relaxation.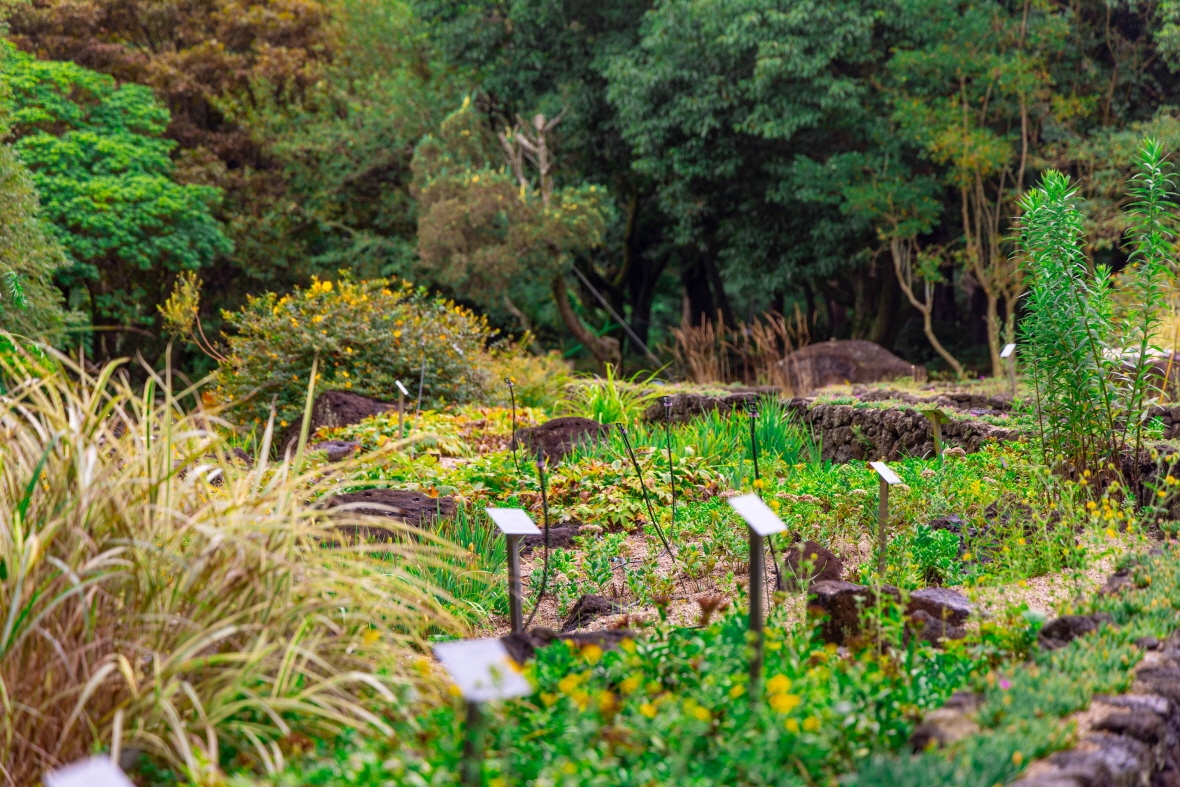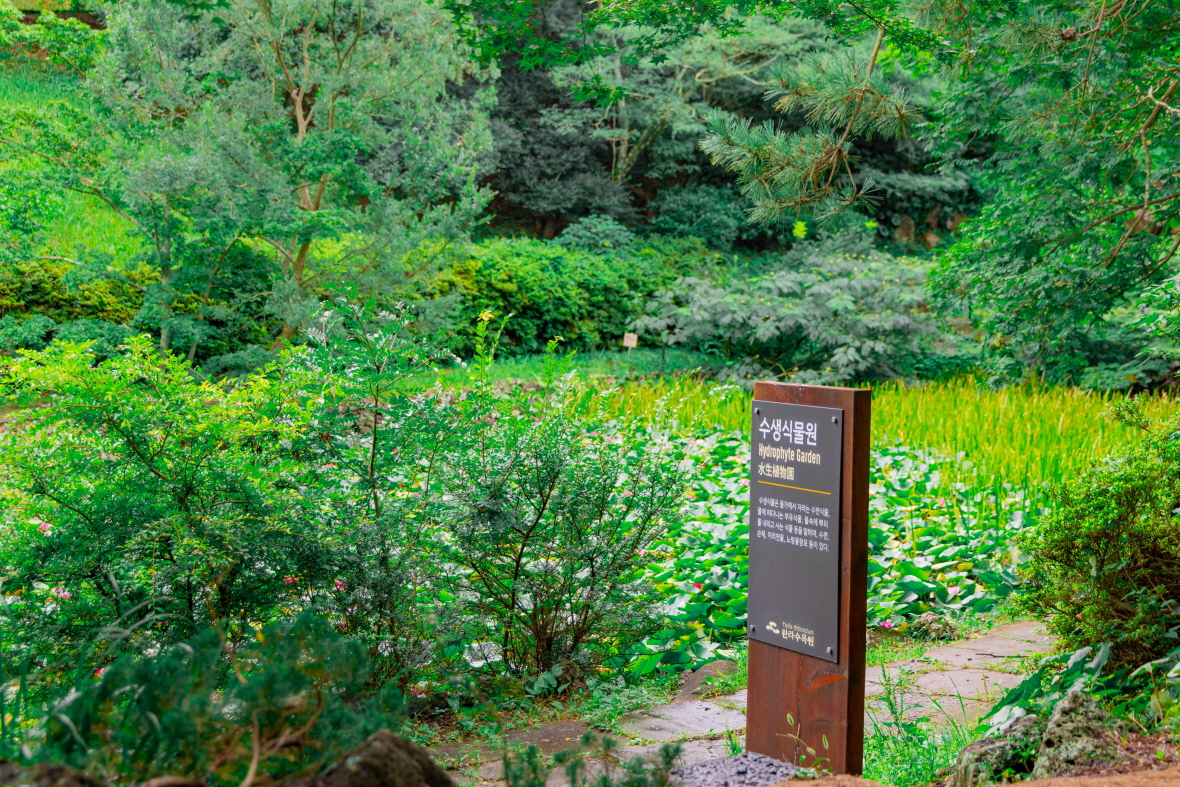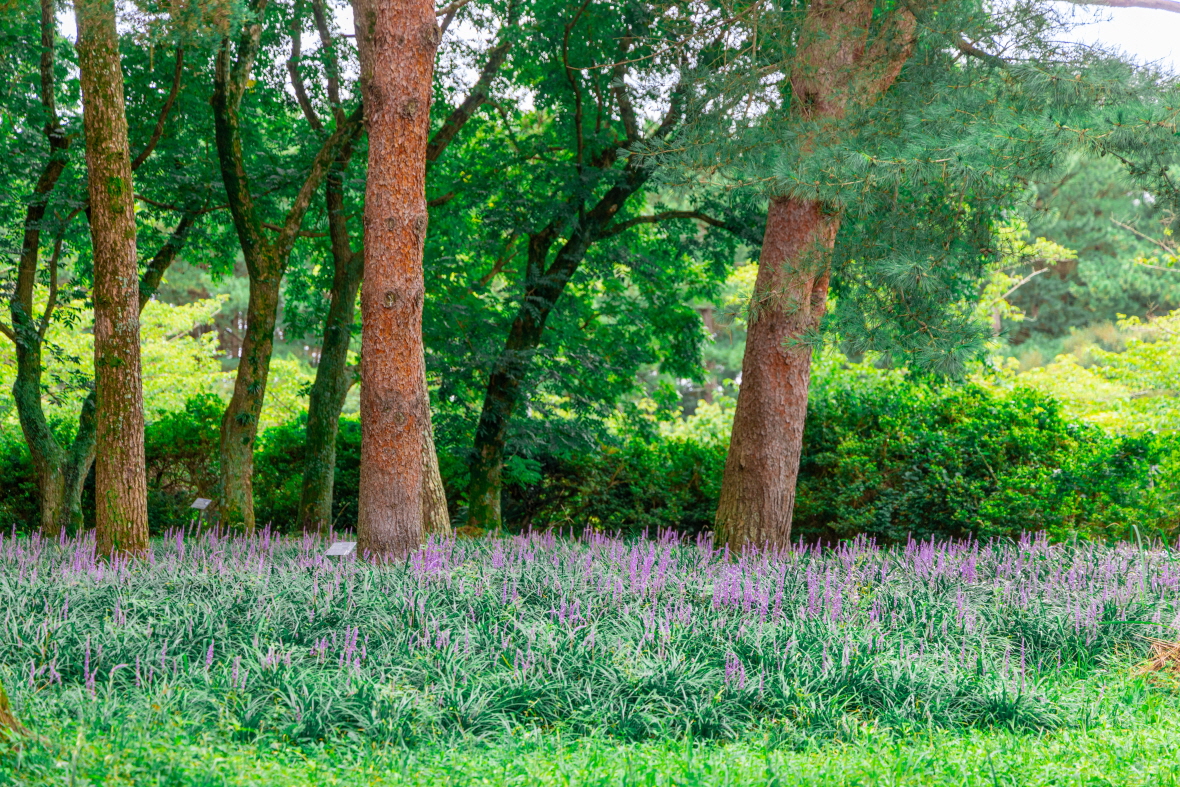 Embark on a nature walk, and with every step, rejuvenate and reconnect with nature. Enjoy the changing seasonal landscapes from blossoming flowers to rustling trees. If luck is on your side, you might spot a deer gracefully grazing along the pathways. For plant enthusiasts, there's a dedicated exhibit for Jeju's rare flora, segmented into three thematic sections: aquatic/wetland, rare/native, and coastal plants. Expect to spend around an hour soaking in the garden's beauty.
▶Address: 69 Eunsu-gil, Jeju City
▶Admission: Free
An Enchanting Evening at
<Sumokwon-gil Night Market(수목원길야시장)>
Located within Jeju Island's most expansive and ancient pine grove, the Sumokwon-gil Night Market offers a distinctive blend of nature and nightlife. As the sun dips below the horizon, this market bursts with life, its dazzling lights dancing amidst the lush green pines.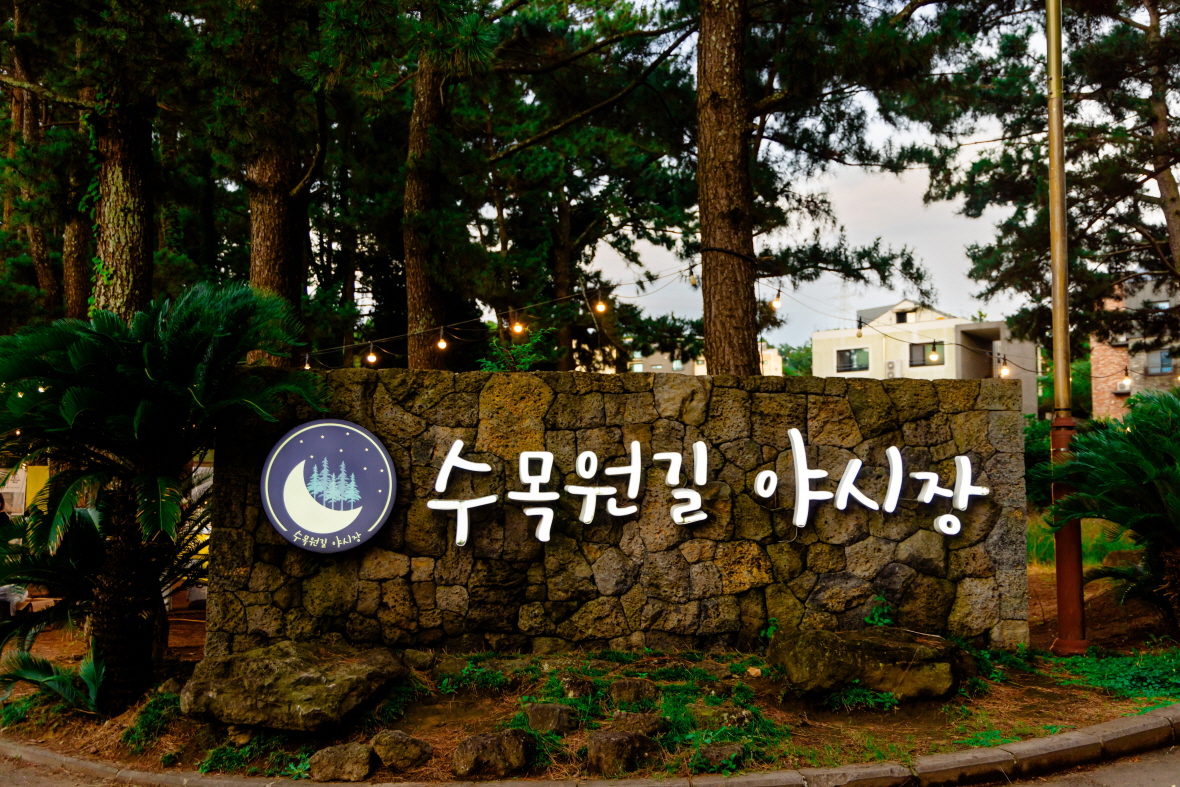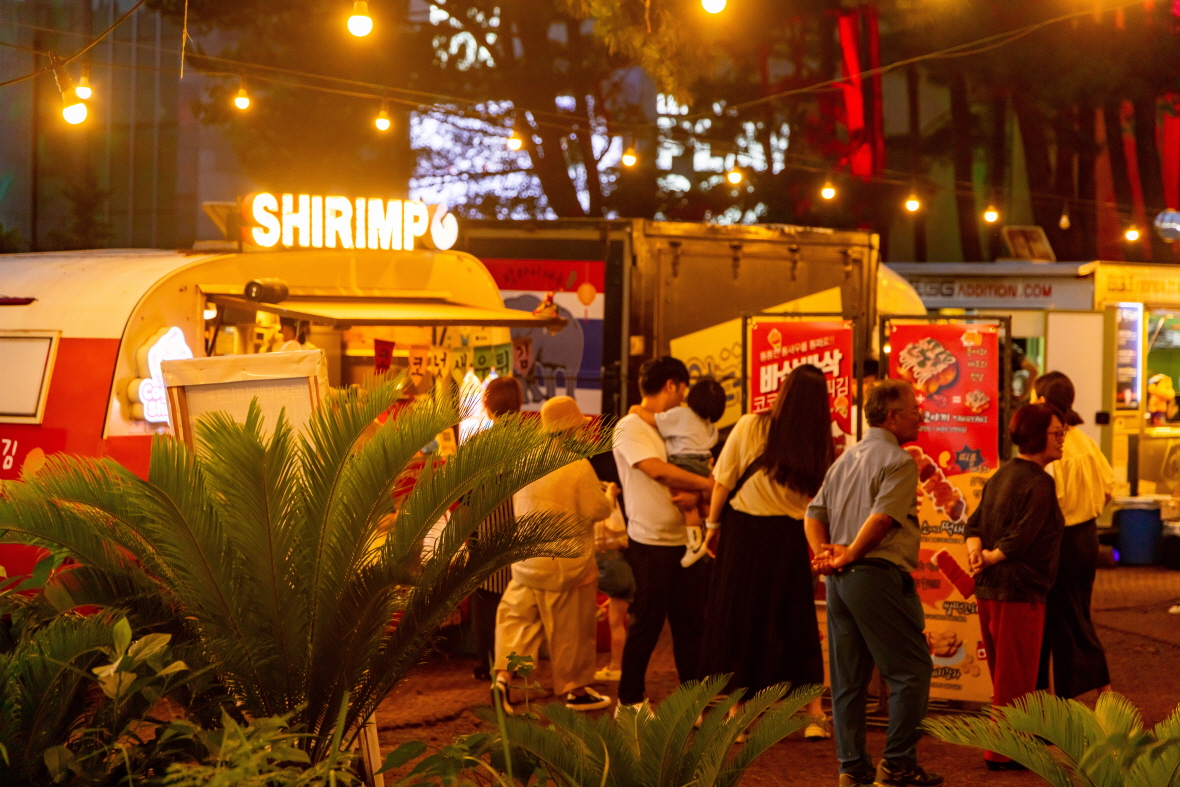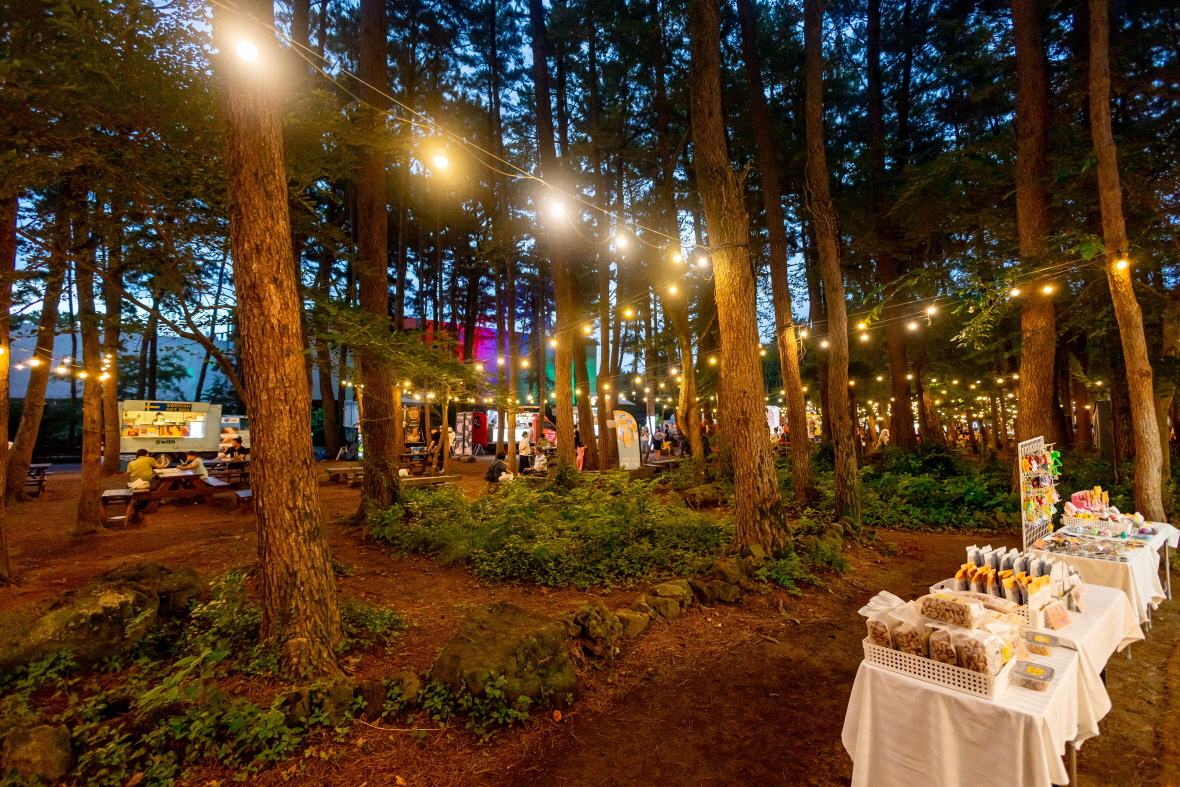 The Sumokwon-gil Night Market is full of things to eat, see, and enjoy. Tempt your taste buds with diverse culinary delights from the food trucks and enjoy your meal in cozy spots nestled between the trees. The market is a treasure trove of unique souvenirs, handcrafted accessories, and other intriguing finds that are full of the essence of Jeju.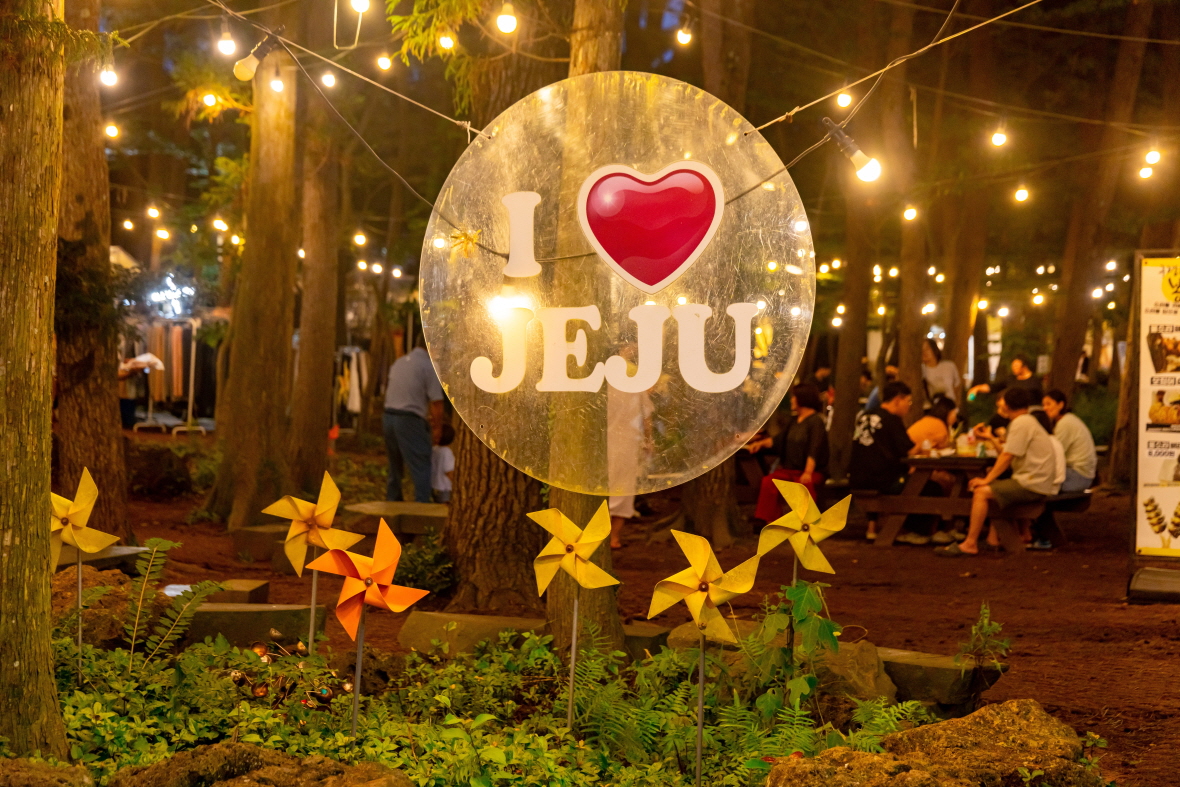 Take a leisurely stroll along pathways illuminated by ambient lighting, and let yourself be mesmerized by the market's unique atmosphere. With the shimmering lights casting their glow, every corner of Sumokwon-gil is a perfect photo zone.
▶Address: 69 Eunsu-gil, Jeju City
▶Hours: 6 PM – 11 PM [October-May: 6 PM – 10 PM]
Experience Nature in the Heart of the City at
<Mystic 3-do(미스틱3도)> Cafe
Located next to the Mysterious Load, the Mystic 3-do cafe is popularly known for its big, beautiful garden. As you step inside, you're greeted by a vast area decorated with vintage interior design. Enjoy freshly baked pastries and a wide variety of beverages that are prepared every day.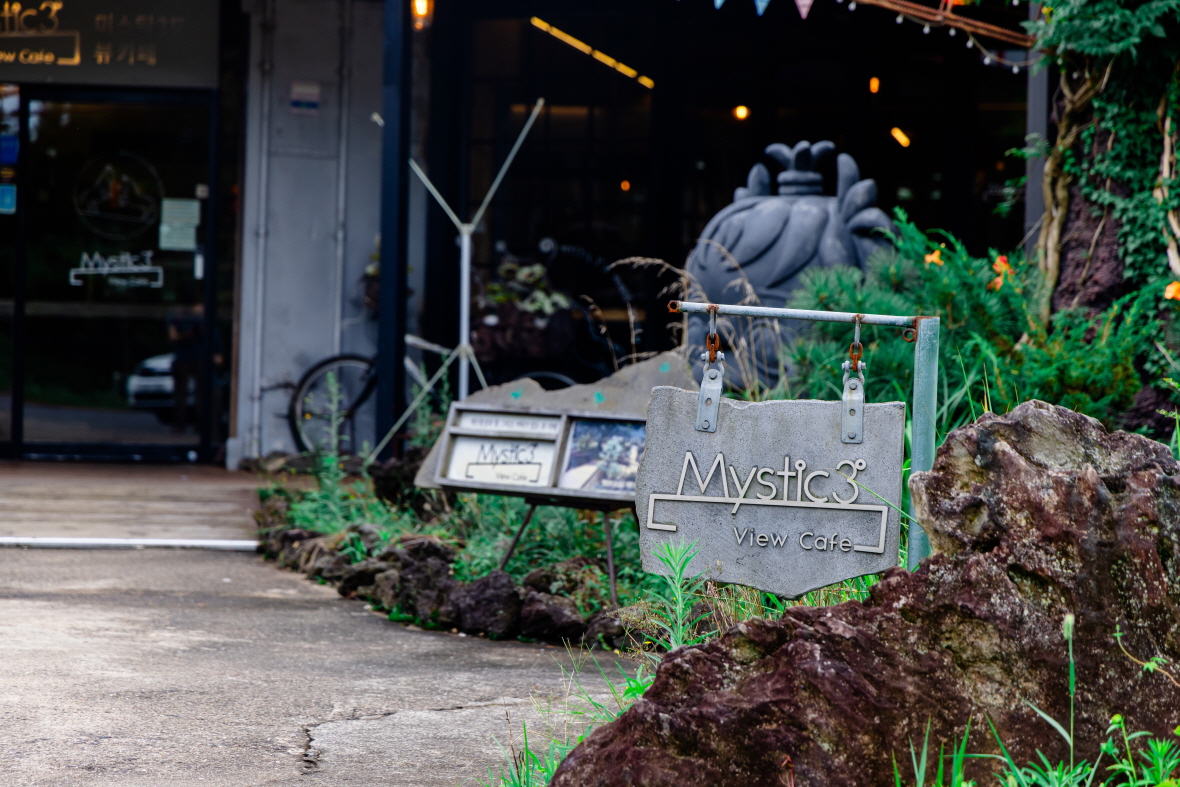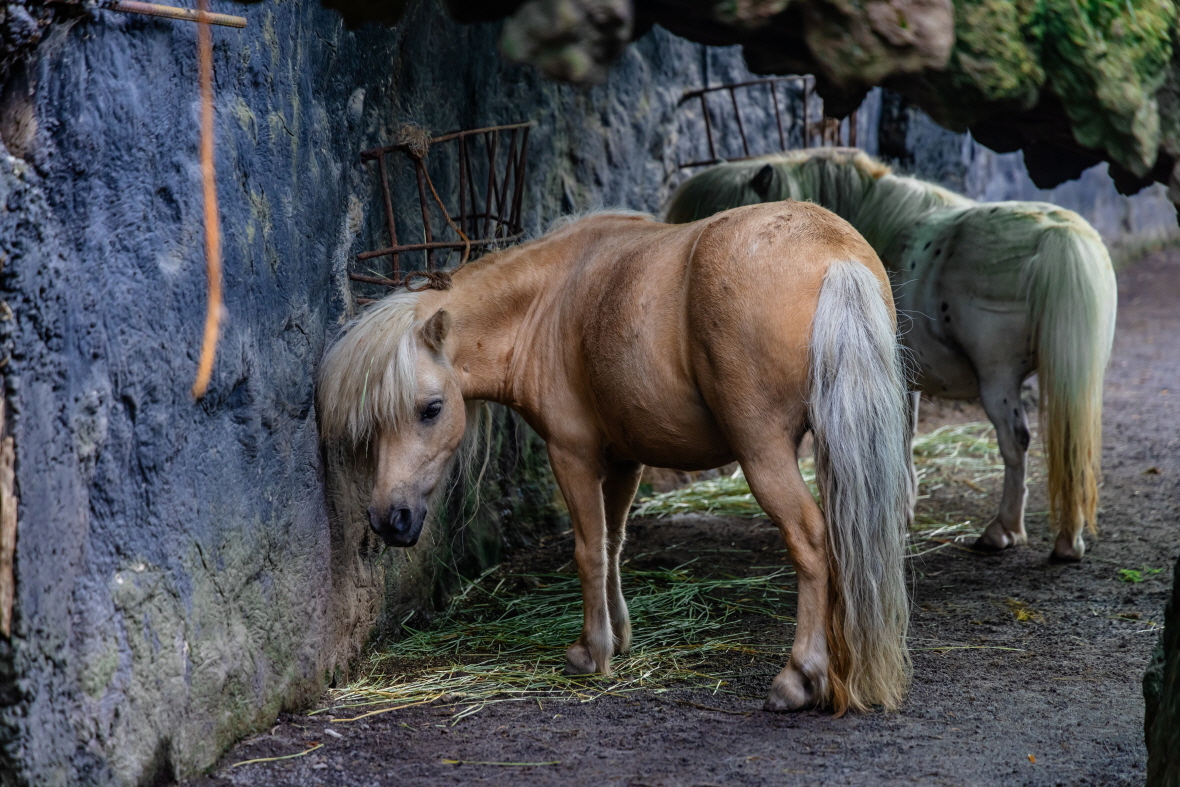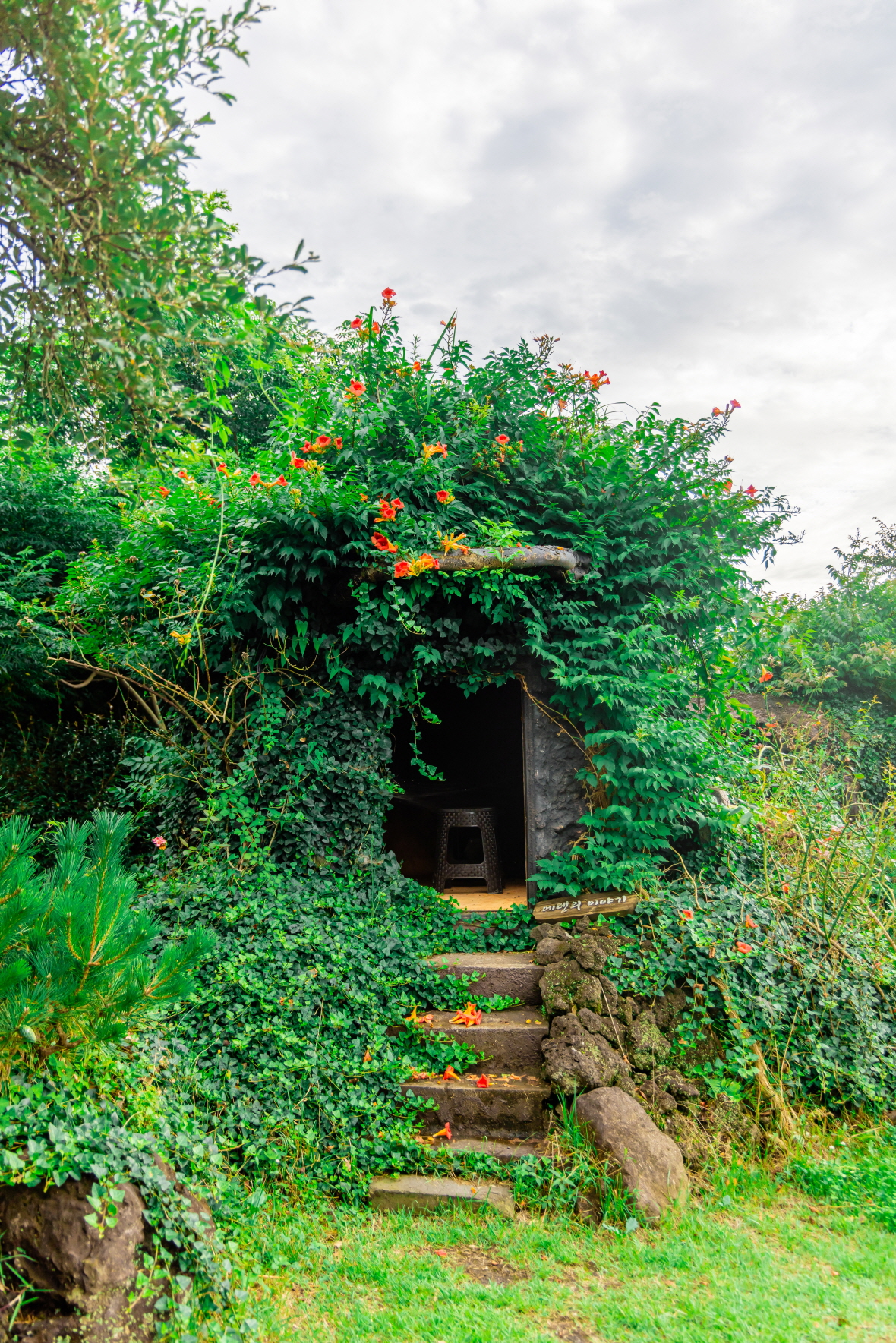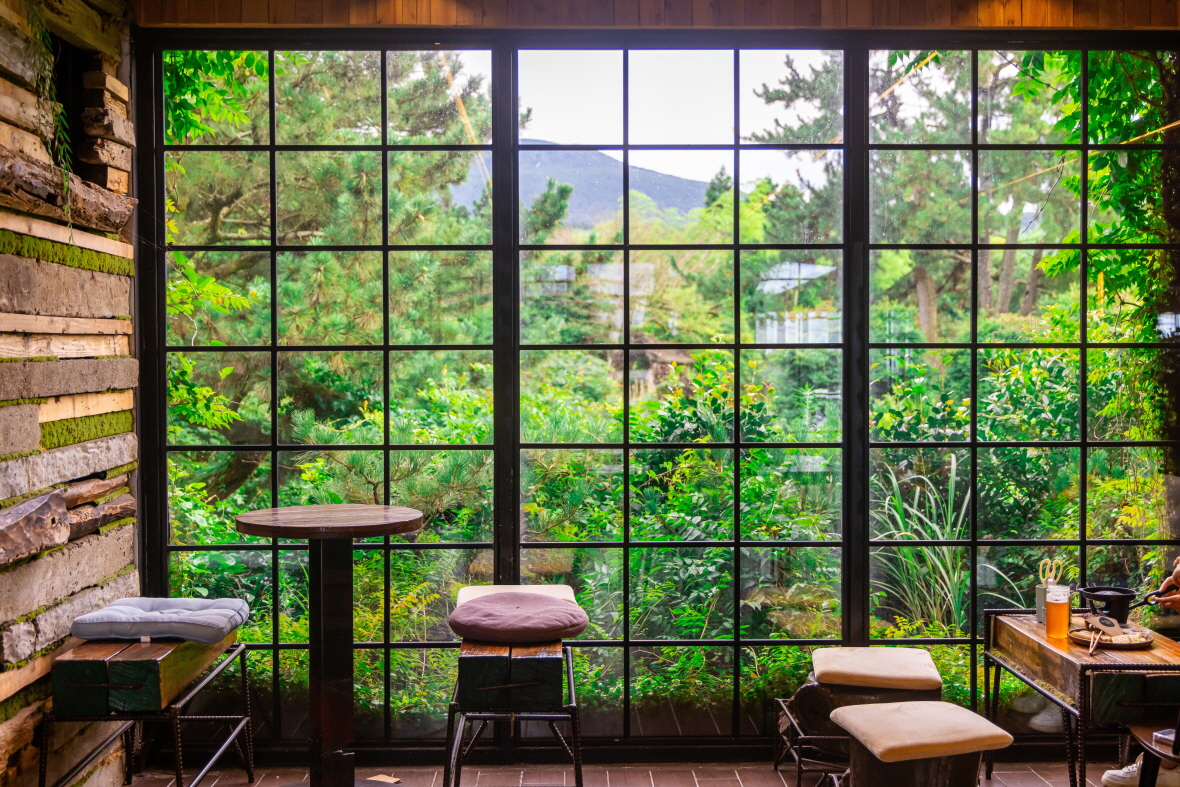 The garden, spreading across 5,000 pyeong (approximately 16529 m2), is adorned with a diverse collection of trees, blooms, captivating goblin stone statues, and intriguing sculptures. As you wander around the garden, you might even stumble upon friendly animals like horses, pigs, and rabbits—a delightful experience, especially for young visitors.
▶Address: 2894-49, 1100-ro, 1st Floor, Jeju City
▶Hours: 08:30 - 20:00 (Mon-Sun)
Indulge Your Senses at the Gelato Cafe
<Hugely(휴즐리)>
Positioned a stone's throw from Jeju Airport and overlooking the serene sea, Hugely Jeju offers a unique gelato experience that embodies the essence of Jeju. With its distinct interiors and interesting gelatos, the cafe has quickly become a local favorite.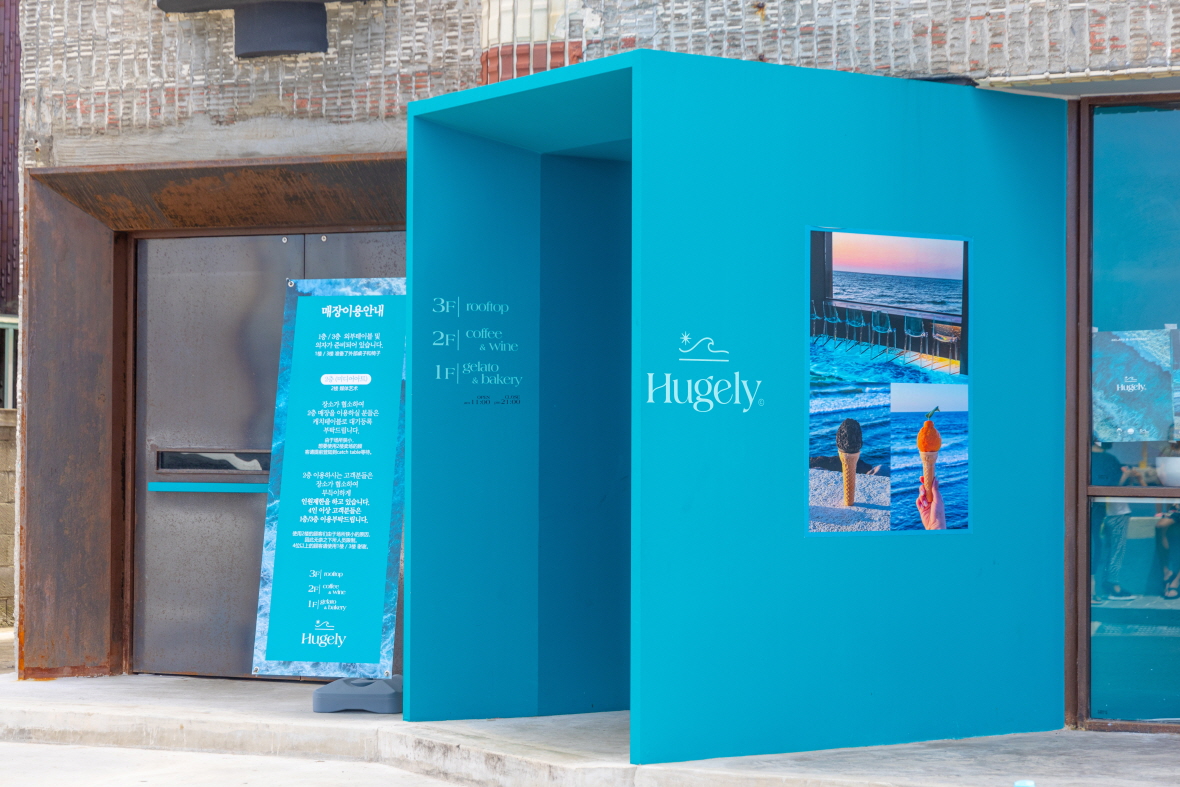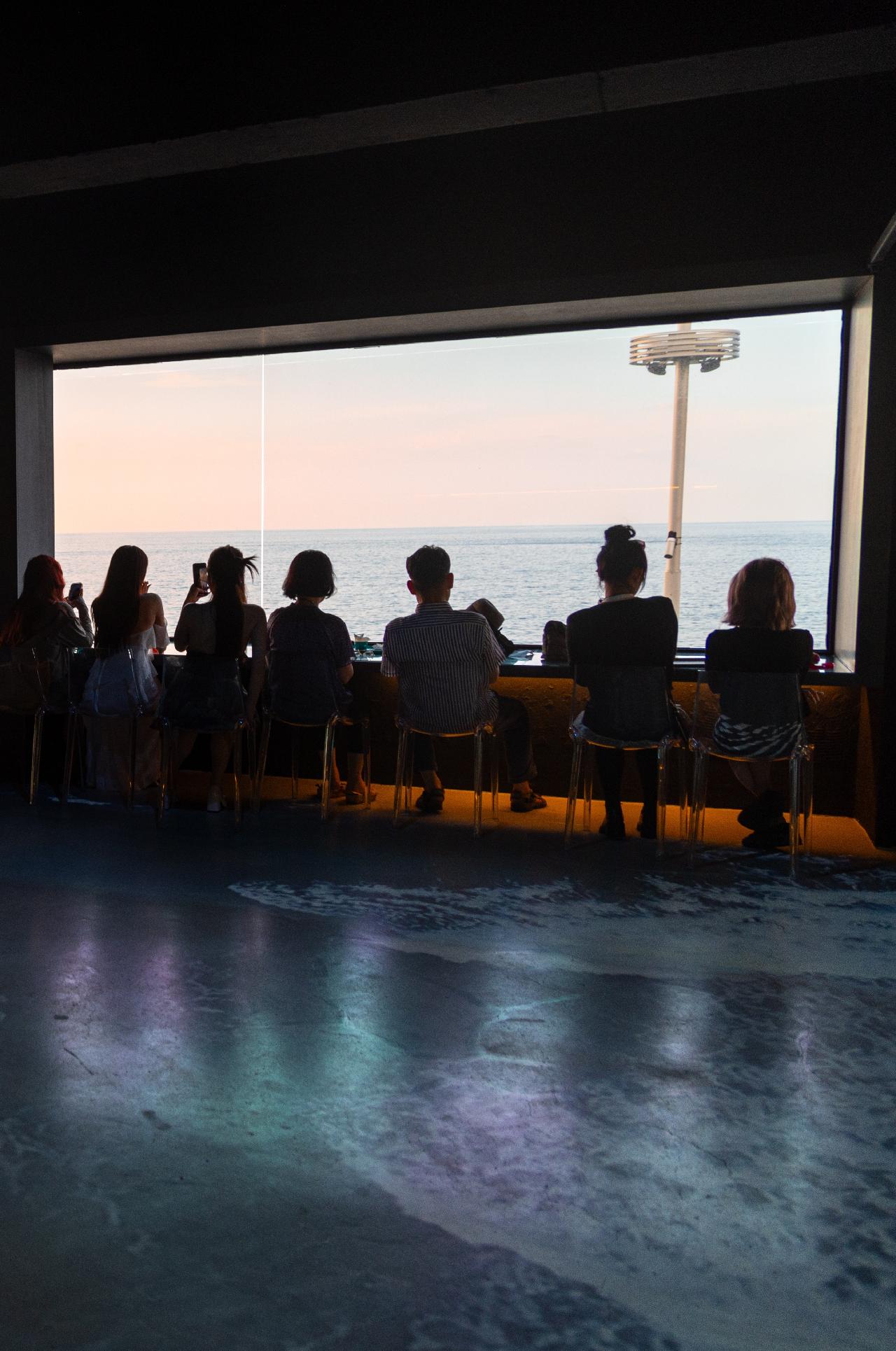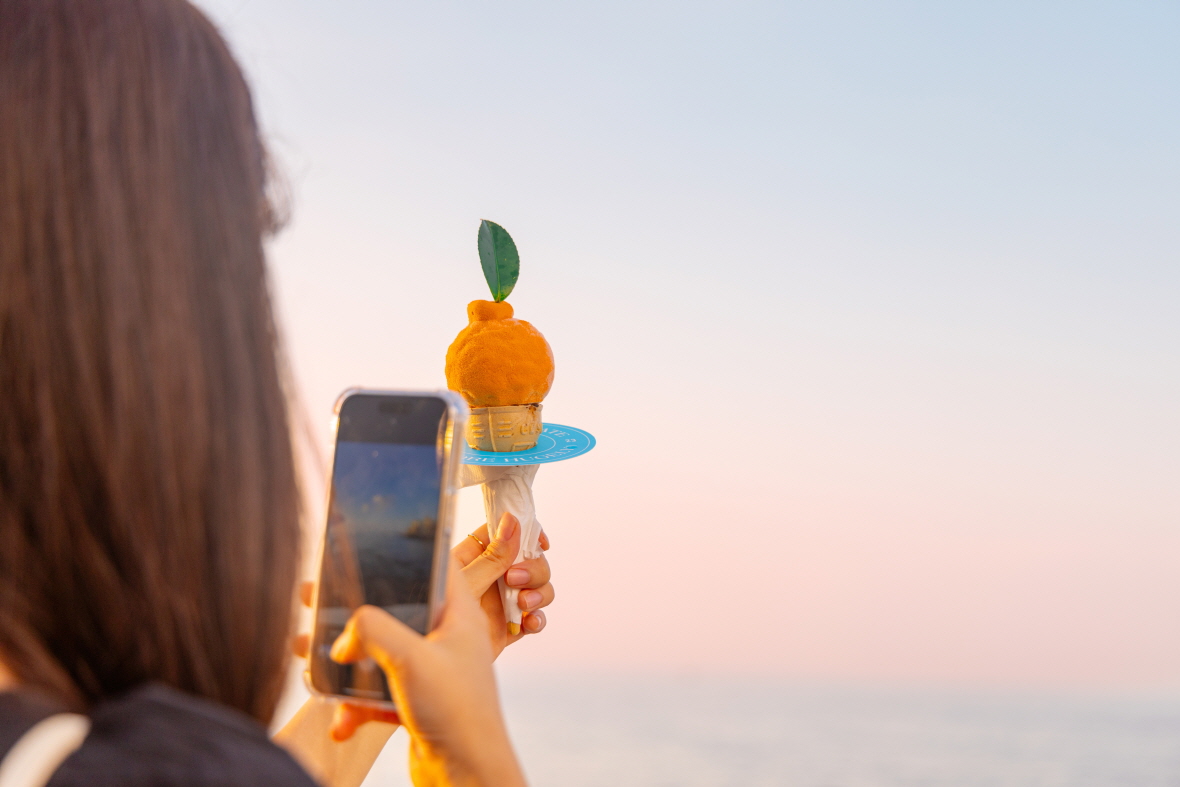 Begin your journey on the ground floor with delightful pastries and gelatos. When you venture to the second floor, you'll find a captivating media art installation that mimics the gentle movement of ocean waves—a feature that has visitors raving. You will feel like you are in the middle of the ocean. For those who prefer an open sky, the rooftop on the third level offers a splendid view of Jeju's coastline, making it a perfect photo zone.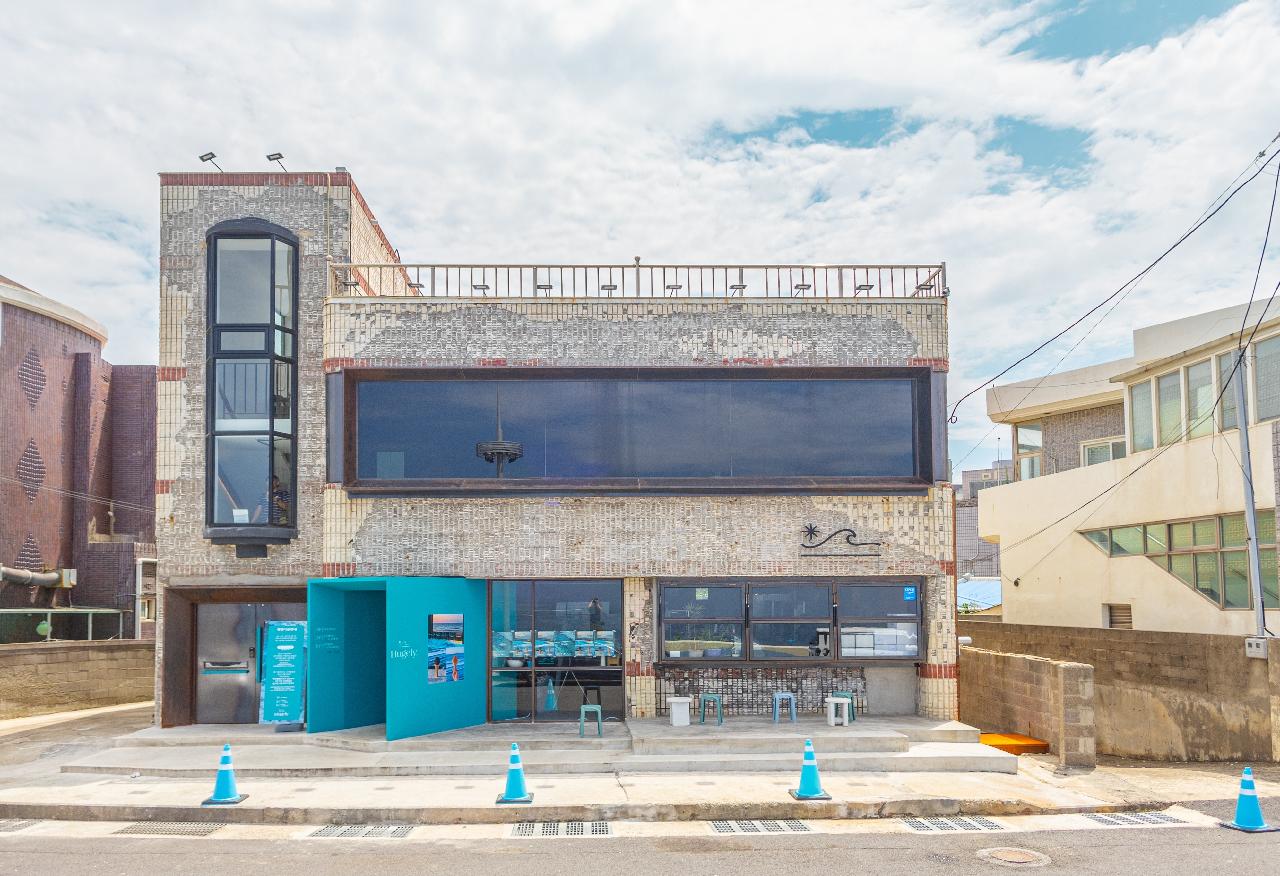 The real signature menus of the cafe are the "Gela Bong," with a piece of Jeju's famous tangerine, and "IM Hyunmu," that looks like Jeju's unique basaltic rock formations. Handmade through 7 processes over 2 days, these limited-edition desserts—only 300 available daily—definitely shows that the cafe is committed to quality. There's a variety of gelatos infused with the flavors of Jeju; pick one that suits your preference.
▶Address: 83 Heungun-gil, Jeju City
▶Hours: 11:00 - 21:00 (Mon-Sun)
The garden is segmented into various zones, including an ever-blooming flower garden and a serene bamboo grove. There are also the learning center and wellness facilities, making the garden perfect for both casual strolls and relaxation.
Notice

※ The above information was written on 2023-08-08. Please confirm the information prior to your trip.
※ Unauthorized use of the content above (text, photos and videos) is prohibited and subject to copyright by the Jeju Tourism Organization.