본문
Tourist spot recommendations on East Jeju <Jeju trip by myself>
Review

0

Lookup

2,153

Share SNS

1
Tourist spot recommendations on East Jeju

<Jeju trip by myself>

Even in the most comfortable relationship, you cannot help considering others when you travel together.

A trip by yourself can give you the most liberating feeling, but there are some unexpected difficulties and tiredness coming along the way. Here are some Jeju tourist spot recommendations that can relax your tired mind and help you grow

and become healthier and stronger on your trip alone.
The gathering place for Sehwa-ri travelers
<Jilgraeng-e Center>
Jilgraeng-e Center is a complex cultural space operated by <Sehwa Village Co-op>,
consisting of the Sehwa-ri Office and Traveler's Center on the 1st floor,
the bakery cafe and a shop for zero-waste products and local foods on the 2nd floor, a shared office on the 3rd floor,
and accommodation for travelers on the 4th floor.
"Jilgraeng-e", meaning "gently" in Jeju dialect, is a place for a daily space for local people and a comfortable and relaxing base for travelers. It is a place that has the wish that people could hopefully find peace here, at the "place where you stay gently".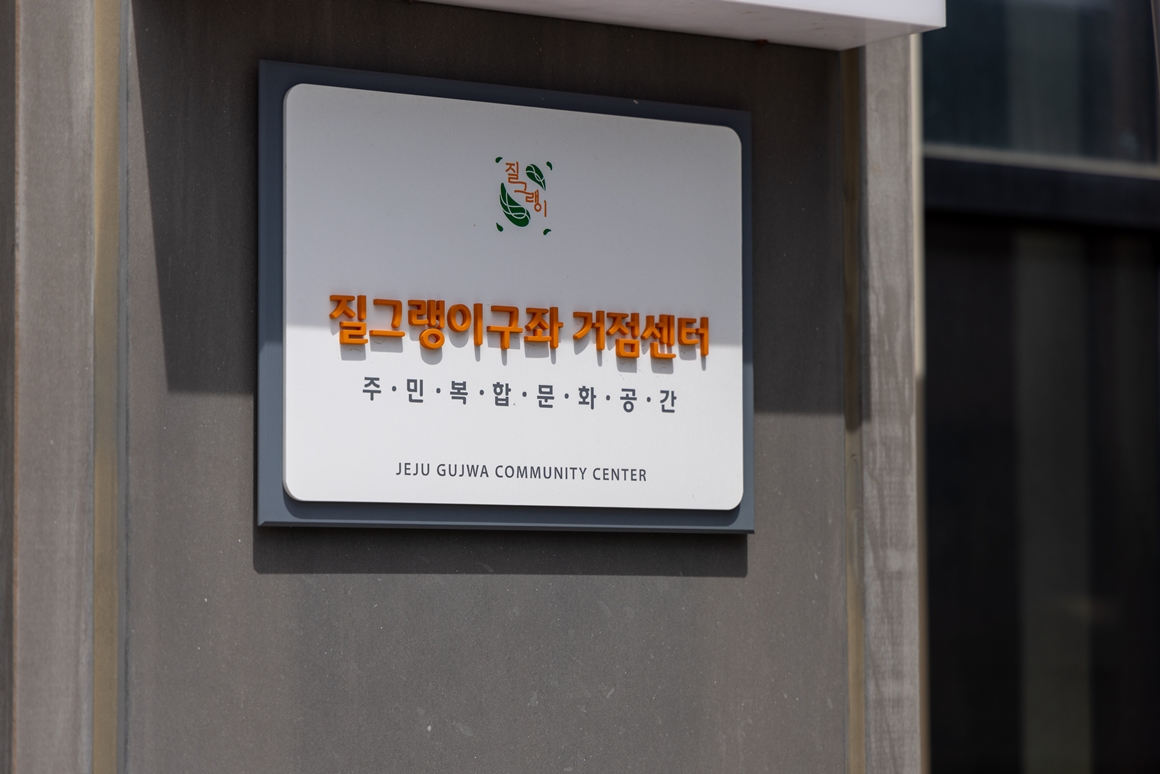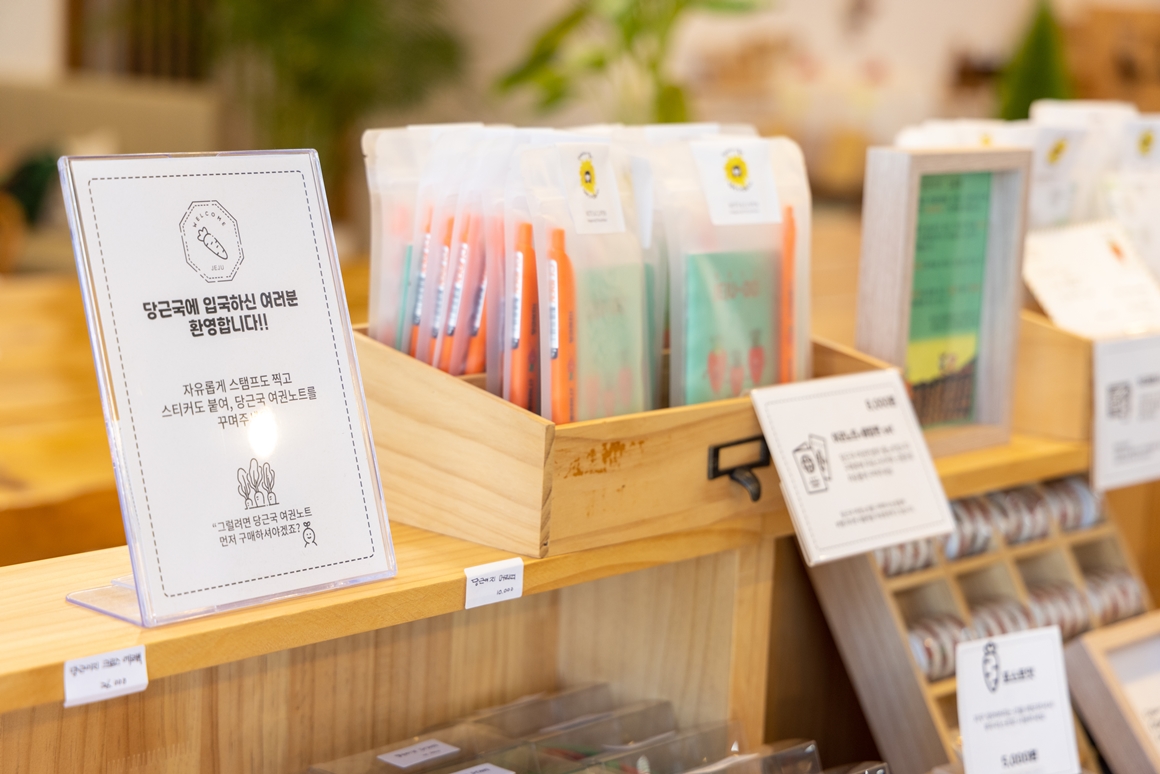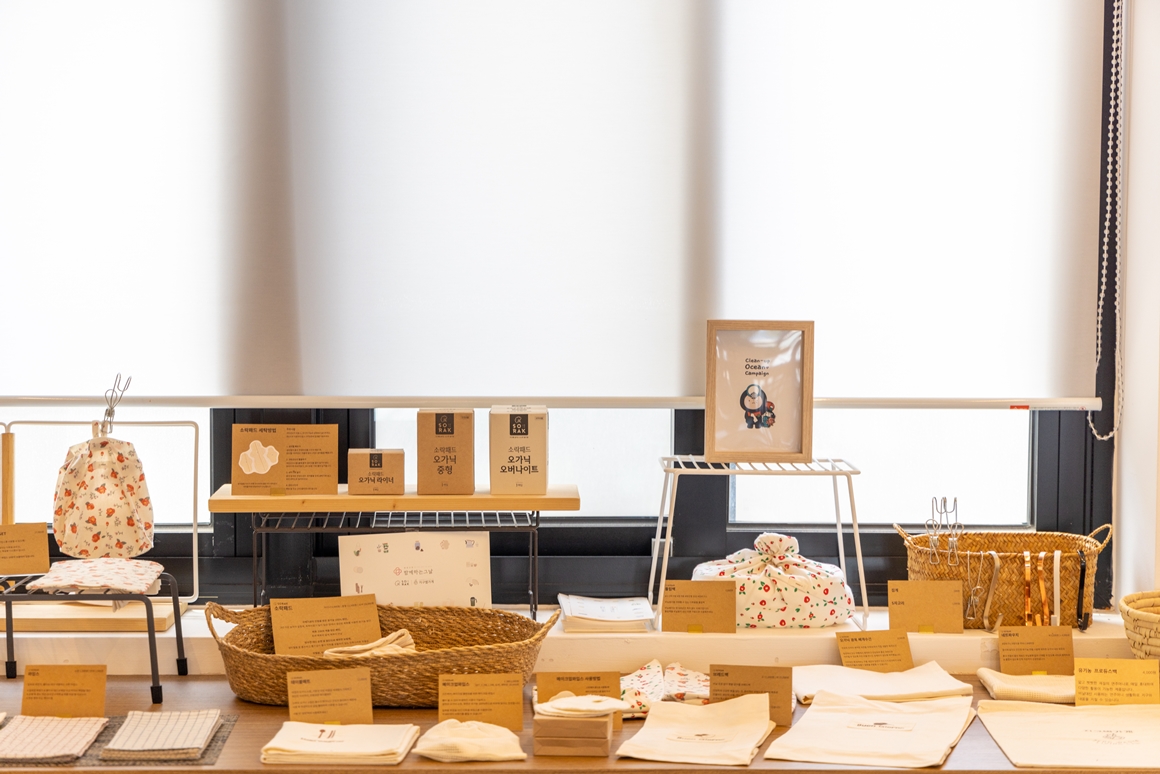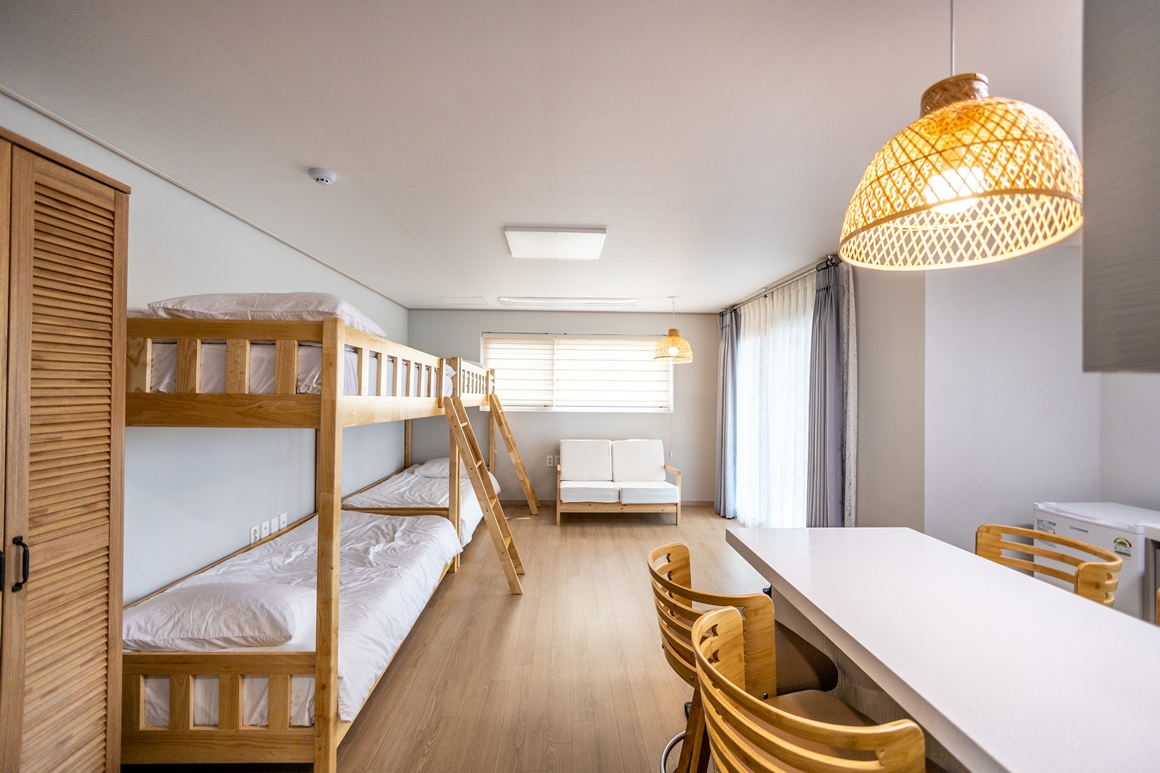 Once a Sehwa-ri office and a wedding venue, this place has been transformed into "Jilgraeng-e Center" by people's wishes. It also has various programs with local commentators, including Haenyeo experience, Yoga, and Oreum trekking for travelers. It is a great place to relax with lots of fun activities.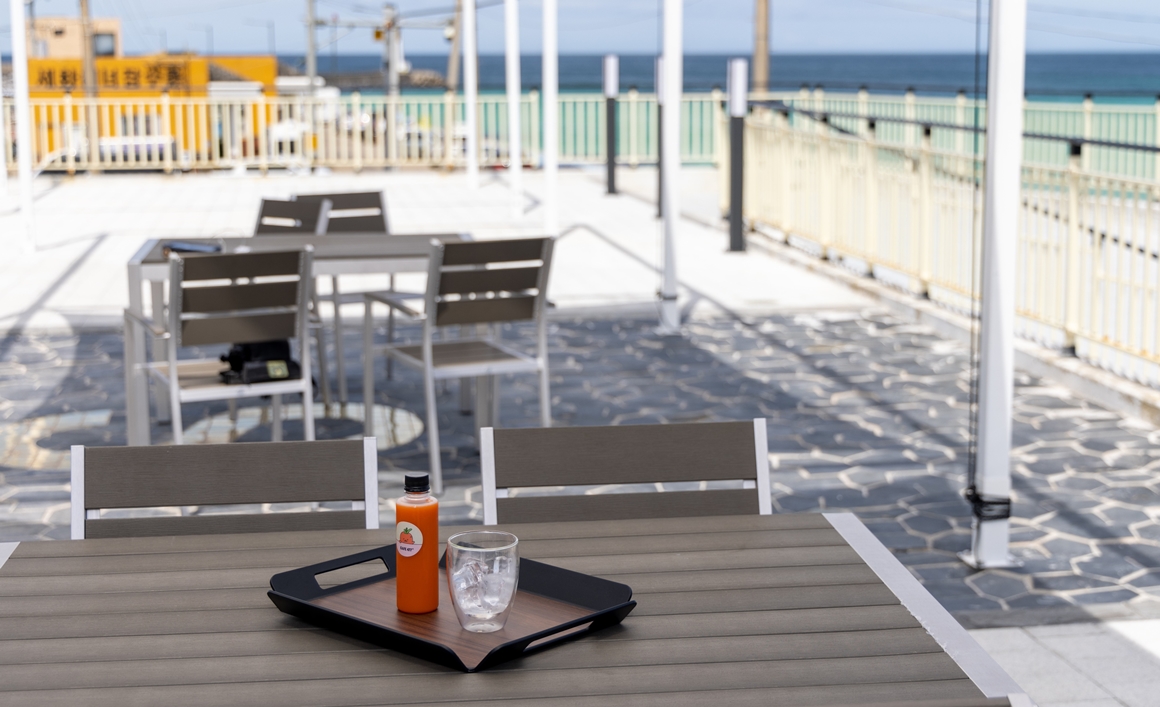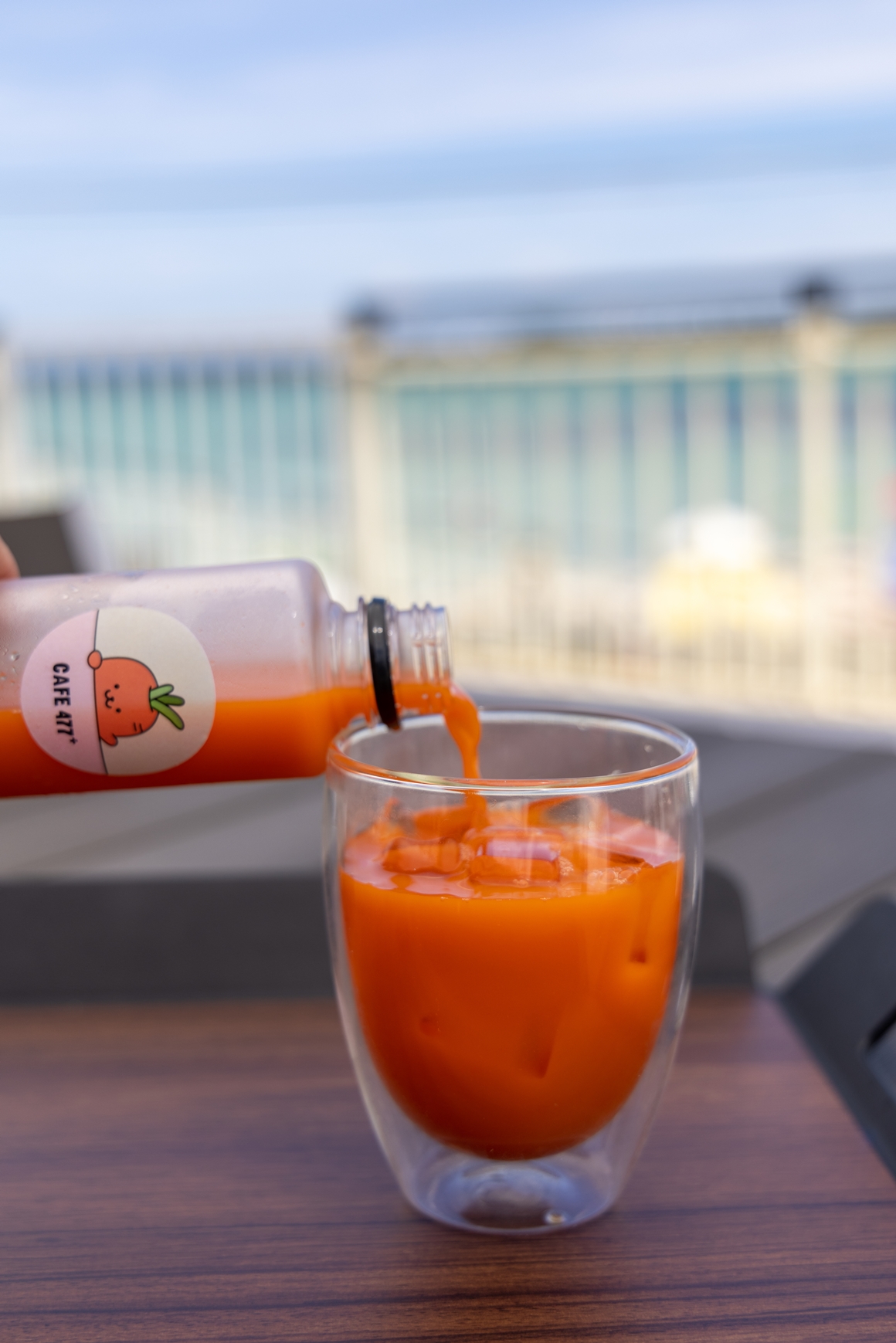 Even if you do not participate in experience programs or use their accommodations, you can still visit CAFE447+ on the second floor and have some relaxing time. Run by locals, this cafe offers beverages and desserts made of local Jeju ingredients. In particular, the carrot juice made of Gujwa-eup's specialty carrots is very popular. Have some alone time on the terrace. The quiet view of the village and amazing Sehwa Sea view are bonuses.
Color Therapy, getting comfort from drawing
<Seongsu Museum in Jeju>
Away from the busy digital life we are living, let's try some color therapy that can calm your busy mind with analog sentiment and drawing. Here is a place where you can be an artist with large canvases and acrylic colors, which are hard to see in homes. For 2 hours, you can focus on the view and your painting to complete your own piece.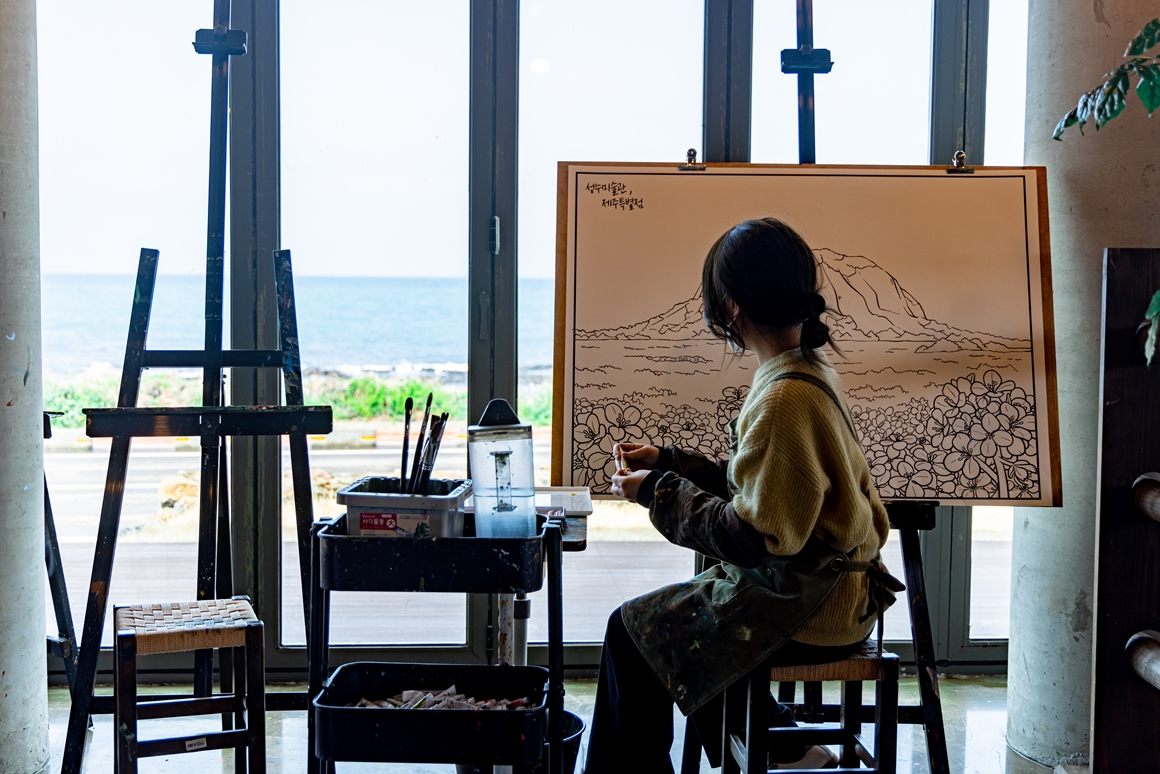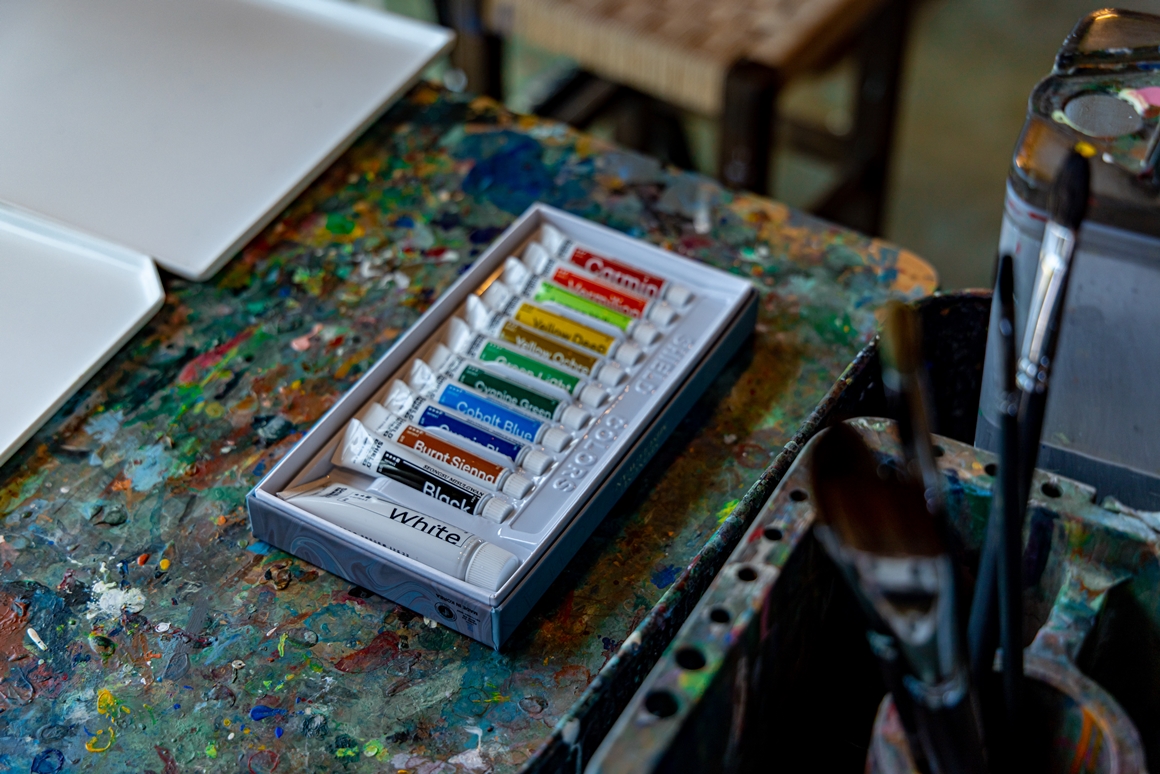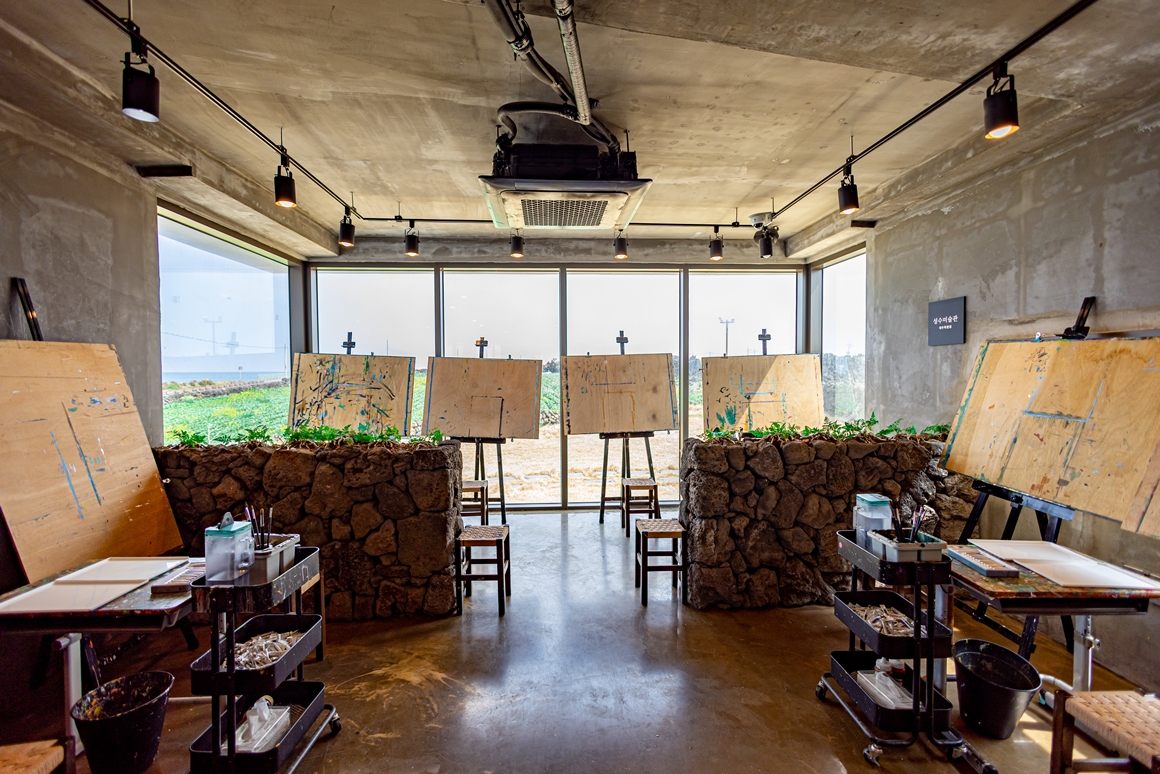 When you hear "Seongsu Museum", you might think of an exhibition museum with artworks hung on the wall. But this is a place of experience where you can paint your own piece. As soon as you step into "Seongsu Museum", the view of Jeju Sea through the window captures your attention immediately.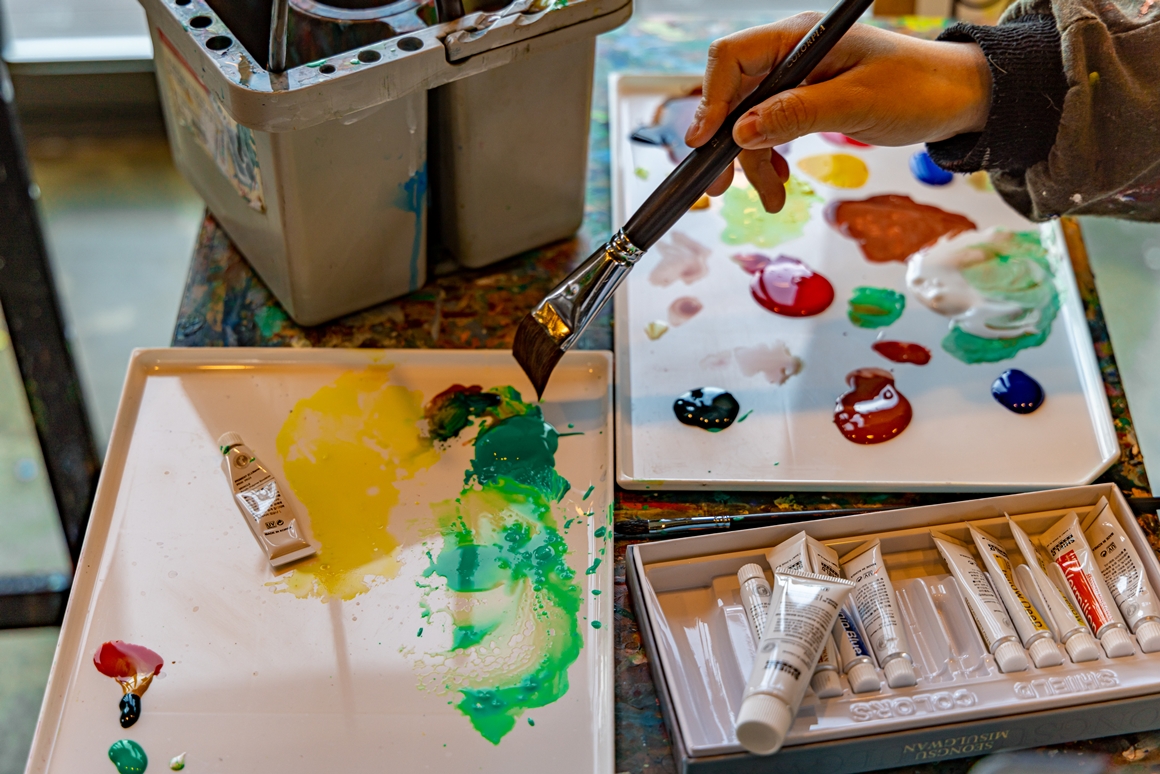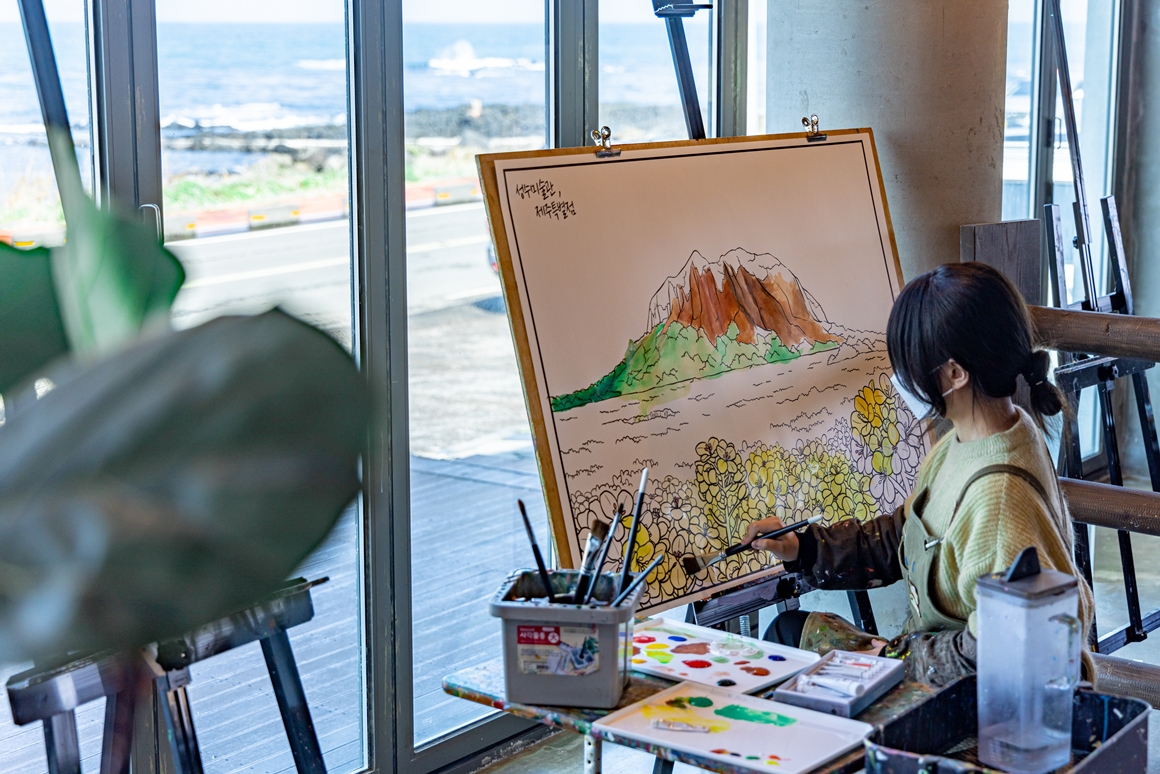 You can choose one of the provided designs of characters, landscapes, or architecture. Hang the drawing on your easel, put on the apron and sleeve protectors, and you are ready to be Picasso for today. Use acrylic colors, crayons, or pencil colors to color your drawing. Take your time and complete your own painting while Jeju's sea and nature watch you like good friends.

▶ Address: 1726, Haemajihaean-ro, Gujwa-eup, Jeju-si, Jeju-do
▶ Opening hours: Every day 11 AM – 8 PM
▶ Experience fee: 22,000 won per person(Naver's booking page)
The mental stability and balance that come from horizontality,
<Byeolbangjin>
If you finished your painting at the Seongsu Museum, let's take a walk to relax your body. After walking for about 200 meters from the museum, you will find Byeolbangjin in front of the harbor. The 24th Jeju Monument, Byeolbangjin was acting as a protective wall from Japanese invaders that used to show up around Udo Island. As the largest castle wall in the east area, it was built with delicately carved basalt.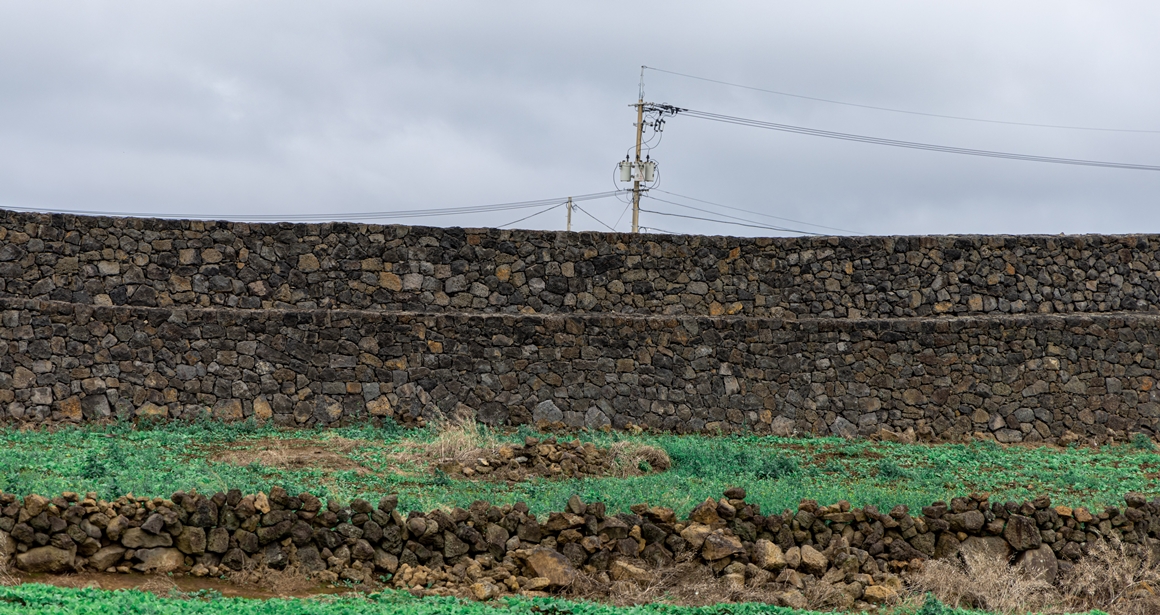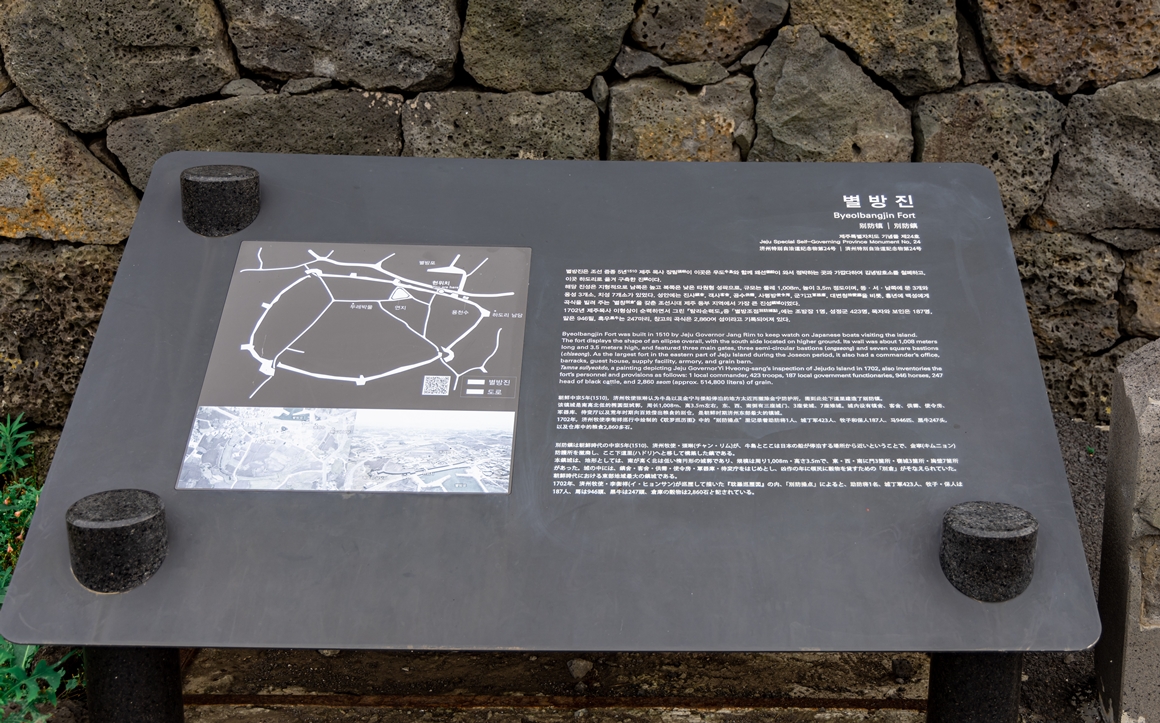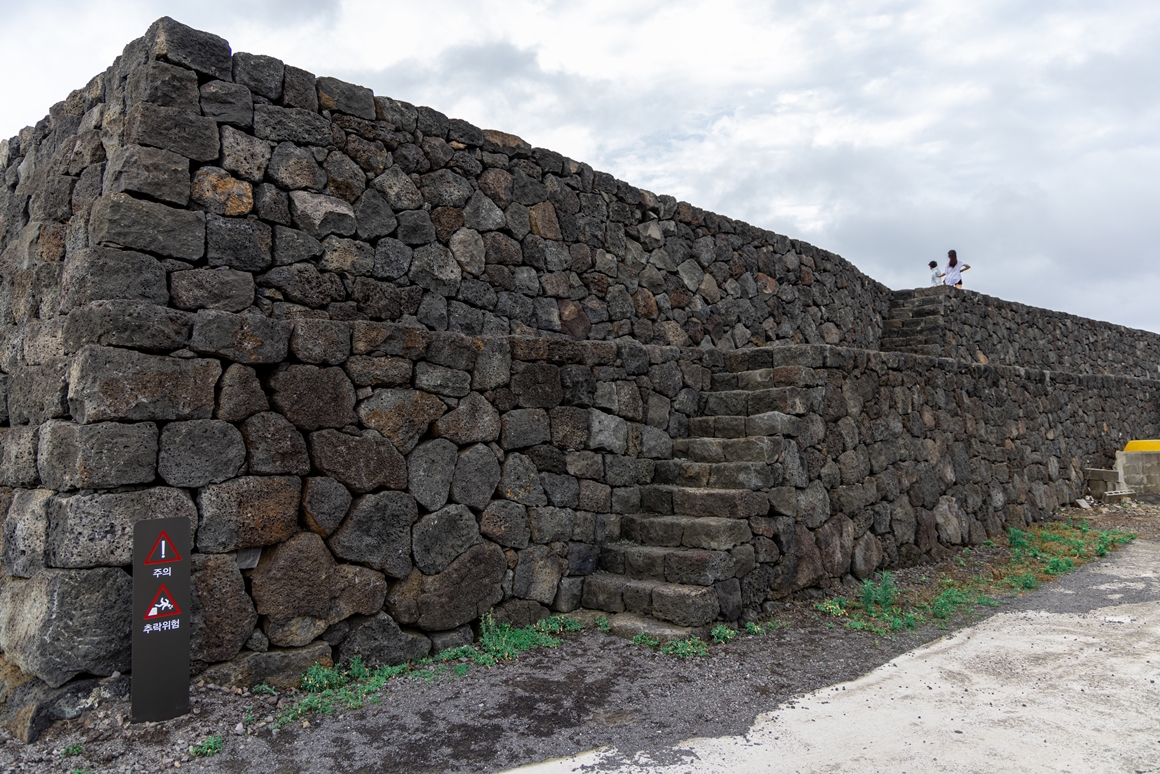 You might think "What is so special about a castle wall made of stones?", but the view from the top is just breathtaking.
Hadori's blue ocean unfolds like a magnificent folding screen.
Especially when you visit around the time of sunset, you can enjoy the beautiful, reddish Hadori Sea.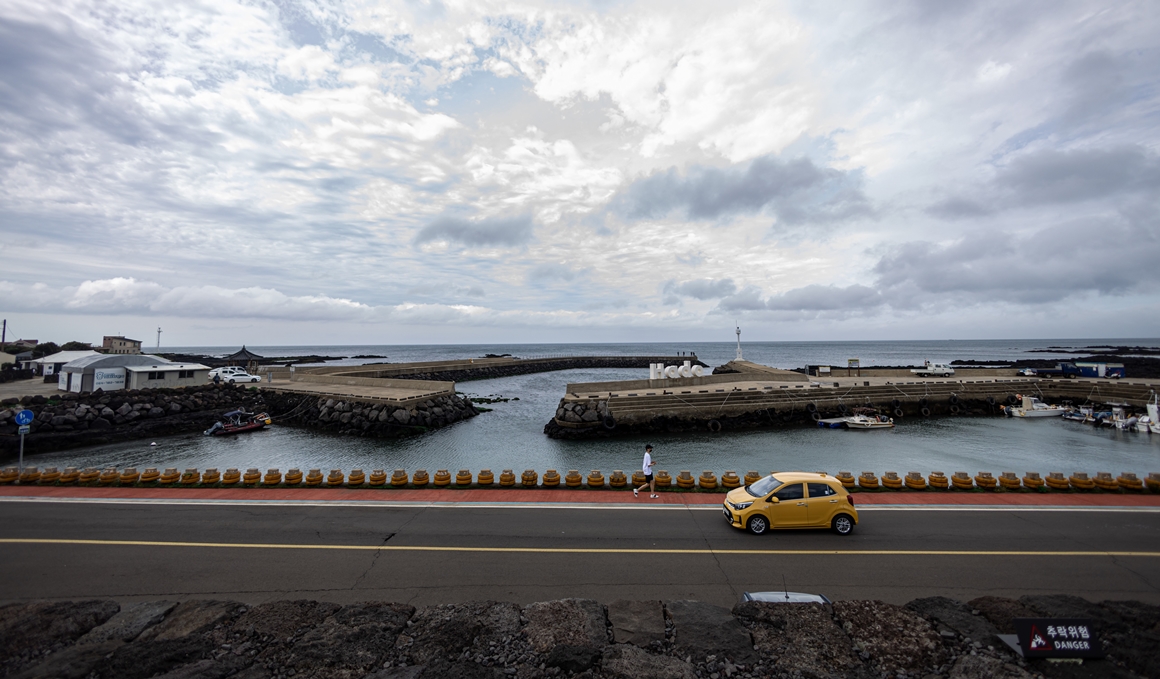 A mouthful of soft sweetness and excitement
<Soksom>
Located near the Sehwa Beach on the east side of Jeju, Cafe "Soksom", means "quiet" and "calm" in the Jeju dialect. It is a place that seeks to be a quiet and comfortable space. Its unique exterior on top of the stone wall, piled up one by one, catches people's eyes. The owner of this place, who studied architecture design, intended to create a natural space by building it on top of nature without manipulating Jeju's nature as much as possible. As he planned, Soksom gives the impression of being in nature, elevating the fun of the Jeju trip.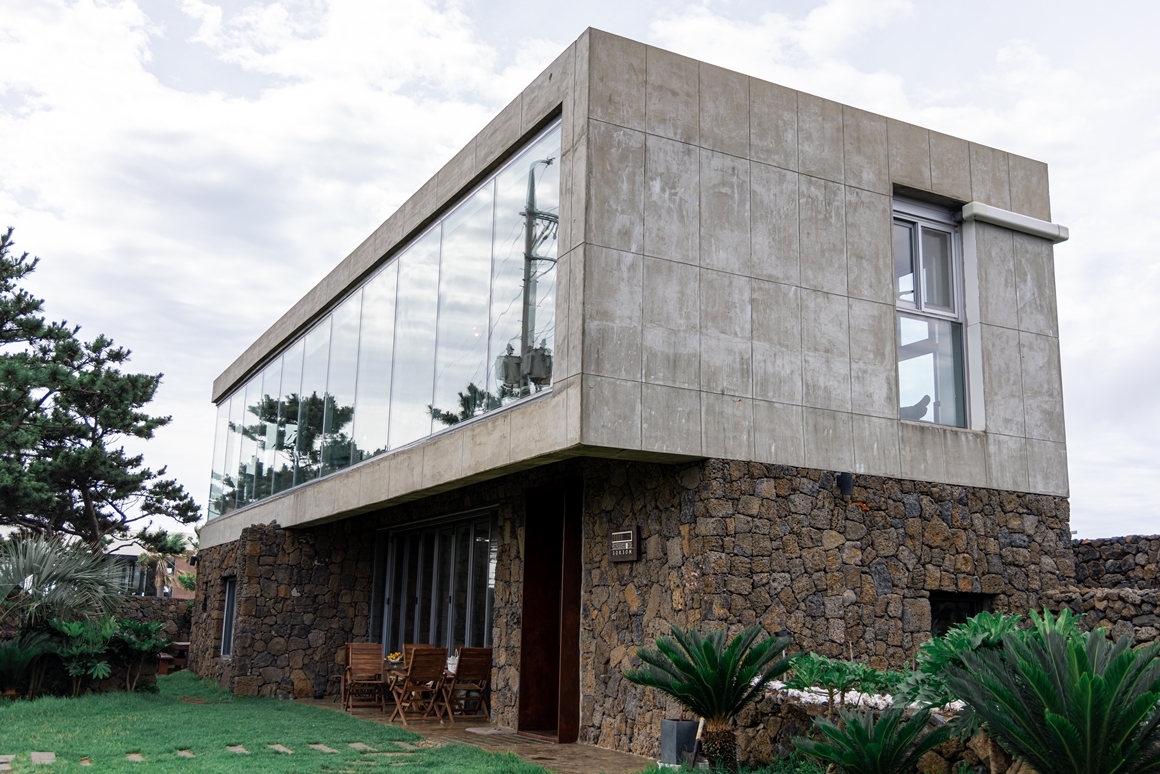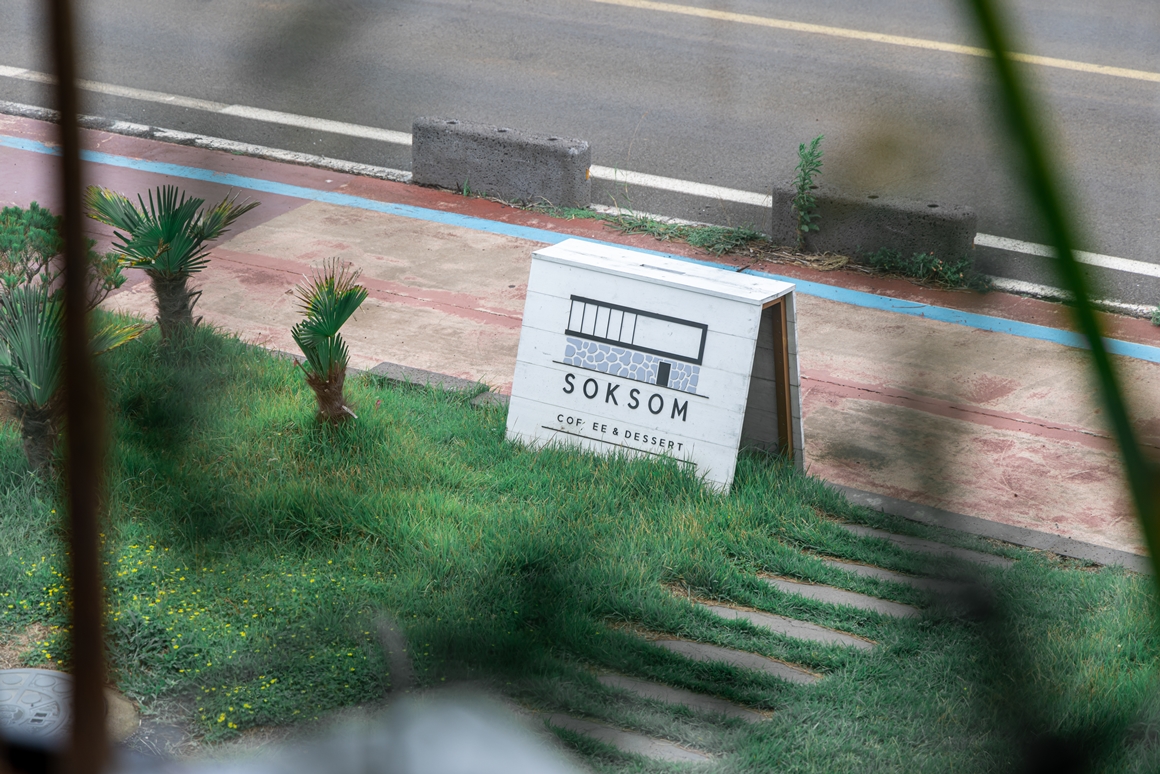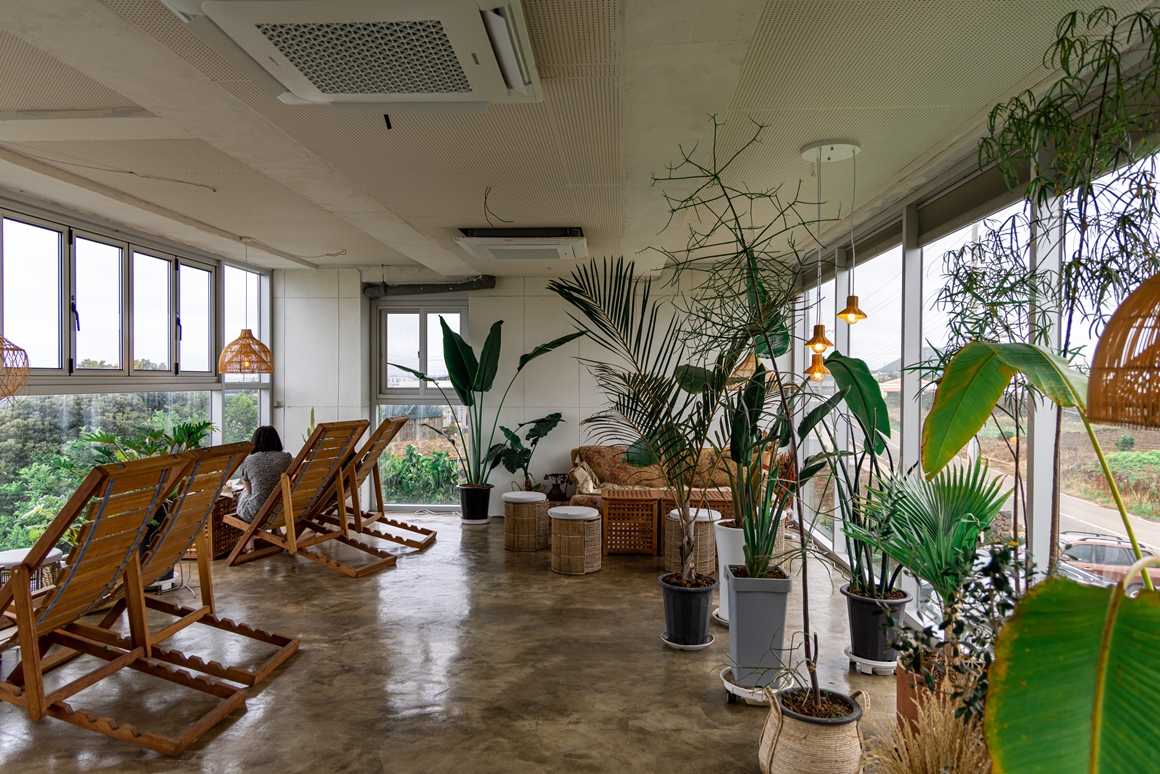 The famous menu item here is hand-made soufflé cake, for which the batter starts to be made as the order comes in. The soufflé has seasonal fruits in abundance and boasts its soft texture. Other than that, they offer various hand-made desserts, such as scones, basque cheesecakes, and tiramisu.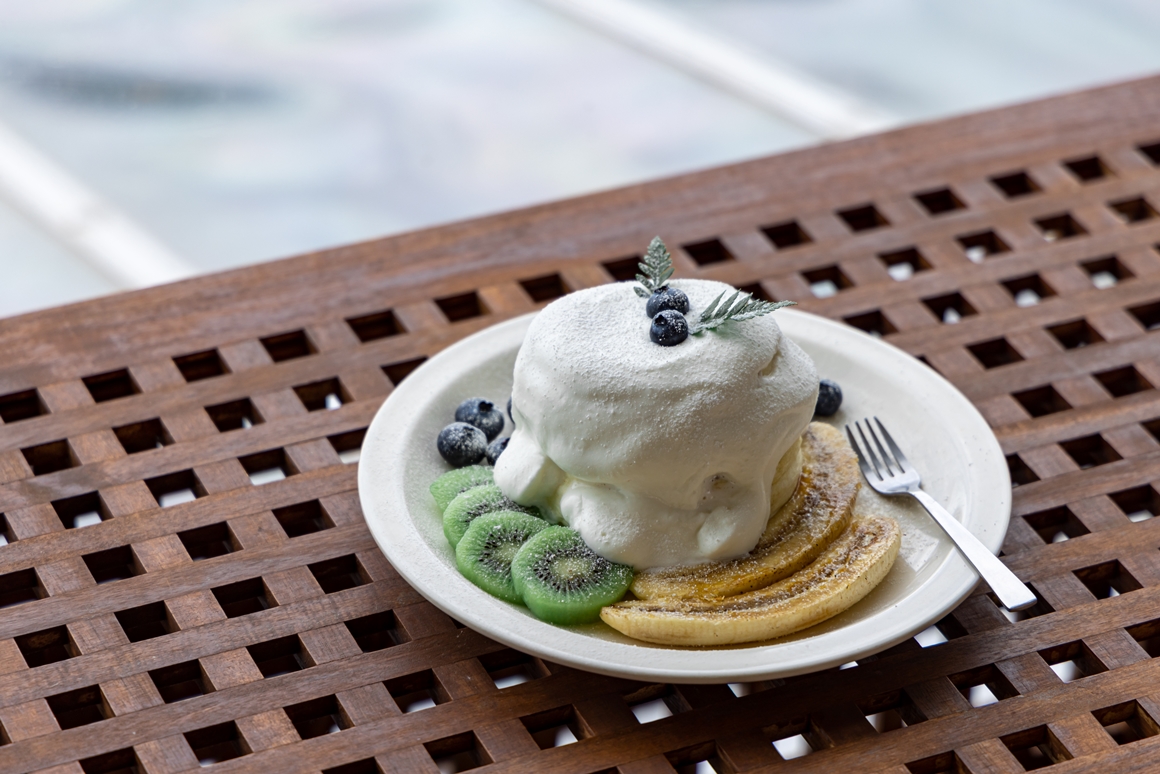 ▶Address: 1655, Haemajihaean-ro, Gujwa-eup, Jeju-si, Jeju-do
▶Opening hours: 10 AM-8 PM (closed every Thursday)
▶Closing day: Every Thursday

Notice

※ The above information was written on 2023-02-06. Please confirm the information prior to your trip.
※ Unauthorized use of the content above (text, photos and videos) is prohibited and subject to copyright by the Jeju Tourism Organization.