본문
<Real Jeju_fall in jeju> "Tinged with autumn leaves everywhere" Where should we go?
Review

0

Lookup

1,574

Share SNS

1
Real Jeju_fall in jeju

"Tinged with autumn leaves everywhere" Where should we go?

Jeju, tinged with autumn leaves everywhere. Colors changing from yellow to red and the silver waves blowing by the autumn wind - Autumn is shorter than any other season, so we shall cherish it for as long as we can. Let us walk slowly and immerse ourselves in the late autumn of November.
'Silver grass blooming season' in Jeju
Enjoying autumn in <Eoeum-ri silver grass cluster>
Silver grass grows in fields or mountains, whereas reeds grow in wetlands or water. That means the silver waves in the autumn oreum are silver grass. Eoeum-ri, Aewol-eup, west of Jeju Island, is one of Jeju's largest silver grass clusters.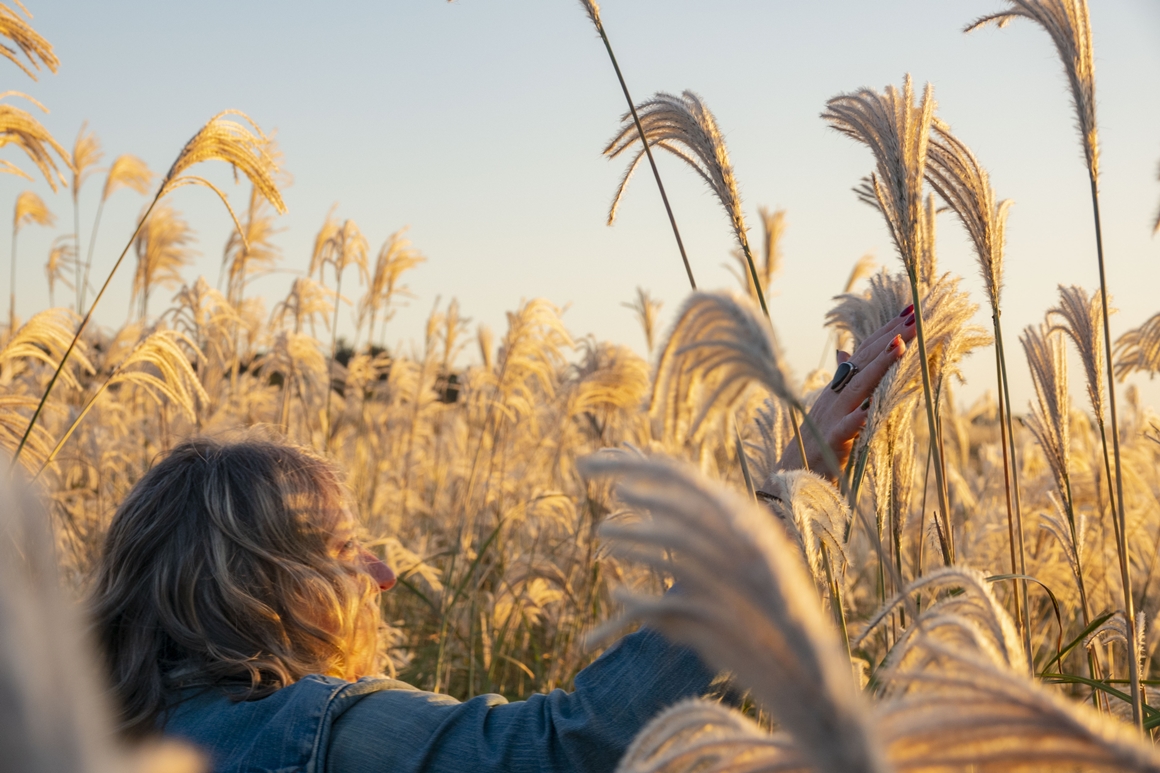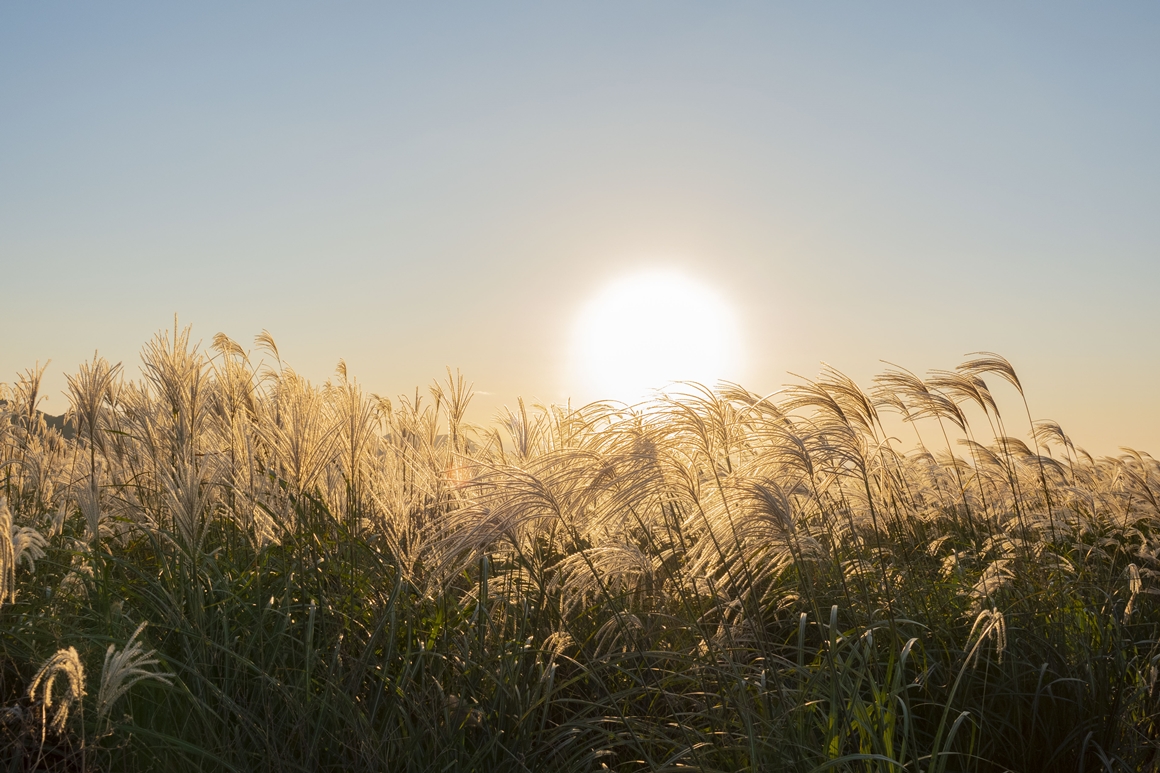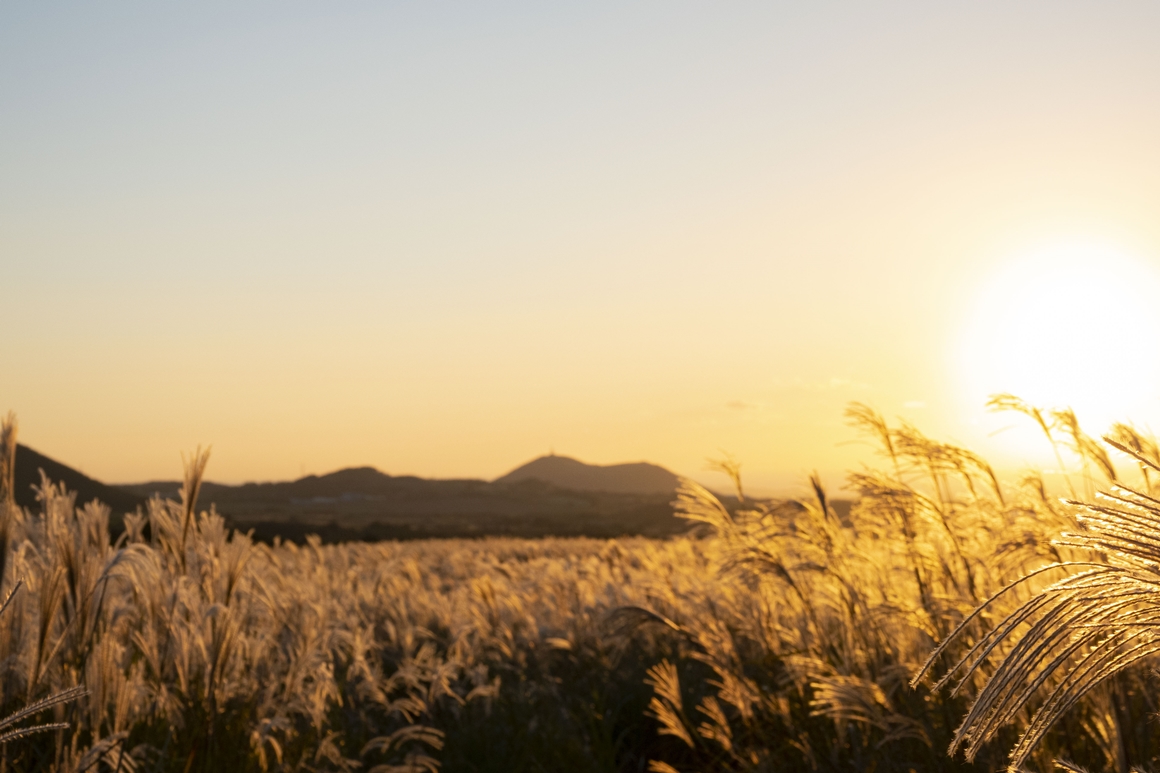 It is full of silver grass as tall as a full-grown adult, so you can create a scene that looks as if you are hugged by silver grass when taking pictures. Drone shootings are prohibited in many places, as they are private properties or important national facilities. However, it is allowed at this spot. You can enjoy different angles of silver grass with a drone, those which you cannot capture with your bare eyes.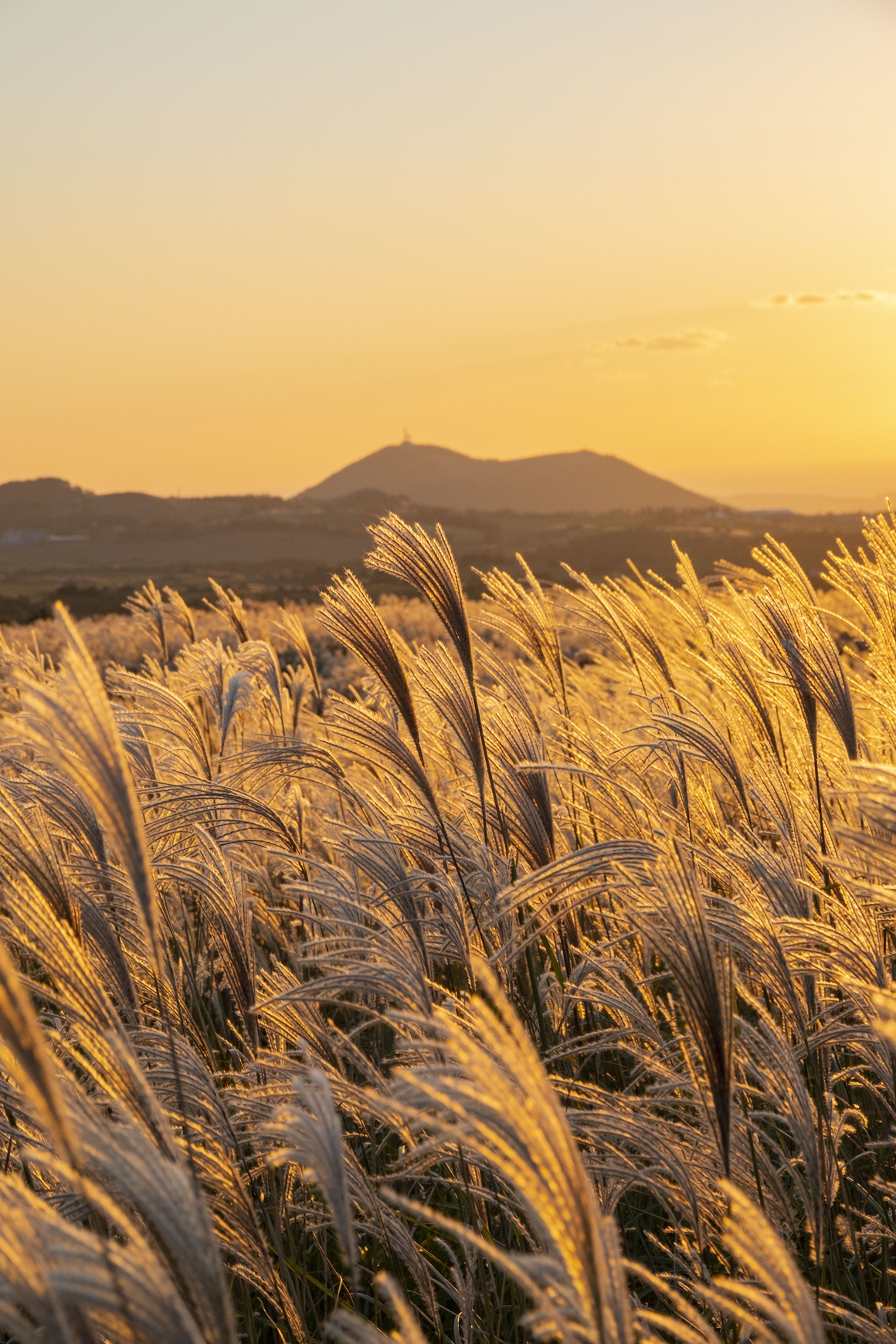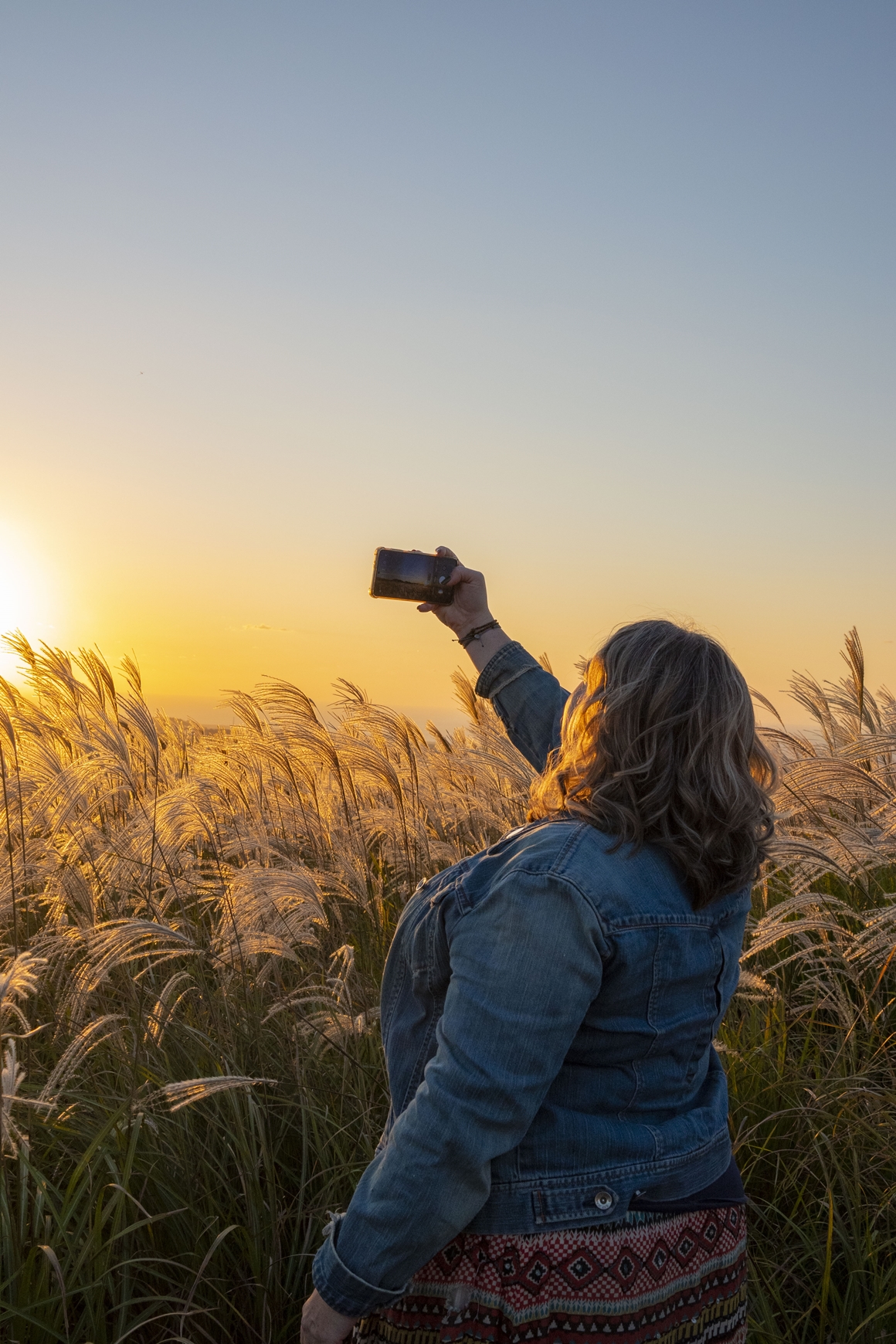 Behind the silver grass cluster is Barime Oreum, which is excellent for light trekking along the gentle ridge. A tip for taking a beautiful photo is to have Oreum in the background. If you visit during the sunset, the grass captures the scarlet sunset and creates a mellow atmosphere. Besides, you can see a splendid landscape capturing Biyangdo Island and fishing ships in the distance.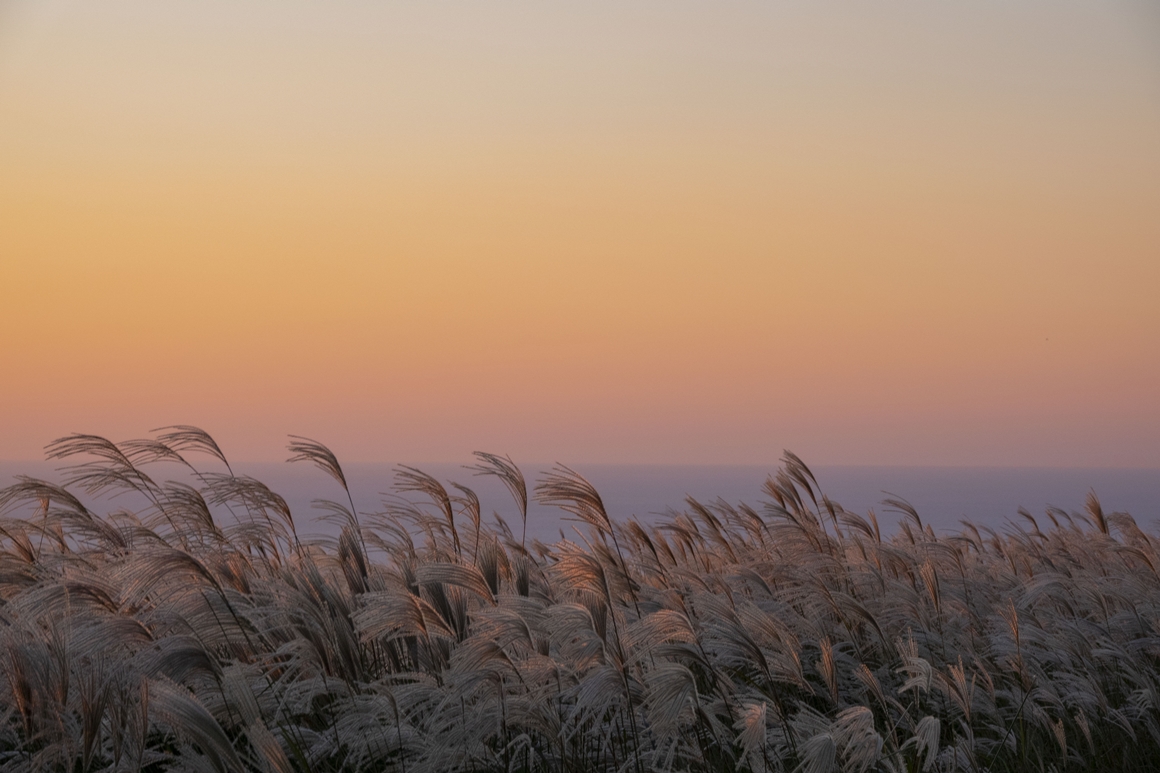 Saebyeol Oreum nearby is also a must-visit spot for silver grass in autumn. The field under Saebyeol Oreum flutters in the autumn wind. Try taking a silver grass shot in every corner of Aewol-eup.

▶ Address: San68-5, Eoeum-ri, Aewol-eup, Jeju-si
Black Pig Made in Jeju
<Crown Pork>
You've seen enough silver grass and are now famished. There are many choices in Jeju, but the black pig is the best representative of the Island. Most black pig breeds you will find at restaurants are usually a breed that pays royalties to Japan, but let us introduce a restaurant that serves local black pigs 'made in Jeju.'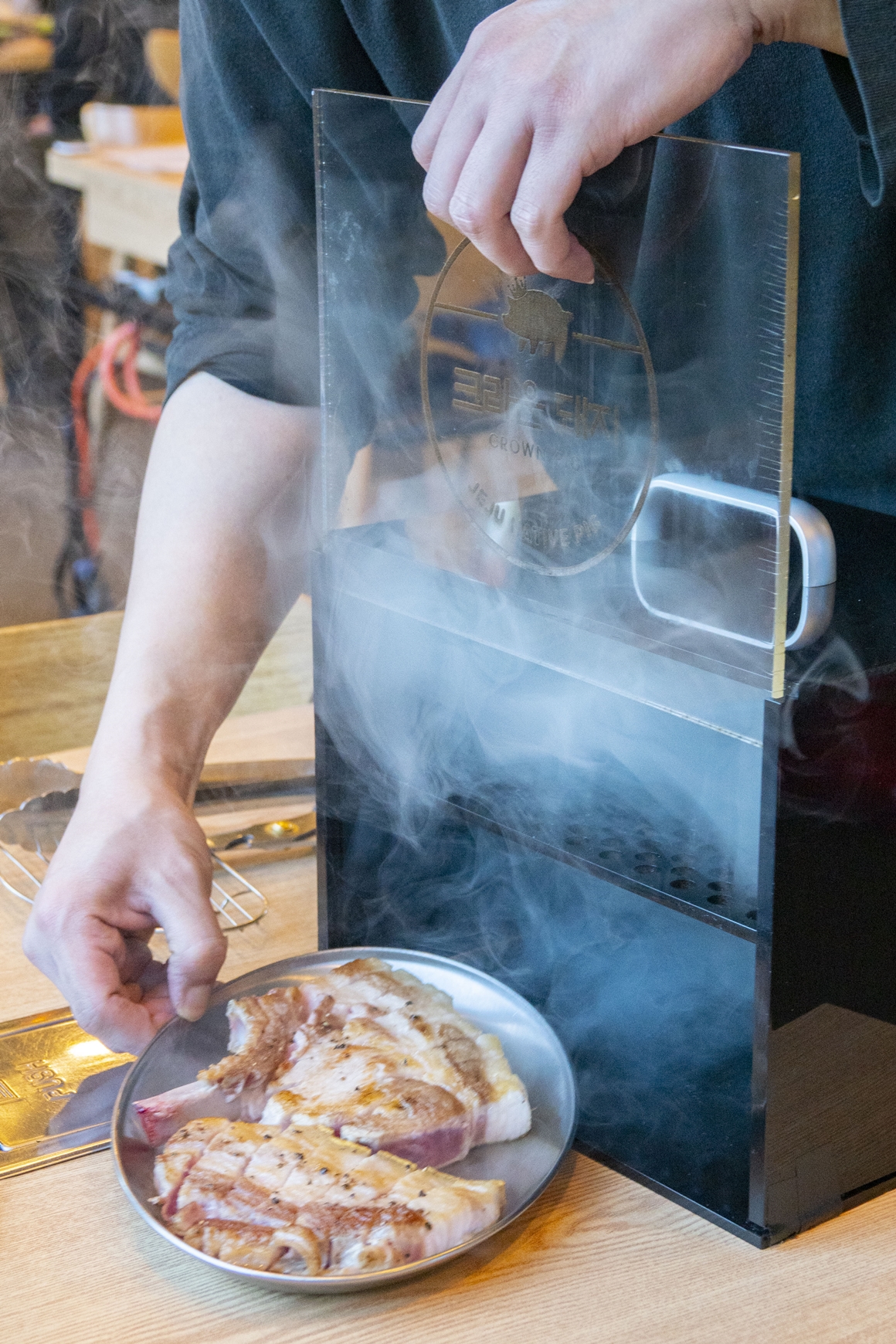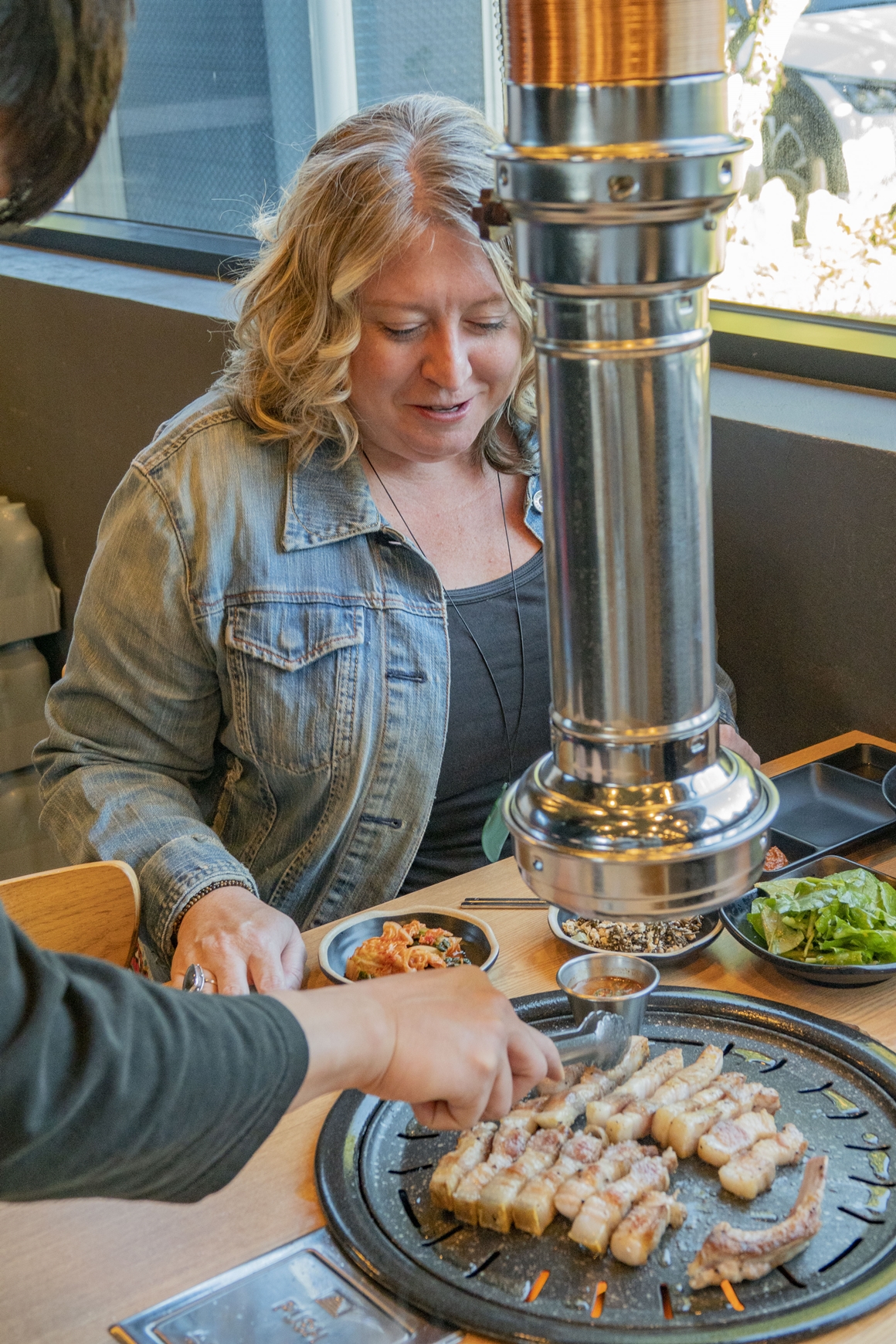 Crown Pork, run by Chef Song Hoon, who appeared in a program called "Please Take Care of My Refrigerator," is a restaurant specializing in "Nanchuk-Mat Pork." "Nanchuk-Mat Pork" means tasty(Mat) pork made by Nanji Livestock Research Institute; they revived the extinct Jeju black pig gene after ten years of restoration research. Therefore, they only sell limited quantities.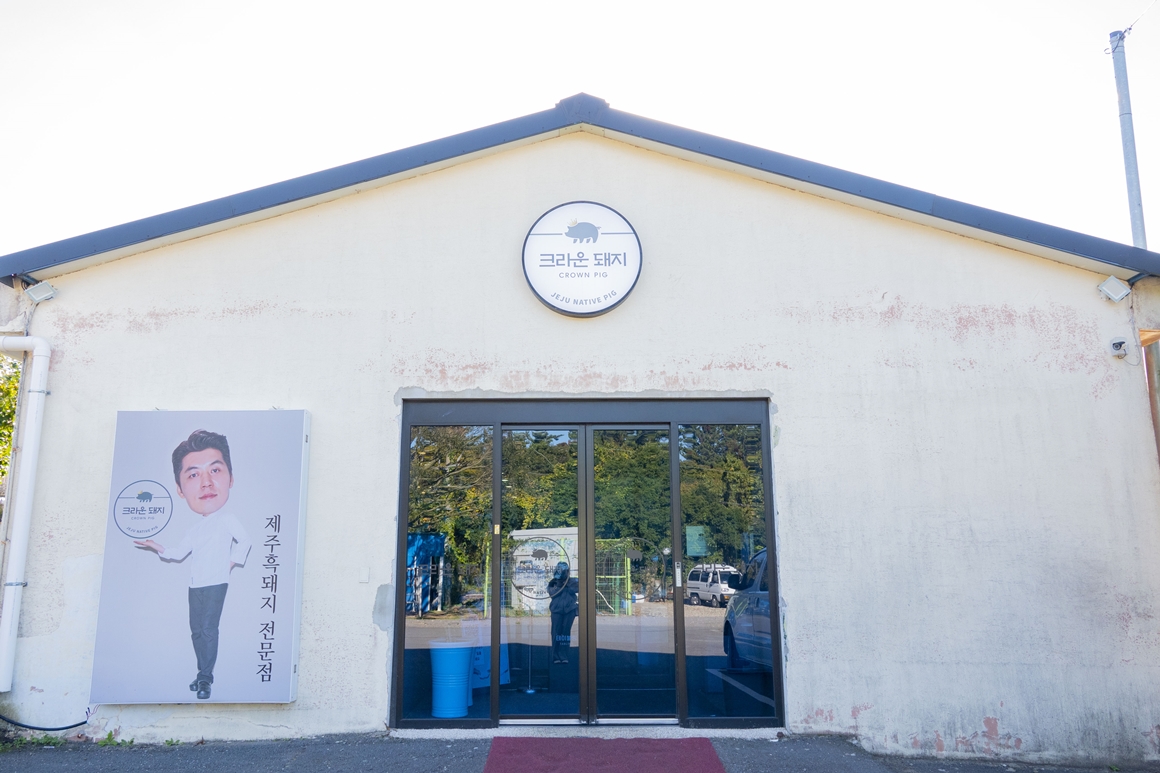 "Nanchuk-Mat Pork" has lots of muscle fat, which means its marbling is excellent, and the front legs or hind legs are perfect for grilling. If you're thinking about which part to eat, it's best to go with the chef's choice, which allows you to try various parts. Employees grill meat so you can taste the black pork with its deep flavor. If you are lucky, you might be able to taste the meat grilled by Chef Song Hoon himself. When you place an order for meat, they will carry an "iron bag" to your table and take out the meat that has been briefly roasted. Crown fried rice with salted cutlassfish is a side menu that piques people's interest.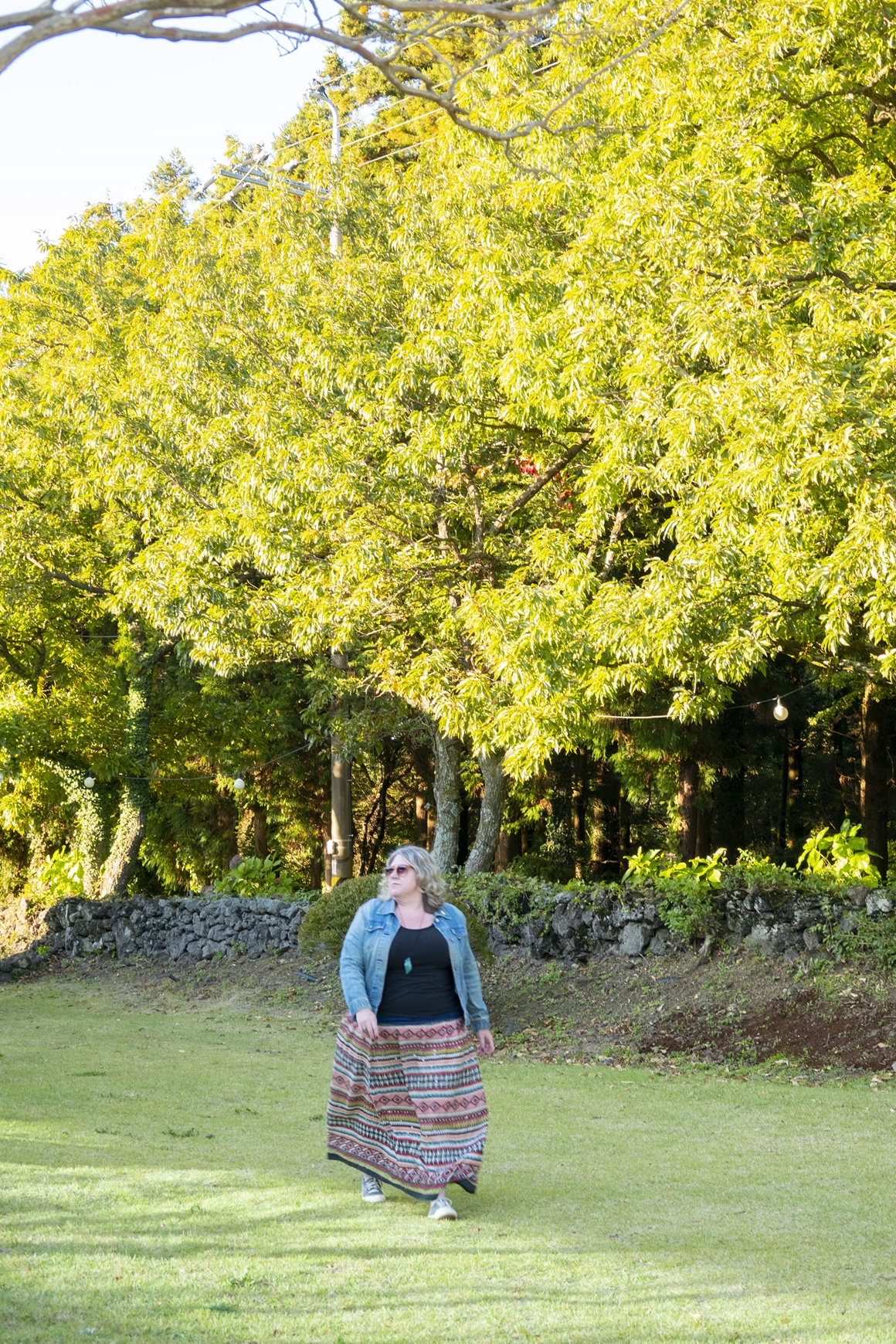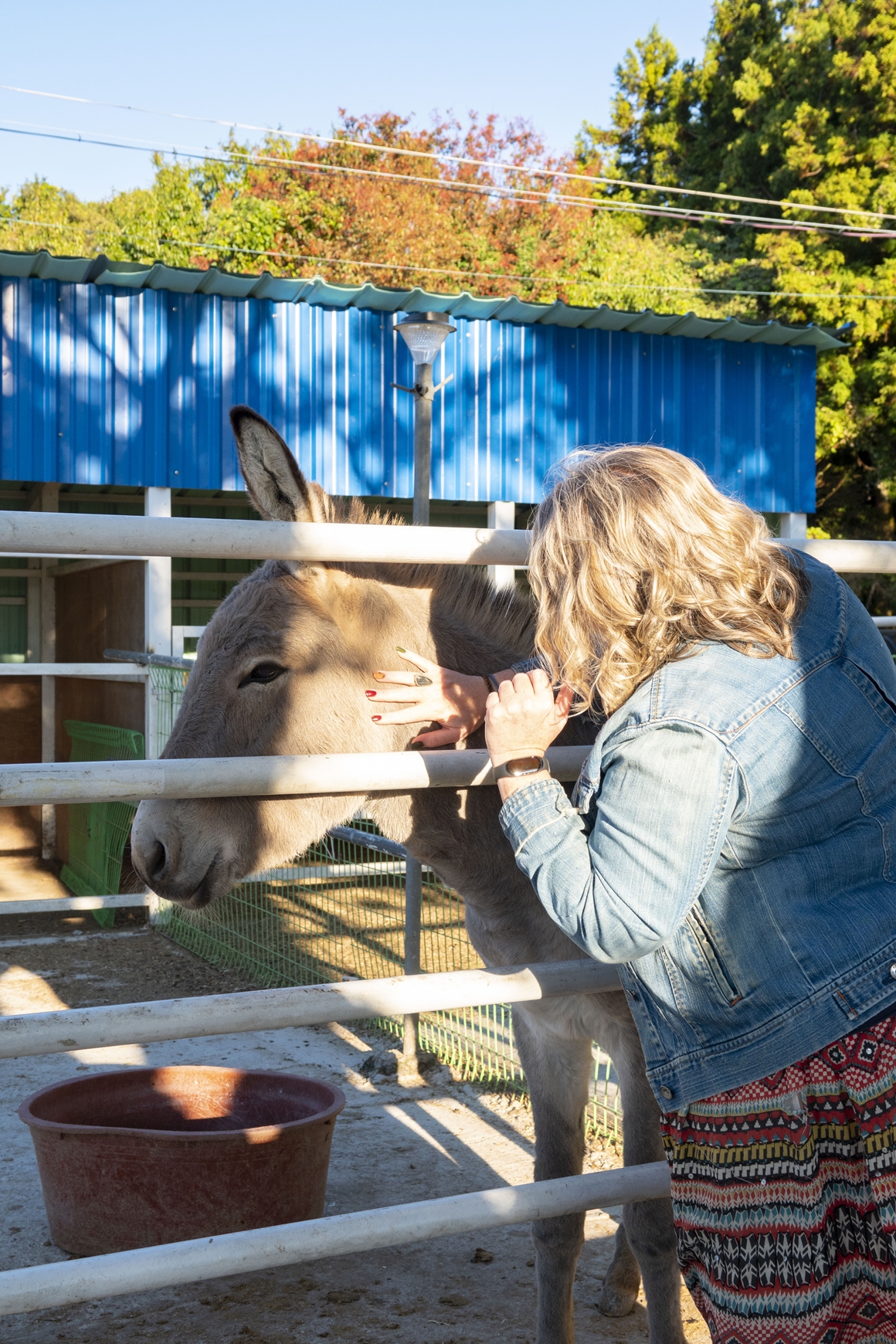 Once you've finished your meal, it's time to wrap up by patting your full stomach and taking a quiet walk at Song Hoon Park. The sunset, which tinges the large ranch, is the charming point of this park. "Jeju Bakery" at Song Hoon Park sells a variety of desserts and they give discounts to customers who have been to "Crown Pork", so bear that in mind.

▶Address: 84 Sanggamokjang-gil, Aewol-eup, Jeju-si
▶Hours: 12PM – 9PM Everyday
▶Number: 070-4036-5090
As tough as climbing a mountain but...a breathtaking sight
<Nokkome Oreum>
Nokkome Oreum and Jokeun (small) Nokkome Oreum are places where the characteristics of the volcanic topography are well revealed among the various volcanic "oreum" in Jeju. Both oreums are also called "Brother Oreum" due to their harmonious shapes and scenery. Nokkome is also known as Nok-gome or Nob-gome. It was initially called Nob-gome, but the consonant naturally dropped and became Nokkome.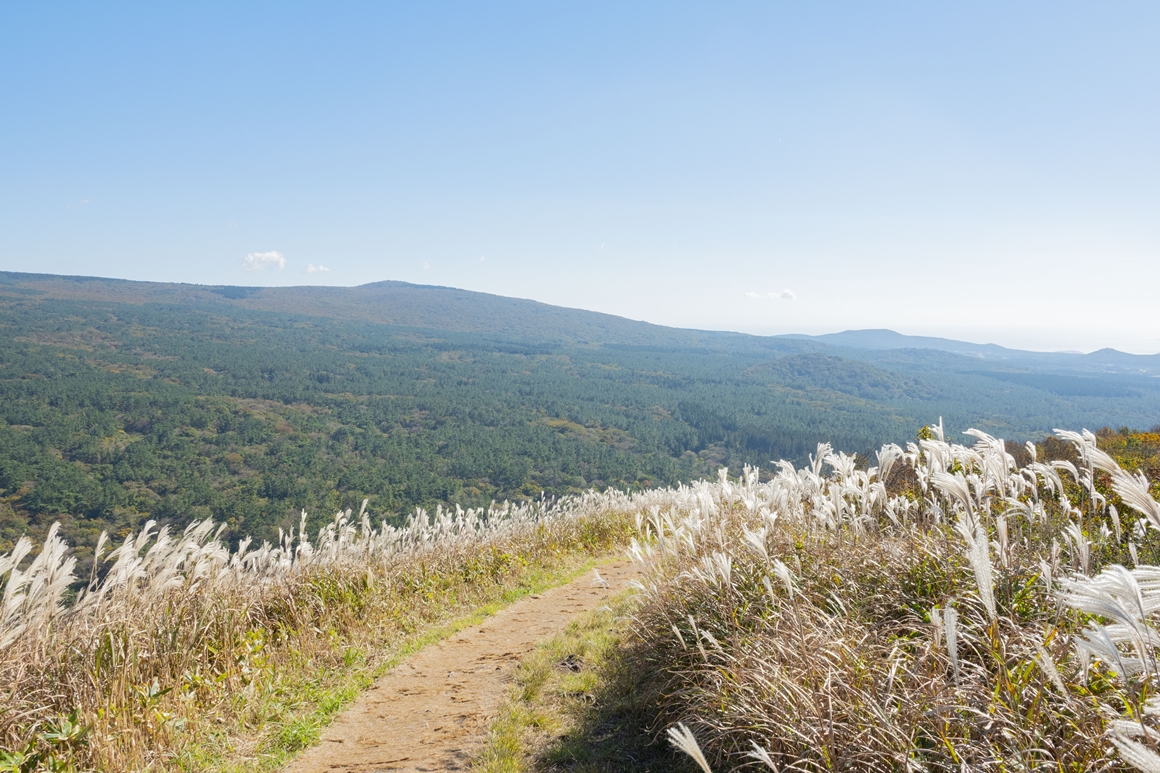 Once you park your car in the parking lot, you'll find an eye-catching sign at the entrance. It's the "Nokkome Oreum Exercise Guide" sign. It is about 2.3km from the parking lot to the top, which it takes about 40 minutes, and there is a list of calorie consumption and food calories according to weight. How challenging is the trekking that they had to put up a sign like this?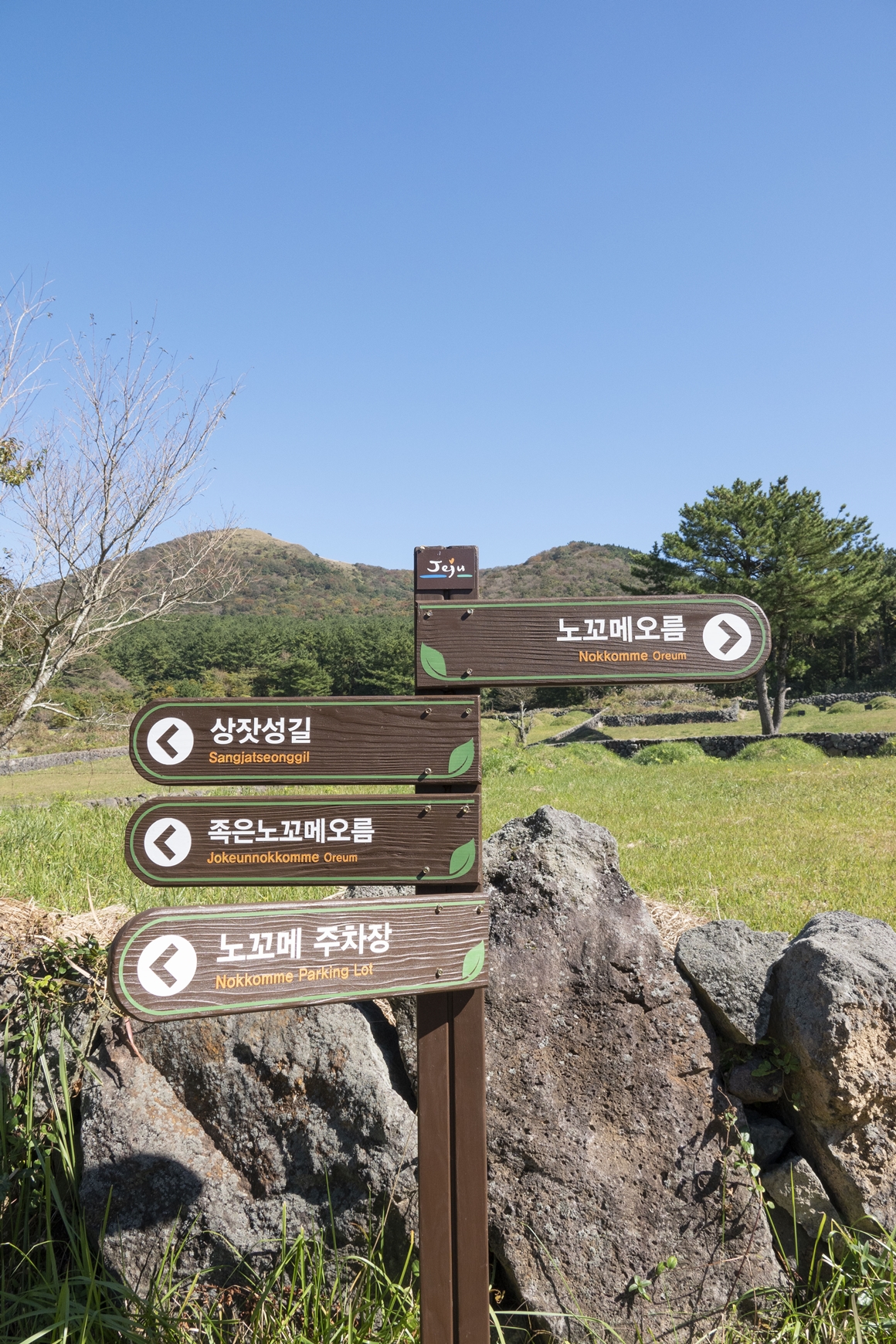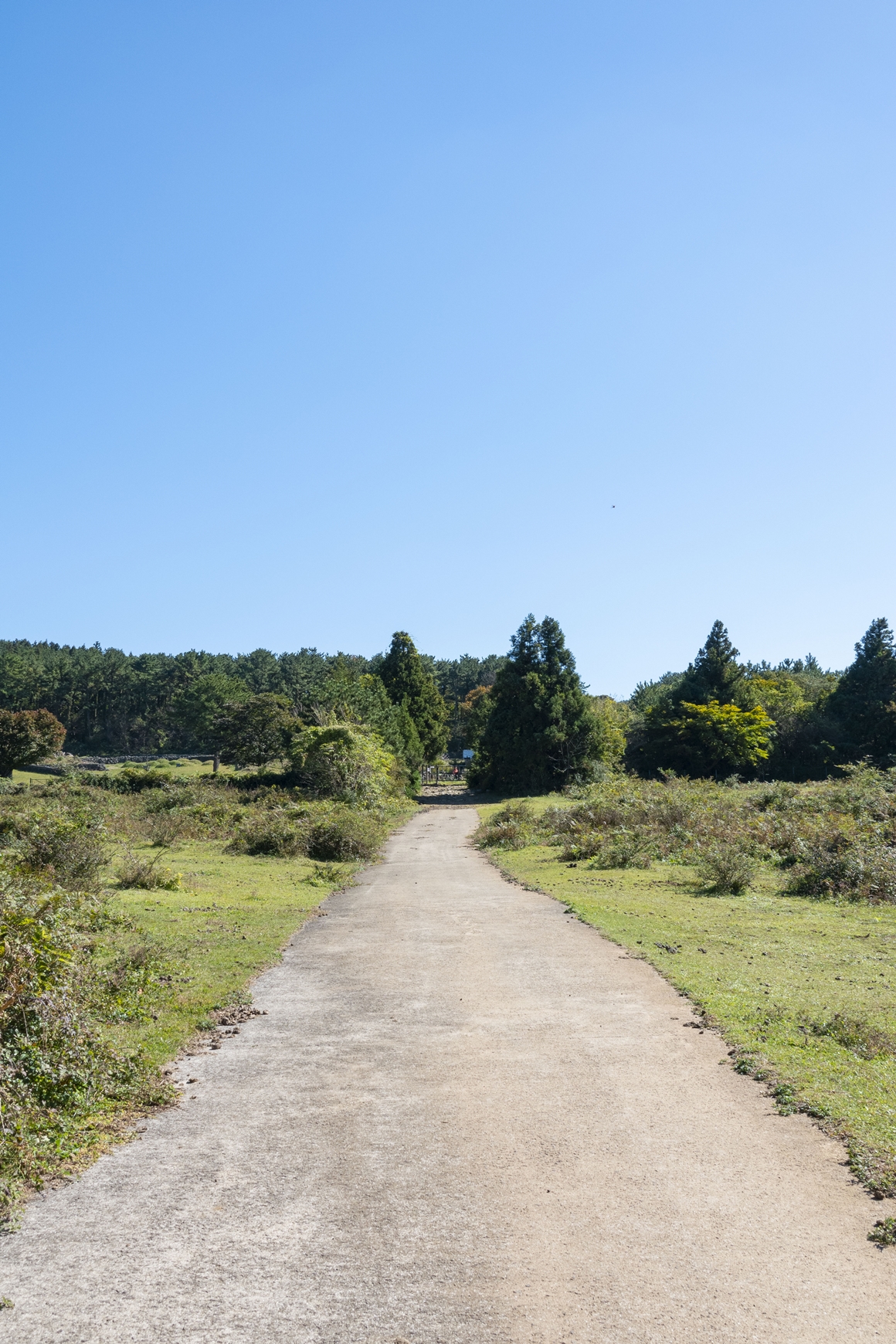 You have to pass through a ranch to get to the oreum. The horses are on the loose, so don't be surprised if you encounter them on the way! The entrance door to the hiking trail has a zigzag shape to prevent horses from passing by. Nokkome Oreum is steep and sharp at the top. When you reach the top, you can see that it has two peaks in the south and north.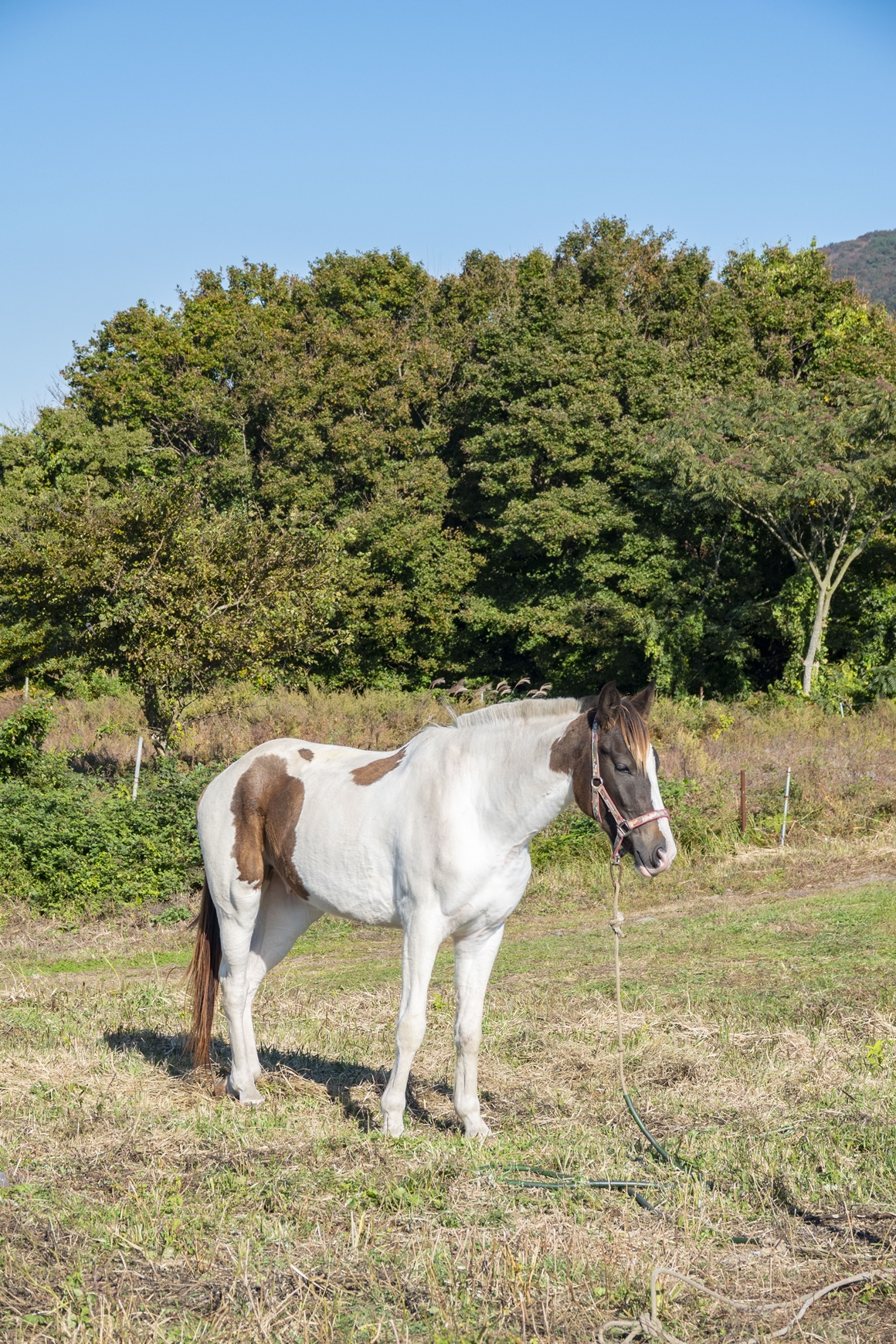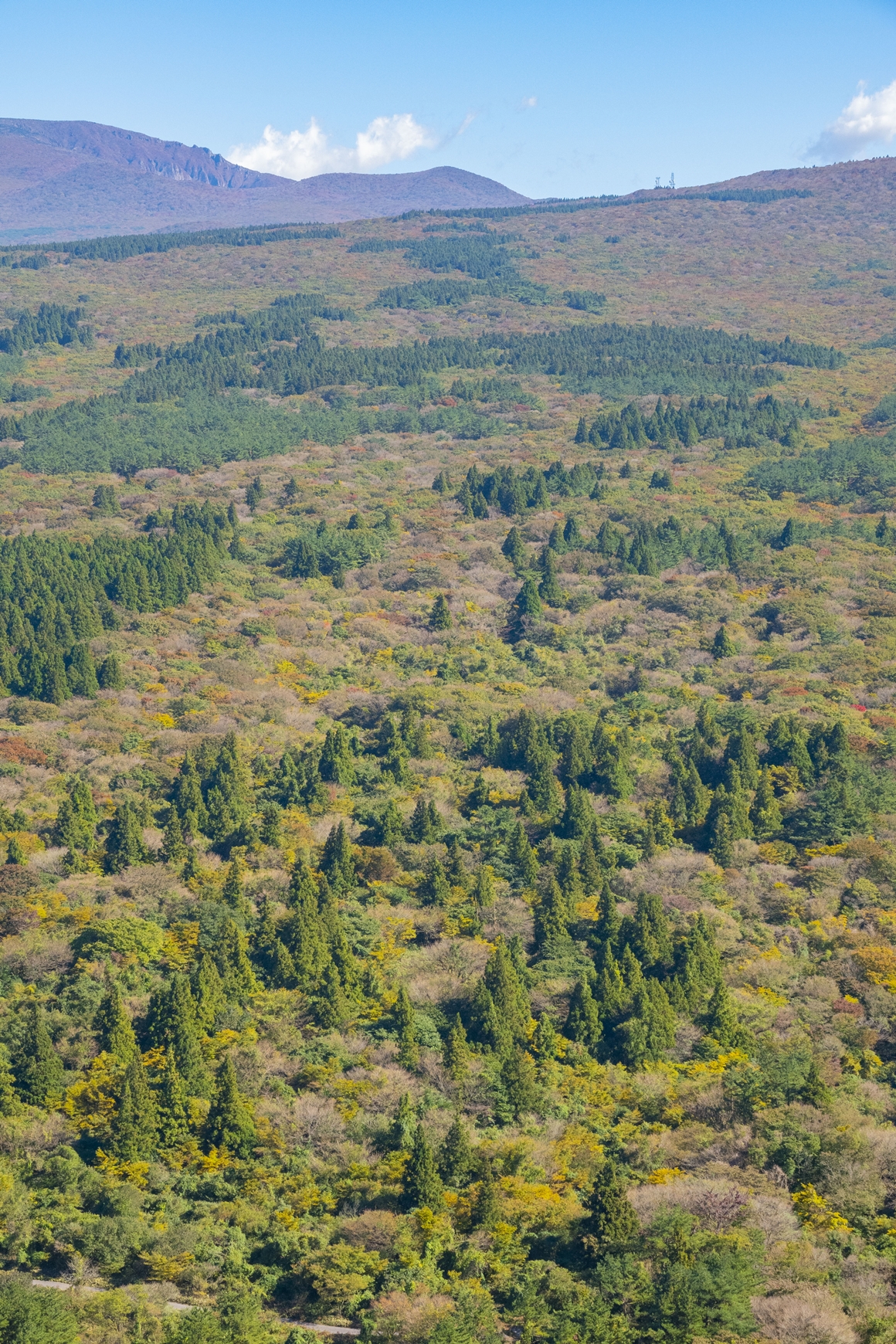 The 2.3km distance of Nokkome can be divided into sections A to D. From section C to D has a lot of slopes, so it is recommended to do enough research beforehand. Once you climb the Nokkome Oreum, it overlooks Barime Oreum, Gonaebong Peak, Susanbong Peak, Biyangdo Island, and Hallasan Mountain, surrounding the oreum like panorama screens. The Nokkome Oreum area is planned to become a natural recreation forest. It will be reborn as a natural recreation forest with recreational facilities, such as accommodations and convenience facilities.

▶Address: San138, Yusuam-ri, Aewol-eup, Jeju-si
When the cold wind starts to blow 'The season of shiitake mushrooms'
<Jeju Pyogo (shiitake) Saryeoni Farm>
In autumn, shiitake mushrooms hanging from oak trees start to fruit at the foot of Hallasan Mountain. These mushrooms belong to the oyster mushroom family; you can eat them raw as they have good flavor and scent. Dried and powdered shiitake mushrooms are used as a natural seasoning or as a main ingredient in vegetable stock.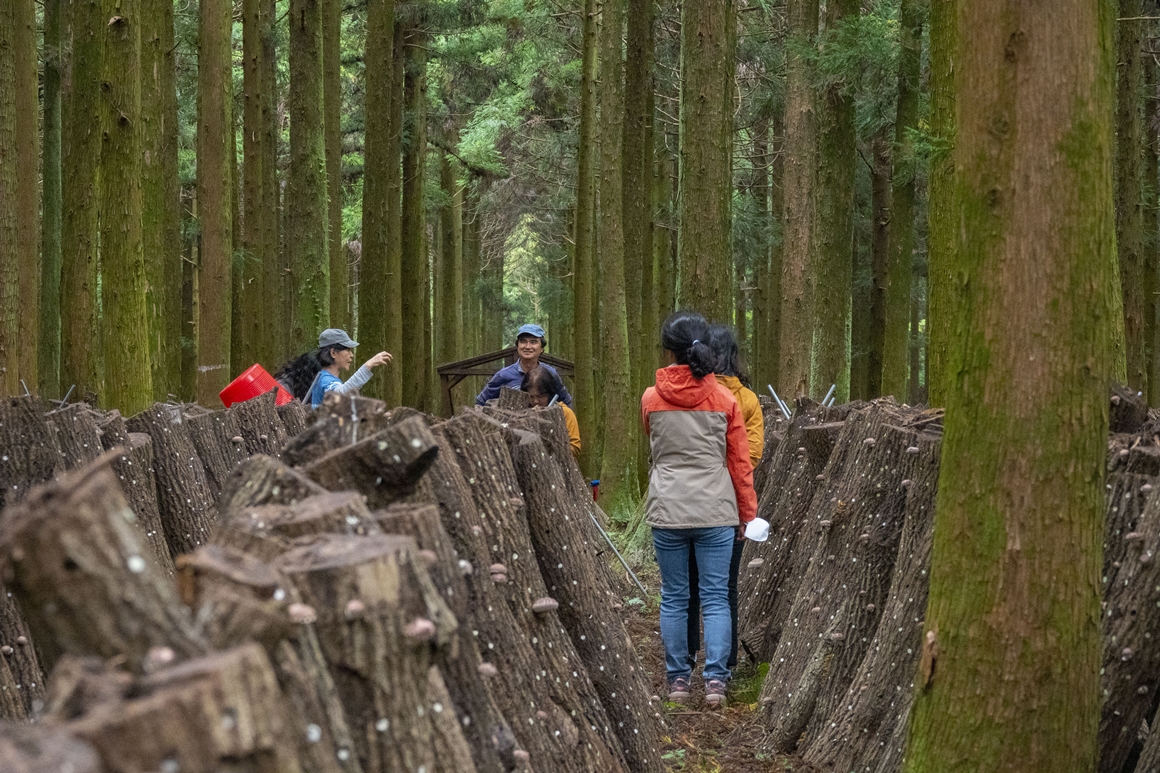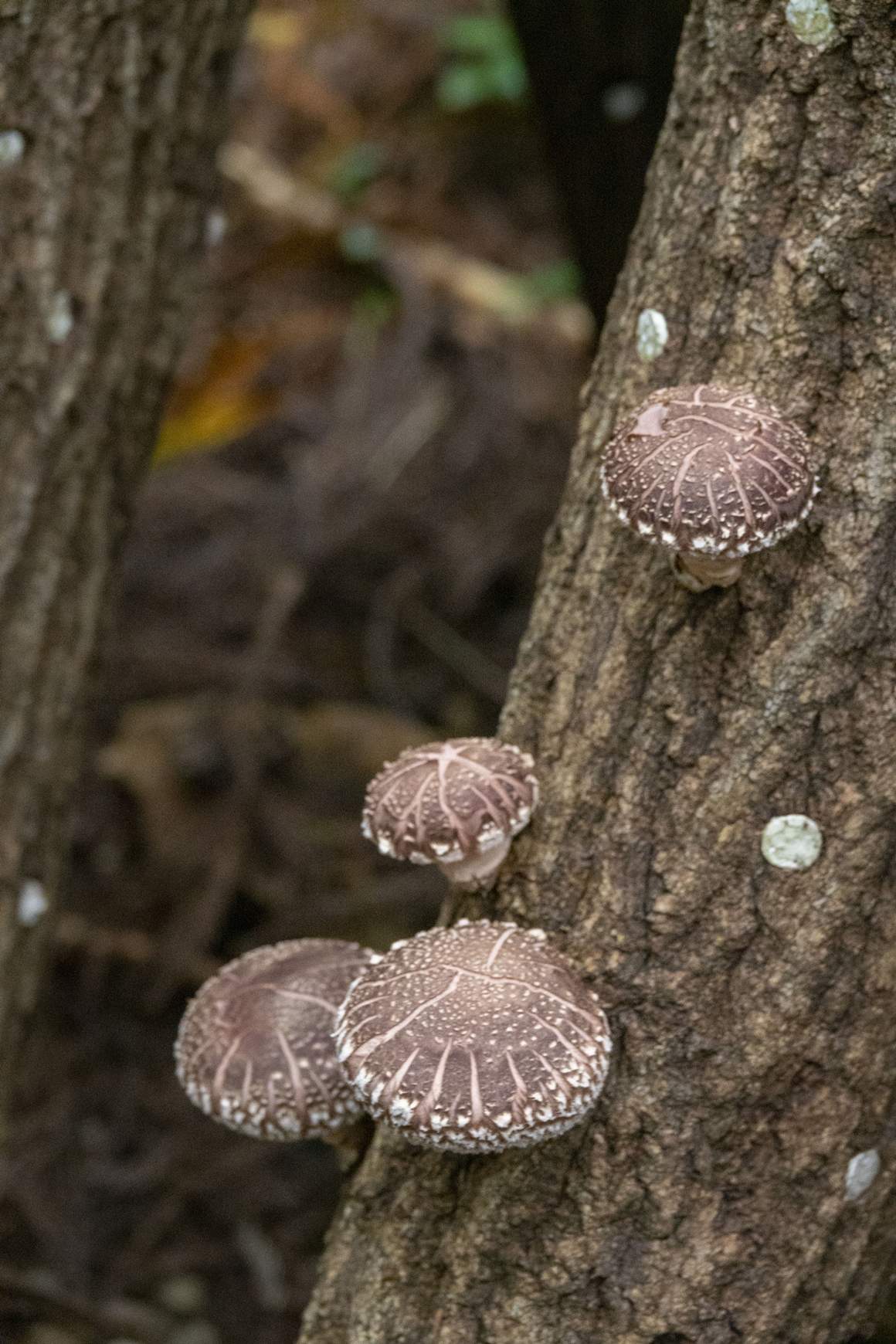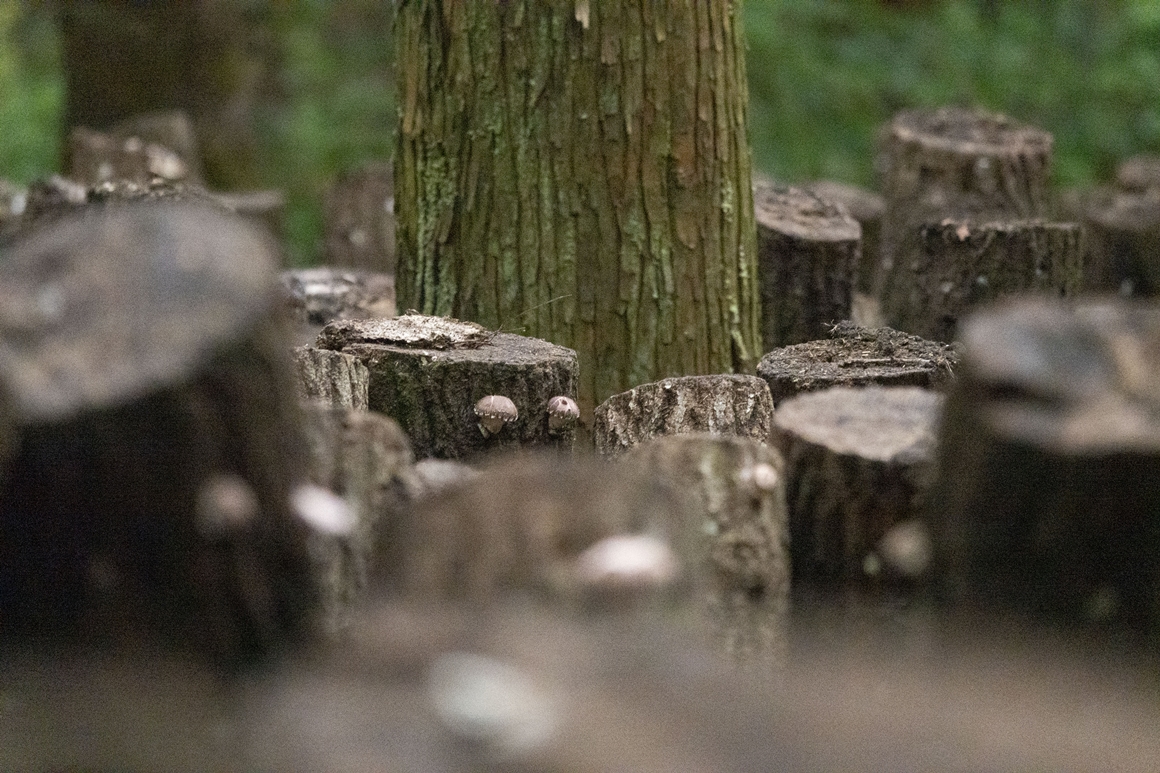 'Jeju Pyogo (shiitake) Saryeoni Farm' in Pyoseon-myeon offers various experiences, such as shiitake mushrooms picking and making food using them. They rent about 33000 m2 of national forest. Their shiitake mushroom farm exists in a forest full of cedar trees. Shiitake mushrooms grow in oak wood rich in phytoncide. The mushrooms have an excellent aroma, taste, and nutrition as they are grown naturally. Also, they have a hard texture because they grow in high altitudes.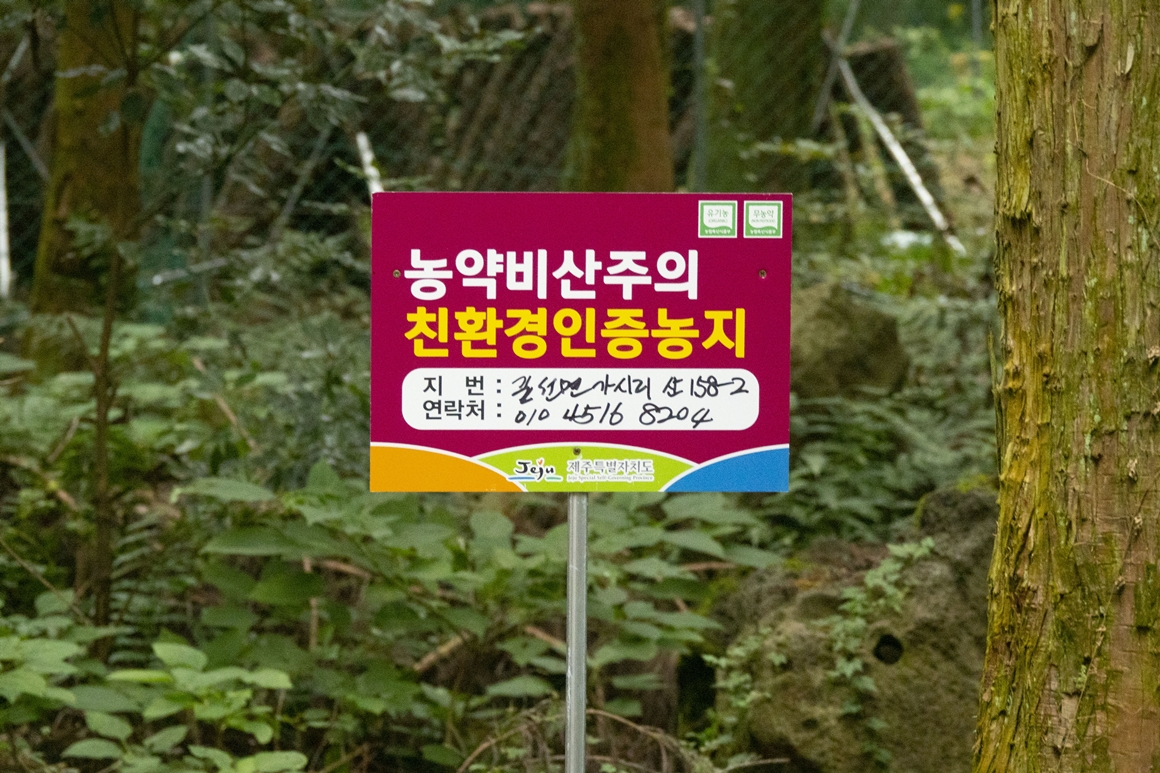 The appropriate temperature for growing shiitake mushrooms is 10 degrees Celsius, which is about 50 degrees in Fahrenheit, so now is the season for shiitake mushrooms, as they are harvested in spring and autumn. Therefore, the farm experience is also held during a specific period, which you may check the schedule on the website. You can make reservations via calling, and the experience fee is 20,000 KRW per person based on 1kg.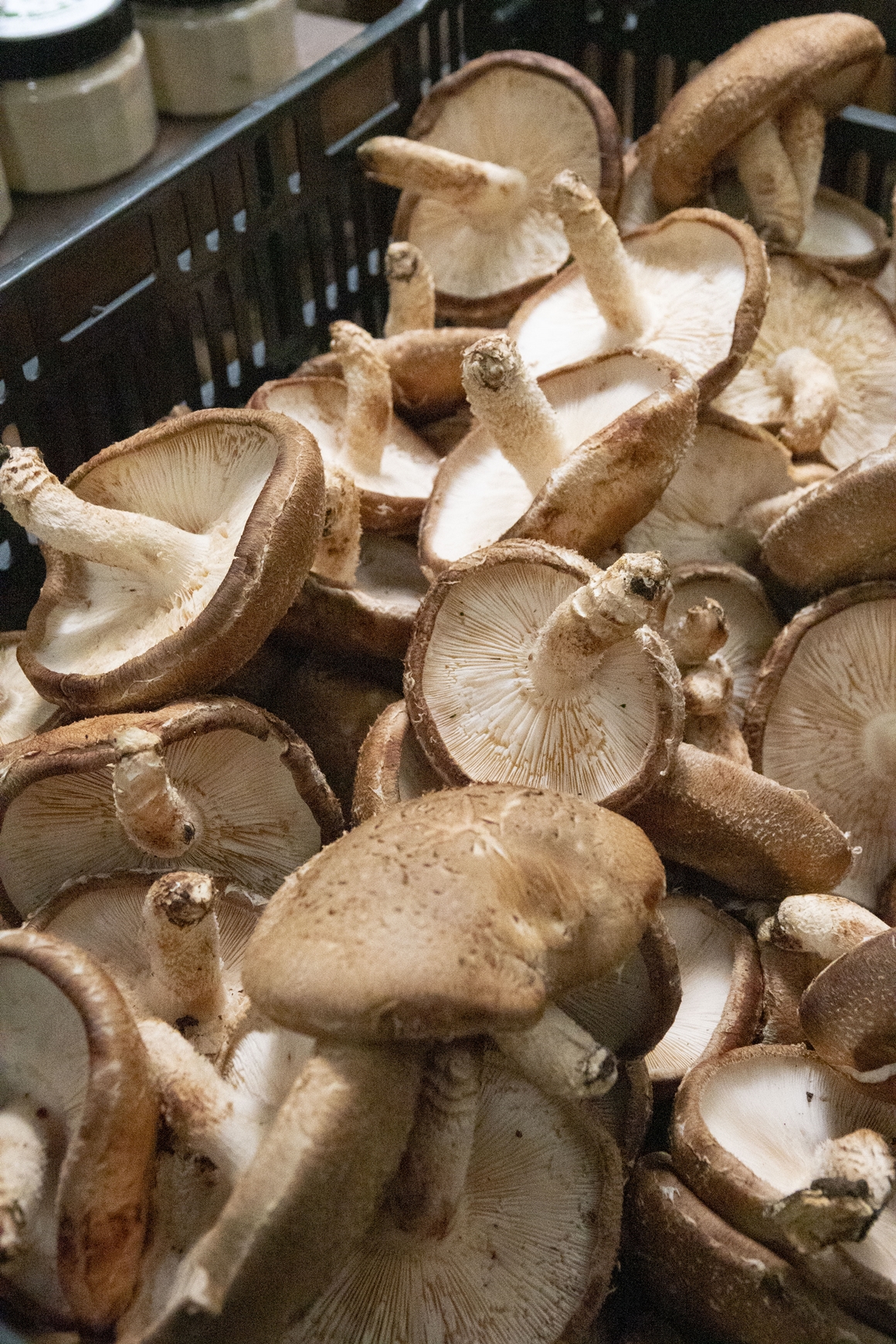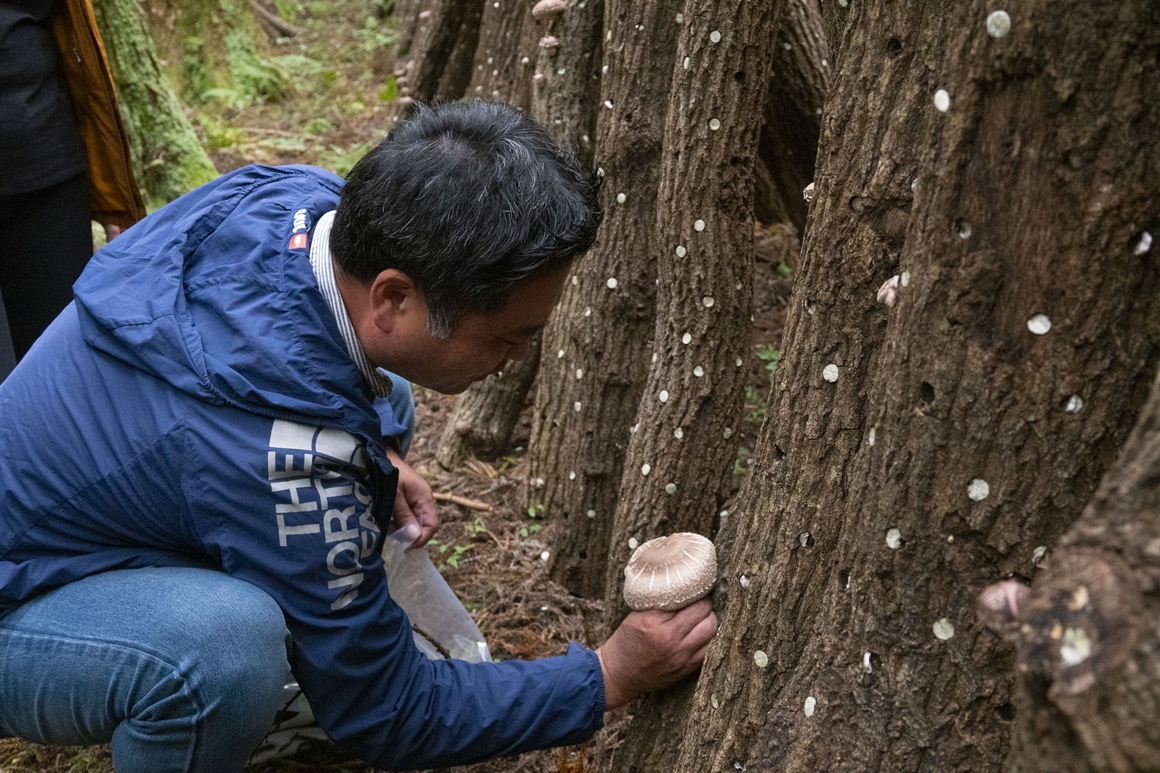 They offer a variety of experiences, such as making shiitake mushroom soap and recipes for shiitake mushroom rice, buckwheat shiitake mushroom pancake, shiitake mushroom pizza, and blanched shiitake mushrooms. Grab the bottom of the shiitake mushroom, pick as you lightly twist it, and put the mushroom with a thick scent in your mouth. You will feel much closer to nature.

▶Address: San 14402, Gasi-ri, Pyosun-myeon
▶Number: 010-4516-8204
Notice

※ The above information was written on 2022-11-03. Please confirm the information prior to your trip.
※ Unauthorized use of the content above (text, photos and videos) is prohibited and subject to copyright by the Jeju Tourism Organization.