본문
Meet the REAL JEJU! "Healing Destination - Summer Edition"
Review

0

Lookup

1,920

Share SNS

0
Meet the REAL JEJU!

"Healing Destination - Summer Edition"

Summer in Jeju is shining blue! There is no better time than now to enjoy the cool sea and valleys and eat tasty dishes. The woods have a sparkling valley, sweet and sour green tangerines complement buckwheat dishes, and a terrifying place holds a great horror experience. Here are some tips for enjoying the real Jeju summer! Let us take a journey along with the summer healing course introduced here. You can enjoy a refreshing summer in Jeju that is unlike anything you have ever experienced before.
Taking in the refreshing scent of the forest
Healing walk along the <Gosalli Forest Trail>
Let's go for a walk in the forest to escape the scorching sun. It is with great pleasure that we introduce the Gosalli Forest Trail, where you can cool off from the summer heat surrounded by its dense shades. The term "Gosalli" refers to the spring and surrounding forest that are a part of the valley, where water flows all year long. As opposed to other inner streams in Jeju that dry up in the absence of rain, this stream receives groundwater from the crevices of the Hallasan bedrock through which it flows.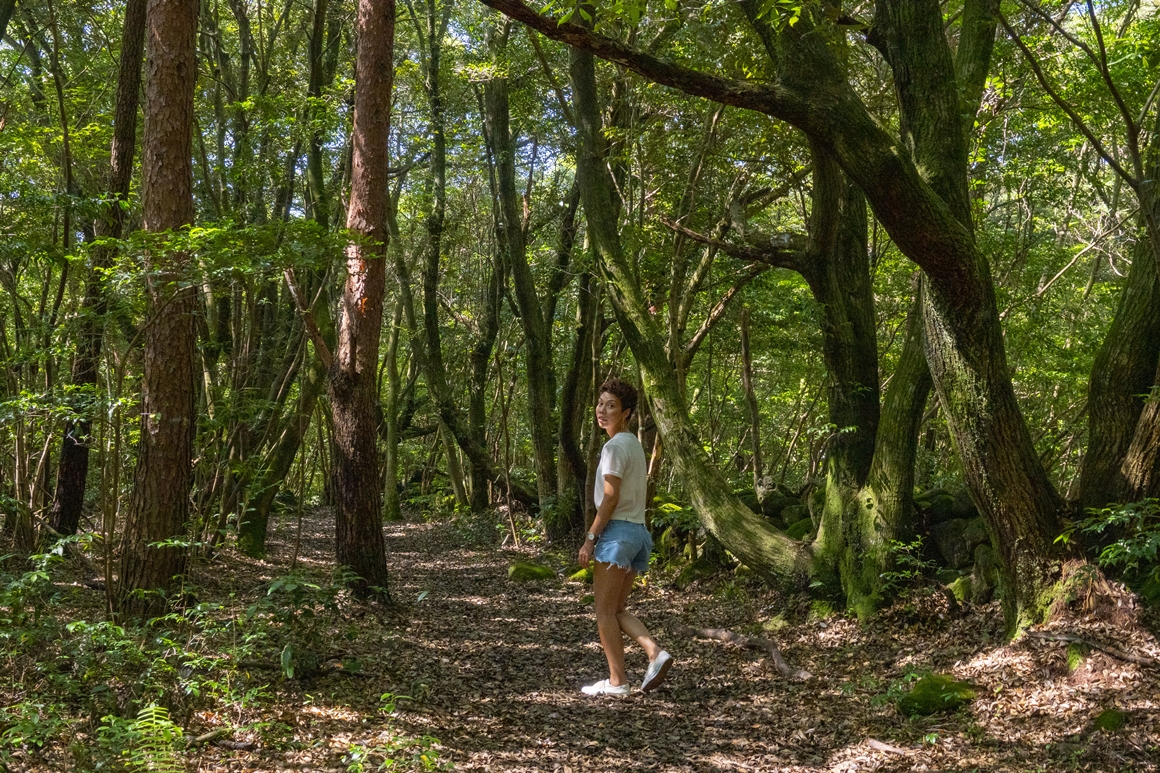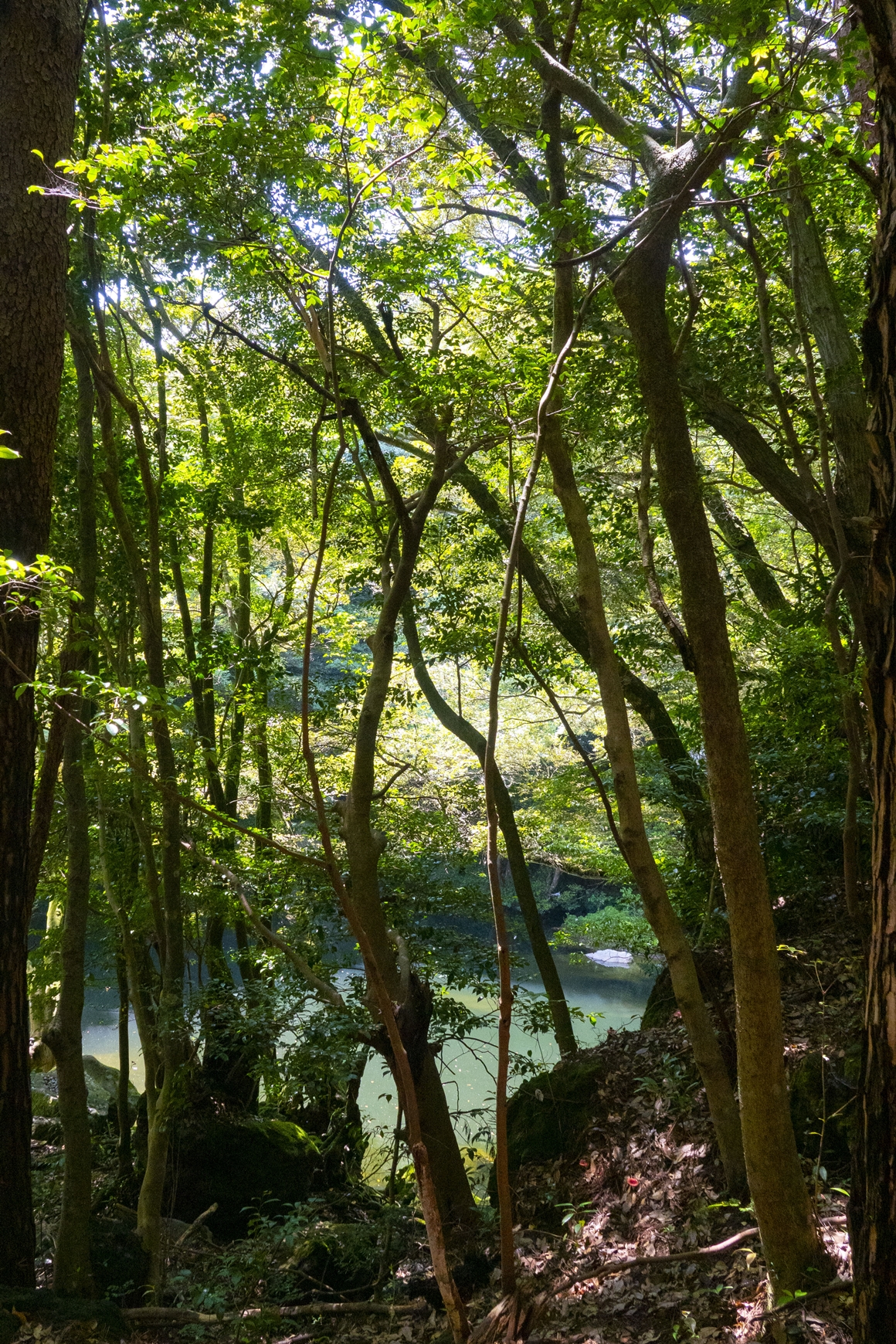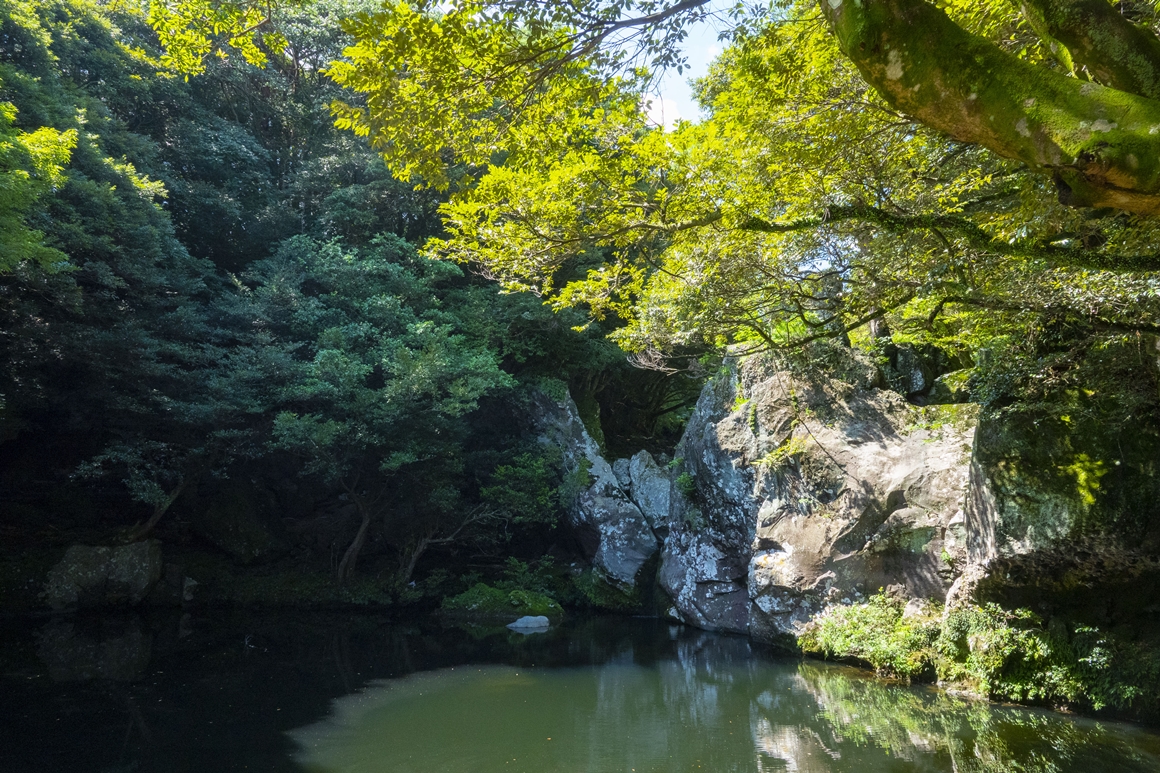 Infused with the charm of Jeju Gotjawal Forest, Gosalli Forest Trail invites you to stroll along the fragrant forest trail as you enjoy the soothing forest scent. Since the place isn't well-known to visiting tourists you can afford to enjoy quite and peaceful strolls. As you walk along the forest path, you will notice that evergreens dominate the temperate forest, along with a variety of plants growing harmoniously together. The fact that it remains untouched by human hands lends it a mysterious appearance.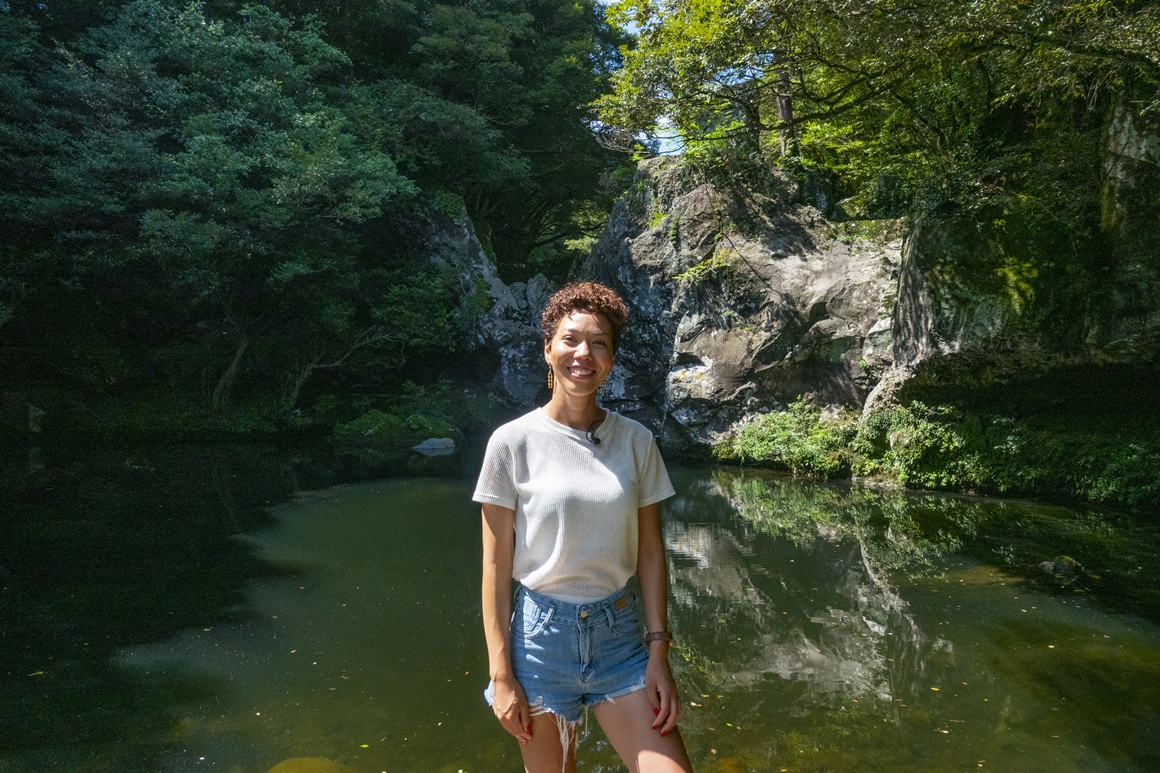 f you walk through the moist nature of Jeju, you will soon be surrounded by a refreshing breeze and the sound of nature. Observe unknown fruits and mushrooms as you walk further past the stone-built Jatseong. Then you'll hear the clear and cool sound of water. Gosalli Forest Trail can be explored by following the sound of the water. Known for its stagnant water all year round, Sookgoe is an essential photo spot on the Gosali forest road. The sparkling water path through the forest is beautiful, and after heavy rain, a small waterfall can be seen cascading down.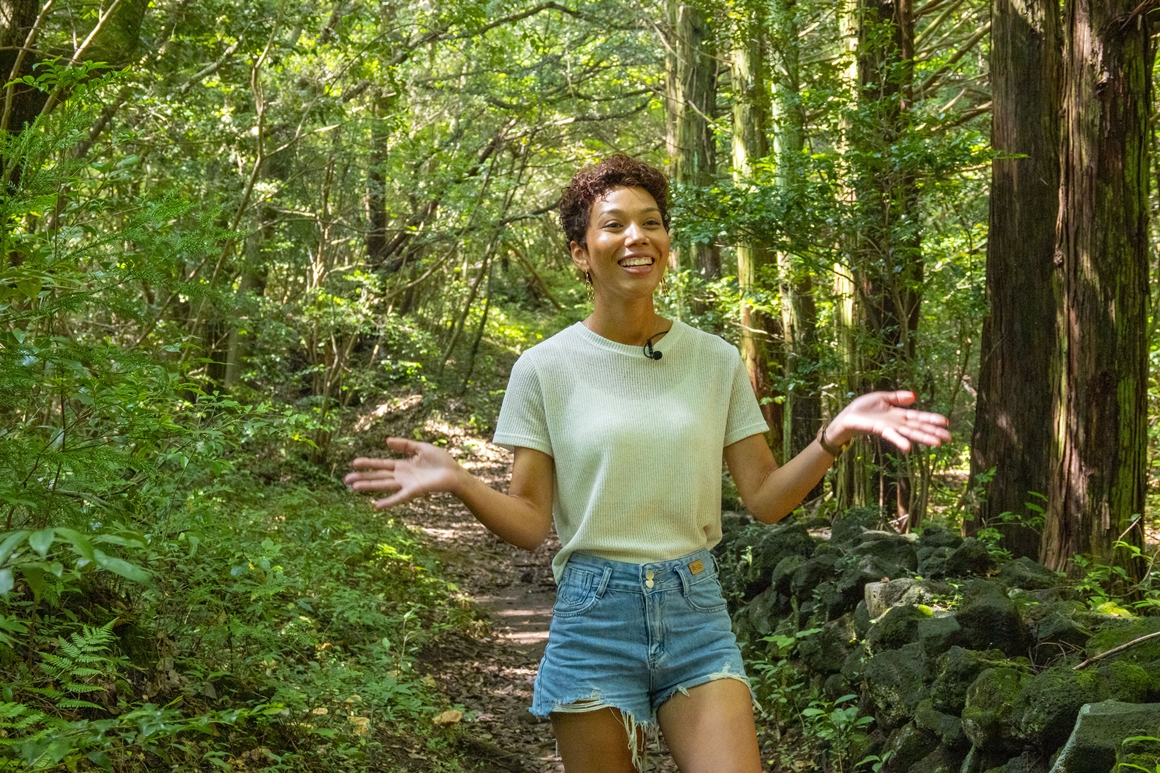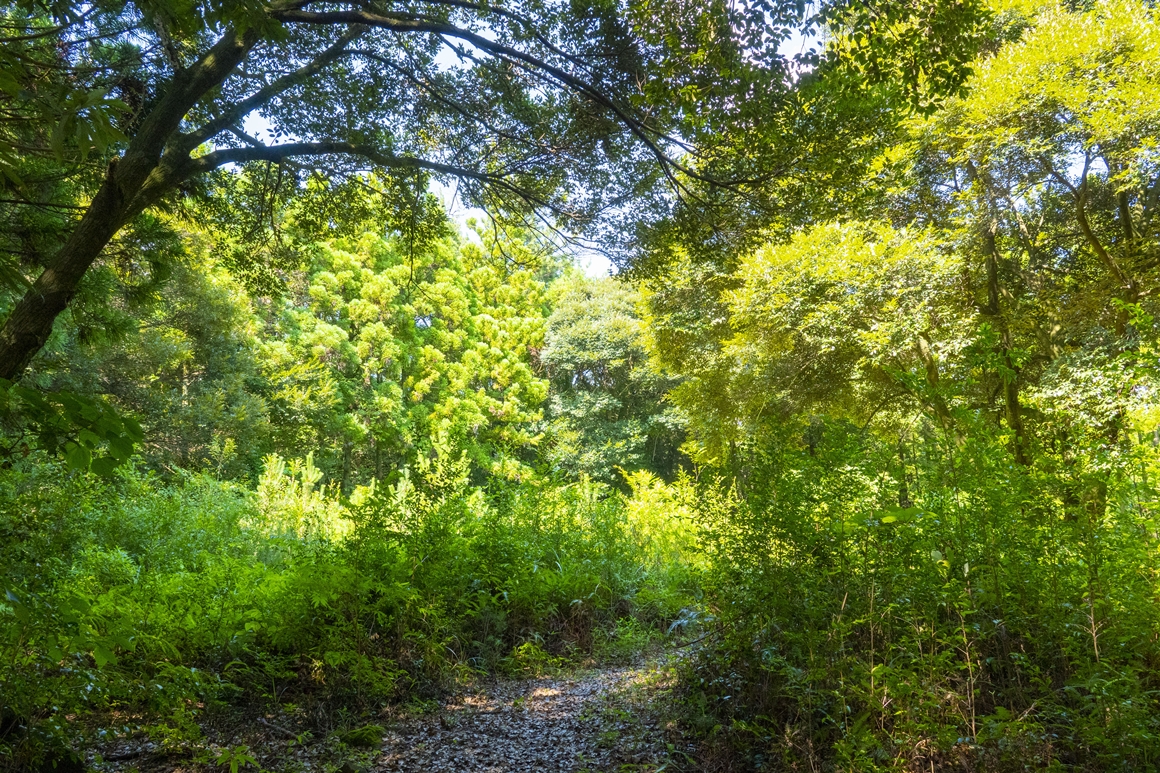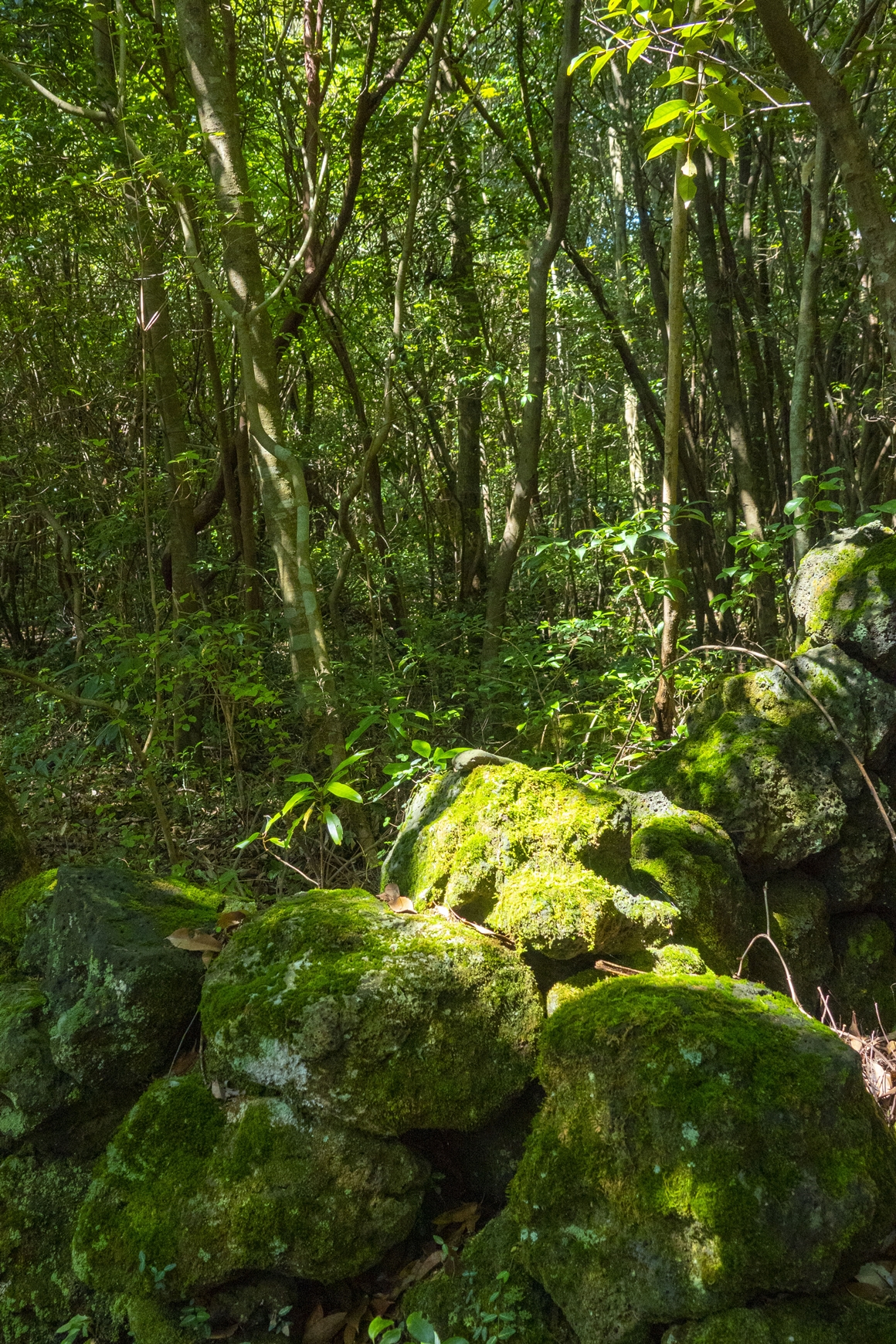 ou will need about two hours to complete the Gosalli Forest Trail, which is about 2.1 km long. The forest path can either be followed until the end and then returned to, or you can continue up until you reach Sookgoe. Due to its one-way nature, the forest path is relatively easy to find. If it is still difficult, follow the blue and purple strings.
▸ Address: 54-2 San, Haye-ri, Namwon-eup, Seogwipo-si
▸ Parking: Use the Seondeoksa Temple open parking lot
▸ Please note: After parking, you must cross the road to the entrance
Enjoyed the fresh scent of tangerines,
<The Polgae Cooperative Alliance>
Now that you have enjoyed the fresh scent of tangerines and followed a pleasant walk along the cool forest path, Polgae Cooperative Alliance are you ready for an experience that combines sweet and sour flavors?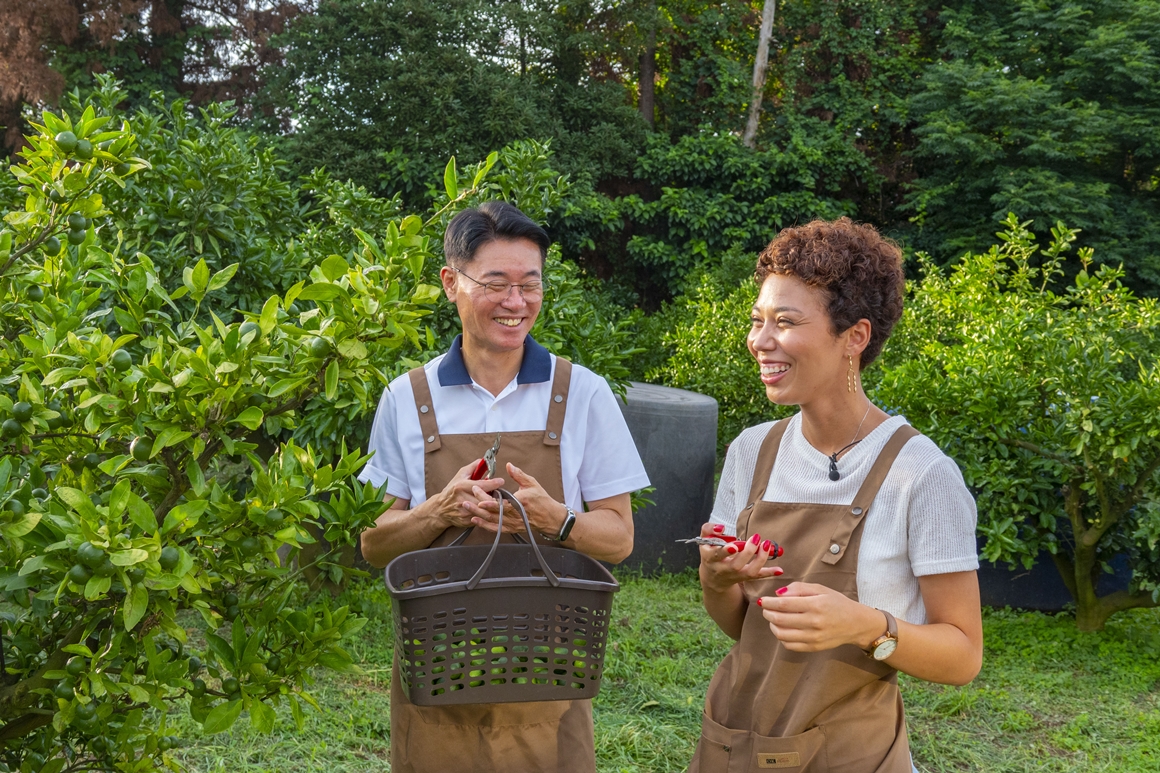 Visit the Polgae Cooperative Alliance, which offers an experience that can only be enjoyed during the summer months on Jeju. A fertile soil and delicious tangerines are among the many attractions of Namwon, Seogwipo, where the Polgae Cooperative Alliance is located.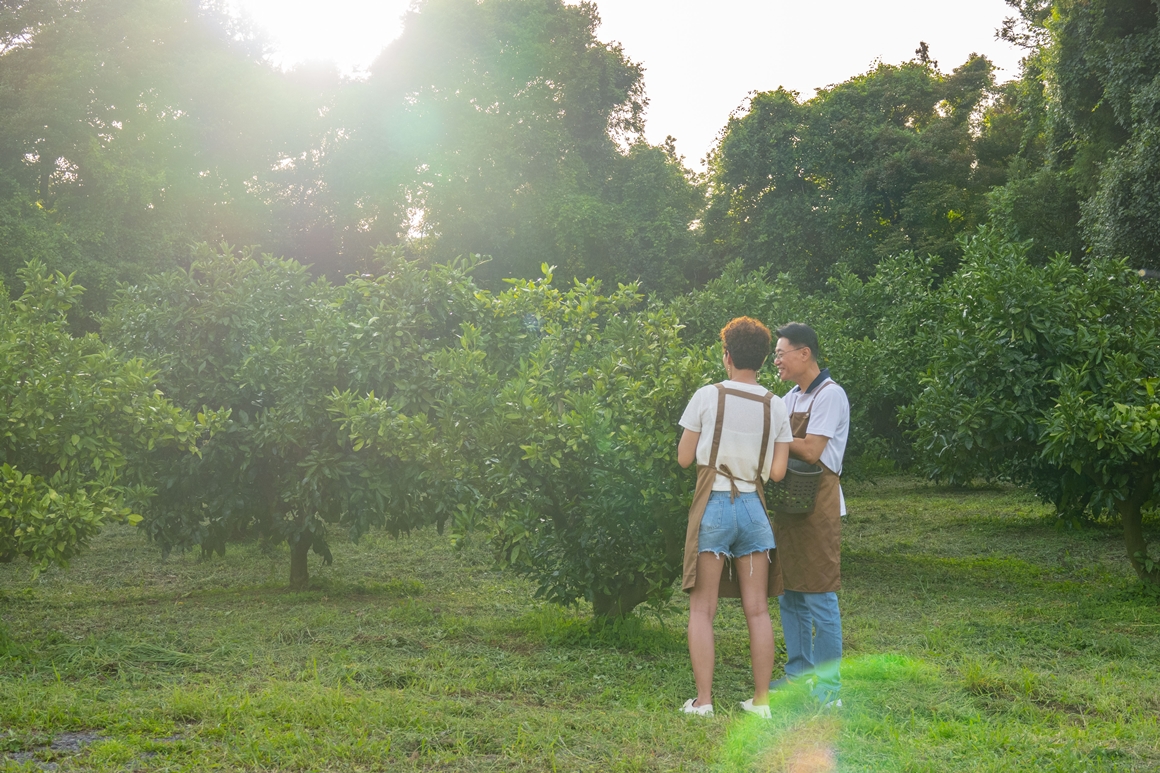 Green tangerines refer to tangerines shipped by Jeju Island in time for the spring season. They are characterized by their green color, which provides a refreshing experience. In light of the fact that green tangerines can only be purchased during the current season, it is a unique treat. A major advantage of the Polgae Cooperative Alliance is that you have the opportunity to harvest green tangerines yourself. When you let go of your busy mind and enjoy Jeju's natural beauty at a leisurely pace, it will be a treat to share and enjoy.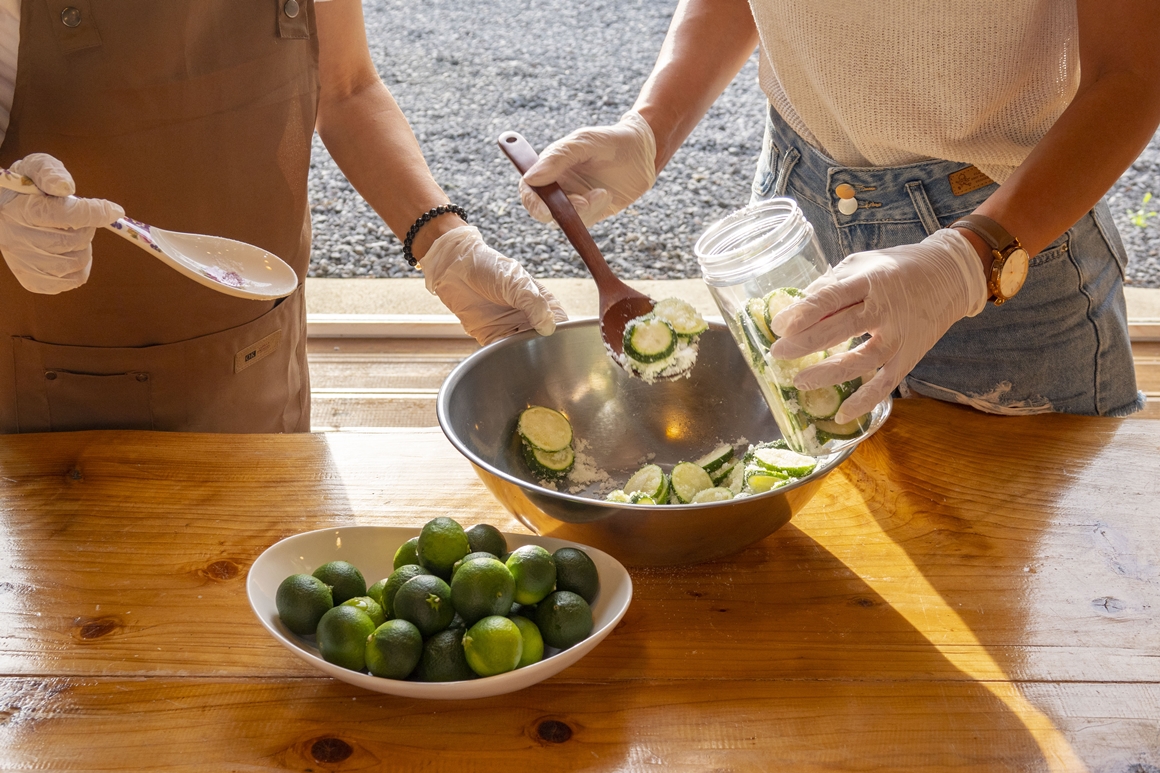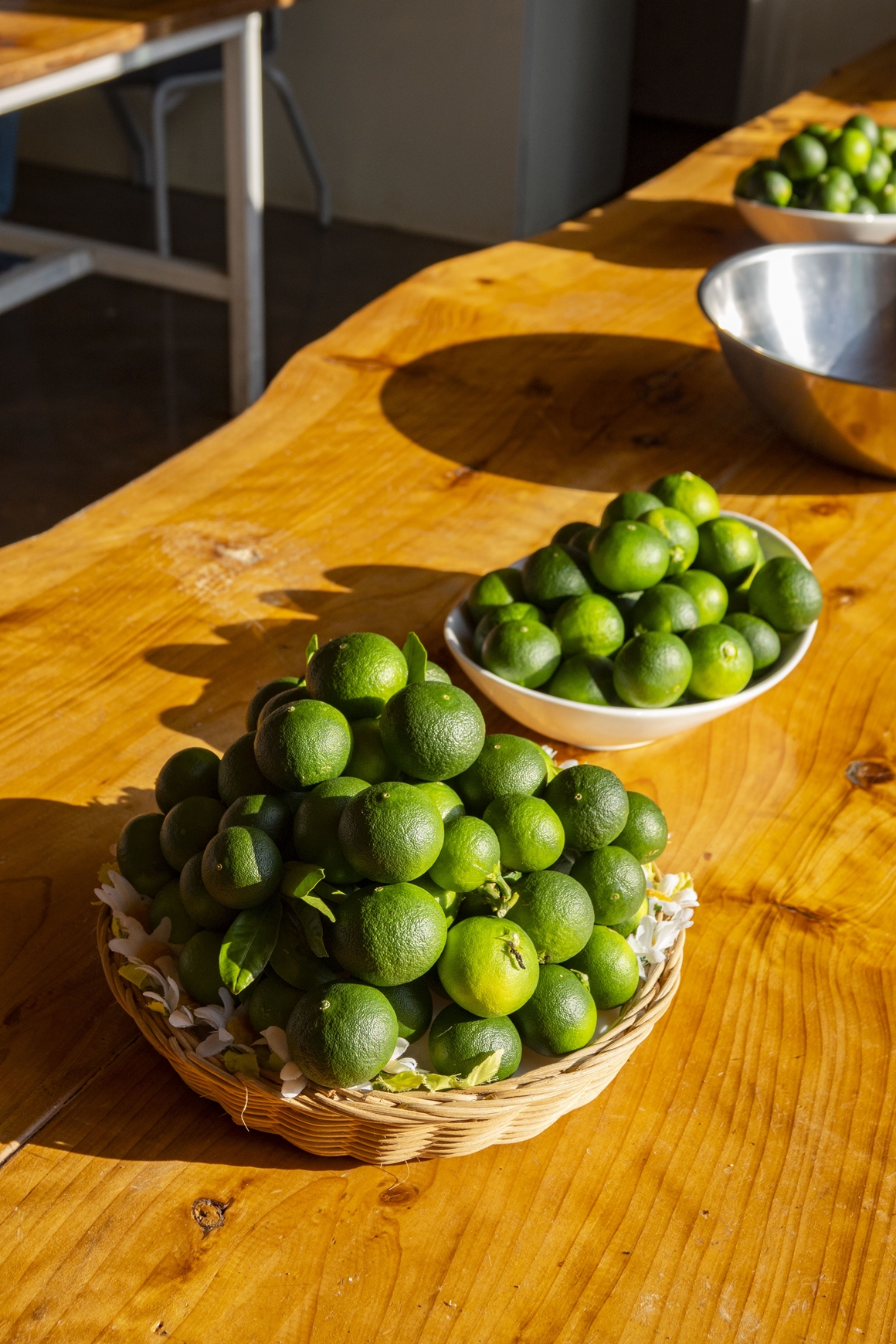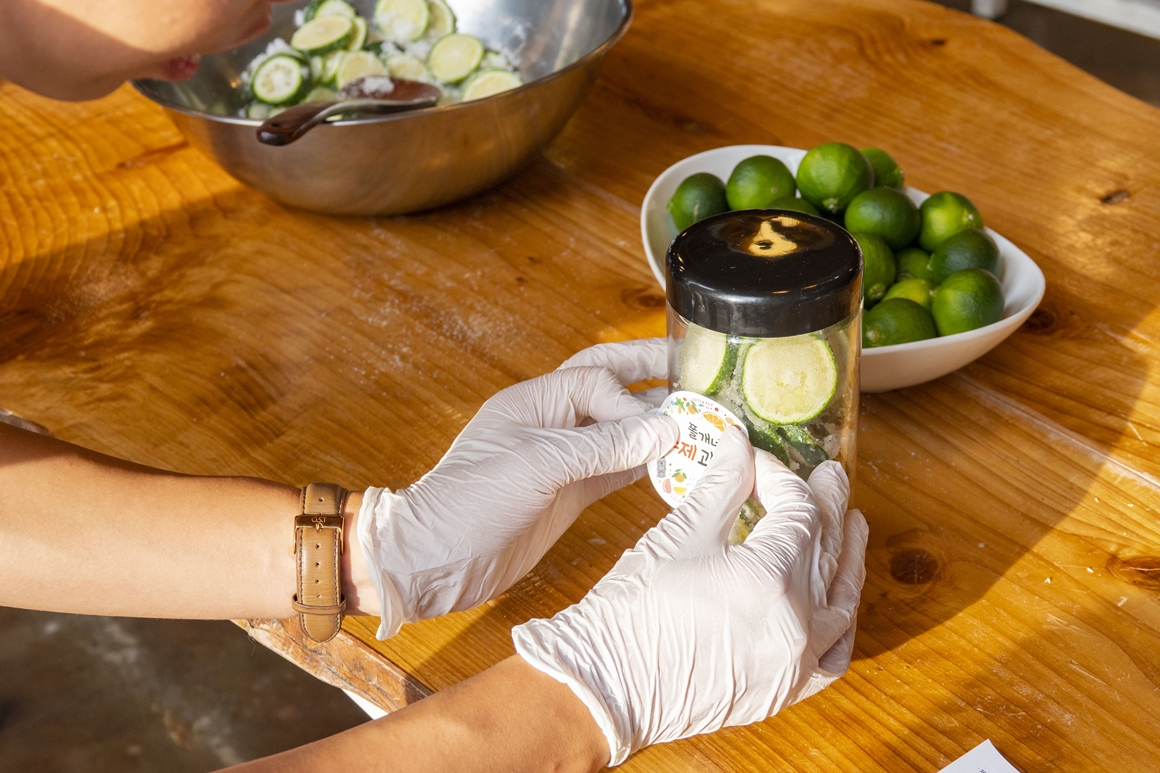 It is imperative to clean green tangerines with their peels before they are soaked. A tangerine is sliced thinly using its round shape, and as the kernel is revealed, the fresh green tangerine smell spreads throughout the room. Put sugar in a bowl and stir it until it begins to dissolve. After it has dissolved to some degree, enjoy the fresh and sweet scent.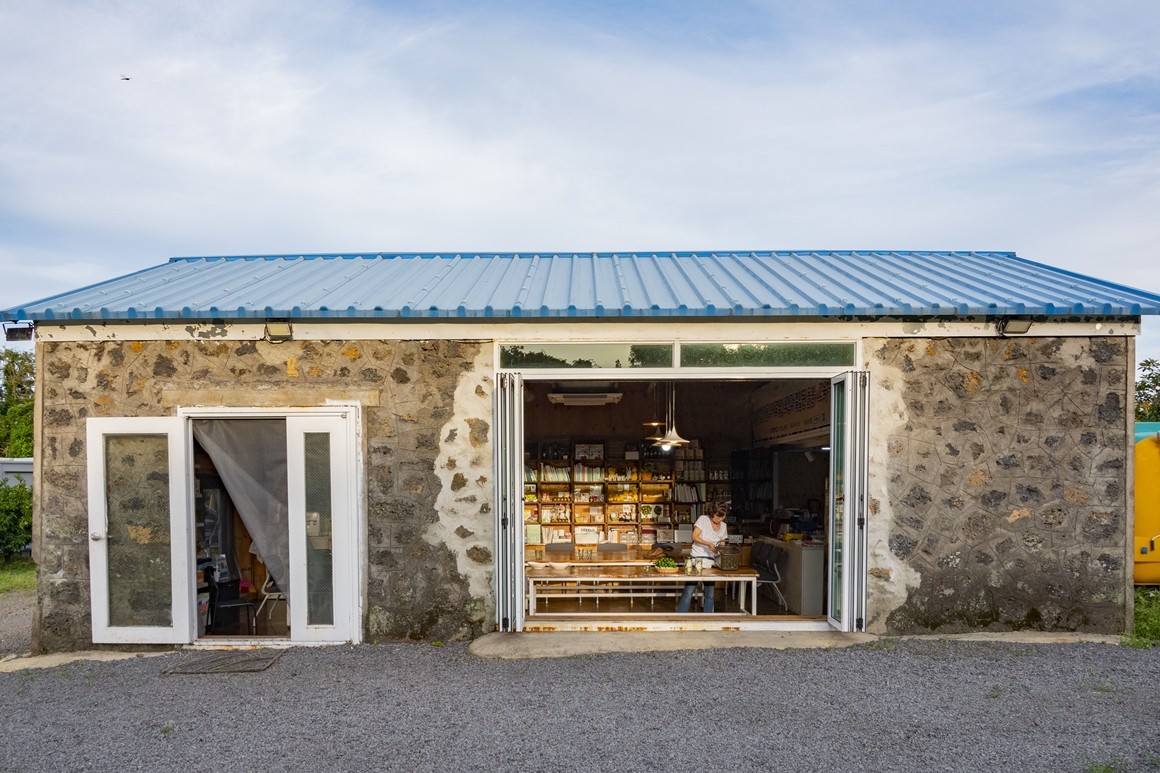 Polgae Cooperative Alliance offers an unforgettable experience where you can enjoy memories of your trip to Jeju while tasting sweet and sour green tangerine juice and viewing awesome pictures.
▸ Address: 38-51, Wonnimseo-ro 326beon-gil, Namwon-eup, Seogwipo-si
▸ Business hours: 08:00 - 19:00 every day
▸ Reservation: Polgae Cooperative Alliance website (http://polgae.com)
▸ Contact us: 0507-1417-0414
The best ingredient to wash away the heat of the summer
<In the buckwheat field>
Can we visit the buckwheat field in Gasi-ri so we can taste noodles made from buckwheat, the best ingredient to wash away the heat of the summer? The consumption of cold food in the summer is beneficial, however it is better to choose cold food that actually lowers body temperature.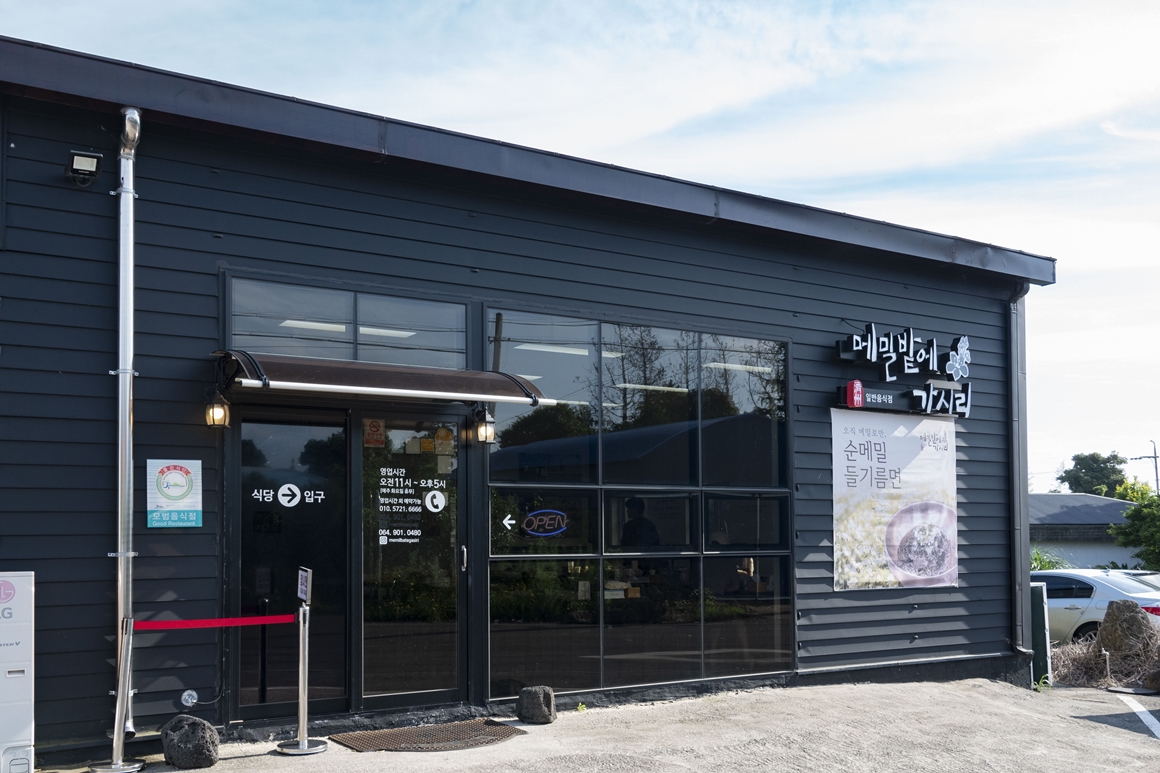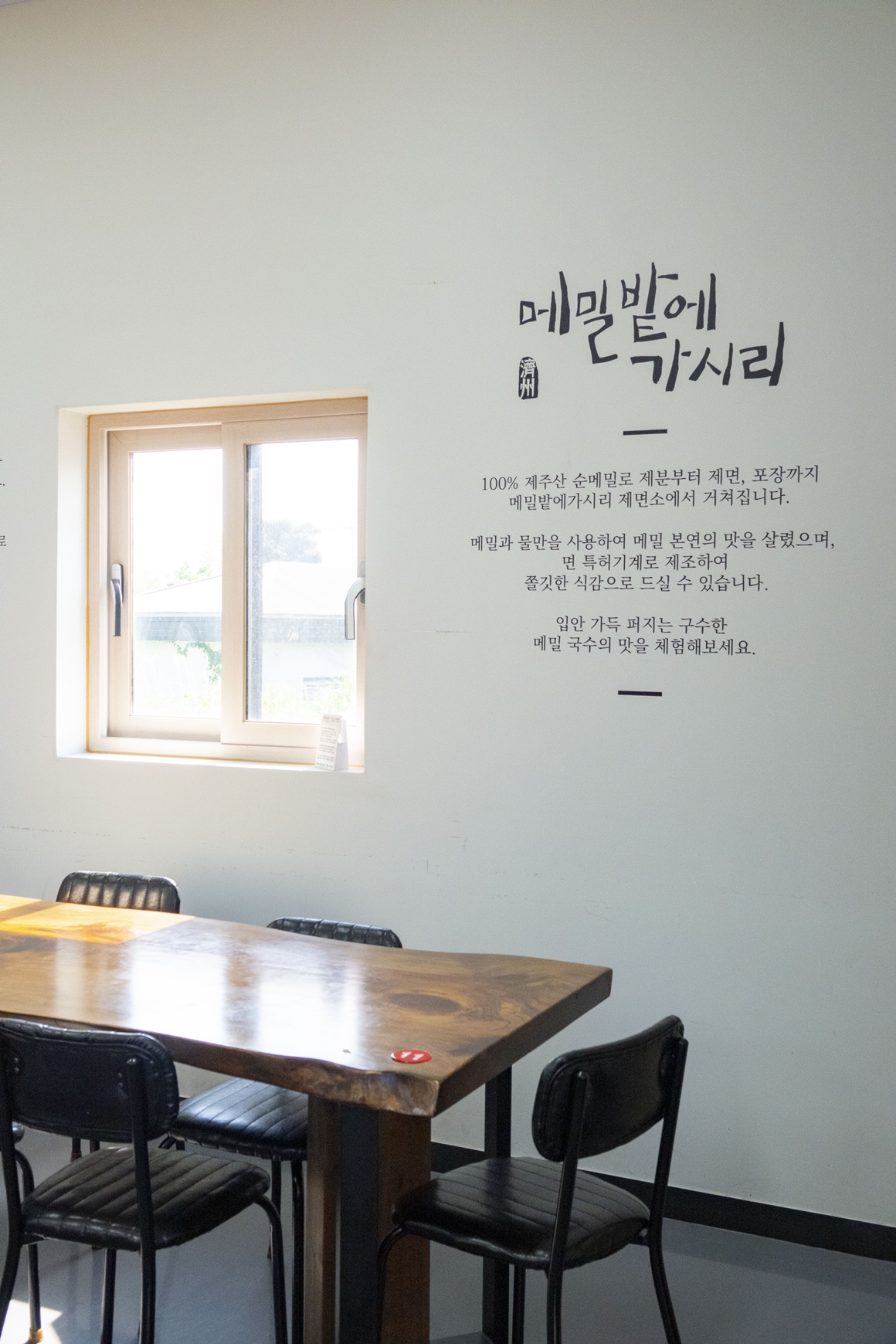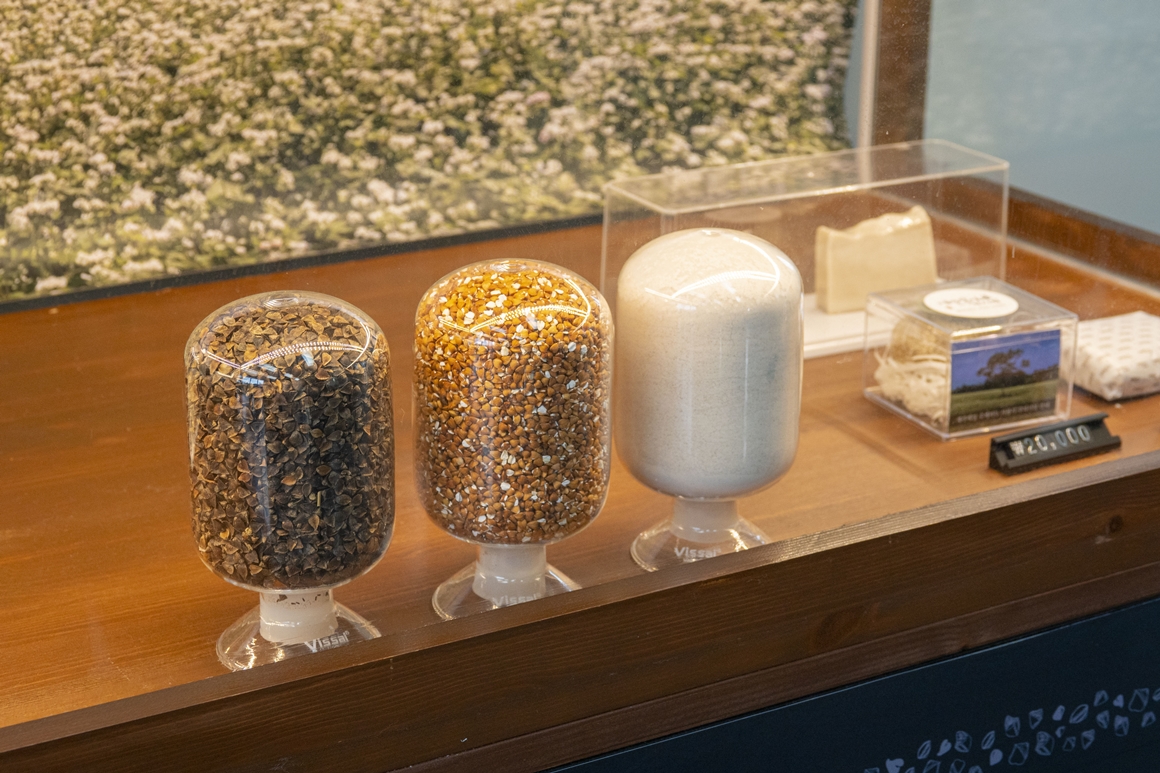 The Gasi-ri Noodle House is located in a buckwheat field, where they make 100% pure buckwheat noodles, kneaded only with water and buckwheat, to maintain the unique light and savory flavor of buckwheat. As well as buckwheat perilla oil noodles, buckwheat bibim noodles, and buckwheat soba, there are also side dishes such as buchujeon, dumplings, and tteokgalbi, as well as other menus such as mandarin makgeolli, so it is pleasant to sample these dishes with friends and family.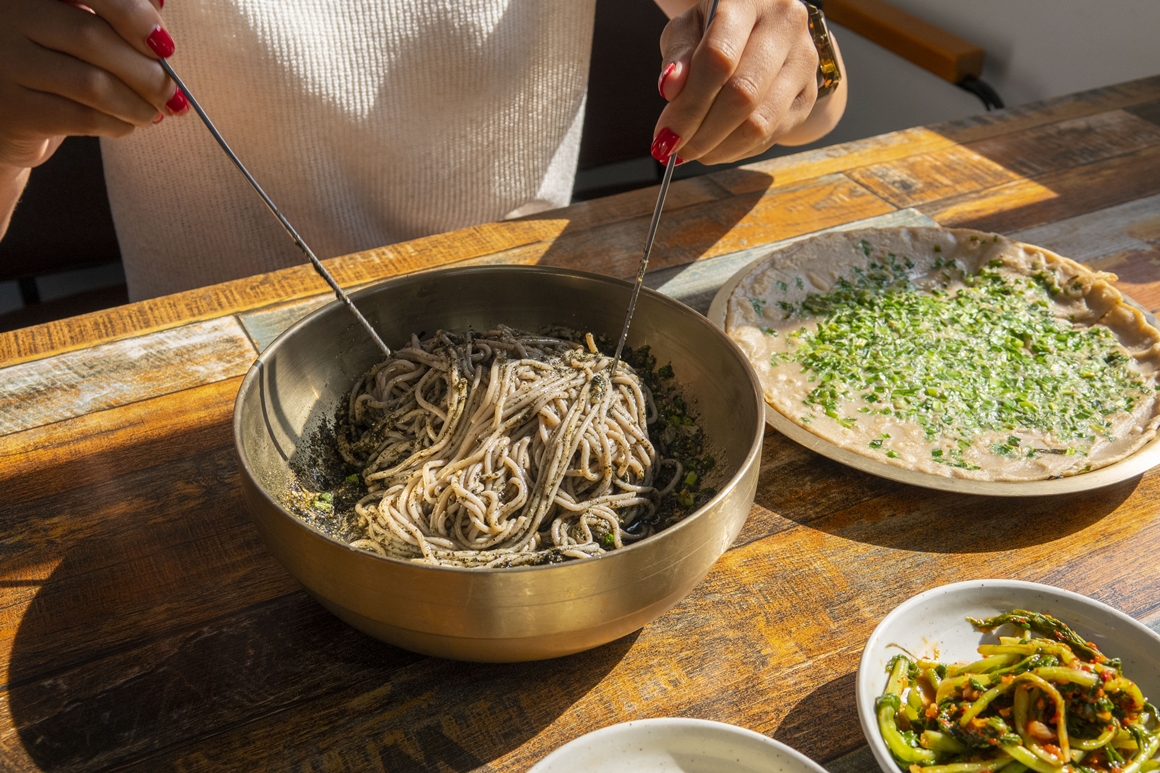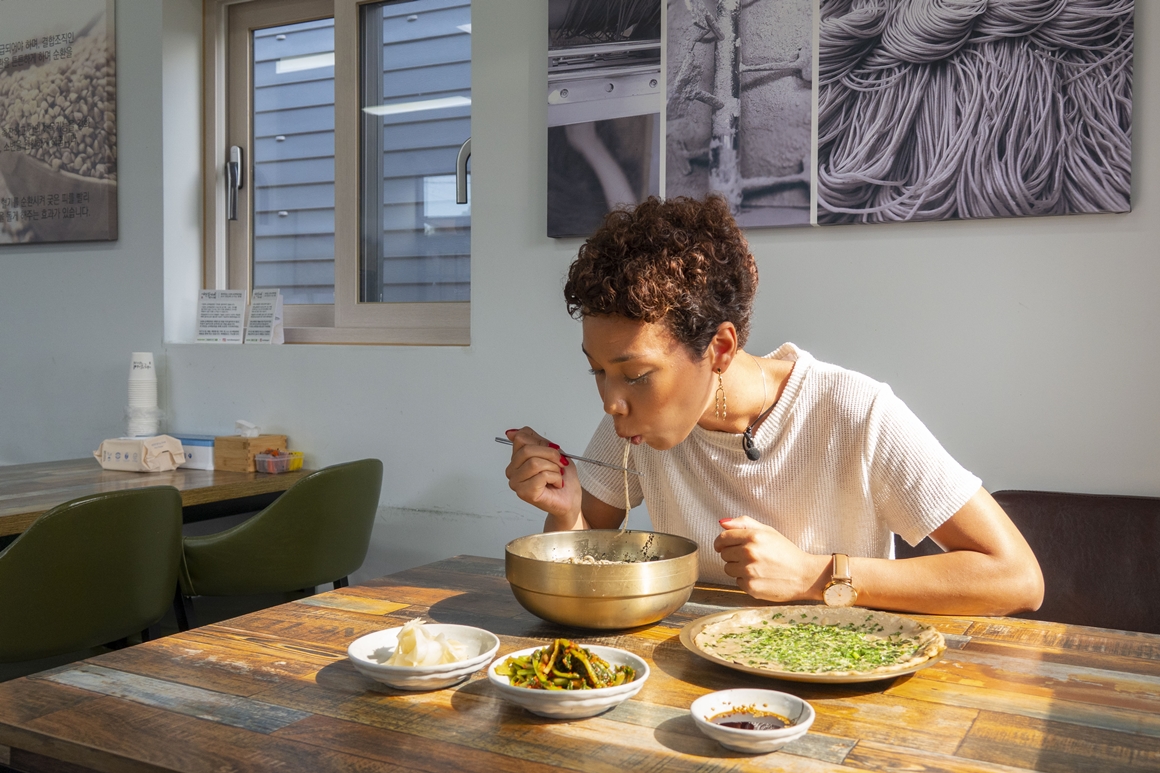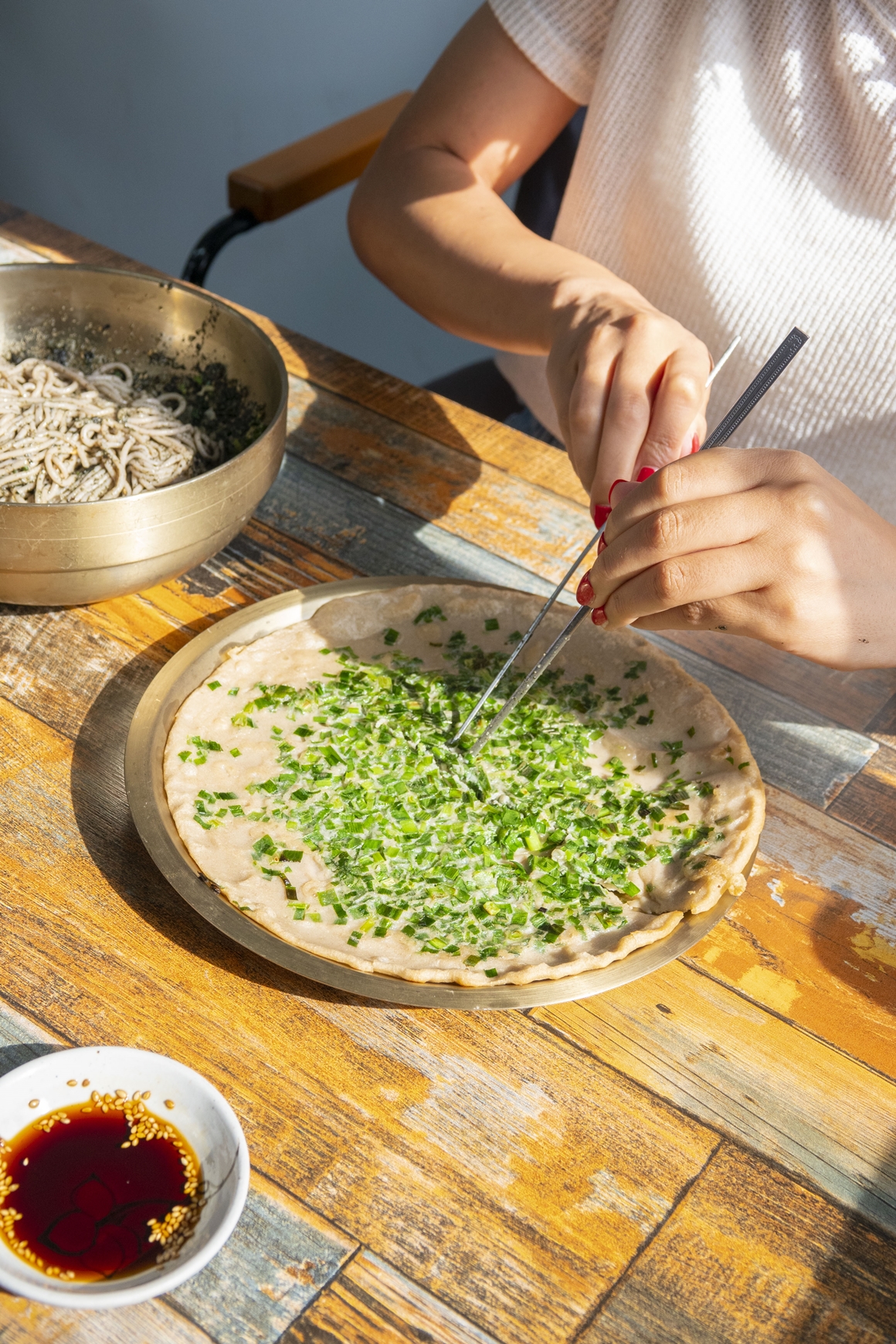 You may find that it appears bland, but as you chew, you will begin to taste the savory flavor. If you prefer a boring and savory taste, we recommend perilla oil noodles, as well as bibim noodles if you prefer a spicy taste and soba if you prefer a well-seasoned broth.
▸ Address: 423, Gasi-ro, Pyoseon-myeon, Seogwipo-si
▸ Business hours: 11:00 to 17:00 (Closed every Tuesday)
▸ Contact us: 0507-1330-0480
▸ Parking: Private parking space for the store
The Horror of Ghost Zone, Haunting summer night experience,
<Gwimong Island of Jeju Folk Village>
The Jeju Folk Village is the perfect place to experience the traditional way of beating the summer heat in Korea, horror experience. This tour of Gwimong Island of Jeju Folk Village, which begins at 6:30 pm after the sun sets, is full of powerful experiences that will make you feel shivers up and down your spine.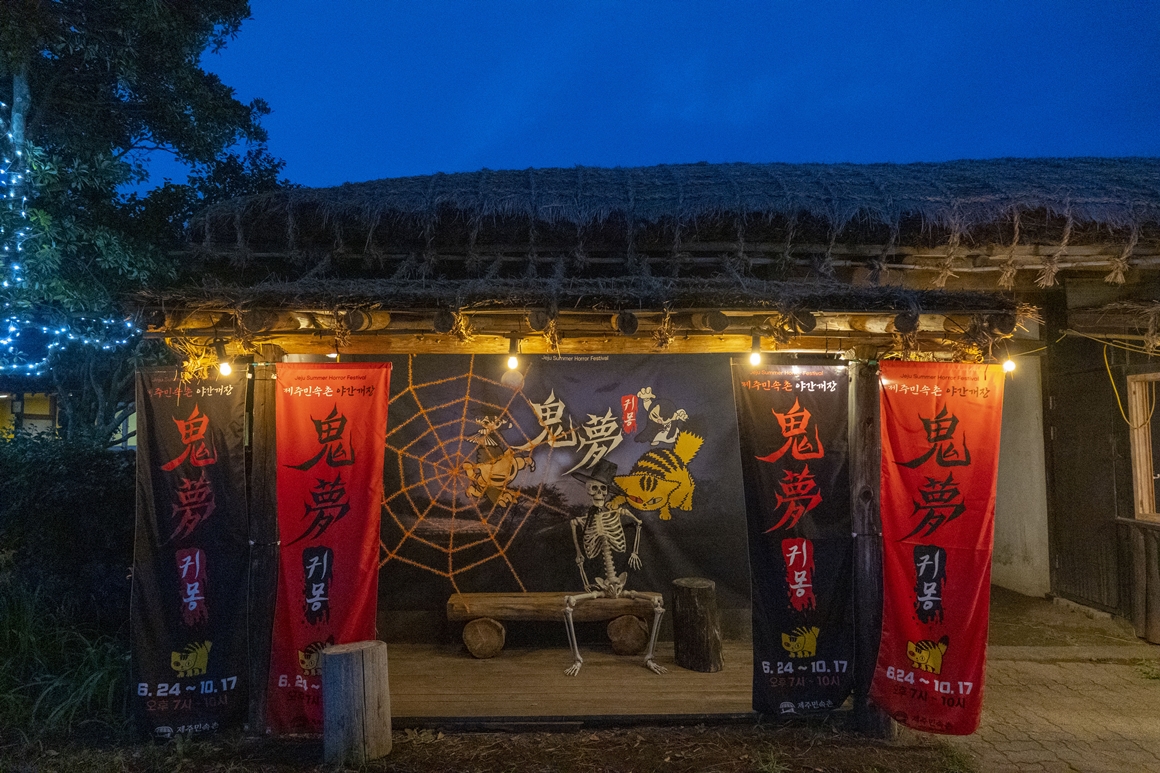 As Gwimong is divided into a ghost zone and a safe zone, the ghost zone is where you will experience the greatest amount of horror. Spaces such as shrines, fishing villages, middle-mountain villages, and mountain villages were individually decorated to evoke a sense of fear.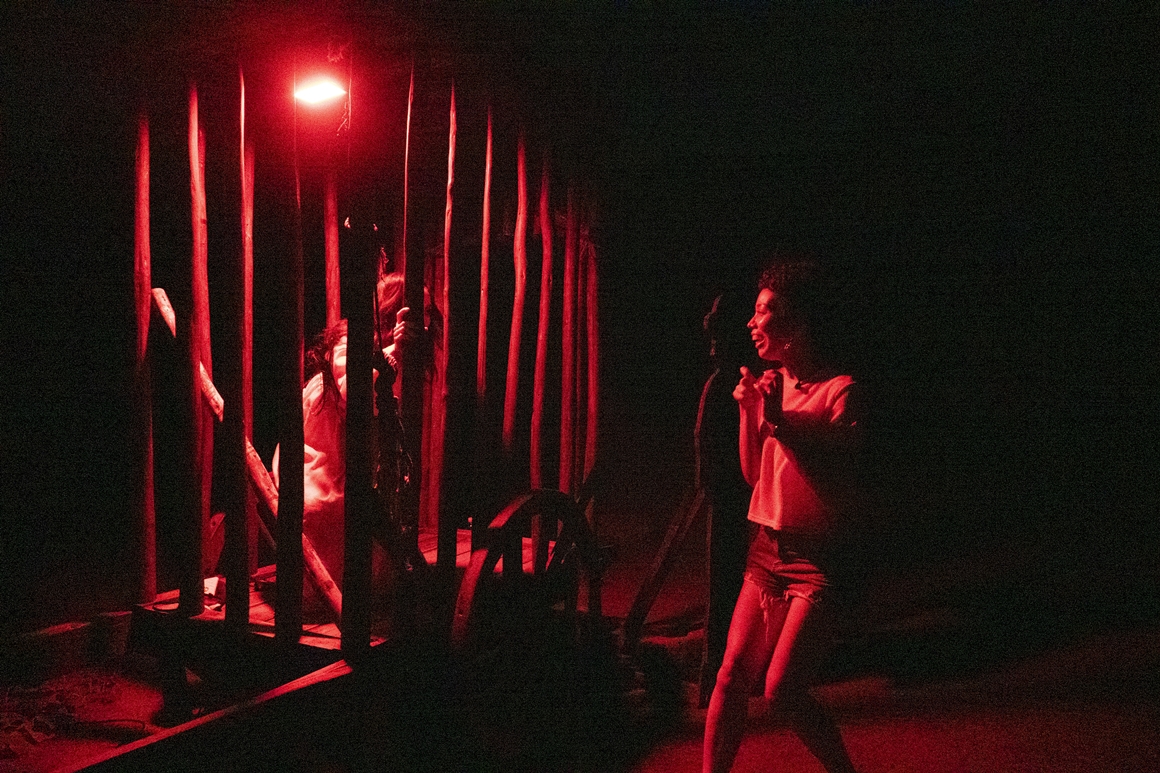 Particularly, this year's Gwimong features a special effect that enhances the horror experience even further. In order to ensure the safety of all visitors, entry is limited to those who are at least 7 years old. The elderly, pregnant women, and individuals with heart diseases are also prohibited from entering. The Safe zone is designed to be enjoyed by people of all ages, as well as featuring performances and media art based on ghost stories. An innovative night market with a horror theme provides a variety of food and entertainment options.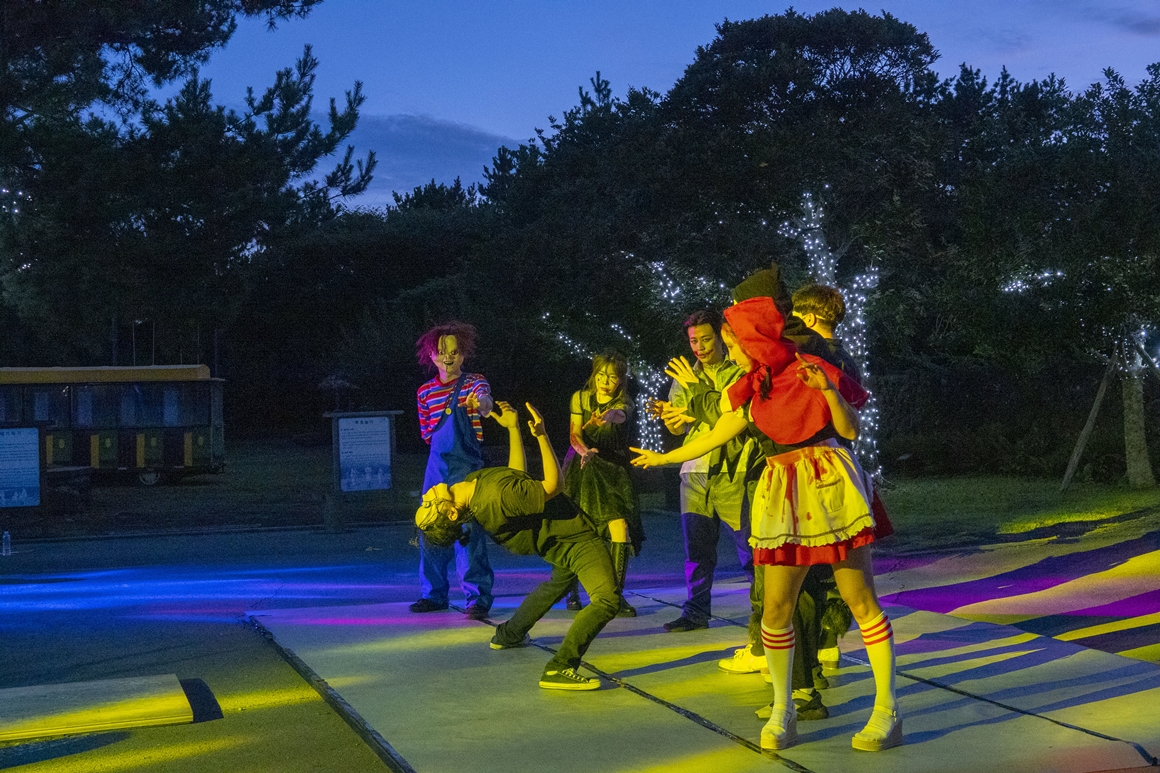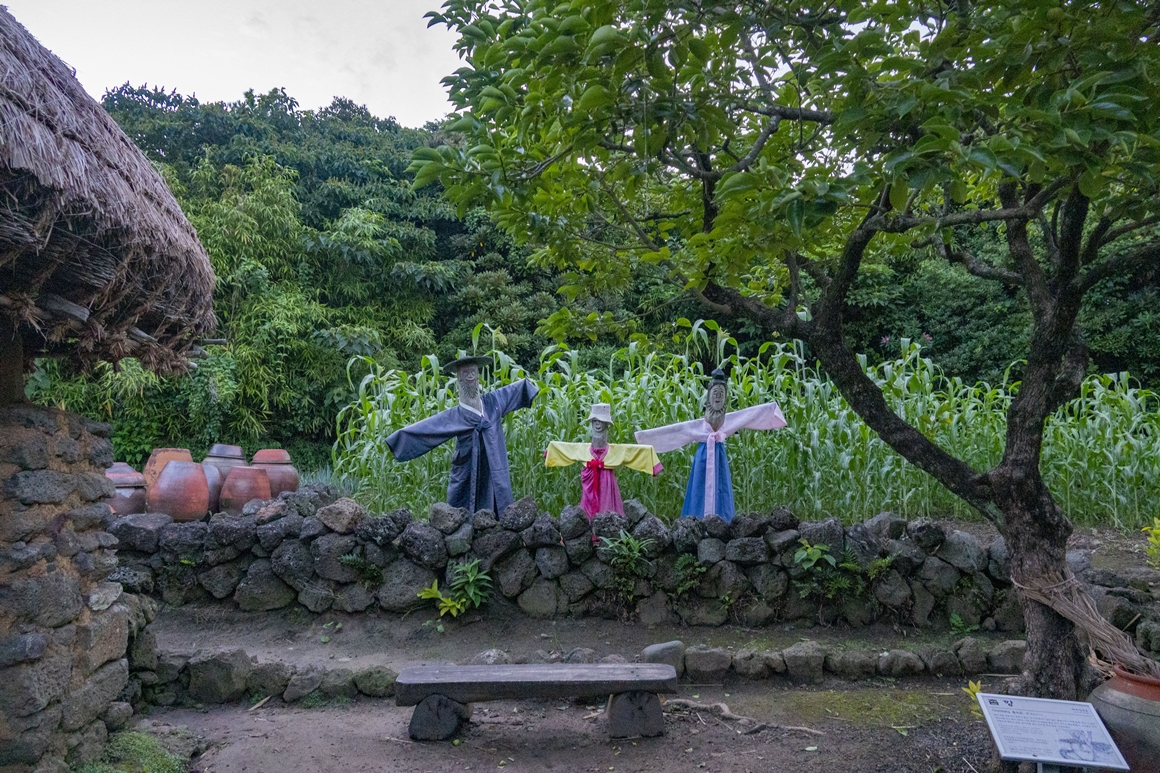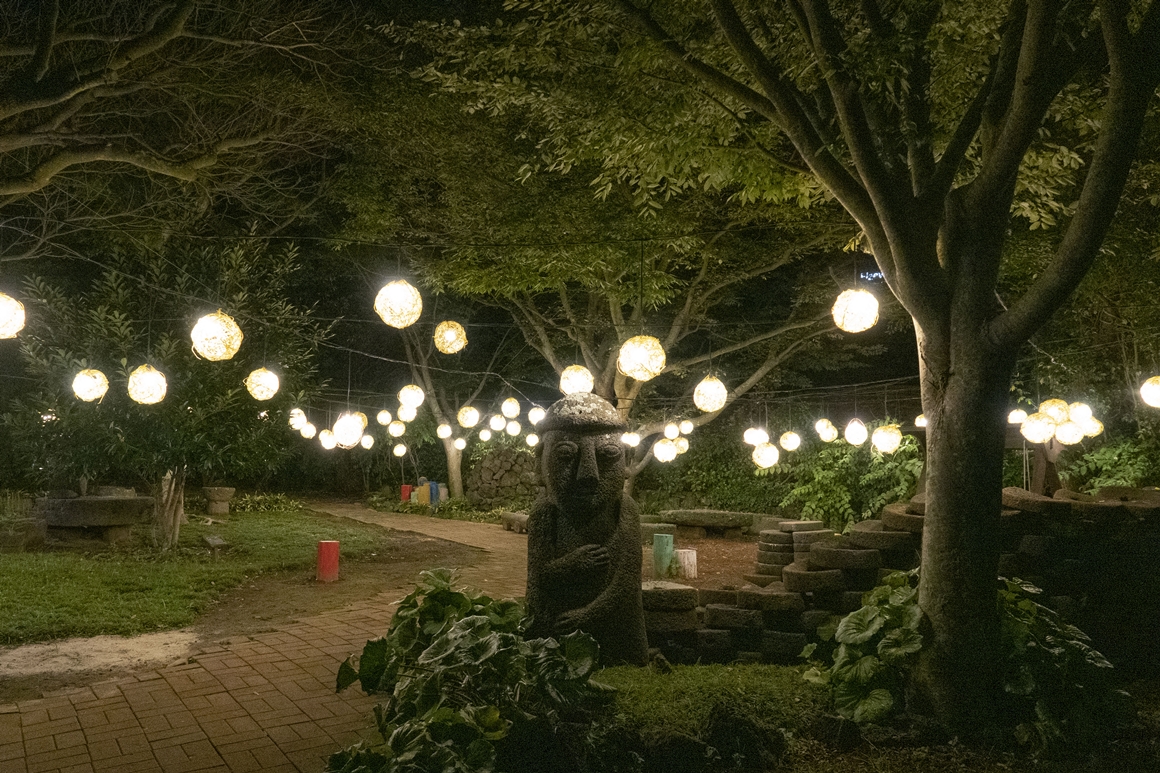 Visit Jeju Folk Village for the most Jeju-like horror experience. Visit the place where wandering ghosts at Jeju Folk Village appear at night, making the heat of summer nights disappear at once.
▸ Address: 631-34, Minsokhaean-ro, Pyoseon-myeon, Seogwipo-si
▸ Opening hours: July 1 to October 17 (18:30 ~ 22:00)
▸ Fee: Adults 11,000 won Youth 8,000 won Children (4 years old to elementary school students) 7,000 won
▸ Contact us: 064-787-4501
Notice

※ The above information was written on 2022-08-01. Please confirm the information prior to your trip.
※ Unauthorized use of the content above (text, photos and videos) is prohibited and subject to copyright by the Jeju Tourism Organization.