본문
Renting a Car
Review

0

Lookup

196

Share SNS

0
RENTING A CAR IN JEJU

One of the first things you'll be thinking about when planning out a vacation is the mode of transportation. If you're looking to explore the island at your own pace and reach places where buses don't go or taxis are scarce, then renting a car may be the best option for you. In this article, we'll be talking about everything you need to know about renting a car on Jeju Island while giving you some pro tips along the way.
DRIVING LEGALLY IN SOUTH KOREA
The first thing you need to do if you're going to rent a car is to make sure that you will be able to legally drive in South Korea. Korea's laws allow tourists to drive with a valid International Driver's Permit (IDP) from countries which are members of the Geneva Agreement, and the Vienna Agreement. It must be issued in your home country and must be valid throughout the entire rental period, so if it expires during your trip, make sure to renew it before you travel.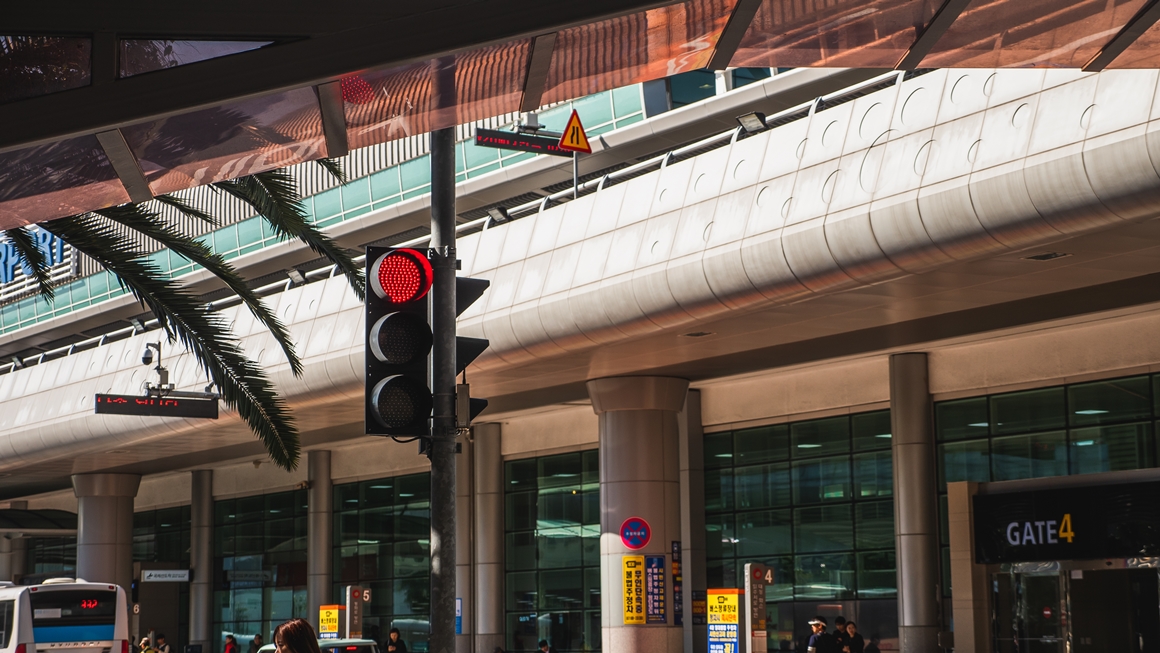 Rental companies have their own policies when it comes to international licenses, but in general, you must be at least 21 years of age with at least 1 year of driving experience to rent a car. Some companies require you to be at least 26 years of age with a minimum of 3 years of driving experience to drive larger vehicles. You will be asked to produce your IDP and passport, and possibly your local license, so make sure to pack all three. Please also be aware that the driver's seat in South Korea is located on the left side of the car, and cars drive on the right side of the road.
The best way to rent a car is to do it online prior to your trip. While it is possible to get a car upon your arrival (rental booths are located on the 1st floor of Arrivals by Gate 2), it is not recommended. Renting a car at the airport will most likely result in higher rates, but more than that, there may be a chance that companies will be sold out. The Seoul Gimpo to Jeju is the busiest air route in the world, and many of the tourists who come to the island opt to rent a car during their stay. So, the tip here is to rent your vehicle far in advance of your trip.

Depending on the travel season and holidays, your rates will differ and vehicle availability may be an issue. A typical daily rate for a standard-sized car (Hyundai Sonata, Kia K5) is about ₩90,000 ($76 USD) and can reach upwards of ₩130,000 ($110 USD) during peak seasons. For a helpful video about everything you need to know about renting a car, check out "How to Rent a Car and Drive in Jeju, Korea" on our Visit Jeju Global YouTube channel.
PEAK TRAVEL SEASONS IN JEJU
The typical high seasons for travel to Jeju Island occur during the summer, as well as the two major Korean holidays: Lunar New Year (January/February) and Chuseok (September/October). The dates for these holidays change every year according to the Lunar calendar.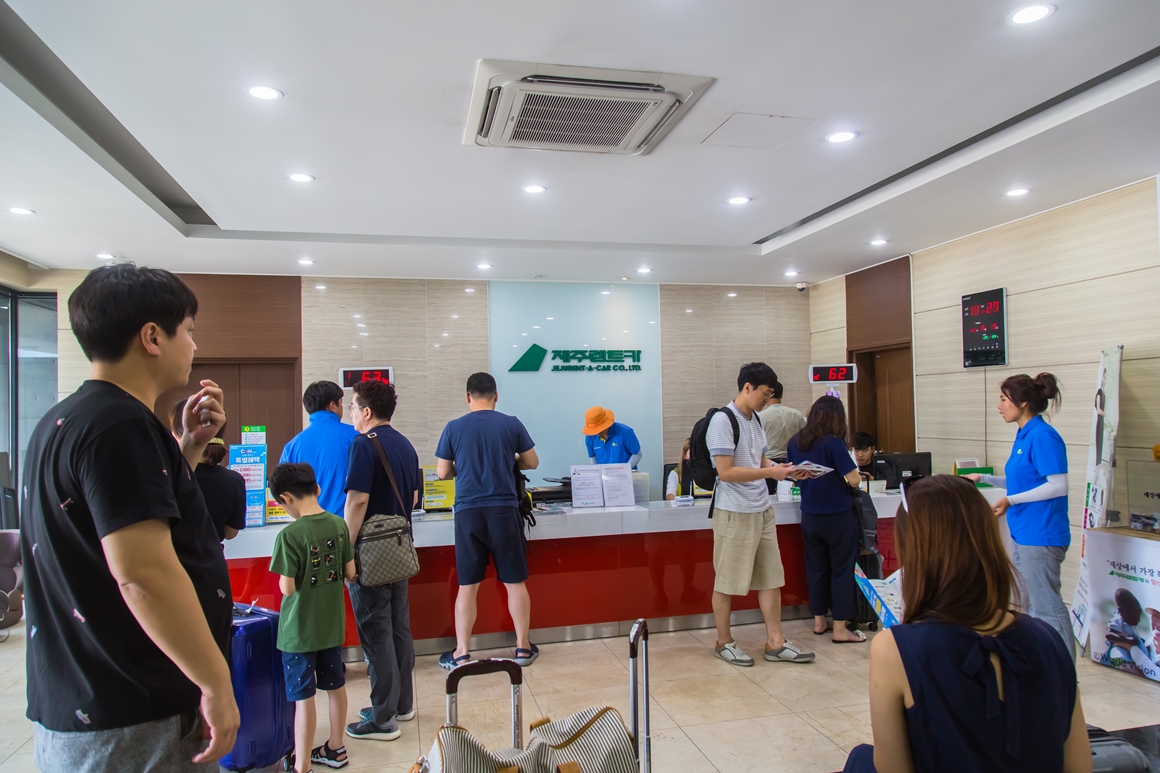 RENTING AN ELECTRIC VEHICLE
If fuel cost and eco-friendliness are concerns for you, then renting an EV may be exactly what you want. There are plenty of charging stations around, and most of the attractions you visit will likely have one on-site. The cost per kWh ranges from ₩290 ($0.24 USD) upwards to the ₩400 ($0.34 USD) range, so considering that the Hyundai Kona and Kia Niro have battery capacities of 64kWh, a full charge will cost about ₩19,200 ($16 USD). Both cars can drive over 600km on a single charge (the circumference of Jeju Island is roughly 200km), making EVs very cost-effective. For more information, check out our video, "Reasons to Rent EVs in Jeju" on the Visit Jeju Global YouTube channel!
PICKING UP YOUR RENTAL CAR
All rental companies are located off-site, so you will be offered a free shuttle to the rental location. The shuttle bus terminal is located a short walk from Gate 5 of the Arrivals floor (1st floor). If you need help, there is an information desk inside the terminal building with attendants who will assist you. The ride will take anywhere from 5 to 15 minutes, depending on your rental company.
RENTAL CAR PICK-UP PROCESS
Once you arrive at the rental lot, the rental company will process your paperwork, at which point you will be asked if you want to purchase extra insurance. You are given basic general coverage with your rental, but if you want to ensure that you are fully covered, you can purchase that at this time. They will also ask you to take pictures of the exterior of the car. This is common practice in Korea, and it's to make sure that you record any damages to the car so you don't get charged for it afterward.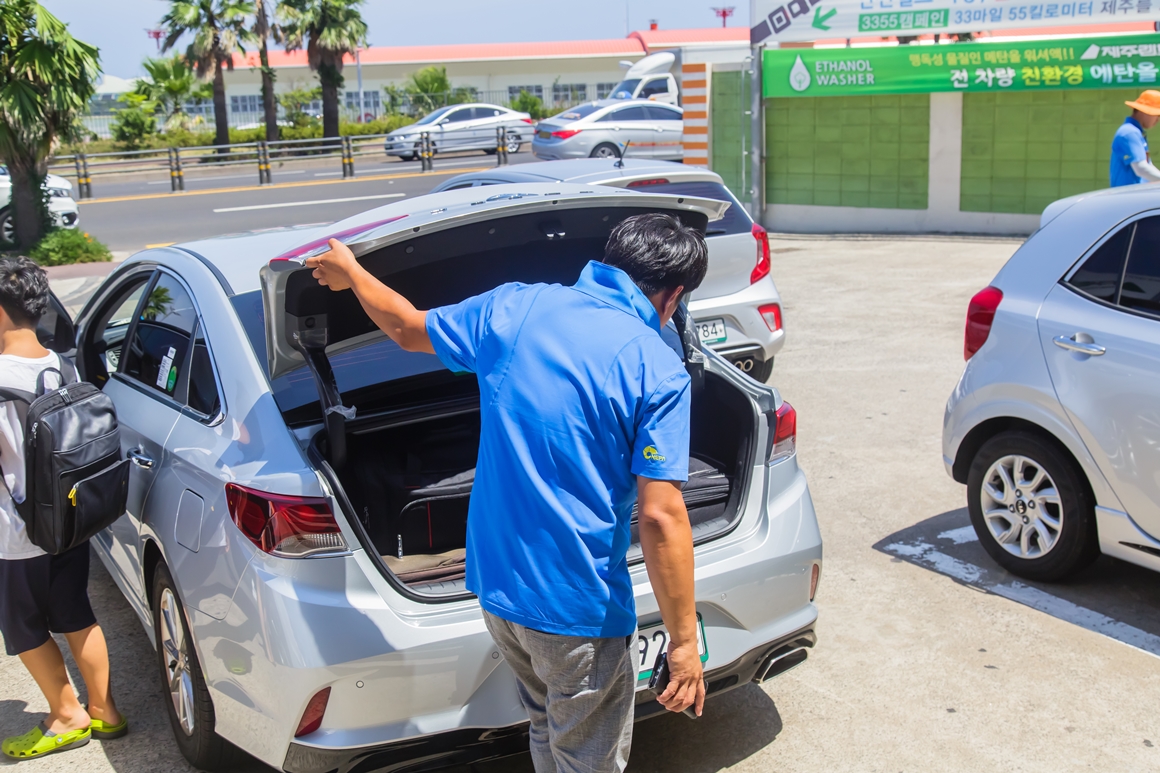 Pro Tip #1: Take a picture of the fuel gauge.
The tank will most likely be less than full, and when you return the vehicle, you must fill up the fuel to the same point on the gauge. If you return it under that mark, you will be charged for the fuel cost plus an extra service fee.
One of the most important tools in helping you navigate around the island will be the GPS in the car. If the system is in Korean, ask your rental company to switch it to your preferred language before you take off. The Google Maps navigation system does not work in South Korea, so if you are planning on using your smartphone to help you get around, a couple of good Korean map options are KakaoMap and NAVER Map.
TRAFFIC SURVEILLANCE CAMERAS
Speed limits and traffic violations in South Korea are monitored by surveillance cameras. If you are using a navigation system, it will alert you if there is a camera coming up, along with the speed limit. Please make sure to always be aware of the speed limits and adhere to local traffic laws, especially in designated safety zones, such as school zones and elderly protection zones.
Notice

※ The above information was written on 2022-01-08. Please confirm the information prior to your trip.
※ Unauthorized use of the content above (text, photos and videos) is prohibited and subject to copyright by the Jeju Tourism Organization.