본문
Ten Safe Non-face-to-face Tourist Spots in Southern Jeju
Here are 10 "non-face-to-face" tourist destinations in the southern part of Jeju where you can enjoy a respite from the day to day stresses of life during a pandemic. These spots in Seogwipo City were specifically chosen for their remote outdoor locations. This is because travelers now prefer destinations that are less crowded (as the global pandemic continues). We hope you will find this list a useful guide when planning a future trip to Jeju Island.
Heal your weary mind during trying times

Ten Safe Non-face-to-face Tourist Spots in Southern Jeju

Here are 10 "non-face-to-face" tourist destinations in the southern part of Jeju where you can enjoy a respite from the day to day stresses of life during a pandemic. These spots in Seogwipo City were specifically chosen for their remote outdoor locations. This is because travelers now prefer destinations that are less crowded (as the global pandemic continues). We hope you will find this list a useful guide when planning a future trip to Jeju Island.
The healing places introduced here are so-called "untact" (non-face-to-face) tourist spots in the southern part of Jeju. Here you can safely enjoy your journey while minimizing contact with people during this ongoing global pandemic. Seogwipo is a place where you can experience Jeju in relative solitude.
Experience Jeju mandarins all year round
Citrus Museum Wollabong Promenade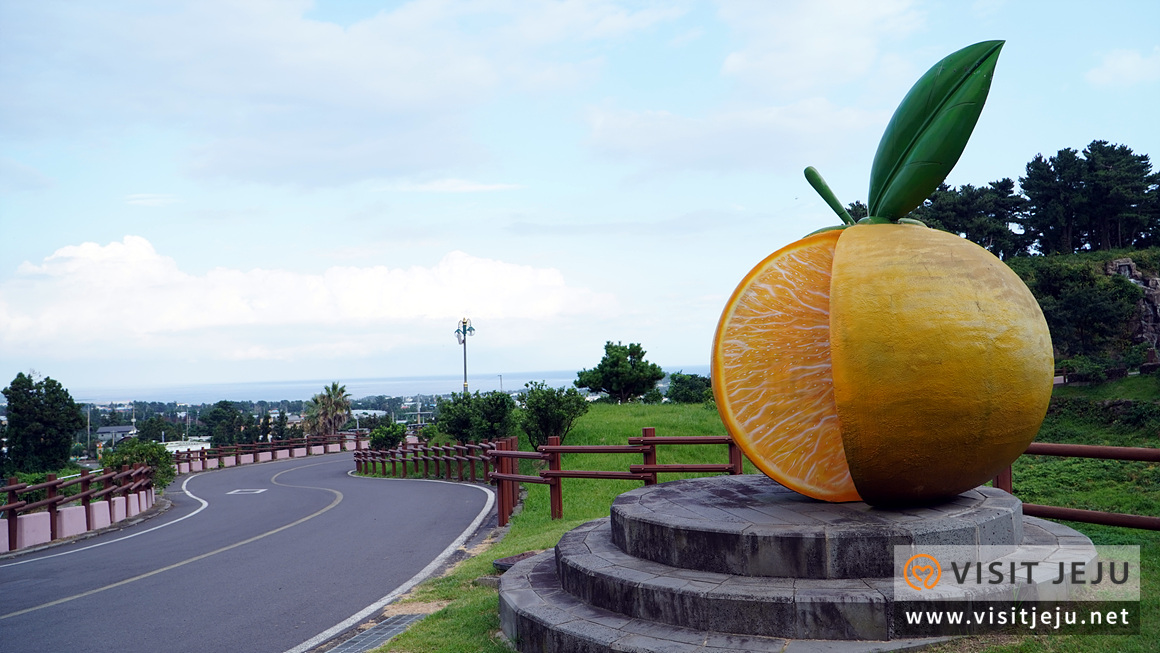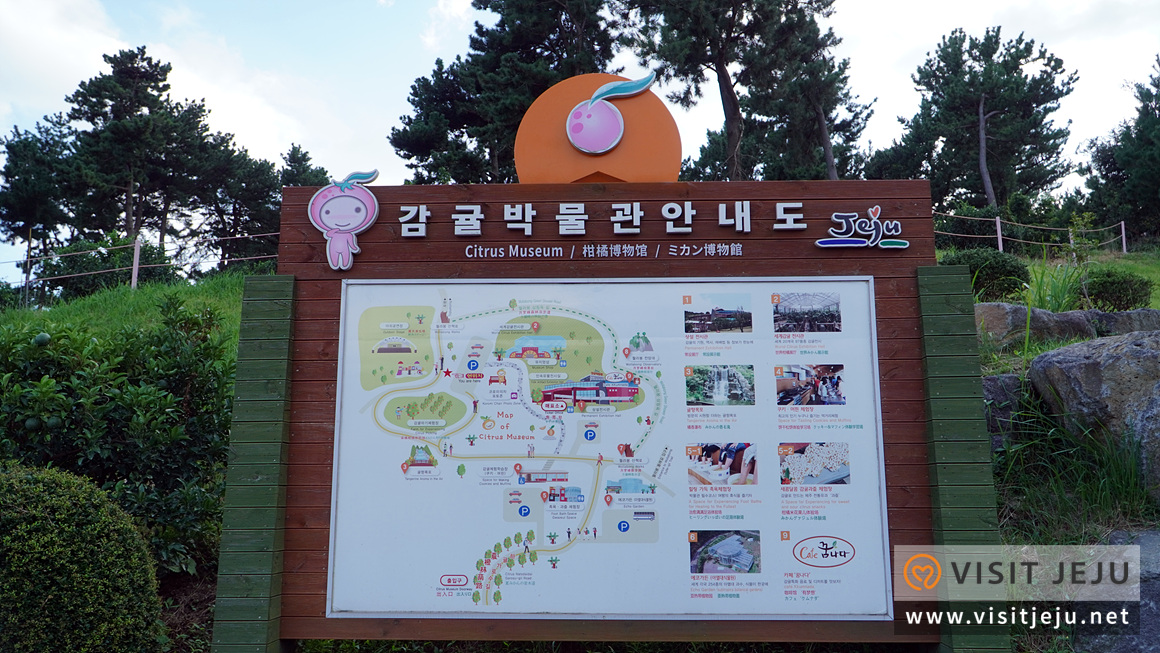 The Seogwipo Citrus Museum is a great place to visit when it's raining or when you are looking for an educational and fun place to try with your family. All year round you can see mandarins hanging from the trees and in spring the citrus flowers bloom and the whole museum is filled with a sweet, delicious scent. The main building is surrounded by lovely park-like grounds (including a small waterfall feature) which you can explore. There are experiential learning programs for children, a foot bath experience, and a cafe.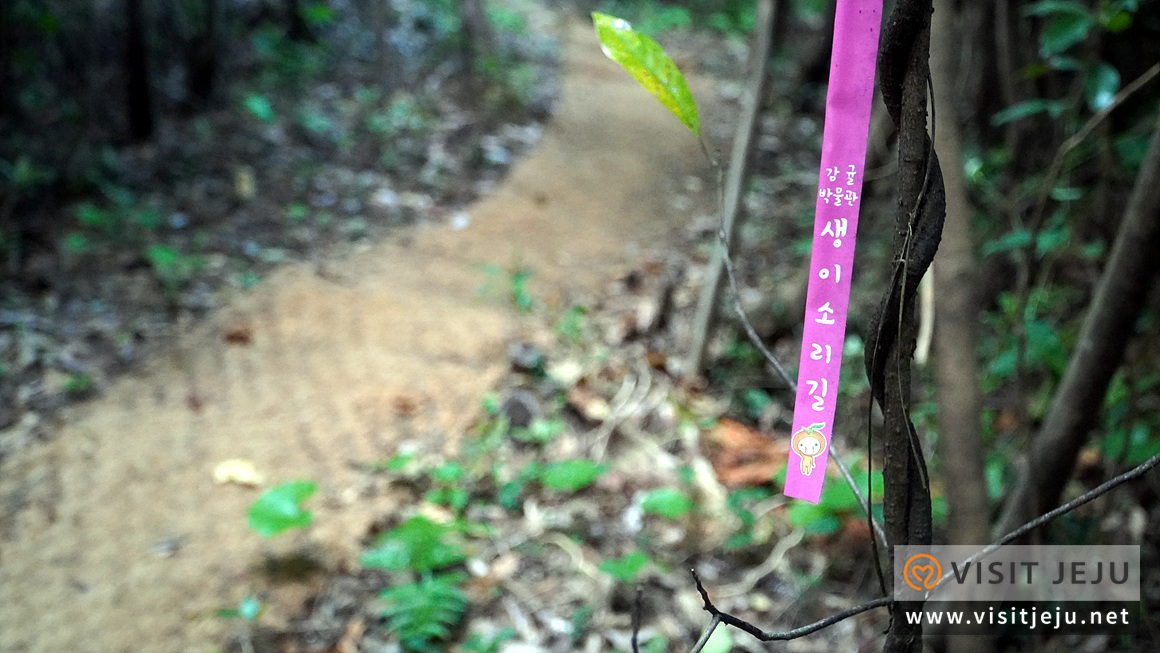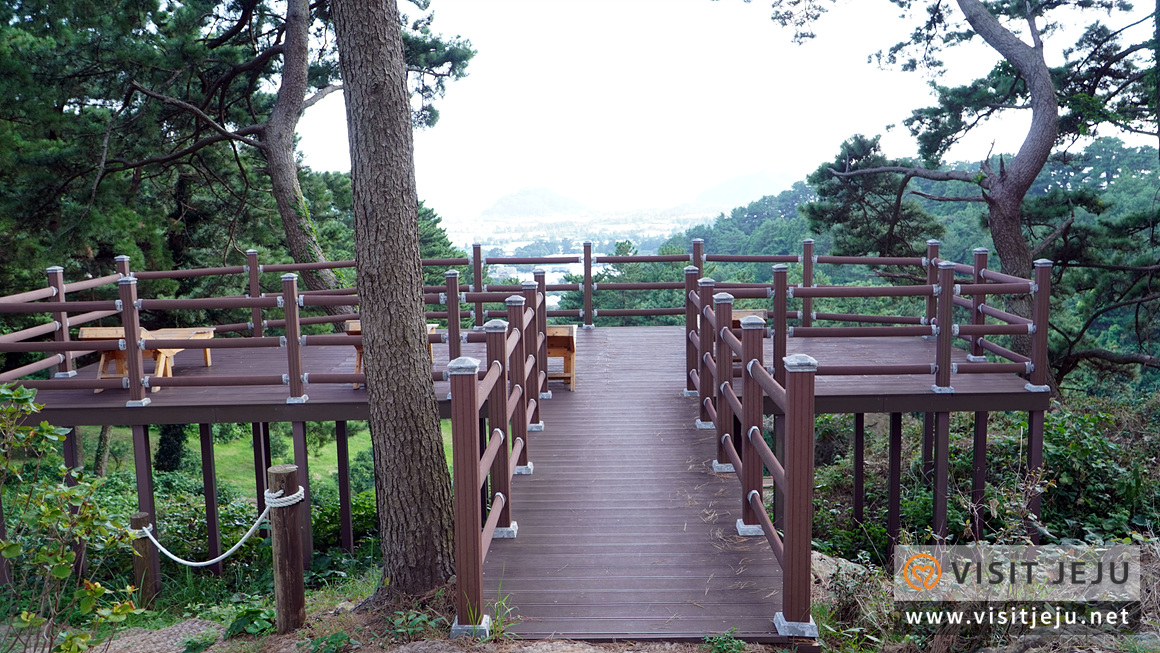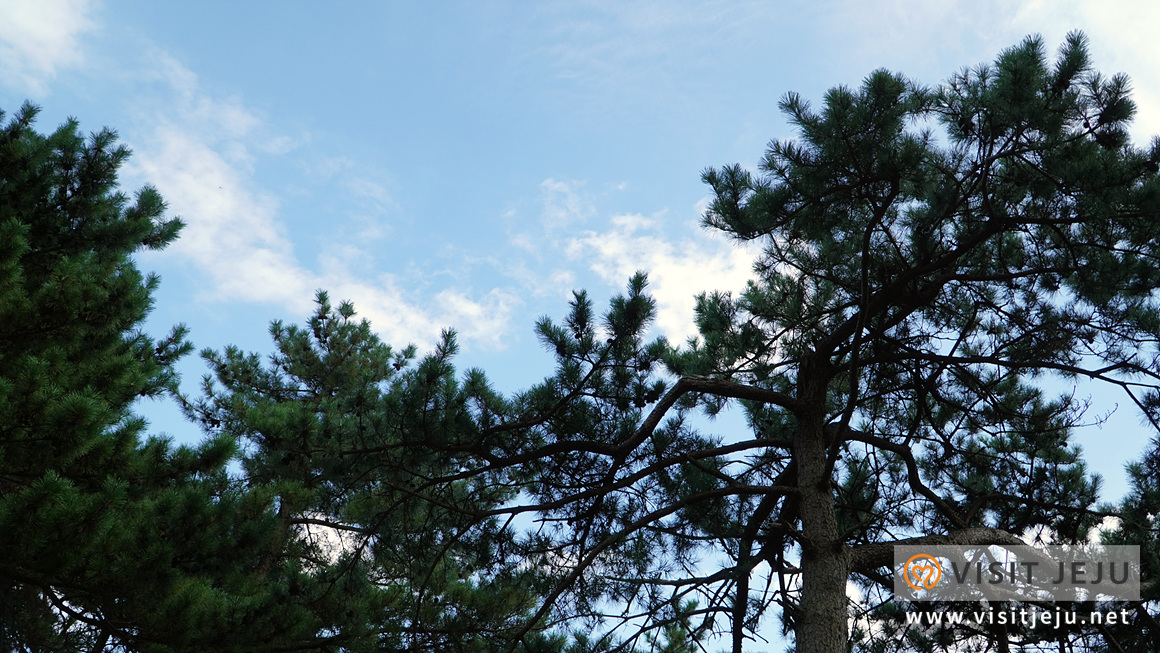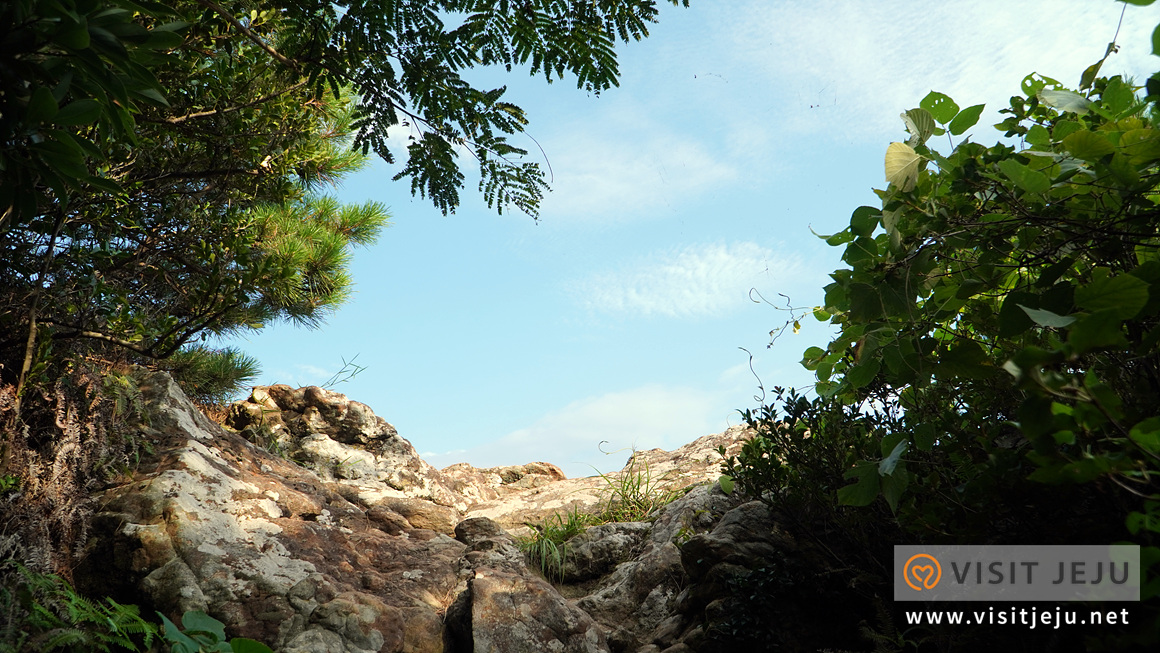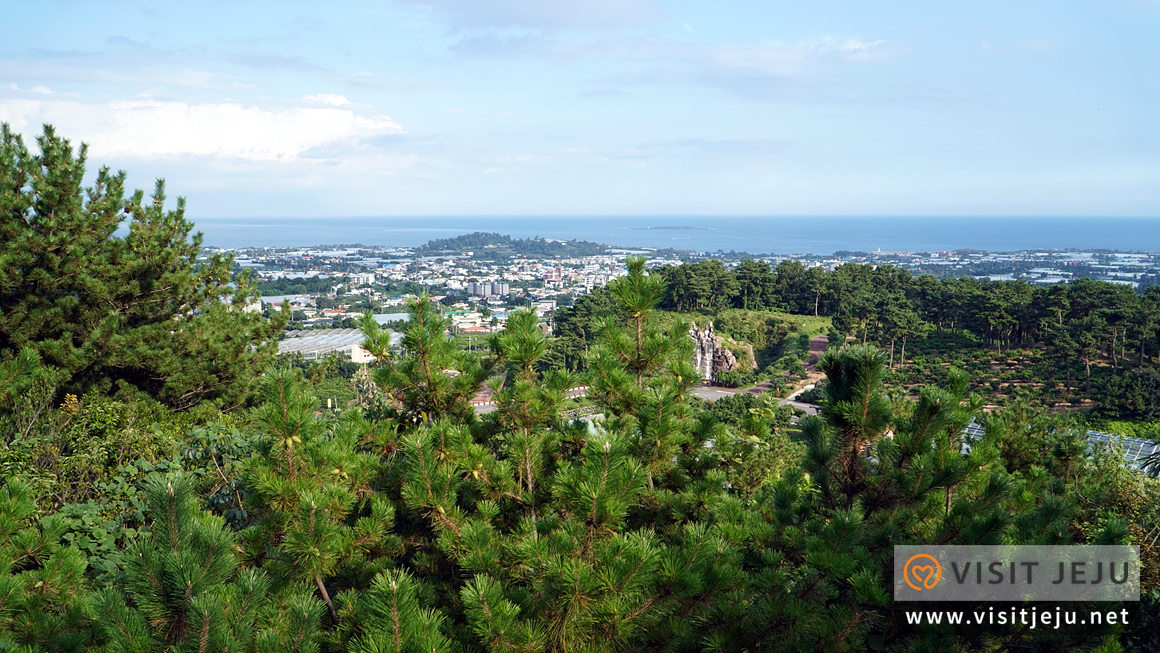 - Saengisori-gil Walking Path
The museum boasts a walking path that leads up to Wollabong Peak. Saengisori-gil Path takes about an hour if you proceed slowly, and once you reach the modest summit you can spot Jigwido Island on a clear day.
* Please take care when climbing Wollabong Peak as there is a risk of a fall.
Take a contemplative stroll in nature
Maheuni Forest Path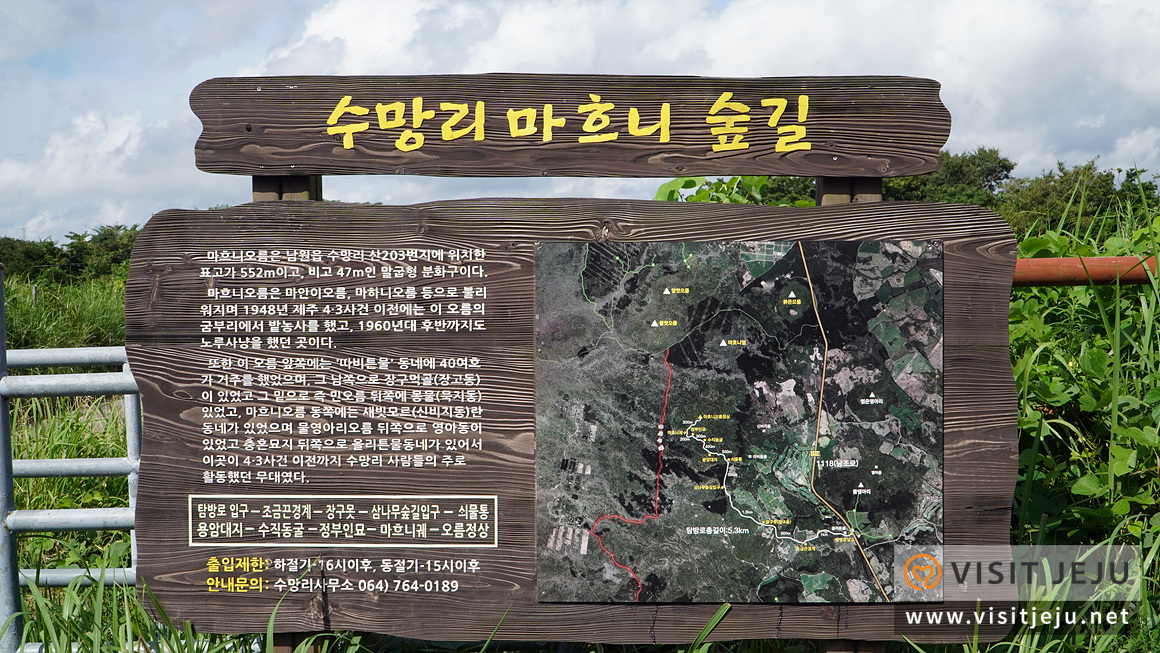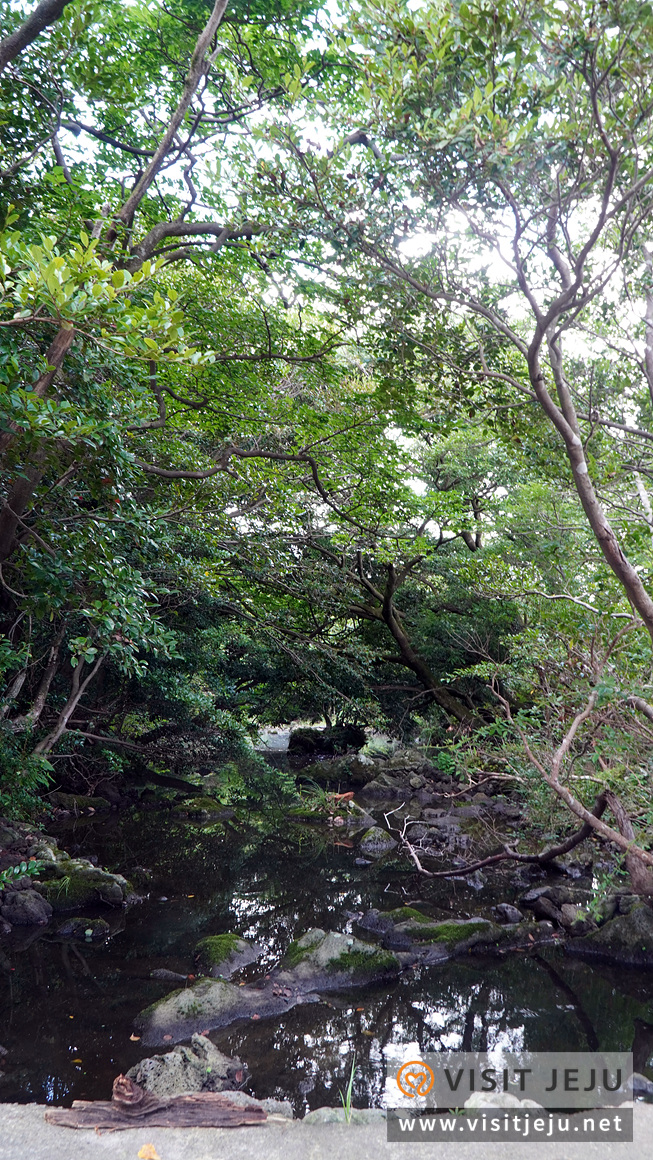 Maheuni Oreum is a horseshoe-shaped crater located in Suman-ri Village, Namwon-eup. It has an elevation of 552m and a height of 47m. Maheuni Oreum is also known as Maani Oreum and Mahani Oreum. Before the Jeju April Third Incident in 1948, farmers worked fields in the bowl of this volcanic crater and even as late as the 1960s, roe deer were hunted here.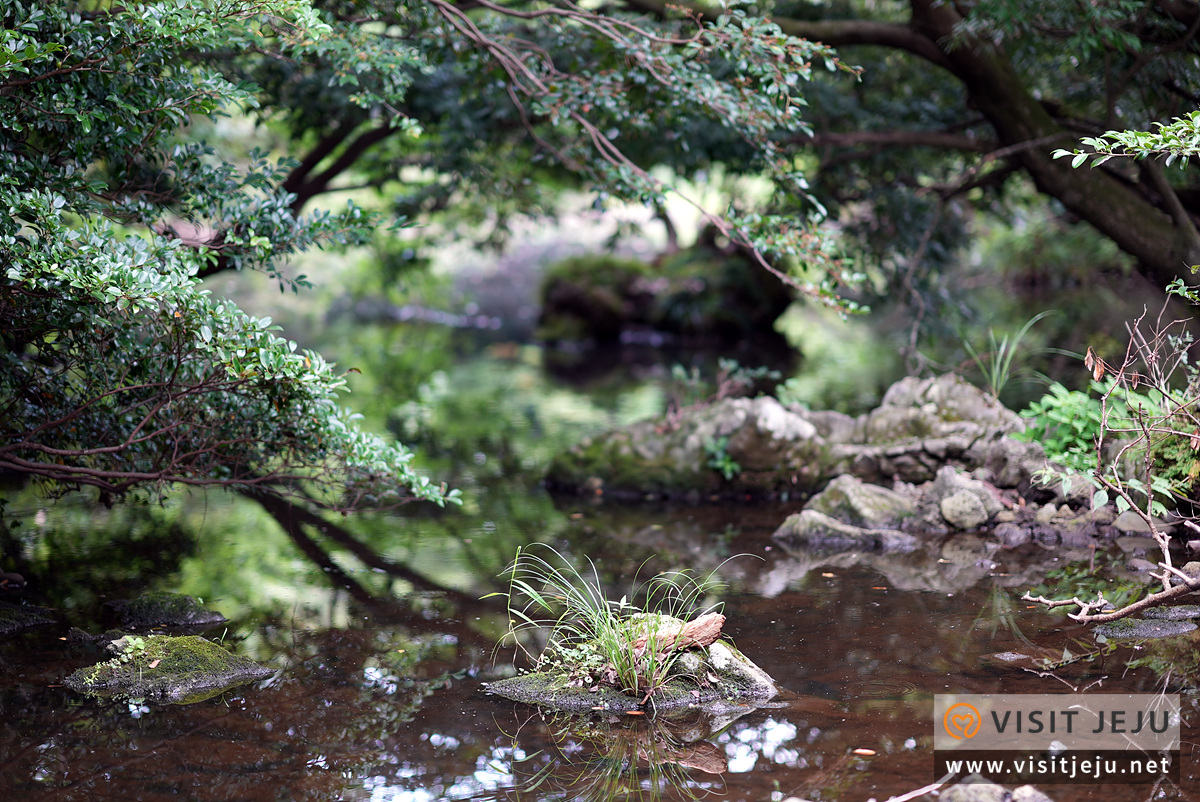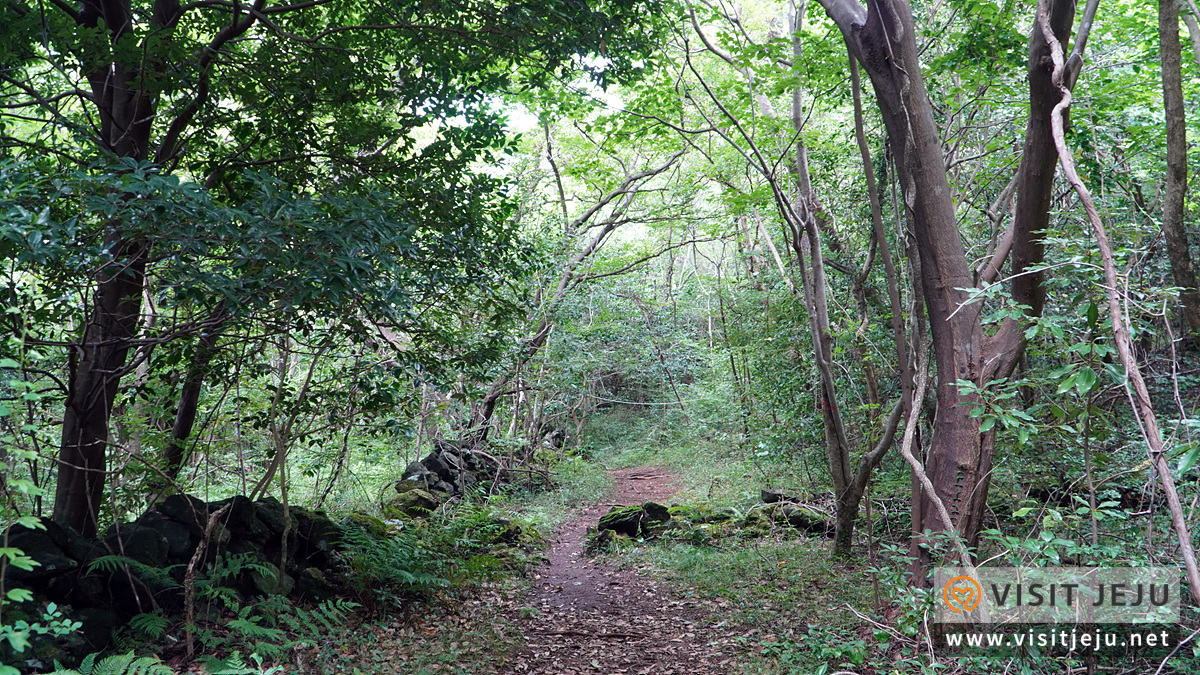 The distance from the trail entrance to the summit of Maheuni Oreum is 5.3 kilometers one way. It is a little over 10 kilometers in total (a 3 to 4 hour walk), so it is recommended that you pack water and a snack.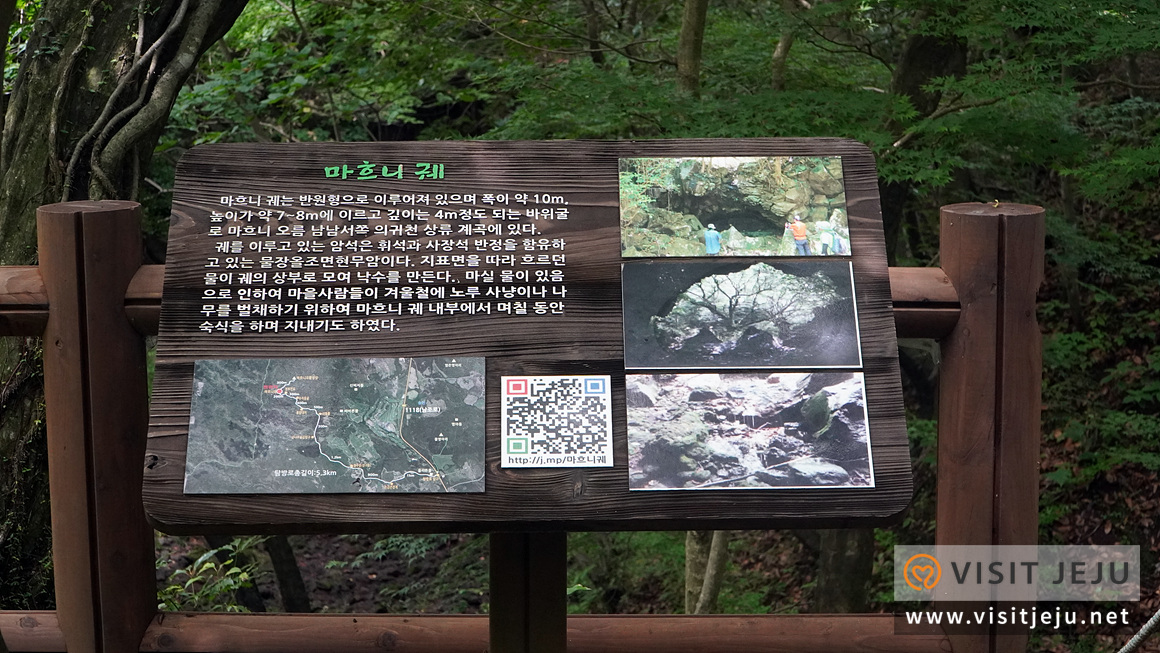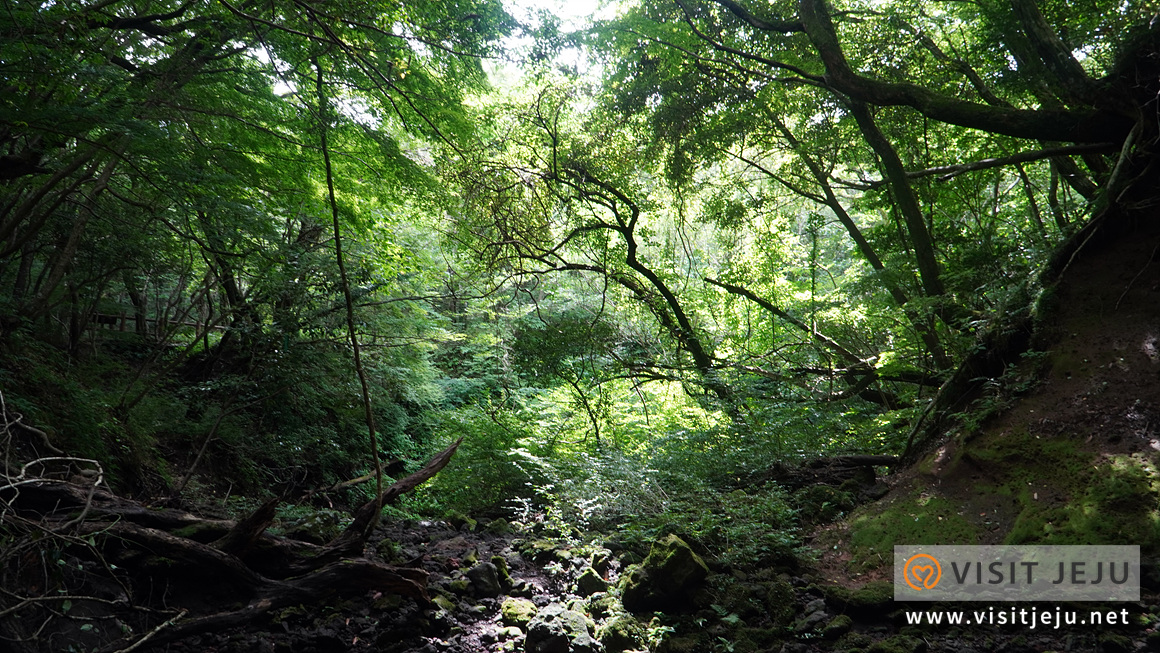 - Maheuni Gwe (Rock Feature)
Maheuni Gwe is semi-circular in shape and about 10m wide, 7~8m high, and 4m deep. The rock is basalt containing pyroxene and plagioclase semi-crystals. Water flowing along the surface of the earth collects at the top, resulting in dripping water.
* The forest is thick and the sunlight is generally blocked, so please be sure not to lose your way as the evening approaches. In summer, there is a lot of grass, so wear long-sleeved long pants and walk to protect yourself from insects.
< Maheuni Forest Path >
Address: San 203 Sumang-ri, Namwon-eup, Seogwipo-si
Wonderful in every season
Iseungi Oreum (Iseungak)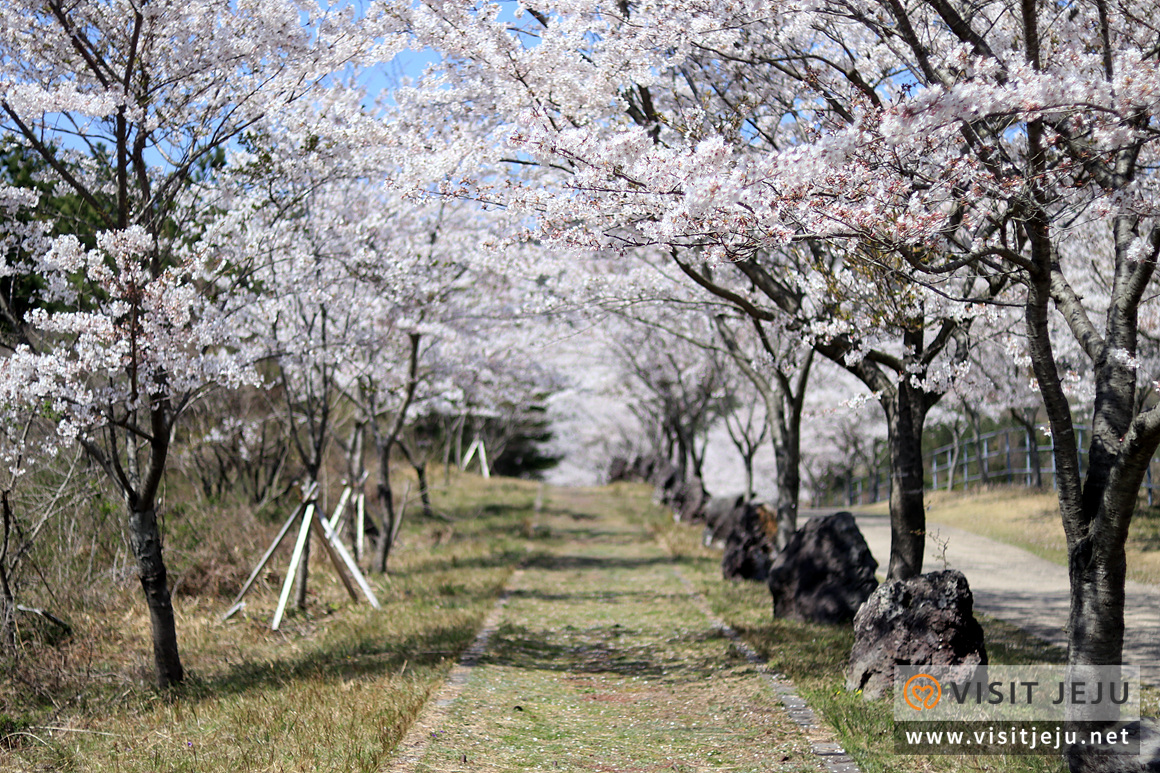 This volcanic cone is a great place to visit in spring, summer, autumn, or winter. In spring, its beautiful landscape boasts cherry blossoms and in autumn, many red, orange and yellow leaves. It's cool in summer and a place where you can walk through a snow-covered cedar forest in winter.
From the starting point of Iseungi Oreum, take the road on the right and walk for about 20 minutes through the cedar forest. From here, you can walk the Hallasan Dullegil Trail or cross to the peak of Iseungi Oreum.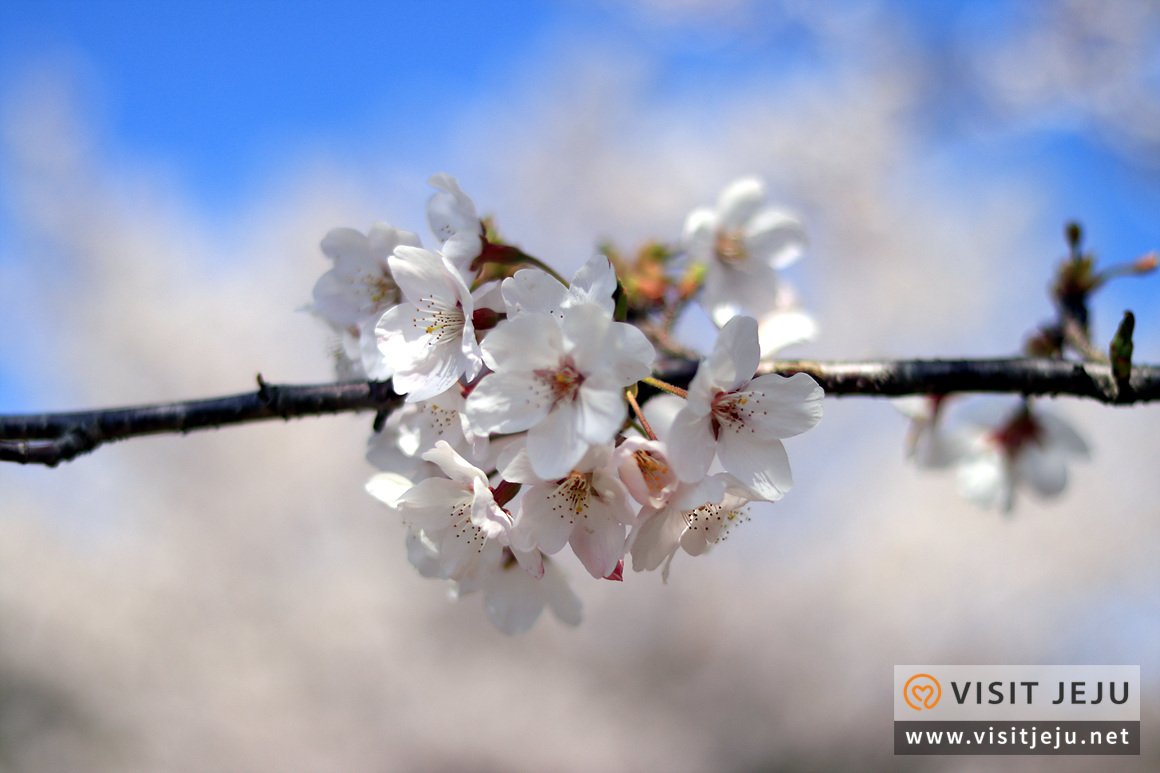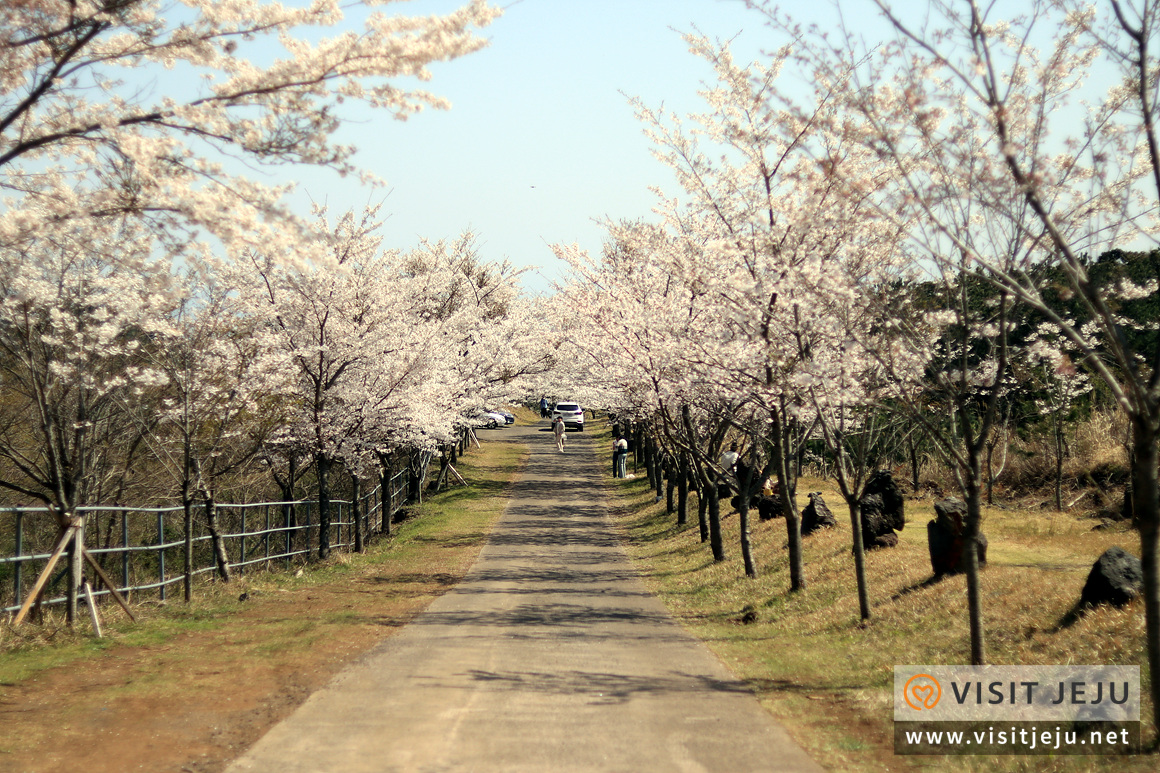 In spring, the entire road leading up to this volcanic cone is covered with cherry blossoms, though because it is a mid-mountain area, the cherry trees bloom later than areas closer to the coast.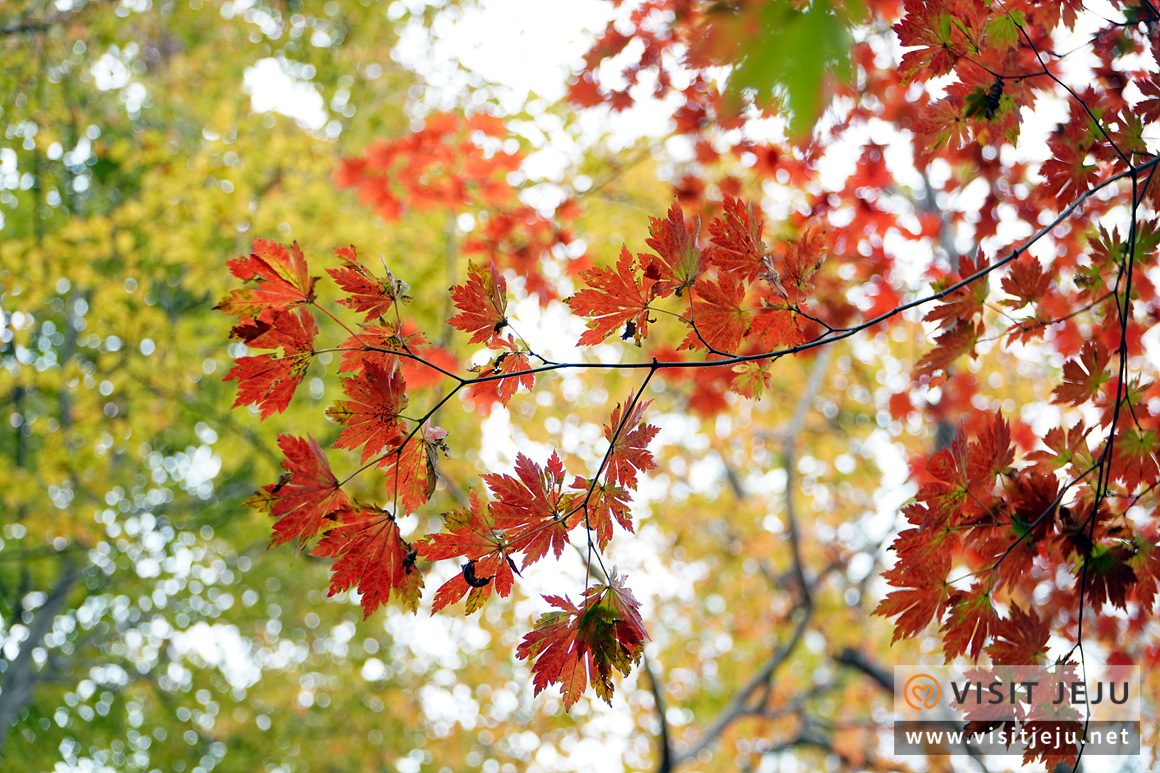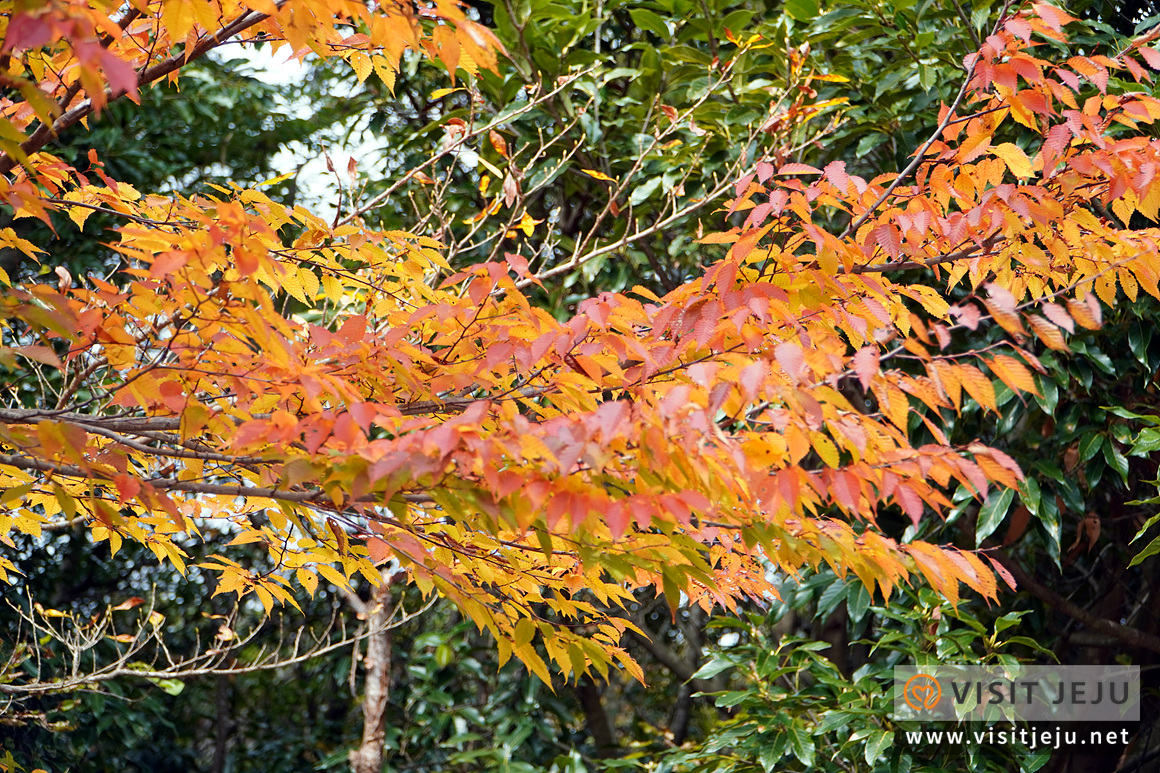 In fall, you can see the colorful autumn leaves. If you follow the Dullegil Trail here, you can explore the beauty of the area as autumn embraces the island.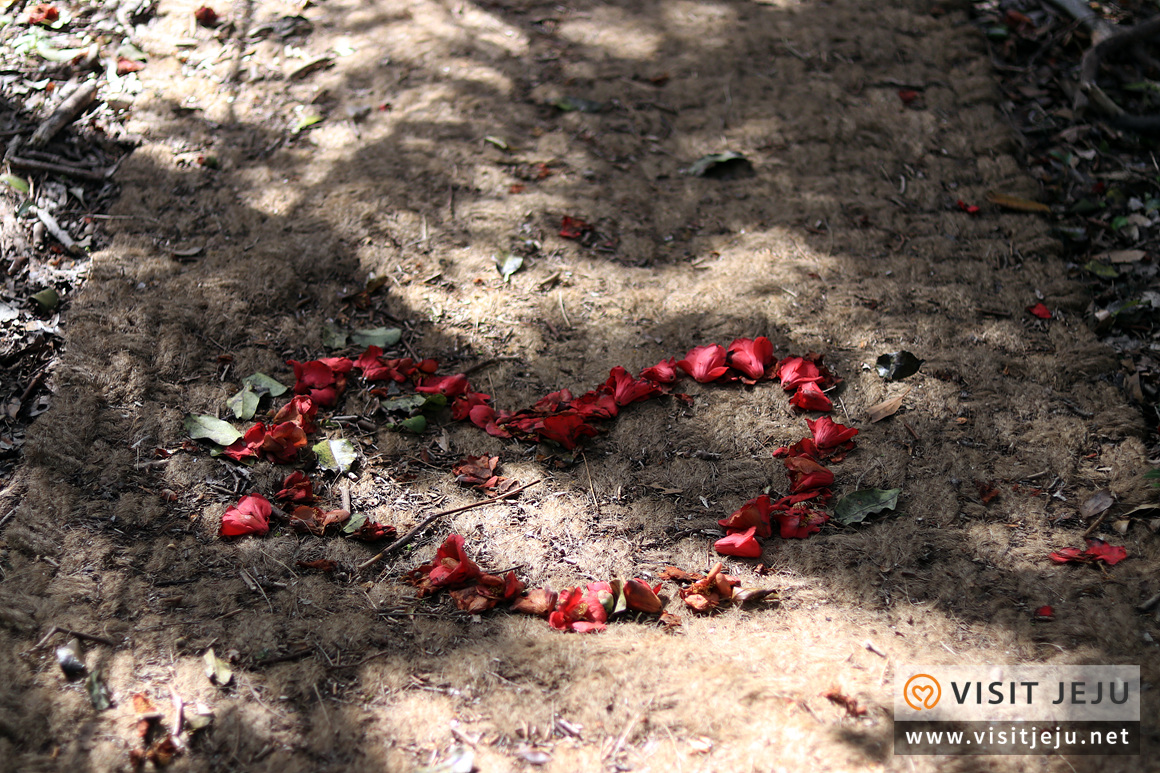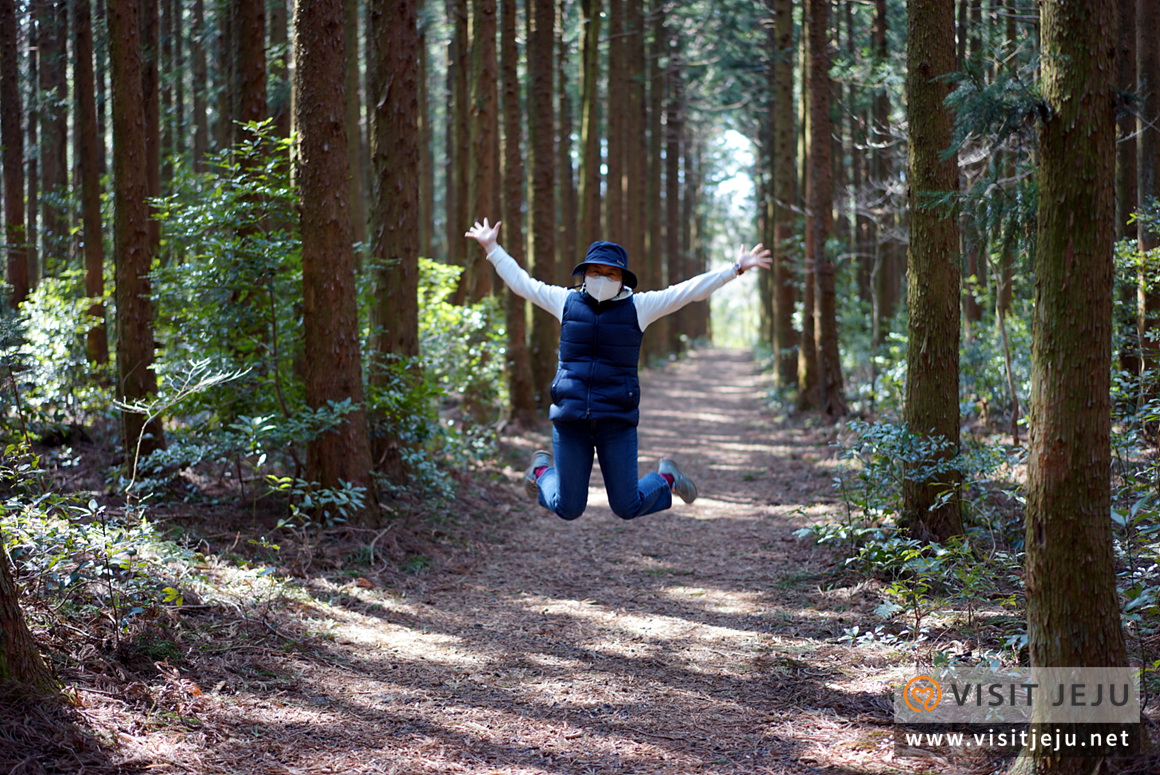 And in winter, the falling camellia flowers and snow dusted cedar forest tug at our heartstrings.
An ecological river experience
Gosalli Forest Trail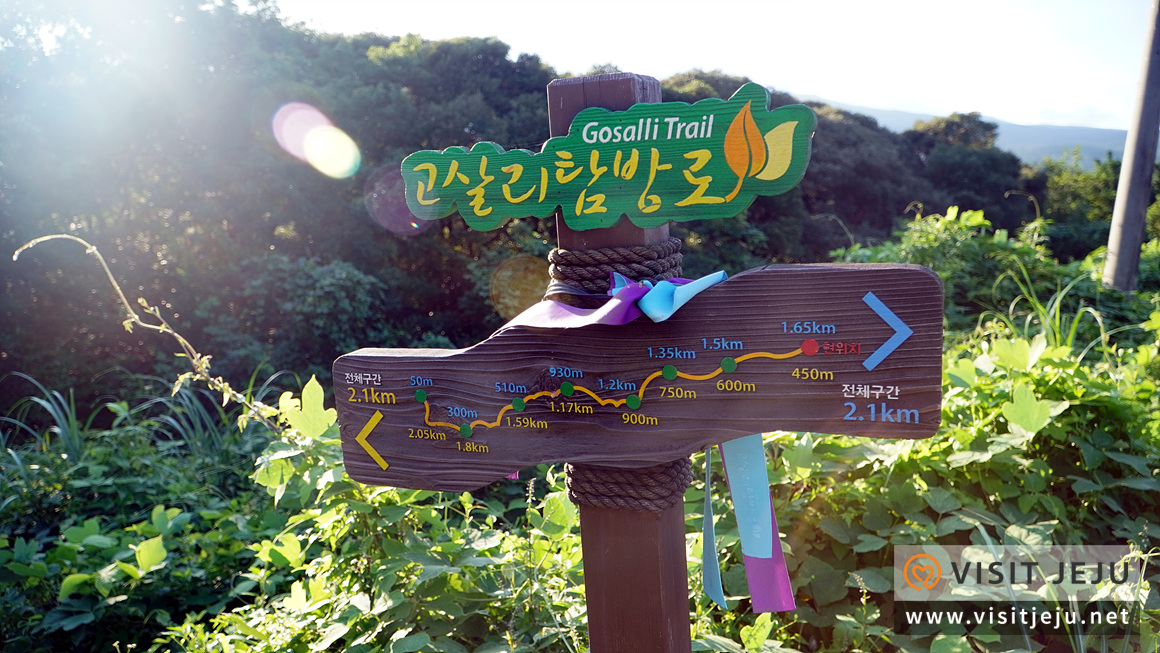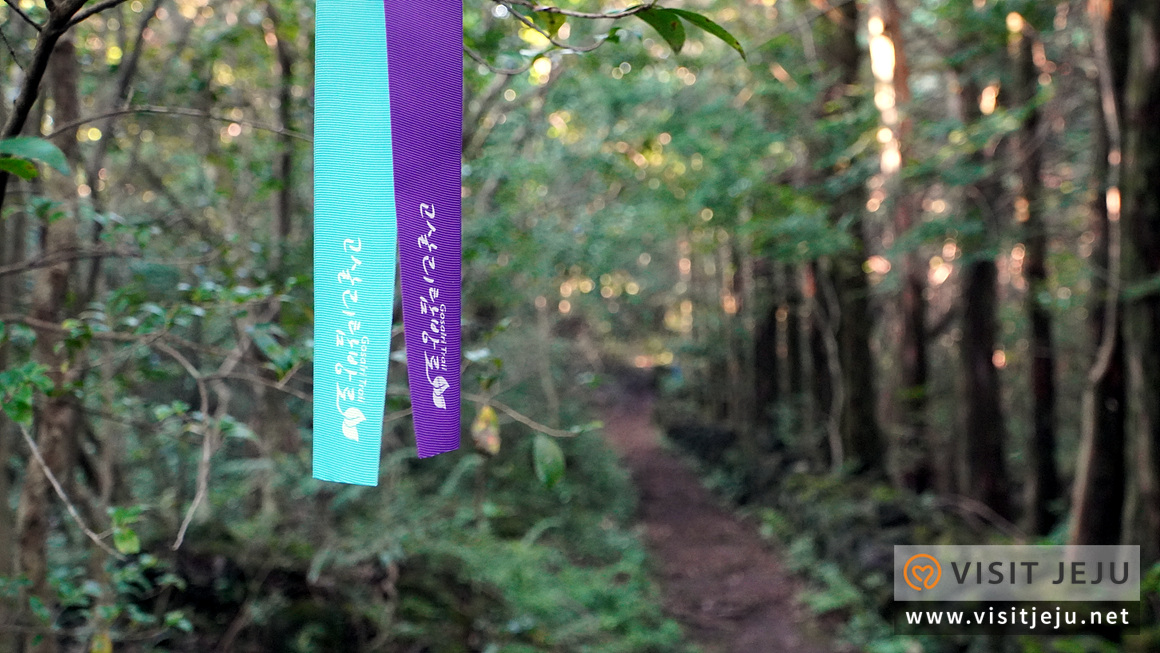 Gosalli, a symbol of Harye 2-ri Village, refers to a spring that flows all year round through the valley and surrounding areas in Namwon-eup. There is also a rustic nature trail that takes visitors through this section of Jeju's pristine Gotjawal Forest.
The 2.1-km long forest trail (one way) takes about two hours to complete there and back. Note that there is an excellent photo point on the Gosali Forest Trail, so be sure to take in the full experience at your own pace.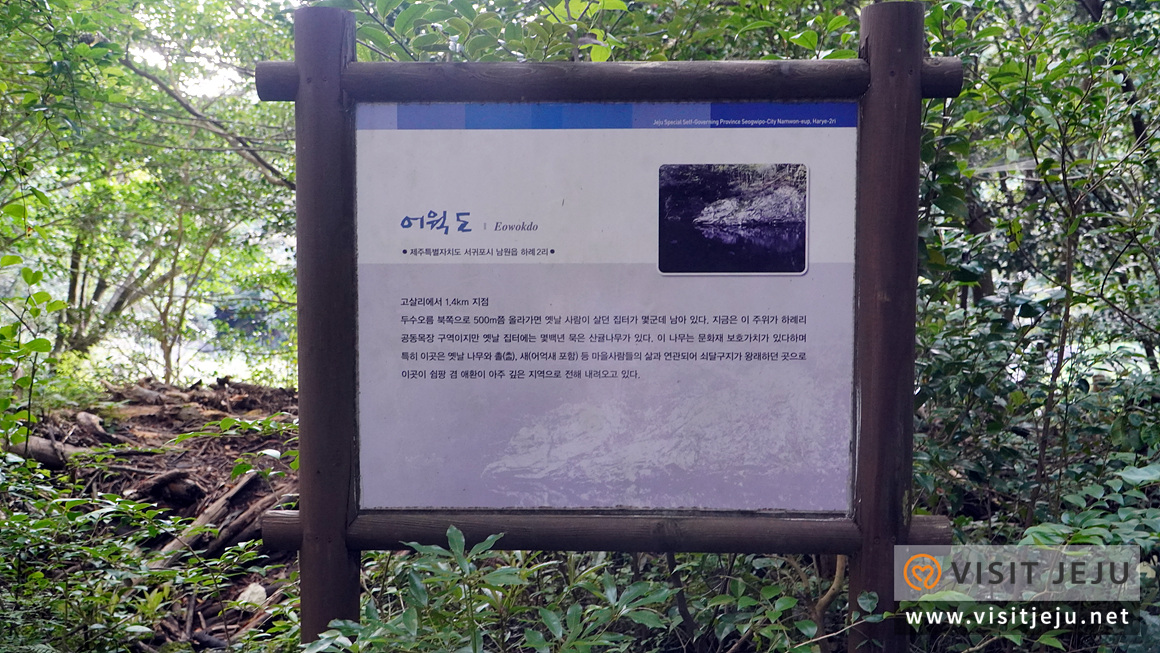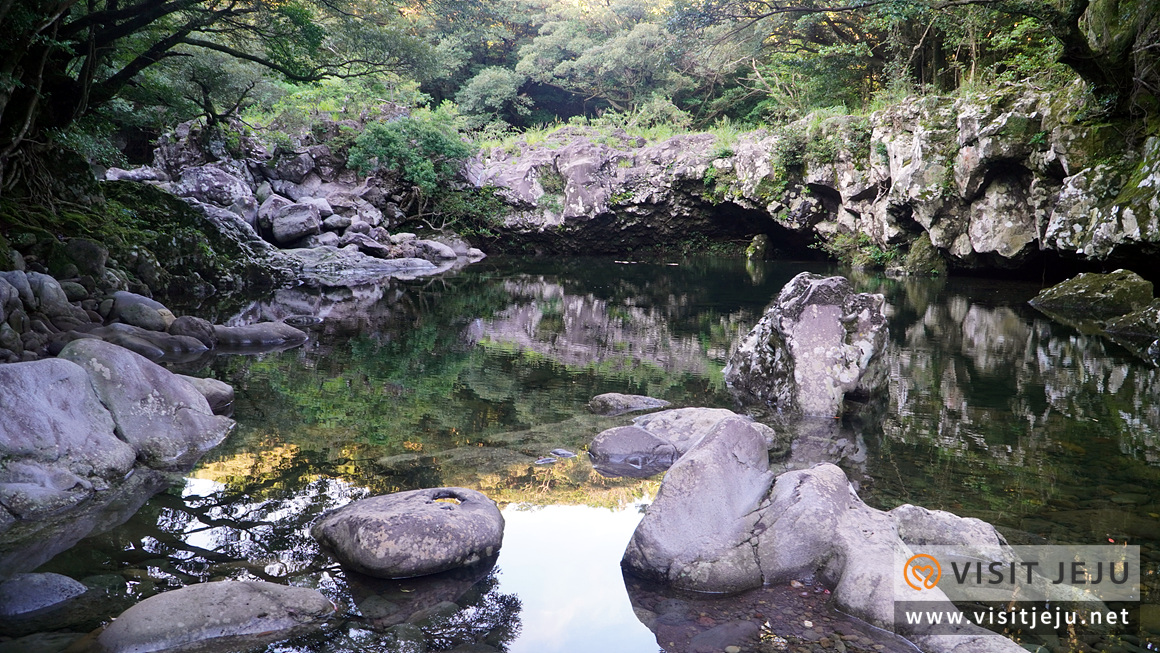 In 2013, the Ministry of Environment designated the area a natural ecology village.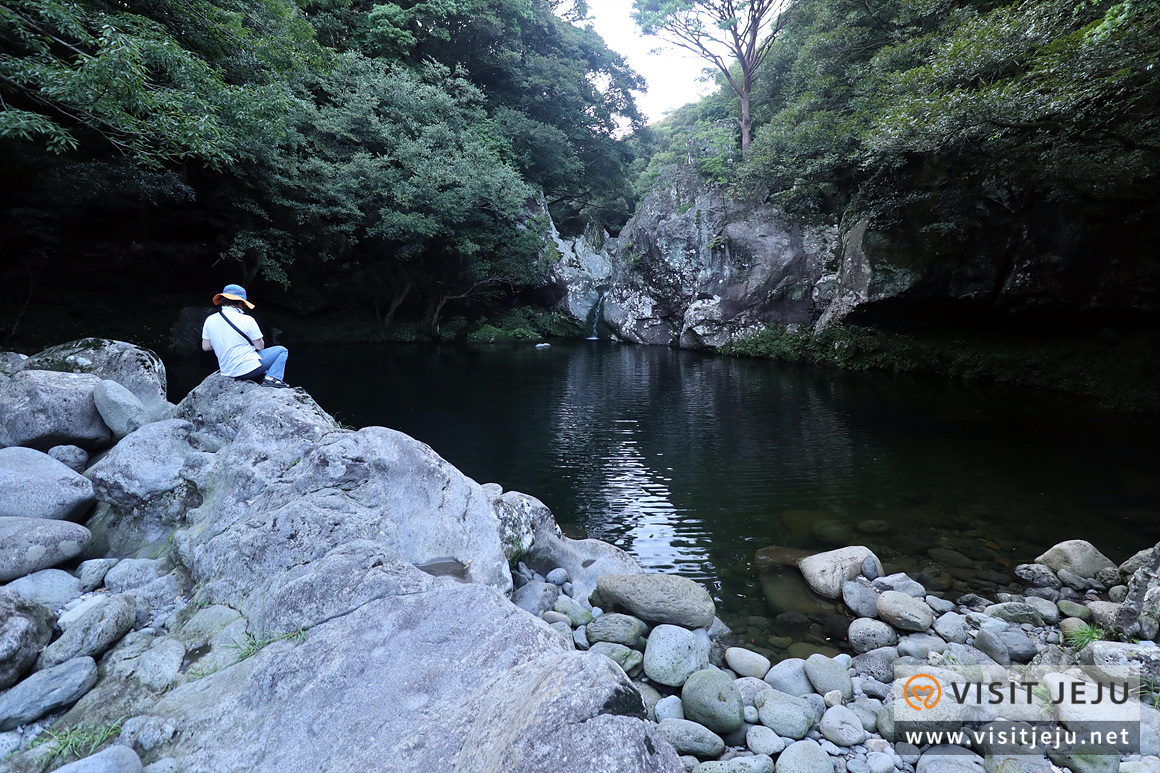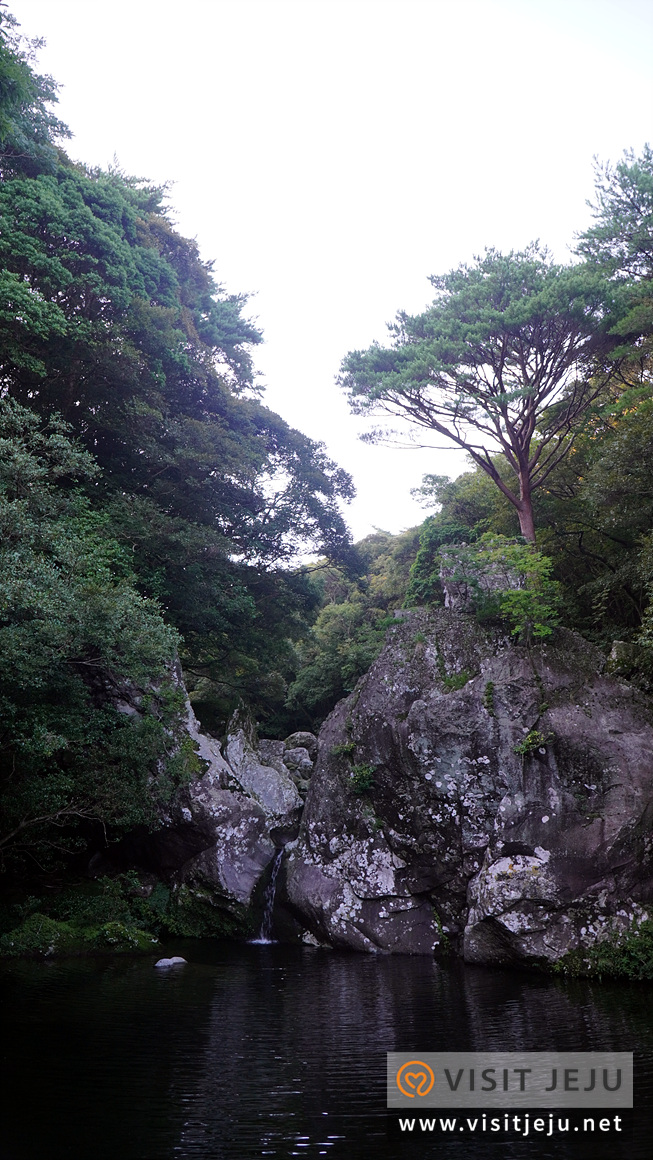 A mysterious forest where nature lives and breathes
Meochewat Forest Trail, Seojungcheon Route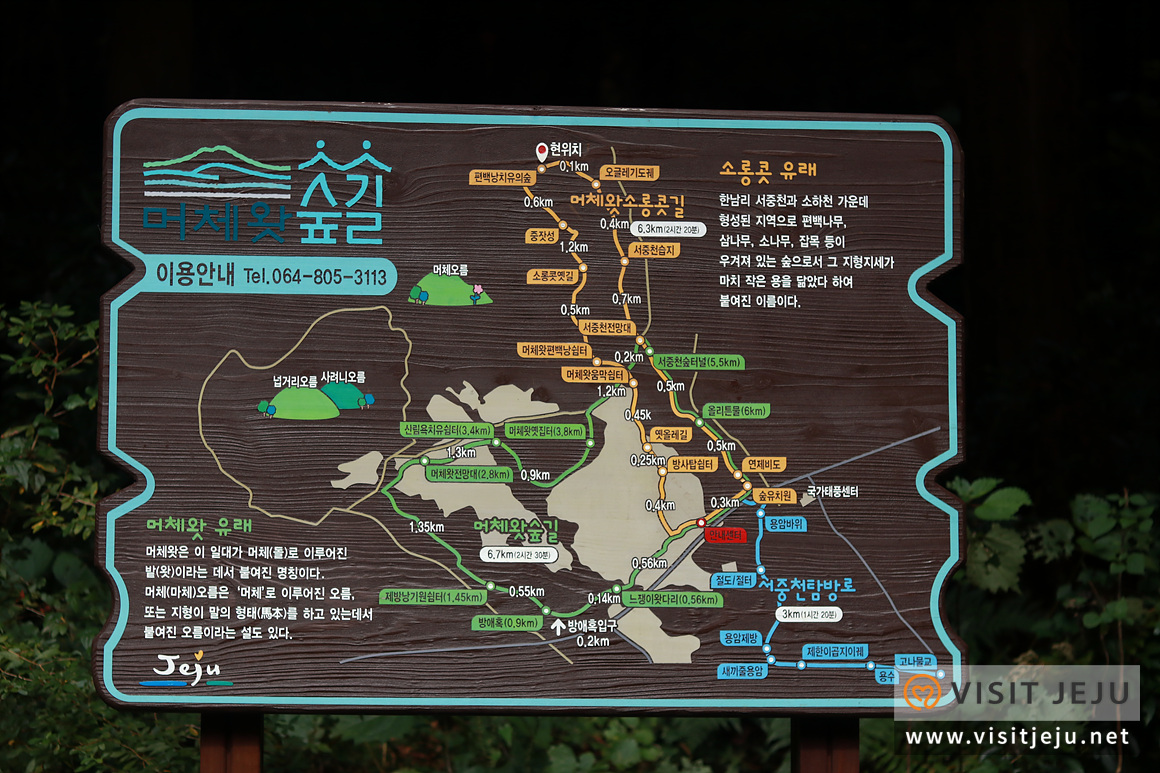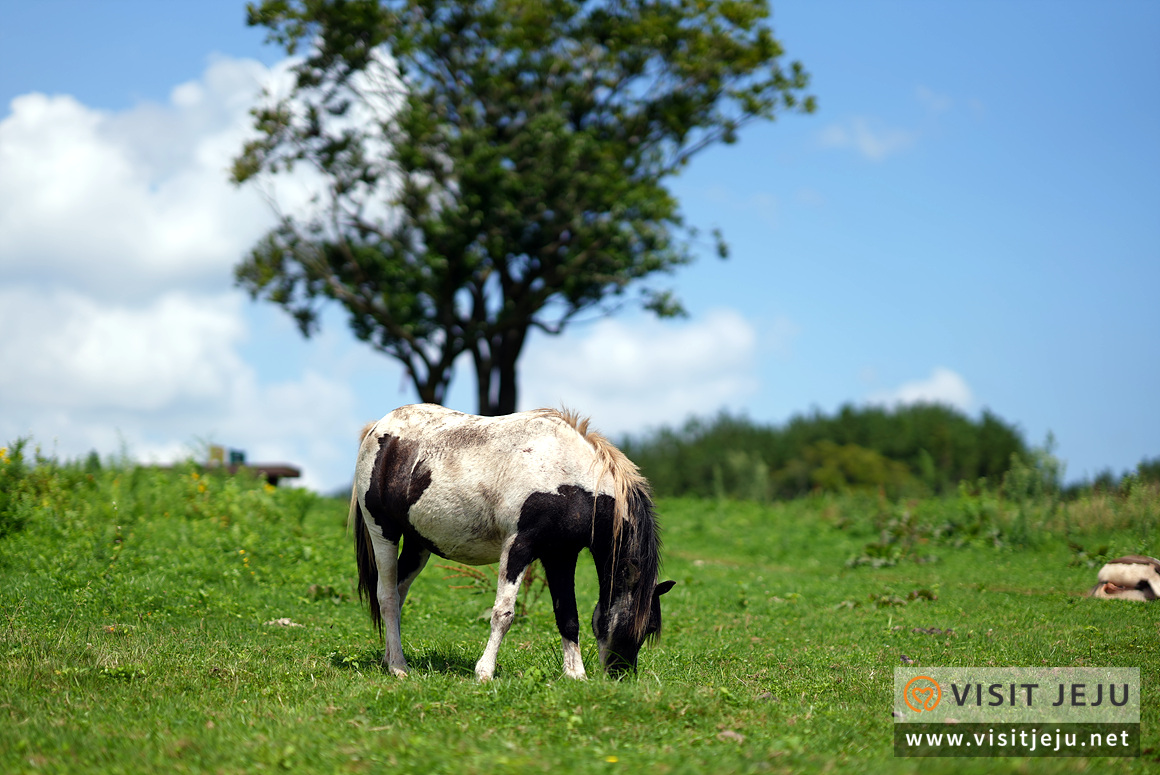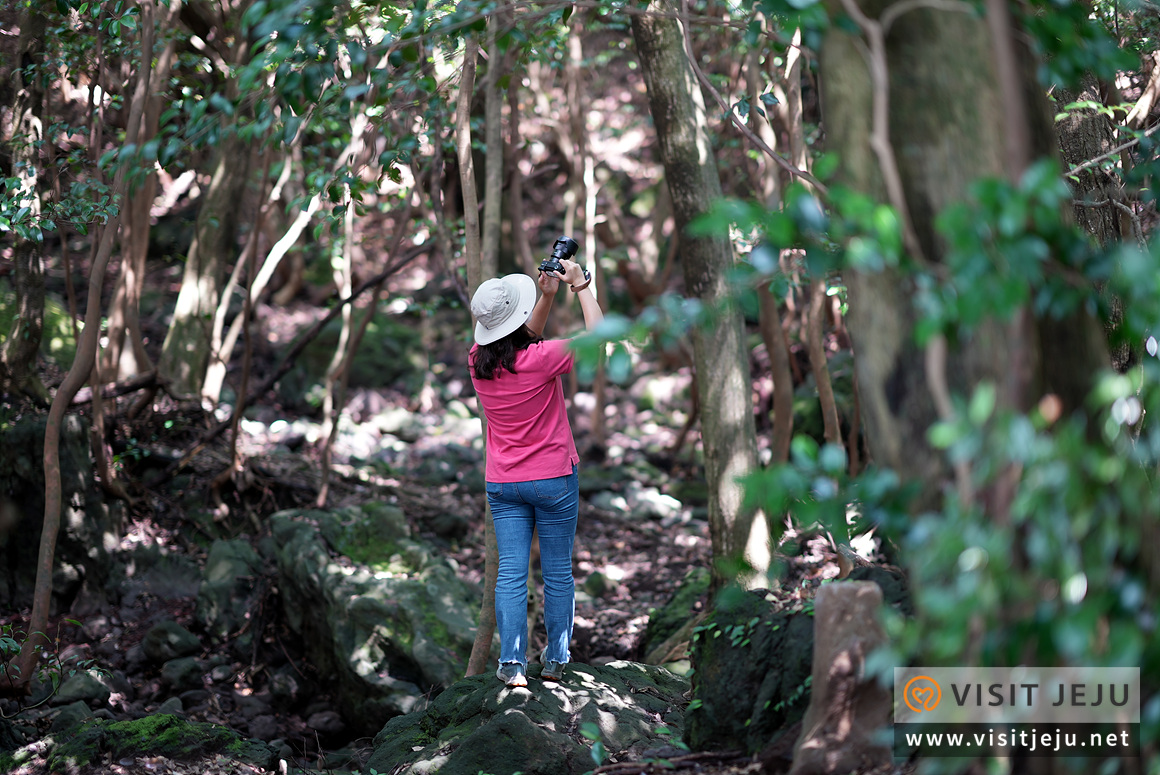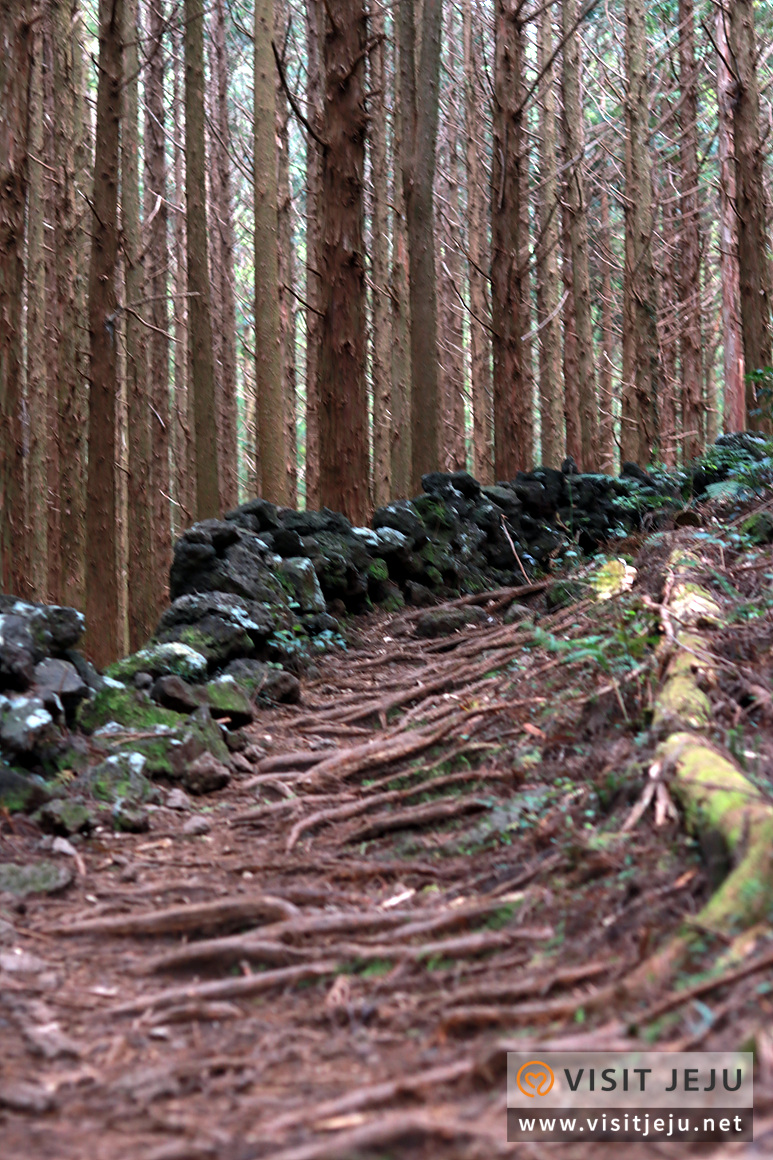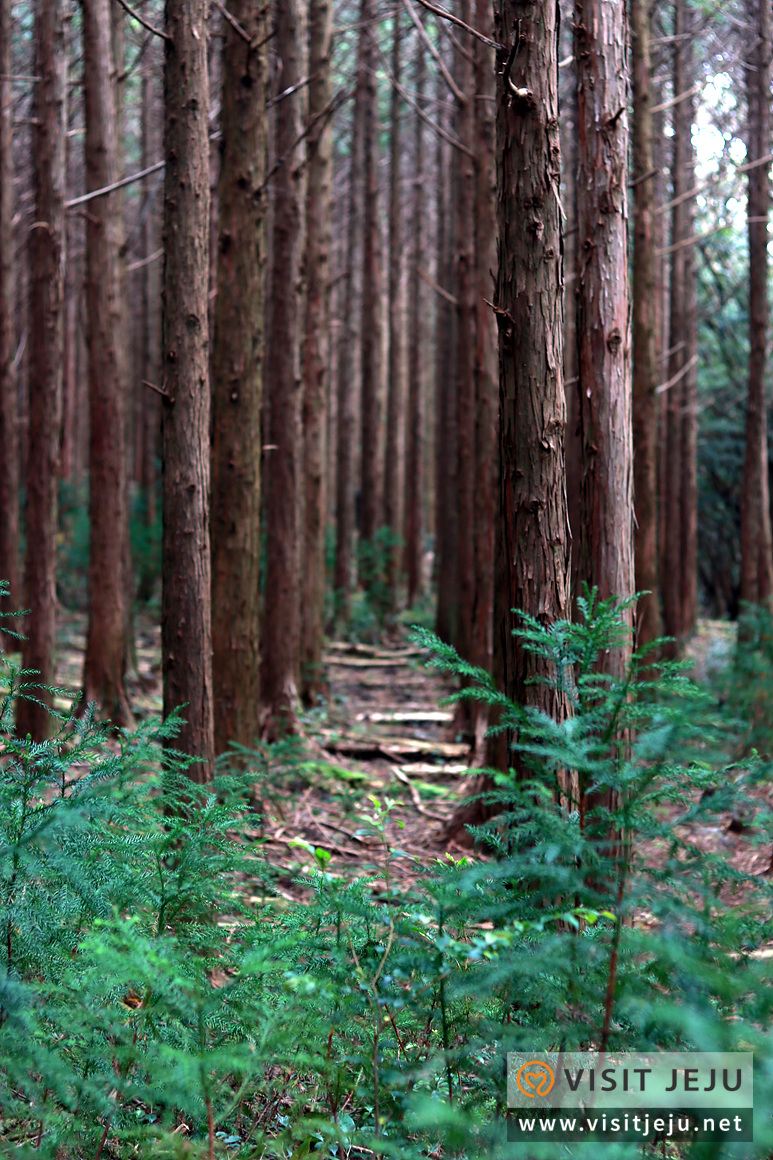 It is possible to minimize contact with others when passing the information center at the entrance. Currently (as of August 18, 2021), only the Meochewat Sorongko-gil section of the trail is open while the rest of the trail is closed to allow the ecosystem to recover naturally.
As you walk, you'll hear the refreshing, natural sounds of water flowing through Seojungcheon Valley and the crunch of your footfalls on the leaves and branches that cover the forest floor.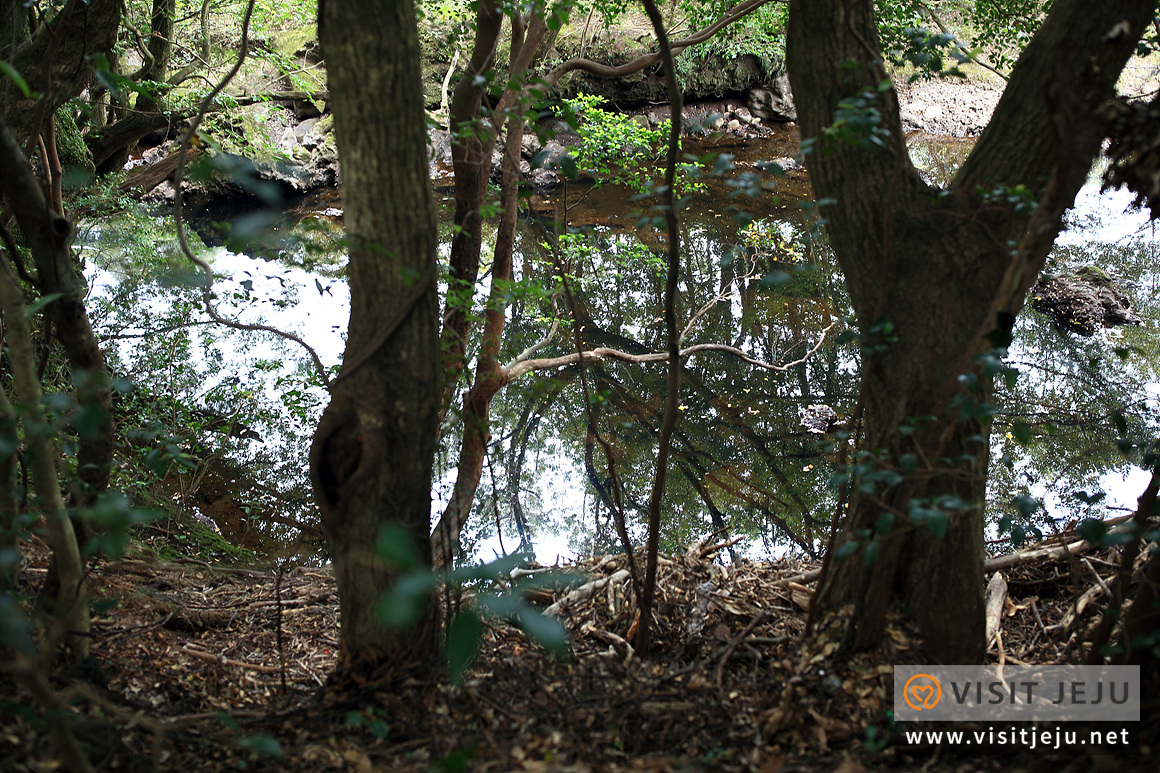 'Meoche' refers to a place where stones are piled up and overgrown with weeds, and 'wat' means field in the Jeju language. And indeed you'll find a field of stones and trees with many marvellous secrets to discover for yourself. Don't forget to go slowly and keep your senses alert for wildlife (such as nesting ducks and grazing cattle) as you walk along the Seojungcheon Stream.
A tree belt that becomes particularly photogenic
Sinheung-ri Camellia & Juniper Road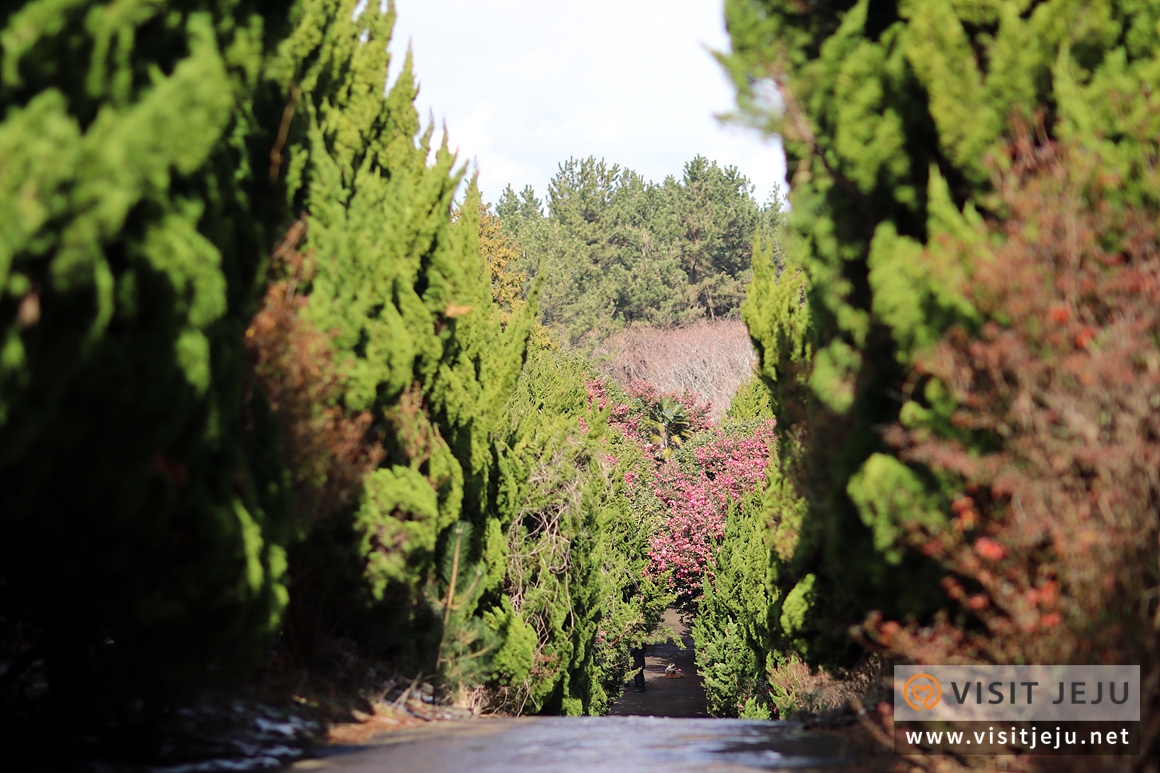 If you search for the word "Deokdeolsaengi" (덕덜생이), one result that pops up will be a road full of juniper and camellia trees. The road leading to the fields in the area is narrow, so please be careful when driving. The fields here were established with camellias as a tree belt. As a result, the winter scenery is absolutely stunning, but even in the off-season it is still a wonderful wedding photo spot because of the dynamic feel of the juniper trees.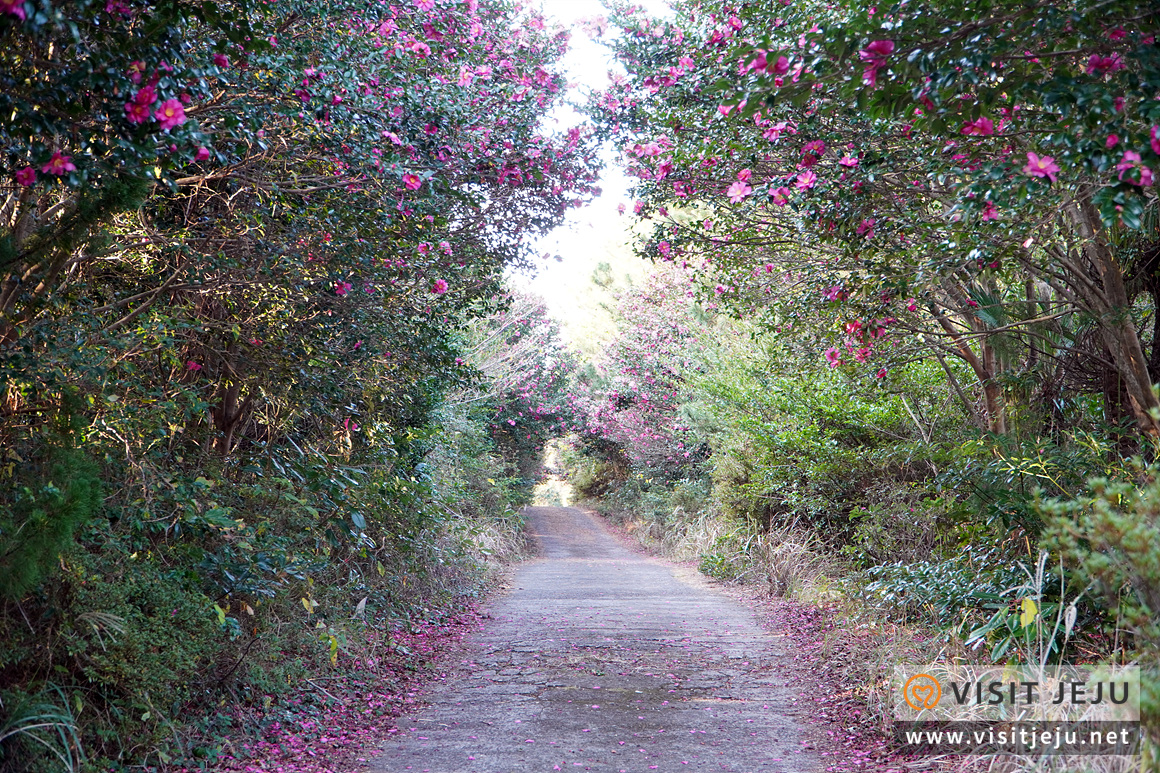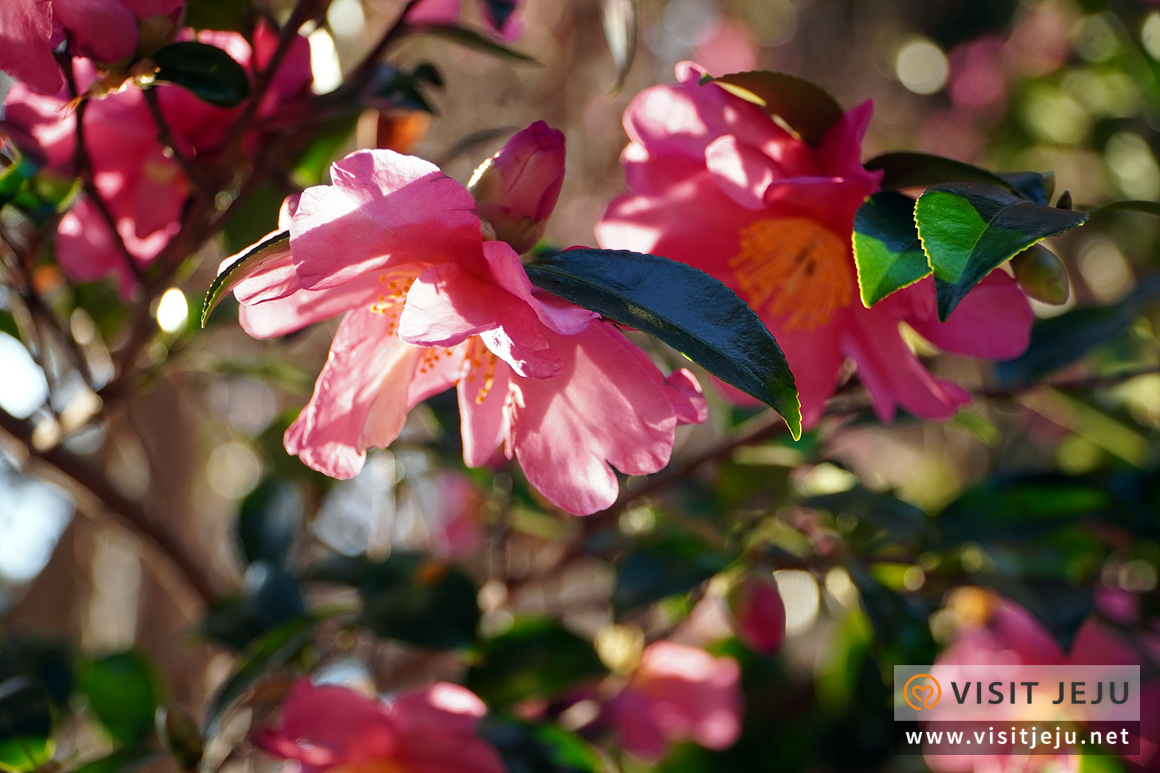 During the camellia season, many people visit from early winter to early spring. A variety of camellias such as traditional camellias, baby camellias, and carnation camellias welcome us. Each camellia variety blooms at a different time, so you can potentially see a different camellia every time you go.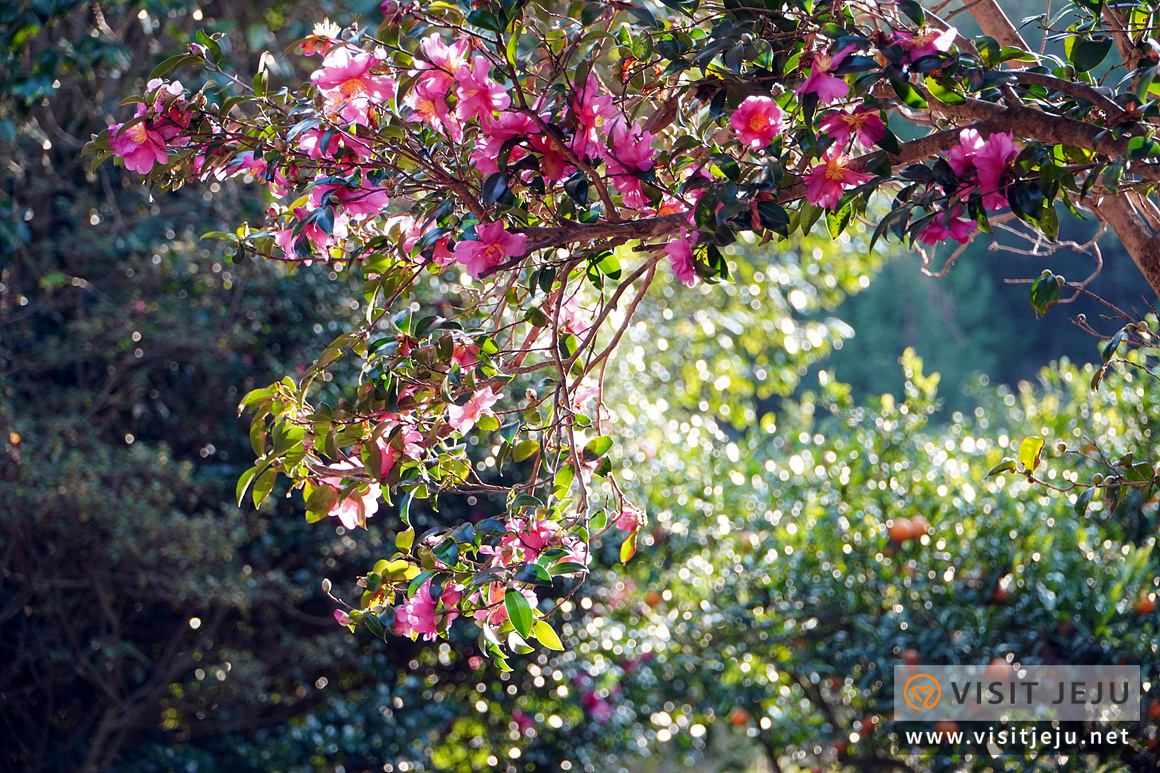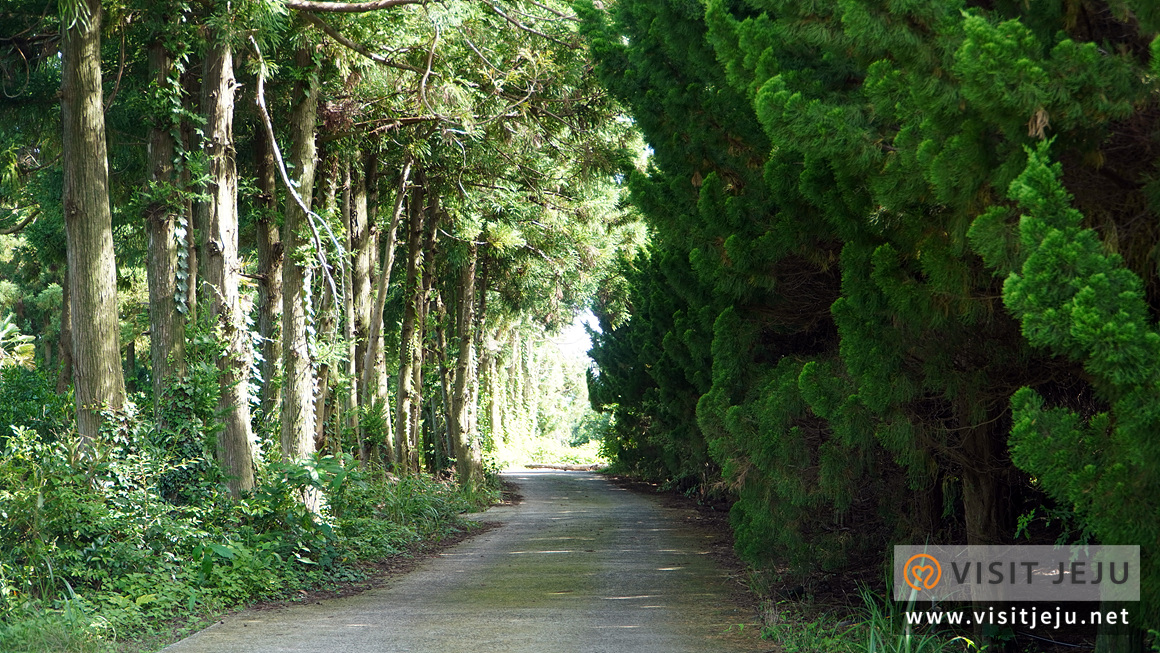 *When parking, please be sure to stay well clear of the roadway.
<Sinheung-ri Camellia & Juniper Road>
Address: 59 Sumang-ri, Namwon-eup, Seogwipo-si
A sacred valley
Yeongcheonak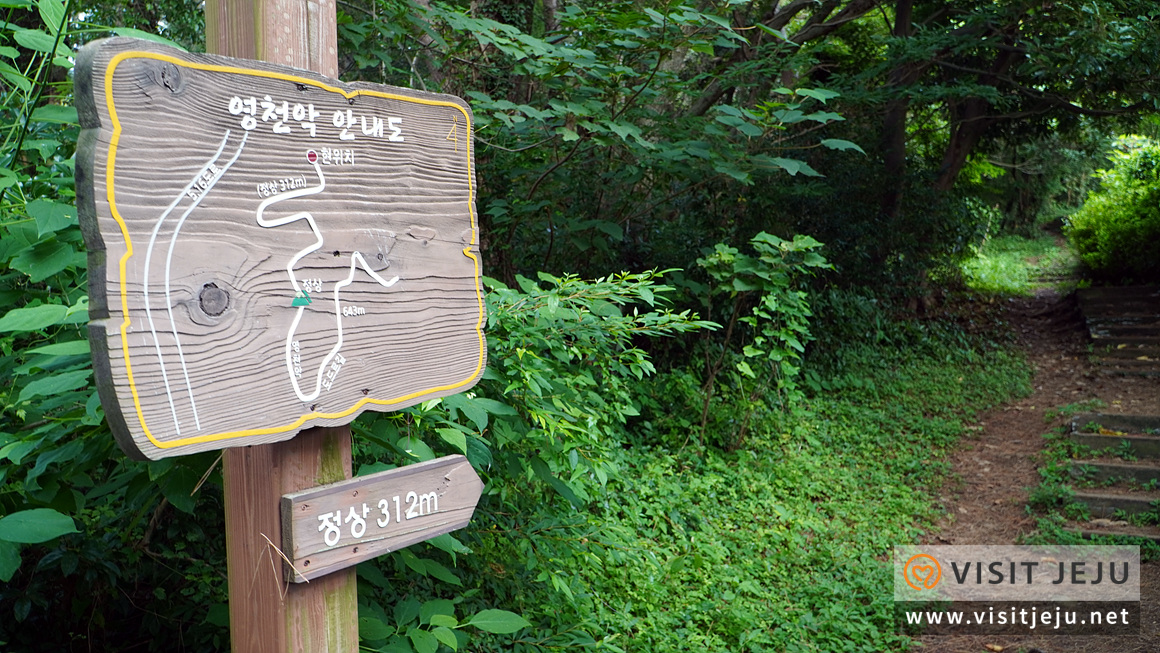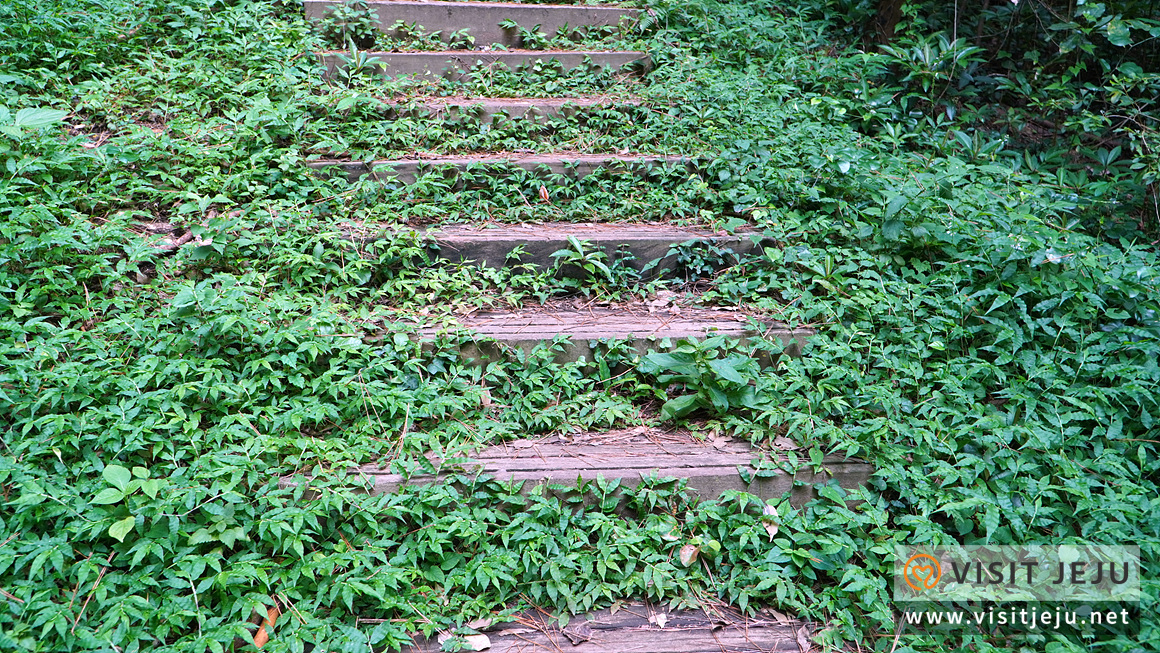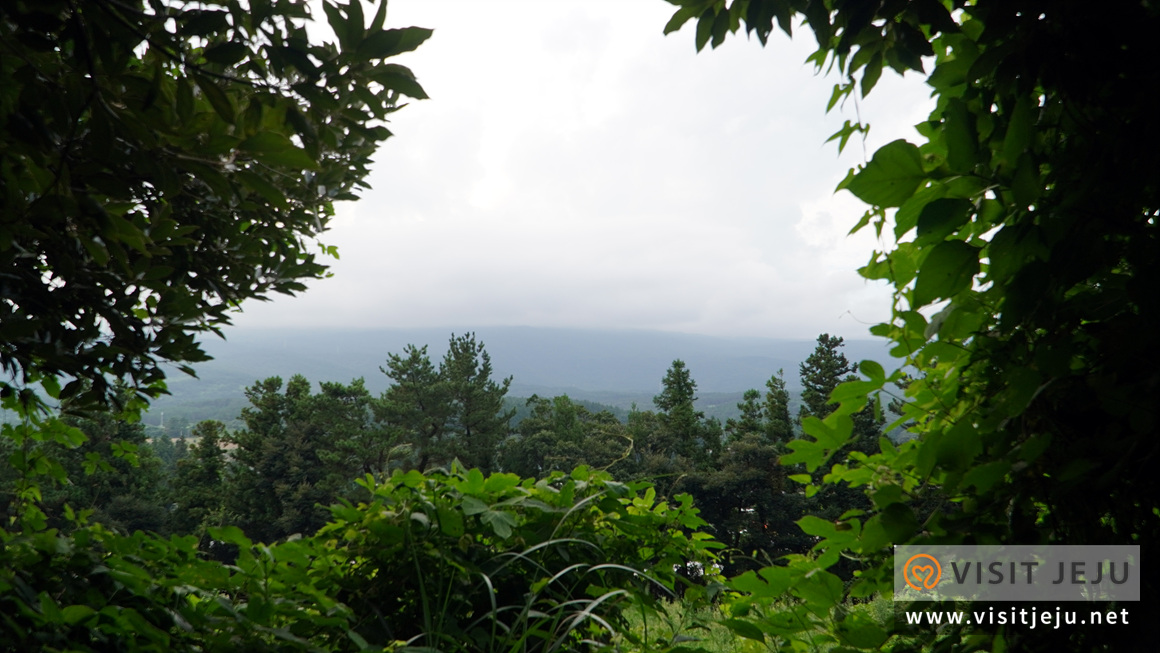 This cone-shaped oreum (volcanic cone) is very densely packed with trees, but as you reach the summit the view of Hallasan Mountain is wonderful. When the weather is nice, the top of Hallasan Mountain is very clearly seen, so be sure to capture your own images of this beautiful, quintessential Jeju scenery. A round trip from the base to the summit and back is doable in about 30 minutes and since there are stairs it is also a walking course for villagers.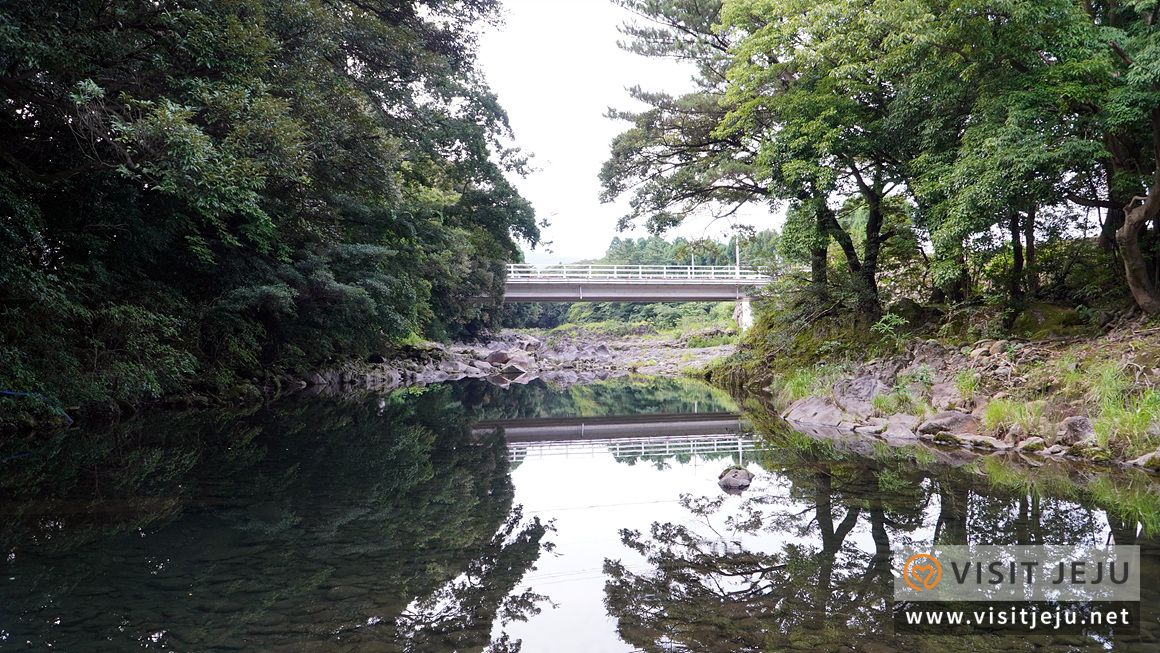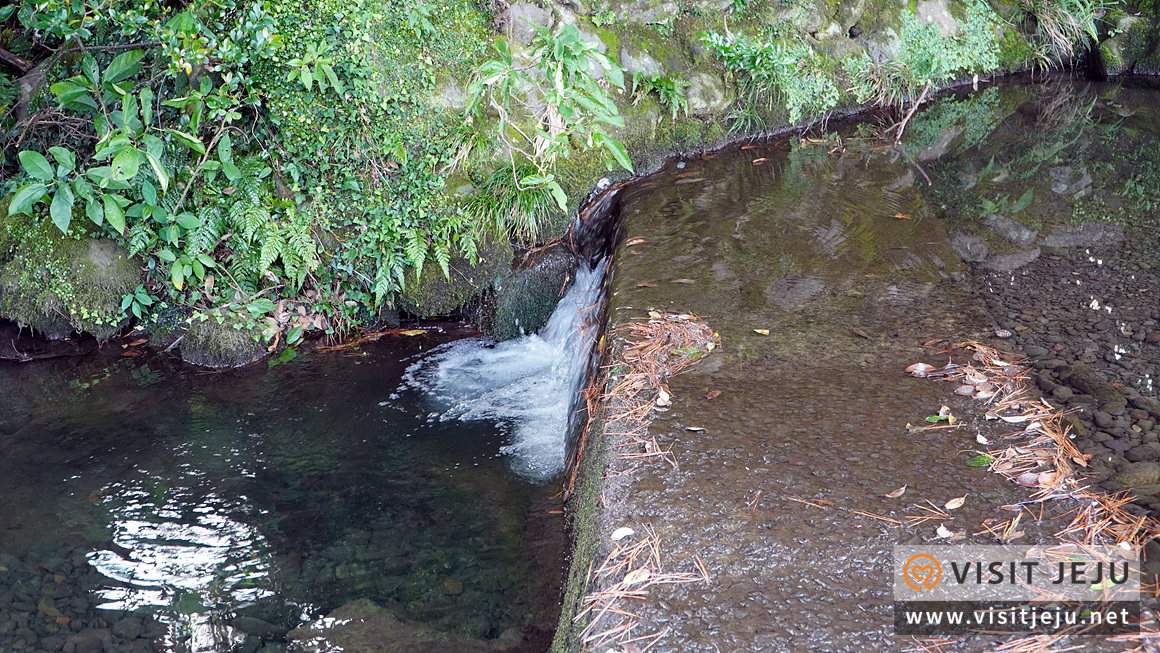 - Hakrim School
As you descend Yeongcheonak you can spot Hakrimgyo School. Located along the Hyodoncheon Stream, people come here to soak their tired feet in the cold, fresh water.
* Note that Hyodoncheon Stream is a place where visitors who are unfamiliar with the area can easily lose their way. Please take care!
Try the 1 p.m. tile fish auction
Okdom Village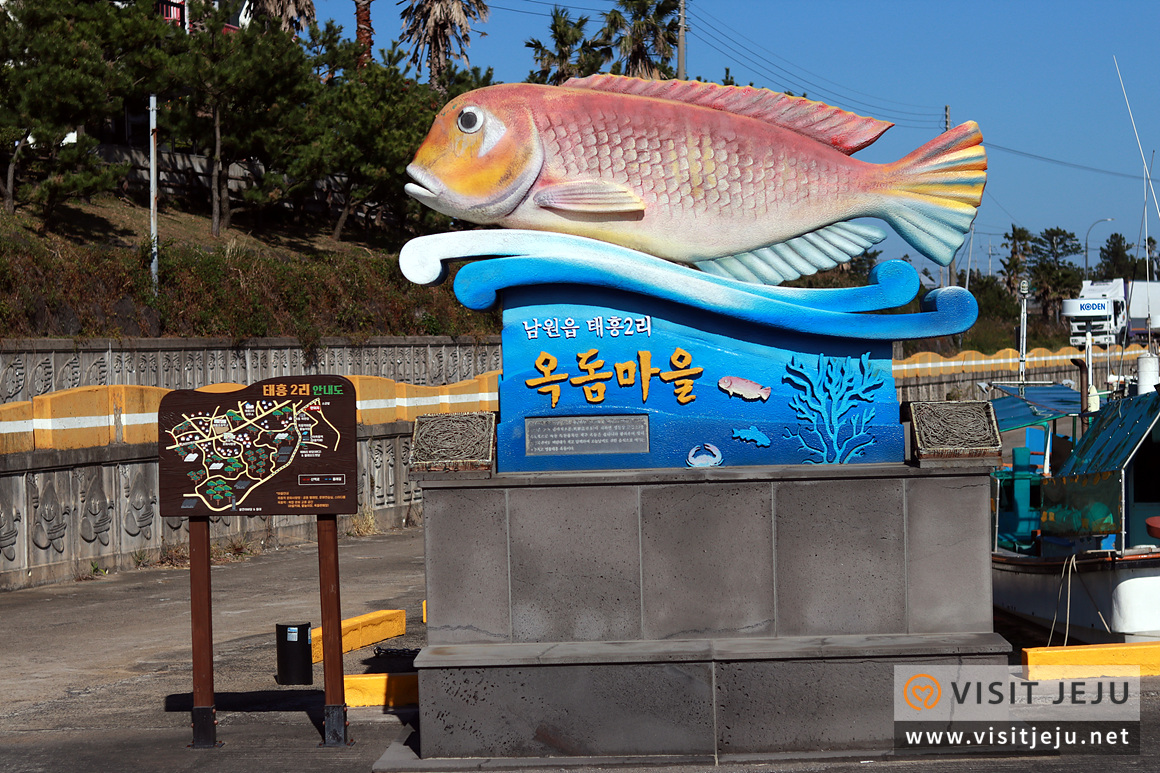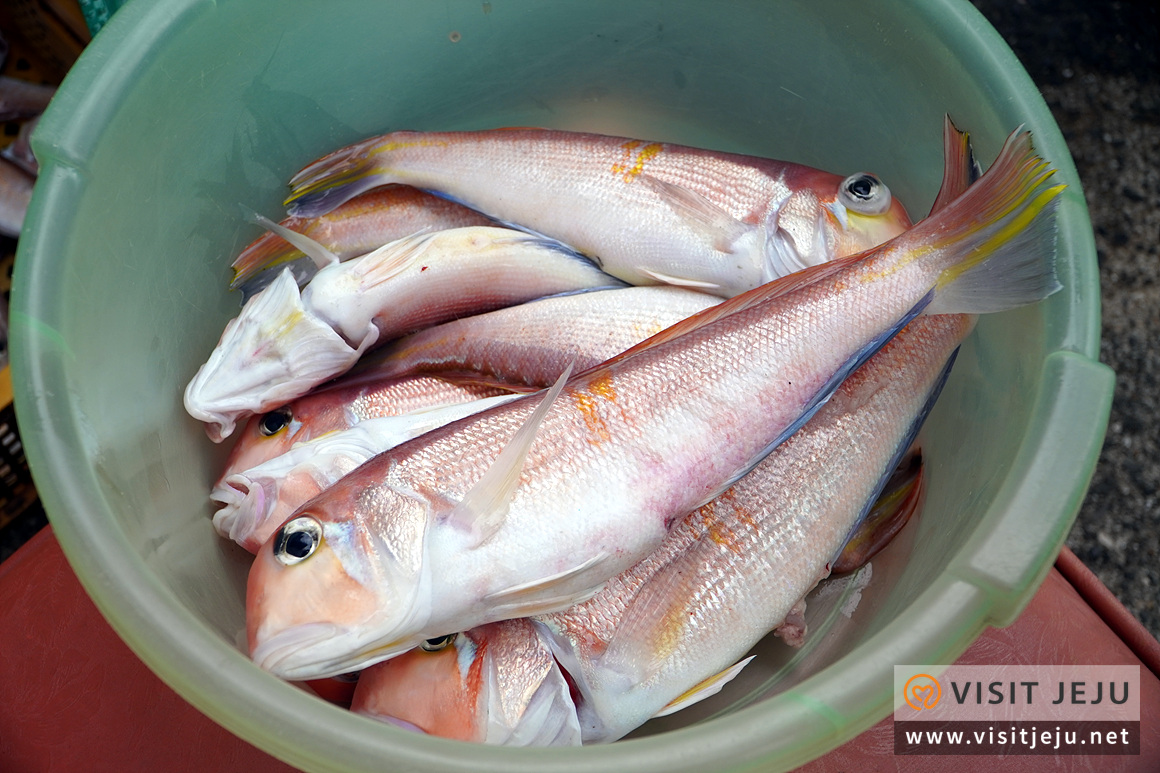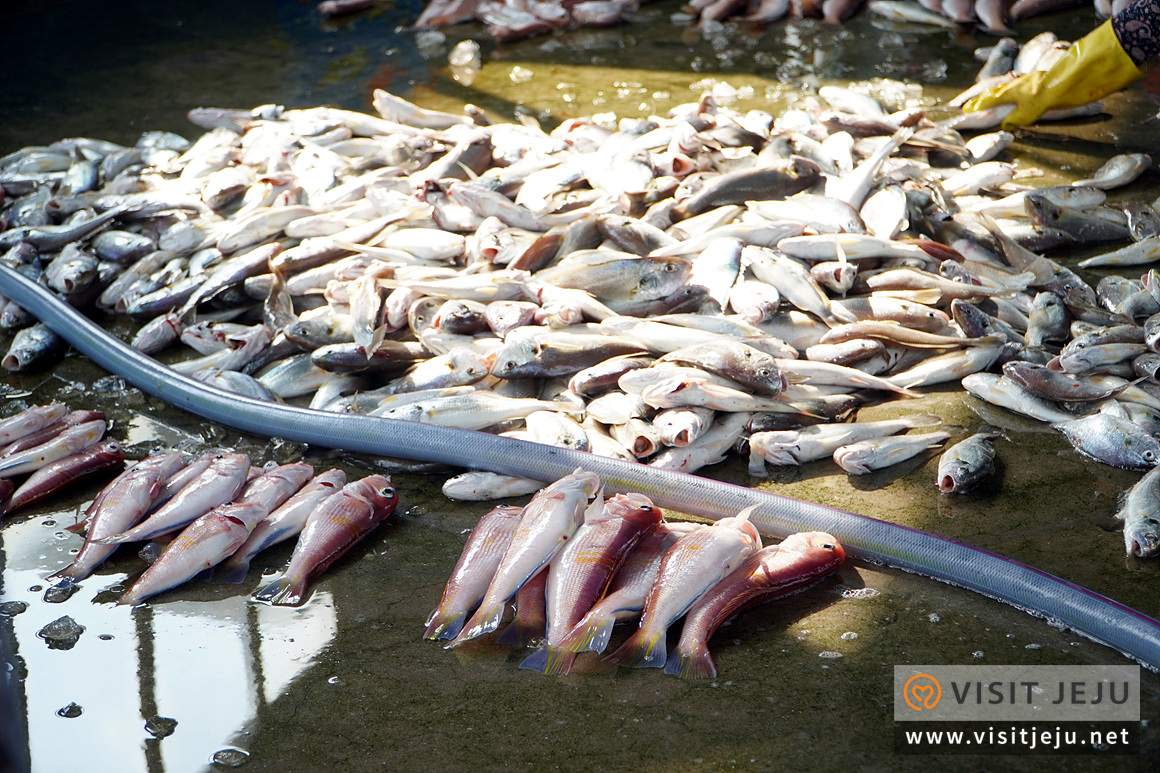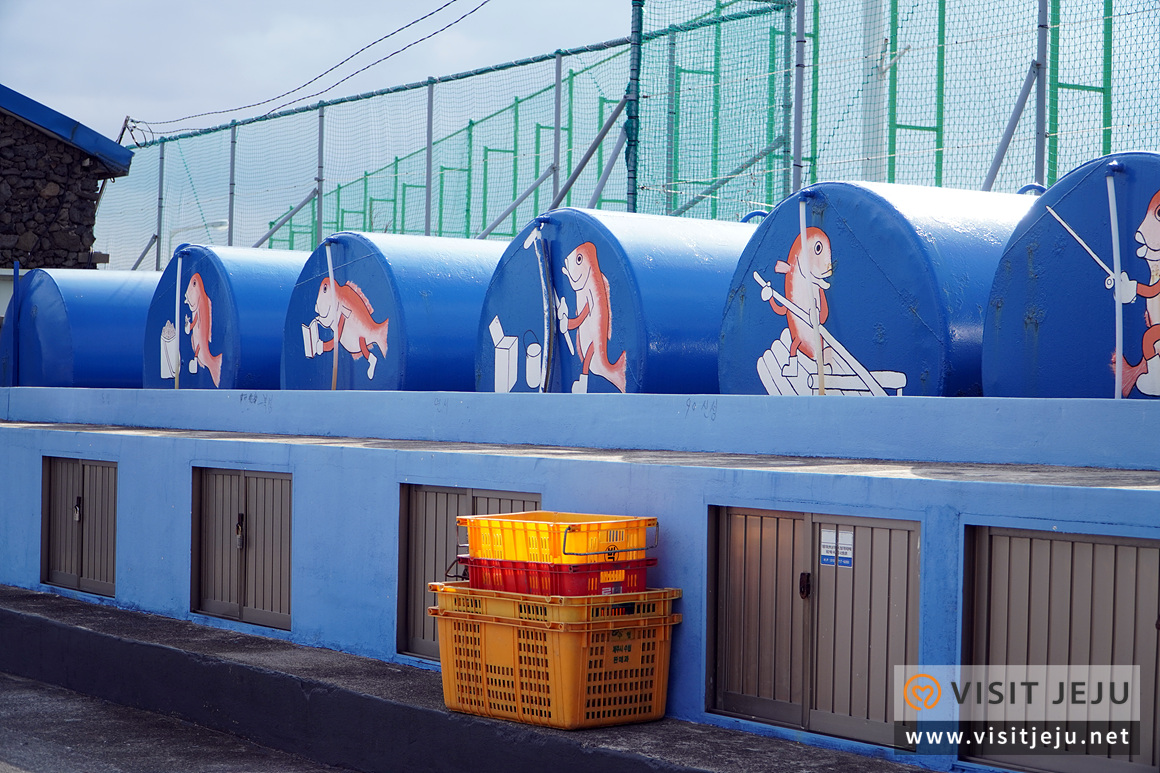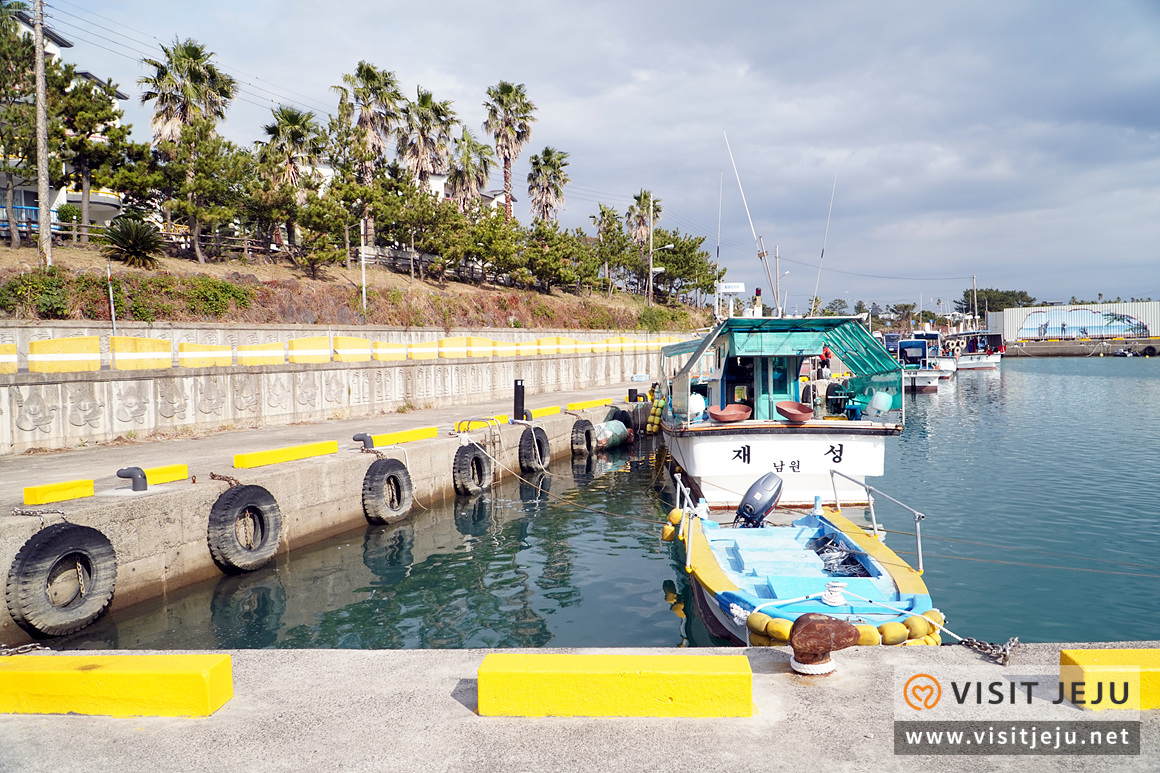 At 1 p.m. on weekdays, a whistle is heard at the Okdom Auction House in Taeheung 2-ri. Since it is not one of those crack-of-dawn auctions, you can attend without much trouble. It's exciting to follow all the action and the energy of the auctioneer is truly memorable. And of course you can simply go to a restaurant at Okdom Village to sample the freshest tile fish cuisine around.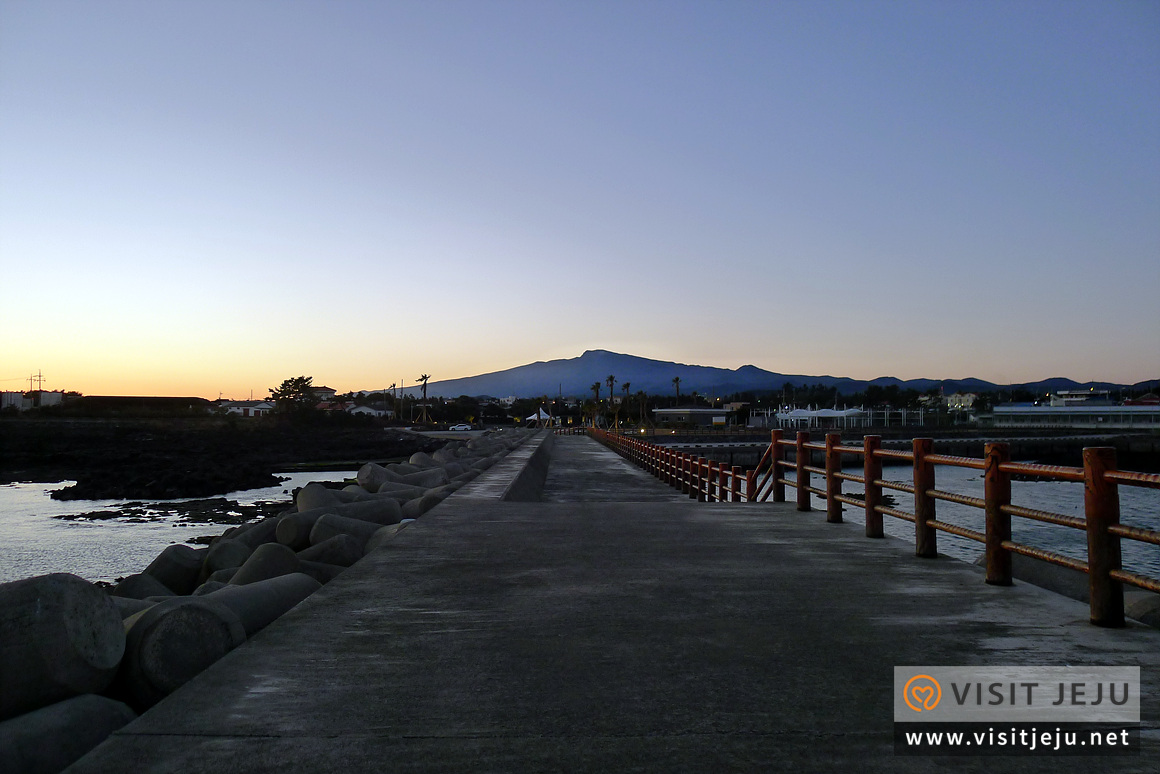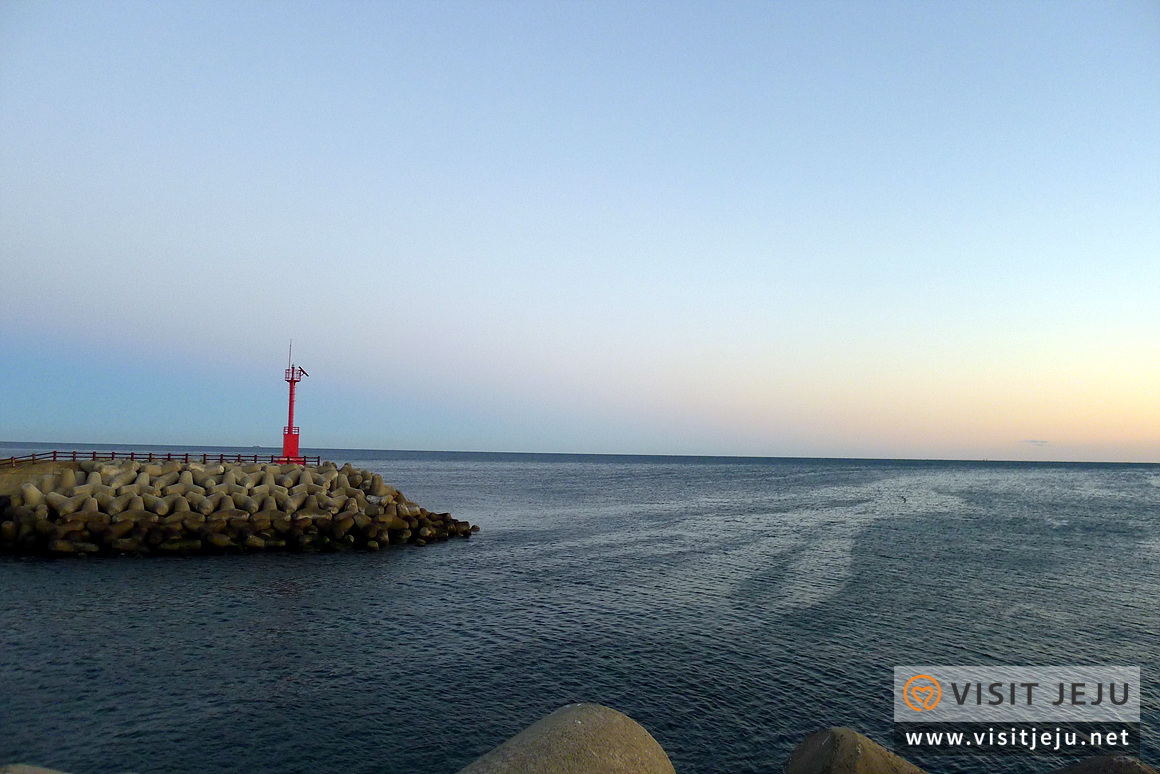 In the evening, it's possible to take a very pleasant walk along the port of Taeheung 2-ri with a view of Hallasan Mountain to accompany you. This rural village in Seogwipo becomes very quiet in the evening. The villagers need to be rested for an early start in the morning, so they retire to bed early. This calm atmosphere lingers over the village in a unique way. By all accounts it's a very special experience!
<Taeheung 2-ri Fishing Village Okdom Auction House>
Address: 364-4 Taeheung-ri, Namwon-eup, Seogwipo-si
Take a walk while Hallasan accompanies you
Wimi Port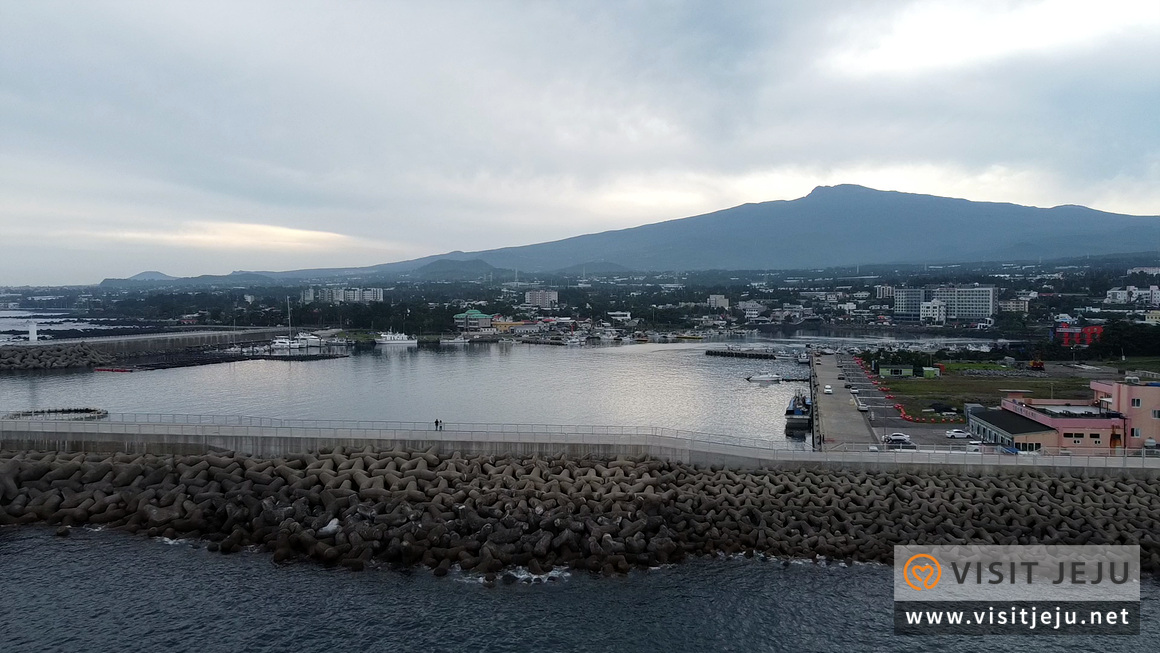 Wimi Port is one of Jeju Island's sunset spots. When the sun goes down, you can watch it descend behind Hallasan Mountain while walking along the breakwater. The length of the breakwater is substantial, making it a perfect length for taking a walk. At Wimi Port proper, you'll find people fishing for fun and people on their summer vacation.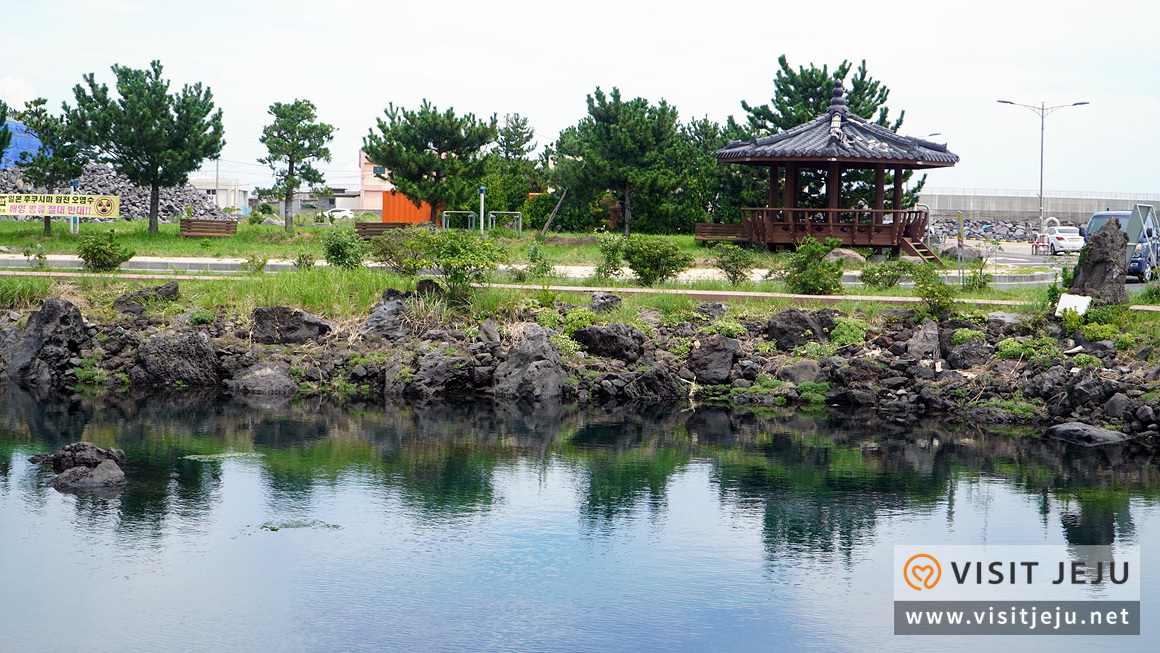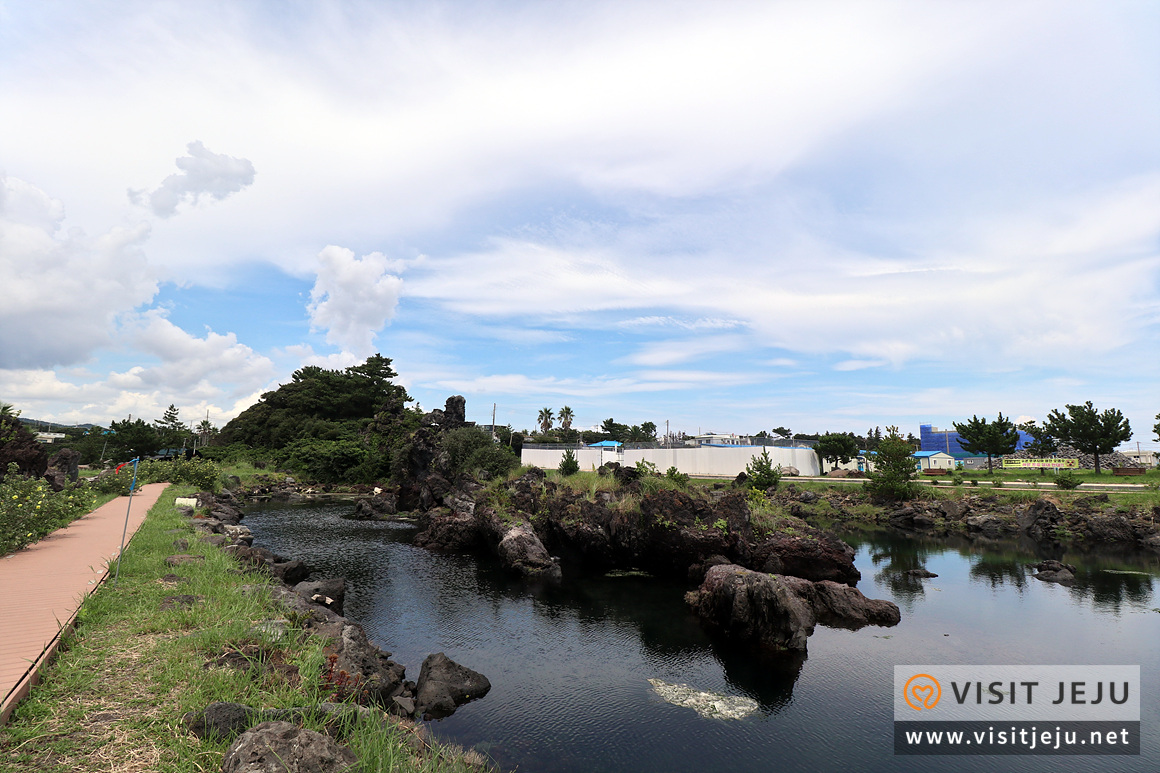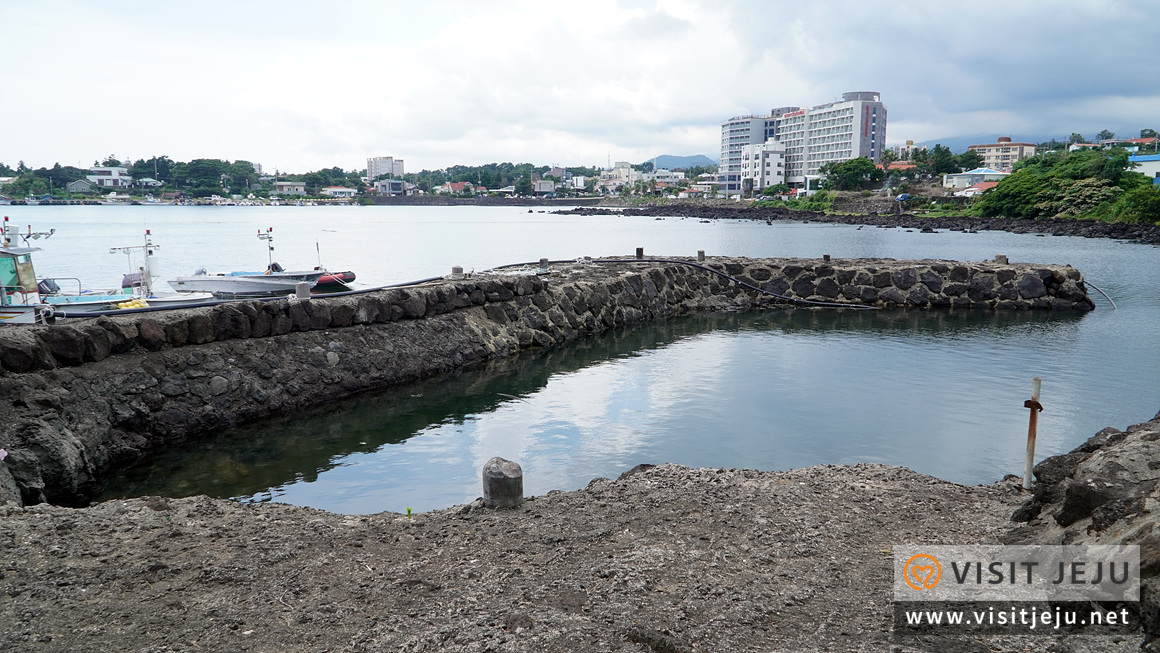 - Wimi's hidden treasure (Jobaemeodeulkoji)
A hidden attraction of Wimi Port is a very special pond with cypress trees, volcanic stone features, and a view of the rocky shore and Hallasan Mountain.
An old but pleasant port
Namwon Port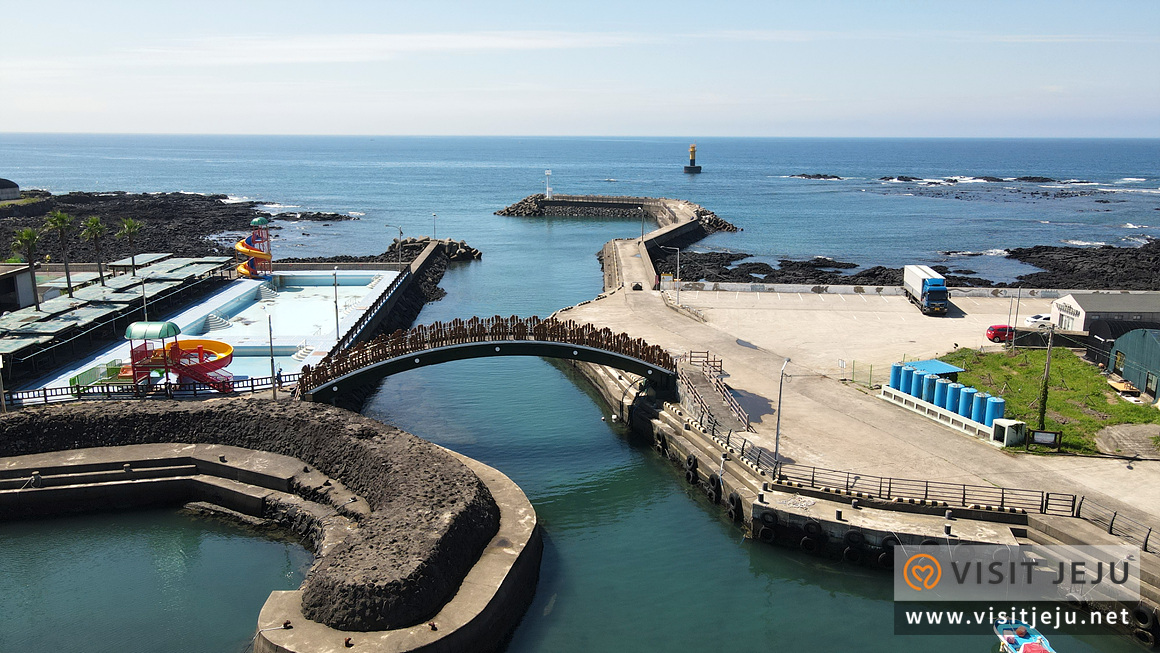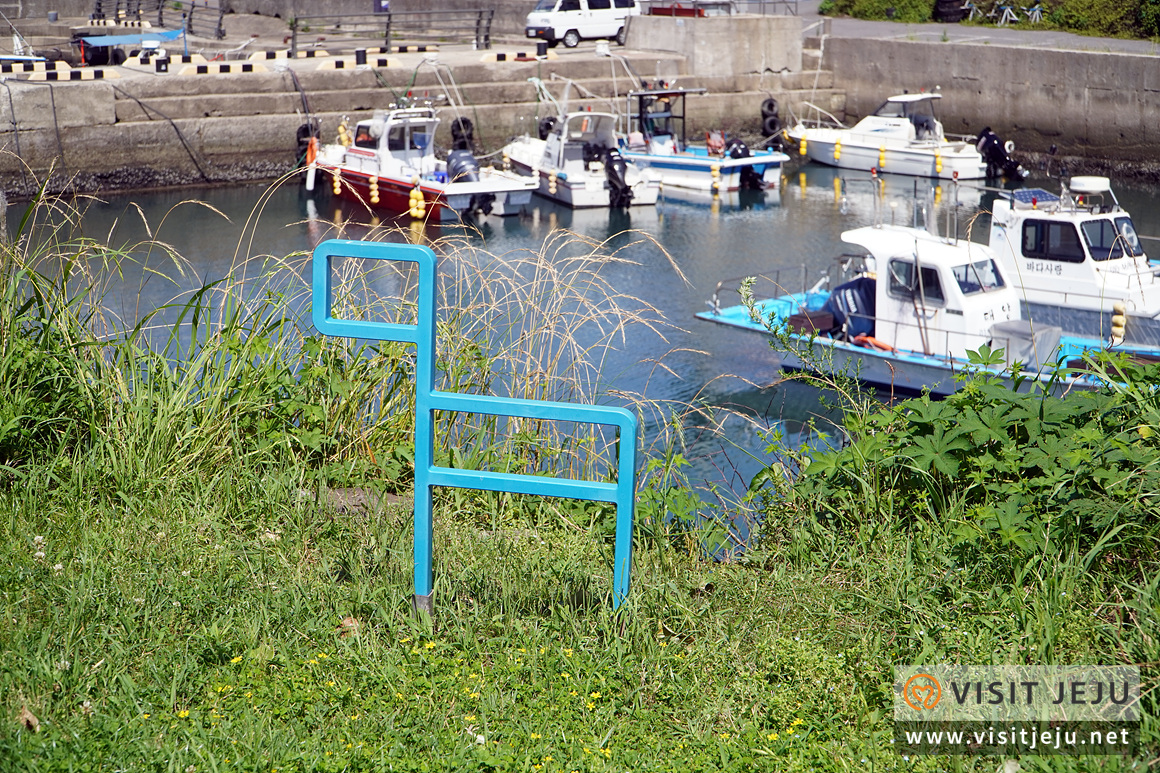 Namwon Port is well-known as the starting point of Jeju Olle Walking Trail No. 5. The inner port is more or less original and is thus very special and attractive. In midsummer the seawater pool is popular with kids, though social distancing has temporarily put a halt to this pleasant pastime. In the evening, anglers come around the port to fish for squid, among other things. Namwon Port is centrally located in Namwon-eup so your dining experience will consist of a wide range of options, especially fresh seafood.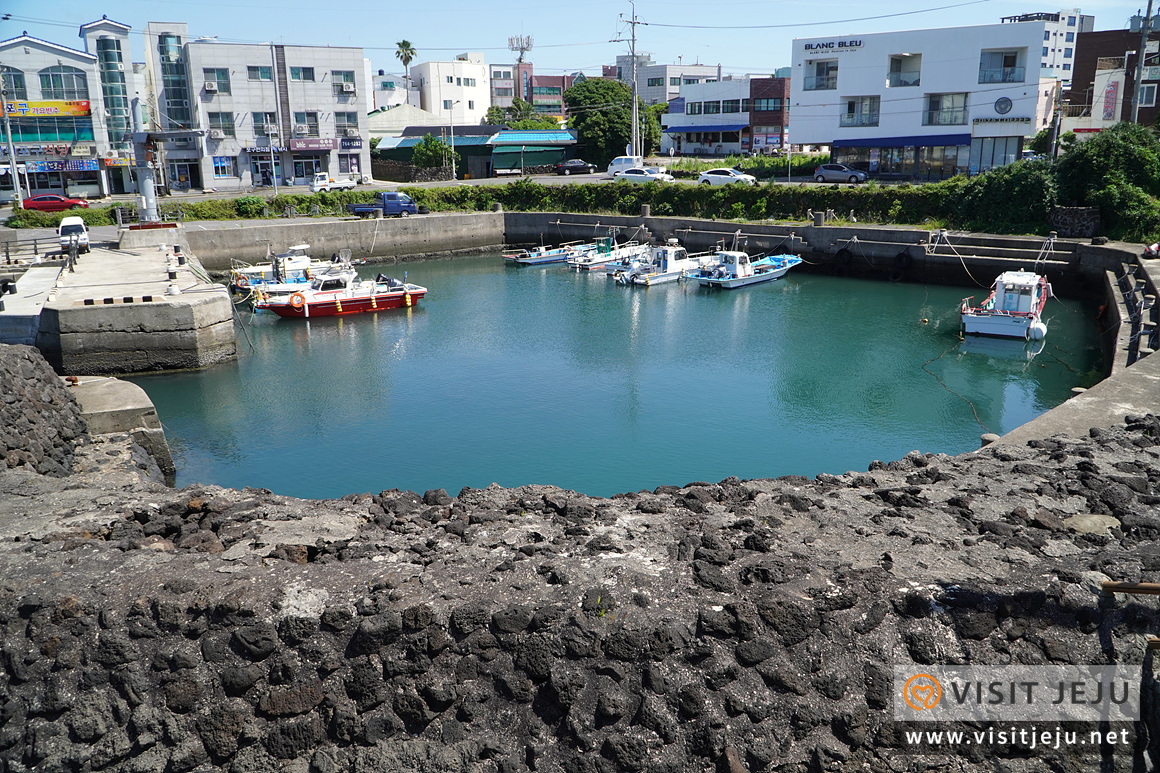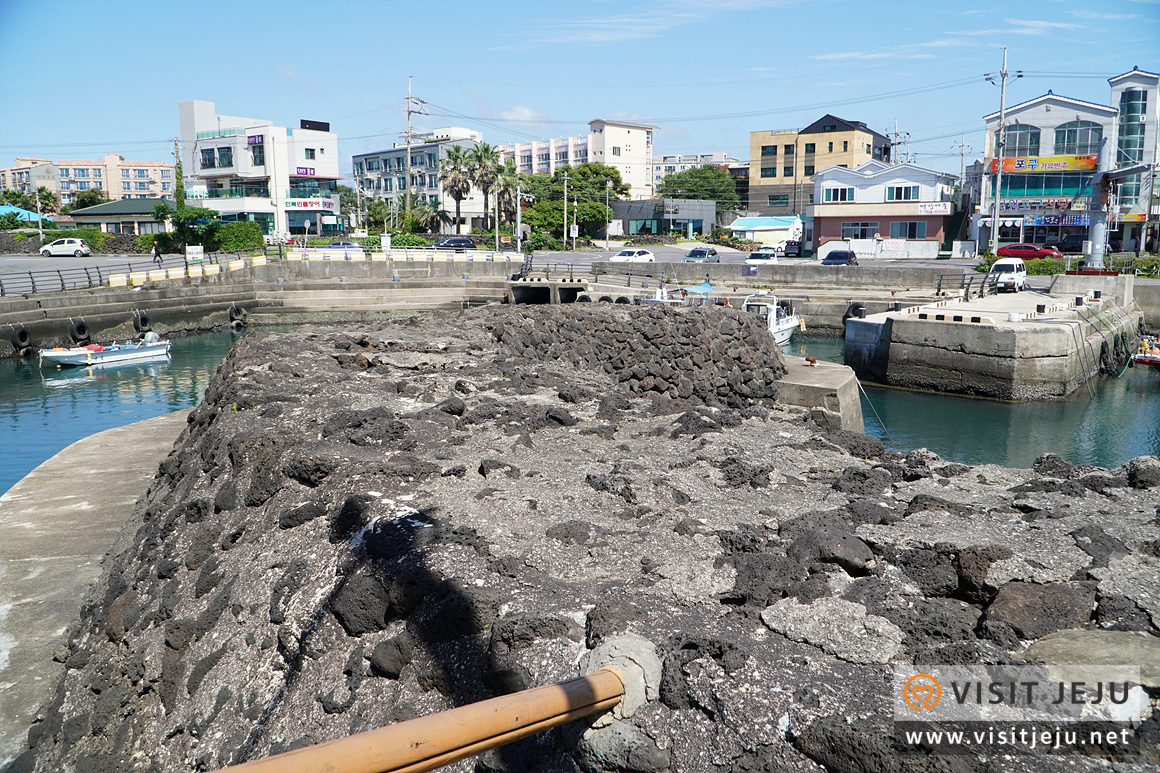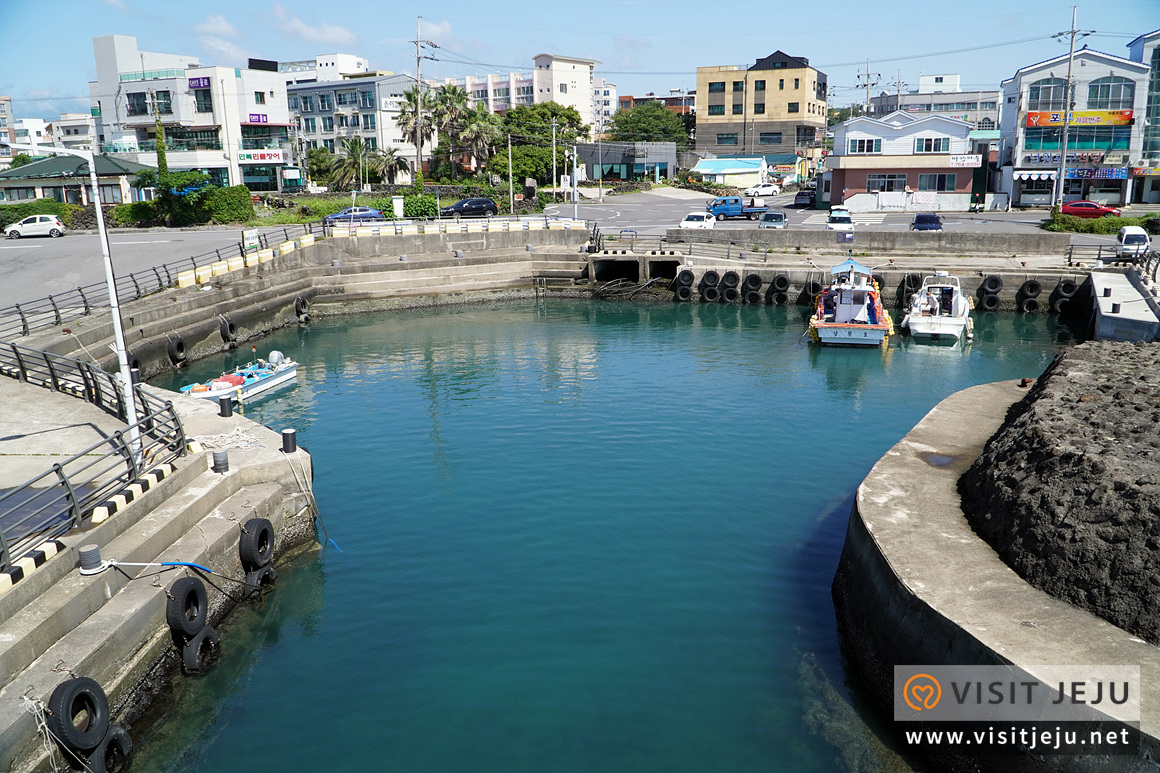 Namwon 1-ri Port is also called Jaesanigae, implying the accumulation of wealth. It was named this because people who worked in and around the port became wealthy as a result of the abundant fishing and the production of salt, which was a valuable commodity.
<Namwon Port>
Address: 91-6 Namwon-ri, Namwon-eup, Seogwipo-si
The charming southern townships of Seogwipo have much to offer visitors, especially now that safe travel is a major concern during this global pandemic. You can enjoy nature while walking along its quiet forest paths and explore the local villages while avoiding crowds of people. That being said, COVID-19 protocols remain in place, including mandatory mask use in public places.
Notice

※ The above information was written on 2021-08-18. Please confirm the information prior to your trip.
※ Unauthorized use of the content above (text, photos and videos) is prohibited and subject to copyright by the Jeju Tourism Organization.