본문
Top 10 Jeju Sites for August

Coolness beyond sweltering heat: Jeju in August is 'cool'

Jeju in August. This is where people come to experience pleasant moments with a passion that is hotter than the blazing sun. Wherever you come from, unexpected coolness will be waiting for you.


(Seoneong Seoneong: "Cool" in the Jeju language)


Islands in an island, some in summer!
Attractive inhabited islands of Jeju Island
Jeju, the largest island in Korea, which is cited as one of the best tourist destinations, has many islets nearby. What if you take a boat again in Jeju where an exotic landscape unfolds cross the sea? Let's make memories in summer time in the top five inhabited islands: Udo Island, Biyangdo Island, Marado Island, Gapado Island, and Chujado Island. The fact that Chujado Island was included in the "33 Best Islands to Visit in Summer Holiday This Year" announced by the Ministry of the Interior and Safety this year when "Island Day" was enacted for the first time is actually no accident; it was inevitable. From boat fishing to bicycle trekking and peanut ice cream enjoyed on a coral beach! Let's leave for those islands within an island right now, and wherever you go, whatever you do, you can find attractive things. You must fill out a boarding statement before departure, so you should check the boat time and arrive at the port with some time to spare. You must bring your identification card.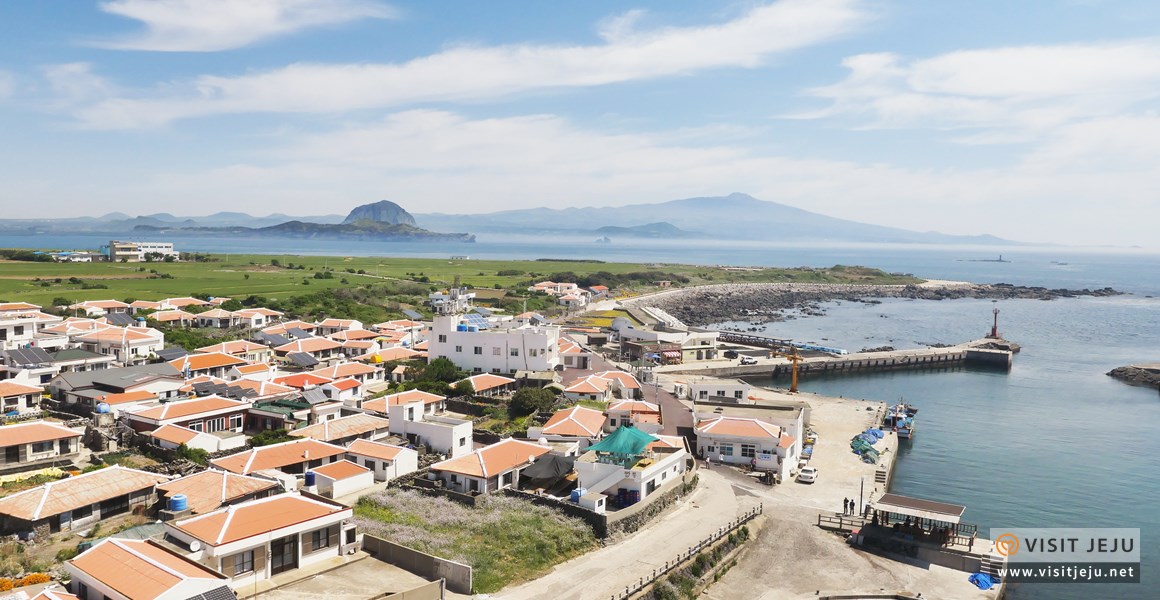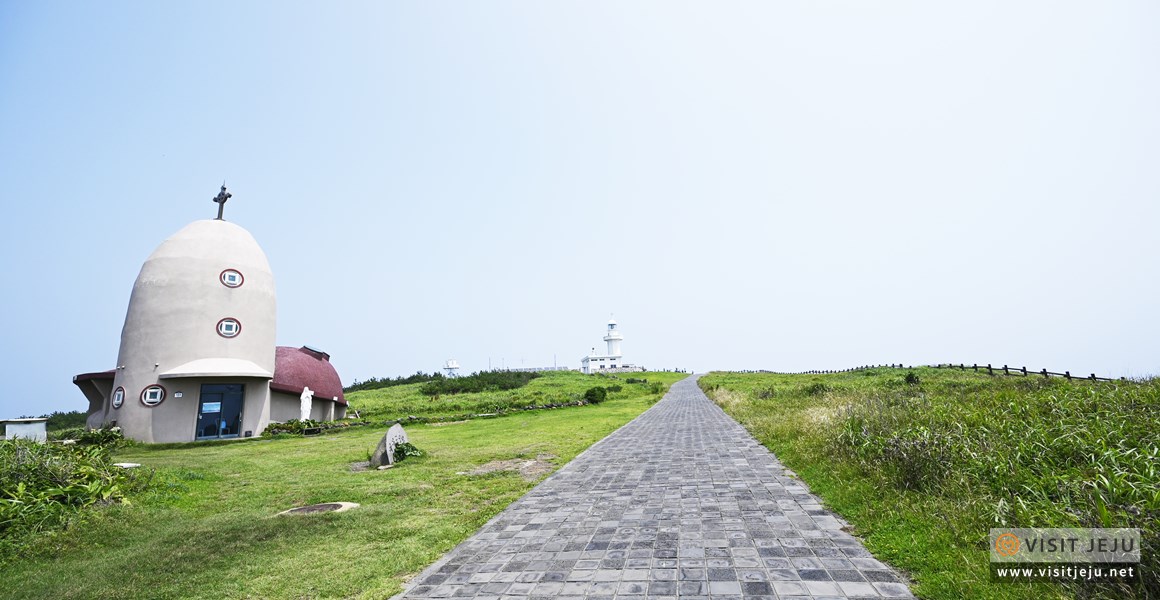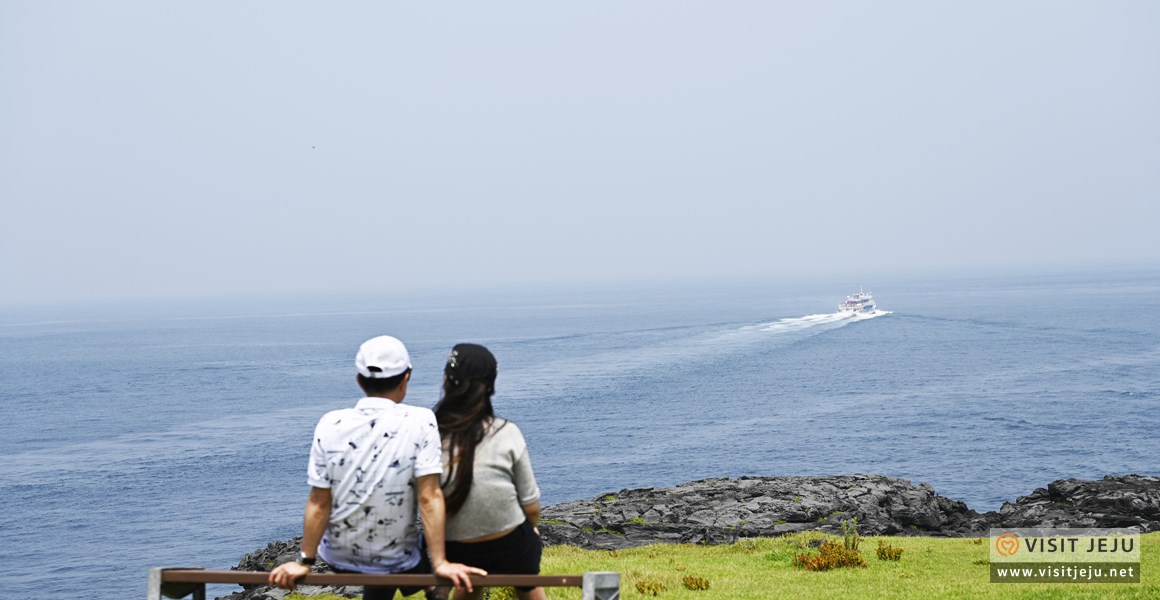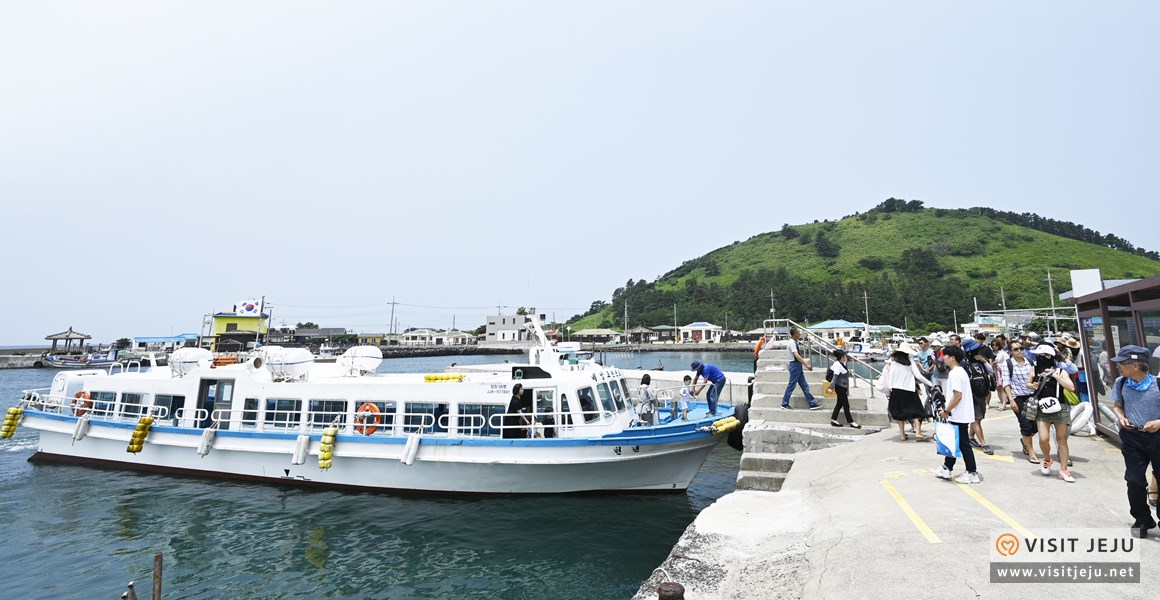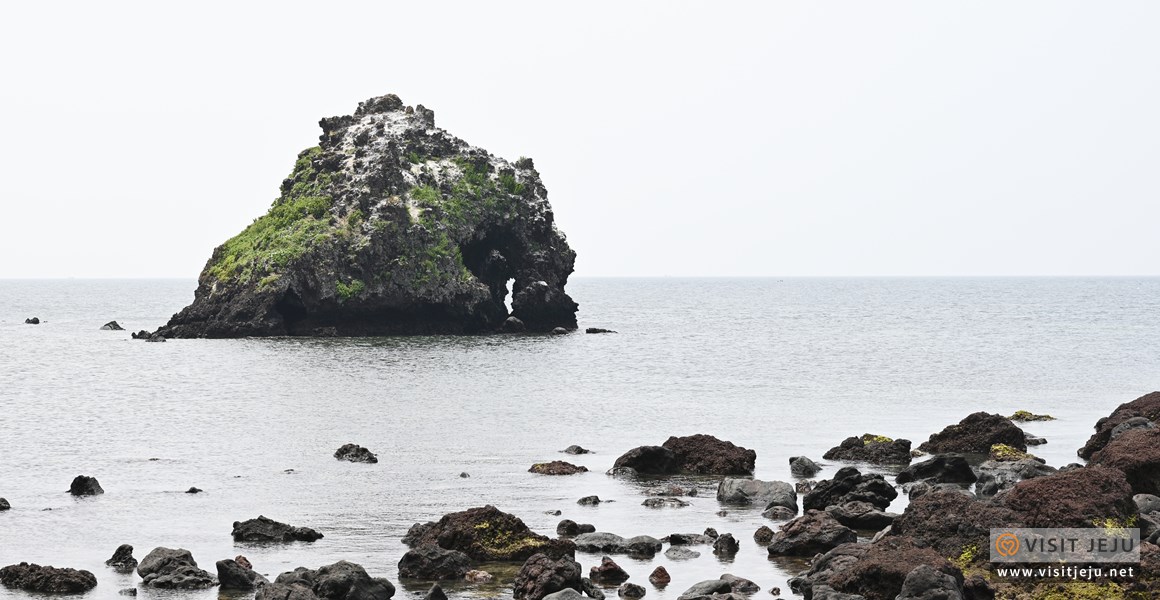 Easy to climb, but the landscape is the best of the best
Nangkki Parasitic Cone (Namgeobong)
There is a wooden staircase of easy slope on Nangkki Parasitic Cone, so anybody can access it without worrying, and it just takes five minutes to arrive at the peak. But do not look down on it because it is not tall. Since there is an exotic landscape of wind farms and famous peaks such as Yeongjusan Mountain, Jwabomi Parasitic Cone, Seongsan Ilchulbong Tuff Cone, and Udo Island, the view from the peak is really the best of the best! You can get a great deal of pleasure with little effort even in midsummer when it is hard to walk for a long time because it's hot and humid. Take a wonderful photo in Nangkki Parasitic Cone, which is very cost effective.
‣ Nangkki Parasitic Cone (Namgeobong): 3954 Susan-ri, Seongsan-eup, Seogwipo-si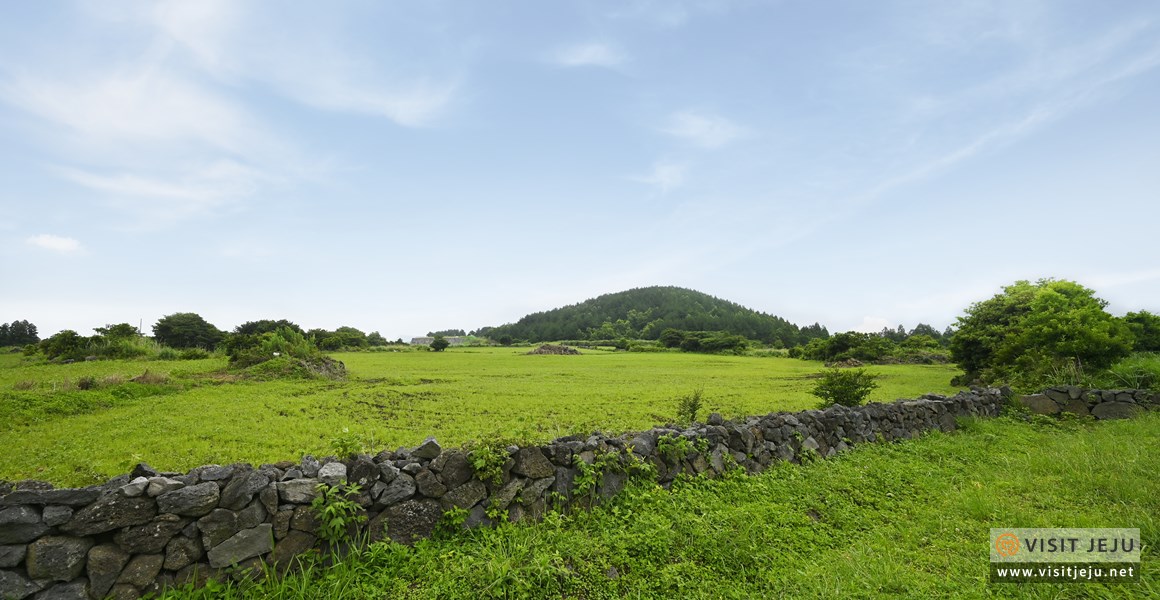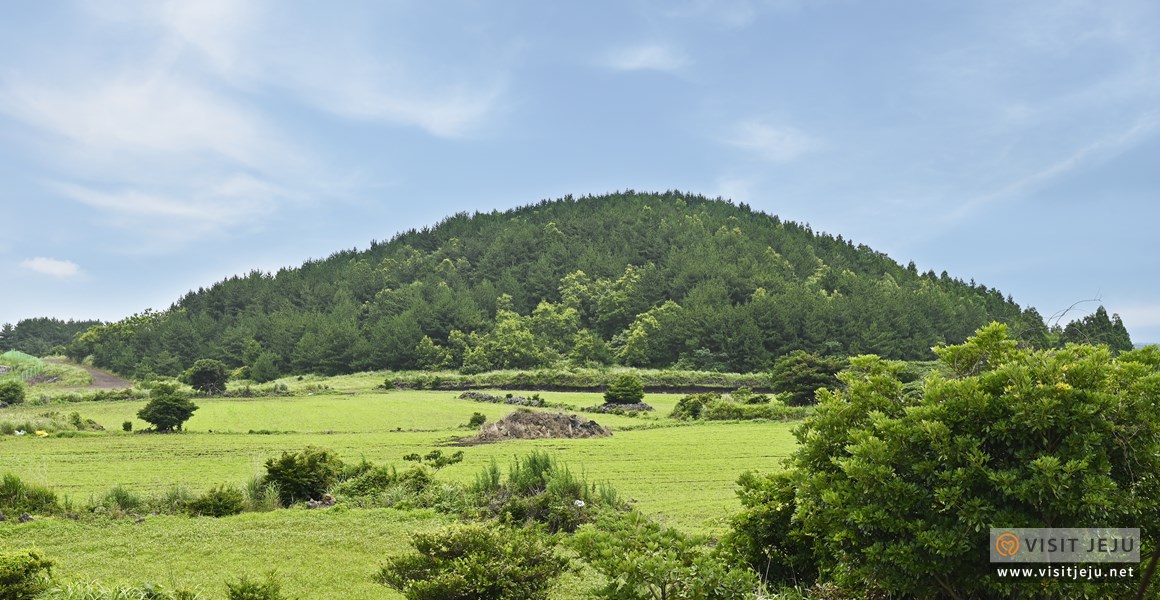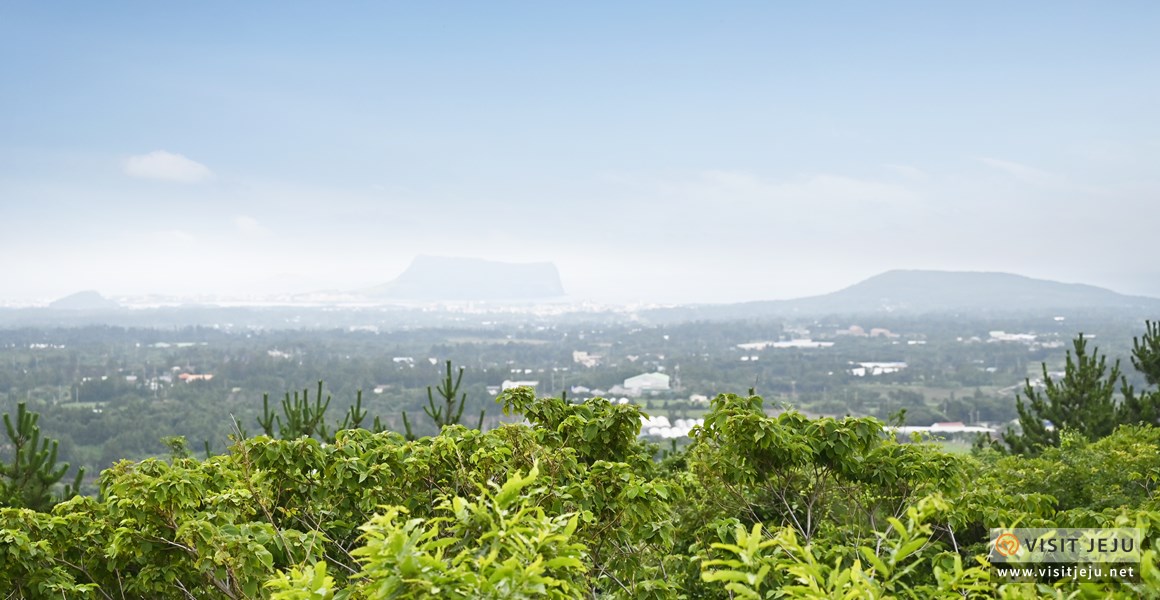 Children's laughter that spreads clean and cool
Forest Playground, Outdoor Play Space
How about traveling to a forest with children who get bored in confined spaces? The forest experience center for children established in recreational forests on Jeju Island encompasses children and nature with its various programs. The themes of programs in August are "It Rains on Summer Days" and "Earth of Forest You Feel Through Your Hand." The forest experience center for children, which fosters knowledge, emotion and even creativity, is open to individual participants on Saturdays and requires on-site application or prior reservation via the Internet (refer to the Institute for Forest Studies blog 'Kkumjirak') If you missed prior reservation, it is recommended that you to go to a café with play facilities. Are you sorry that you don't accompany children? There are forest commentary and experience programs for children, so refer to the homepage.


‣ Institute for Forest Studies blog "Kkumjirak": dreamwijoy.blog.me
‣ Nolnol Playground: 2228, Bijarim-ro, Gujwa-eup, Jeju-si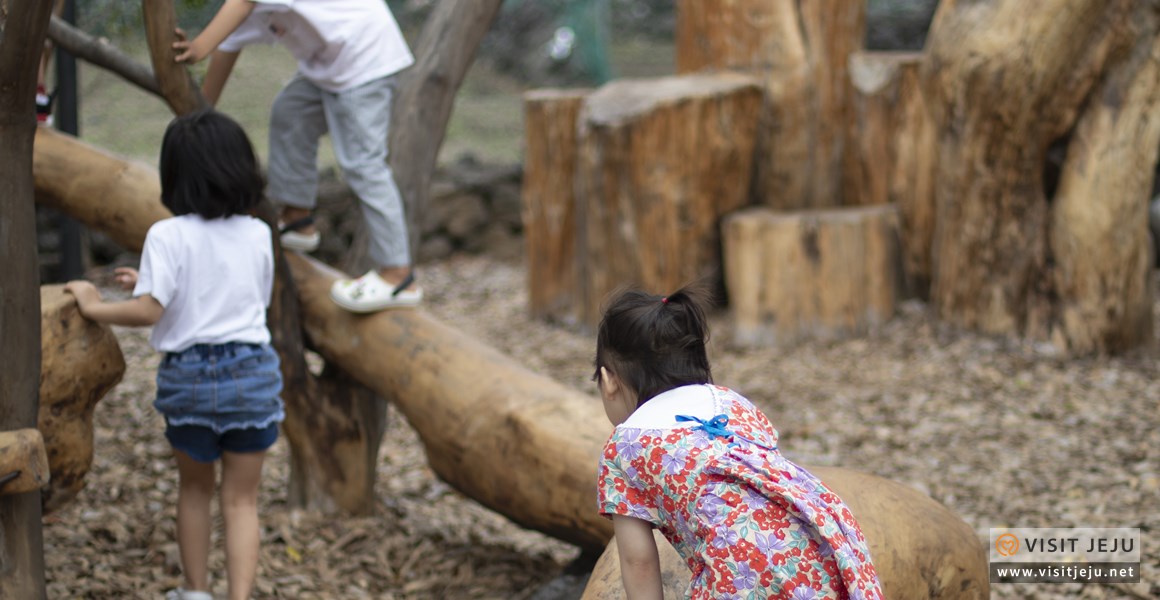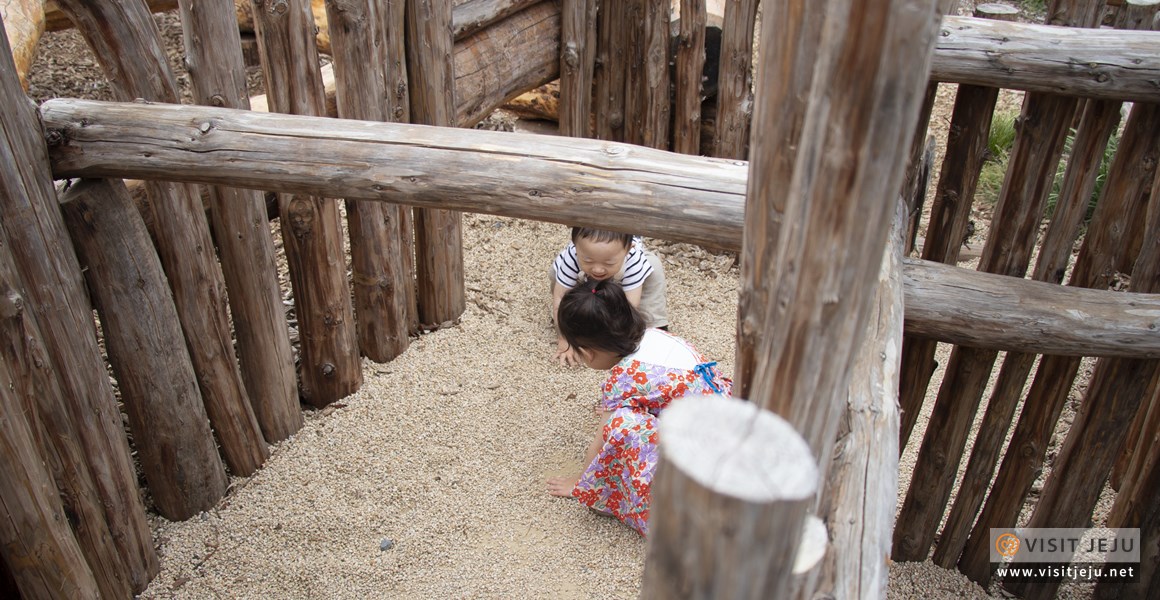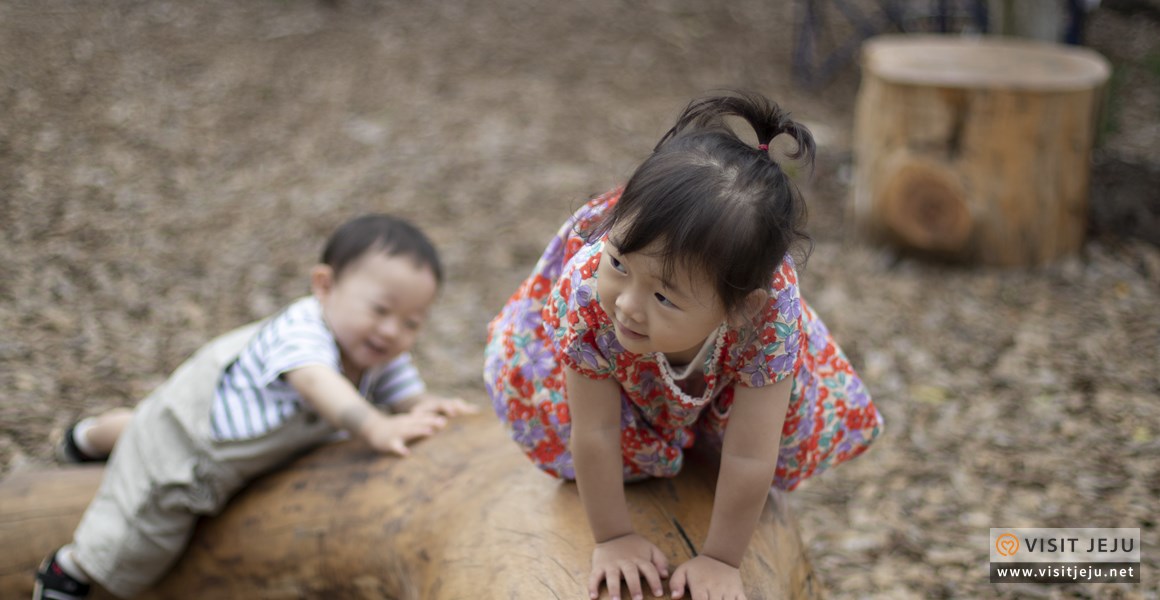 An echo of the heart that music passes
Jeju International Wind Ensemble Festival, Nogorogi Healing Concert and Sanjitmul Park Concert
The Jeju International Wind Ensemble Festival, a golden music festival that shakes Jeju in the summer, is held from August 8 to 16. World-famous and young wind instrument players perform and a variety of performances, such as a collaboration with haenyeo (women divers), which is a UNESCO intangible cultural heritage property, are held. You can see the performance schedule on the homepage. What if instruments are added to the sound of wind and birds? The Nogorogi forest healing concert is held in Bulgeun Parasitic Cone recreational forest on August 31. From vocal music to accordion playing and reading books and poetry, it will be "nogorogi," which means "comfortable." Also, the Sanjitmul Park Concert will be held at 7:00 pm on Saturdays for four weeks from August 10 in Sanjitmul Park, Jeju-si. Jeju in this summer can be called an island where music plays!
‣ Sanjitmul Park Concert: 19:00~21:00, August 10~31 (Sat) / Sanjitmul Park, Geonip-dong, Jeju-si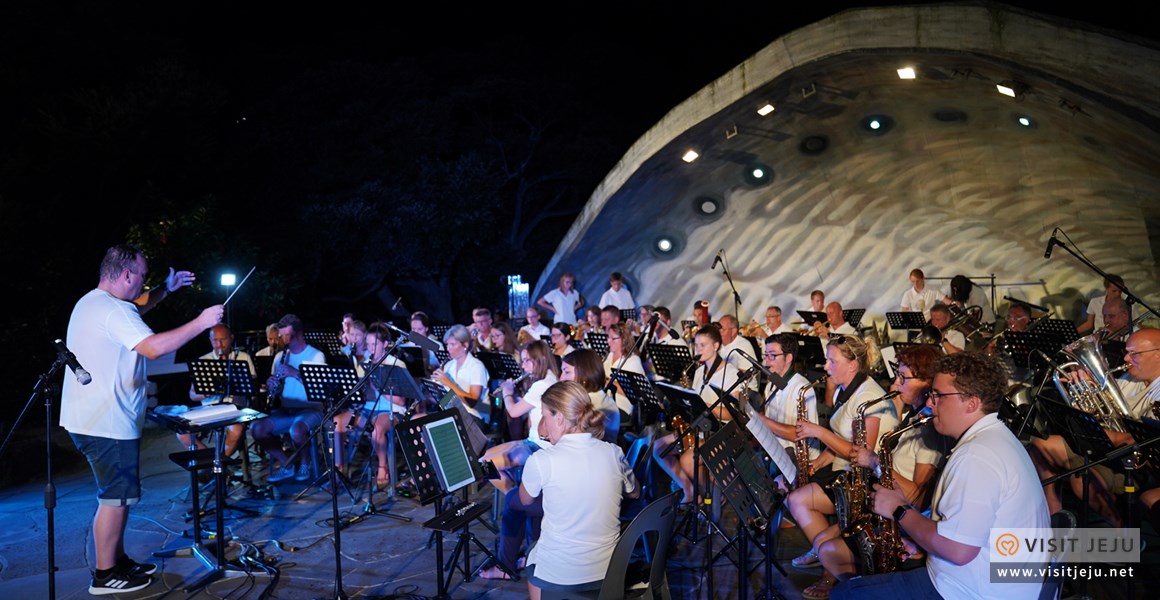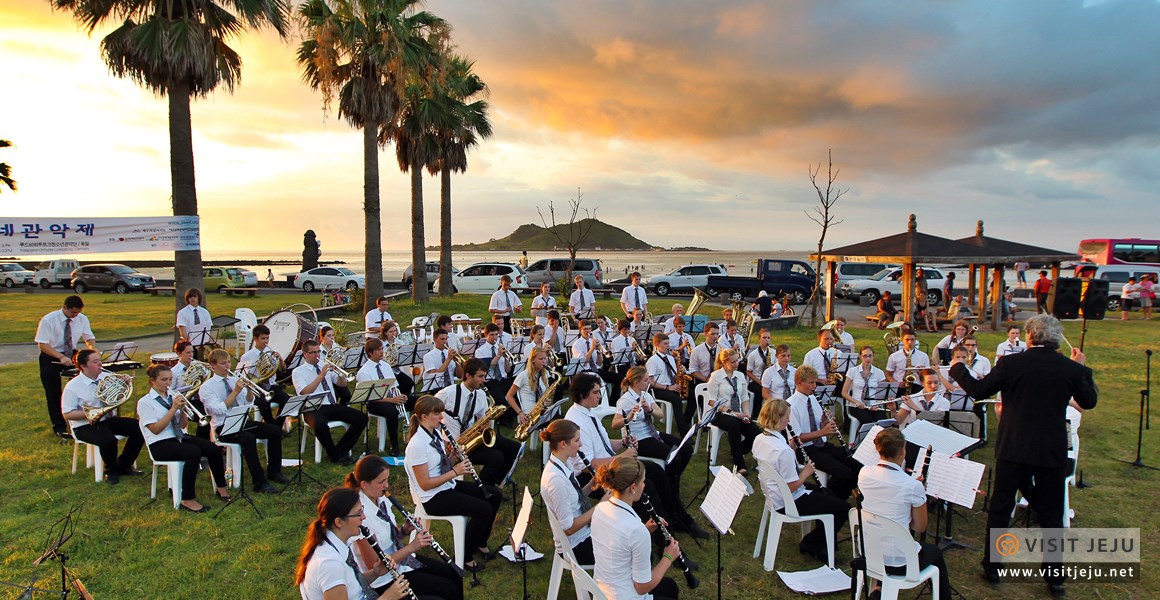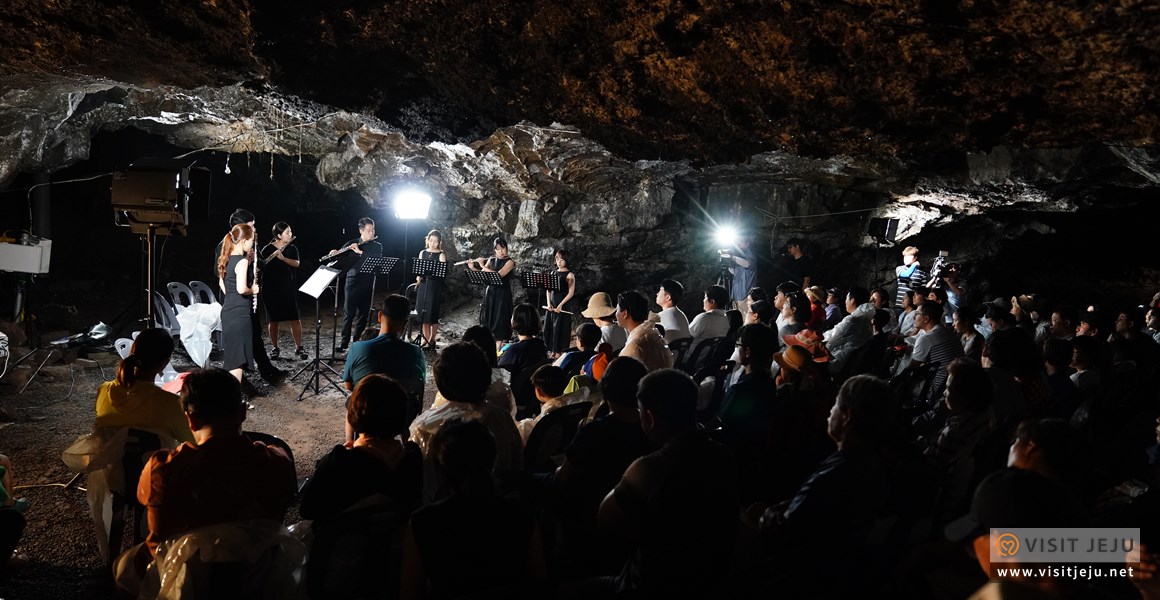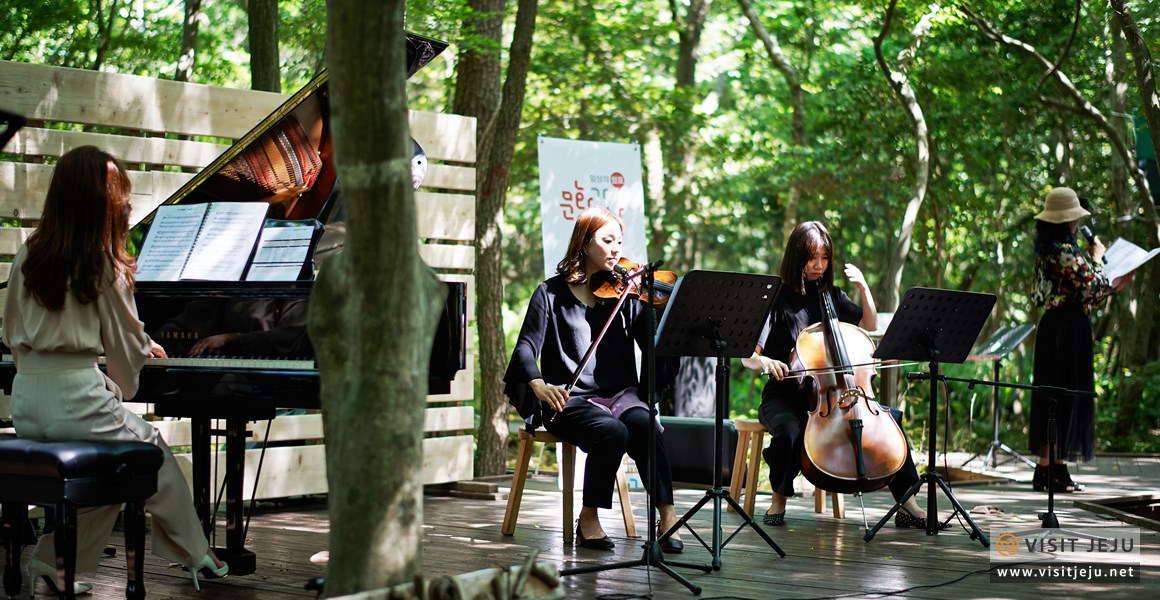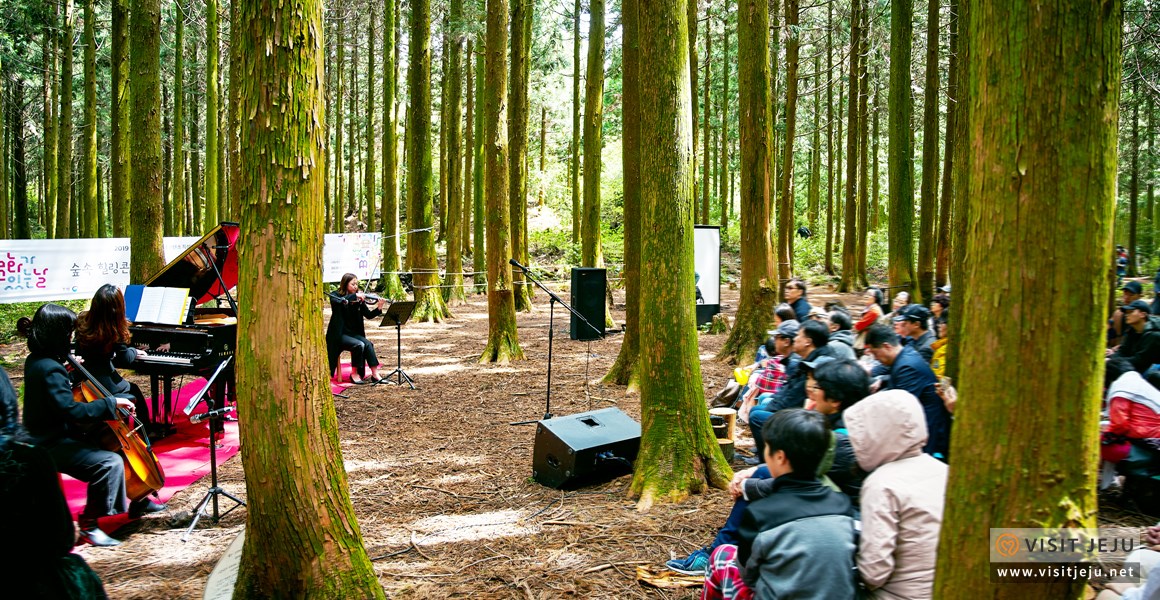 Colors of your heart: Blue water and green grass
Panpo-ri, Yongsu-ri, Hangyeong-myeon
When it comes to snorkeling in Jeju, you must not miss Panpo Port. The sea surrounding the harbor is safe for beginners and families with children, and tourists who arrive without preparation can rent equipment and use shower facilities in nearby cafés and restaurants. After playing in the water, stroll around the village. You have only crossed a road, but the landscape is totally different from sea to field where your heart is also green! The western sky seen from nearby Haegeoreum Village Park is a freebie. In Yongsu Port, 10 minutes from Panpo-ri by car, Olle Route 13 starts with Jeolbuam Rock, where there is an ardent love story of a wife and her husband and time melts through the sunlight falling on Chagwido Island sea facing St. Father Kim Dae-gun Memorial Hall.
‣ Panpo Port: Panpo-ri, Hangyeong-myeon, Jeju-si
‣ Haegeoreum Village Park: 1602-1, Panpo-ri, Hangyeong-myeon, Jeju-si
‣ St. Father Kim Dae-Gun Memorial Hall (Yong Su Holy Pilgrimage Site Catholic Diocese of Cheju): 108, Yongsu1-gil, Hangyeong-myeon, Jeju-si
‣ Jeolbuam Rock: 4241-5, Yongsu-ri, Hangyeong-myeon, Jeju-si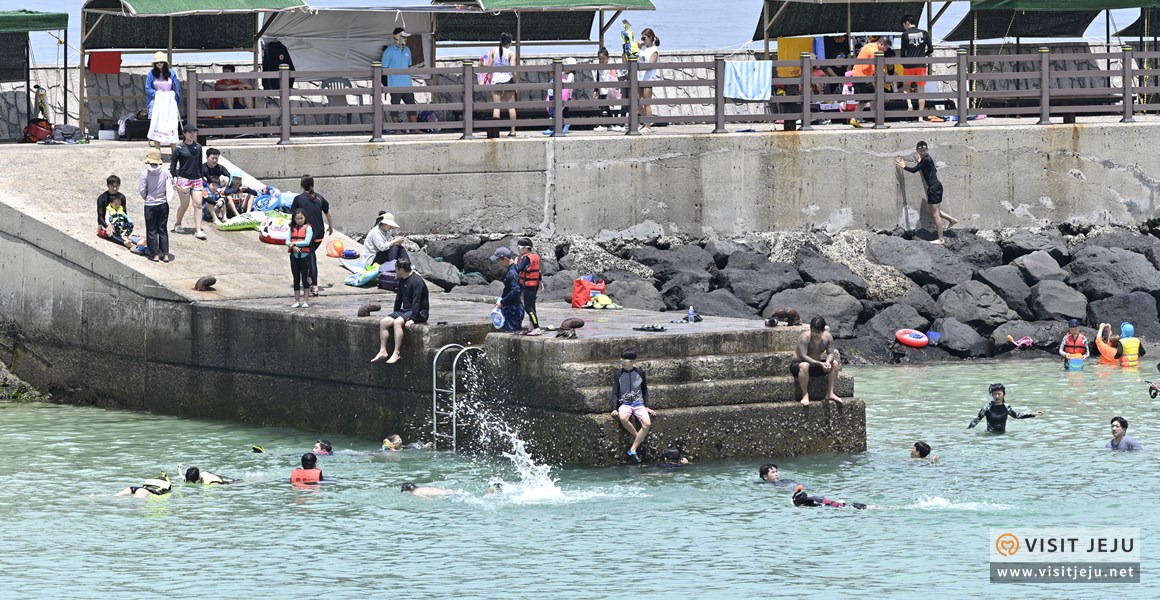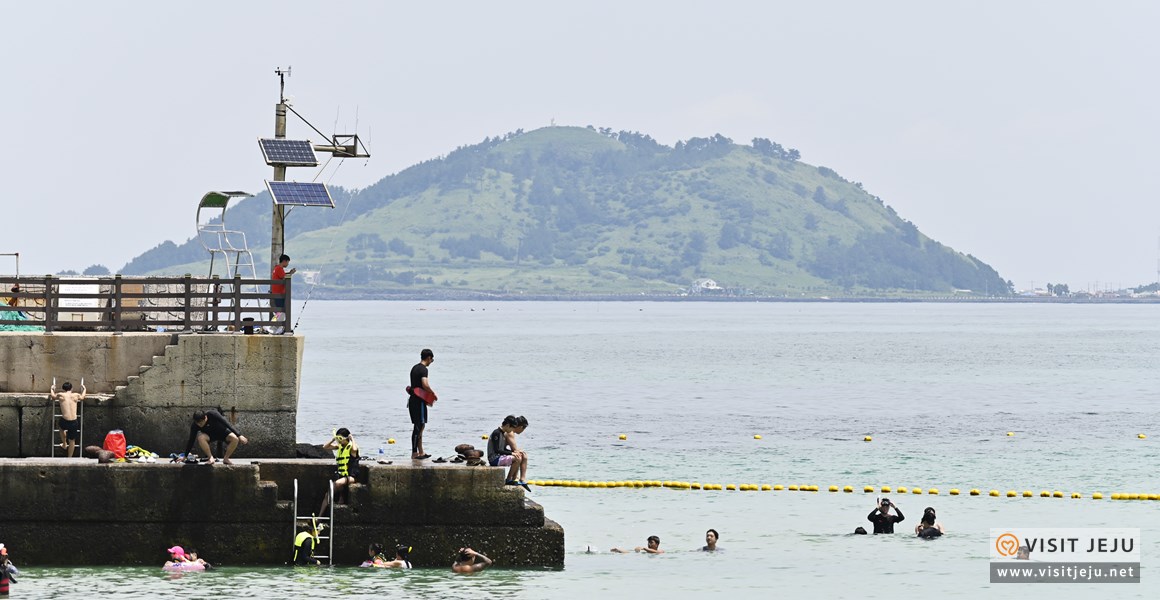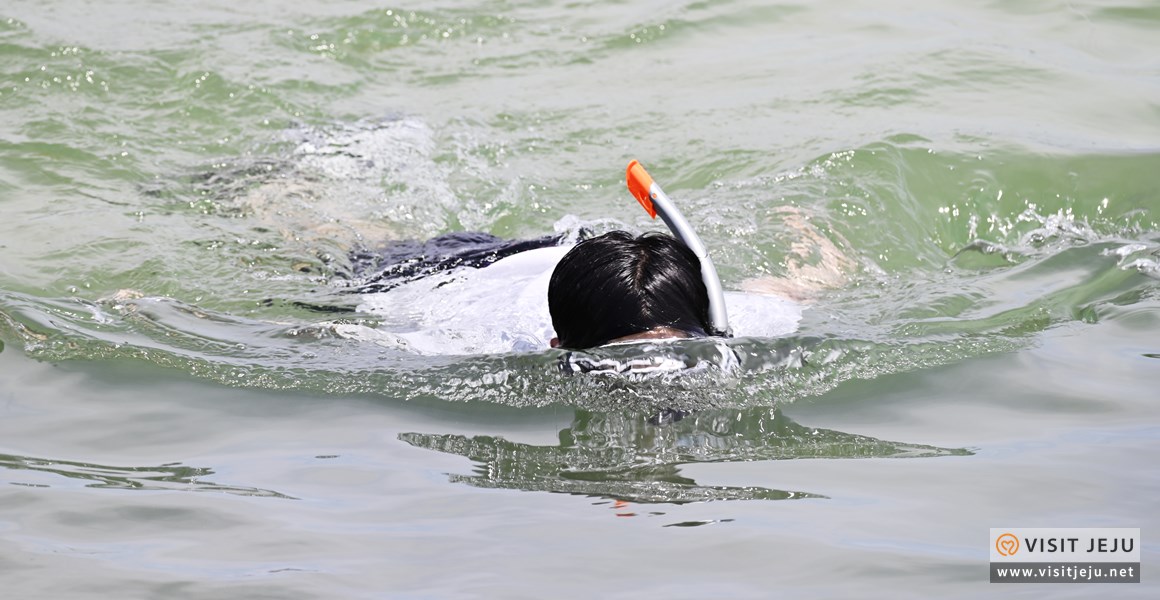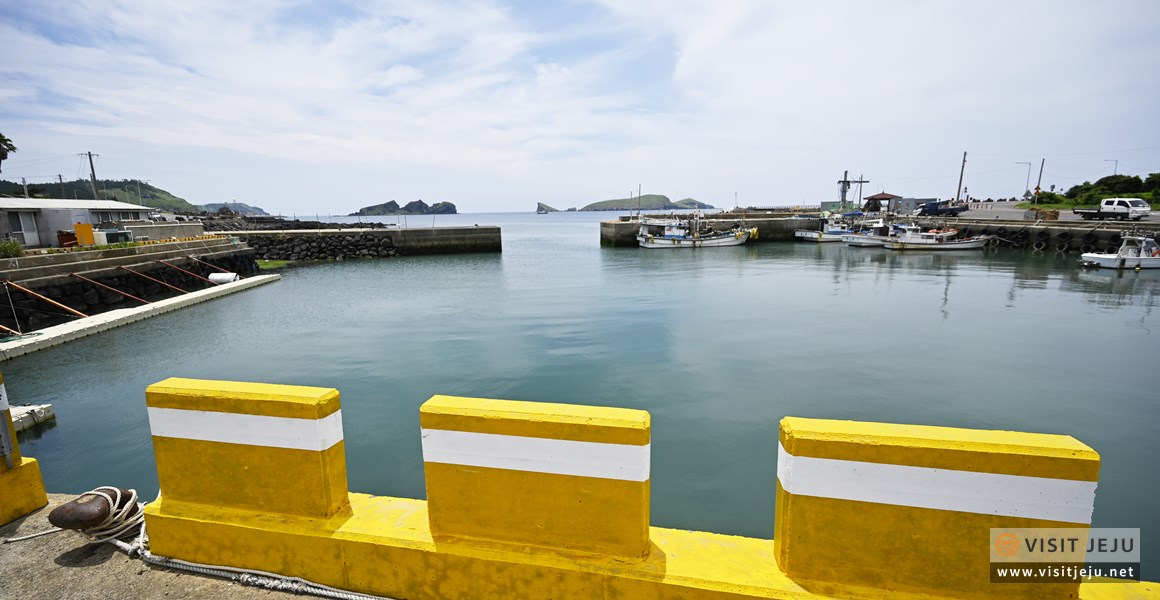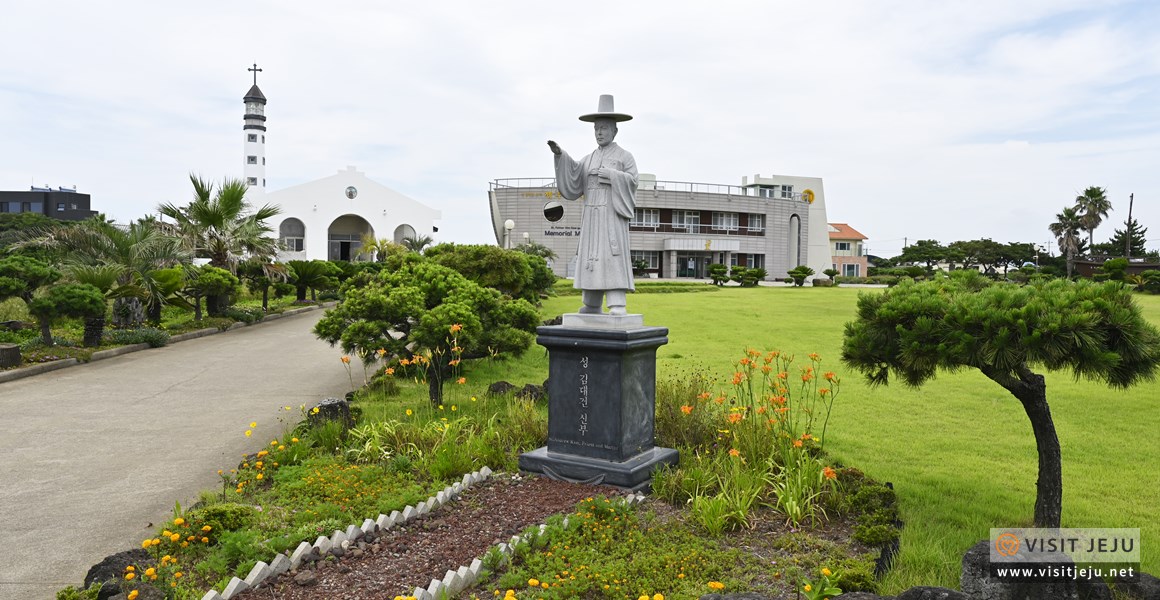 Jeju water play for summer, where we are like fish in water
Natural Waterpark and Artificial Waterpark
The heat of August is mild in these places. They are waterparks in Jeju. Forget the heat in popular water parks that nature has prepared such as Sokgolcheon Stream and Gangjeongcheon Stream in Seogwipo-si, Jeongmosi Rest Area, and Donnaeko Valley. In some places, if you are worn out from playing, you can invigorate yourself with whole chicken soup with rice, it is a real carefree. If you want more dynamic water play, go to Dodu Oraemul Square. This is a haven for everyone, from children who can play on an air bounce slide to adults who can have a drink with their feet in water. In Jeju Shinhwa World Theme Park, the Water Boom Boom Show, held at 3 p.m. every day in summer season, makes you feel cool. What is also cool is that there is a special price event to celebrate the second anniversary of its opening.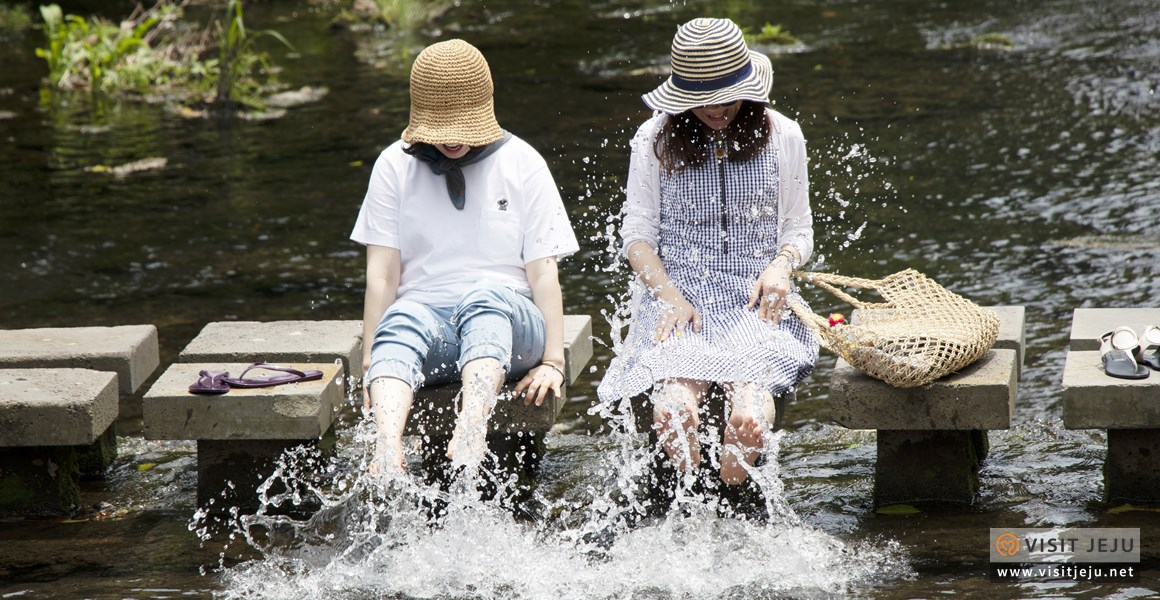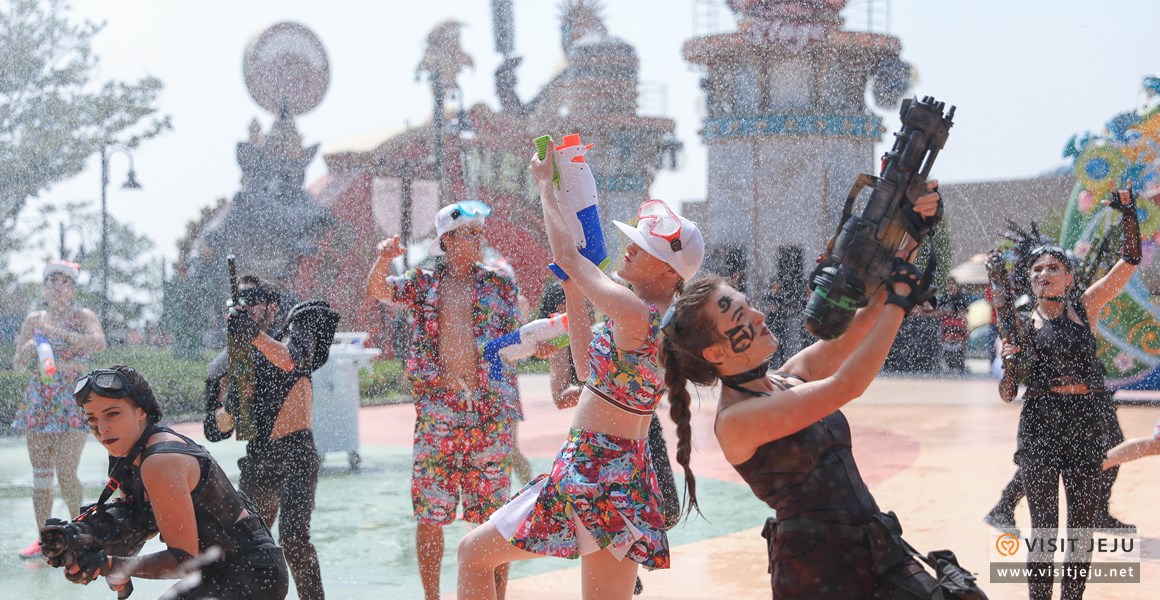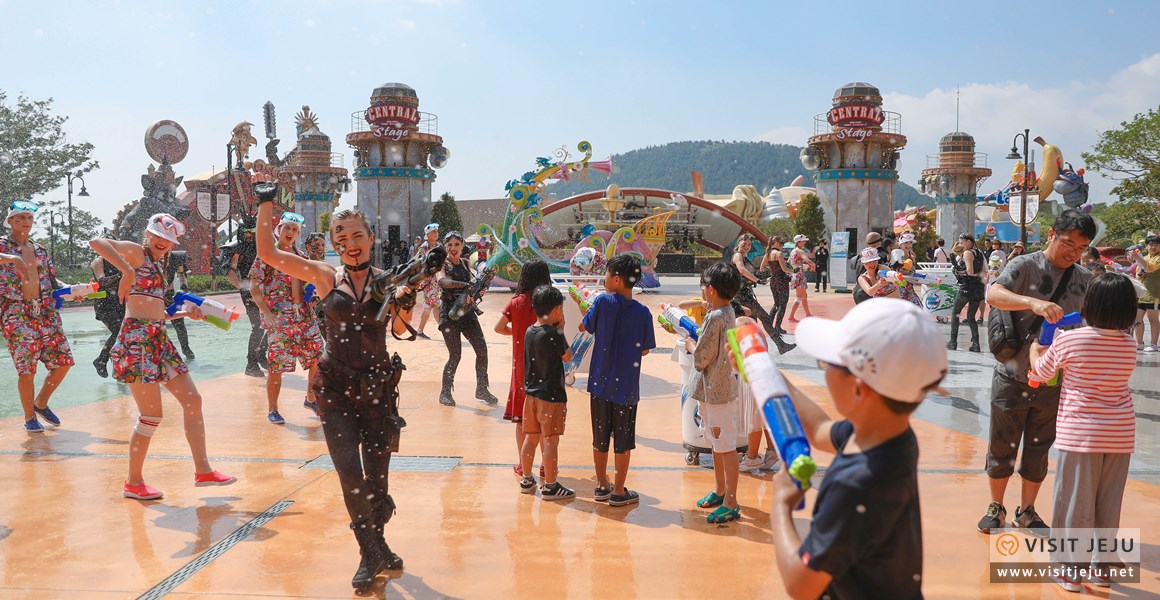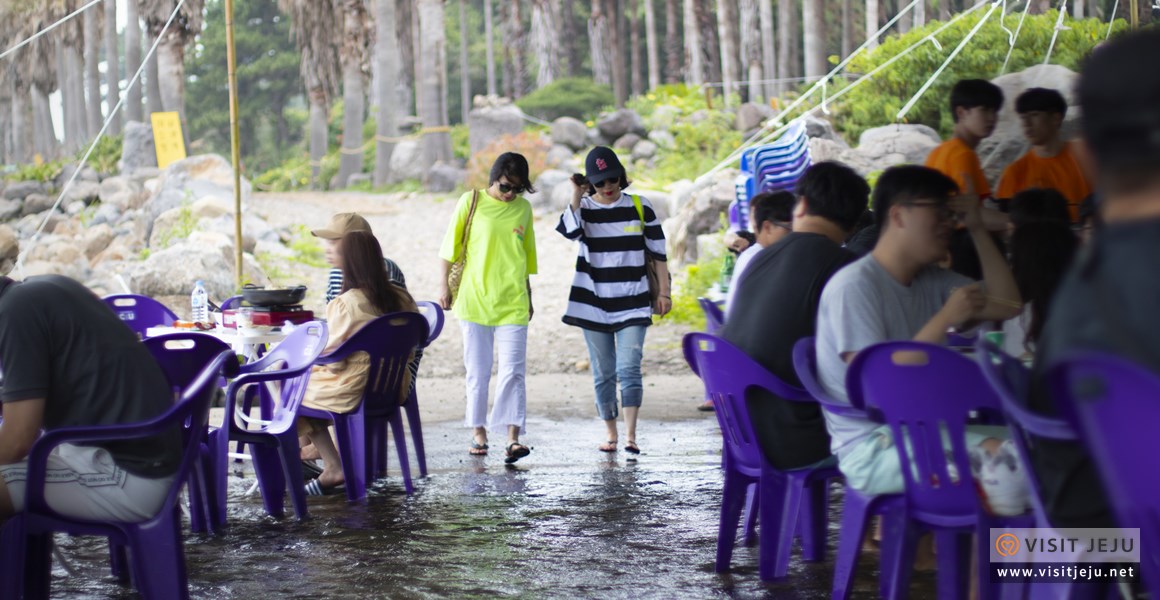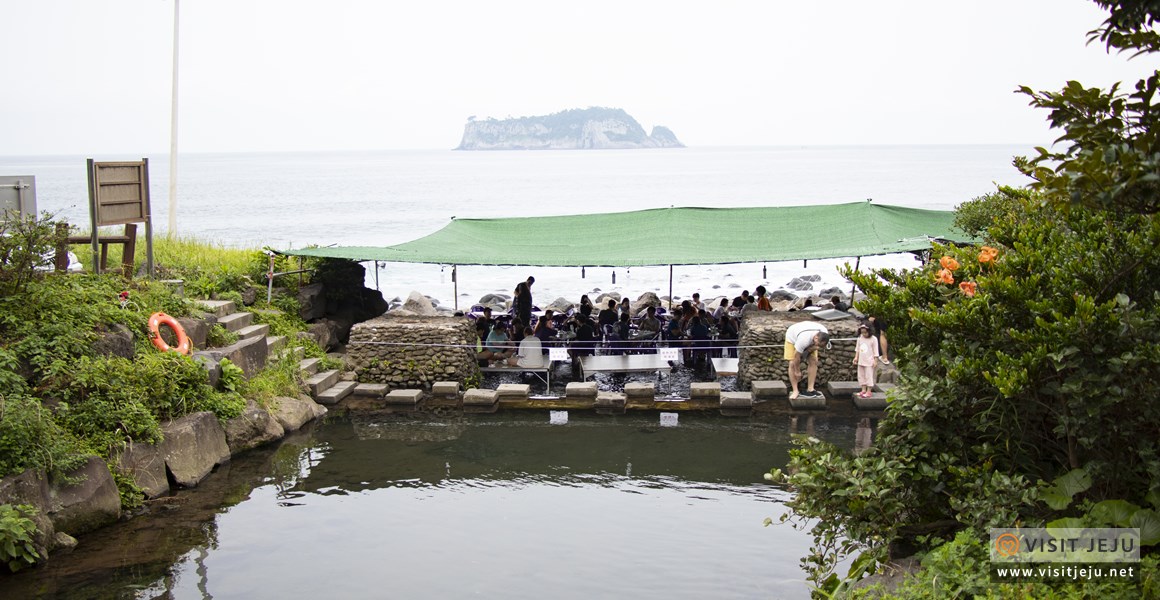 Unique experiences in Jeju
Hallasan National Park Mountain Museum, Jeju Marine Animal Museum, Asia CGI Animation Center
Is it possible to experience a mountain atmosphere without climbing a mountain? Hallasan National Park Mountain Museum, registered as the first public type 1 museum, has a variety of programs that families and children can enjoy together. You can apply for these programs in advance with a prior reservation. The Jeju Marine Animal Museum, with a wide array of marine animals, not only has exhibitions, but also experiences and docent programs, and the Asia CGI Animation Center offers free shows and experiences where you can look at the process of animation production and take home an animation you have dubbed.
‣Hallasan National Park Mountain Museum: 588, Sanrokbuk-ro, Jeju-si
‣Jeju Marine Animal Museum: 689-21, Seoseongil-ro, Seongsan-eup, Seogwipo-si
‣ Asia CGI Animation Center: 41, Donghong-ro, Seogwipo-si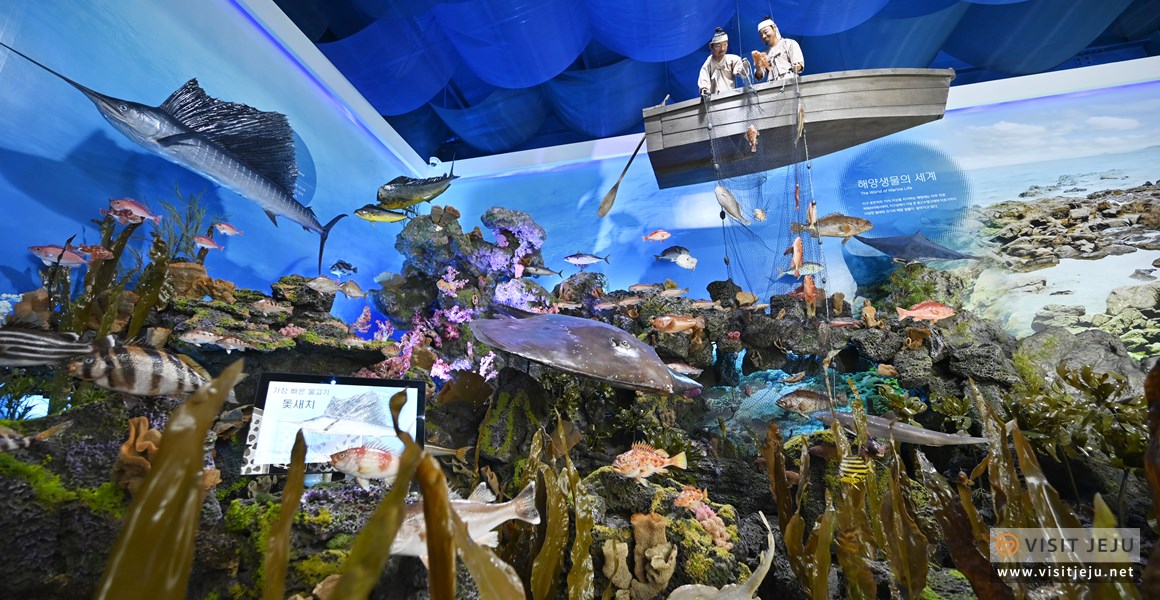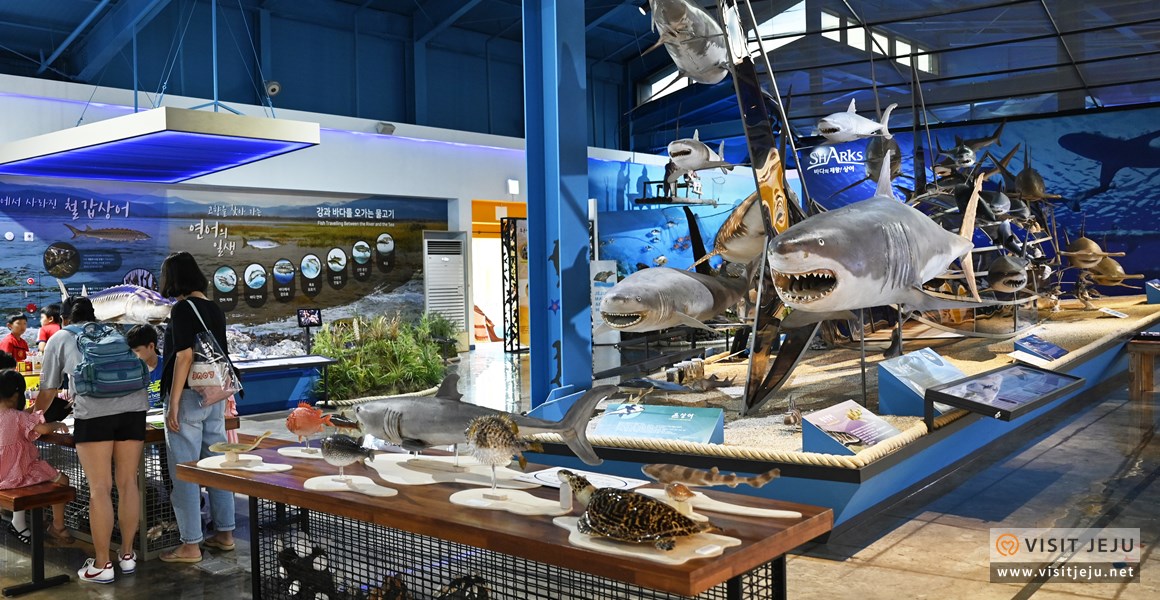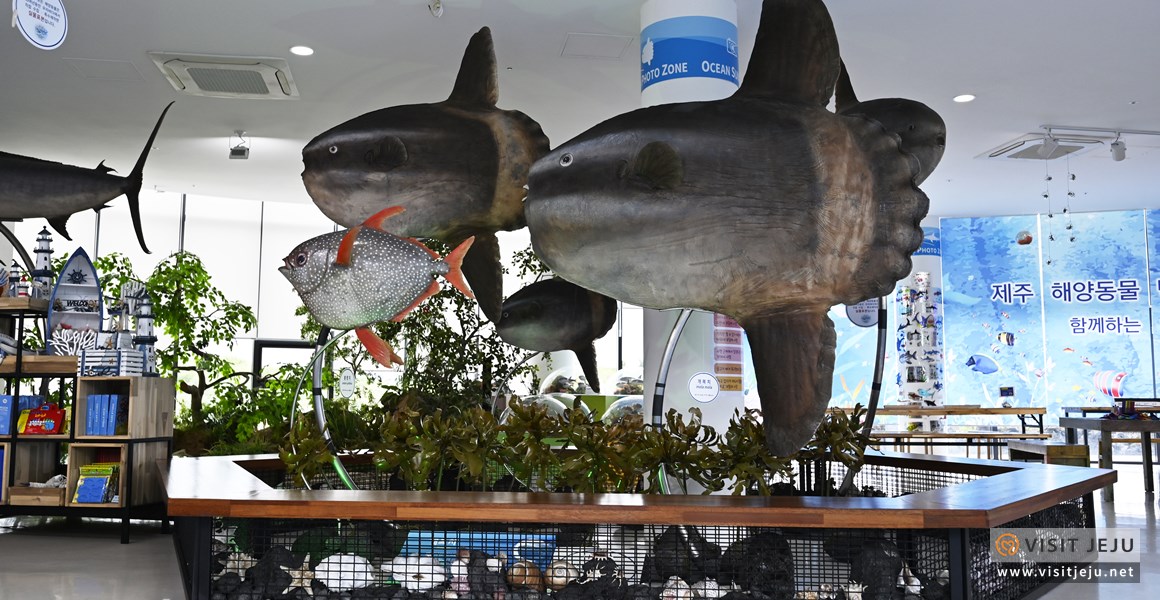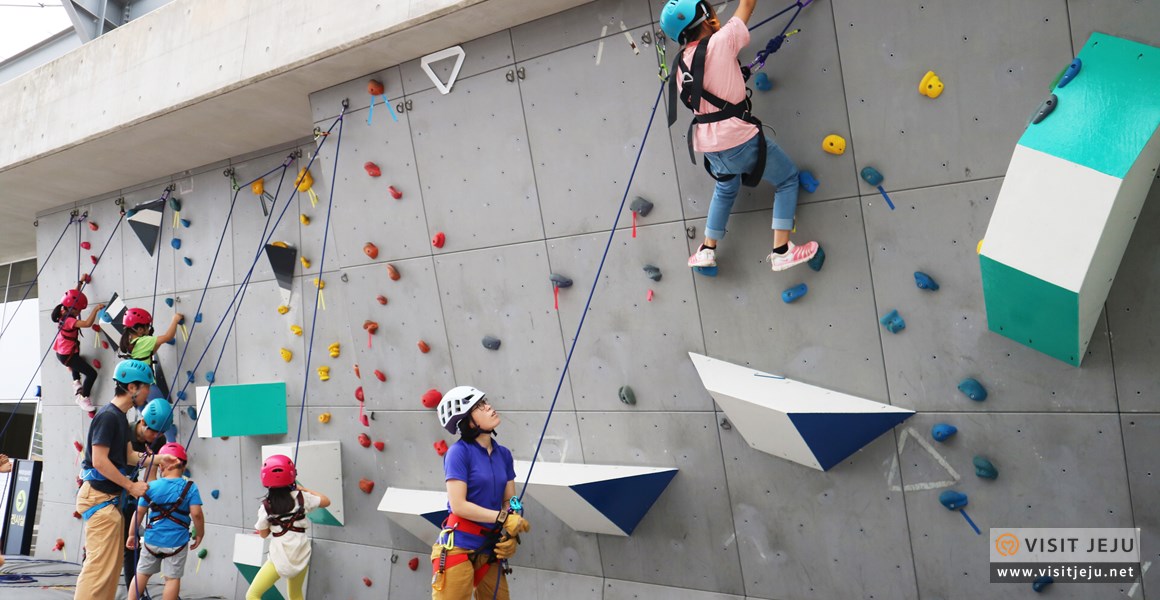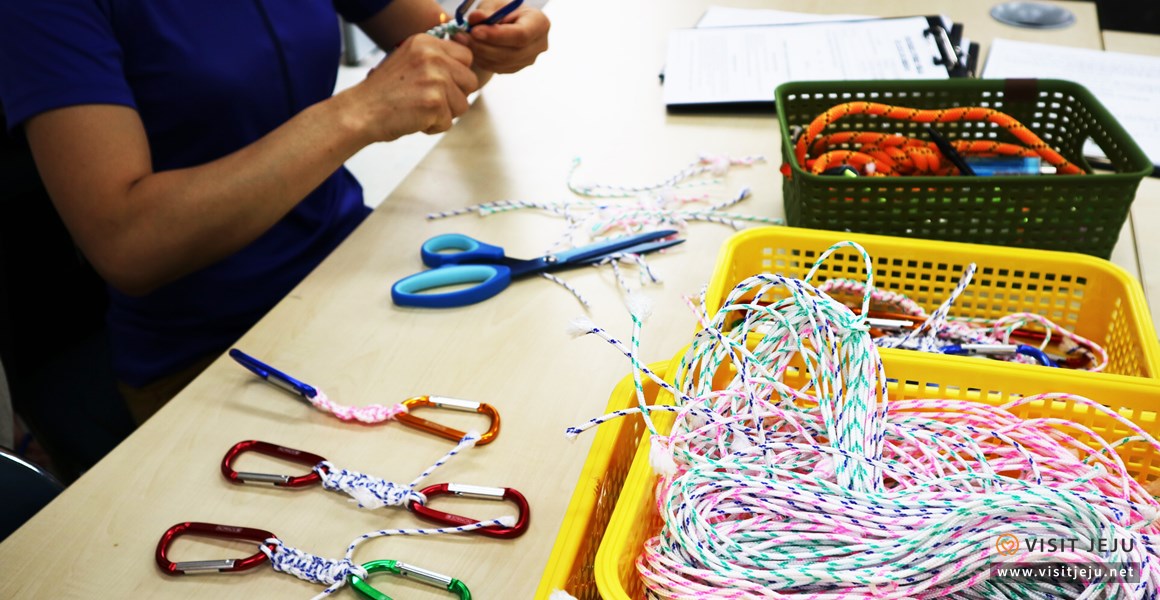 Cool noblesse, cool water
Kim Man-duk Memorial Hall, Jeju Water Information Center
The Kim Man-duk Memorial Hall is perfect for those who value the meaning rather than enjoying in travels! You will be surprised at such a generous donation and Joseon type noblesse oblige that overcome the limit of time and region and break taboo. Moreover, the time of understanding and sympathy between old people and contemporary people will be opened. Behind the memorial hall there is an ecological park and the Jeju Water Information Center. Here you can learn about the history and culture of Jeju, which is closely associated with water, and the process of supplying clean water! If you feel fatigued from your activities, go to nearby Kim Man-Duk Inn. If you taste the warm pancakes and drink a bowl of cool makgeolli (rice wine) in the inn in a replica of an old thatch-roofed house, the heat goes away and you will be excited.
‣Jeju Water Information Center: 5-16, Sanji-ro, Jeju-si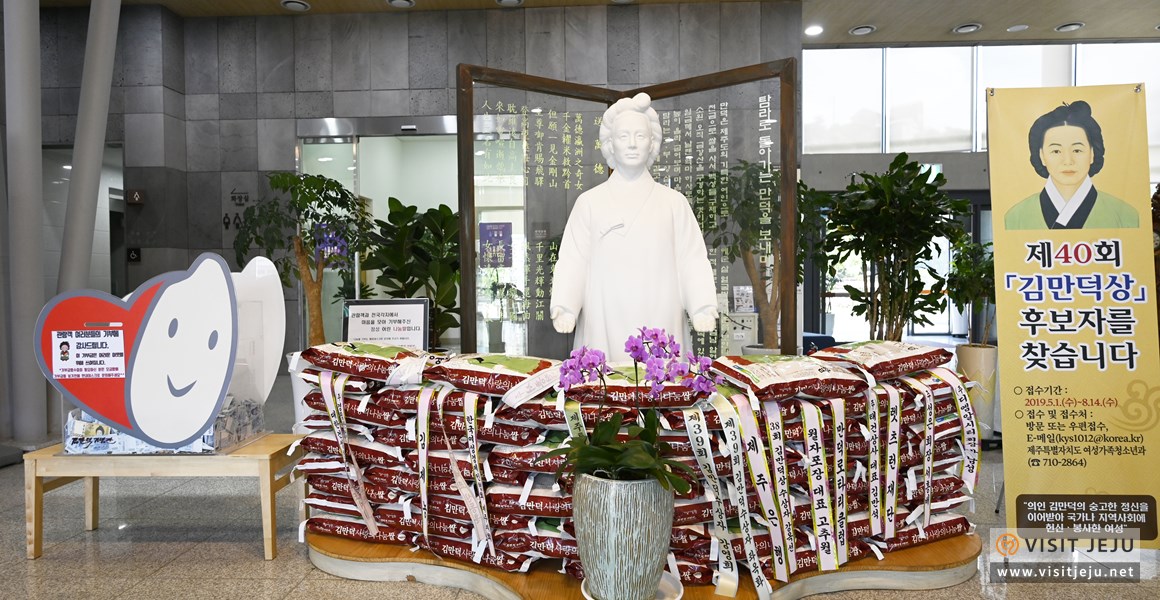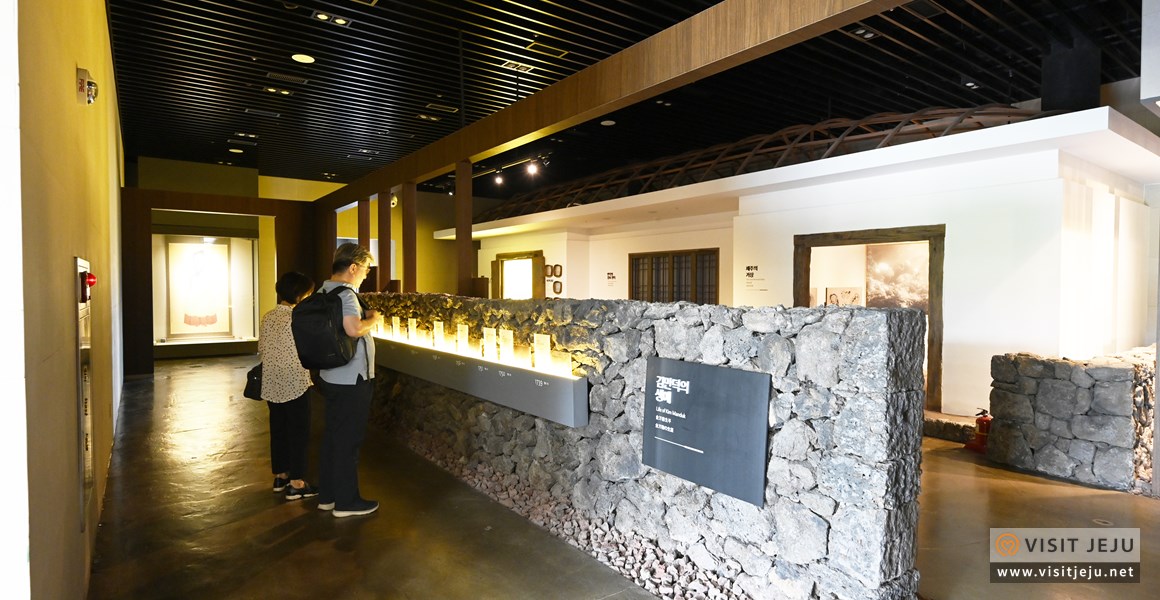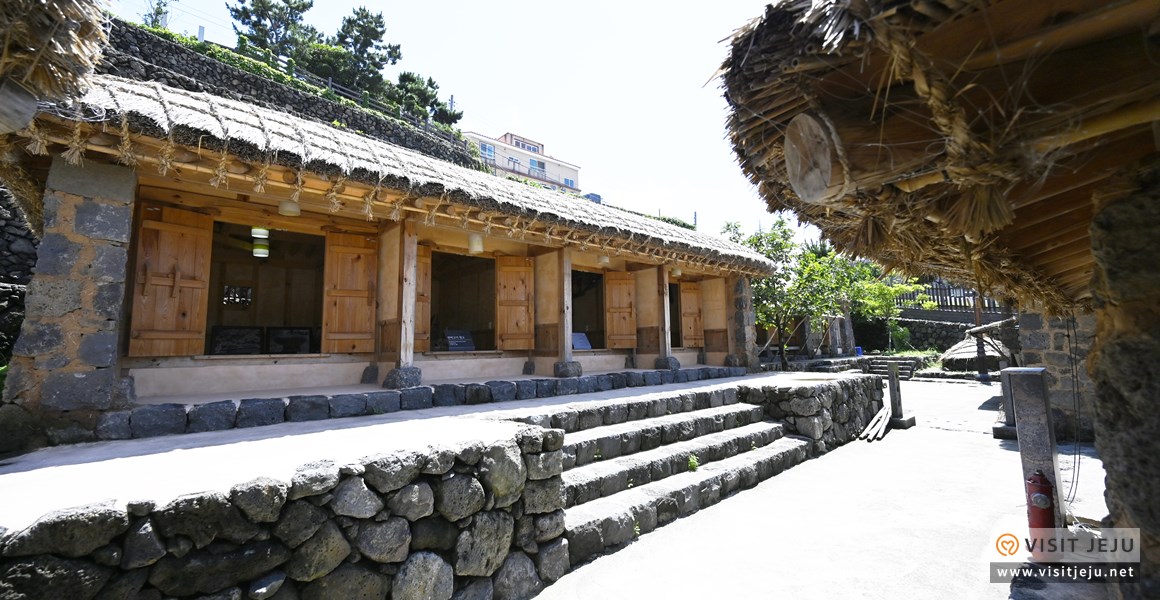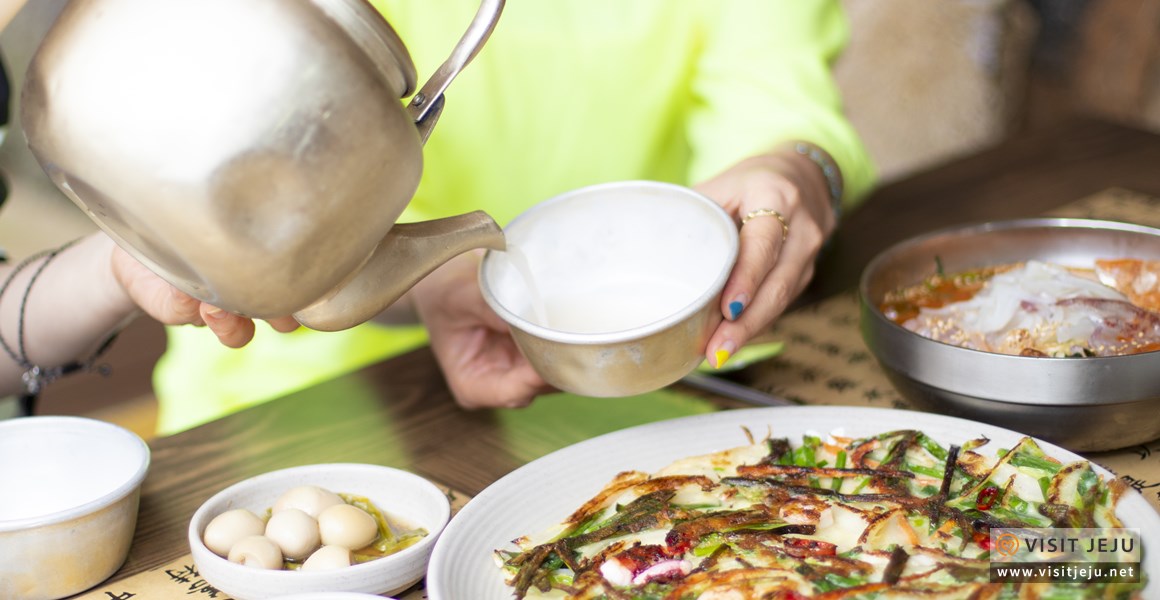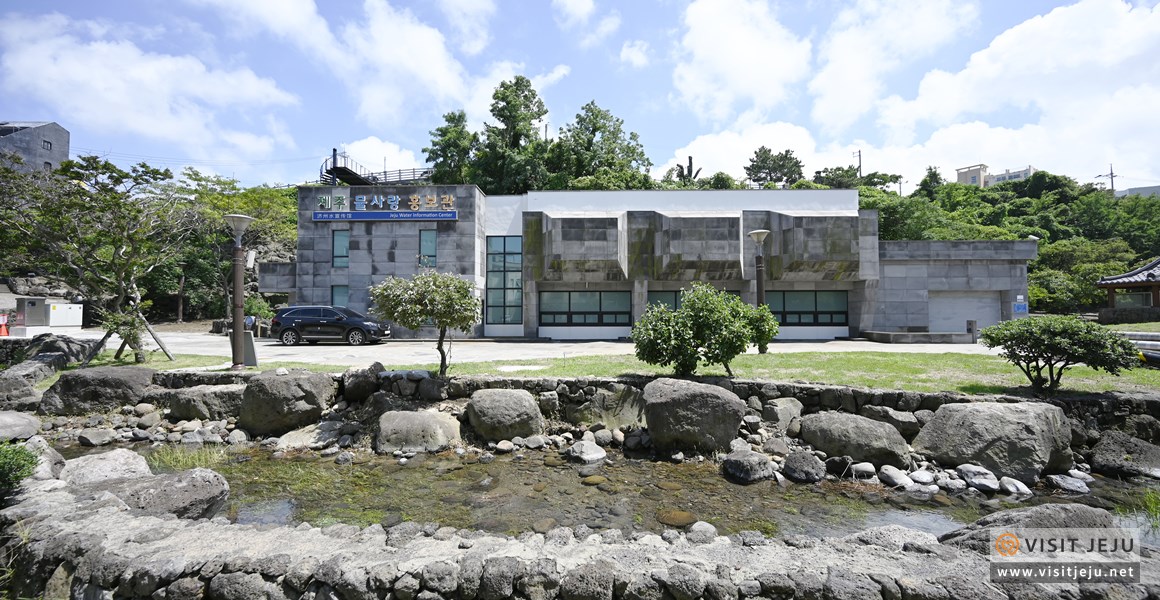 The secret to feeling cool in summer night is night outings
Parks, fountains, and a drive along the coastal road at night
Stay cool on night outings. Jeju Tapdong Square is brilliantly illuminated, with people taking a walk and playing leports. Safety considerations are necessary for bicycle riding and inline skating. There is Jaguri Culture and Art Park in Seogwipo. If you gather by twos and threes on a wide lawn and coastal path to cool off, you might hear the sounds of a street artist playing a guitar. Fountains are more enjoyable on summer nights. Seogwipo Jaguri Culture & Art Park and Jeju Citizen Welfare Town echo with the laughter of children soaked in water and a laser fountain show in Jeju Sanjicheon Stream is a delight for the eyes (check the operation hours in advance). And how romantic it is to drive along a coastal road with the lights of boats catching spear squid in the background!
‣ Jeju Citizen Welfare Town (Fountain): 582, Donam-dong, Jeju-si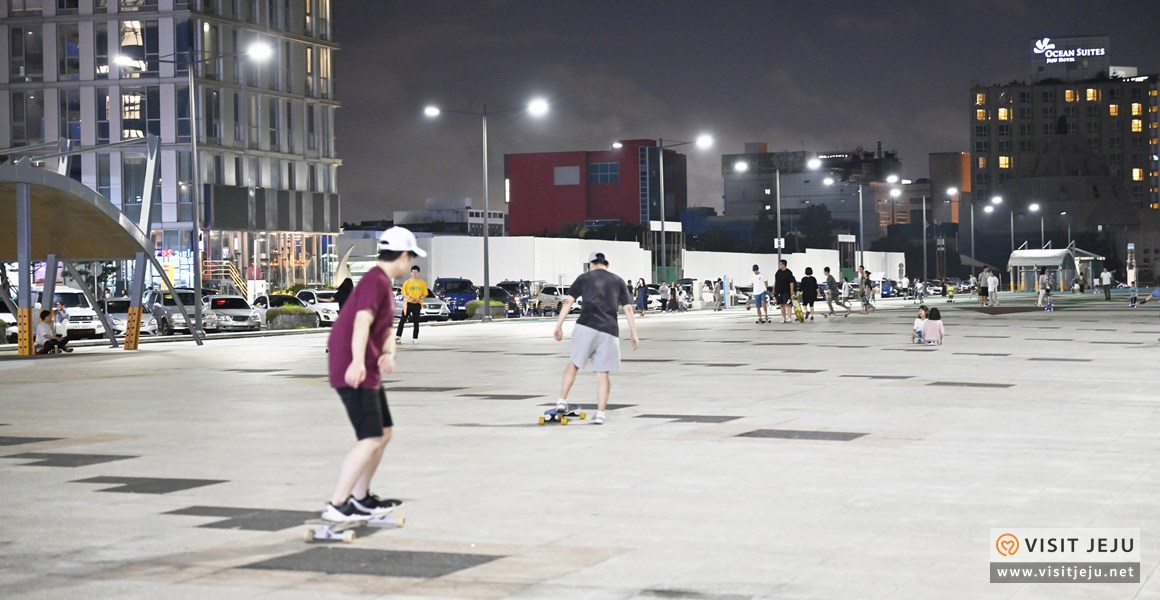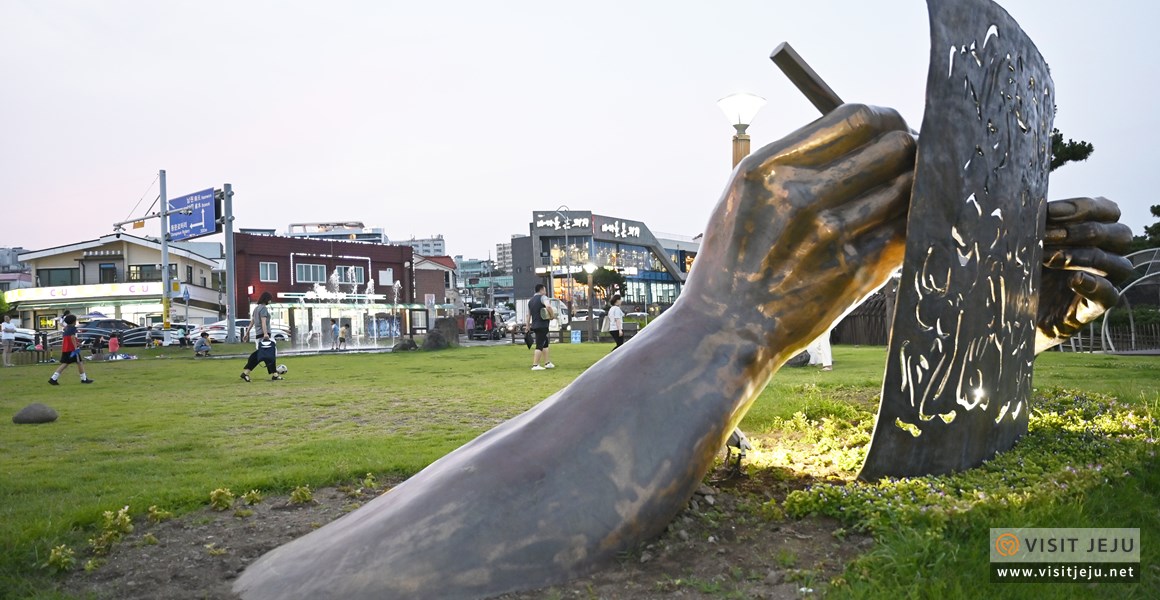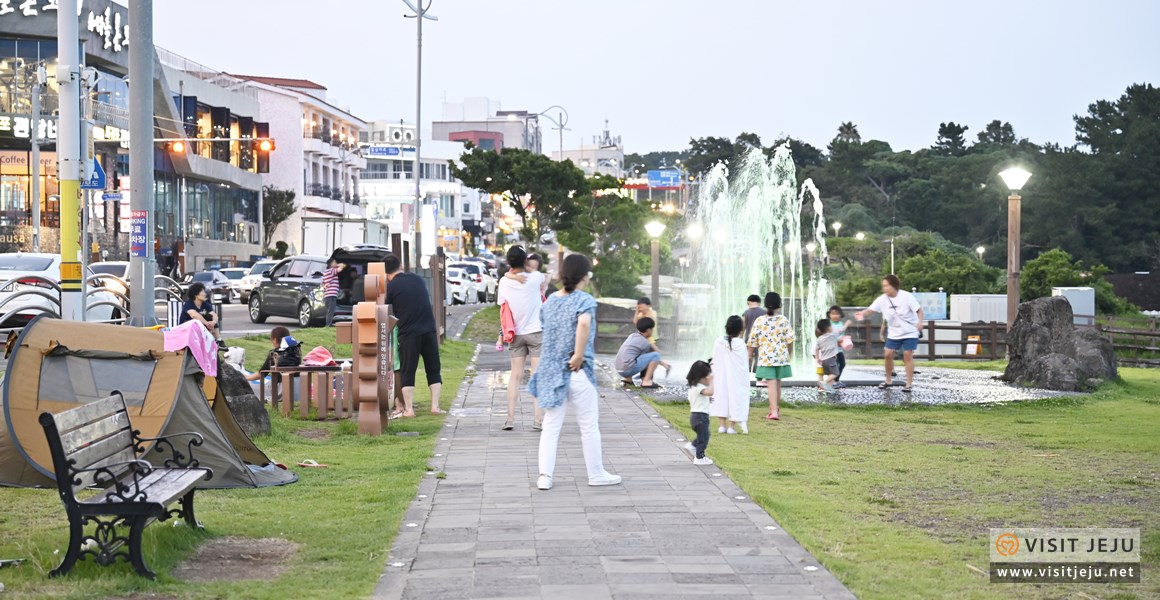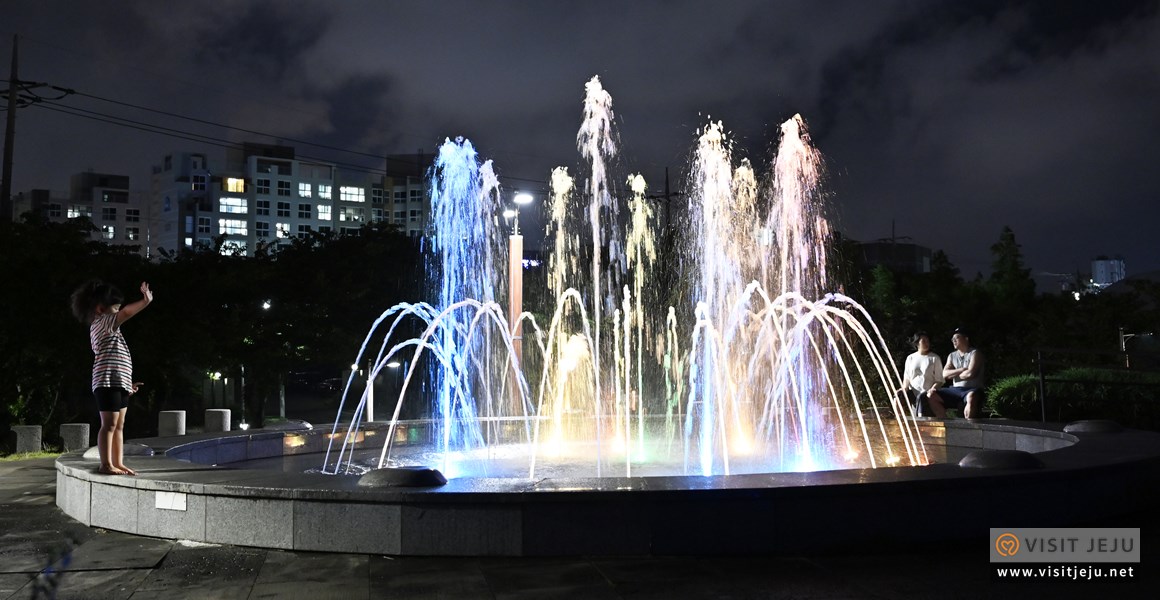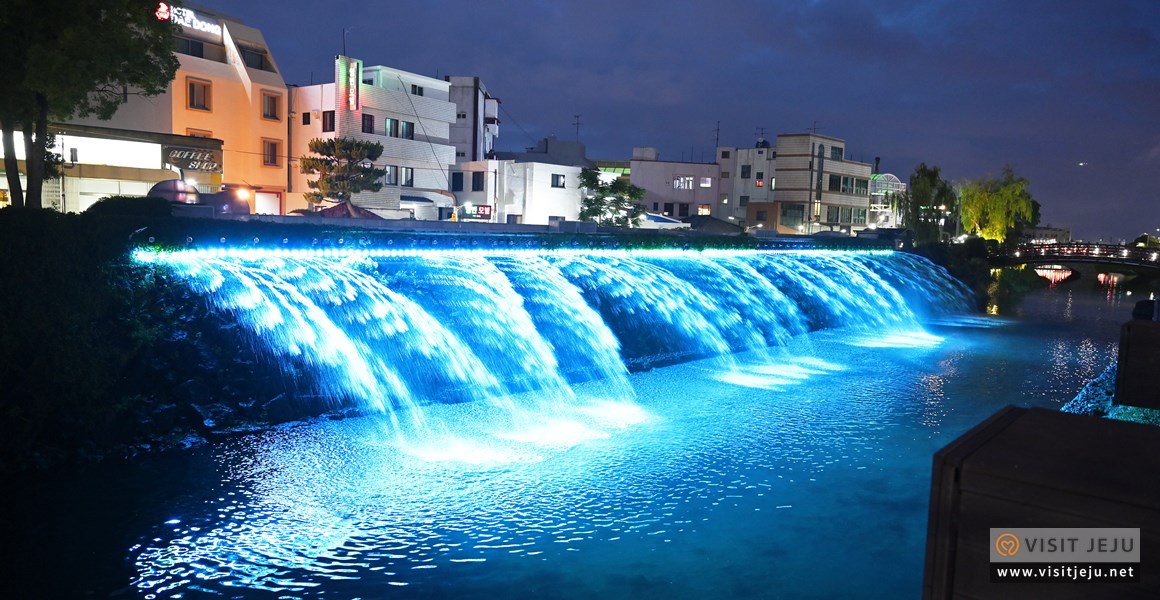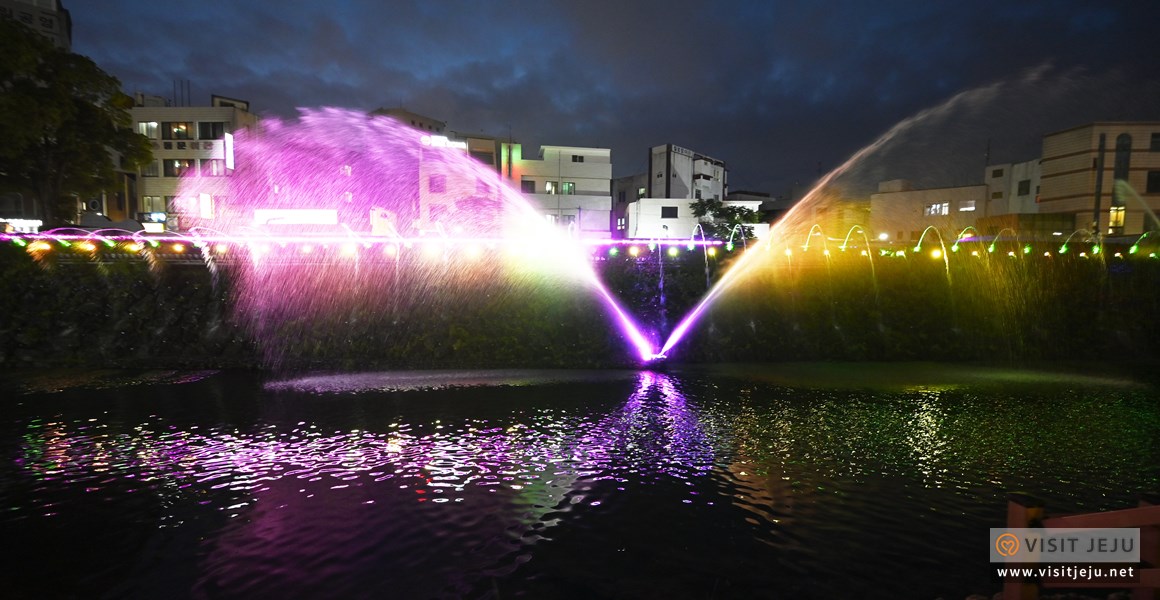 Seafood in Jeju
The real taste of travel!
How can you eat only pizza, pasta or ramen in Jeju? The freshest seaweed and seafood dishes the Jeju sea offers are waiting for you. If you drank too much the night before, soothe your stomach with plain red tilefish and seaweed soup and noodles topped with lots of sea urchin roe. Smell the sweet and sour scent of noodles mixed with thickly sliced raw fish, and your mouth is watering. Seaweed bibimbap with a variety of tastes and colors makes you full without meat, and a bowl of porridge topped with sliced abalone will fill you with energy. Aren't these the real taste of travel? A dinner table embracing the Jeju sea increases your satisfaction with travel!
‣Nabichae (red tilefish and seaweed soup, noodle soup with top shells): 15, 110beon-gil, Jungmungwangwang-ro, Seogwipo-si
‣Mujuhyang (seaweed bibimbap): 118-5, Wimihaean-ro, Namwon-eup, Seogwipo-si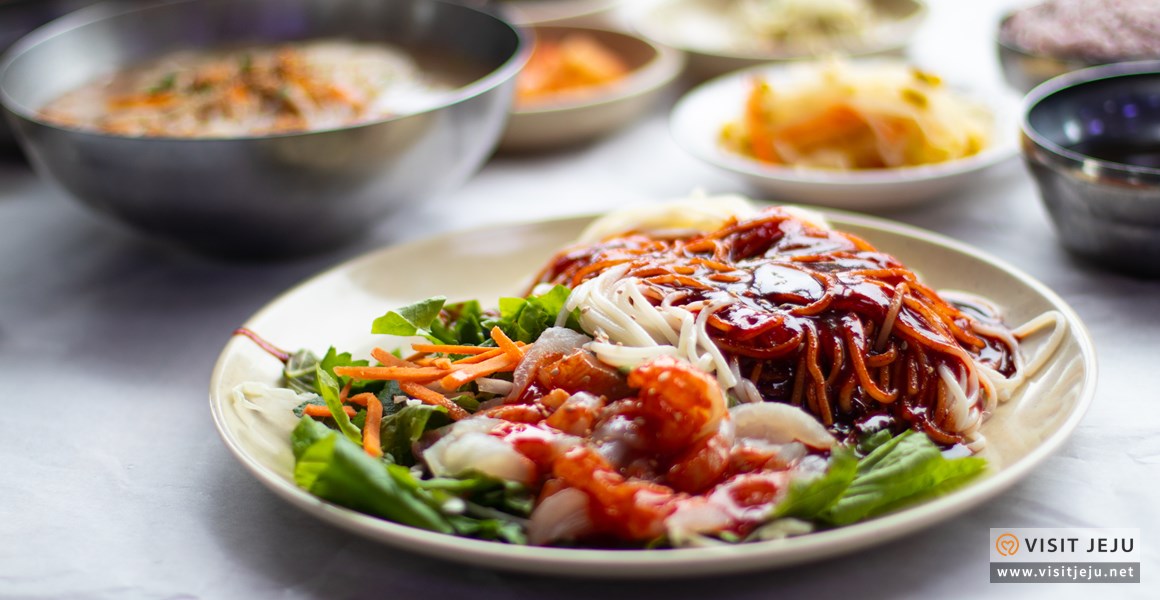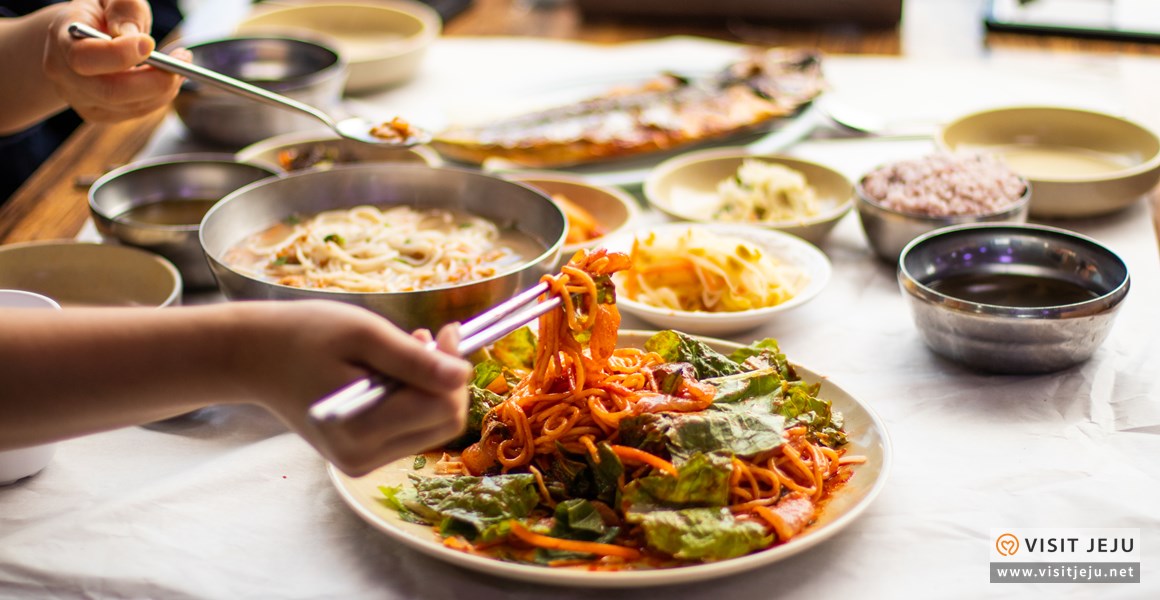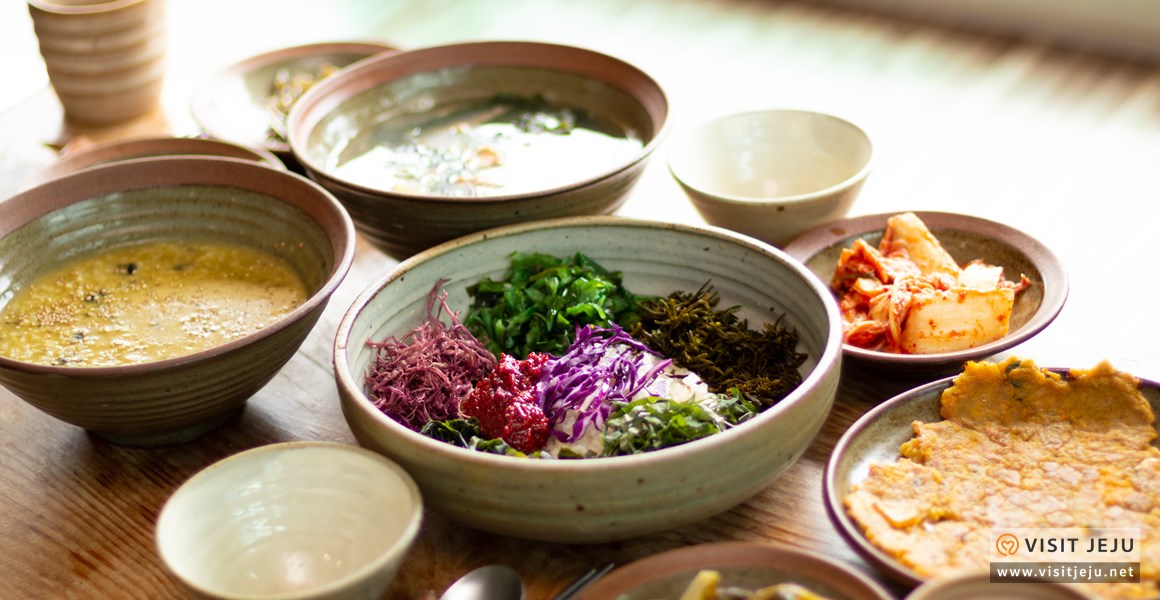 Notice

※ The above information was written on 2019-07-19. Please confirm the information prior to your trip.
※ Unauthorized use of the content above (text, photos and videos) is prohibited and subject to copyright by the Jeju Tourism Organization.