본문
Dokjabong Volcanic Cone
Named for Being Solitary, Alone, and Distant from Others
Address
Sinsanjungang-ro, Seongsan-eup, Seogwipo-si, Jeju-do
Add to wishlist

1

Like

1

Review

0

Reg itinerary

0
I visited.

0

Lookup

3,240

Share SNS

0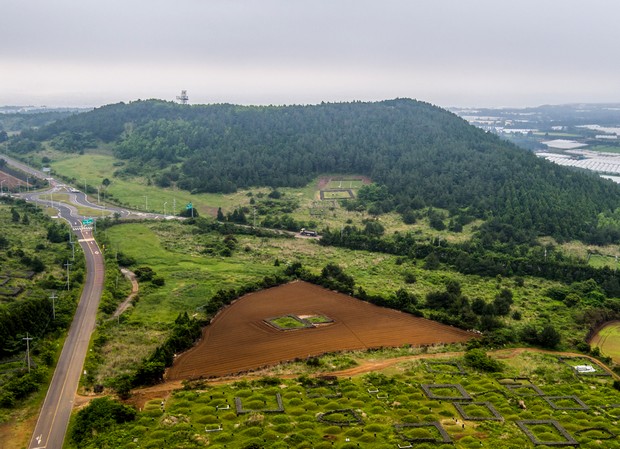 Dokjabong Volcanic Cone is located across Tong Oreum Volcanic Cone with a road (National Road No. 16) between them, approximately 1.5km north of Samdal-ri, Seongsan-eup.

The volcanic cone has a crater that opens to the southeast, stretching down lengthwise. There are traces of a beacon fire station at the top of the mountain, which helped serve to communicate with Susan Beacon Fire Station in the northeast and Namsan Beacon Fire Station in the west in the Joseon Dynasty.

There is a cave called Micheongul Cave in Micheonimeoru, southwest of Dokjabong Volcanic Cone. This lava cave, around 1,695m in length, is famous for the scenery of its magnificent interior structures, such as a stone bridge and a turtle-shaped rock. All slopes are dotted with black pines and cedars, and the inner parts of the crater is covered in forests of black pines, cedars, hinoki cypress,and wild rosebushes.

Drive from Seongsan-eup through Samdal-ri to Nansan-ri along Jungsanggan Road, and you will find the volcanic cone on your left. You can also use the county road connecting Sinsan-ri to Jungsanggan Road, which will lead you up to the foot of the volcanic cone.

- Origin and Etymology of Volcanic Cone's Name: It is called like that for being solitary, alone, and distant from others. Some people believe that many residents in that region have only one child due to the mysterious power of the mountain.