본문
Dansan Mountain (Bagumji Oreum Volcanic Cone)
Named for Its Mysterious Shape Like That of a Large Bat with Open Wings
기본정보
주소
165-23, Hyanggyo-ro, Andeok-myeon, Seogwipo-si, Jeju-do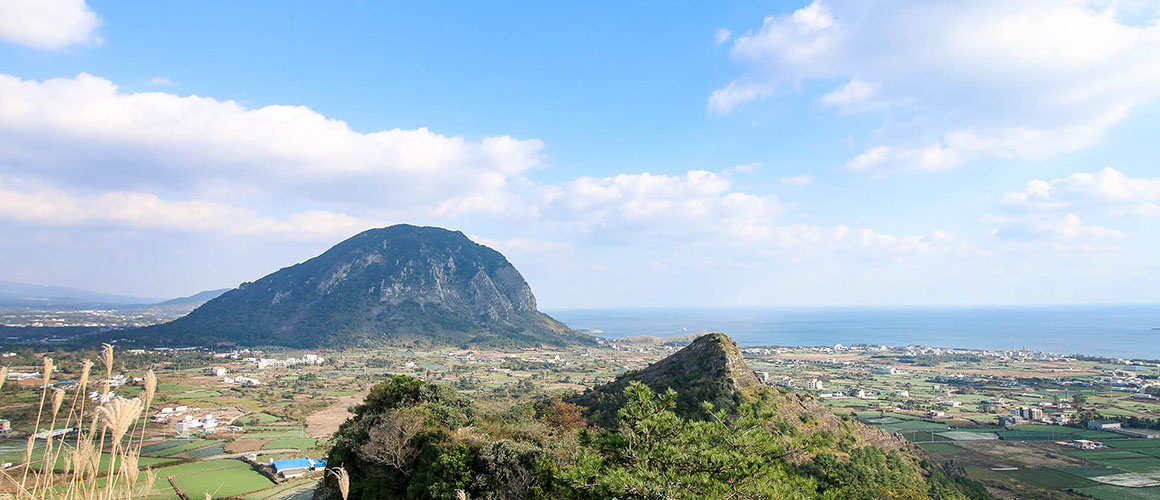 Only a part of its crater remains due to heavy erosion in this rocky mountain's tuff cone 1km west off Sanbangsan Mountain, named Bagumji Oreum Volcanic Cone (Dansan) for its shape of a large bat with open wings.
The northern face is a series of boulders stacked into a sharp cliff, with the southern face also having sharp edges with oleasters and evergreens. The western outskirts has a temple of the Taego Order named Dansansa Tample (壇山寺). The southeastern face has the #4 Tangible Cultural Heritage Daejeonghyanggyo Confucian School (大靜鄕校) and a rocky spring (popularly known as Saemimul) called Seokcheon (石泉) Spring next to it.
Bagumji is a Jeju word for basket, and due to the confusion between its original name Bagumi and Bagumji, the Chinese character simply chose neither and went with Dansan (簞山), where "Dan" means basket.
This mountain has three summits which together form the shape of a bat, the tallest one in the middle represents the head and the other two slightly shorter summits to the side represent its wings. The Japanese Ainu (蛾夷族) tribes called bats Bagumi, which originates from an ancient Mongol Tungus tribe.
Gazing upon the mountain's bat-like shape, the connection between its name and the animal grows stronger. Its name in Chinese character is Pagunsan (破軍山), a derivation of its name Bagumji Oreum Volcanic Cone.