본문
Winter in Namwon-eup (Part 1)
Review

0

Lookup

4,799

Share SNS

0
A Walk in a Jeju Village

Winter in Namwon-eup (Part 1)

It is already December. The last page of the calendar somewhat gives a sense of void. It probably has to do with the painstaking year of 2020 that many people had to persevere through. The good seasons had passed before we even we realized it and your body and heart are retreating in the cold wind. Fortunately, we still have the southern part of the country left where we can experience a warmer winter. Jeju's temperatures don't fluctuate as much, and Seogwipo is especially a good place to travel to in winter because it is warmer than other areas. Namwon-eup in particular has yellow mandarins and ruby-colored camellias blooming everywhere. They create a contrasting beauty against the gray cities in the wintertime. Let's take a stroll around Namwon-eup to warm your body and heart up.
Warm and amiable,
Namwon-eup
Namwon-eup is made of 9 villages (ri): Namwon, Sumang, Sillye, Shinheung, Wimi, Uigwi, Taeheung, Harye, Hannam. A "ri" here is an administrative unit unique to Korea. Split Jeju horizontally in half, and Namwon-eup is located in the center of the lower part. There are many places worth visiting. In November, Wimi Camellia Habitat invites you with beautiful flowers in deep pink. Meochewat Forest Path covered in snow certain is as beautiful as the autumn buckwheat field. And there is Gongcheonpo Beach made of black sand and round pebbles. Mulyeongari Oreum Volcanic Cone, where the movie "A Werewolf Boy" was filmed, has become a popular destination for a photoshoot for social media lovers.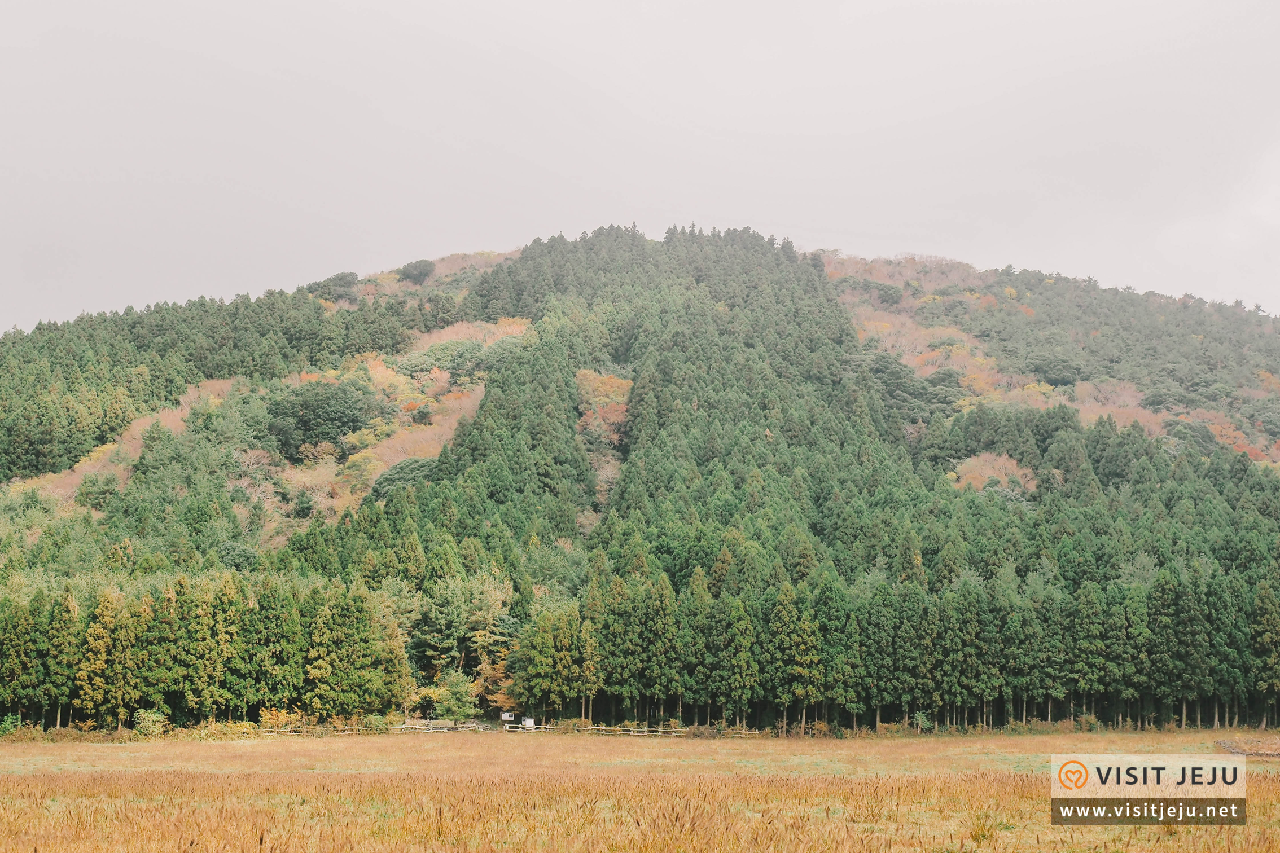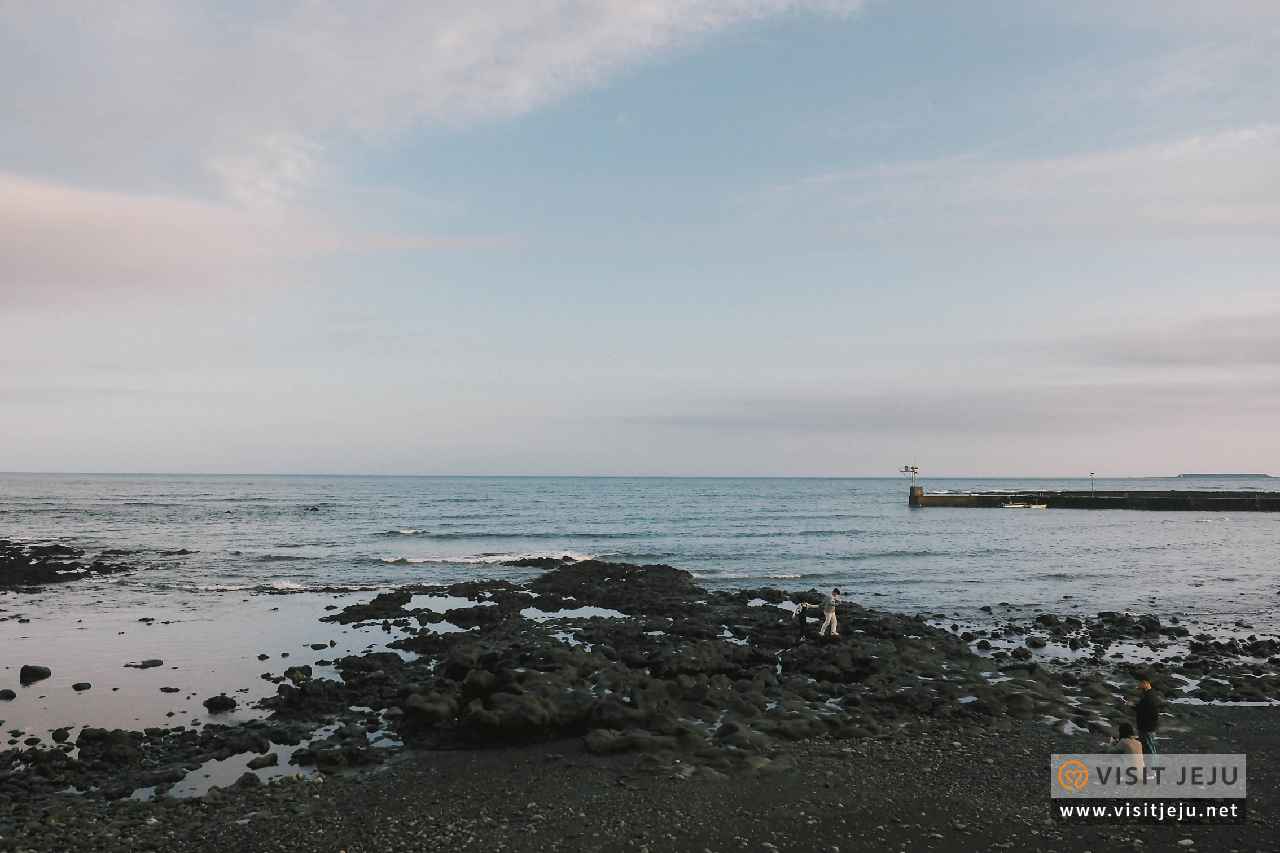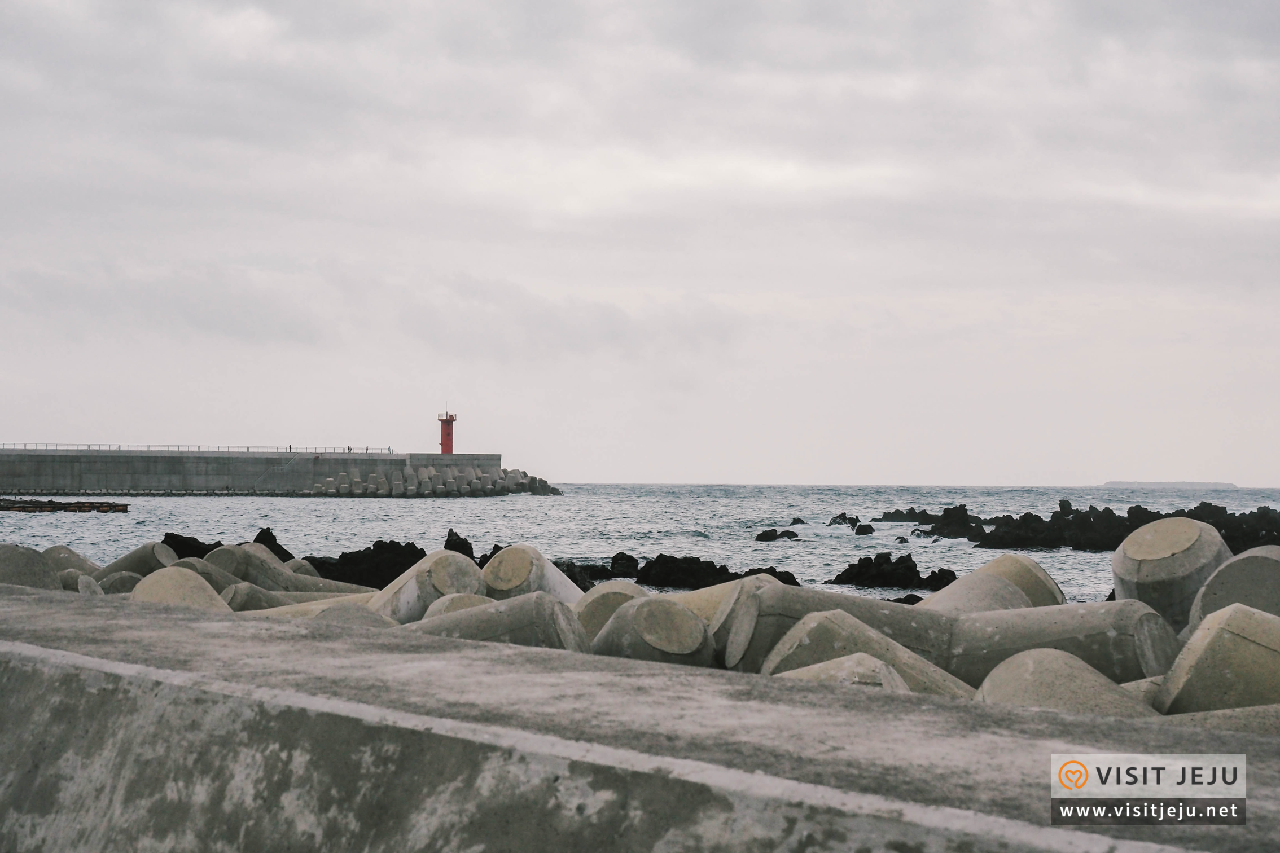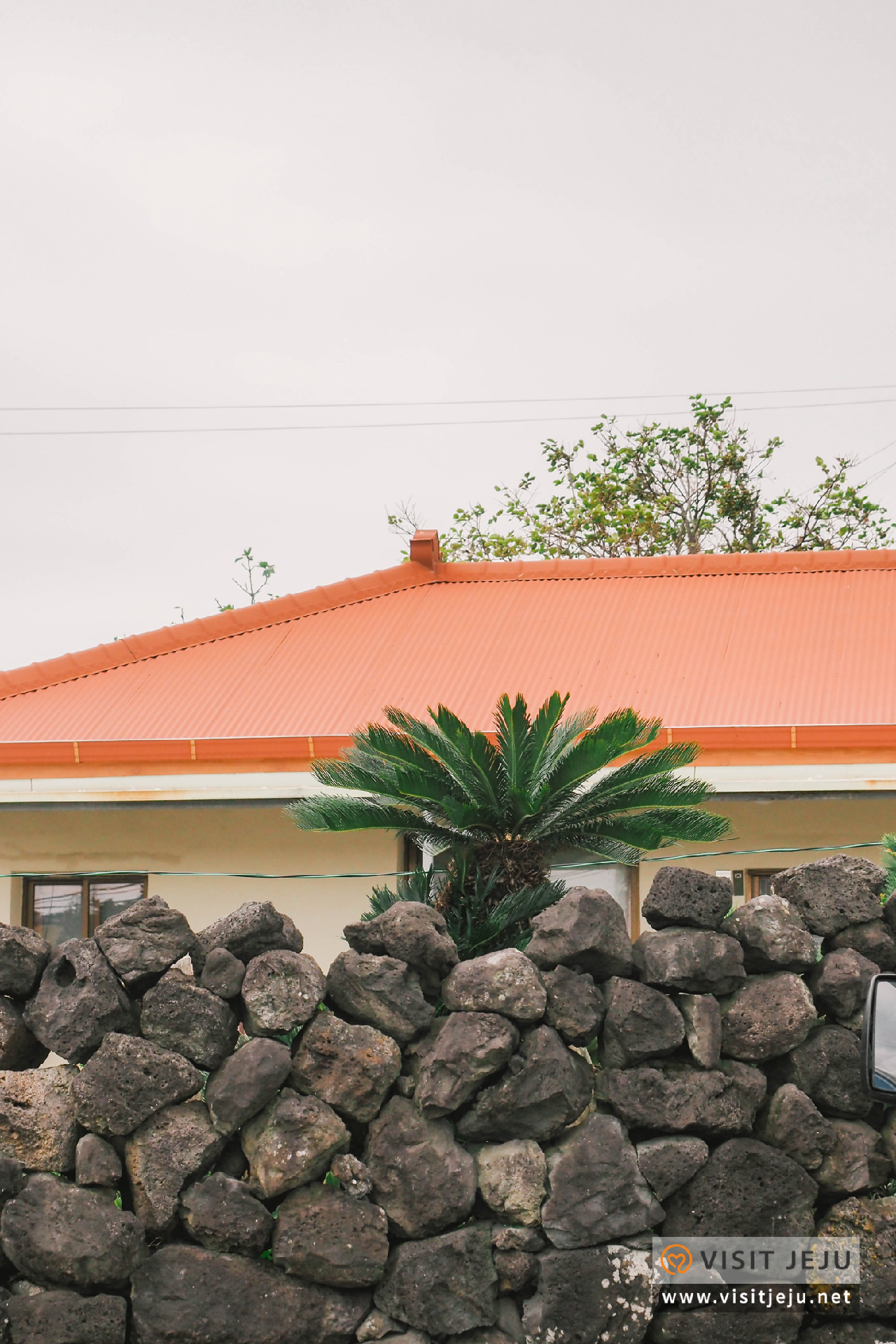 It's always good to visit such well-known destinations, but real joy of strolling may come from just walking aimlessly. Perhaps the best way to enjoy Namwon-eup is to appreciate the friendly atmosphere of the neighborhood with little houses peacefully lined up by the seashore. If you are worried about getting lost, walk along Olle trail route 5, which trails from Soesokkak to Namwon Port. You will not only find beautiful nature but restaurants and cafés to fill your hunger. They will turn up randomly along the path like presents.
Map for winter stroll in Namwon-eup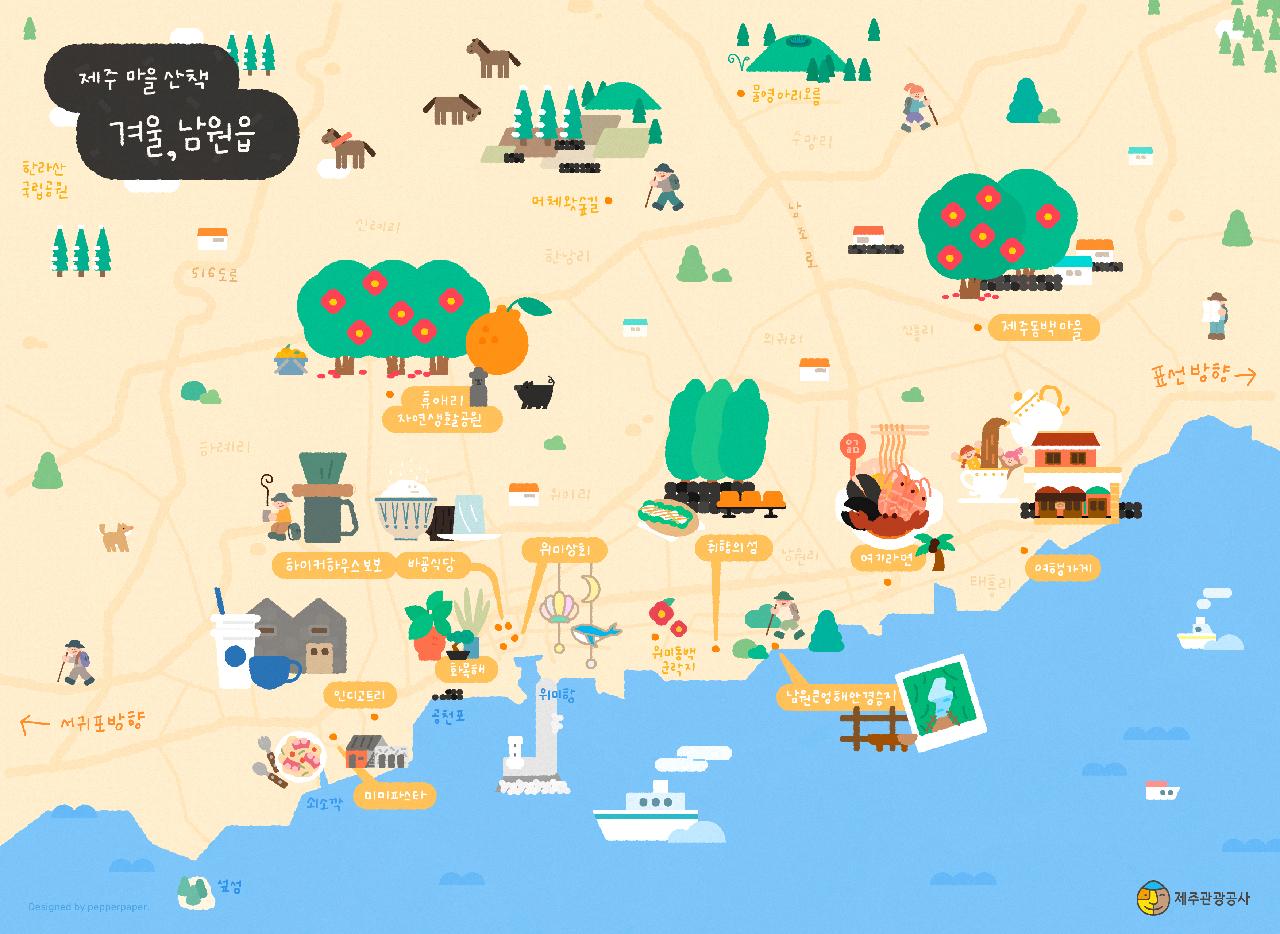 Colorful and varied
Winter photo spots
① Namwon Keuneong Coastal Scenic Point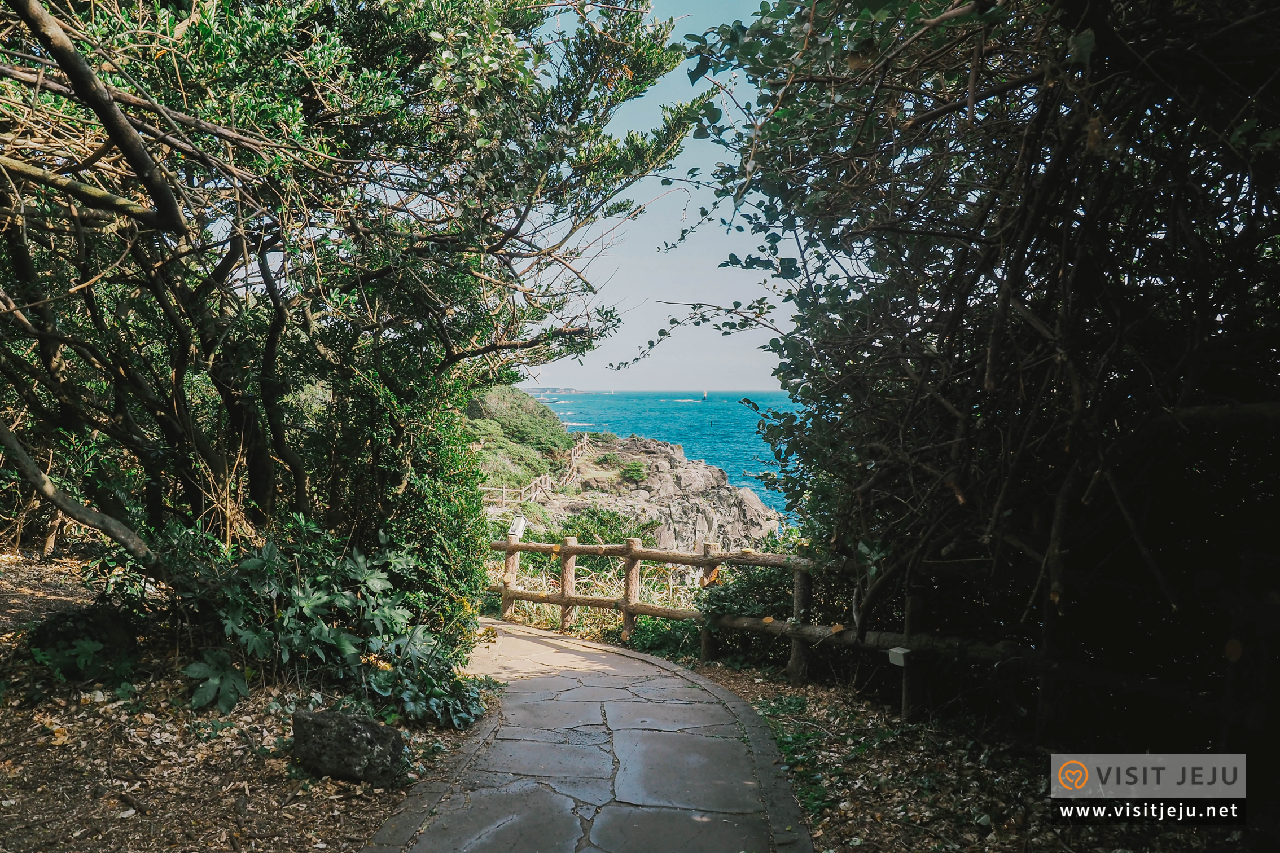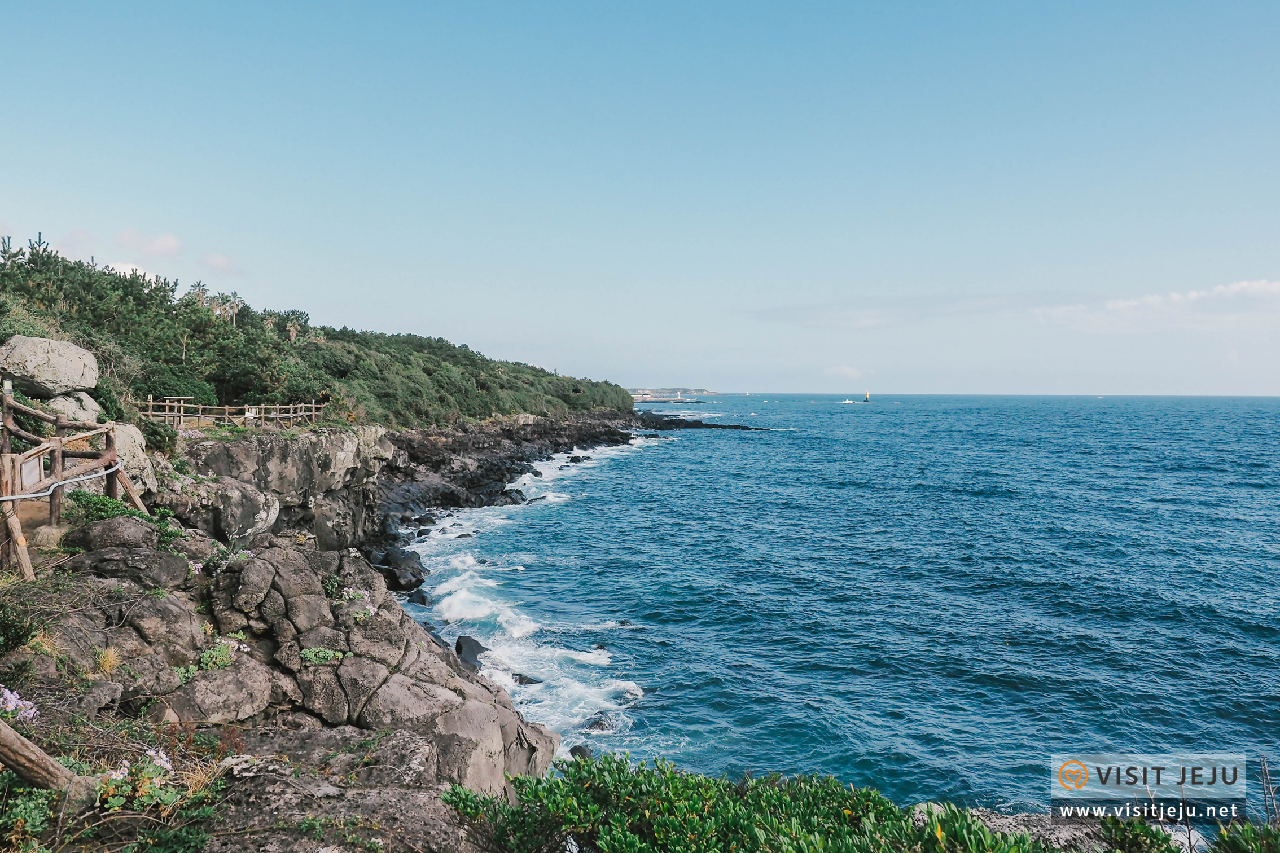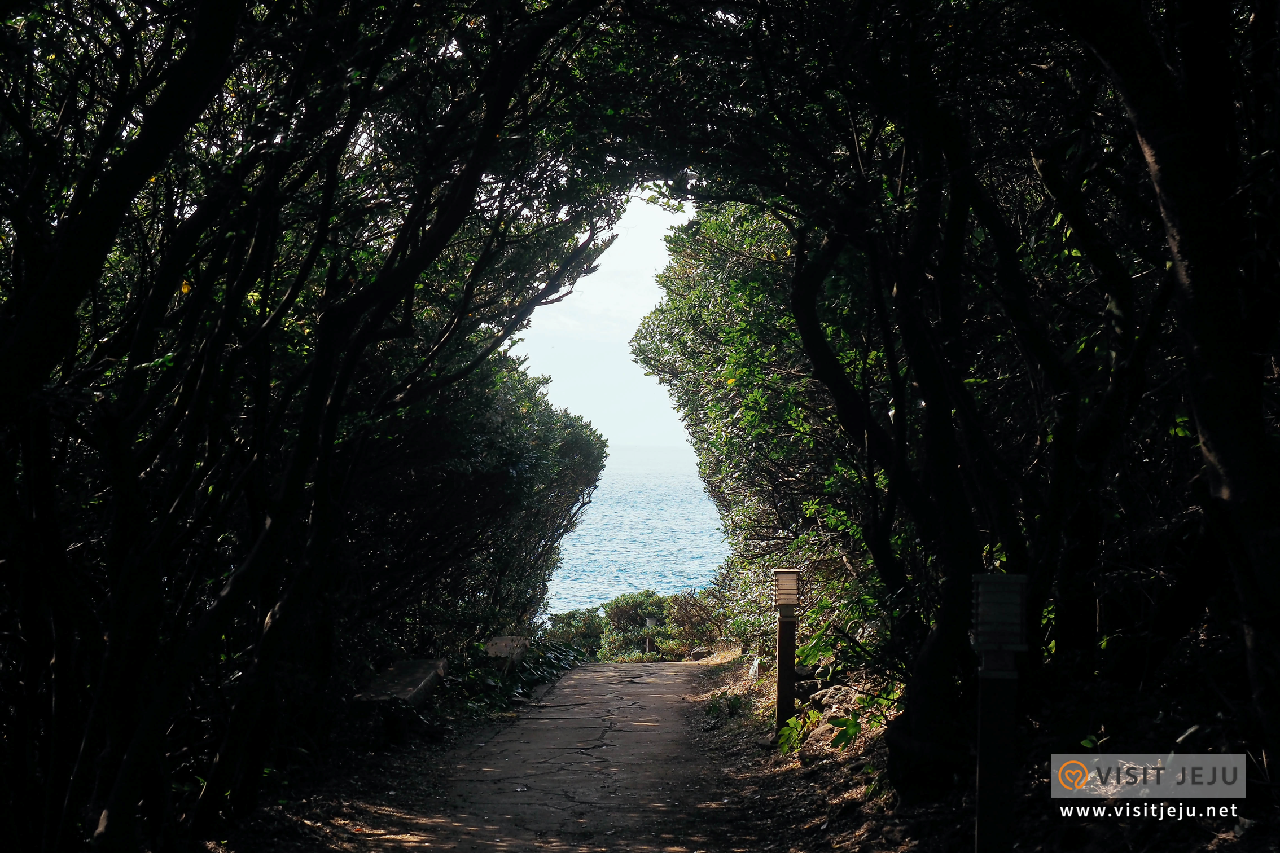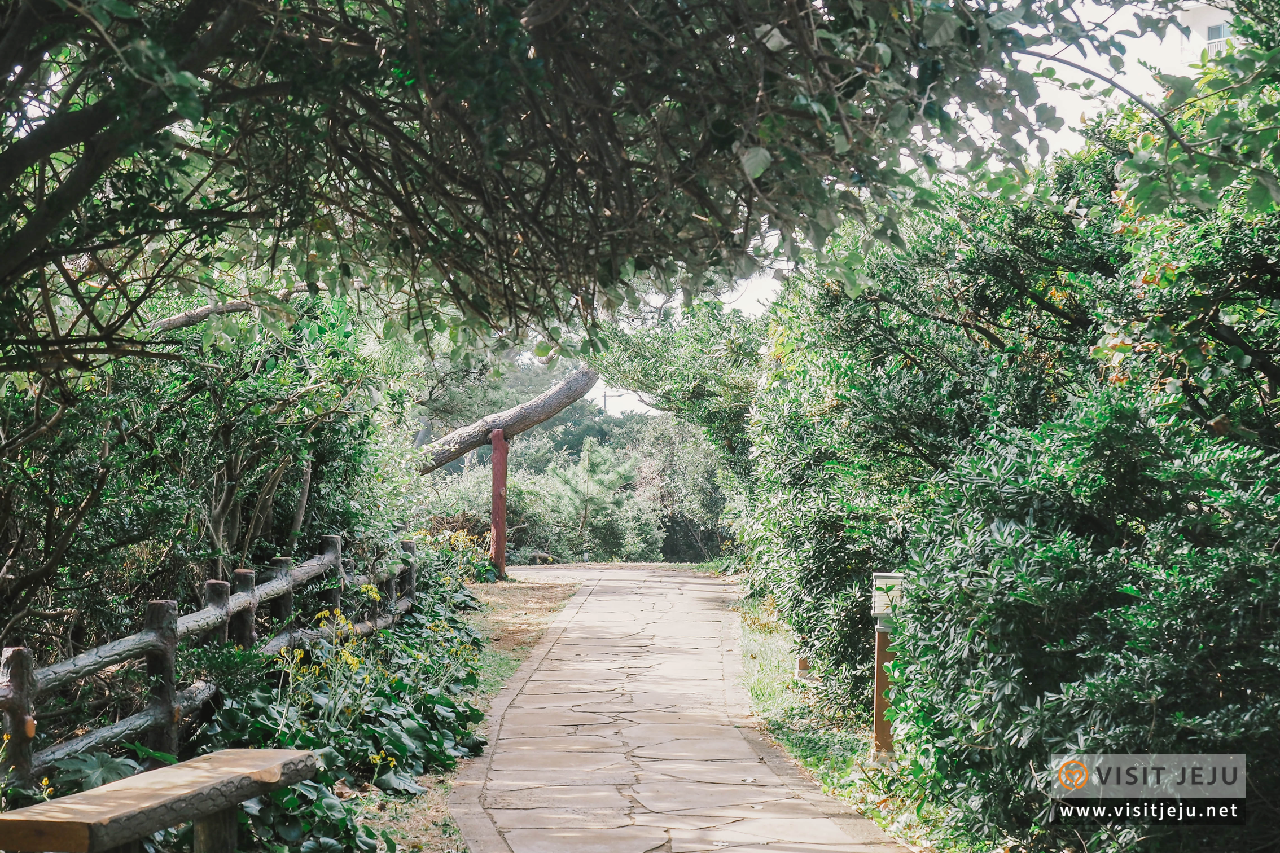 In Jeju dialect, "Keuneong" is a shade of rocks formed under the cliffs by the seaside. A simpler way to put it is a large hill. Namwon Keuneong Coastal Scenic Point, where volcanic lava met with the sea and created a beautiful coastal scenery, is a popular photo shootout spot as it resembles the Korean peninsula. The thick woods there certainly look like the terrains of the Korean peninsula. Park your car and stroll along the path for a little while. You will come across Keuneong. Be mindful that this place is easy to miss since you can find the place only if you look back from time to time as you hike. (Actually, it is difficult to miss since this spot is especially crowded.)
You will find exotic scenery around the time for sunset here, with the view split in half with the red sky and blue sea, somewhat resembling how South and North Korea are divided. We recommend you not to stop here and finish the trail, as the 2km long promenade awaits you with a stunning view.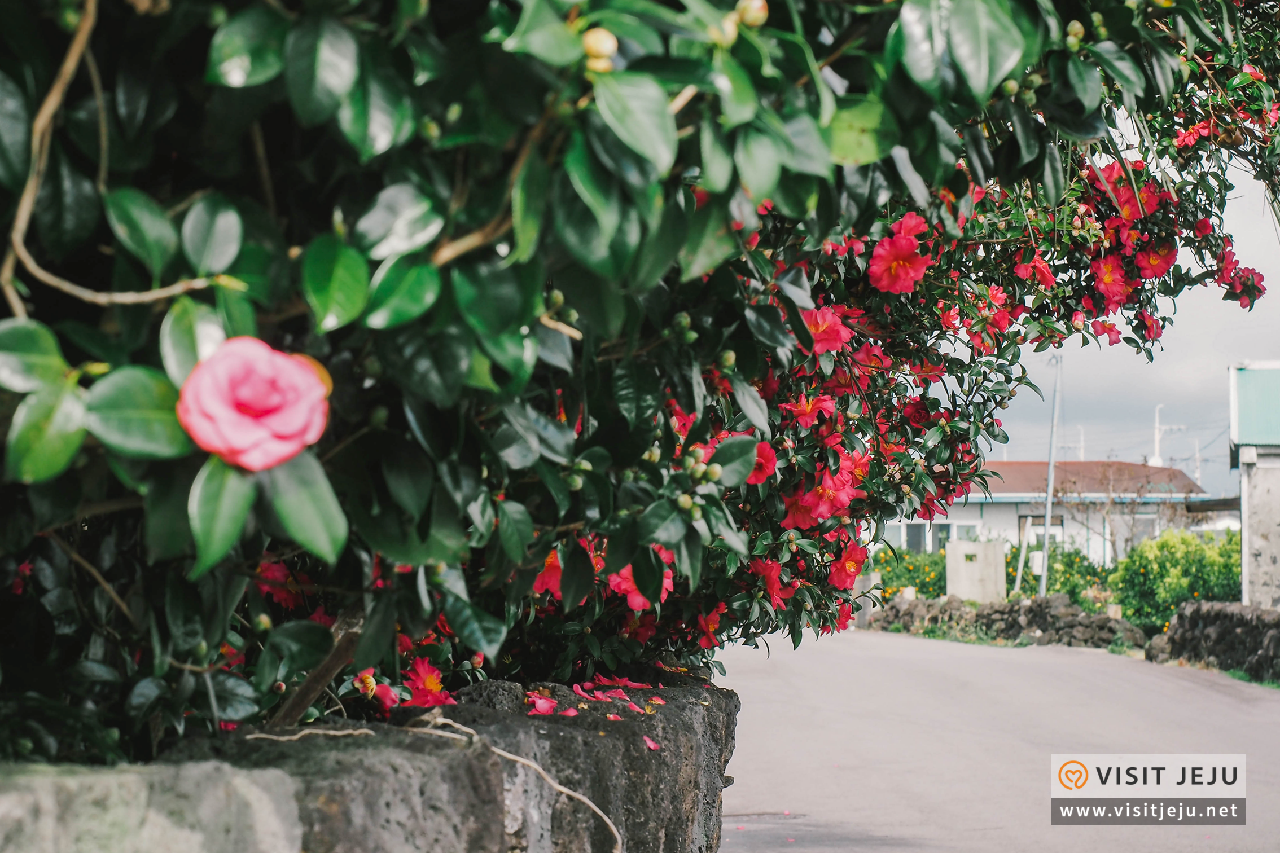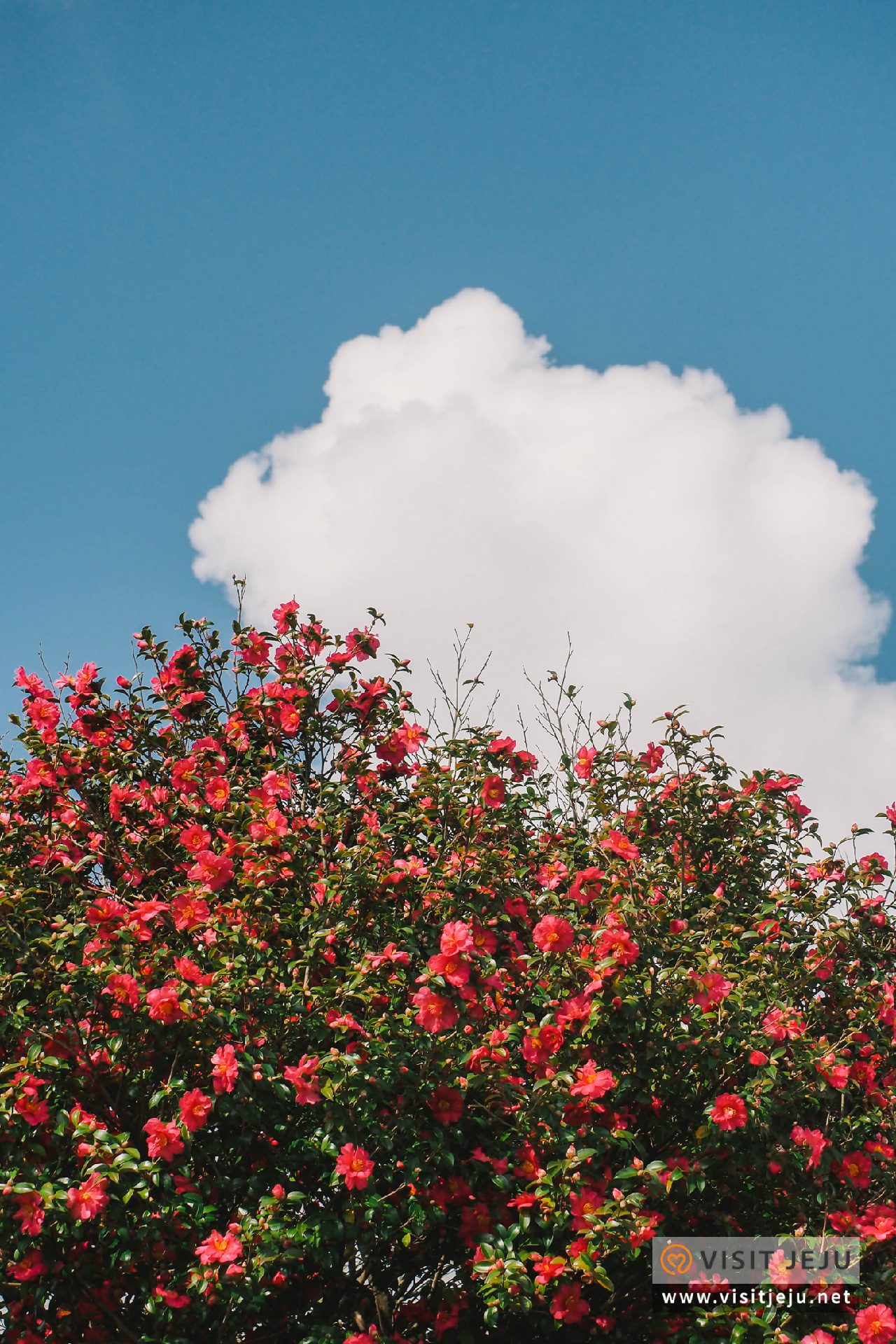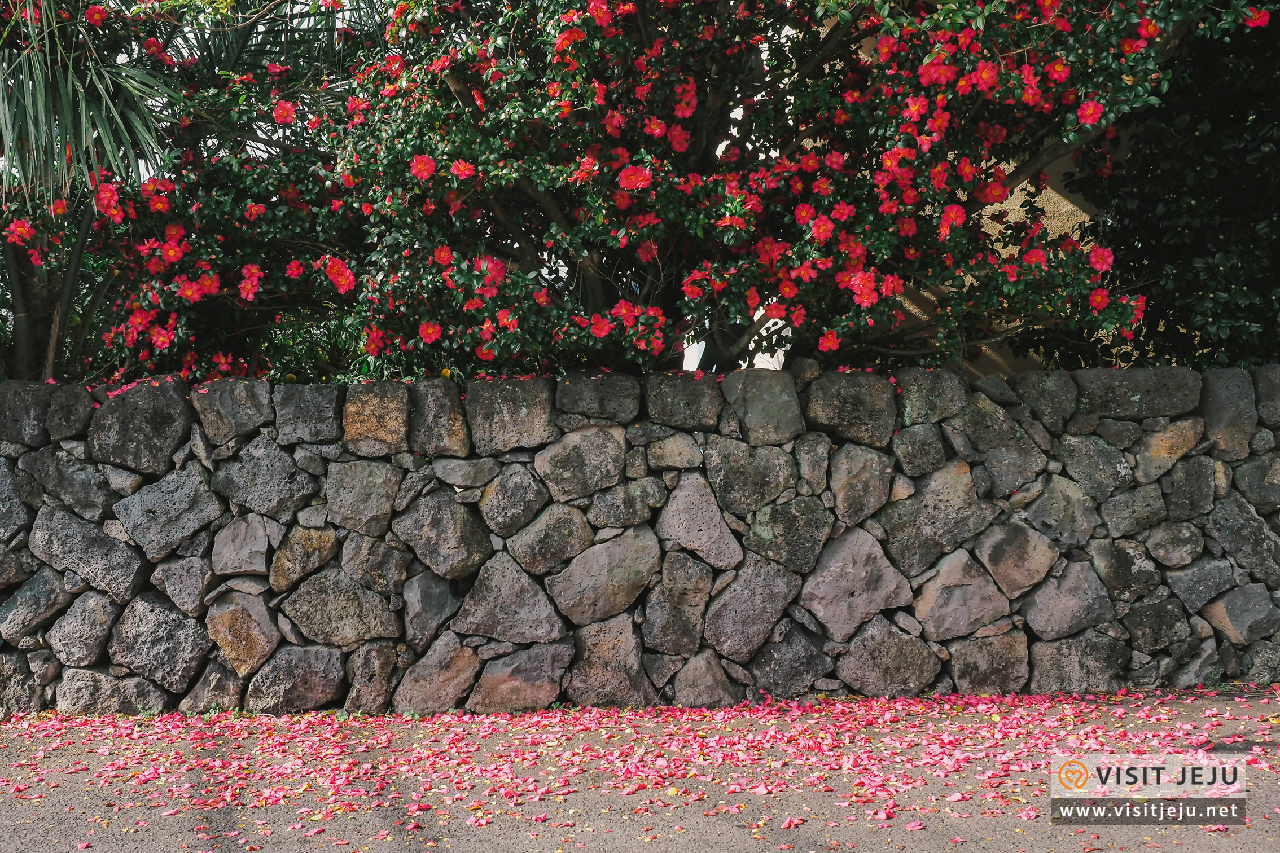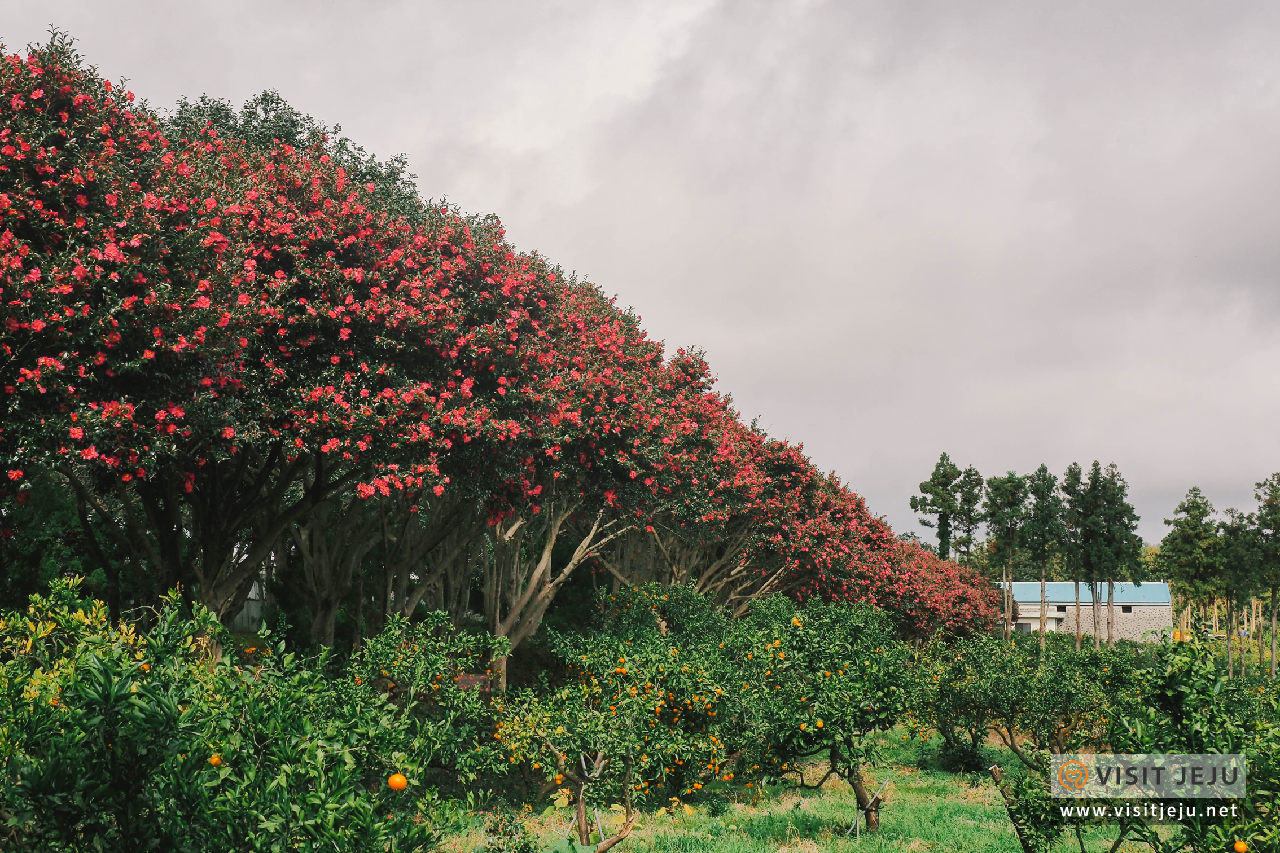 In Namwon-eup, there are many famous tourist attractions where you can look and feel camellias. They include Camellia Habitat, Camellia Arboretum, and Dongbaknang Café in Wimi-ri, Dongbaek Camellia Forest in Shillye-ri, and Kyeongheung Farm in Shinheung-ri. Of these places, Shinheung-ri, called Jeju Camellia Village, held its 300th anniversary this year. To celebrate, 300 more camellia trees were planted all over the village. I can't wait to see how beautiful it will be when they come into full bloom.
Jeju Dongbaek Village is usually where native camellia grows, so they tend to bloom later. Unlike camellia sasanqua which blooms in November, you will be able to see them from late December. They come in red rather than pink, and the whole bud falls together rather than each petal falling separately. Take a look around the camellia forest. You will see East Asian hackberry and Japanese camphor trees along with the camellia trees. Walk along the village and find your favorite camellia spot.
③ Hueree Natural Park
In the wintertime, you will find juicy mandarins everywhere in this southern village. You will feel cheery every time you run into orange fruits peeping from the leaves as you walking along the stonewall path. You may take nice pictures of mandarins at a grove you come across, but you wouldn't want to intrude on someone else's property and pick mandarins to taste one. If you actually want to try some of those mandarins, visit a mandarin orchard, a café with a mandarin grove, or a theme park.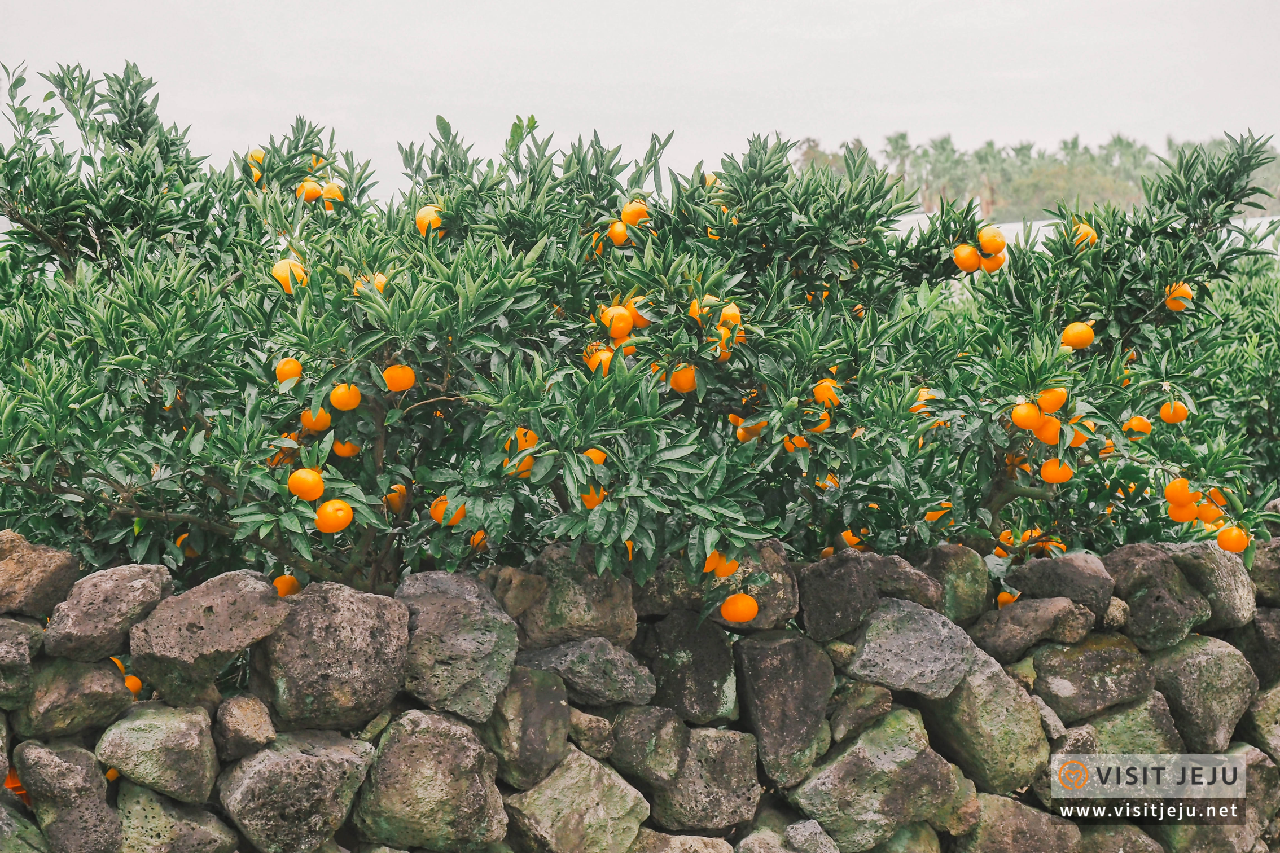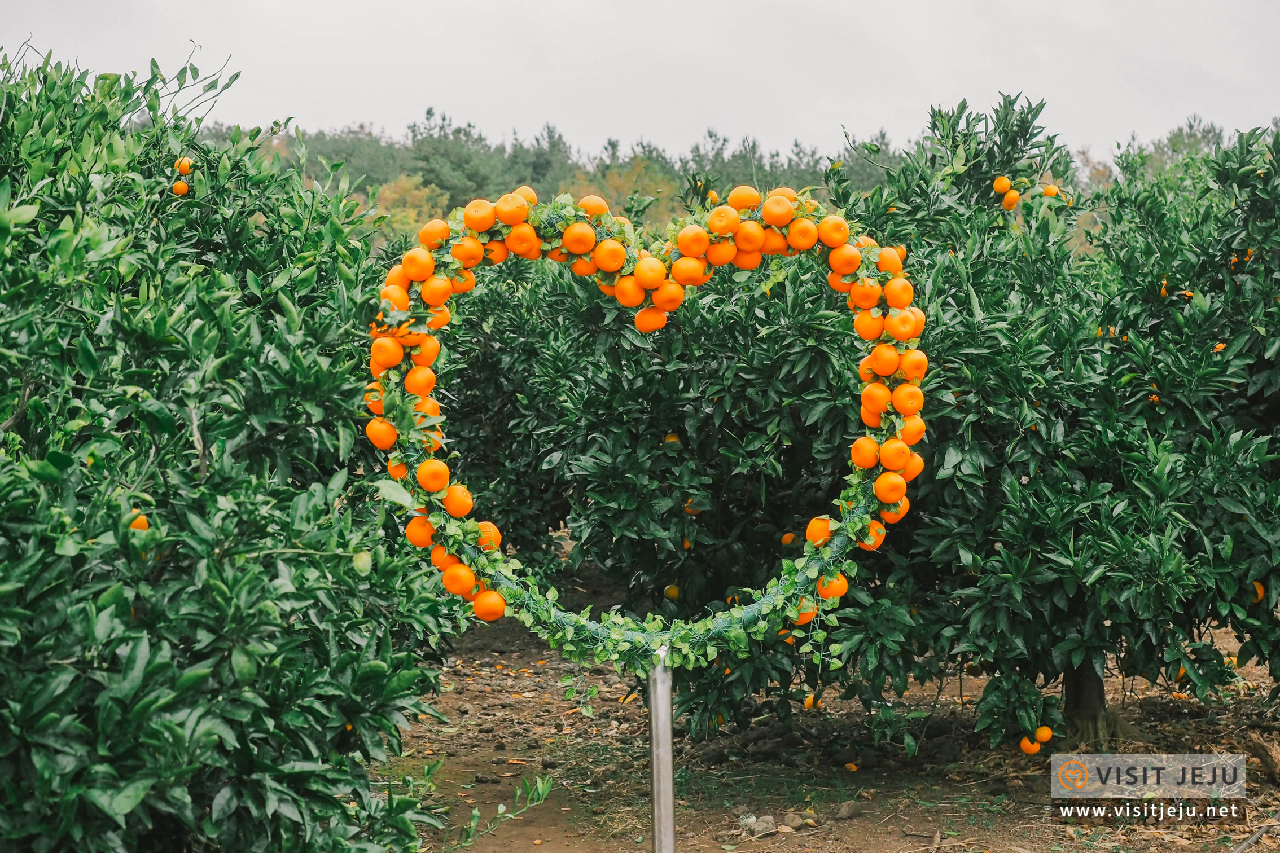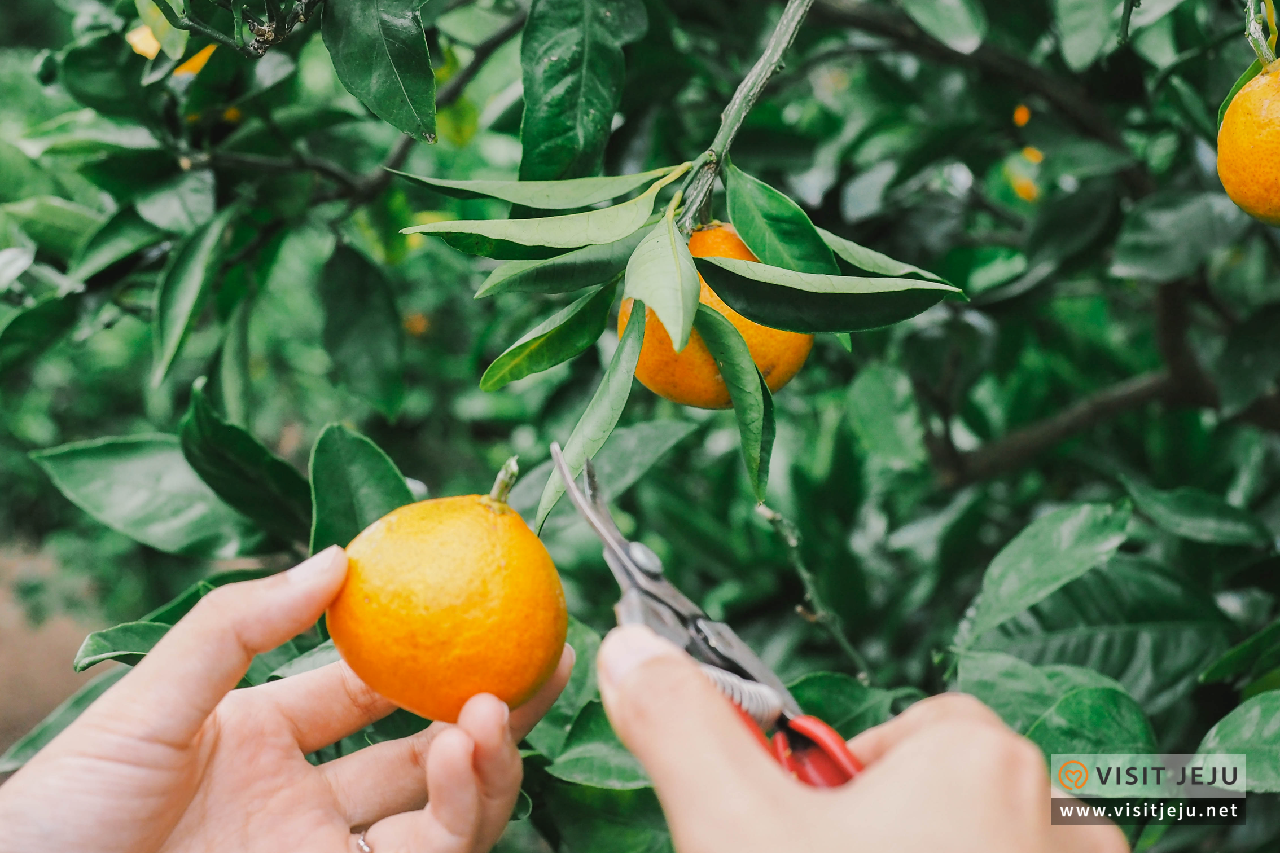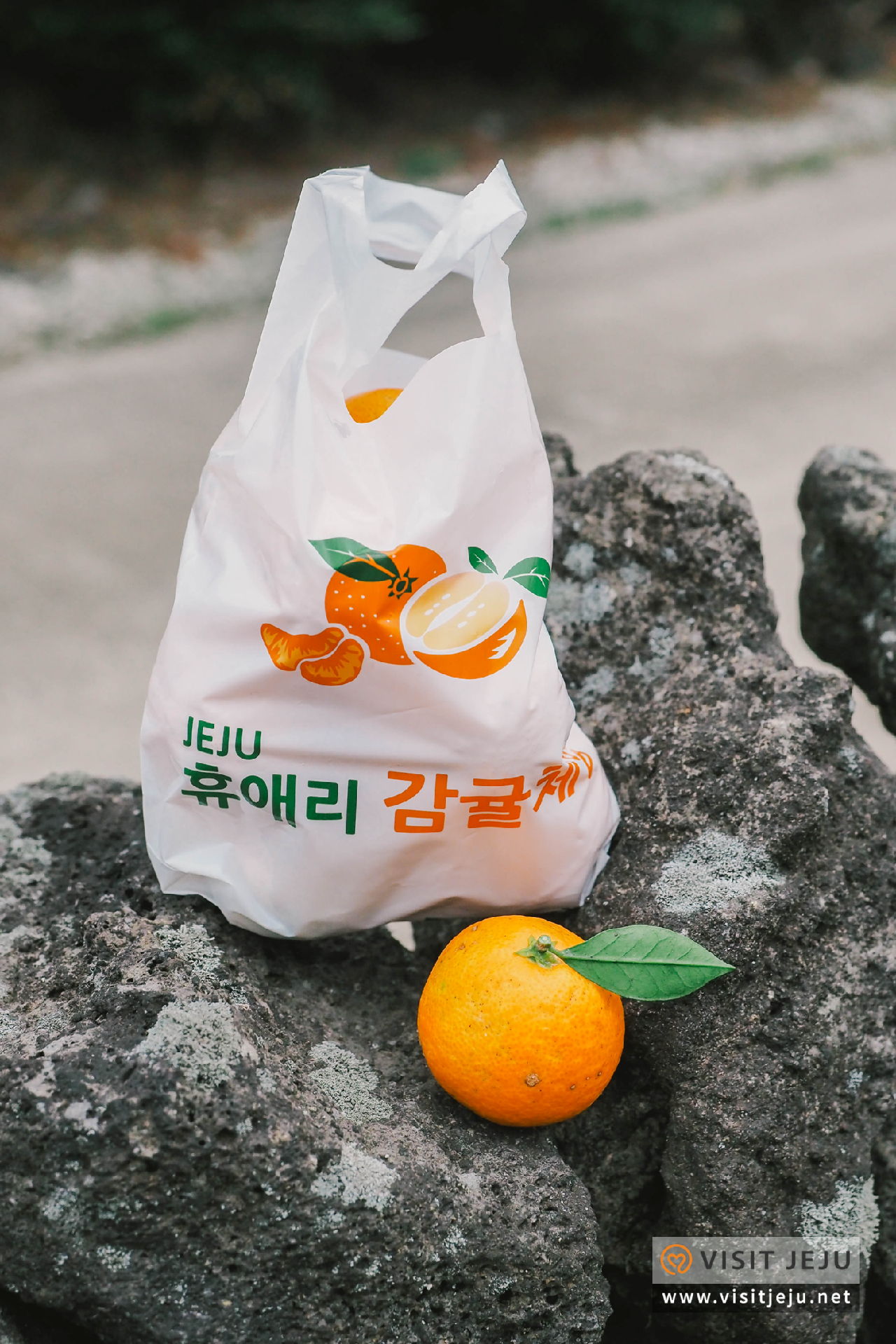 Hueree Natural Park opens an experience program from October to February every year. An additional KRW 5,000 will grant you the privileged to help yourself with the mandarins right off the branches or pick sweet, juicy mandarins to bring home in a prepared bag. There are various photo zones waiting for you to take selfies to your taste, with tents, tables, chairs, garlands, and heart-shaped structures available for use.
There are two mandarin orchards within Hueree. Note that they open for service differently by the season and sweetness of the fruits. If you are visiting to take pictures, we recommend you to visit on clear days when you can see the blue sky. It closes at 5 p.m., so be there by half-past 4 at the latest.
Simple but special
Cafés with a theme
① Hikerhaus Vovo
Hikerhaus Vovo opened in June this year in Wimi-ri. The best way to describe this shop in reflection of the owner's philosophy, which is to "make what I am good at and sell what I love," would be a place where the owner makes scones and coffee based on his baking and work experience at cafés, and a place that sells various items for customers who love to walk.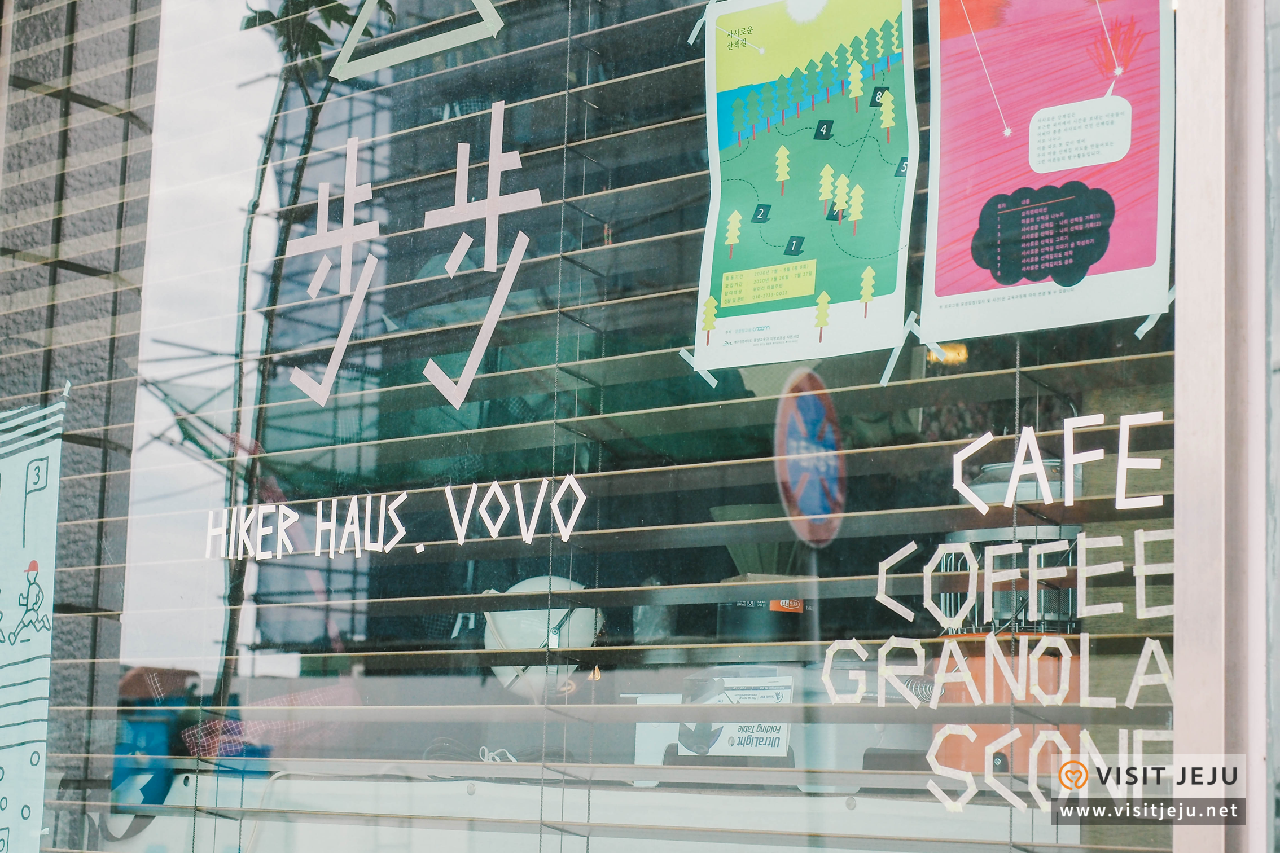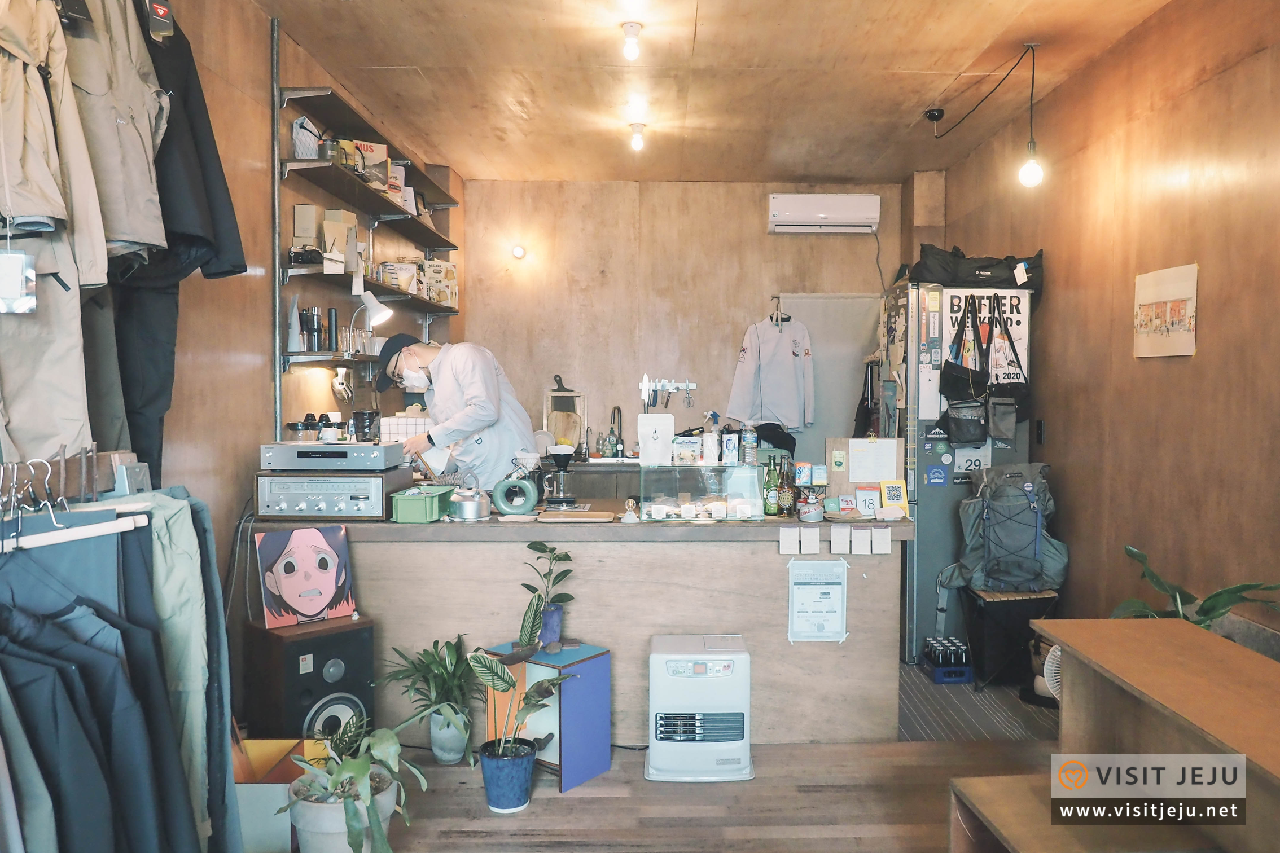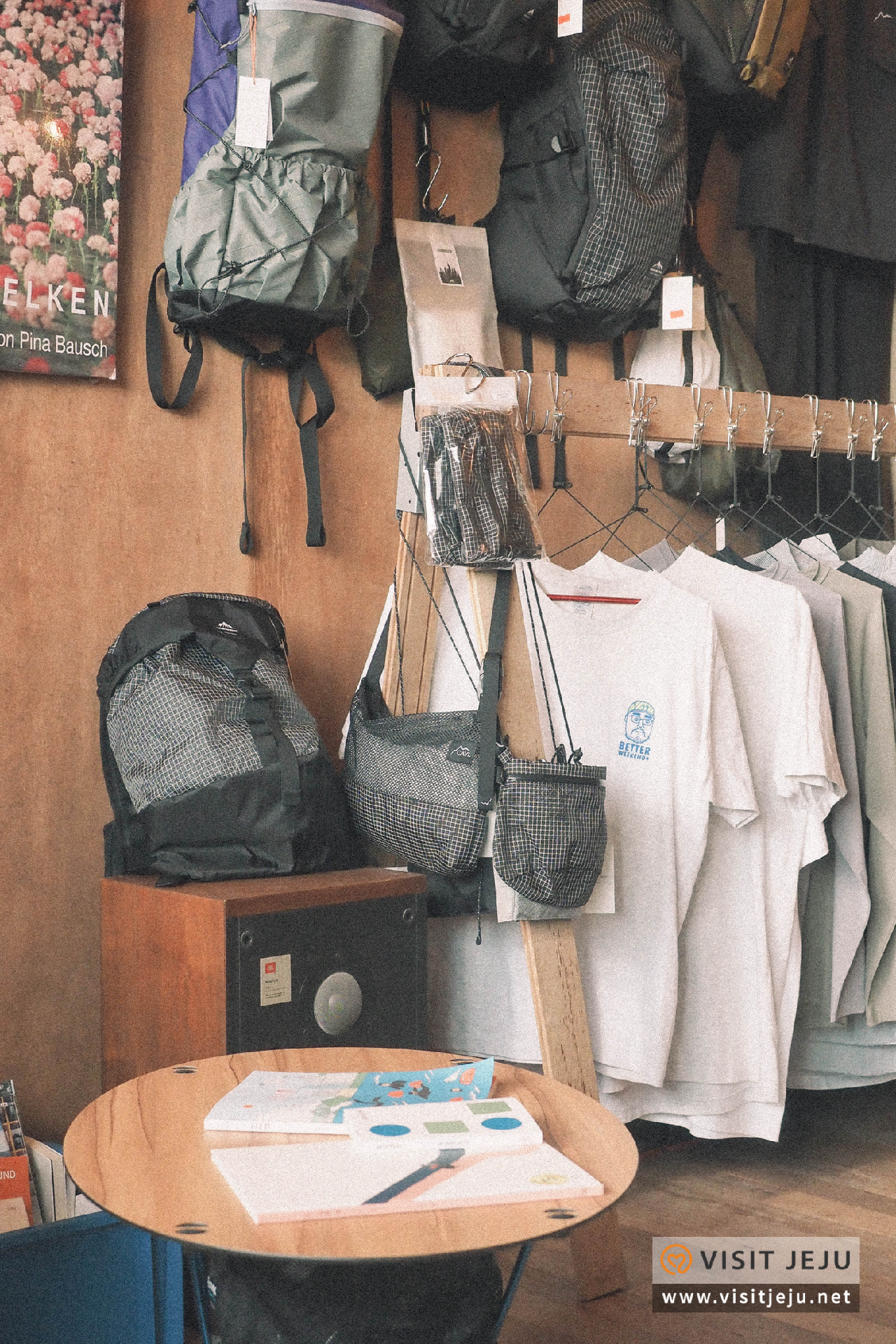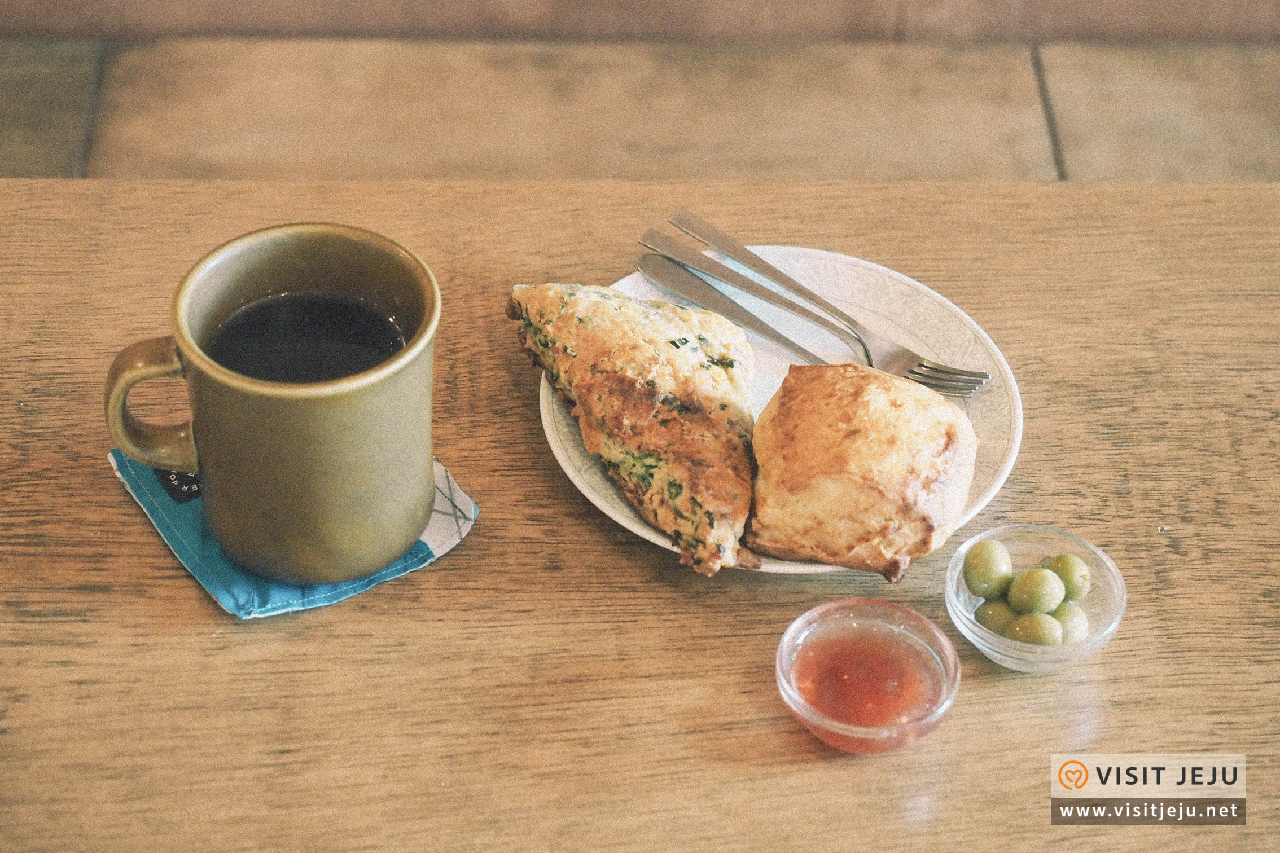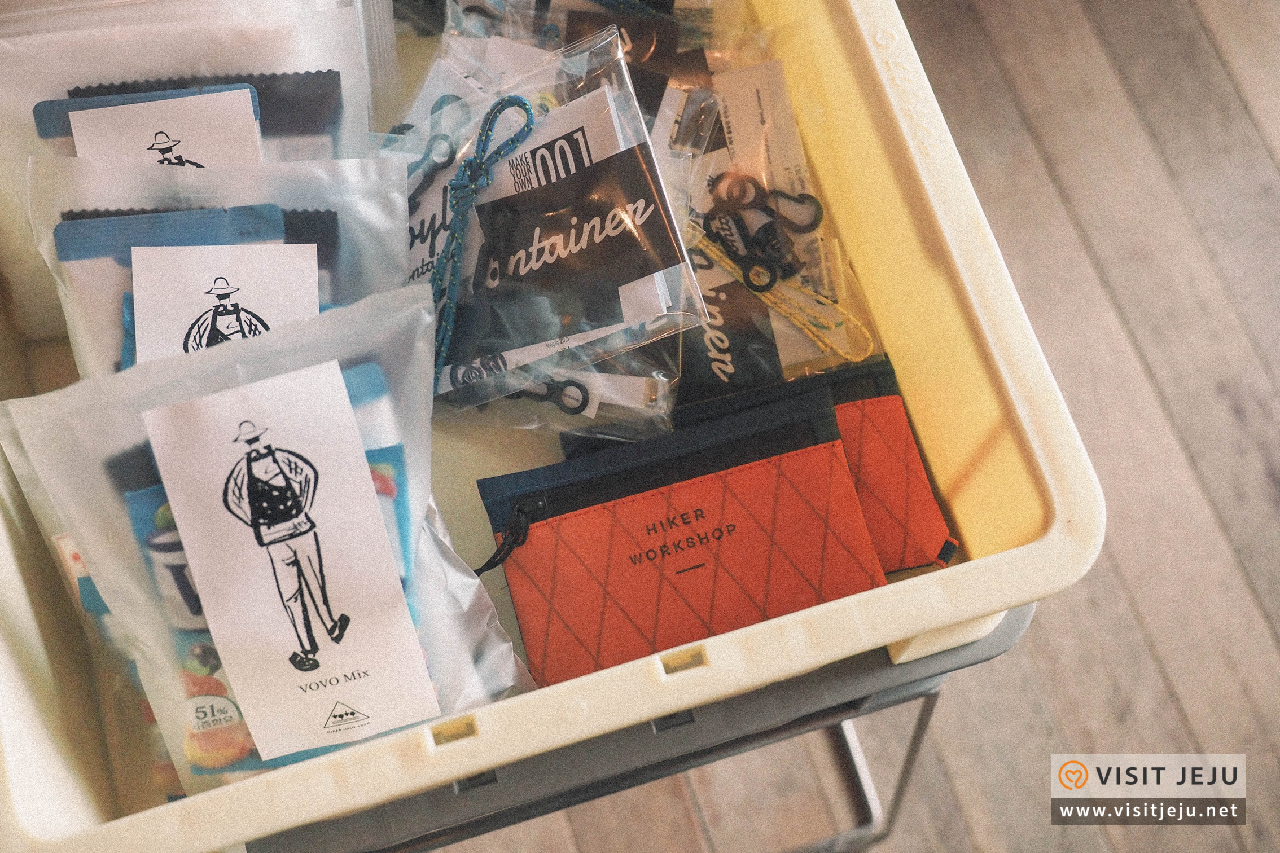 If you enjoy hiking, such as walking along Olle trail, you're in for a treat. You will find energy bars and granolas that are easy to eat and small-sized beverages carefully prepared. Hikerhaus Vovo recommends gears such as outfit, begs, and tents to your preference to help you better off with your walking, resting, and eating activities. You can think of this place as a space dedicated to suggesting ways to help you go further and lighter.
The place offers brands with a strong fan base, and some people even come from the mainland to find them. It is also planning to open a ""walk & talk"" gathering session soon. If you are interested, visit its Instagram (@hikerhaus_vovo) for any updates. Even if you're not a big fan of walking, we highly recommend you to still visit the place to try out its excellent hand drip coffee and scones that come with olives and jam.
② Island of Taste
Island of Taste, is an old western-style house revamped by the carpenter husband met with the painting works by the painting-artist wife. That you can taste two dishes that usually do not go well together–cheese Kimchi fried rice and black pork Banh mi–at the same time is enough to show how much this place is imbued with the individual preferences of the couple. While the café menu is their main service and food is a side, the place is ironically becoming popular for its Banh mi.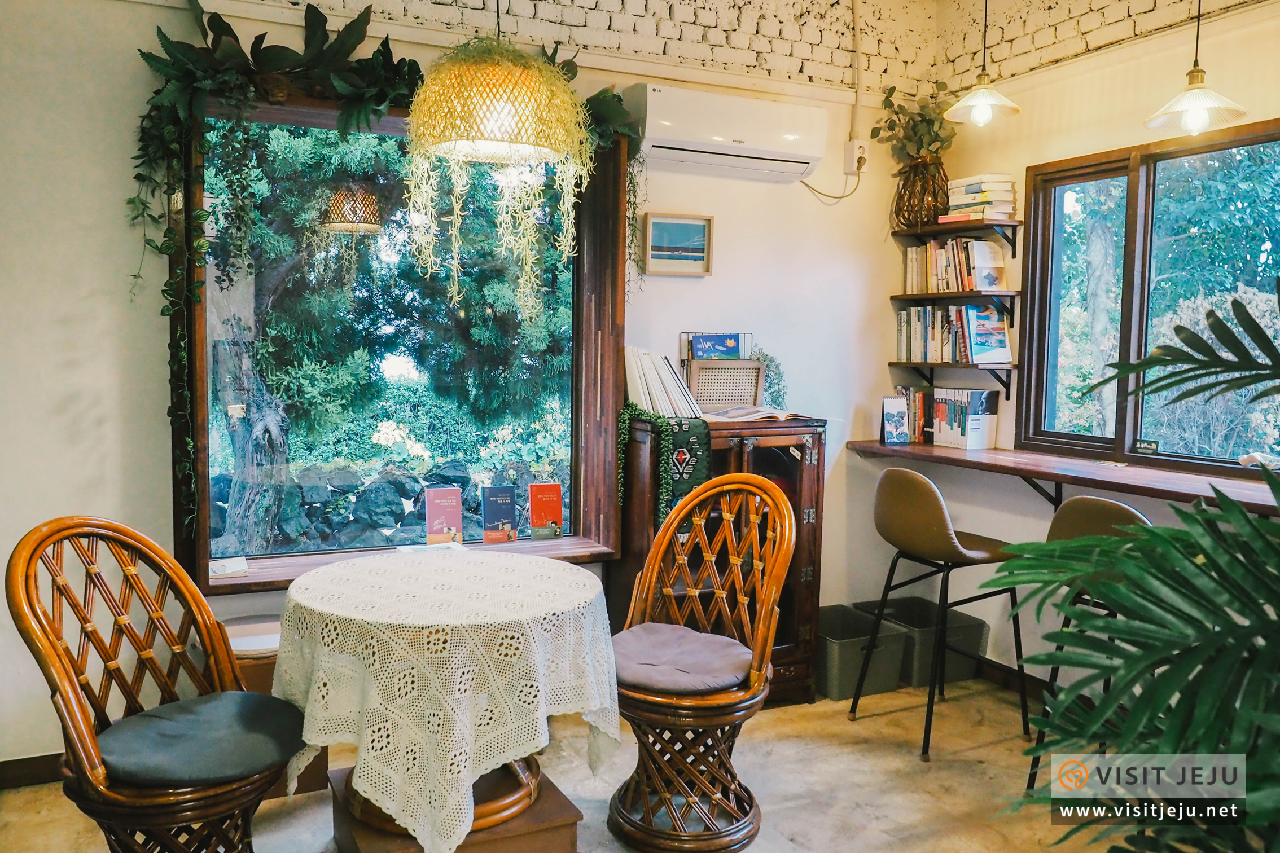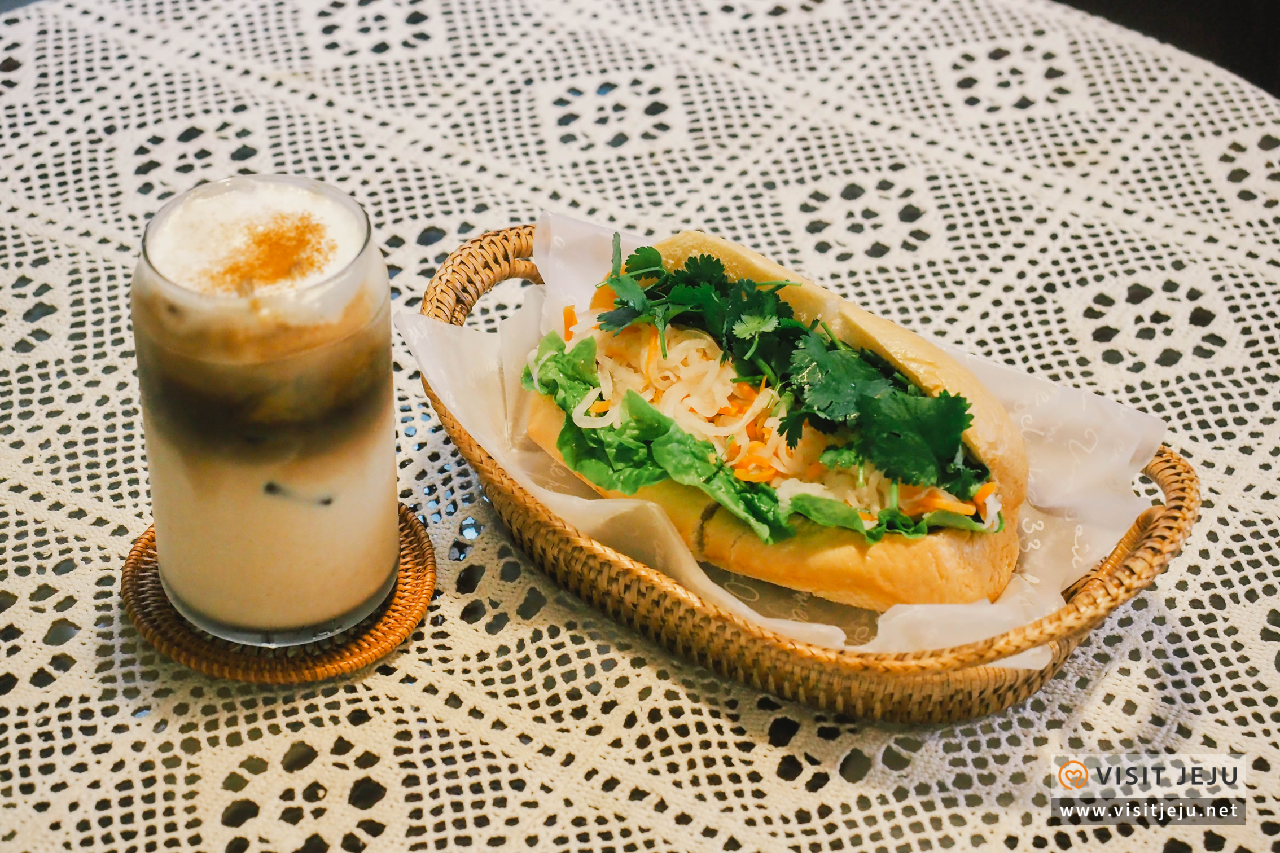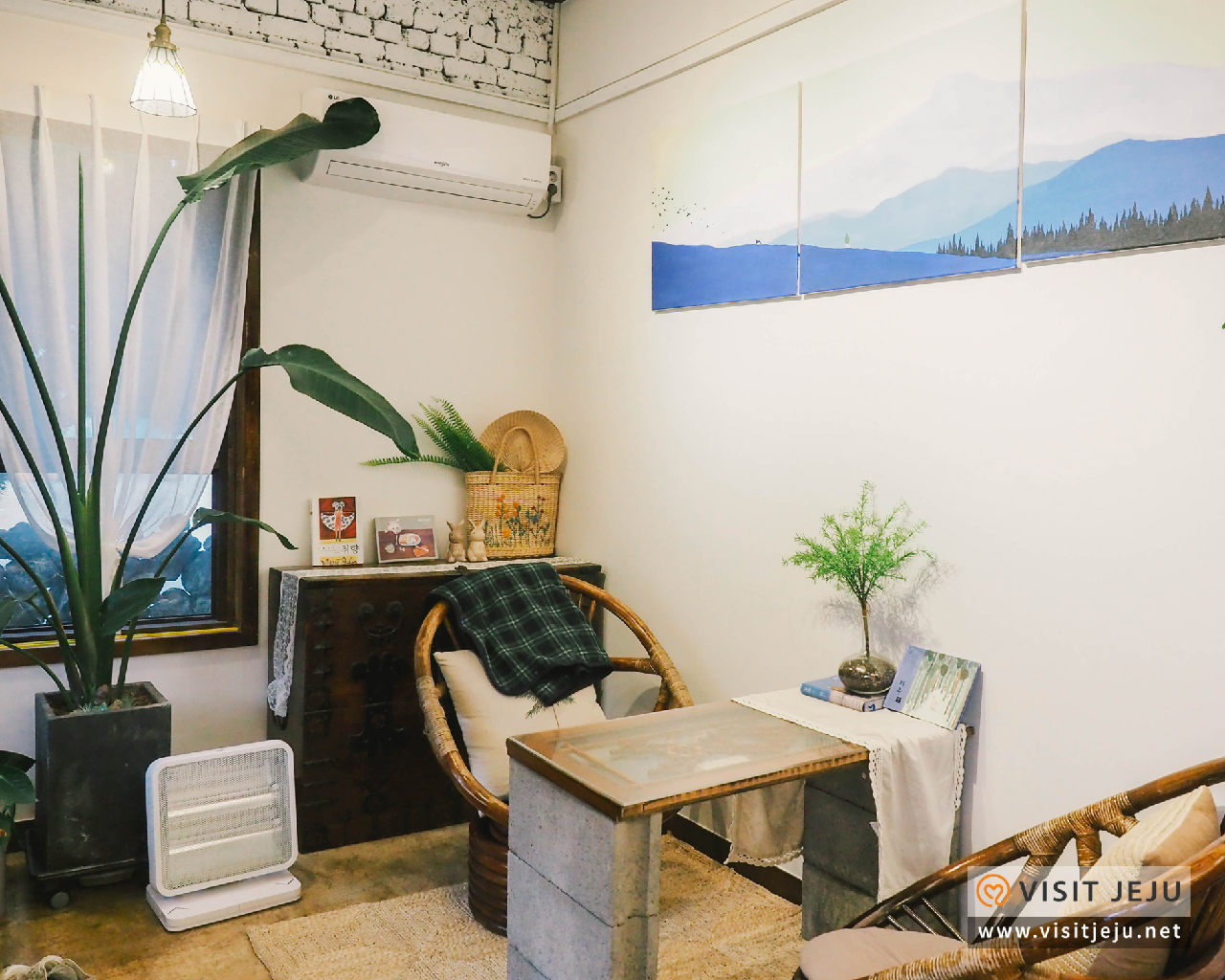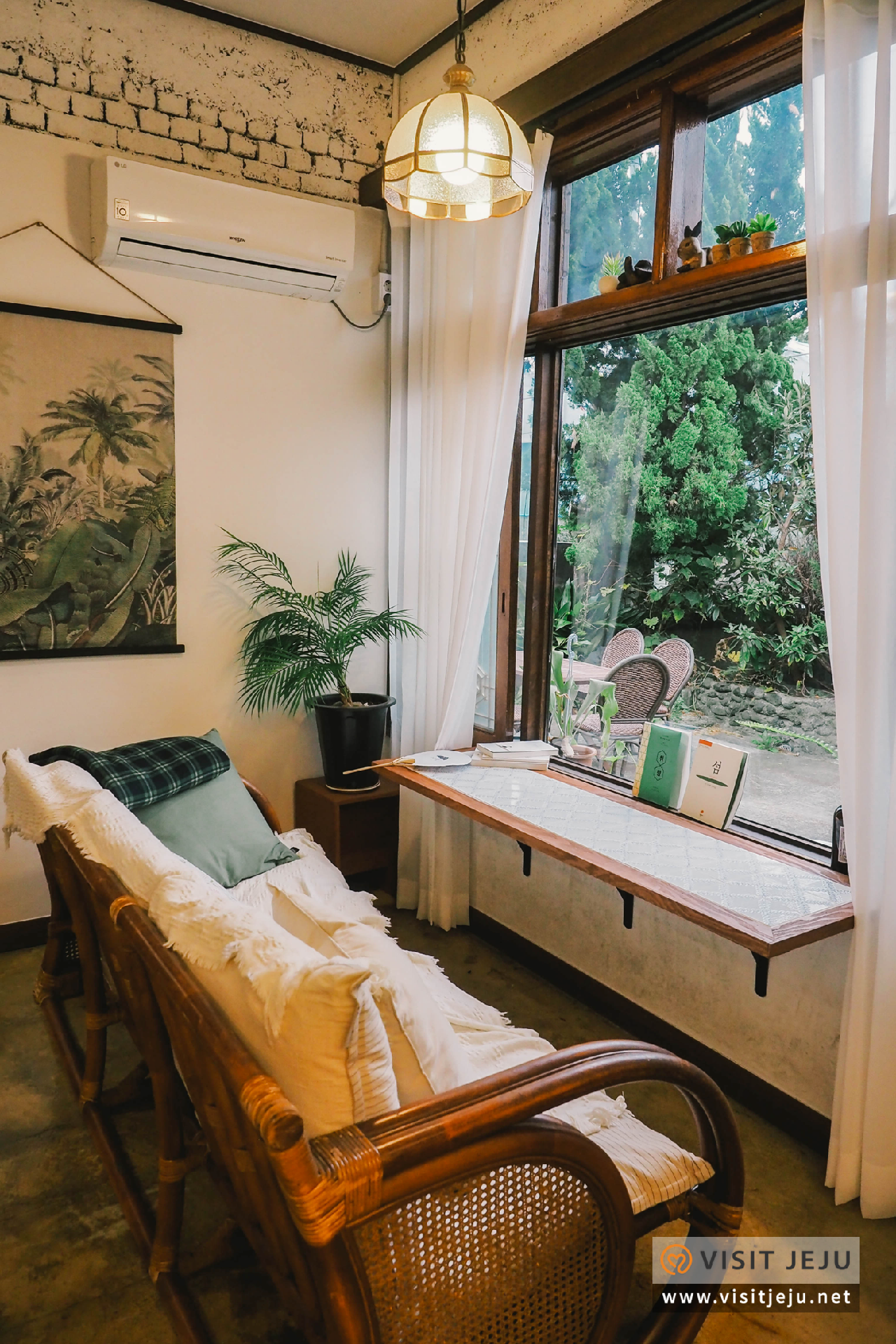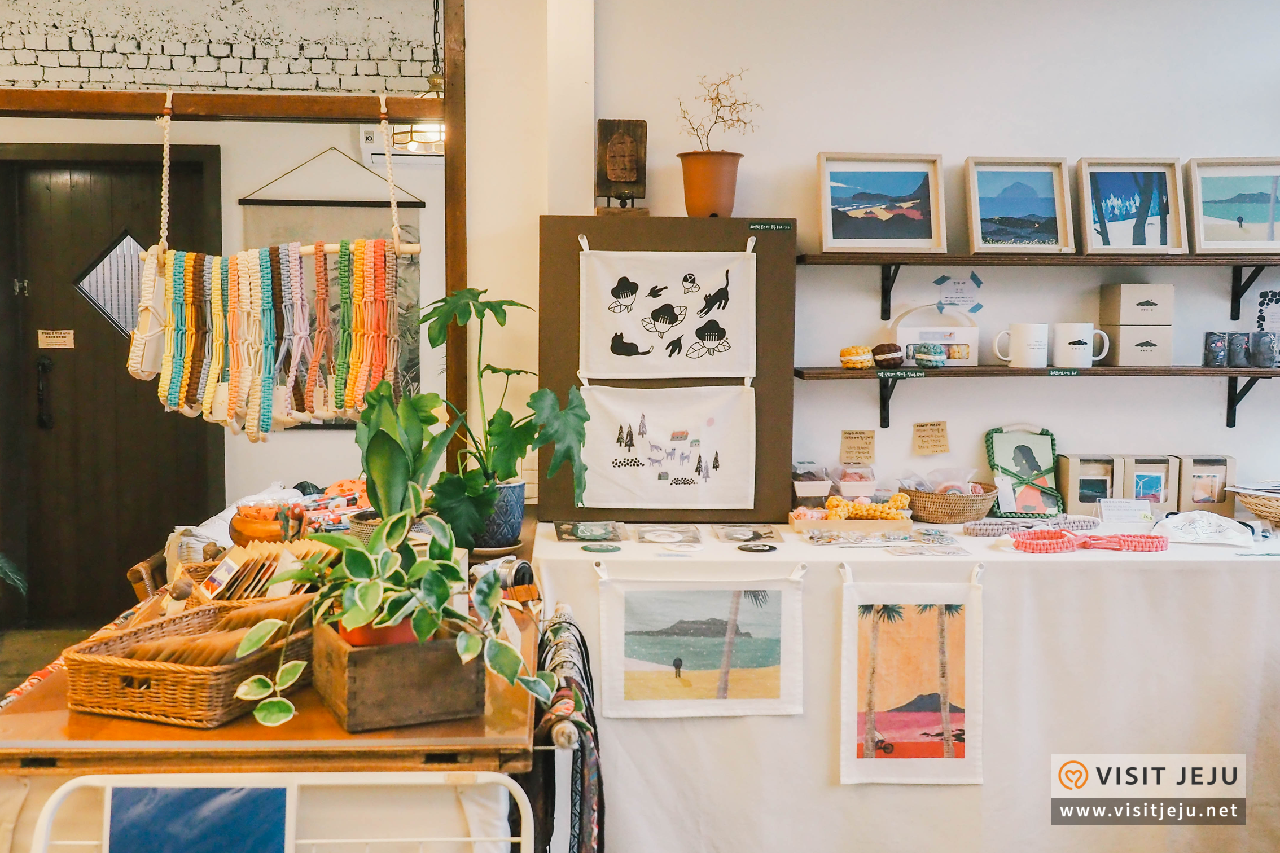 Besides regular coffees, there is a very special menu called Borigaeyeok (ground grain) coffee, which is made with ground Jeju barley grain powder mixed into the milk with espresso, honey, and cinnamon added to offer a bittersweet taste. They also sell ade and teas made of mulberry sourced from their parents' hometown, and green plums, green mandarins, and hallabong orange. They even serve homemade beers. The assortment may seem reflective of the couple's tastes, but you will find various items at service to fulfill everyone's taste.
You will also be able to discover Jeju views in picture postcards, fabric posters, and other goods sold at the café. (Instagram @chwihyang.wimi)
③ Travel Shop
Travel Shop started in 2017 in a small space in Jongdal-ri as a place to introduce various teas. It moved to Taeheung-ri the next year and opened as a café slightly bigger in size to sell teas as well as coffee menu. Like the name, Travel Shop is filled with numerous teacups, books, and sundries that the owners collected in their travels abroad.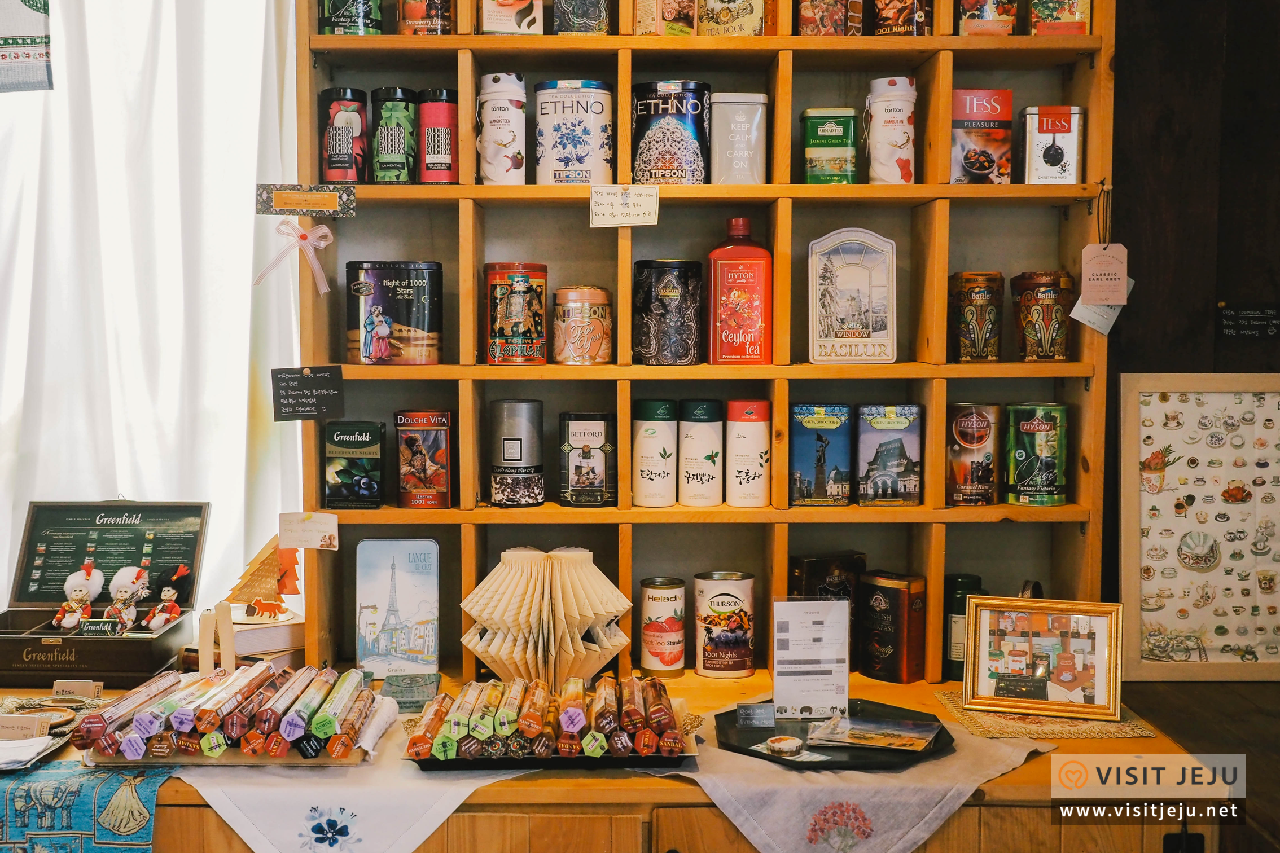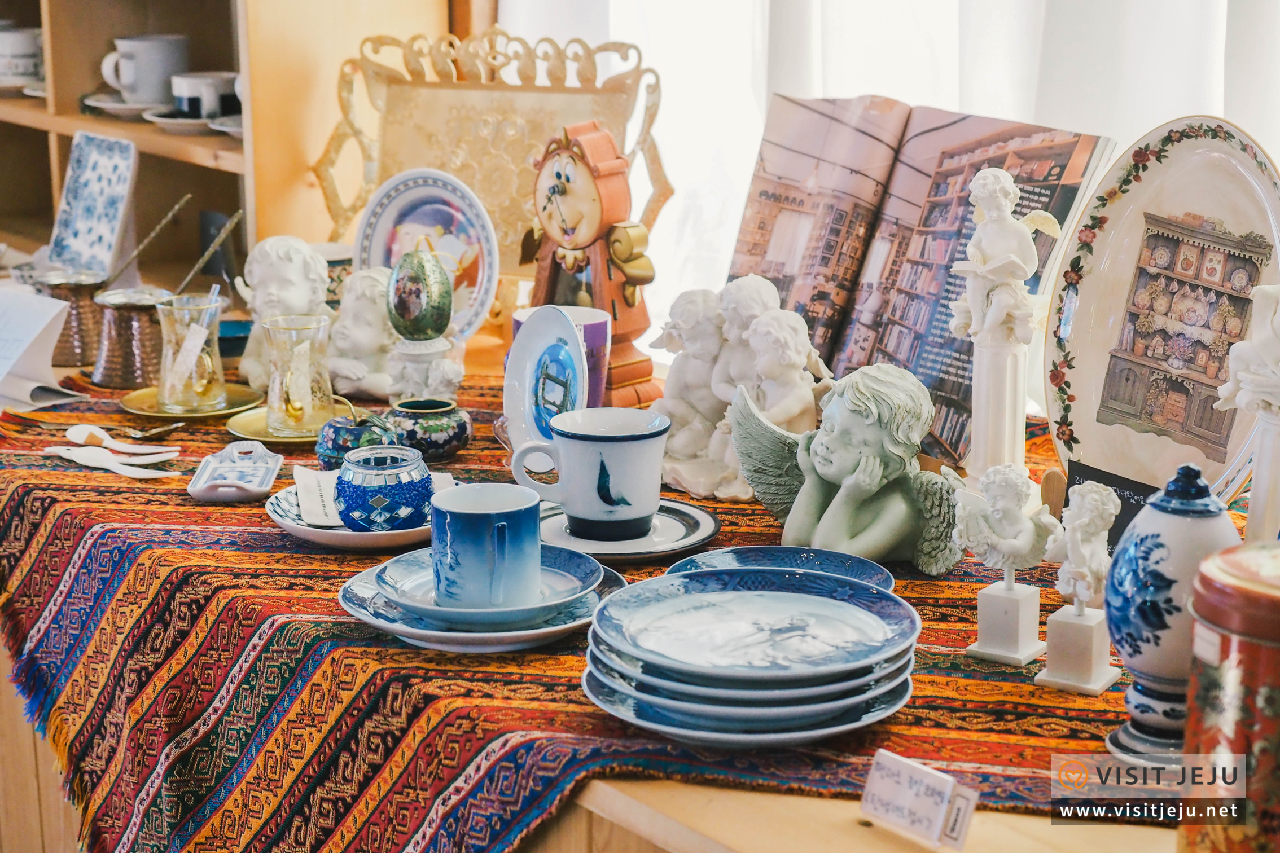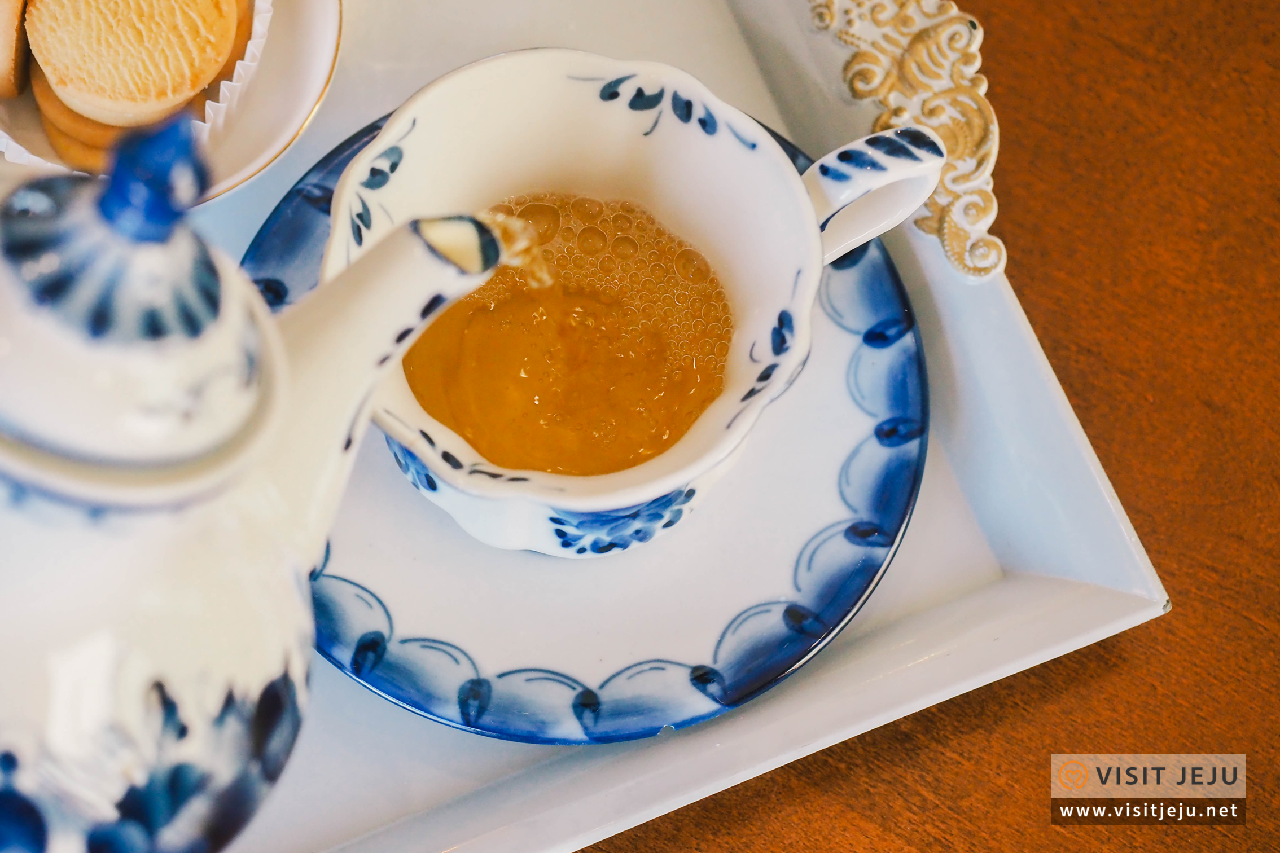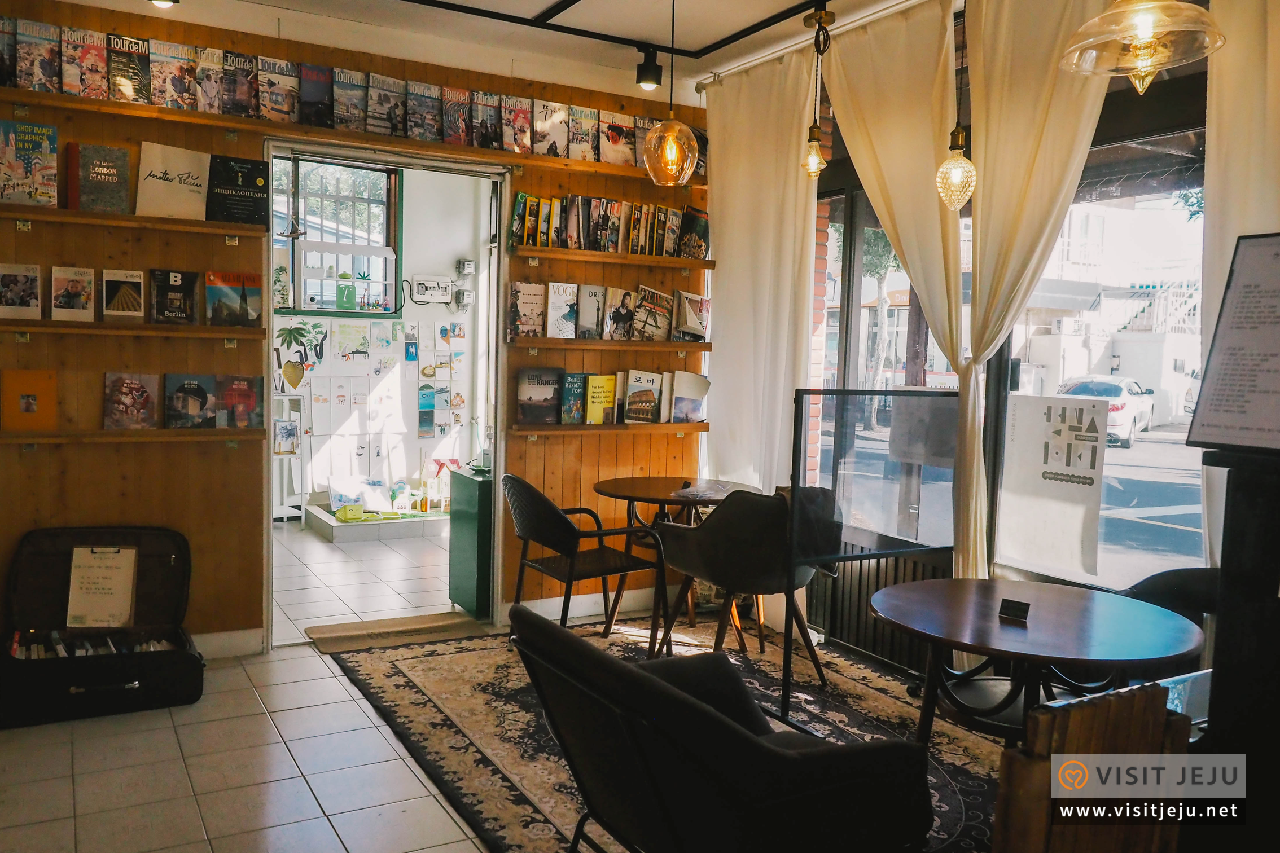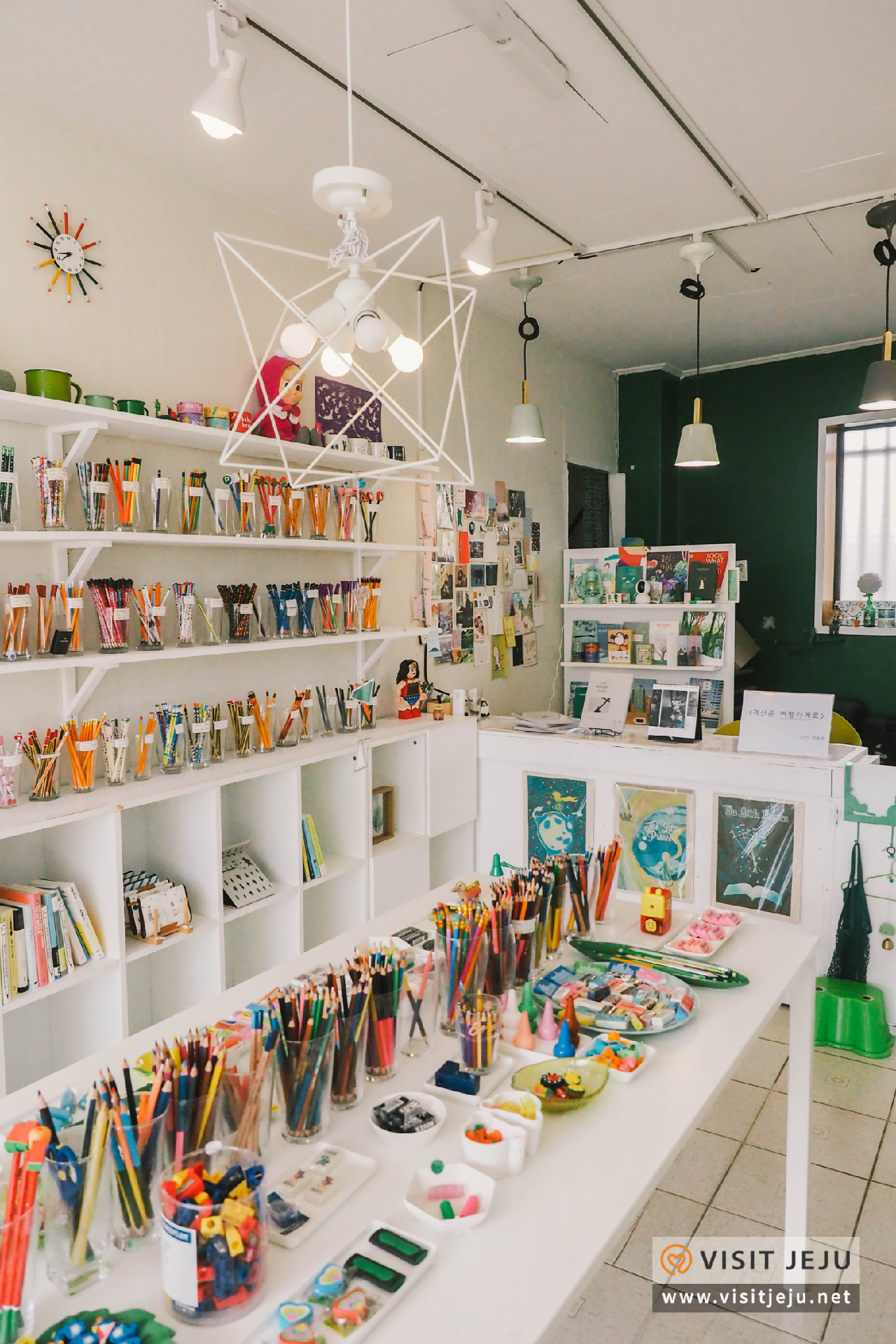 They used to go abroad and bring back products that the locals there actually enjoy, and imported and introduced teas that go well with each season. Unfortunately, the offerings this year are fairly limited due to COVID-19.
The best-selling menu is still "Tea of My Choice." The customer gets to choose a tea out of over a hundred teas that fill up the entire wall. Once the order is made, the café serves the tea bag in a kettle. You can pour the well-brewed tea in a pretty teacup and enjoy it with the cookie served together. If you are torn between numerous options to choose from, ask for a recommendation from the owner out of the green, red, or oolong tea menu.
Pencil Shop, which connects through the passage right next to Travel Shop, is another space filled with cute pencils, another travel collection of the owners. Visit this place if you are a fan of stationery goods. (Instagram @travelshop_jeju)
Photos : Eomji | Illustrations : 페퍼페이퍼

Notice

※ The above information was written on 2020-11-19. Please confirm the information prior to your trip.
※ Unauthorized use of the content above (text, photos and videos) is prohibited and subject to copyright by the Jeju Tourism Organization.