본문
<Olle Trail> The convenient way to walk around the island
Review

0

Lookup

1,776

Share SNS

0
The convenient way to walk around the island

Olle Trail

One of the best ways to enjoy the beautiful scenery of Jeju Island is by walking on a well planned and maintained trail. It will keep you fit and connect you with Jeju's nature and local culture. In the Jeju language "olle" is a word used for the narrow path that leads to one's house. Olle trail can be seen as narrow paths through the forests and coasts of Jeju Island that lead to the core of its beauty and magic. The trails stretch from village to village and go through beaches, farms and Gotjawal forests. These are forests native to Jeju Island where trees grow on volcanic rocks with very little soil.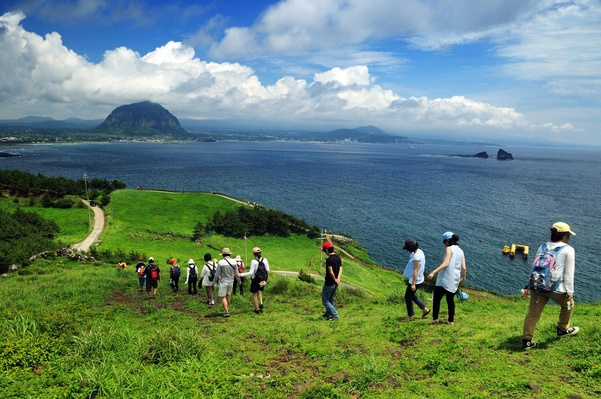 Current Olle trails consist of a total of 26 routes, with 21 main routes and five sub-routes. Each course differs in length and difficulty, allowing visitors to choose the appropriate course that meets each individual's level. The shortest one takes approximately one hour and the longest one can take up to eight hours to complete. Each course is decorated with directions and guiding flags along the way, so even first-time visitors will be able to follow the trail with ease. The routes have an average length of 16 km and combined they make up a total of 422 km of walking trails.

Jeju Olle was founded in 2007 and it has become a major tourist draw for Jeju Island. The trails attract not only visitors from mainland South Korea, but also international travelers who love hiking. According to a 2008 statistic, over 1.2 million people visited Olle trails just in the first year after the opening.


Route 1
Jeju UNESCO Crown Jewel Sunrise Peak
Route 1 was the first Olle trail to open. It opened to the public in 2007 and was called the "Oreum-Badang-Olle." This translates to mountains, sea and Olle (trail). The trail goes through green fields and climbs oreum from where you can see Seongsan Sunrise Peak, Udo Island and the sea. The fields framed with black stone walls are beautiful and a common site in Jeju villages. The route is considered to have a medium difficulty and it is 15km long. It should take around 4 to 5 hours to hike.
ㆍStarting point: 814-5 Jongdal-ri, Gujwa-eup, Jeju-si, Jeju-do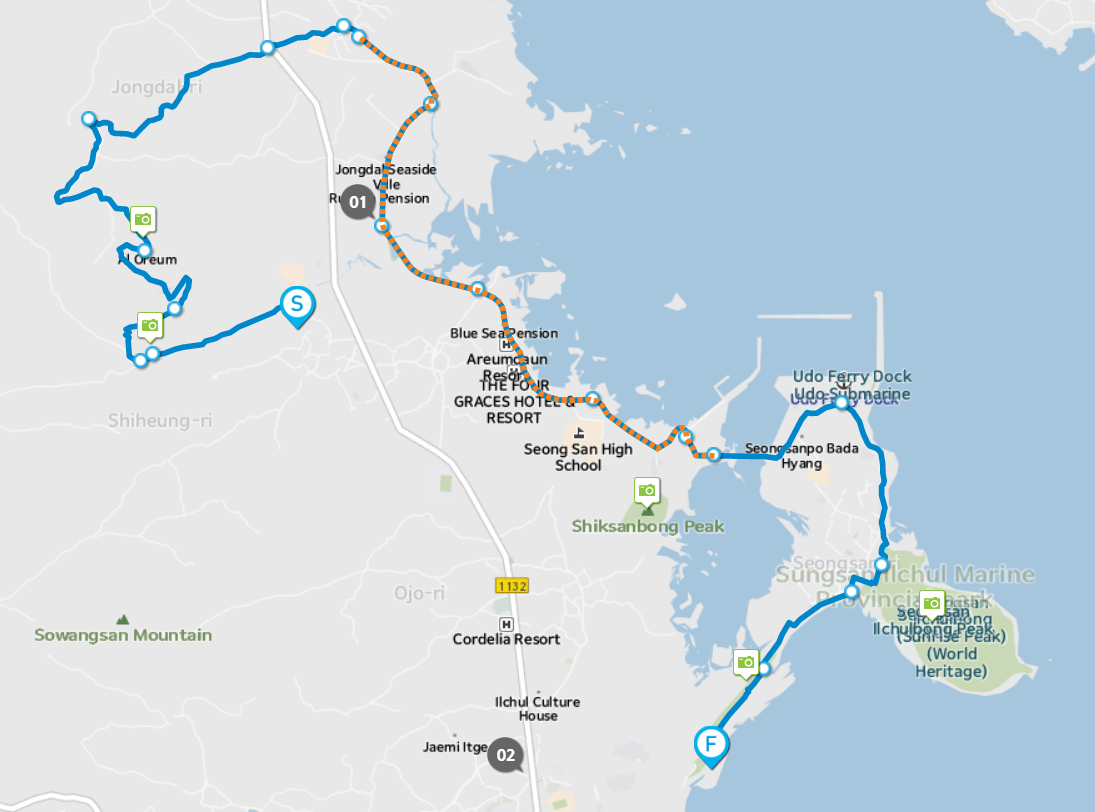 Route 7
From Seogwipo City to the fields of pampas grass
Route 7 was opened in December 2007. Route 7 is a seaside walking trail, so walkers can see and enjoy the coastline of the island. It includes Subong-ro, a natural ecological path that Olle hikers love and care about. On the road, hikers can also enjoy being in the midst of pampas grass and wildflowers. The road passes through Oedolgae, dramatic cliffs with tide pools that attract lots of swimmers during the summer. The course is 17.6 km and takes up to 6 hours to complete.
ㆍStarting point: Jeju Olle Tourist Center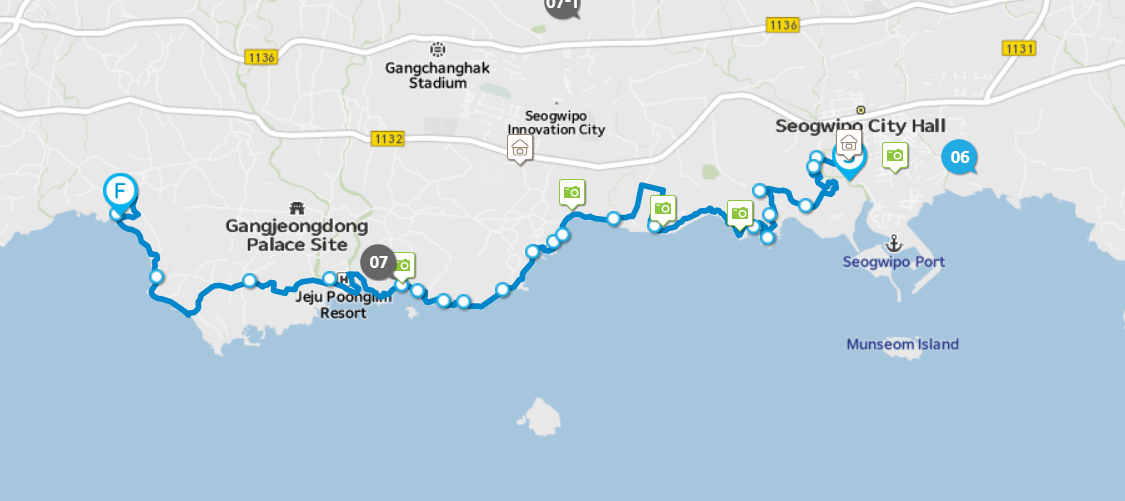 Route 8
The beauties of Jungmun Resort
Only divers in Jeju Island used to use this trail in the past. Now it is available for everyone. Hikers on this route have a chance to see Jusangjeolli, the hexagon-shaped stone pillars formed from the eruption of Hallasan Mountain. It also passes Jungmun Saekdal Beach, the most popular beach for surfers on the southern part of the island. The total length of the route is 19.6 km and it takes 6 hours to complete.
ㆍStarting point: 532-3 Haye-dong, Seogwipo-si, Jeju-do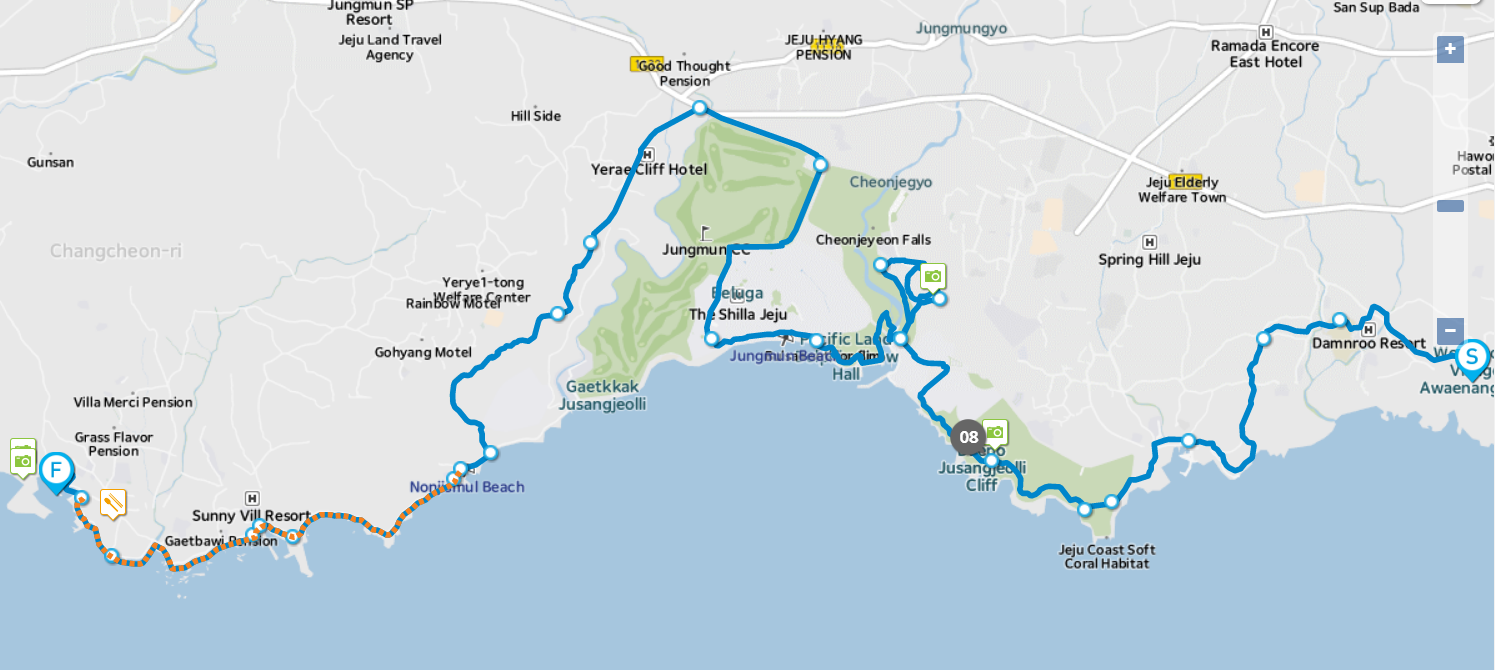 Notice

※ The above information was written on 2019-12-11. Please confirm the information prior to your trip.
※ Unauthorized use of the content above (text, photos and videos) is prohibited and subject to copyright by the Jeju Tourism Organization.