본문
Top 10 Jeju Sites for November

The deeper the season, the richer the impression. Jeju in November is delightful

Jeju in November lets you feel the depth of the season with a cool breeze kissing the tip of your nose during an early morning walk along the beach. Looking around, there are dazzling fields of orange-hued mandarins, and schools of yellowtail flutter in the darkened sea. Bountiful food from land and sea beckons as if it has been waiting for this season. November is a time of perfect temperature and humidity, hearty food and pleasant travels, all enjoyed under brilliantly blue skies on the entire island.
Between autumn and winter, drifting through the wind and water
Bangeo Festival
When the schools of yellowtail that plump through the strong currents of the Moseulpo Port return, the festival of sharing its richness begins. This year's Bangeo Festival, one of Jeju's most popular celebrations, begins on November 21. Enjoy the thrill of catching yellowtail with your bare hands after a breathtaking chase. Of course, you can also purchase and taste yellowtail for a reasonable price at the auction. The festival includes exciting events like yellowtail fishing and reel fishing where anyone can become the king of catching fish. Adventurers may want to experience catching and tasting horned turbans, shelling top shells and the yellowtail filleting show. History buffs will enjoy looking beyond the excitement of the festival to learn more about the historic Daejeongseong Fortress Site and Kim Jeonghui's Home in Exile. Top off your stay with the must-visit Songaksan Mountain for scenic vistas that highlight the true charm of Jeju.
‣Bangeo Festival: 2019/11/21~24 Around the area of Moseulpo Port www.bangeofestival.com
‣Daejeongseong Fortress Site: Around the area of Boseong-ri, Inseong-ri and Anseong-ri, Daejeong-eup, Seogwipo-si
‣Kim Jeonghui's Home in Exile: 44, Chusa-ro, Daejeong-eup, Seogwipo-si
‣Songaksan Mountain: 179-4, Sangmo-ri, Daejeong-eup, Seogwipo-si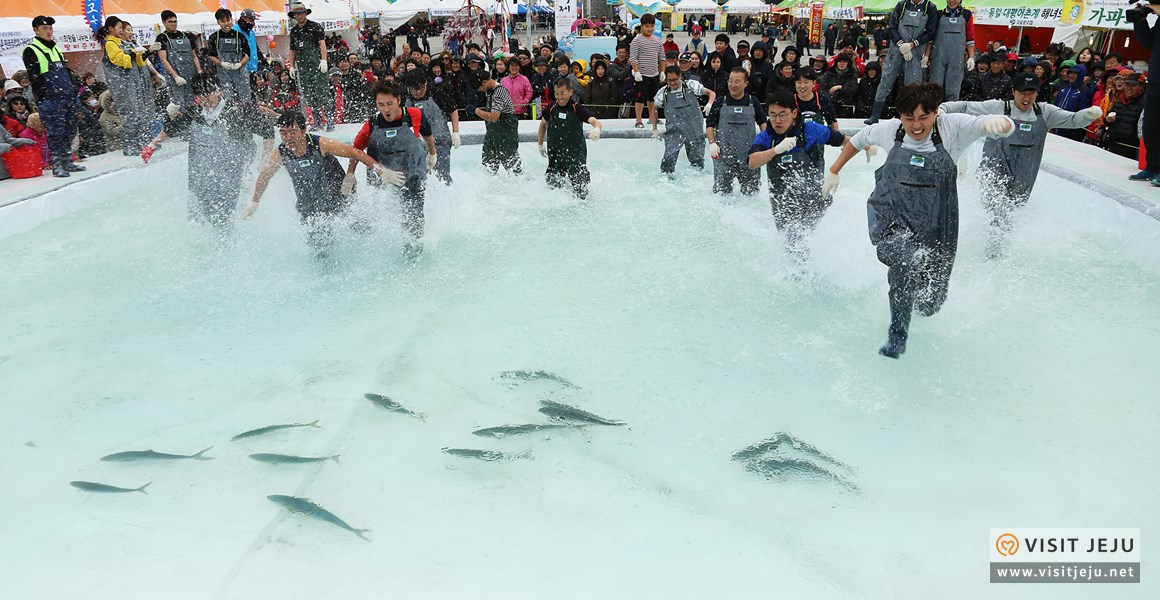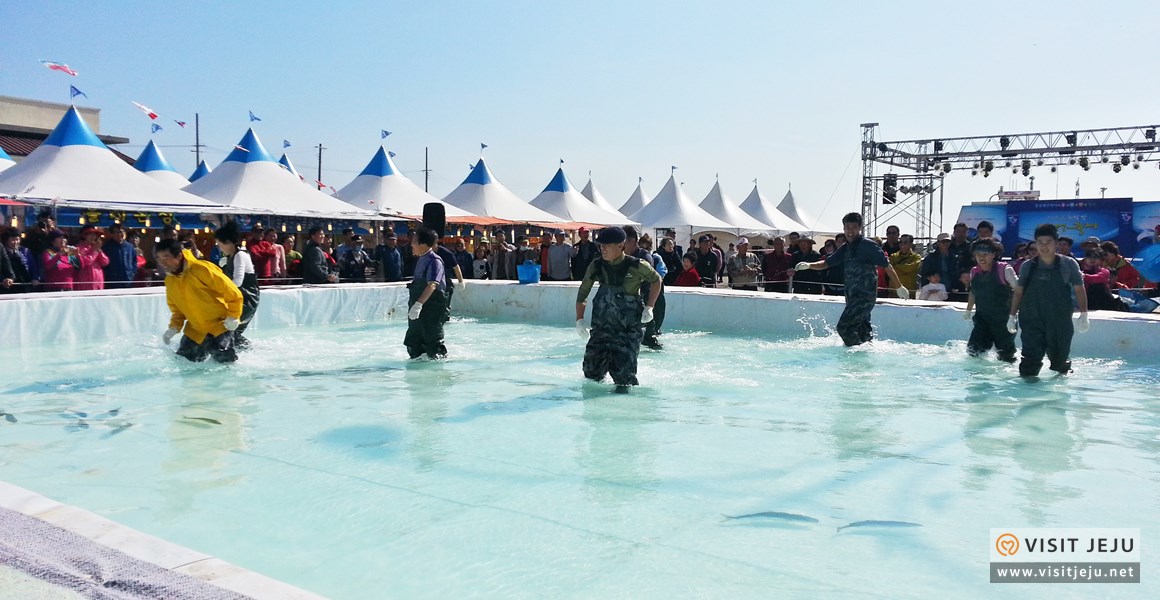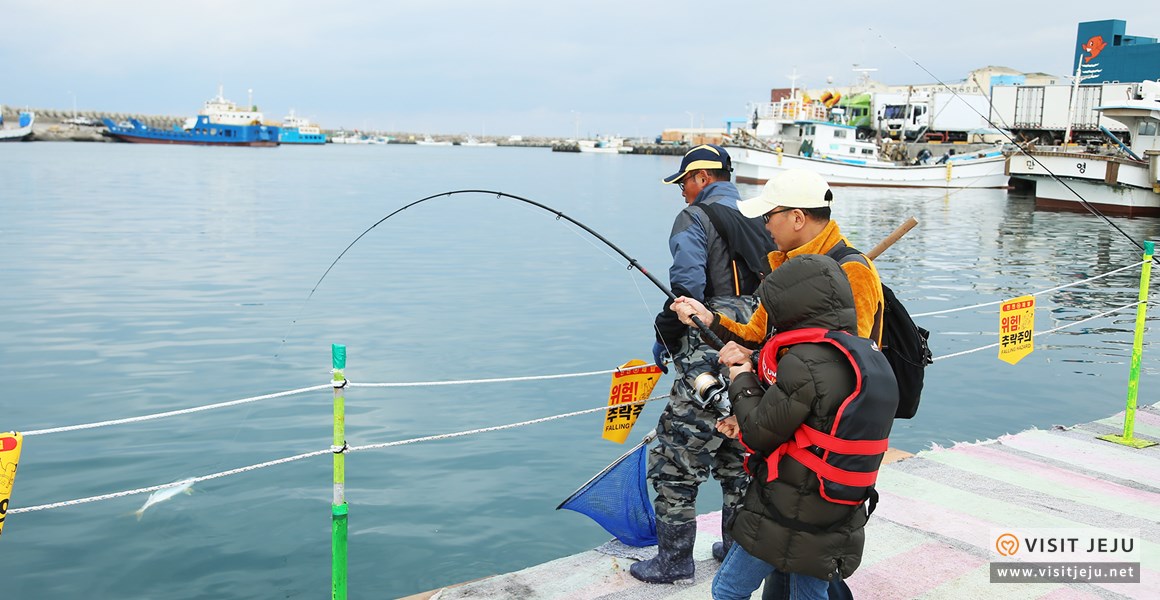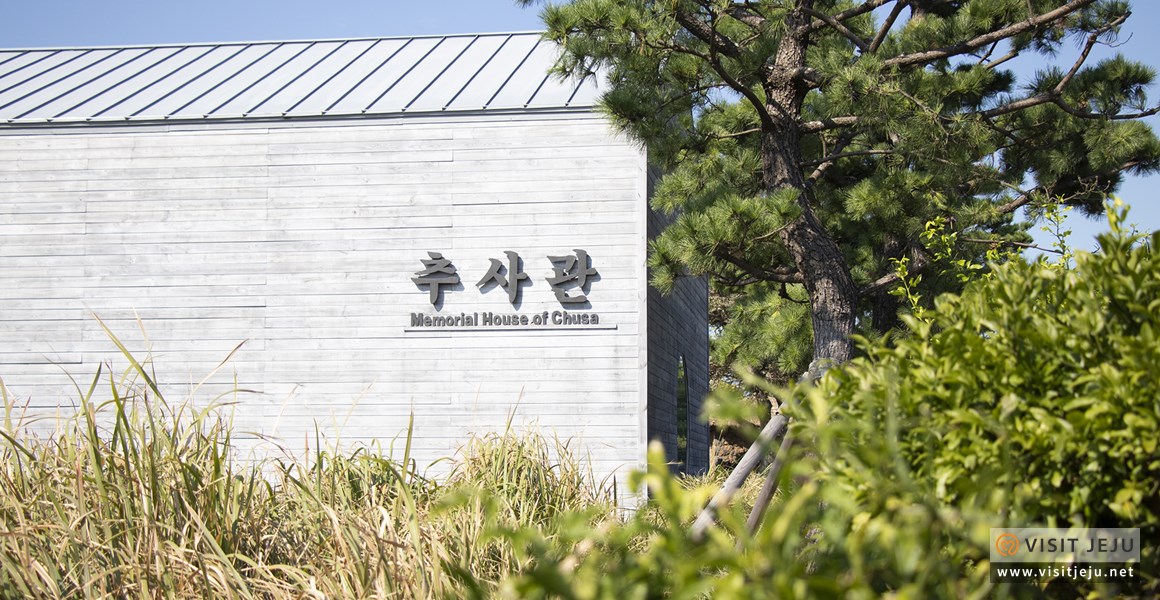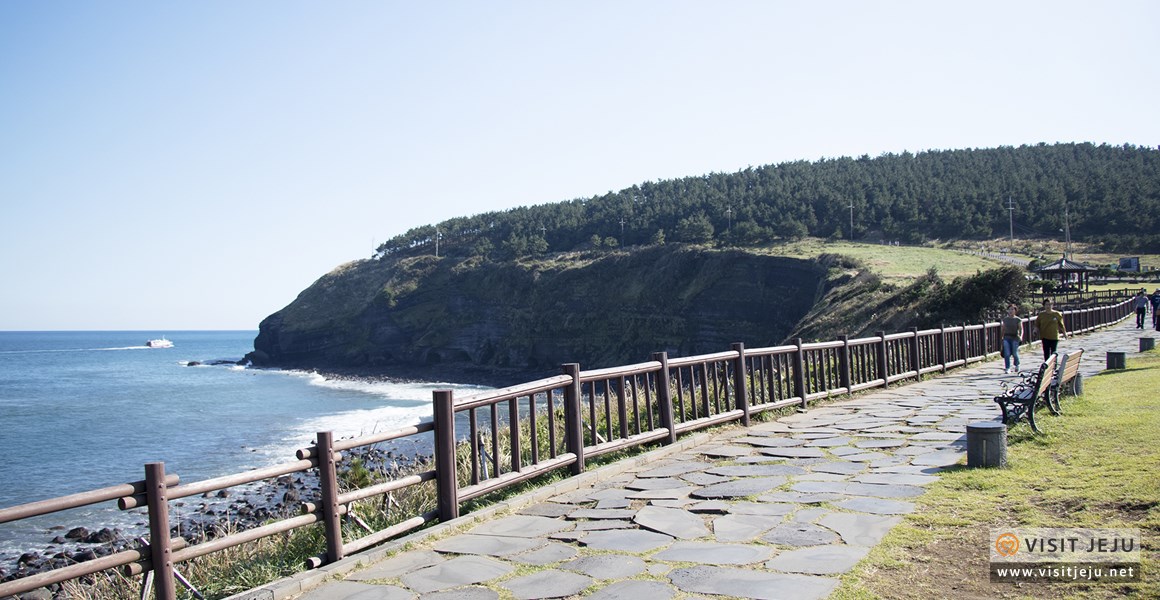 November in Jeju, mandarin season is in full swing!
Sweet and dazzling mandarins of Jeju
Shiny fruit hanging among the dark green leaves and mandarin peels spread out to dry all over the Sincheon Ranch--these are the true colors of Jeju. The authentic citrus vacation season has arrived. The Jeju Citrus Expo will be held around the area of the Seogwipo Agricultural Technology Center starting on November 8 to promote the economic, cultural, and environmental benefits of Jeju's mandarins. Learn about the history and culture of mandarins at the Jeju Citrus Museum and enjoy meandering among unique vegetation like citrus trees and baobab trees from all over the world. Also, cookies and pizza making classes using mandarins and the ever-popular foot bath experience are available for guests of all ages. When you share a citrus tree, you can eat the fruit from your own tree the next year and truly enjoy harvesting your own fruit in this special countryside experience. Search for and select your own mandarin farm!
‣ Jeju Citrus Expo 2019: November 8-12, around the area of Seogwipo Agricultural Technology Center, www.citrus-expo.com
‣Citrus Museum: 441, Hyodonsunhwan-ro, Seogwipo-si
‣UNCLE.LITTTL (citrus tree SNS sharing): Inquiries after searching SNS "LIFELITTTL" visiting is available.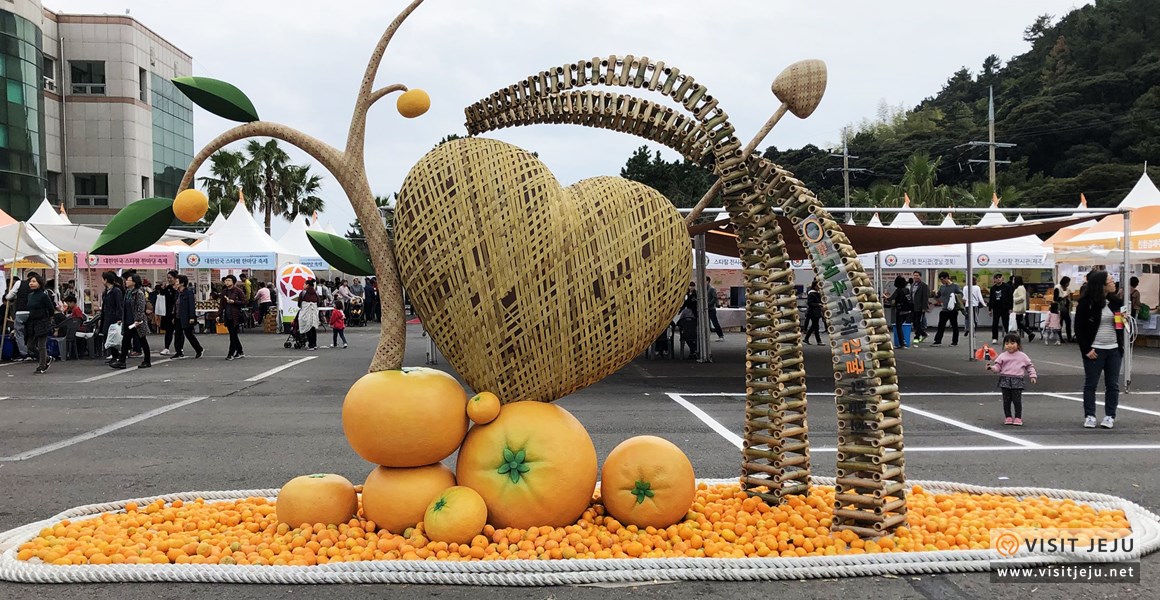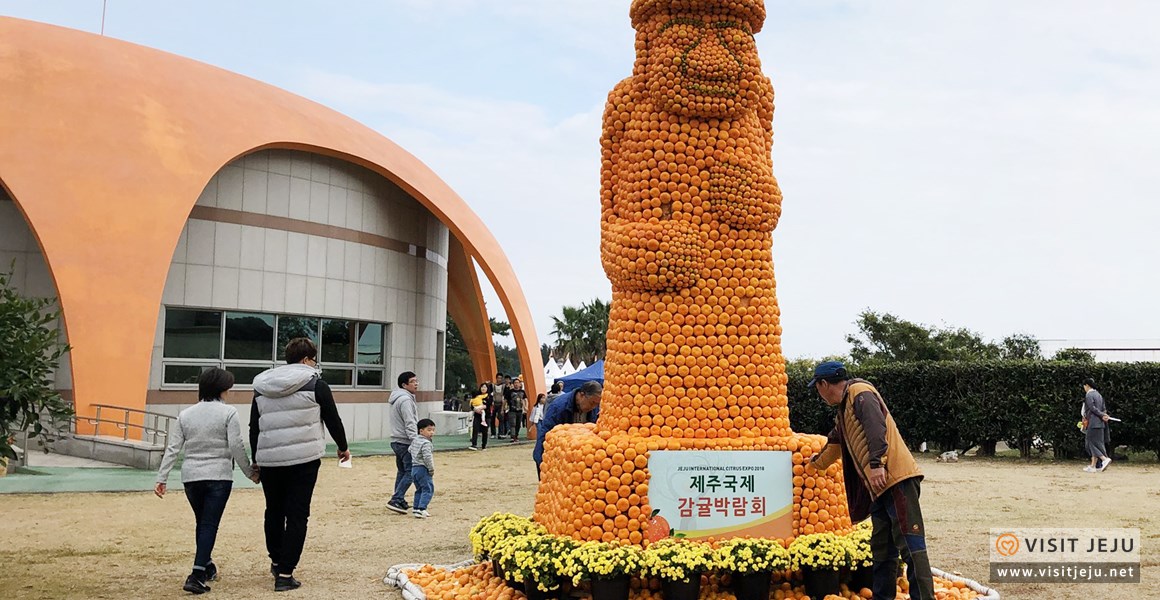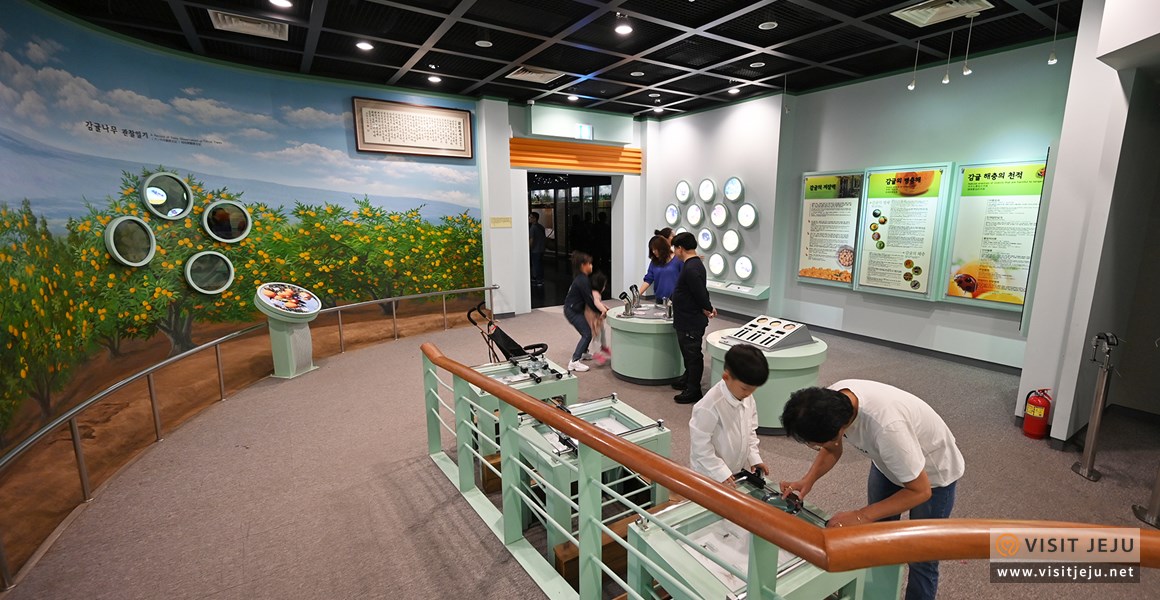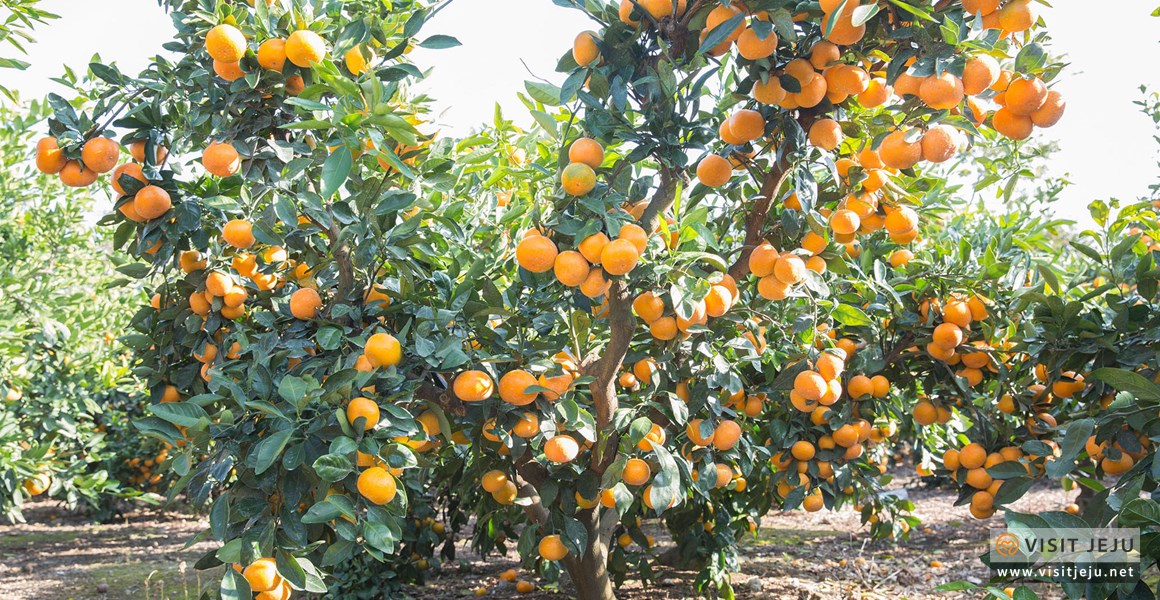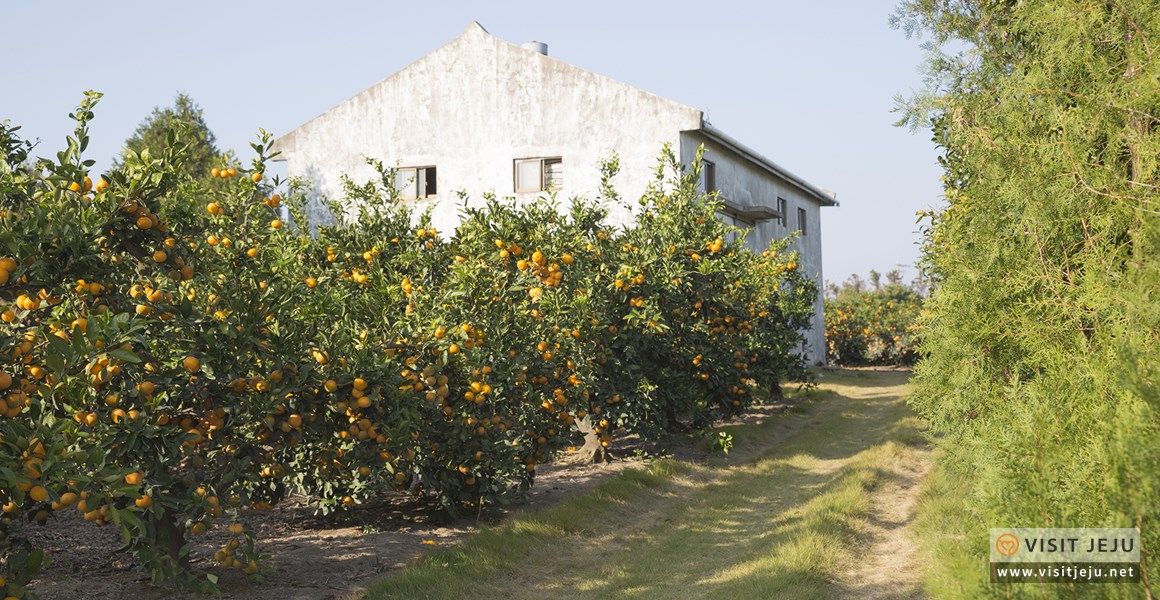 Stitched by hand, the wisdom of ancestors
Jeju crafts
Jeju is the home of gat, a traditional Korean hat capable of protecting the skin from the sun's powerful rays yet sheer enough to reveal the wearer's identity. Be amazed at the craftsmanship of this traditional head cover made of a horse's tail or mane hair along with fine bamboo, passed down through the generations to Master Jang Sun-ja, the current pride of National Intangible Cultural Heritage No. 4, and on to her heirs. At the Gat (Korean Hat) Exhibition Hall, you can learn the history of this traditional Korean hat and learn about its significance to classical scholars. In Jeju, where rice was precious, the plant craft of Maengtaengi (mesh bag) made using silver grass was used as a Jeju-style basket, and the Charong (wicker basket) made of bamboo was a like a modern lunch box. The natural texture and stunning beauty of these hand-made Jeju crafts (similar to rattan baskets) are as sought after today as they were in Jeju's ancient days for use as treasured household decorations and functional items.
‣Gat (Korean Hat) Exhibition Hall: 457-1, Gyorae-ri, Jocheon-eup, Jeju-si (Closed on Sundays and Mondays and SNS notice when closed on other days)
‣The place where you can see Maengtaengi and Charong: Some Folk Fifth-day Market in Jeju (Daejeong-1st, 6th day /Jeju-si- 2nd, 7th day)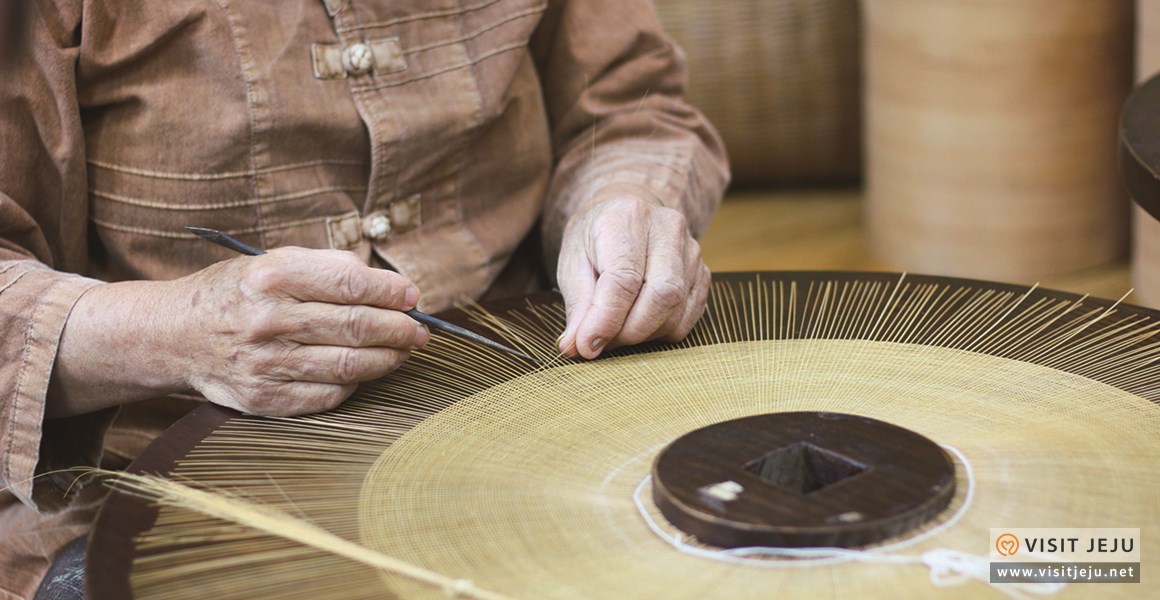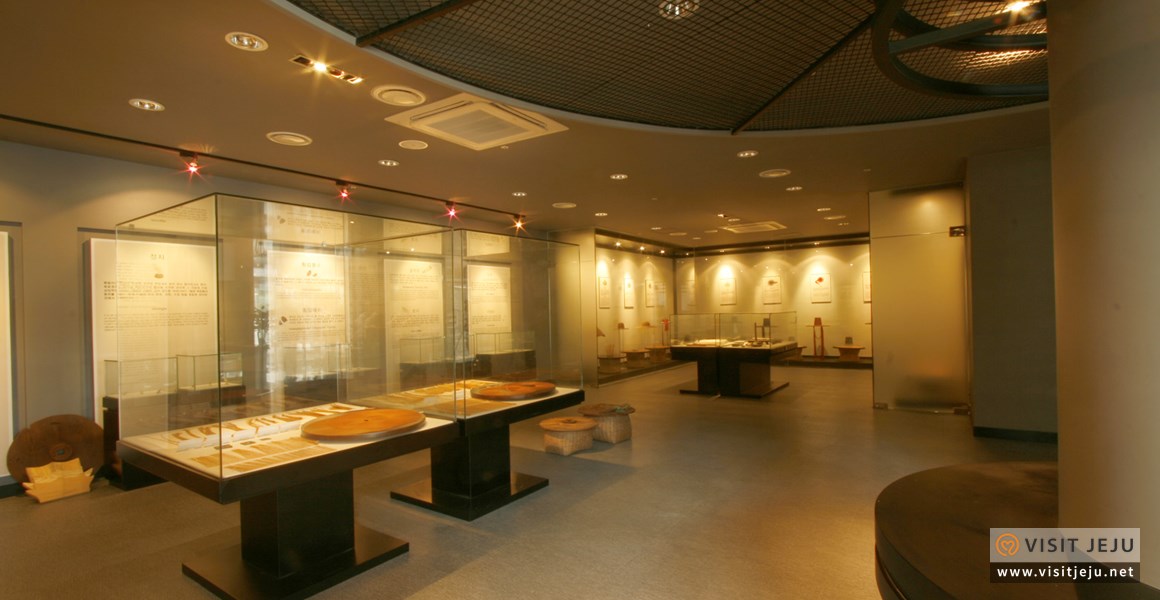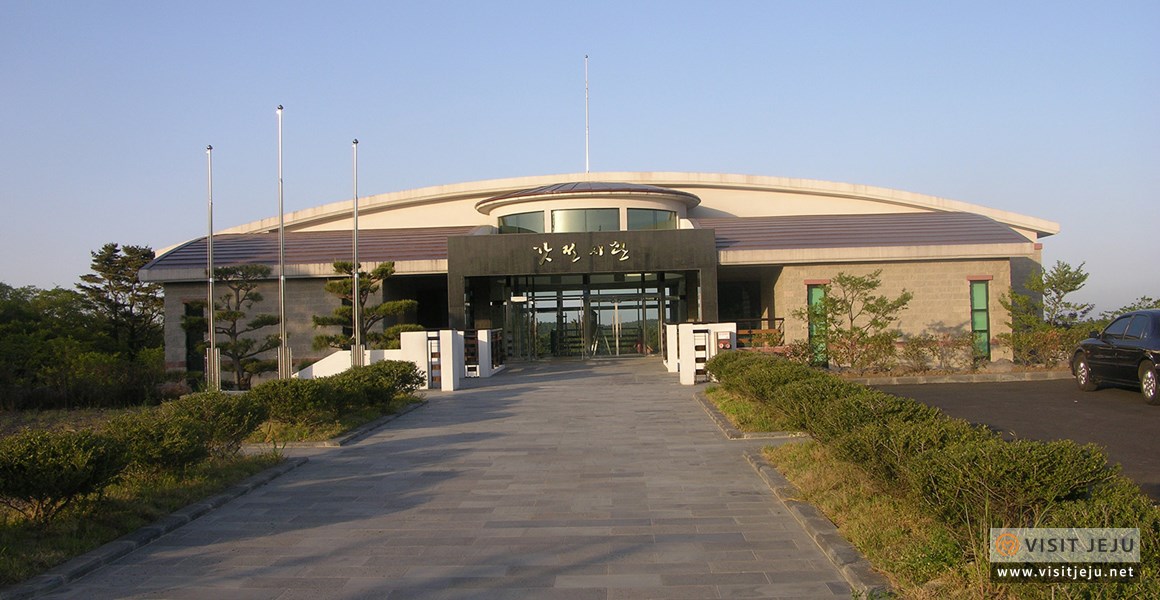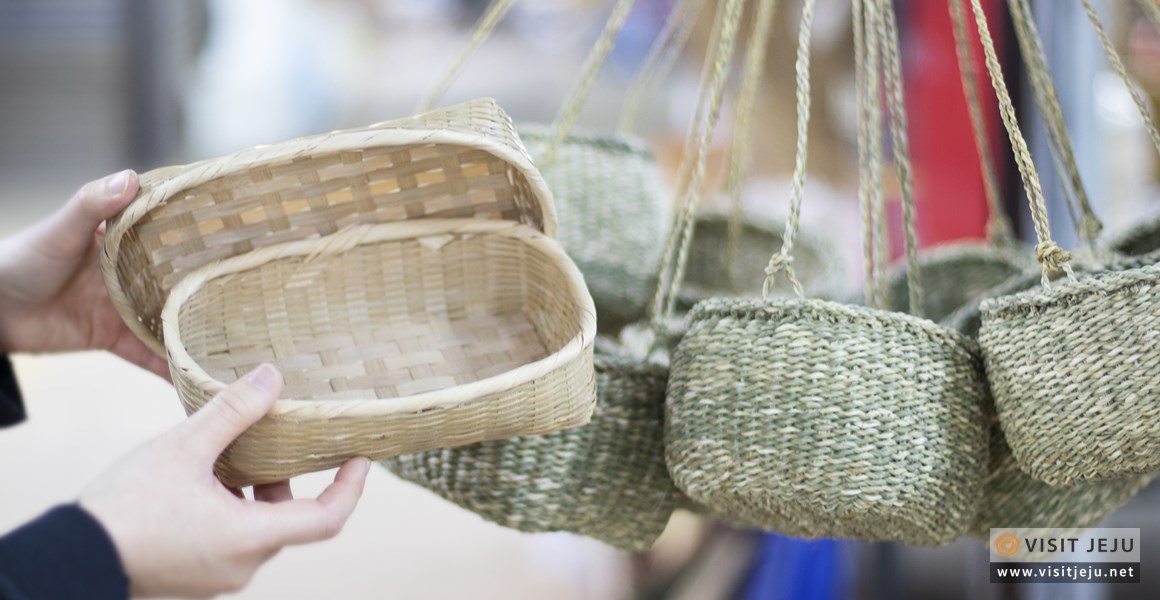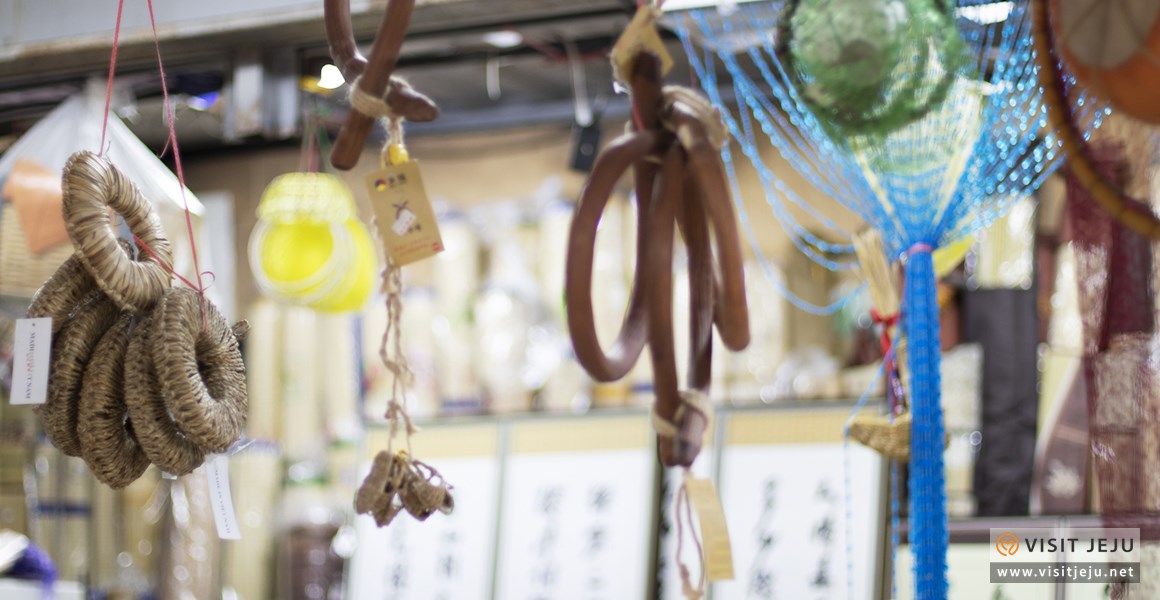 Make memories with each footstep
A small but special trail in Jeju
Do we have to do something special in a trip? Walking through the pristine pleasures of nature and becoming a part of the landscape can make any trip fun. Taking a walk through Seogwipo Chilsimni Poetry Park and enjoying the sculptures that harmonize with nature, and letting your senses experience the special flowers and fruits that bloom during each season make this a truly memorable trip. Simply relax the mind and give yourself some time. The best honeymoon spot in Jeju decades ago has been rebuilt as a unique café that is on every visitor's must-see list. The panoramic views of Seogwipo's shoreline from a white building with a long corridor, to the columned promenade, are sure to become one of your fondest memories of Jeju. The price of a cup of coffee entitles you to unequalled vistas and special memories enjoyed by generations of visitors to this spot.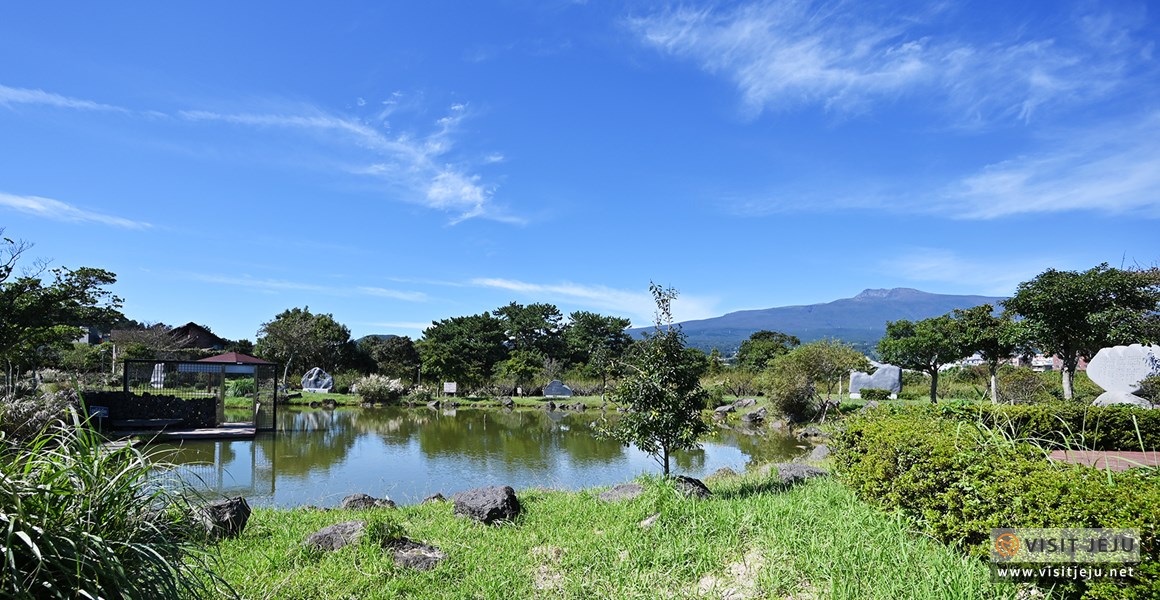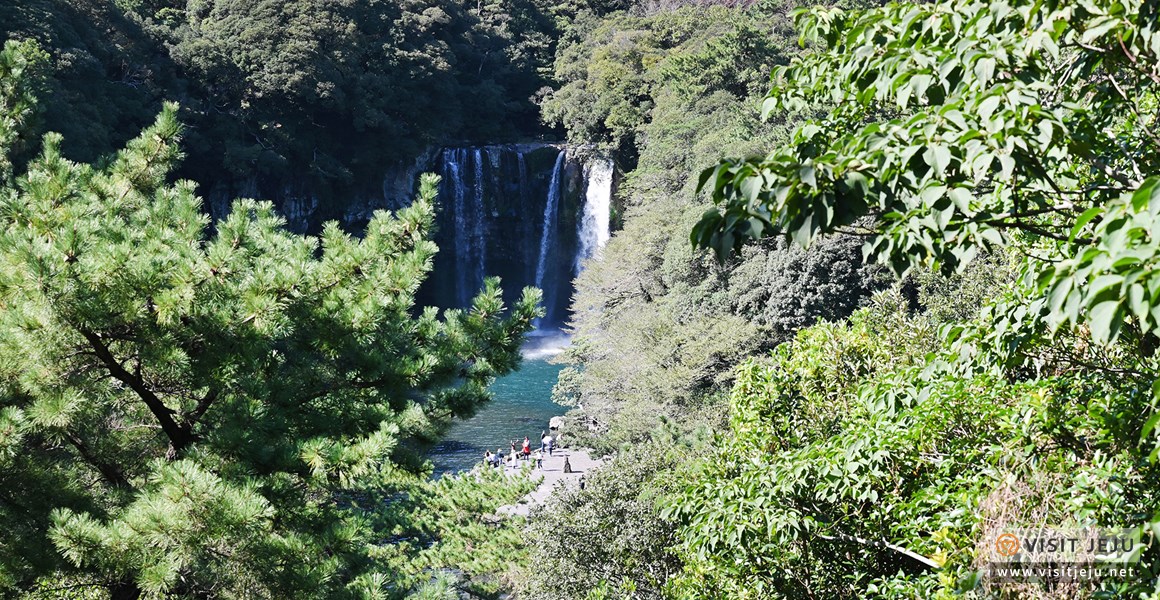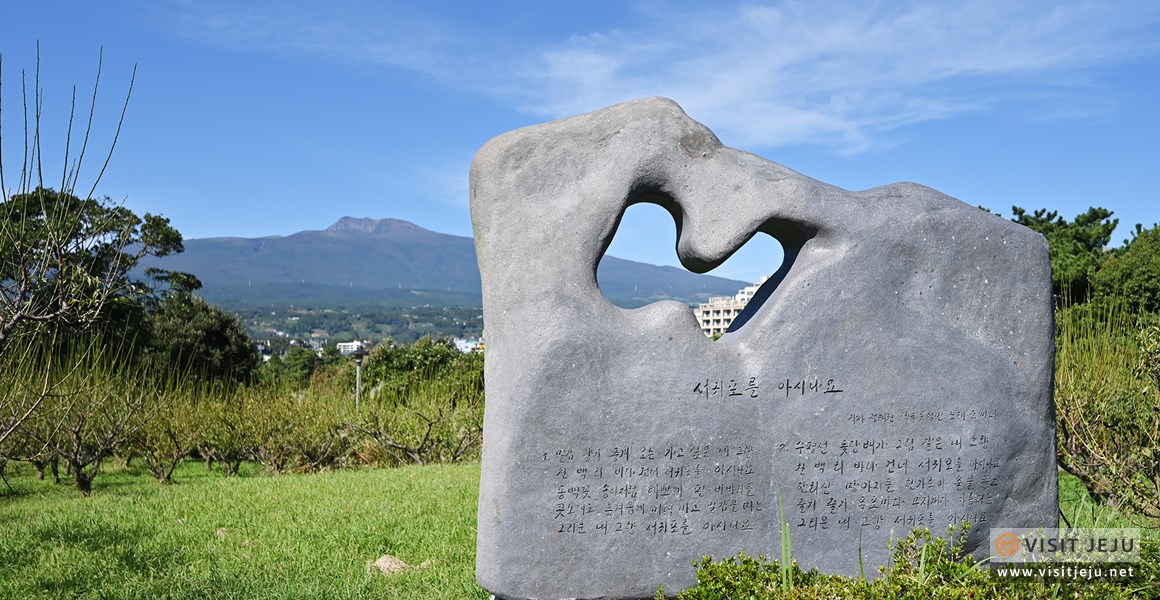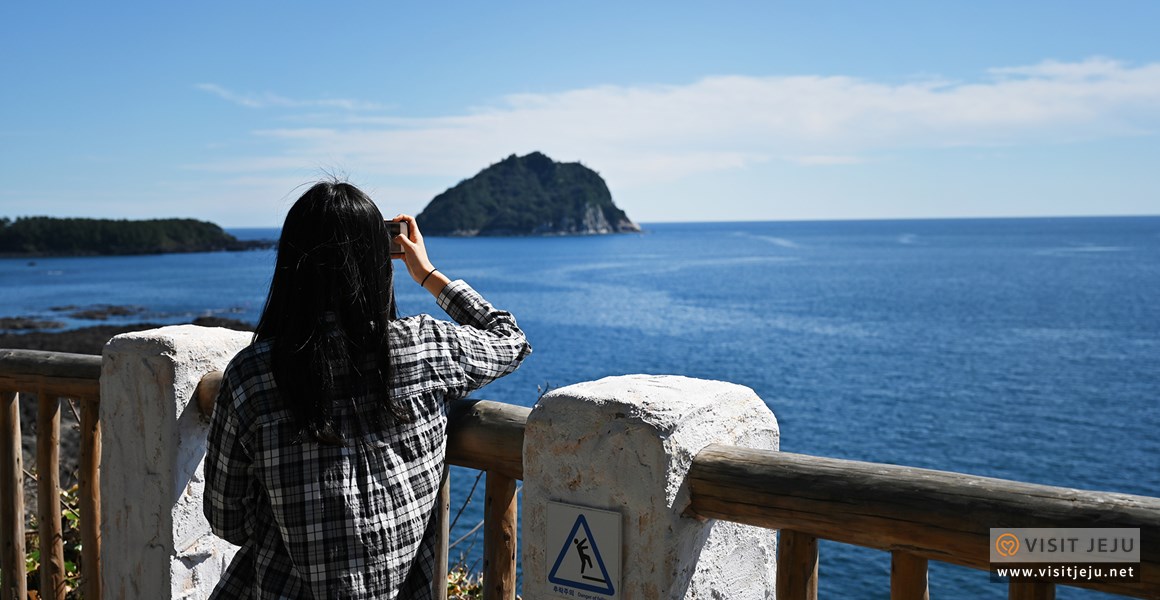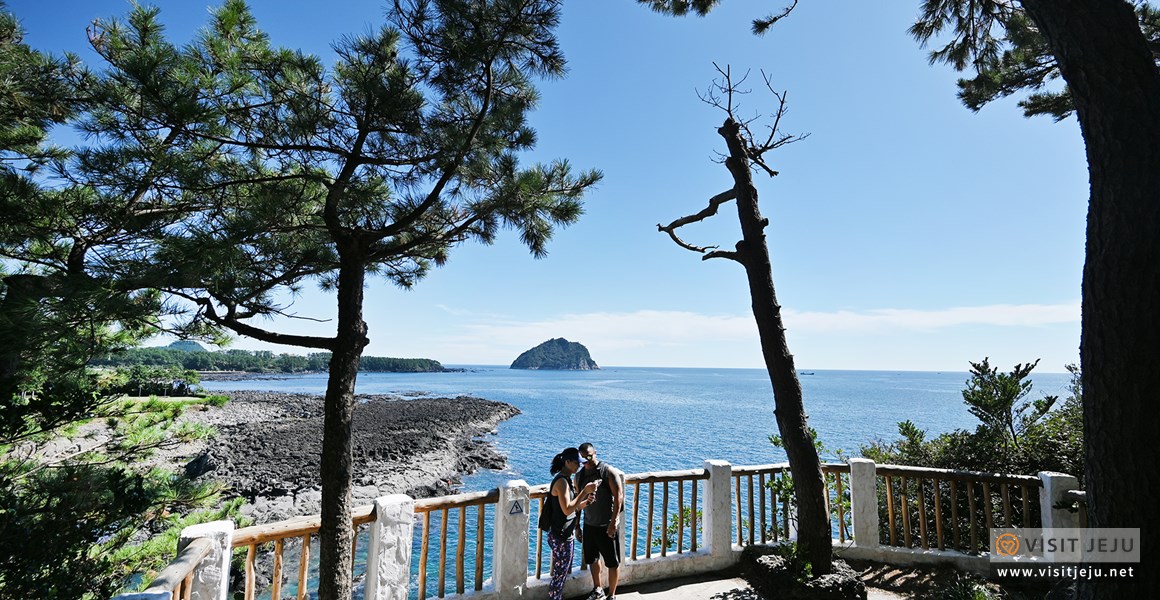 Take care of our precious Earth
Sustainable Environmental Education Center, Save Jeju Bada
Enjoy a fun, educational experience that contributes to sustaining our planet Earth. Visit the Jeju Sustainable Environmental Education Center to learn about the importance of conserving our natural resources and turning wastes into resources by making some lifestyle changes. The basic Environment Education Program uses a game to teach trash separation for recycling and visitors learn to protect the Earth beyond Jeju by creating eco-friendly electricity using a bicycle. Could you join a flash mob to clean the sea? No advanced reservations are required to visit these engaging hands-on sites. Check SNS for weather information before departing.
‣Sustainable Environmental Education Center: 226, Songi-gil, Jeju-si, www.jejueco.or.kr
‣Save Jeju Bada (Beach Clean): Search SNS "Save Jeju Bada," and check notice on place and time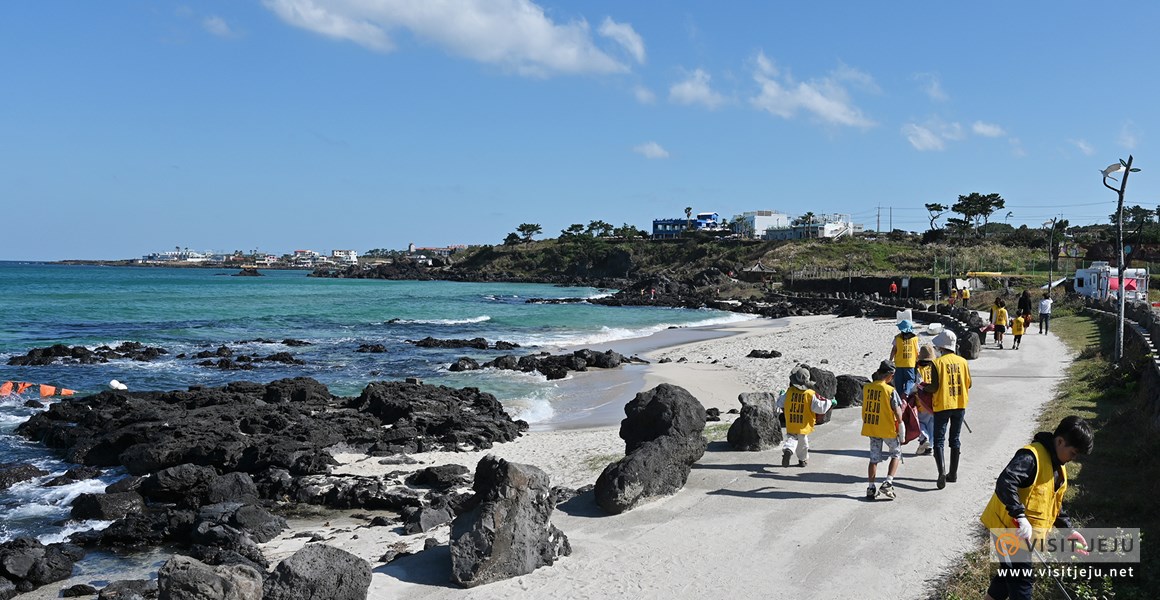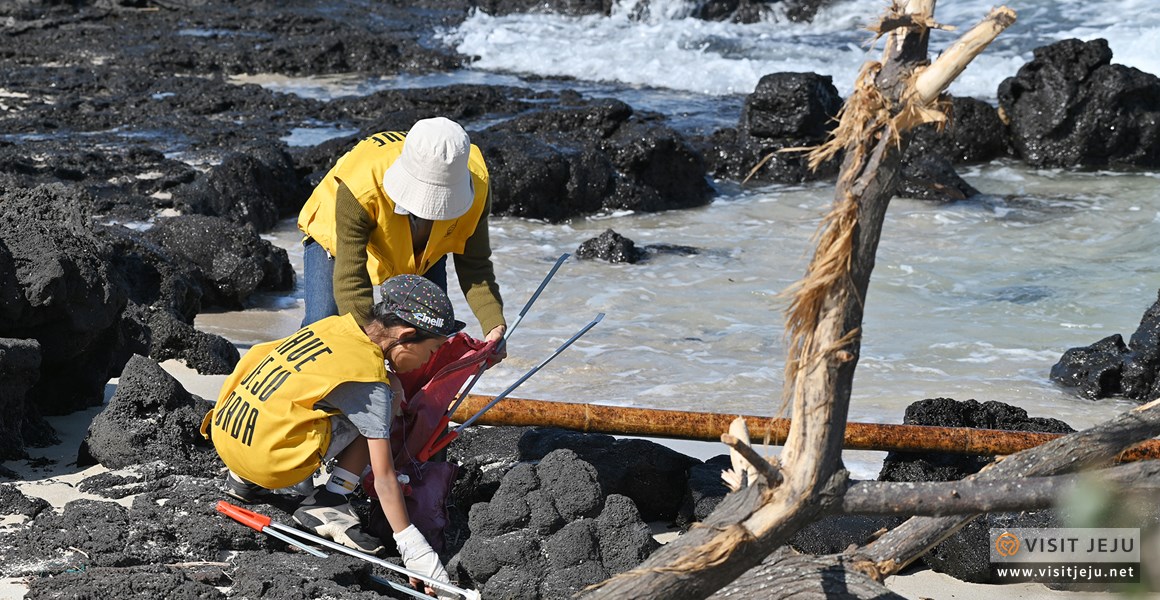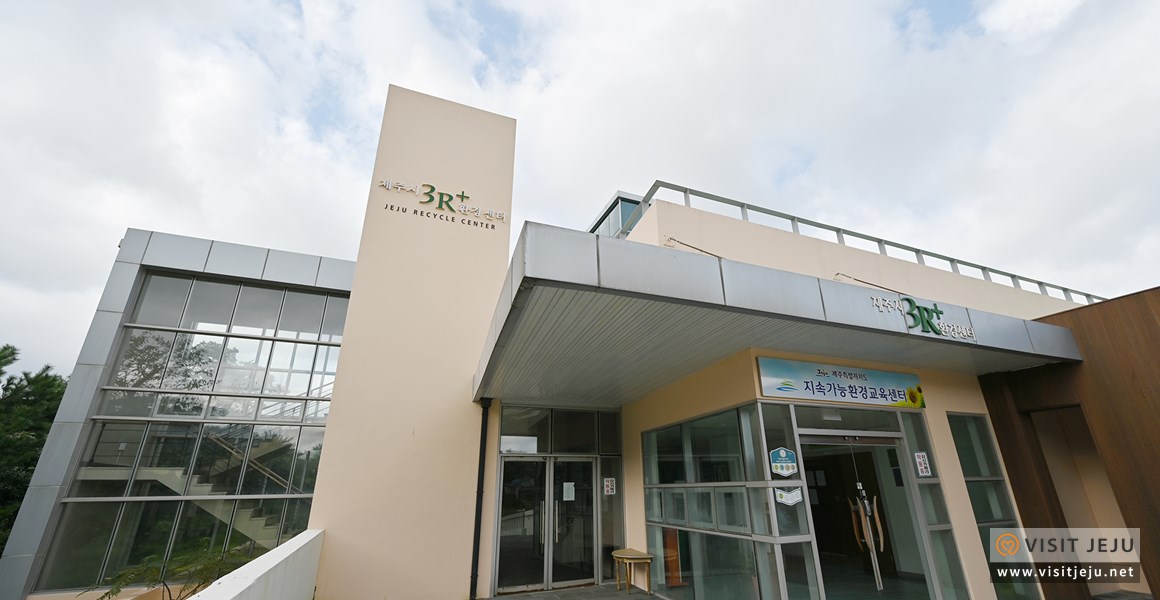 Herbal infused smiles
Sehwa 3-ri, Pyoseon-myeon
The quaint cozy village of Sehwa 3-ri, Pyoseon-myeon is called Herb Village, and the residents take great pride in their carefully grown herbs. Village roads, once filled with trash and weeds, have been transformed into fragrant herb-lined paths that beckon visitors. The Herb Shimpang (rest area) has adopted the village's ancient name of "Gangwat" where visitors make authentic herbal aroma candles and soaps along with "upcycling" abandoned glass bottles. A host of herbal products are available. Visitors can interact with village residents and tour Herb Future Park and Sehwa 3-ri National Garden. The Herbal Festival in spring offers an unforgettable olfactory experience from the scent of lavender and rosemary.
‣ Sehwa 3-ri: Sehwa 3-ri, Pyoseon-myeon, Seogwipo-si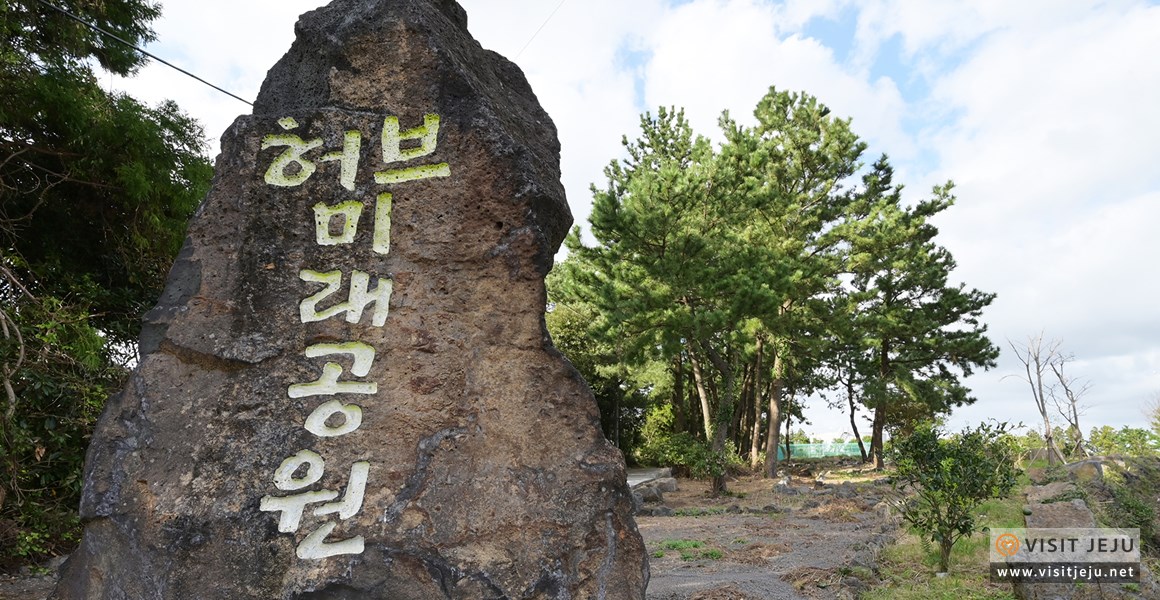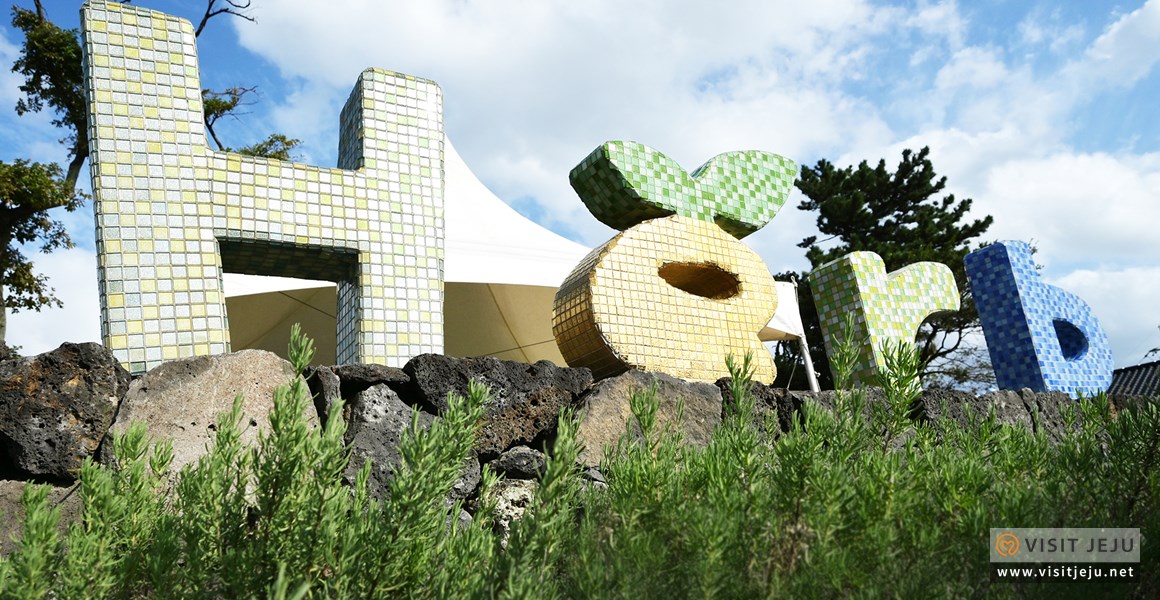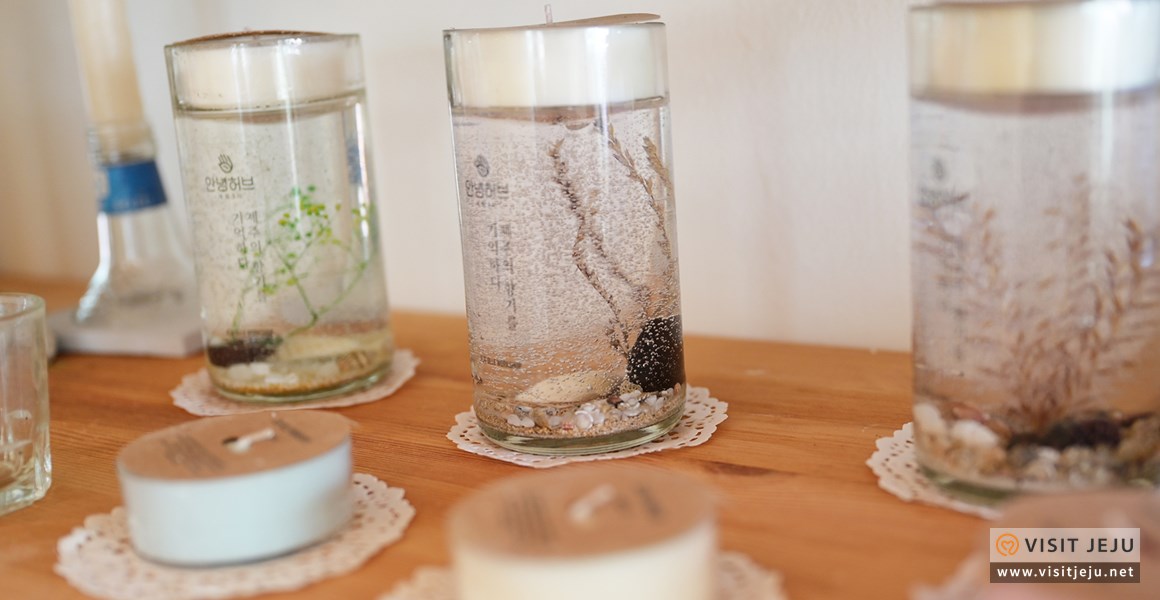 Although the name is rough, the steps are gentle
Kkakkeuraegi Volcanic Cone
Among the famous volcanic cones or oreum in eastern Jungsangan lies the uniquely-named Kkakkeuraegi Volcanic Cone, just 2 kilometers east of Sangumburi Crater. Follow the public transportation guide material for a comfortable bus ride to Kkakkeuraegi Volcanic Cone or drive yourself and park in the convenient lot. The low volcanic cone rises about 50 meters and provides visitors with a sense of accomplishment when they reach the top. Marvel at the dense vegetation and natural habitat guarded by the magnificent extinct volcano Hallasan Mountain in the background. Bamboo and silver grass grace the slopes of these craters and make for a perfect spot for other surrounding silver grass fields. Understand that to maintain the pristine nature of this unique area, no accommodations or rest rooms are available.
‣Kkakkeuraegi Volcanic Cone: 128, Gyorae-ri, Jocheon-eup, Jeju-si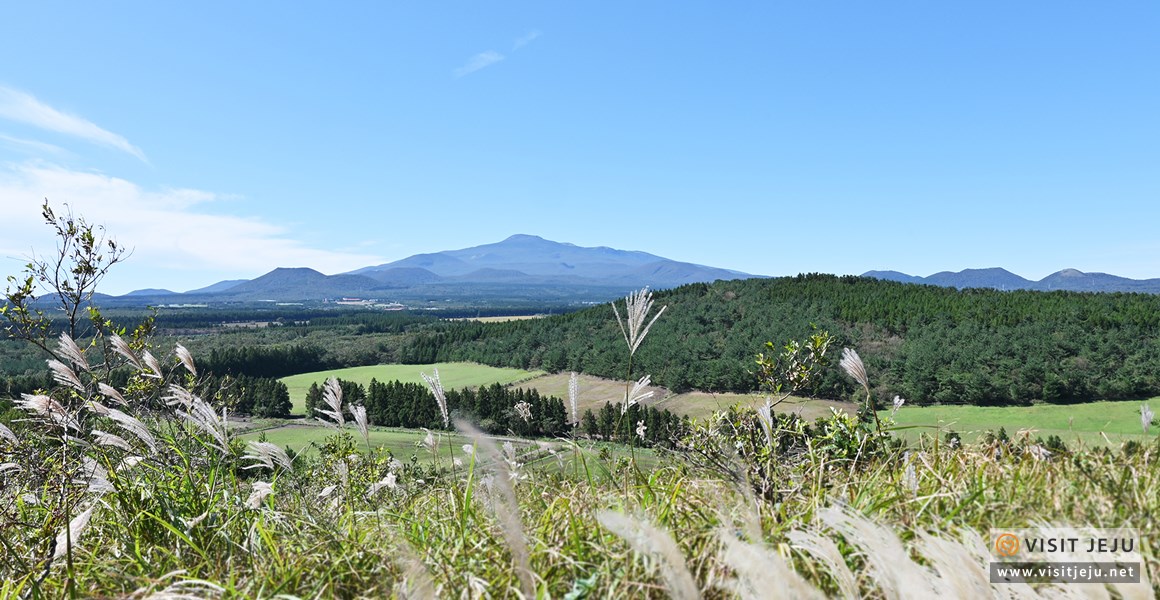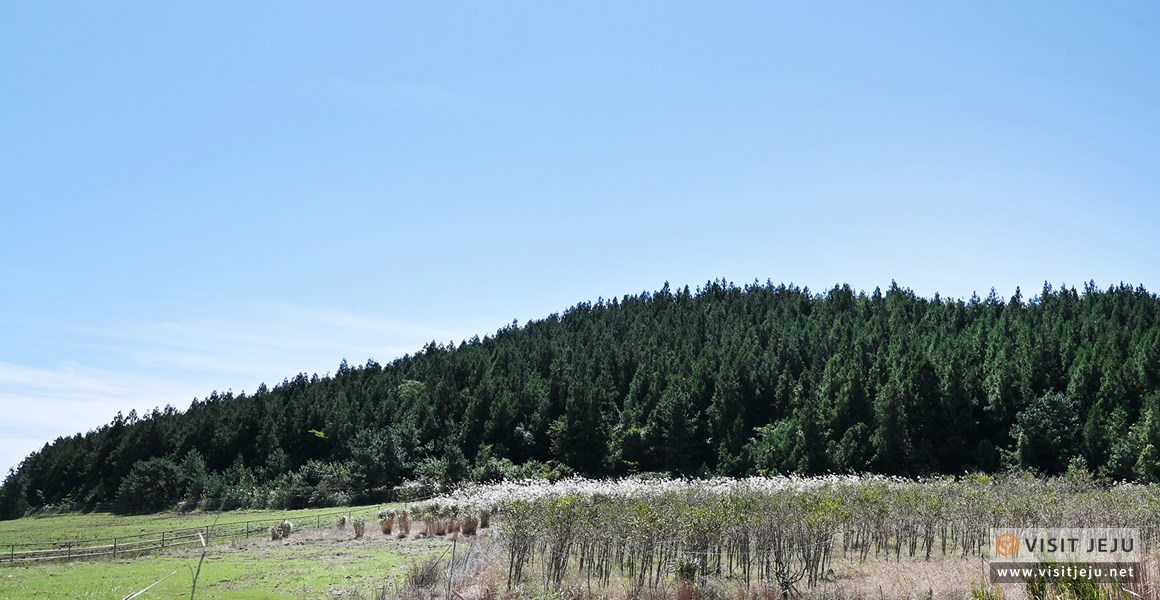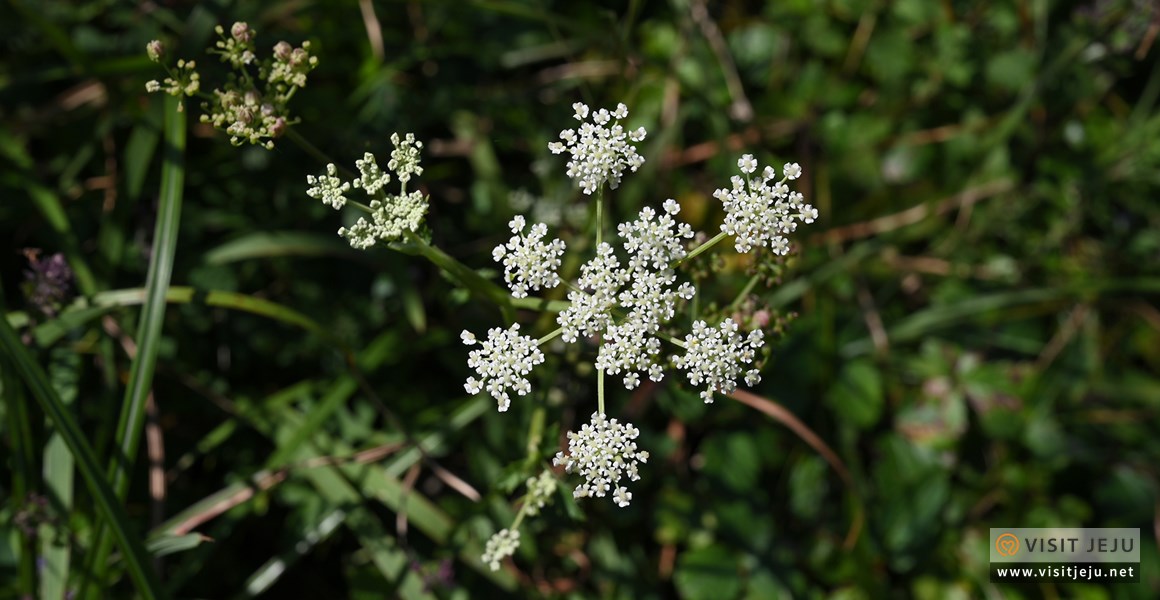 Beautiful Jeju with blooming art
Gidang Art Museum, Art Jeju 2019
The Gidang Art Museum is shaped like a pile of rice straw with an authentic exposed beam interior. It is the first municipal art museum in Korea built and donated by Gang Gu-beom (penname: Gidang), a Korean-Japanese businessman from Jeju. To convey the flow of contemporary art to the region, the museum displays a variety of artworks including work by Painter Byun Shi-ji and calligraphy by Gang Yong-beom (Gidang's brother). Art Jeju 2019, the largest art fair in Jeju, is a four-day event starting on November 28. Visitors can examine the flow of Jeju art in the special exhibition for Jeju artists and check out the works for sale by leading domestic and foreign artists in hotel rooms serving as galleries. During "Jeju Art Week," various programs will be prepared along with free admission or discounted admission fees to cultural and artistic institutions in Jeju.
‣Art Jeju 2019: November 28-December 1, Maison Glad Jeju
‣Gidang Art Museum: 15, Namsungjung-ro 153beon-gil, Seogwipo-si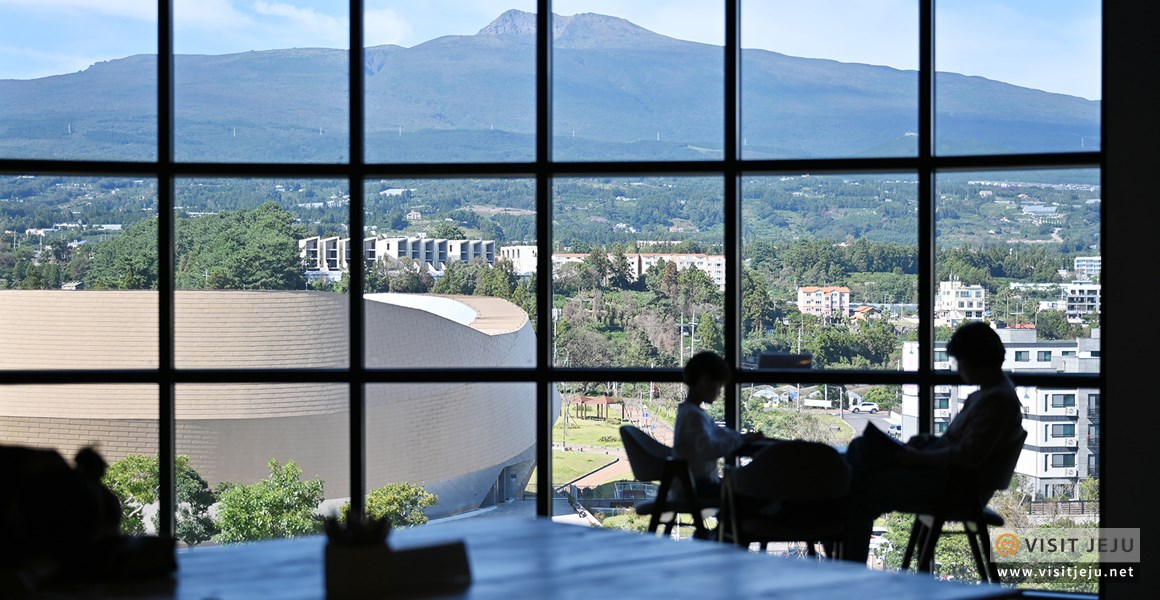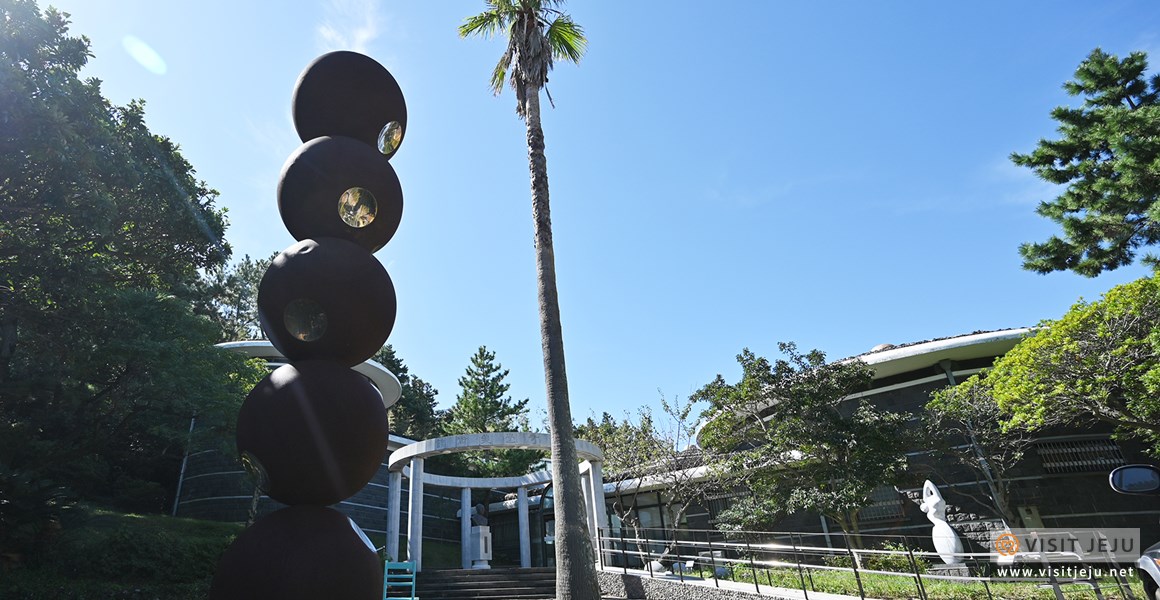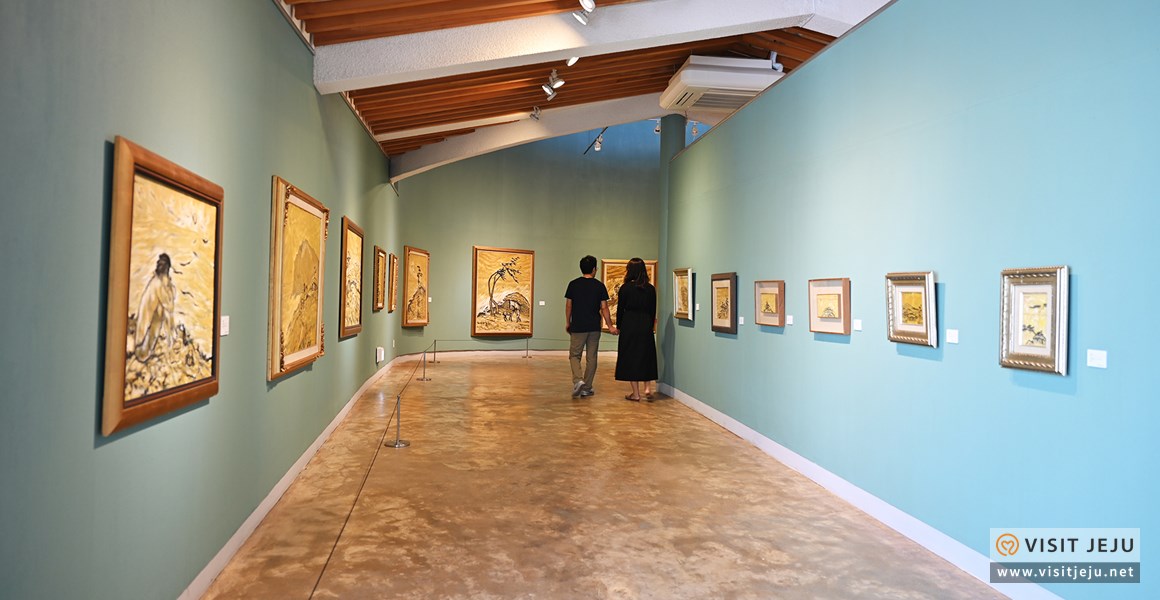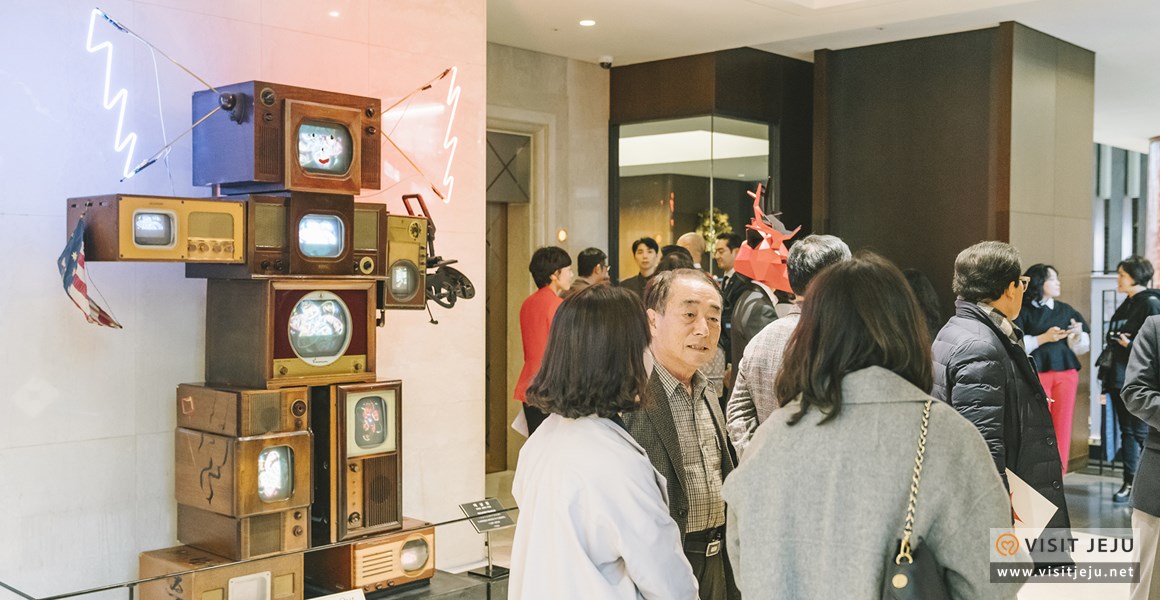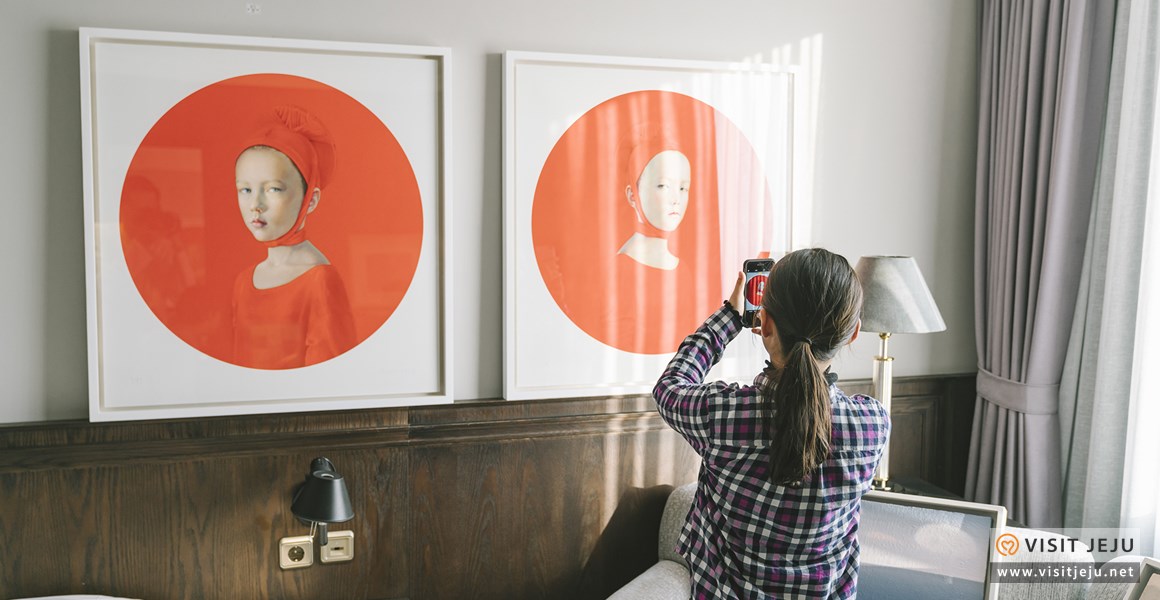 Science in nature becomes a play
Jeju Aerospace Museum, Lightning Museum
Interested in space, flying objects and more? Then the Jeju Aerospace Museum is a must-visit spot to learn the principles of flight, history of airplanes and spaceships, and try your hand at flight simulators and experience the weightlessness of space flight. At the Lightning Museum, the world's first permanent lightning-themed exhibition, visitors learn how lightning occurs and can feel the energy that changes with music and light. How do clouds form and what is magnetic levitation are also explored at this hands-on exhibition. Entertainment is a bonus at the Jeju Aerospace Museum where augmented reality lets visitors experience indoor cart racing action. Get some thrills at the Lightning Museum's 1,947-meter long outdoor cart racing course, the longest trail in Korea.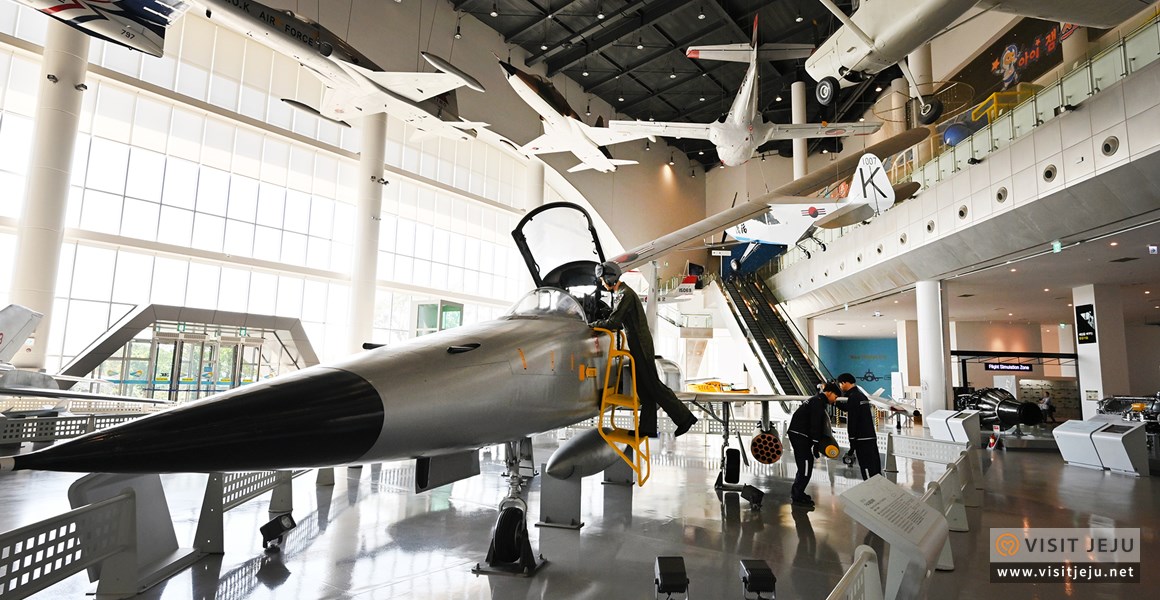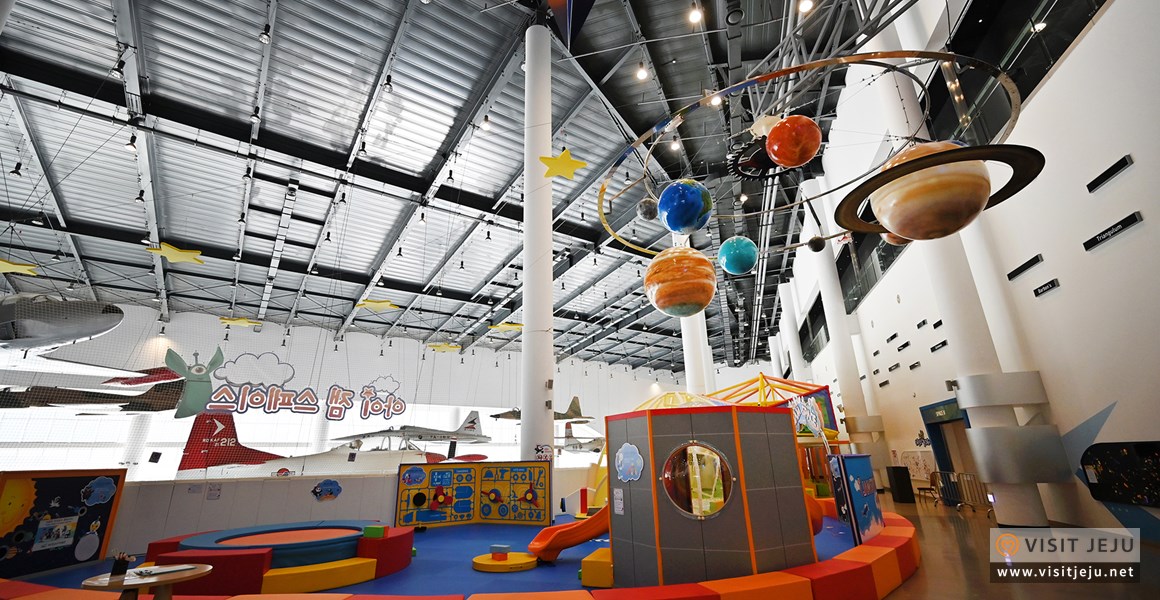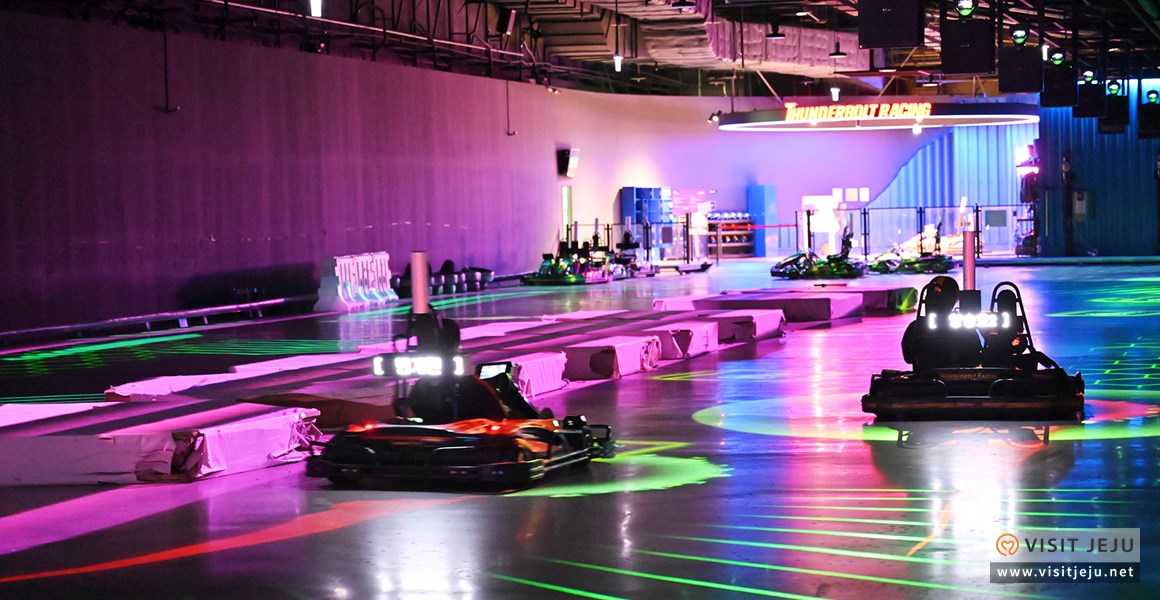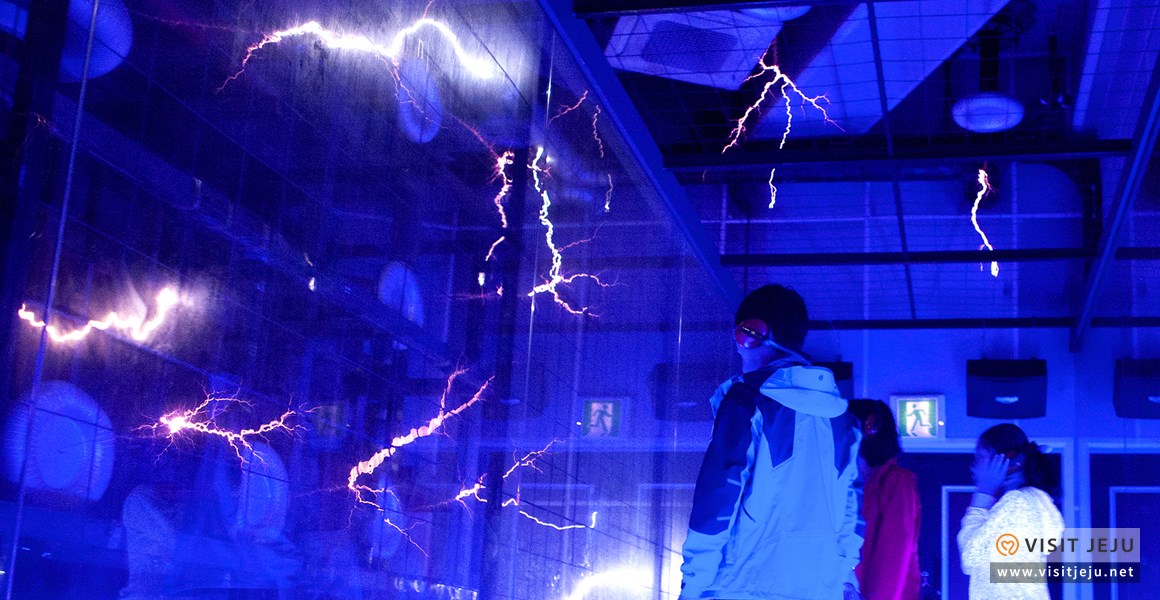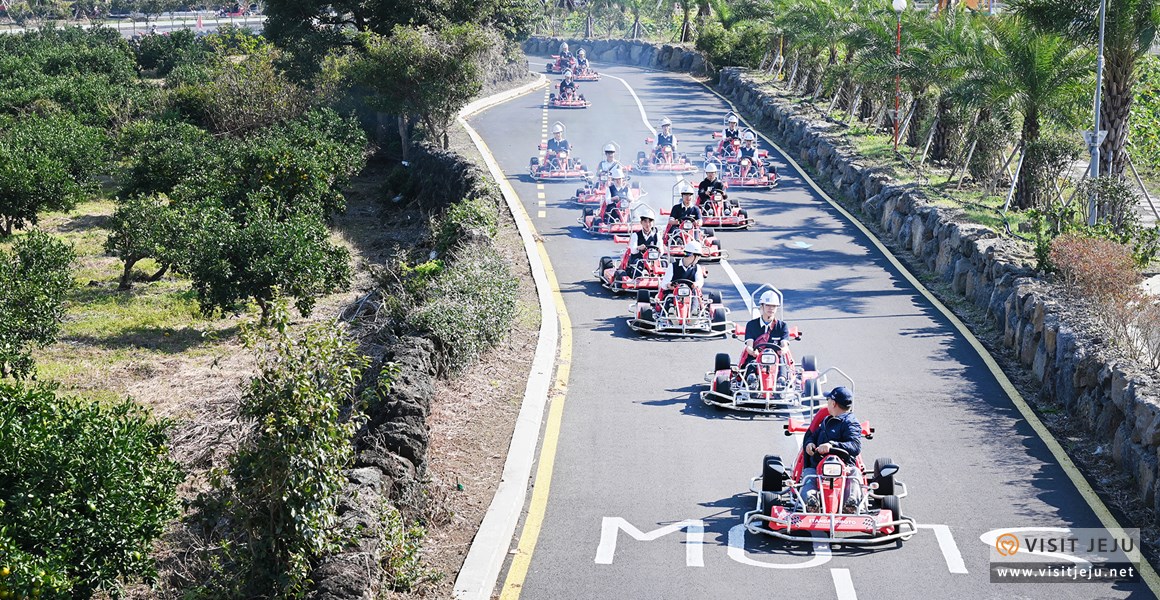 Savory and tender!
Seasonal yellowtail dishes
The secret to great food is fresh ingredients. The buttery soft yellowtail is at its best this season. Sliced raw fish is the natural way to enjoy the savory, tender taste of yellowtail. A thick slice of yellowtail gives you satisfaction. The bones, head, and tail are perfect for spicy fish stews or clear fish soup. Other Korean favorites are steamed with kimchi or dried radish leaves, boiled with potatoes or Korean radish and baked with salt or curry powder. The yellowtail offers diners a delicious choice of delectable dishes that are sure to please the palate.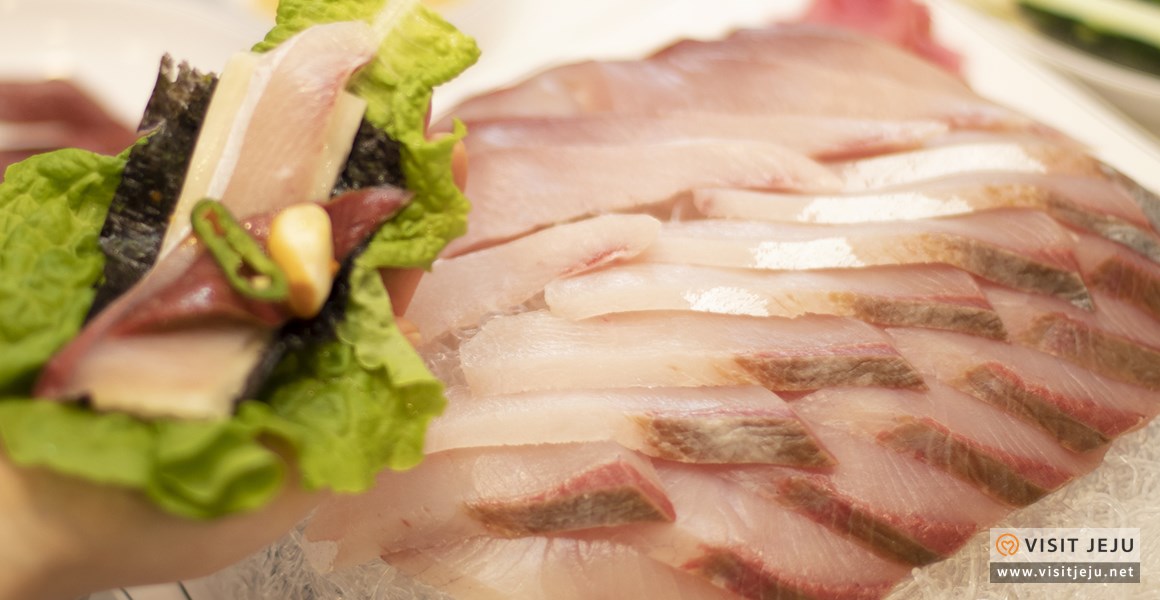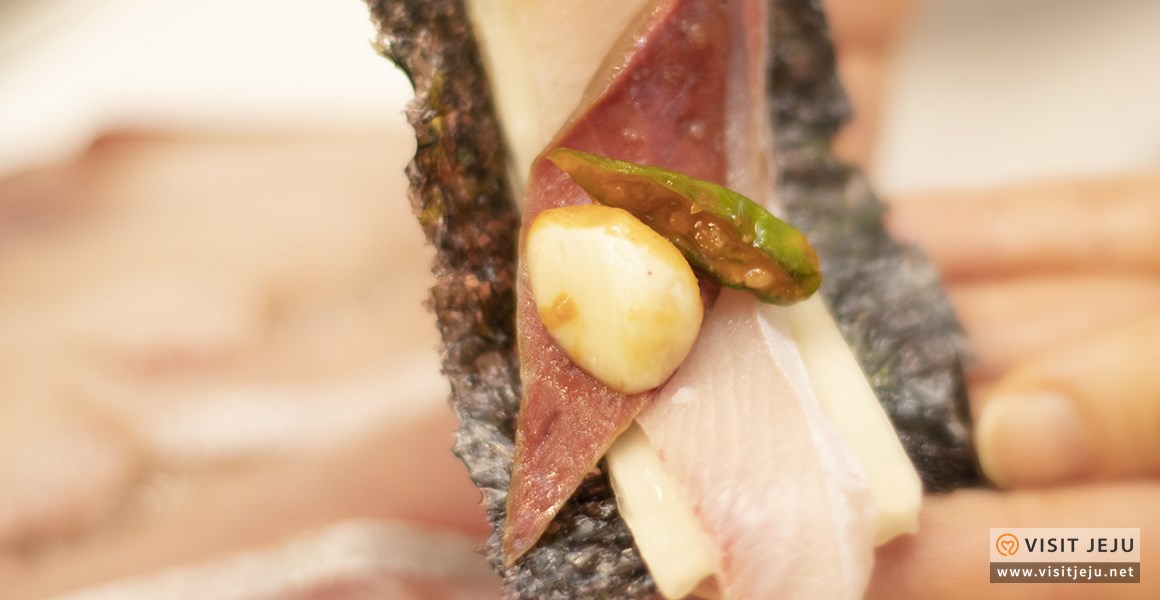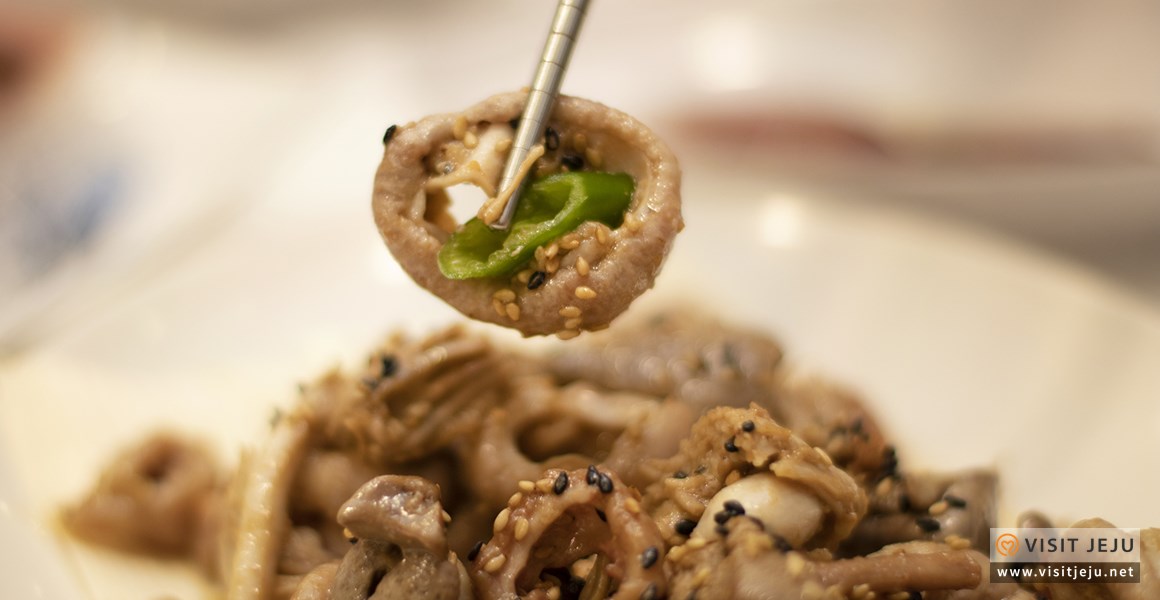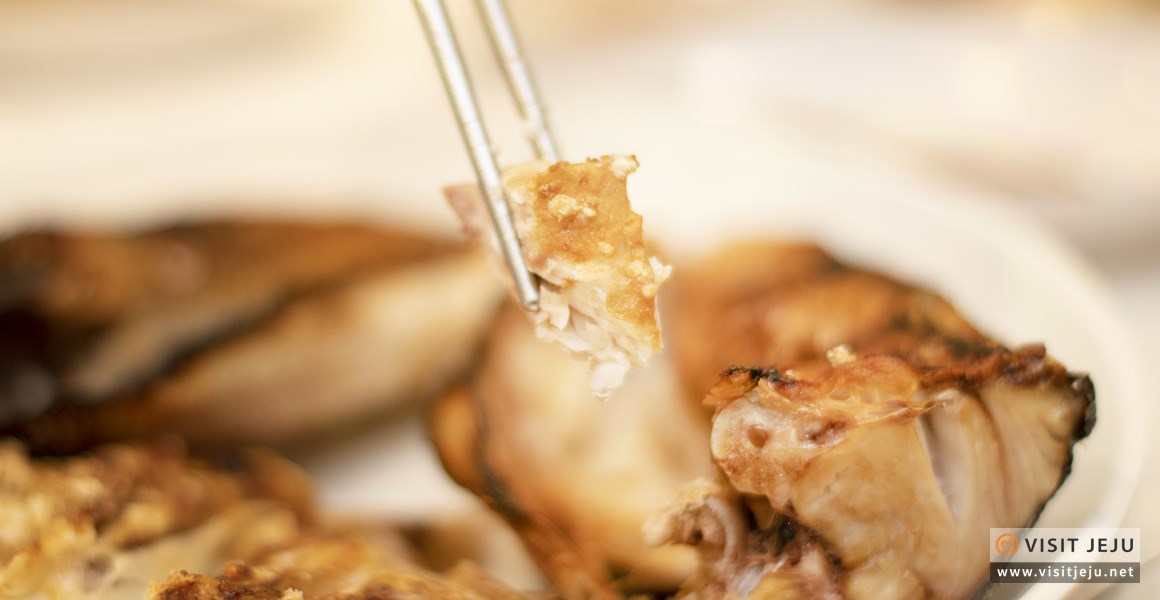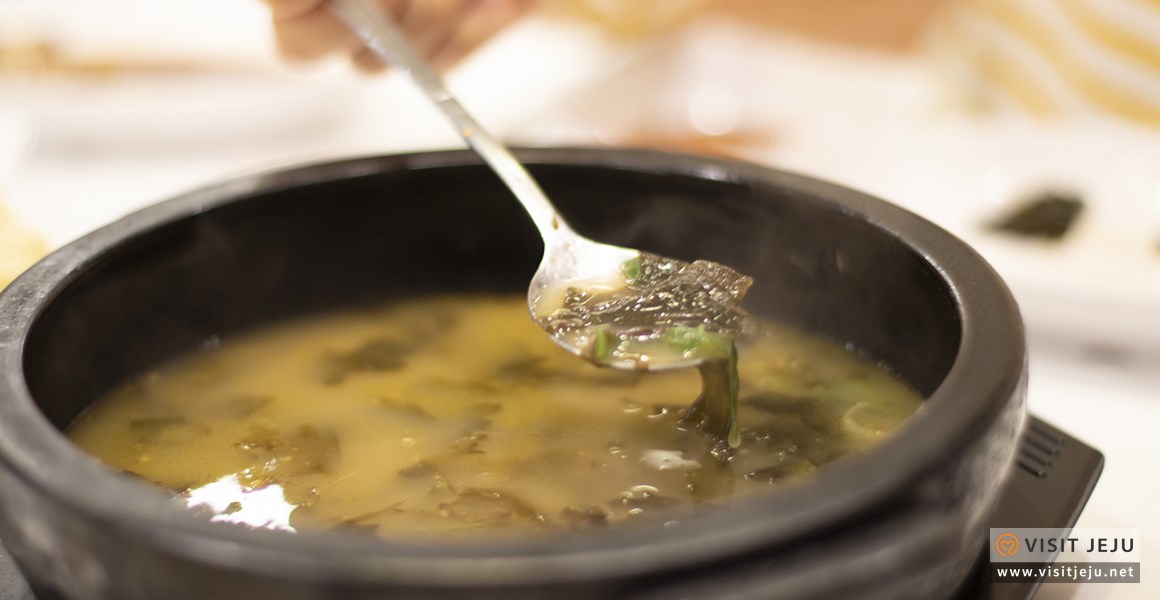 Notice

※ The above information was written on 2019-10-22. Please confirm the information prior to your trip.
※ Unauthorized use of the content above (text, photos and videos) is prohibited and subject to copyright by the Jeju Tourism Organization.