본문
'Best of the Best' 5 Jeju coastal roads
Here's a quick round-up of the five top-rated, truly amazing coastal routes that Jeju Island has to offer. Most of the island's 253 kilometers of coastline is easily accessible and offers up spectacular sunrises and sunsets. But don't take our word for it, judge for yourself!
A guide to Jeju Island's circular roadway

'Best of the Best' 5 Jeju coastal roads

Here's a quick round-up of the five top-rated, truly amazing coastal routes that Jeju Island has to offer. Most of the island's 253 kilometers of coastline is easily accessible and offers up spectacular sunrises and sunsets. But don't take our word for it, judge for yourself!
Colorful light and colorful fantasy
From Sinchang to Yongsu (4.4 km)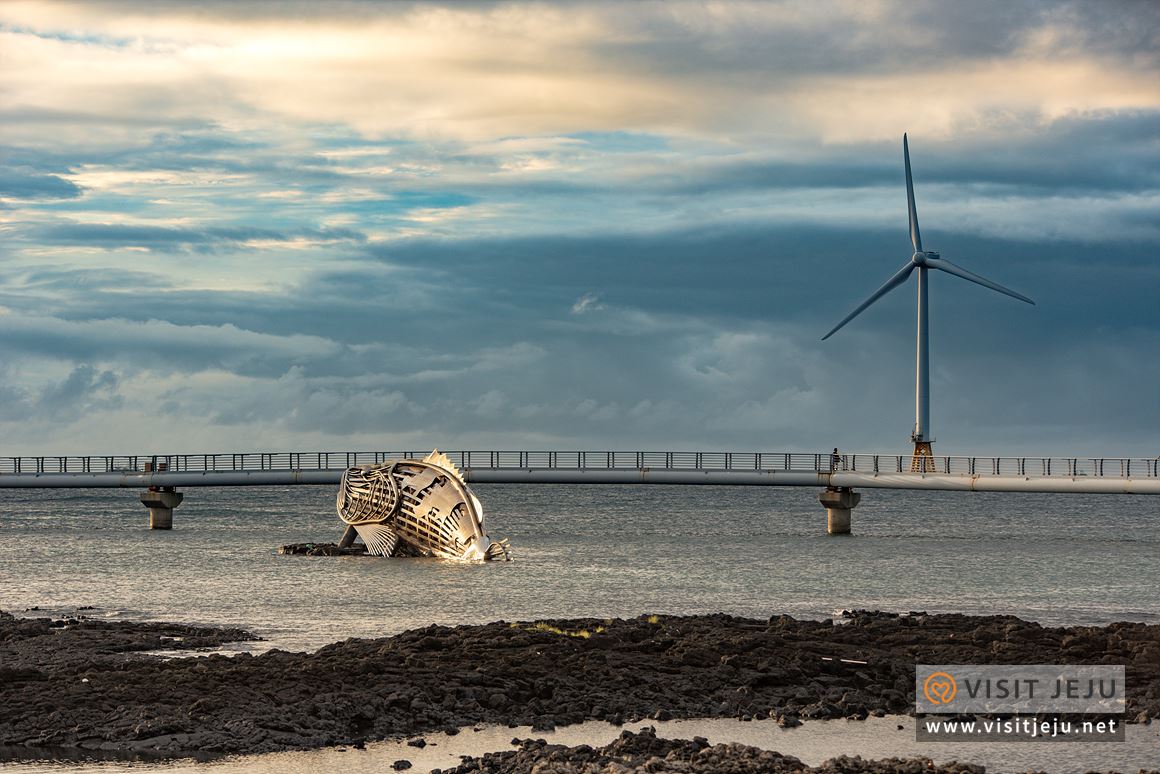 If you time it just right, you can experience Jeju's spectacular ocean sunsets along the Sinchang-Yongsu Coastal Road. As the twilight begins to fall over the sea, the entire landscape is tinted with colorful light and an atmosphere of colorful fantasy.
The Windmill Coastal Road, which starts at the Korea Southern Power International Wind Power Center, is an exotic promenade that combines the high-tech, eco-friendly vibe of wind power generators with the rough and rural coastal landscape of Jeju Island. The wind turbines rise out of the sea and line the sky along this route. Cross the bridge to reach the lighthouse. After a short time at the lighthouse, walk along the ring road and return to the parking lot. The silver fish sculpture sparkles in the sunshine, and changes appearance depending on the tide, the ebb and the angle of view. Anyone can be a great photographer at this superb photo spot.
After completing your exploration of the windmill coast, follow the road as it turns south toward Yongsu Pogu. This area is also full of attractions. In addition to observation tower that looks over the villagers and their work on the sea, you'll spot a small set of islets, which include Wado and Chagwido, which is the largest uninhabited islet of Jeju and Nature Reserve No. 422.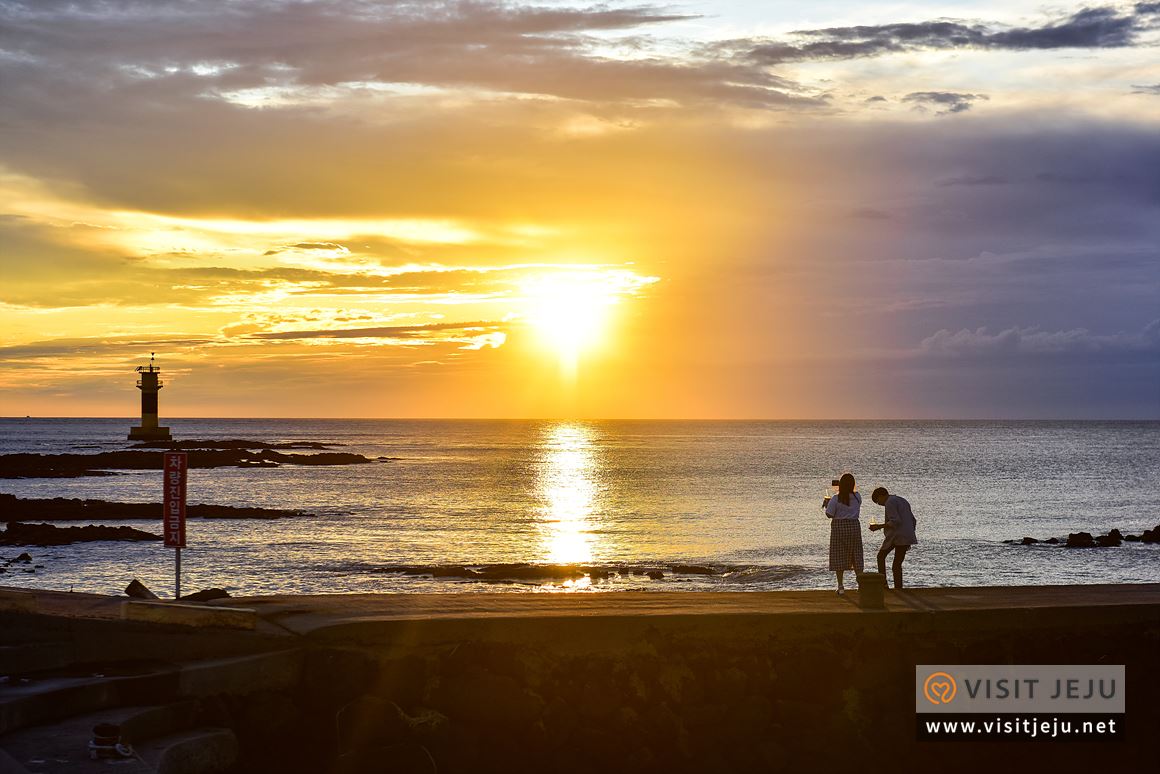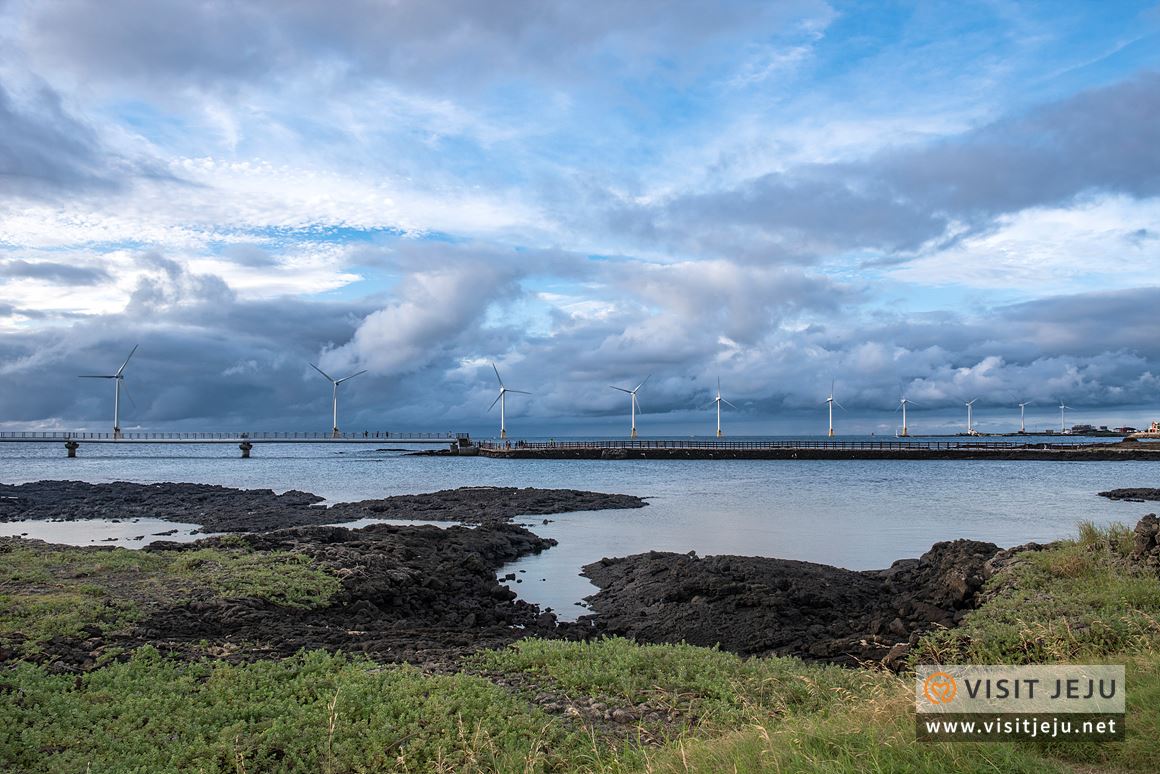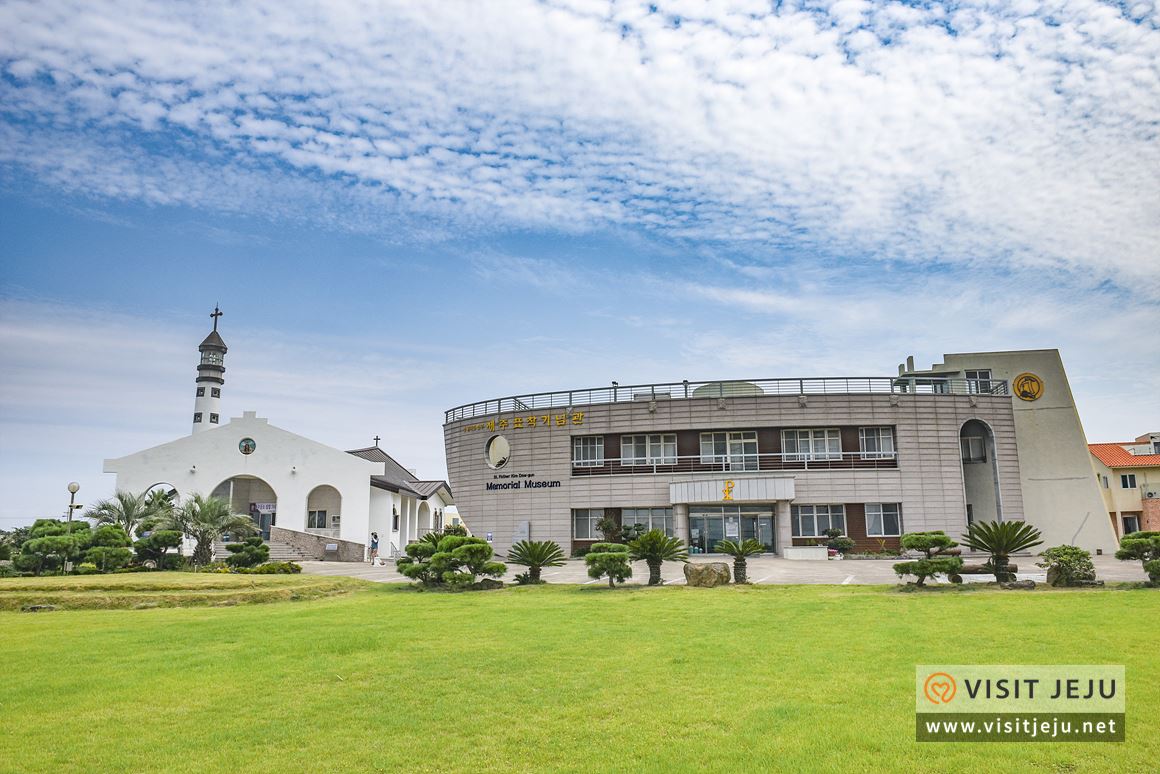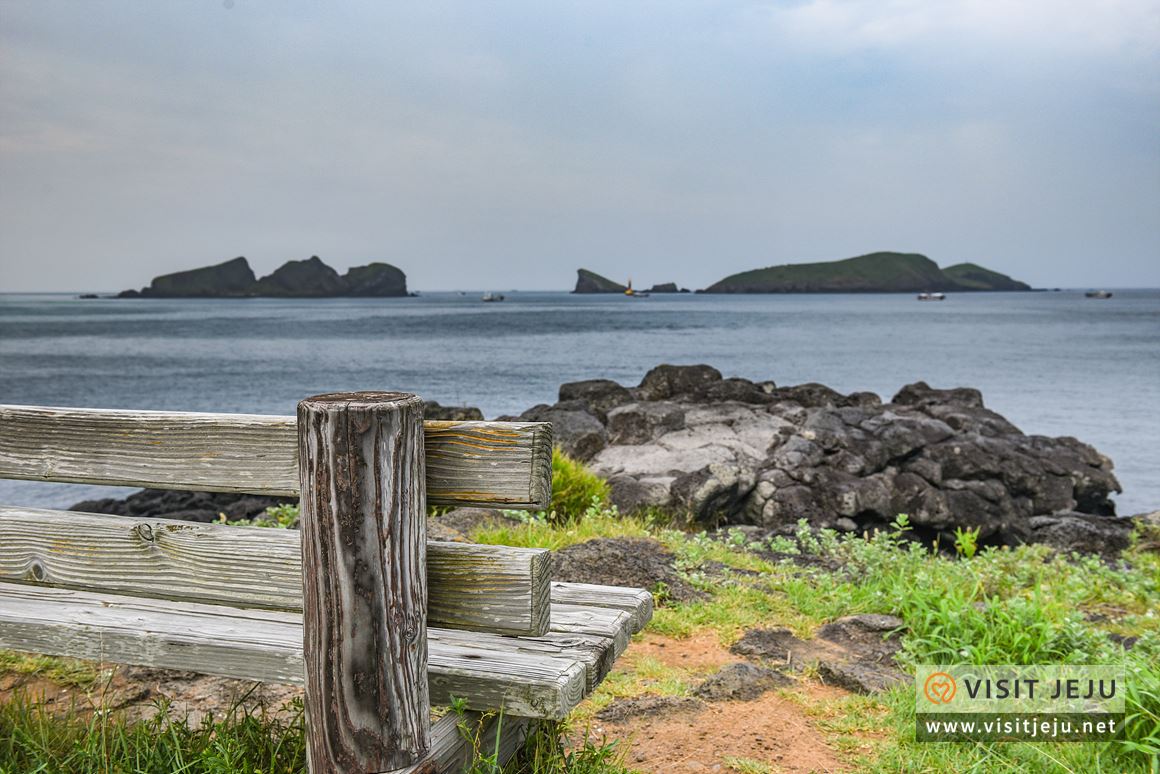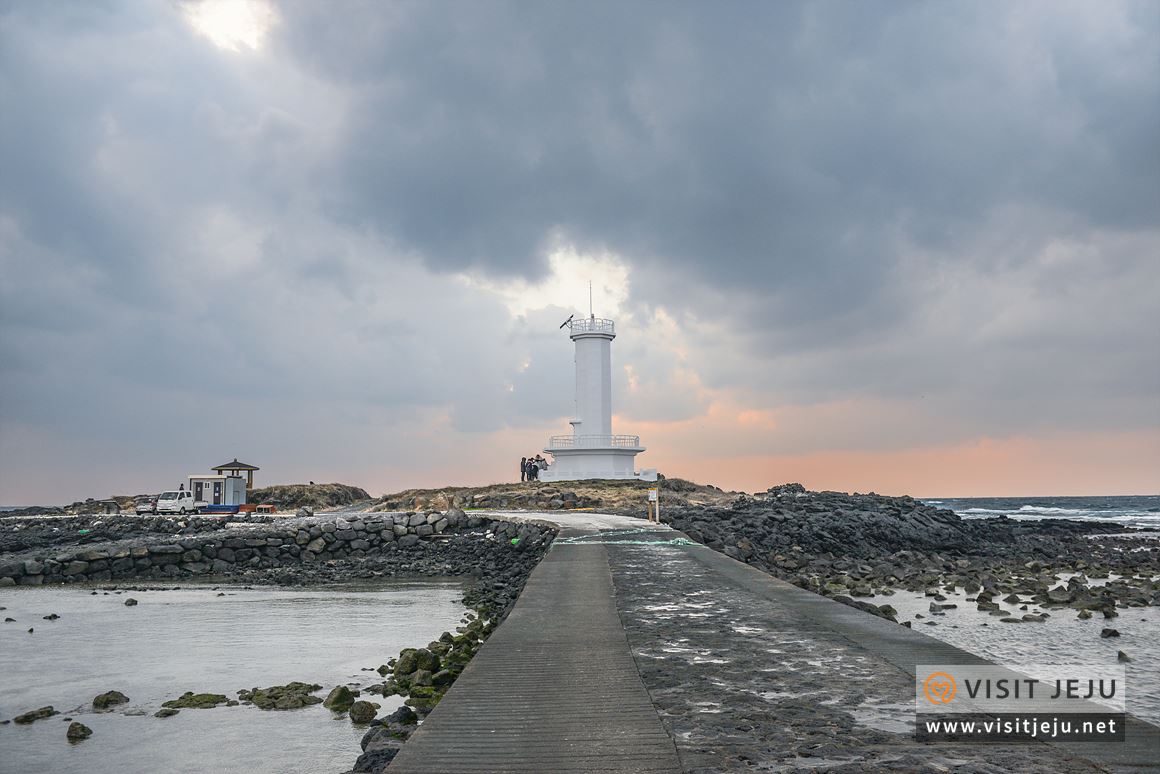 Not far from Jeju City, but a whole different world
From Hagwi to Aewol (9.3 km)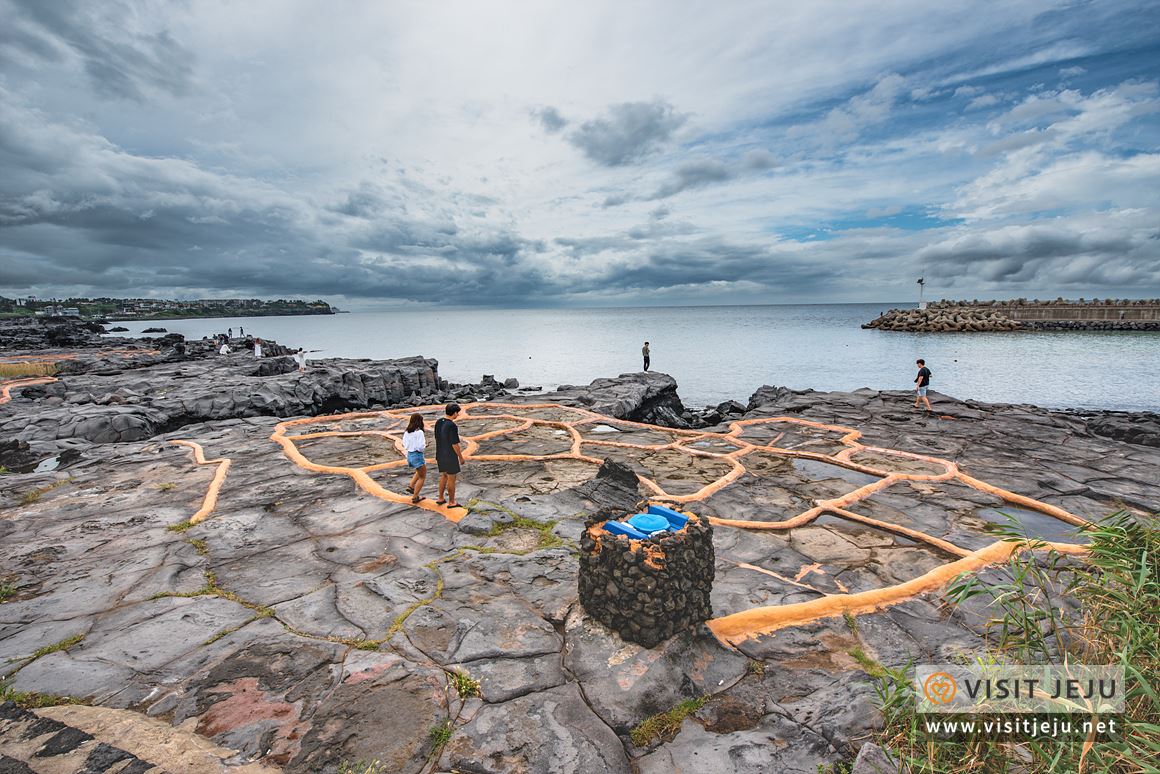 Upon arriving on Jeju Island, you can go straight to the Hagwi-Aewol Coast Road. Only 10 kilometers from the airport, this is considered one of the most beautiful places among those who know Jeju.
Starting from Gamundong Port, the coastal road runs along the clear sky and sea, interspersed with cafes and pensions. Follow the winding road and you will soon reach Gueom Port. This is a traditional place where villagers evaporated sea water on the flat volcanic rocks to make a tradable commodity: salt. This is also a great place to take some very Jeju-like photos, with its distinctive island rocks and jade-colored ocean.
Along this section of the Hagwi-Aewol Coastal Road is Jeju Olle Walking Trail No. 16 and it is famous for bicycle riding and trekking. Along the coastal cliffs facing the sea, there are many scenic spots such as Namdori Rest Area, Sineom-ri Village Breakwater, Darak Rest Area, and more. The basalt mud flats were created by hot lava and cold seawater that have since been eroded by strong ocean waves over the course of many thousands of years to become a uniquely shaped rock face.
Since there are plenty of convenient spots with free parking, be sure to pace yourself and stop frequently to appreciate the view.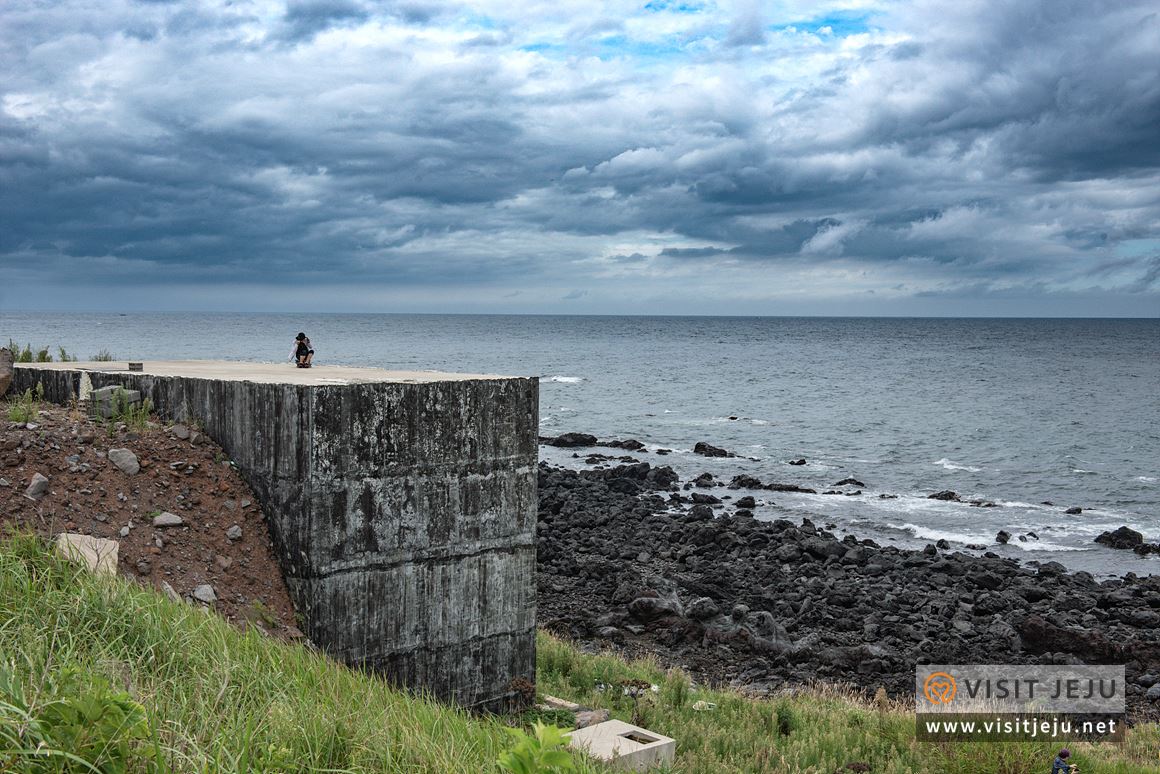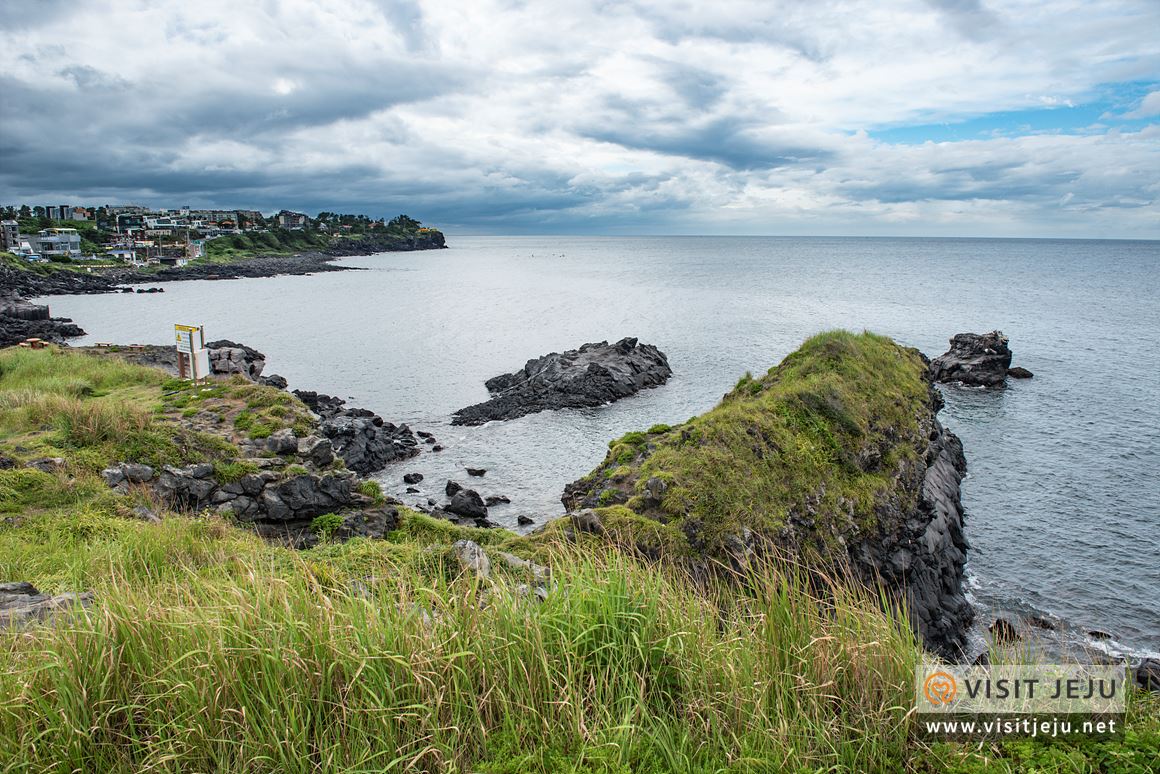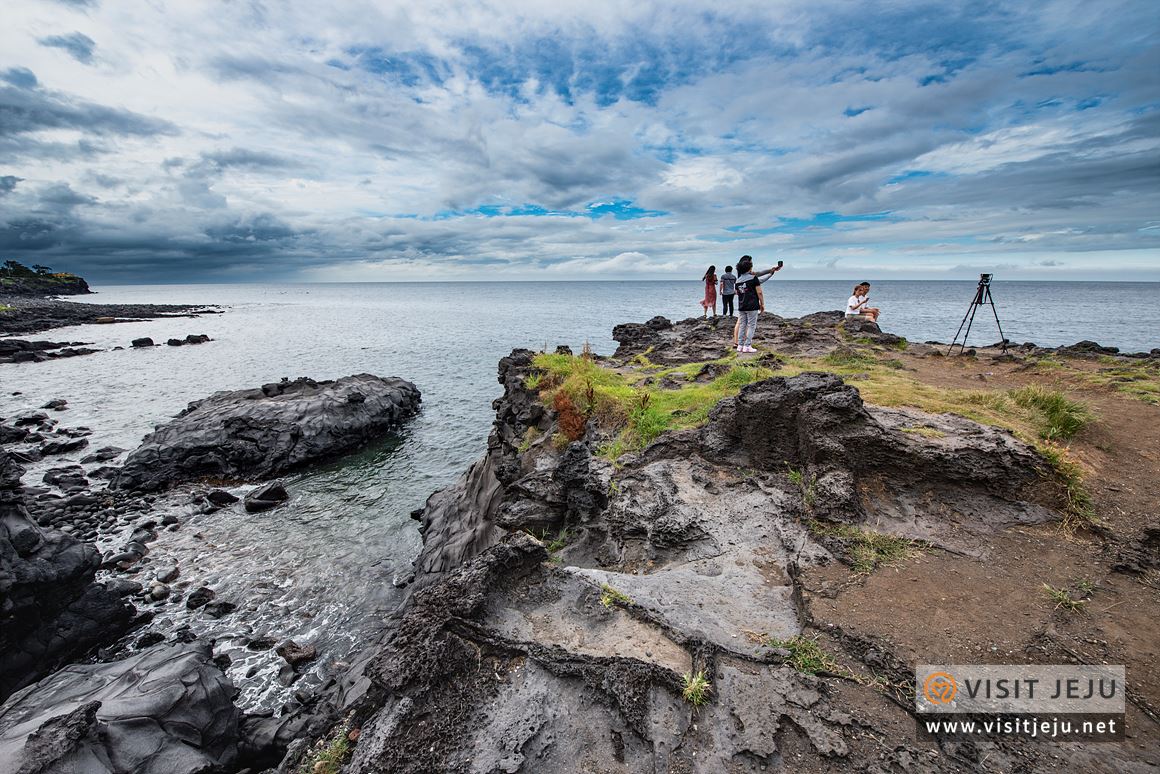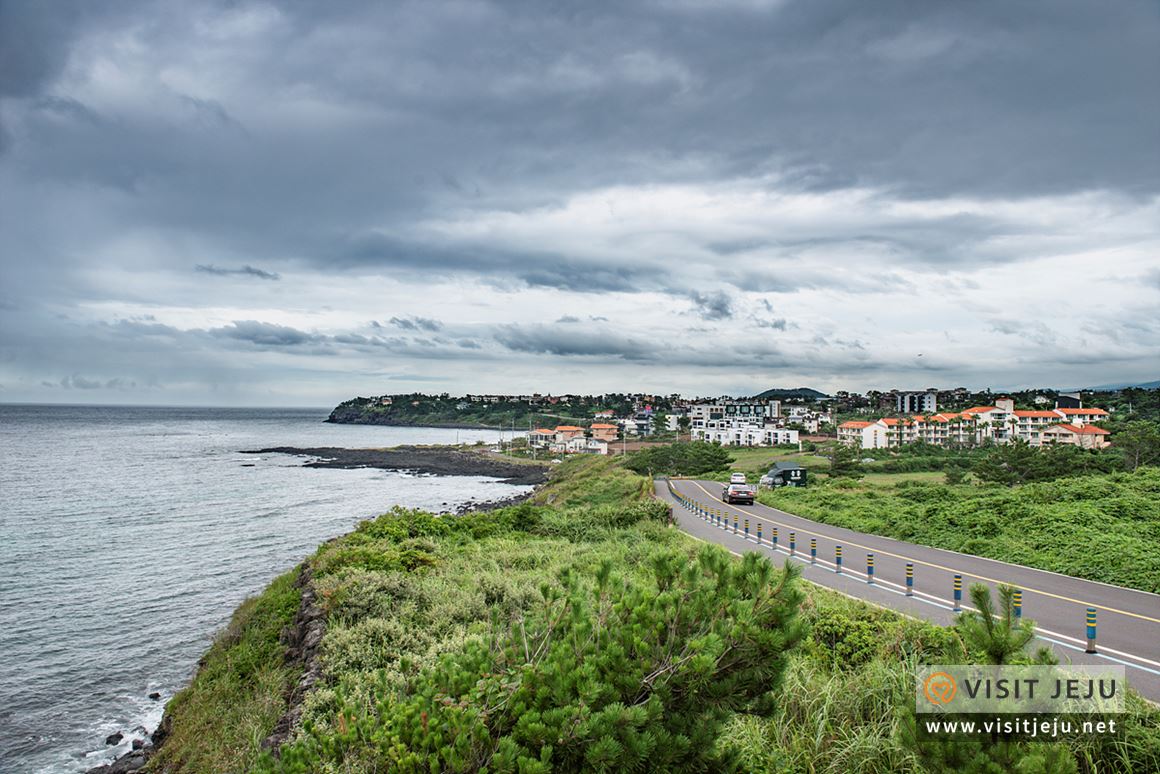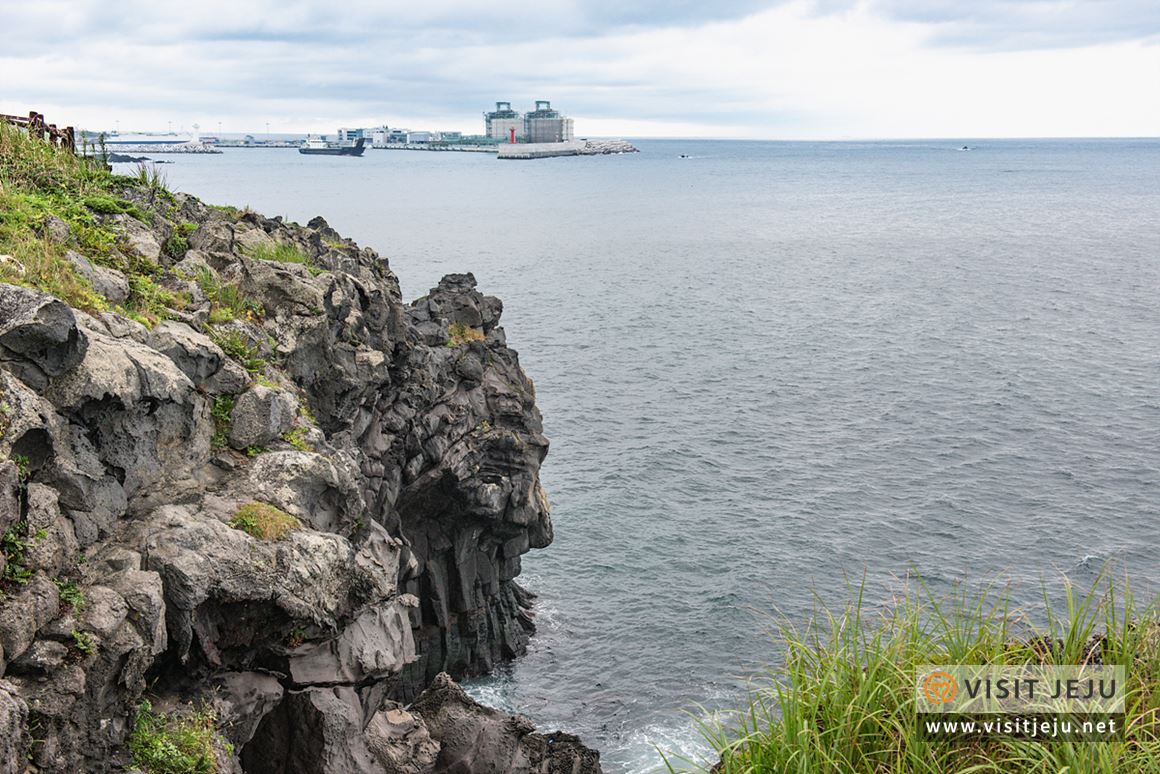 Explore Jeju's shores
From Jocheon to Hamdeok (6.1 km)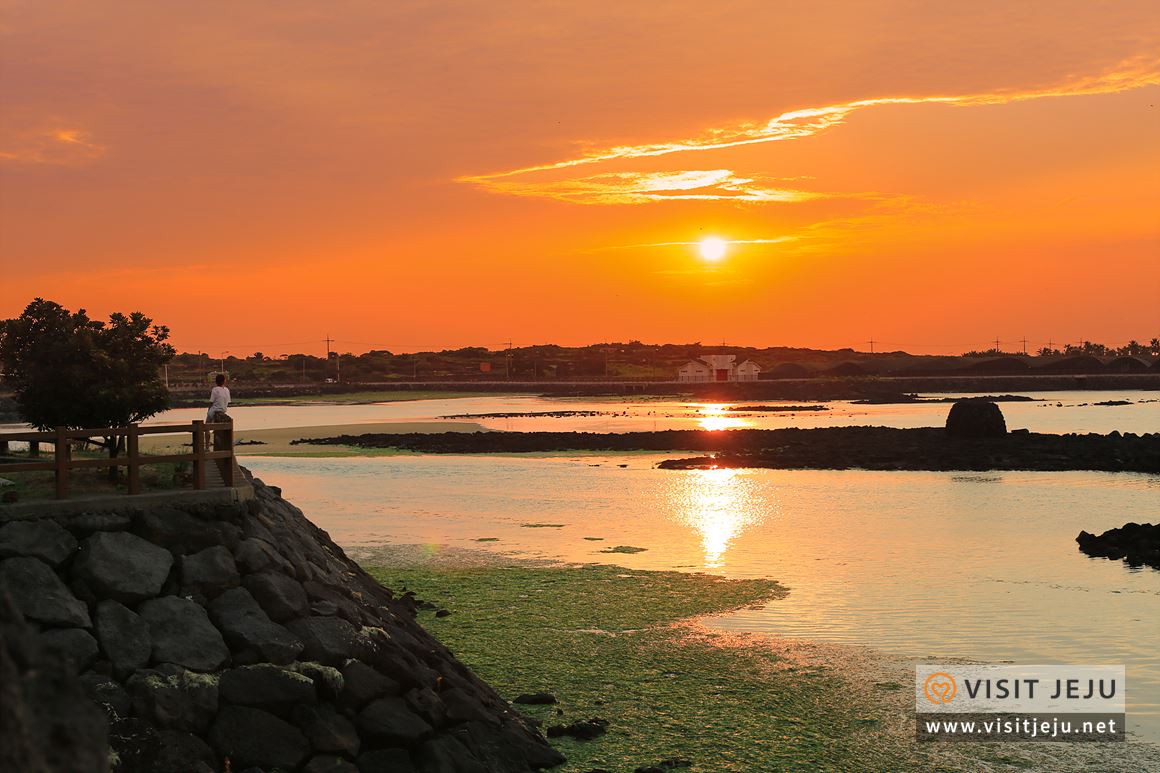 Several paragliders fly over Hamdeok Seoubong Peak. The blue sea melds into the sky, and the sky again becomes the sea. The beach is still crowded and tourists can't stop having fun. The Jocheon-Hamdeok Coastal Road passes not only some of the most well-known tourist spots in Jeju but also many working fishing villages. Grab a delicious coffee from one of the many cafes in the area, secure it safely in your car's cup holder and you're ready to go. If you want to fully enjoy the sea, this is the course for you.
Hamdeok Seoubong Beach is so attractive, that it's very difficult to escape from the temptation to rest there for a while. Somehow, the urban buildings surrounding the beach and the large white sand beaches and transparent water are a good match.
As you get closer to Jocheon, the coastal road will look more like old Jeju. After passing through the scenic working fishing village of Sinheung and its port, you'll find many similar charming seaside villages and ports to explore.
Some of Korea's historical pavilions, lighthouses, and observatories are located here as well. Their English sign boards tell amazing tales of Jeju. The Jocheon Manse Memorial Hall is a case in point.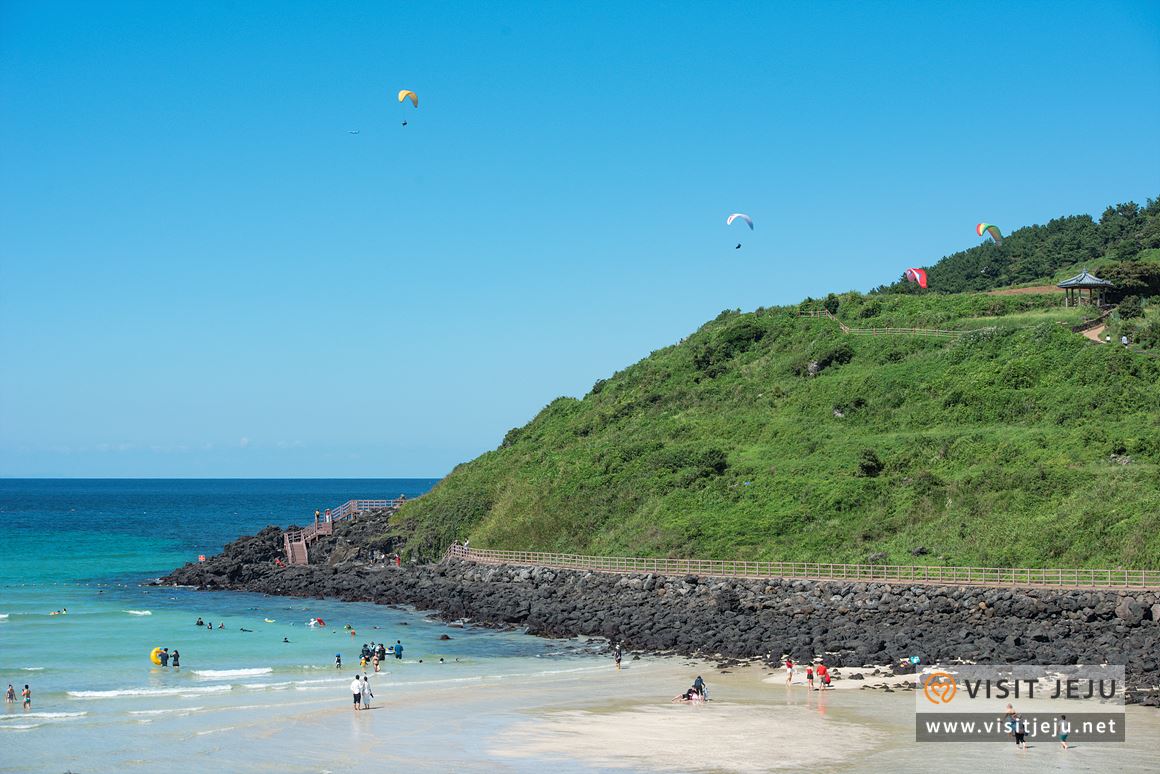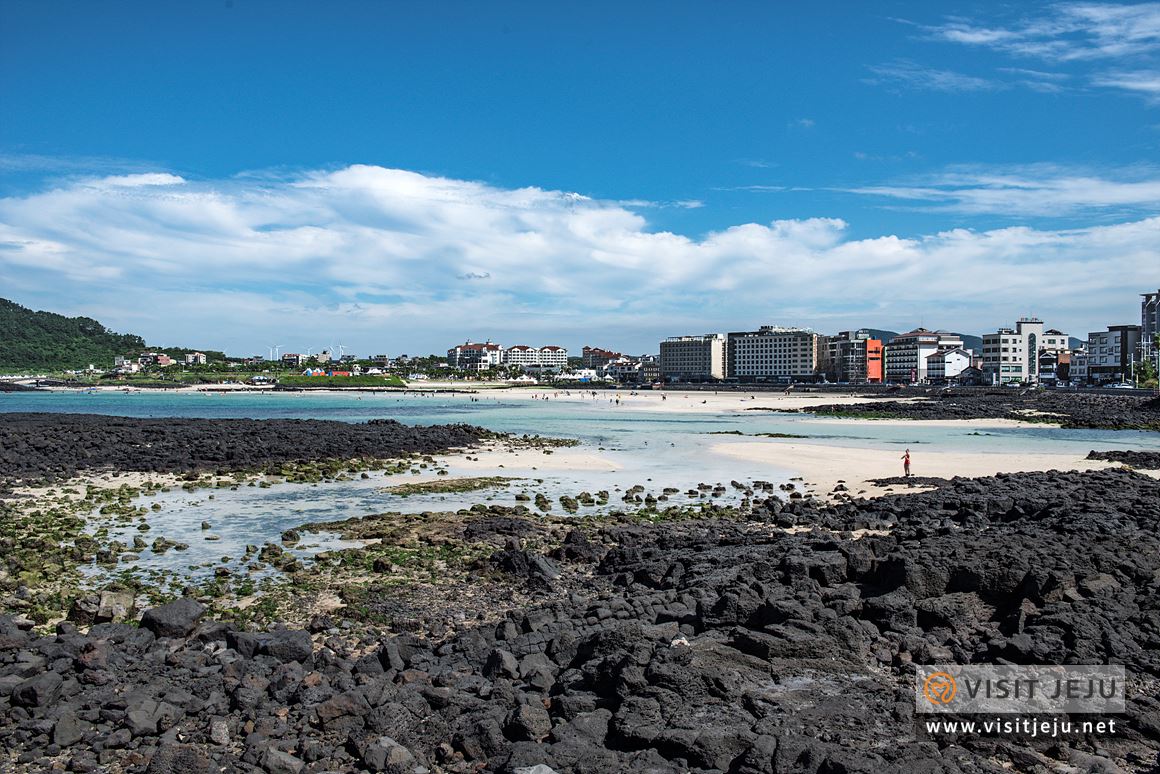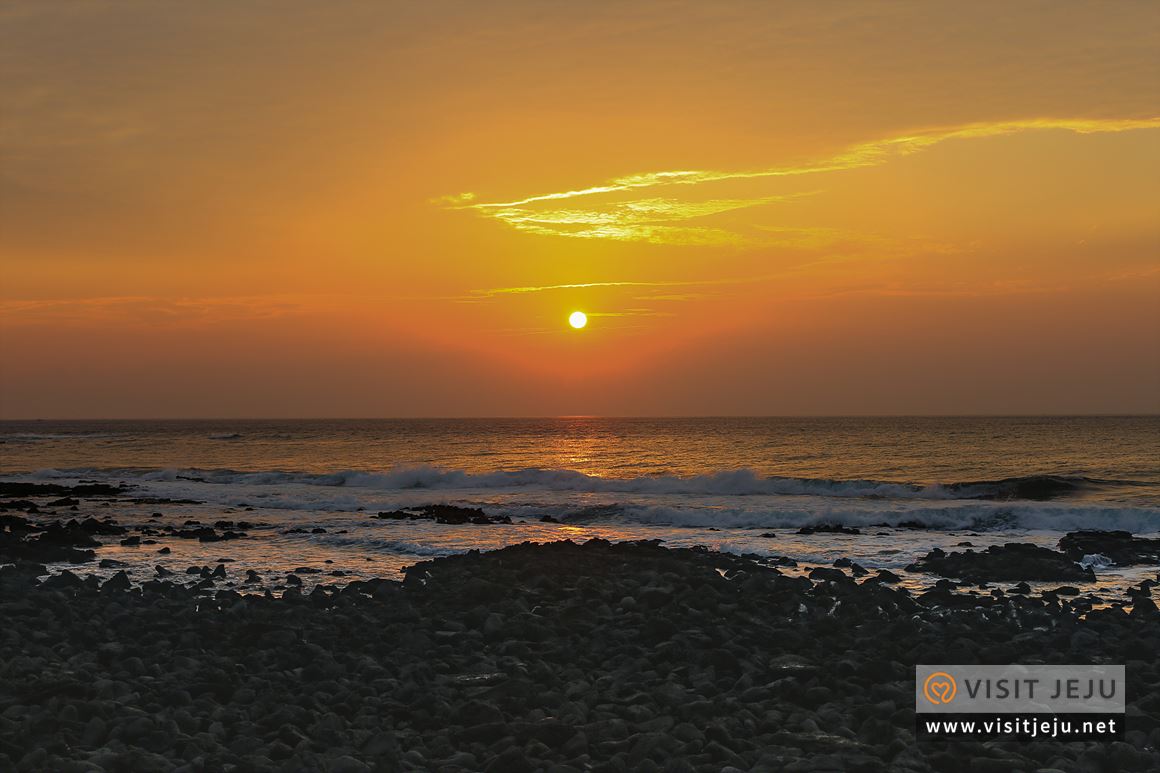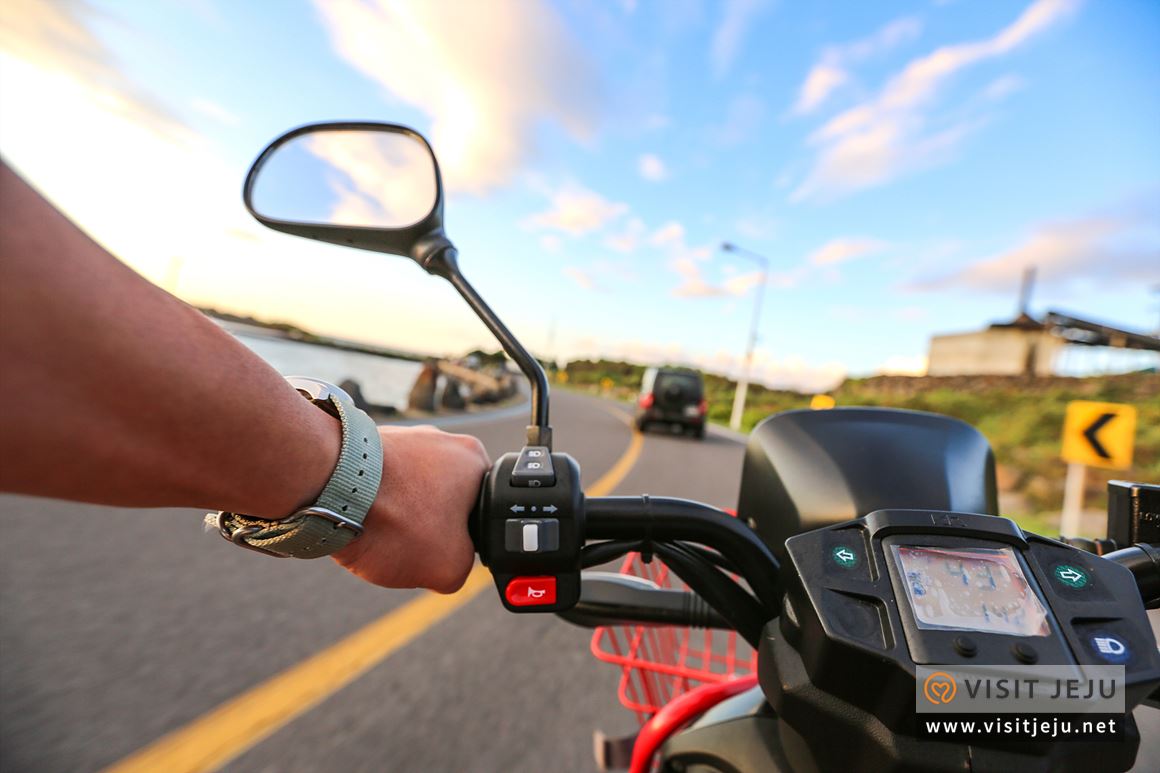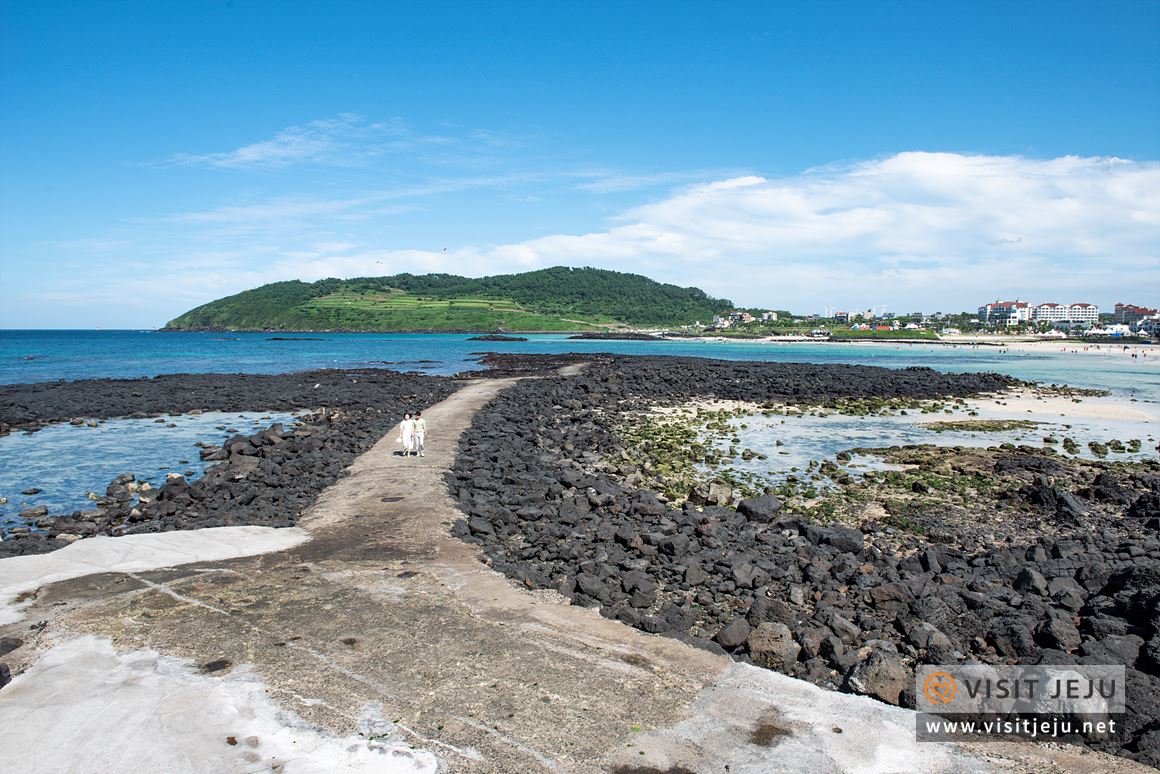 A windy road along windmill way
From Gimnyeong to Woljeong (5.9 km)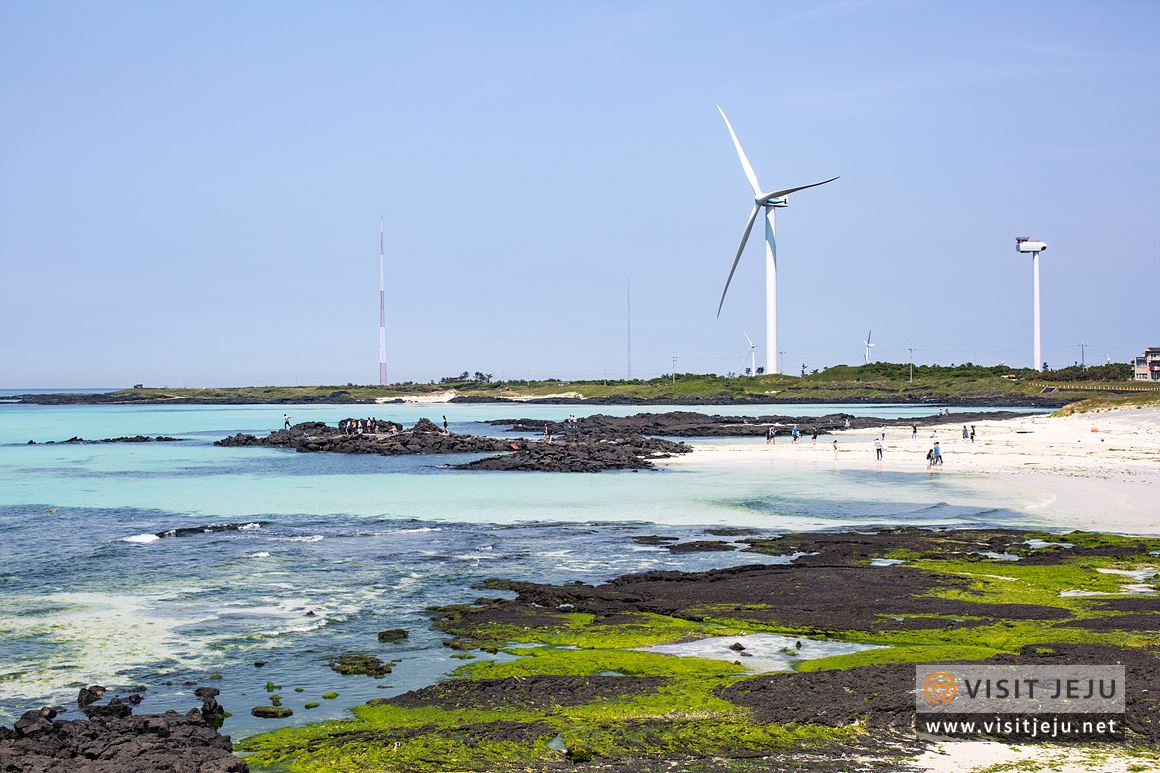 Along the coastal road from Gimnyeong to Woljeong-ri Village, tall wind turbines are always within sight of the camera viewfinder. That's why the Gimnyeong-Woljeong Coastal Road is also known as the Windmill Coastal Road.
The coastal roads of Jeju look similar, but if you look closely, they boast very different landscapes. The Gimnyeong-Woljeong Coastal Road, which is rather circuitous and windy, looks like a watercolor painting that blends in with the sea. The beautiful marine environment attracts snorkelers, surfers, parasurfers, and those who enjoy sailing and kayaking. The scenery will make you heart The colorful sea scenery makes the hearts of the viewers flutter, so be sure to lower your car window and enjoy the drive.
Woljeong-ri Beach is always crowded with people. It sometimes seems like every tourist who visits Jeju Island has gathered there. They enjoy the beach atmosphere while sitting on the cafe terrace, or take a stroll along the beach.
After a group of bicycles passes by, backpackers are next. They will probably stay the night at a campsite at Gimnyeong Beach. There are many ways to enjoy your trip. Gimnyeong Beach may not be as gorgeous as Woljeong-ri Beach, but it has outstanding natural beauty. At sunset, a bride and groom take their wedding snaps. The glow here is as special as their happy smiles.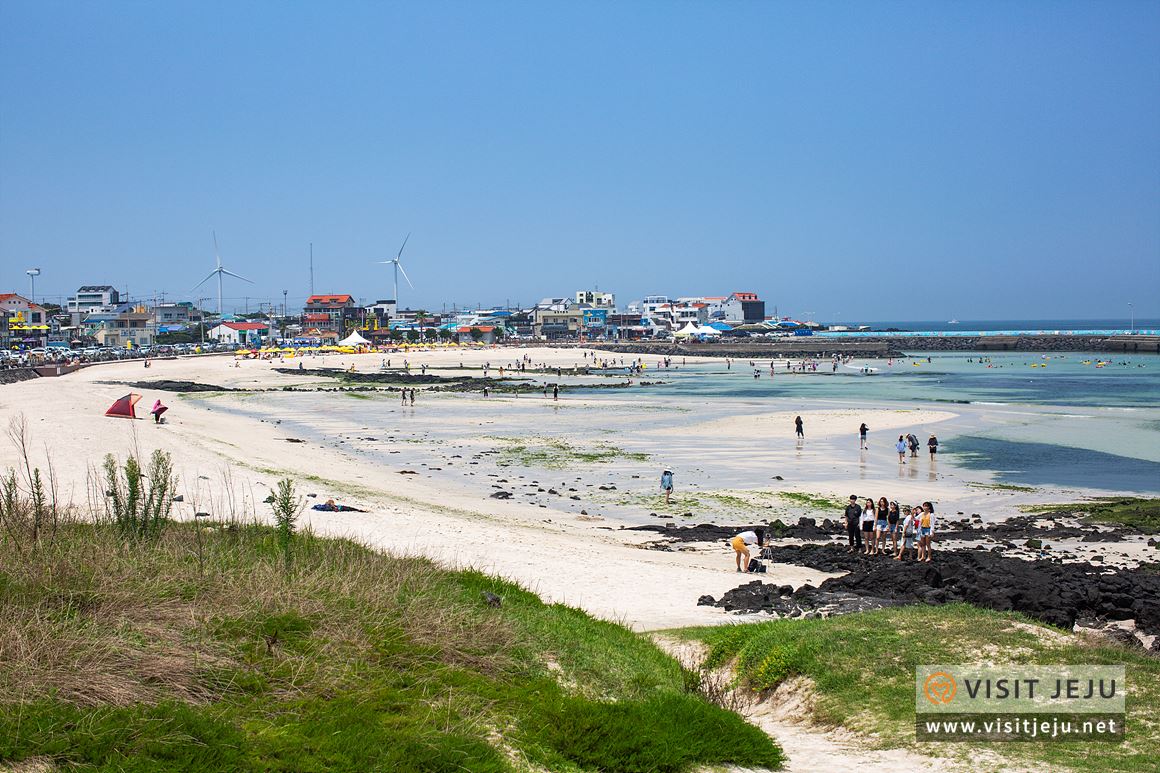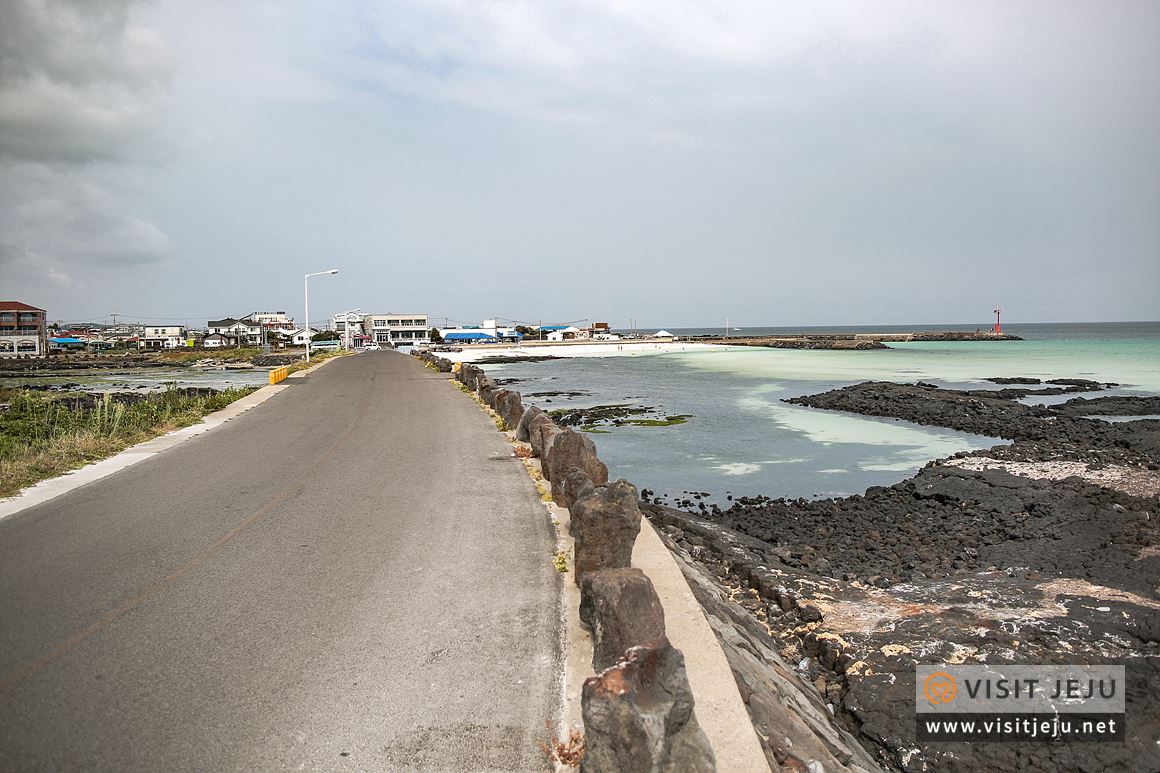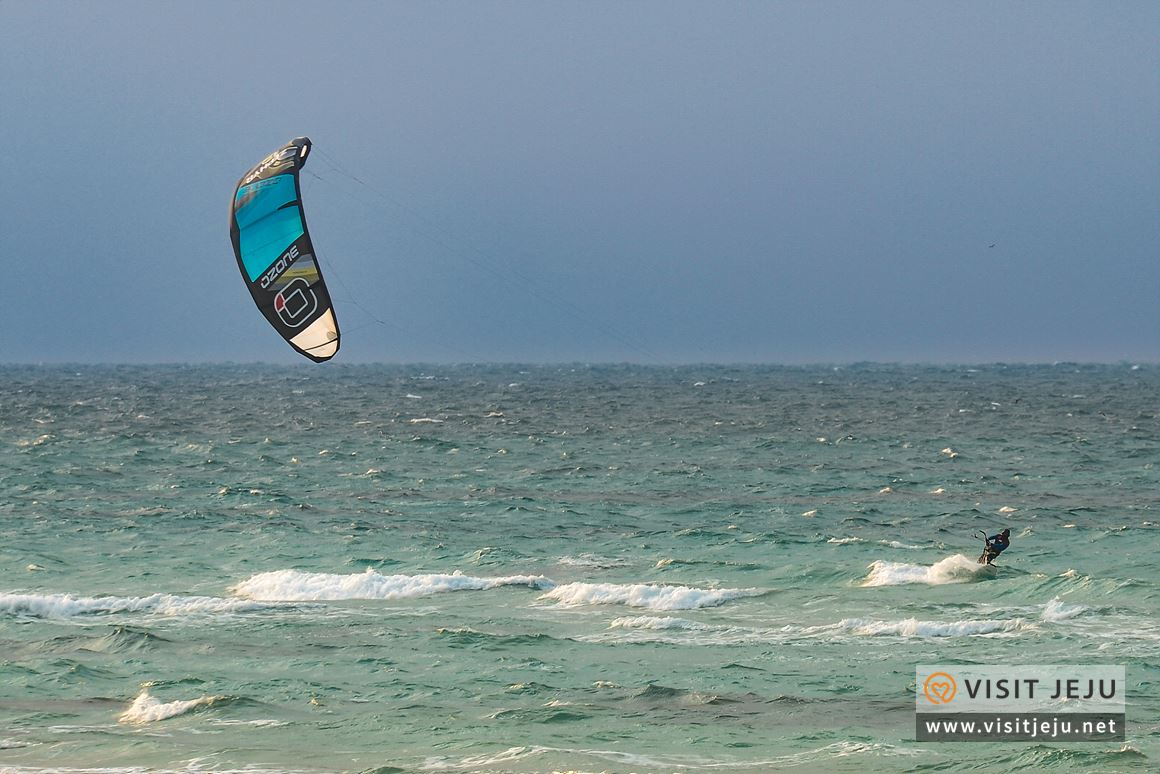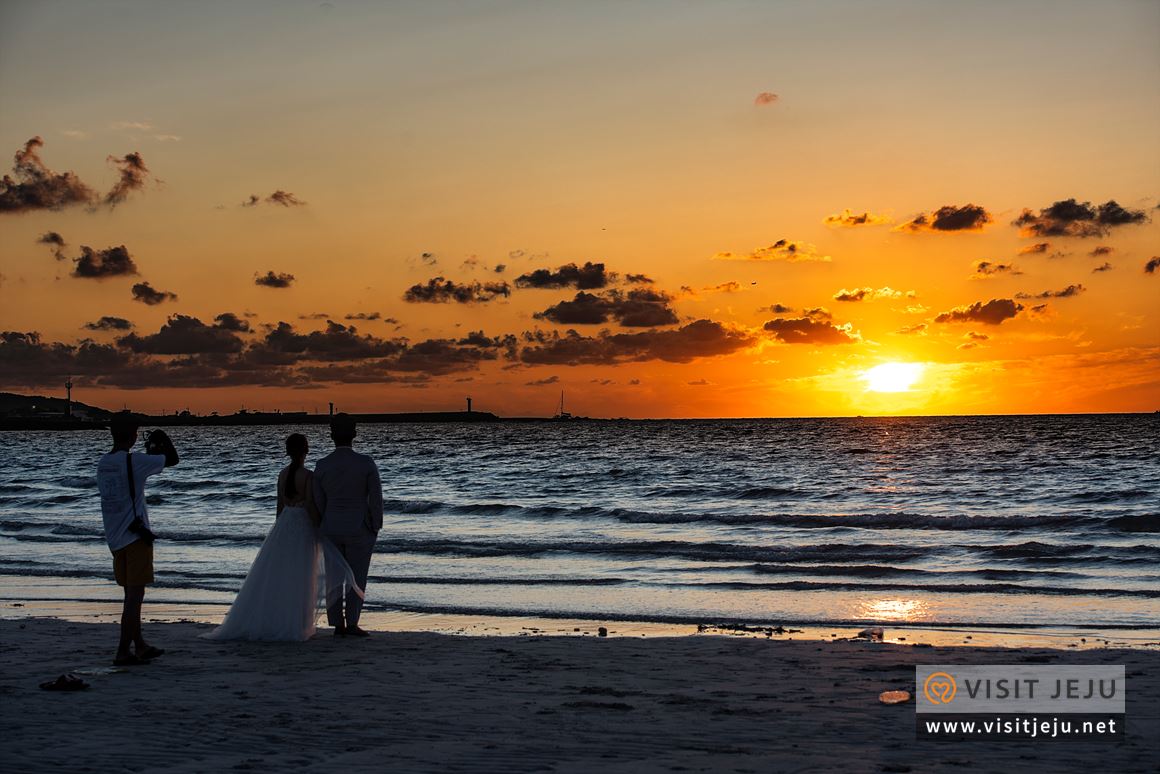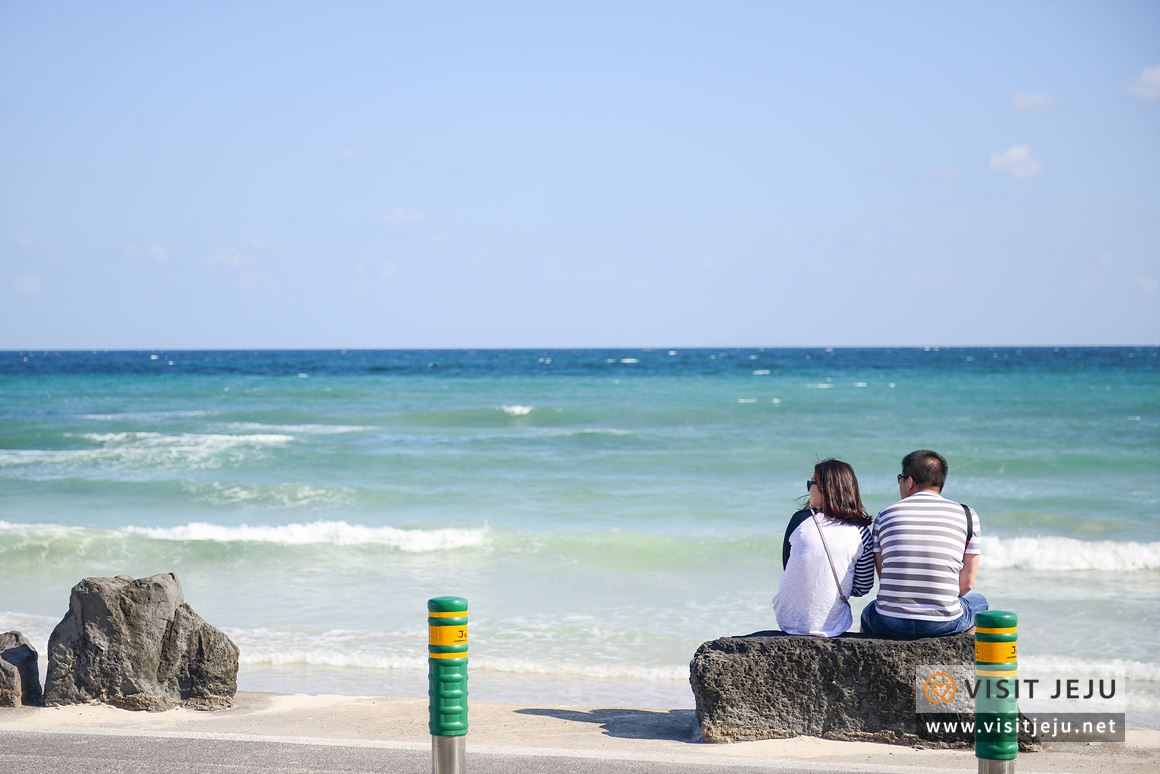 Experience a wide range of emotions
From Jongdal to Sehwa (9.9 km)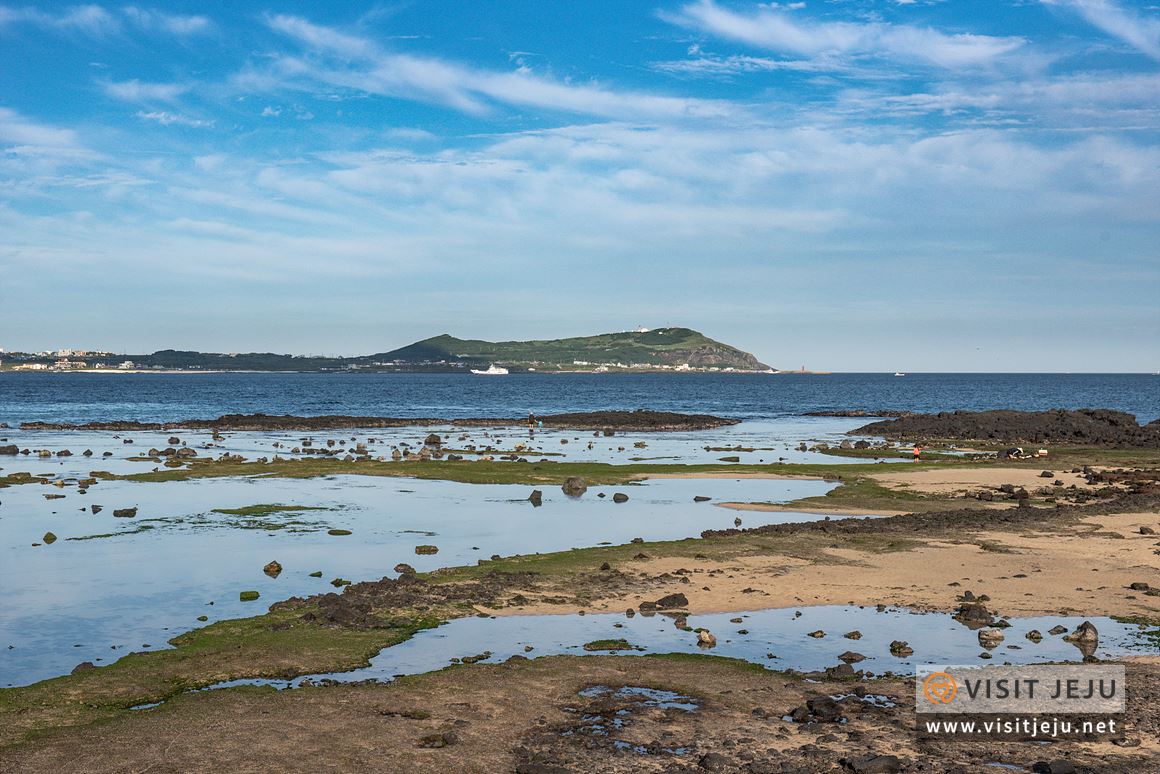 The Jongdal-Sehwa Coastal Road has many things to see and do. It starts at Jongdal Port, stops for a while at the Observatory, and passes by a fishermen's shrine. From here, you can enjoy the fantastic panorama of Jimi Peak, Udo Island off the coast, and nearby Seongsan Sunrise Peak. You'll also see traditional haenyeo diving women rest areas, or bulteok, circular stone walls where these divers could change and warm up by a fire, protected from the wind and the elements.
Also in the area at Hado Beach is a protected area for winter migratory birds such as spoonbills, snipes and cygnus, which are frequently observed. During the Joseon era, a wall was built to protect against Japanese sea-going invasions.
At the end of the driving course at Sehwa Port, there is a traditional Saturday flea market. It opens for just a couple of hours, and then disappears without much fanfare until next week. There are plenty of handmade items for every occasion, homemade bread, and a variety of snacks. Sometimes impromptu music concerts and entertaining performances are held to the delight of locals and visitors alike.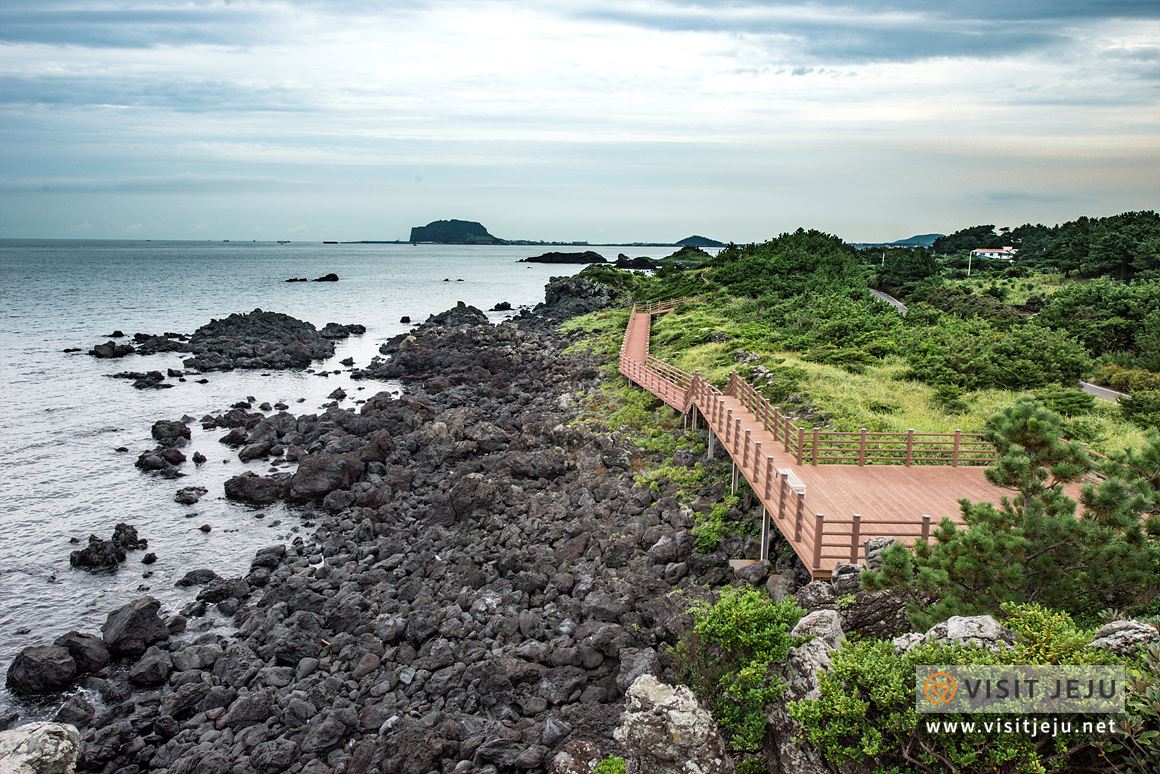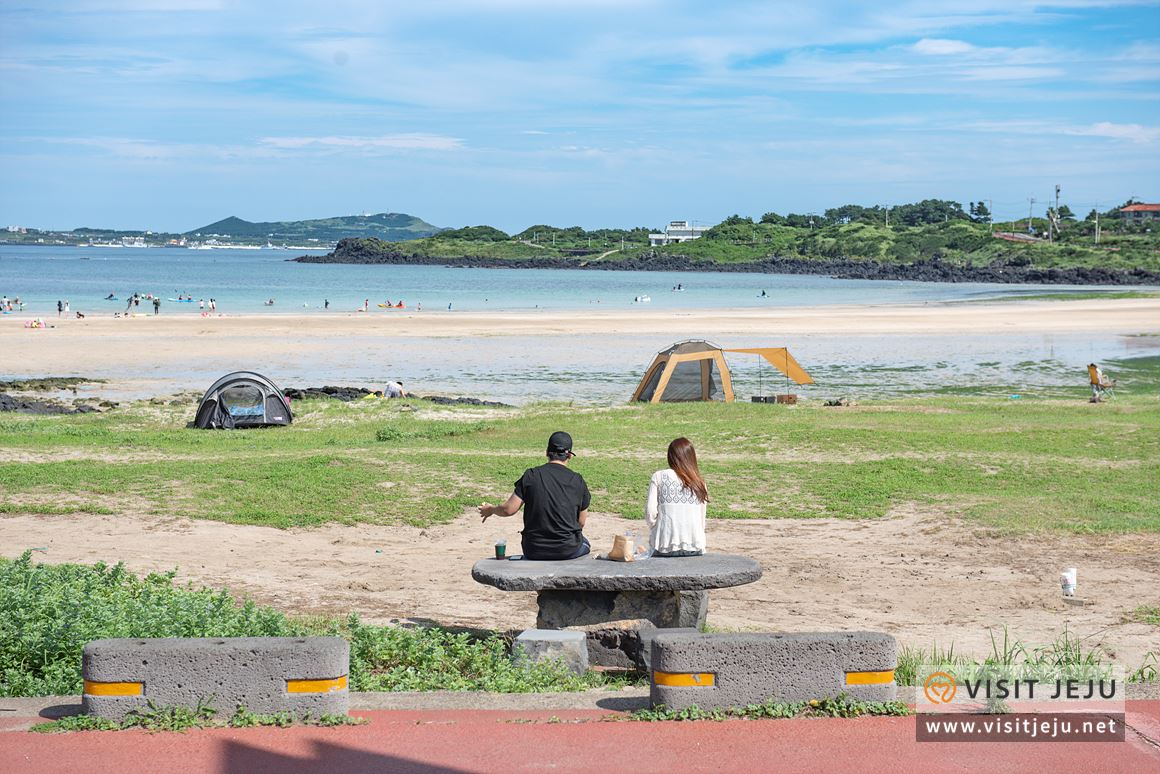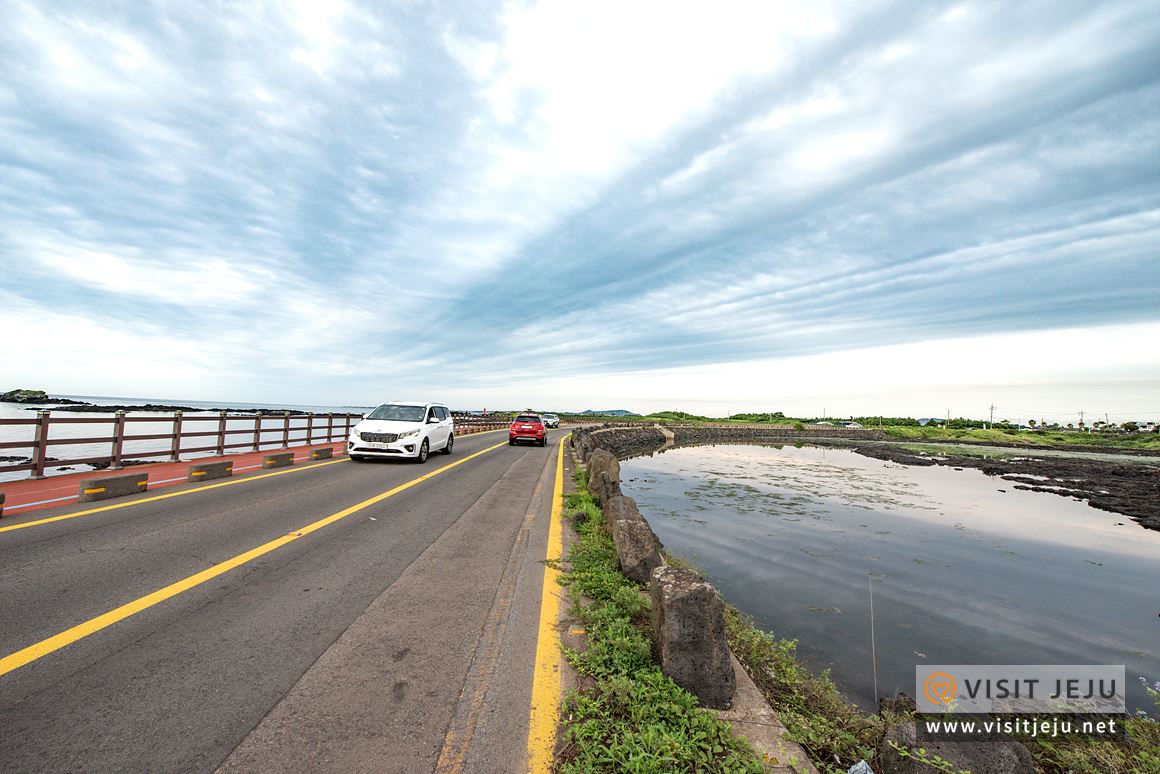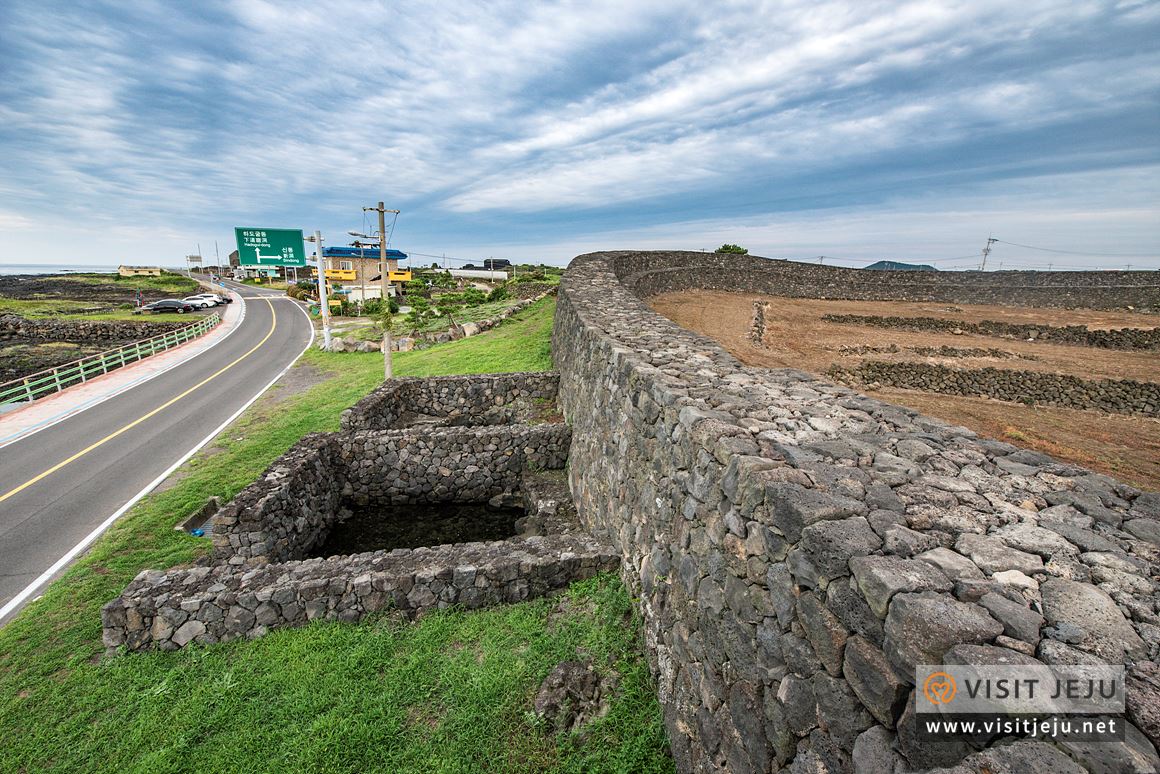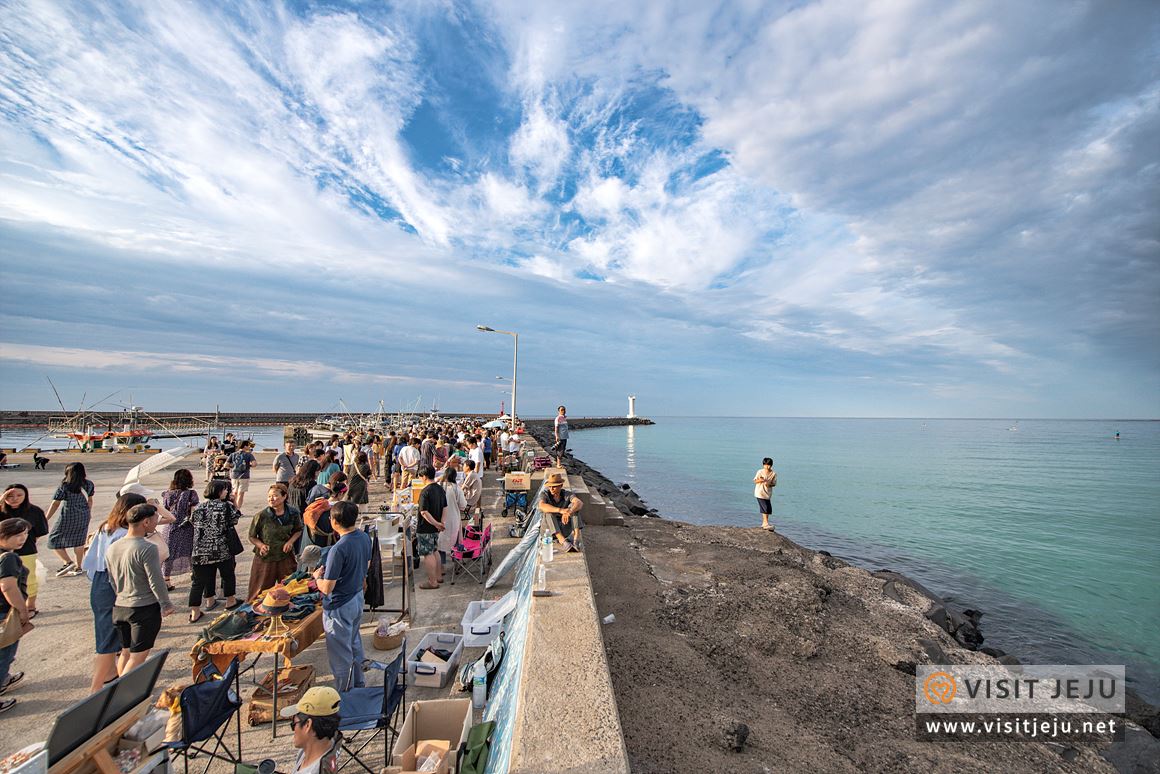 Notice

※ The above information was written on 2019-09-10. Please confirm the information prior to your trip.
※ Unauthorized use of the content above (text, photos and videos) is prohibited and subject to copyright by the Jeju Tourism Organization.